As an Amazon Associate we earn from commission of qualifying purchases.
Powered hedge trimmers aren't very popular machines on the power tool market. I bet you are much more familiar with chainsaws, leaf blowers, and lawnmowers. However, hedge trimmers have already been used by millions of gardeners over the last 50 years. Today, they are affordable, lightweight, and efficient, so considering one for trimming hedges around your yard is actually a very good idea. In this article, I will help you to choose the best hedge trimmer for your purposes and share everything I know about choosing the right tool. Actually, these devices are rather straightforward, so you will have a clear understanding in just a few minutes of reading.
Product
Best Gas Hedge Trimmer
Pros
Adjustable blade head angle.
Best Electric Hedge Trimmer
Pros
Adjustable blade head angle.
Affiliate links and images placed from the Amazon Product Advertising API on 2023-12-07
7 Best Hedge Trimmers Reviewed
DEWALT 20V MAX Cordless Hedge Trimmer – Top Pick
Sun Joe SJH902E 21-in 4-Amp Multi-Angle Electric Telescoping Pole Hedge Trimmer – Best Electric Hedge Trimmer
Poulan Pro PR2322 22-Inch 23cc 2 Cycle Gas Powered Dual Sided Hedge Trimmer – Best Gas Hedge Trimmer

No products found.

– Best Commercial Hedge Trimmer
Greenworks 18-Inch 2.7 Amp Corded Hedge Trimmer 22102 – Best Corded Hedge Trimmer
BLACK+DECKER 20V MAX Cordless Hedge Trimmer, 22-Inch – Best Cordless Hedge Trimmer
Below are my test-based hedge trimmer reviews that I've made over the last few years. As anyone would do, I started with comparing hedge trimmer ratings and picked 10 models that seemed the most reliable. After testing, I picked 7 items with different power source types. Here they are!
1. DEWALT – Best Hedge Trimmer
Affiliate links and images placed from the Amazon Product Advertising API on 2023-12-07
DEWALT is amongst the leading cordless equipment manufacturers worldwide. Most of the cordless tools I use are made by this brand, so it's very convenient to use my two batteries with all of them. If you already have a DEWALT 20V battery, you can order the tool without it and save around $50. The full set won't cost you a fortune either.
I consider the DCHT820B not only the best hedge trimmer for the money but also the most optimal solution on the market. It's #2 in the category, by the way. The tool features a long 22-inch blade with a wide ¾'' (19mm) gap. Along with the high-output 2800-SPM motor, it lets you cut branches of this diameter without damaging the tool. It runs over 40 minutes on a full charge, and you can maneuver quite easily even though the handle isn't rotating. The model is highly convenient for most trimming works and garden sizes.
ADVANTAGES
Affordable cordless tool;
Lasts over 40 minutes;
22" blade cuts ¾" branches;
Weighs 11 pounds with the battery on;
Three-year warranty.
DRAWBACKS
The handle isn't rotating.
2. Sun Joe – Best Electric Hedge Trimmer with a Telescoping Pole
Affiliate links and images placed from the Amazon Product Advertising API on 2023-12-07
Sun Joe is another manufacturer of relatively cheap but very efficient electric power tools. It's especially powerful with the lines of Sun Joe items for gardening and Snow Joe for winter outdoor works.
The SJH902E is a unique corded electric hedge trimmer that lets you extend the telescoping pole up to 7.9 feet to achieve up to 13 feet reach above your head. The motor is mounted at the cutting side, which makes the tool a bit less stable but allows you to change the blade angle and trim hard-to-reach areas. The blade is 21" long and cuts really well due to the 4-AMP motor and a 0,7" gap.
This tool is great for both professionals who need a narrow-purpose trimmer and for household owners who want a universal tool for a garden with high and average hedges. Despite a unique design and high-output motor, the tool is very affordable for any gardener.
ADVANTAGES
Telescoping pole (up to 13 feet reach);
Adjustable blade head angle;
Long 21" blade with a 0.7" gap width;
Weighs only 8.8 pounds.
DRAWBACKS
No cordless version for larger yards;
The motor position makes it less stable.
3. Poulan Pro – Best Professional Hedge Trimmer
Affiliate links and images placed from the Amazon Product Advertising API on 2023-12-07
Poulan Pro is a well-known brand that makes gas-power tools for companies and individual contractors. The PR2322 comes with a powerful 23cc engine that lets you achieve extreme cutting performance and get rid not only of leaves and thin branches but also of thicker 1" limbs. The blade features a special guard with wider gaps for that. Another feature that will boost your speed as a professional is the rotating handle with an anti-vibration gasket.
Although the tool is gas-powered, it weighs 11.1lbs with the full tank. Of course, the difference is notable, but you won't care if you need the rough power. The only minuses of this device are the warranty (could have been longer for professionals) and maintenance difficulty. You should consider these factors if an electric tool is acceptable for your purposes.
ADVANTAGES
The most powerful tool on the list;
Cuts up to 1" limbs with ease;
Rather lightweight (11.1lbs);
Rotating handle.
DRAWBACKS
Could feature a longer warranty (more than 2 years).
4. WORX – Lightest Cordless Hedge Trimmer
Affiliate links and images placed from the Amazon Product Advertising API on 2023-12-07
WORX is a popular choice amongst DIYers as the prices for these tools are always low, while the features are great. The model WG261 is probably the best battery-powered hedge trimmer in the budget category after the B+D LHT2220.
The pricing for the tool is totally the same. The pack includes the tool with the battery and charger, and it's not overpriced at all. The whole thing weighs only 5.5 pounds, so it's also the best battery hedge trimmer for users who need minimal weight. At the same time, the blade is 22'' and has a ¾" cutting diameter. The motor of this tool is a bit less powerful than the B+D alternative offers. Although the difference is notable only in comparison, I cannot hide this fact.
ADVANTAGES
The lightest cordless trimmer (5.5lbs);
One of the most affordable tools in the category;
Long 22'' blade with a ¾'' gap.
DRAWBACKS
A bit less powerful than the B+D alternative.
5. Husqvarna – Best Gas Hedge Trimmer with an 18" Blade
No products found.
Here comes the second best commercial hedge trimmer. Husqvarna is a mother-brand of Poulan and a more durable (and more expensive) manufacturer. For a bit higher price than Poulan Pro, Husqvarna offers an 18" trimmer with a 21.8cc engine that outputs monstrous cutting power without too much noise. If 18" is enough for your pro-level work, this 10.3lbs tool will serve you for long.
The manufacturer doesn't mention it, but you will get the tool with a 3-year warranty and an extra year if you use the oil by the same brand all the time. It's quite difficult to measure durability, but the experience of professionals and household owners worldwide proves that Husquarna's tools last way longer than the warranty lasts. For example, my Husqvarna chainsaw is 15 y.o. and works like new.
ADVANTAGES
Up to 4 years of warranty;
High cutting power (21.7cc engine);
Weighs 10.3lbs;
European quality assembly.
DRAWBACKS
Quite expensive;
No rotating handle.
6. Greenworks – Best Corded Hedge Trimmer for Small Yards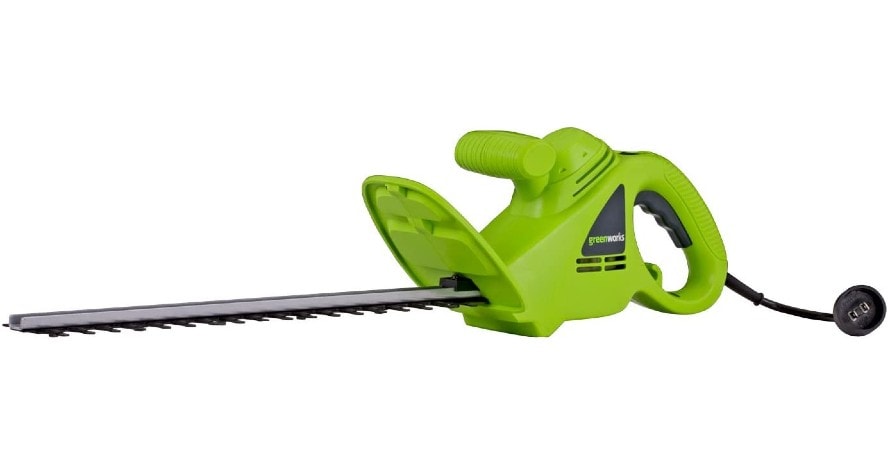 No products found.
Greenworks is a young brand, but it has already gained huge popularity due to its low prices and high quality of tools for both householders and professionals. The 22102 is an extremely compact 6.2lbs trimmer with an 18" blade and a ⅜" gap. Well, that's not much, but more than enough for small yards.
The 2.7-Amp motor provides a surprisingly high cutting ability so that you don't have to double-treat the areas with leaves and thin branches. The tool is the cheapest on my listing, which makes it a bargain for any small garden. Still, don't forget that you'll need an extension cord to move around the garden. Get a cordless tool if it's a problem for your landscape or garden size.
ADVANTAGES
Weighs only 6.2lbs;
Costs under $35;
Features a cord lock;
4-year warranty.
7. BLACK+DECKER – Excellent Rechargeable Hedge Trimmer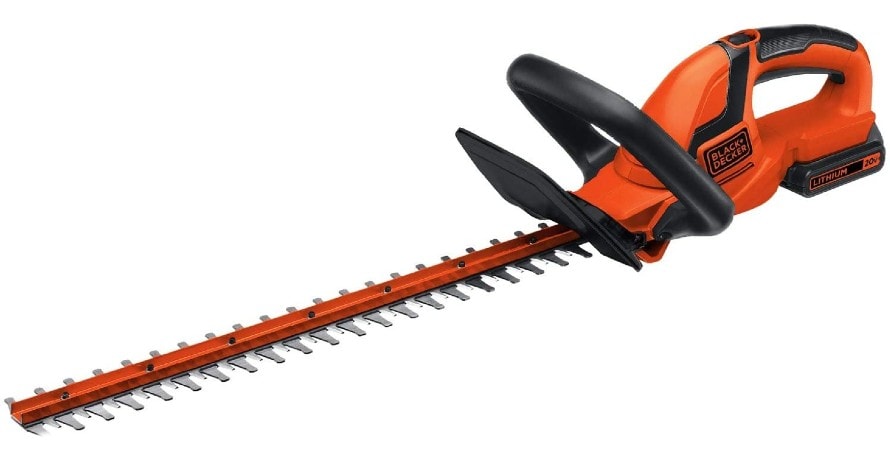 No products found.
BLACK+DECKER is amongst the best manufacturers of budget power tools for household owners and professionals. I offer the LHT2220 as the second best cordless hedge trimmer after the DEWALT's tool above.
For a modest amount of cash, you can get the tool with a 20V Li-Ion battery that can last up to 1 hour and cut around 3,000 square feet of the hedge. The 22" blade has a wide ¾" gap for branches but weighs only 8 pounds with the battery on, which makes it one of the lightest cordless trimmers today.
I can't put it above the more expensive DEWALT tool because of the shorter warranty (2 years instead of 3) and visually cheaper materials. I just wouldn't expect this one to work longer than DEWALT, but I can be wrong, so it's up to you.
ADVANTAGES
The battery works with all B+D cordless tools;
Affordable cordless solution;
Weighs only 8 pounds;
Long-lasting battery (up to 1 hour).
DRAWBACKS
The warranty could have been longer than 2 years.
Hedge Trimmer Buyer's Guide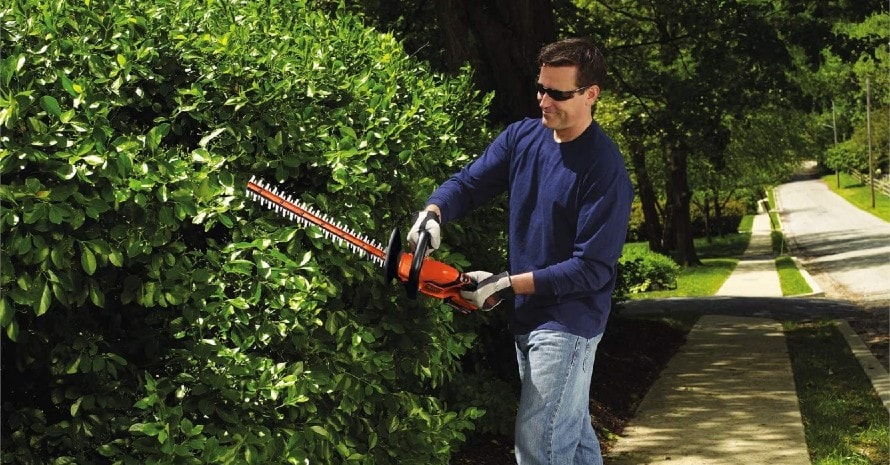 As I promised in the intro, here is a comprehensive-but-concise knowledge base that will help you pick up the tool that will tackle your tasks without problems. Be attentive and make sure to check all the characteristics and match them with your real needs to avoid overpaying or getting a tool that's too weak.
A hedge trimmer is a powered gardening tool designed specifically for trimming and pruning shrubs, bushes, and hedgerows. Similar to chainsaws, these instruments are equipped with long cutting bars and differ by the power source and cutting ability. Unlike classic hedge trimmers, the powered models do the same work several times faster, letting you complete more gardening tasks during the day.
How to choose the best hedge trimmer for your needs?
Choosing the right machine for your garden, you should consider your needs first. You should answer several questions to get from the general to the particular.
1. Are you a commercial gardener or take care only of your own garden?
As a professional gardener, you should look for heavy-duty instruments that are designed for frequent use and let you do the job as fast as possible. Gasoline models are usually the best for that, but battery-powered tools can be a good alternative too.
If you are a private gardener, you will probably need a tool that combines optimal characteristics with the best price. If you don't mind some cable management and your yard isn't too large, a corded electric trimmer for bushes will be the most affordable and effective solution in most cases. If the yard is large, and you're short on time, a gas-powered tool will be the fastest and cheapest option. Still, you can get a cordless tool with extra batteries, which can be even faster but for a greater cost.
2. Do you have high hedges to trim?
Trimming higher hedges requires better reach. You can use a ladder, but it's much safer to get a trimmer with a telescopic pole to avoid getting above the ground as much as possible.
3. Do you mind the noise?
The noise level of gas-powered trimmers is usually above 100dB, which is quite loud. Measuring decibels, I have noticed that corded and cordless tools don't make a big difference in figures, but I can call them quieter with confidence. This happens because the type of noise they produce is different and sounds a lot less annoying than gas engines.
4. Do you mind emissions?
Surprisingly, petrol-powered trimmers (of all types) are the second on the National Garden Equipment Emissions chart with 18% from total emissions. That's an immense figure for me, so I choose mostly petrol-free power tools unless the opposite is urgent.
Types of hedge trimmers
Now, let's take a closer look at the differences between the main types of hedge trimmers. They are classified by the power source and blade characteristics that define the cutting action.
There are three types of trimmers by the power source:
Corded (electric) – these are the lightest and the cheapest tools that sacrifice range to achieve long run time. You will definitely need an extension cord to use them even around a small yard. If it's not a problem, this solution is great.
Cordless (battery-powered) – in most cases, these tools are the most expensive but provide you with several awesome bonuses. They are highly mobile, especially when you have 2 or more batteries for a quick recharge. Unlike gasoline tools, they are effortless to maintain, weigh less, and produce less noise and zero emissions. Hence I consider a small cordless hedge trimmer an optimal solution for home gardening. On the negative side, the average work time and cutting power of such tools are lower than gas-powered tools offer.
Gas-powered – this type of tool is the most powerful and heavy-duty. Such machines are great for professional gardeners who need to do things fast on a land of any size. The price for that is noise, emissions, and rather complicated maintenance procedures.
Next, you can choose a trimmer by these characteristics:
Cutting action (double vs. single) – double cutting action is much better in 90% of cases as they produce less vibration and cut more cleanly. Single-sided blades are for narrow professional tasks, when speed and cutting area are more important.
Blade length – longer blades do the job faster on flats, while shorter blades are much more maneuverable. The best solution is to balance between both and stick to 20-25 inches. Longer blades are also harder to control, so keep that in mind too.
Tooth gap – this defines the max thickness of the vegetation you can cut. For domestic gardening, a 16-20mm gap is enough, but commercial gardeners may need more than that.
Ease of use – most users prefer a lightweight cordless hedge trimmer instead of a corded tool or a heavy petrol-powered machine. Still, it's more important to consider ergonomics, such as a tilting handle for cutting under different angles, an extension pole for trimming high hedges, and other extras.
Hedge Trimmer FAQ
I receive dozens of questions on a variety of gardening topics every week. As it's impossible to answer everyone in person when there's just two of you running the entire blog, I have picked the most frequently asked questions and replied to them in articles on matching topics.
Which is the best hedge trimmer to buy?
My own leader is the lightweight cordless hedge trimmer DEWALT 20V DCHT820B as it combines sufficient power with a battery capacity that's enough for my garden size. If you need a more powerful cordless tool with more, look for a 40V hedge trimmer or consider even more powerful gasoline models. And don't forget about the compactness and low weight of corded tools. I can't say which one is the best for you, but my buyer's guide will definitely help you with that.
Are hedge trimmers worth it?
My first thought before buying my first tool of the type 10 years ago was "Can I substitute it with something like a small chainsaw?" Well, I tried that and it worked out. However, the blades of a hedge trimmer are very different and let you achieve a much better finish quality and a higher overall efficiency of your work. These tools are quite affordable, so there's no real reason to refuse from making your gardening chores easier.
How long can a gas trimmer run on a full tank?
Of course, the run time depends on the fuel tank capacity and the power of the engine. A heavy-duty hedge trimmer can last up to 2-3 hours, while smaller models usually run from 40 minutes to 2 hours. That's comparable to cordless models, but gas models usually offer a higher power output.
Which is better: corded or cordless hedge trimmer?
Both setups have their benefits, so you have to understand what is more important to you. Cordless models are usually a bit lighter, and it's much easier to launch and maintain them. Gas-powered tools often provide a better cutting ability along with quicker refueling and heavy-duty design. On the other hand, they require much more maintenance procedures and invest in negative climate change, so I'd better leave these tools only for limited professional use.
Ready to Trim?
Finally, you know all the stuff needed to choose the best machine of the type. You can either examine the models that I've tested for my listing or take a look at other top-rated hedge trimmers on Amazon or in your local store. Knowing the meaning of each characteristic, you won't get fooled by good advertisements of overpriced products. And don't forget to trim and prune your hedges on time to keep the garden neat and healthy.
Have you ever used hedge trimmers before? Other readers and I would be very grateful if you share your own experience of using them in the comments. And do you still have any questions? I will gladly answer them, so see you in the comments!