Thanks for checking out BumperCrop Times. We're glad you've found us.
Find us mentioned on other great websites:
About us
Hi there — my name is Bryan McKenzie.
My wife Gretchen and I are a team — and a family — behind this blog. We've been married for more than 20 years now. We both love natural living, gardening, and landscaping. So if there's anything that has kept us together through the years — aside from our love and two kids — it is this common hobby of ours.
Before I'd got into gardening, I worked as a landscape designer at landscape design and consultation company in Jacksonville. Gretchen worked as an accountant at a small Jacksonville real estate firm. She was always involved with some kind of gardening. When we lived in the city, she had lots of houseplants in our apartment. I must say, I liked taking care of them as well — even seemed kinda therapeutic to me.
We've always enjoyed the outdoors and wanted to live in the country. Gretchen with her genetic passion for gardening (both her parents were avid gardeners) kept saying she wanted a house outside the city and a big dog. So, 10 years ago we bought a house in the country with lots of space for our gardening passion, had it rebuilt to our liking and started living our dream. 'A sanctuary from the crazy world that speaks to the soul' — that's what Gretchen calls our house, beautiful home garden and vegetable plot outside.
In our home vegetable garden, we grow as much food as possible: cucumbers, tomatoes, beans, potatoes, carrots, asparagus, parsley, and so much more. Gretchen says the tastiest food is the stuff you grow yourself. And now that I've tested it first-hand, I know my wife is 100% right. According to our neighbors, our cottage is the most beautiful in the whole neighborhood. Can't but agree with them haha!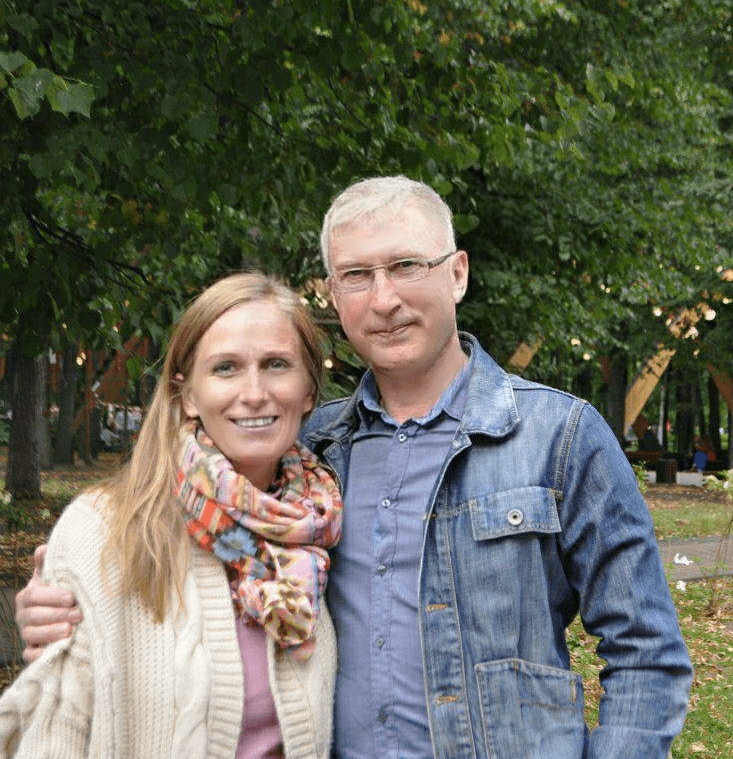 The McKenzies
Founders
For years, me and Gretchen enjoyed having our hands deep in the soil. With so much to maintain, we've always been learning something new and searching for effective tools to help us keep down the weeds, enhance the quality of our plants, treat my aching back (yep, every hobby has its side effects) and generally improve the efficiency of our garden.
About our blog
As you may have already guessed, BumperCrop Times was born out of a hobby and passion for gardening. Here, my wife and I enjoy sharing the vast gardening experience we've accumulated throughout the years with like-minded green thumbs. We provide experience-based gardening tips, lawn care recommendations, landscaping advice, home improvement hacks as well as gardening gear and product reviews. 
Our mission is to help our readers get the very best out of their gardens. A website like ours is something we needed when we began learning how to grow plants and maintain a flower garden. The information out there was so sparse and unreliable that we had to learn a lot of things through trial and error. Now that we're experienced enough, we feel the need to transfer our knowledge to people who share our passion for gardening and healthy living.