As an Amazon Associate we earn from commission of qualifying purchases.
Lawn maintenance is a routine that has to be done regularly to keep your area clean and tidy. Modern devices greatly simplify this task. But how to make it not only simple but also environmentally friendly and economically profitable? The solution is electrical tools. In my opinion, Snapper XD 82V MAX is the best electric lawn mower overall. It is efficient, quiet, easy to use and maintain, and is fairly energy efficient. But in order not to limit you to a single product, I have written a review for four more excellent models and a quick buyer's guide.
Affiliate links and images placed from the Amazon Product Advertising API on 2023-12-07
5 Best Electric Lawn Mowers Reviewed
In my list, I have included models that feature excellent power and productivity and can become real helpers in your garden work.
1. Best Electric Lawn Mower Overall: Snapper XD 82V MAX
Affiliate links and images placed from the Amazon Product Advertising API on 2023-12-07
Not surprisingly, the number one product on my list is from the company that first came up with self-propelled mowers. Snapper XD 82V MAX is the best option I have tested. One of its main advantages is the Smart Cut technology. The most powerful electric mower on my list features a 21-inch steel deck and automatically adjusts power and speed based on the grass height and density. It makes mowing more efficient. Moreover, it reduces the battery consumption and, therefore, increases the service life of the mower itself.
I liked that the Snapper XD 82V MAX can be stored upright, which is a huge space saver in your garage. The device is also charged efficiently. Depending on the battery size (2, 4, or 5Ah), a full charge takes from 30 to 60 minutes. The operating time from one charge depends on the specific conditions, but it was about 45-50 minutes in my case. Also, the batteries come in the kit. The product warranty is five years, while it is only two years for the batteries.

ADVANTAGES
Smart cut technology;
Powerful;
The batteries included;
Robust housing.
DRAWBACKS
A bit pricey;
Pretty heavy.
2. Best Self Propelled Electric Start Lawn Mower: Lawn-Boy 17734
No products found.
It is an economic lawnmower from a well-known manufacturer. The cutting deck is 21 inches wide, and its height can be adjusted separately for each side. I found it very convenient when working on uneven surfaces. But the levers are made of plastic, so they can quickly wear out from frequent use. However, there is a 2-year warranty, so you can contact the manufacturer directly in case of any problems. By the way, Lawn-Boy also guarantees that the mower will start with one or two turns of a key within three years.
Despite the electric start, it is powered by a 149cc Kohler gas engine. It is fairly powerful and suits different types of grass. You can mow in three modes: side discharge, mulching, and bagging. Unlike the previous model, this tool has six cutting heights, but the range is even larger: from 1.25 to 3.75 inches. As a minor minus note, this model weighs 72 pounds. However, I had no problems with operating.

ADVANTAGES
Large cutting height range;
Easy start;
Two-point height adjustment;
Powerful engine.
DRAWBACKS
Some important parts are made of plastic.
3. Best Electric Corded Lawn Mower: Greenworks 25022
Affiliate links and images placed from the Amazon Product Advertising API on 2023-12-07
This tool is great for mowing medium-sized lawns as it works on mains power only. Simultaneously, it has a sufficiently powerful 12A engine, thanks to which the tool copes with tasks of any complexity. There are also 7 cutting height adjustments from 1.5 to 3.75 inches. I liked the 20-inch cutting path width. It turns out to handle a large enough area, while it is quite easy to operate the lawnmower. However, in the mulching mode, I had problems with wide-blade grass as the device clogs up quickly.
The cutting deck is made of steel, therefore, reliable. In some cases, you can take advantage of the 4-year warranty. At the same time, the tool`s weight is 56 pounds, which is pretty little by such models' standards. Therefore, I had no problems with maneuverability and moving the device. I also liked that this lightweight electric lawn mower had foldable handles, so it didn't need much storage space.

ADVANTAGES
Affordable price;
Comfortable handles;
Wide deck;
High power.
DRAWBACKS
Issues with wide-blade grass in mulching mode;
An extension cord is not included.
4. Best Electric Riding Lawn Mower: Craftsman E225
Affiliate links and images placed from the Amazon Product Advertising API on 2023-12-06
The Craftsman E225 is one of the most impressive models on my list. It is a riding type instrument, very quiet, and offers the widest cut of 42 inches. With its help, such routine work as lawn mowing turns into entertainment. This product is easy to operate (one-foot pedal) and highly maneuverable. I found it comfortable to sit in it and work for extended periods, although its backrest is not very high.
It is powered by two 30Ah batteries (included) and can run for up to one hour without interruption. As the charge lowers, the device does not lose its efficiency or speed. Its 56V (1500W) engine power allows it to cope even with thick weeds. The height is adjusted (between 1.5 and 3.5 inches). Of course, such a powerful electric walk behind mower cannot be lightweight and compact. It is the heaviest on my list and weighs 579 pounds. The manufacturer gives a three-year warranty.

ADVANTAGES
Very wide cut;
Steel deck;
Long battery life;
Maneuverable;
LED headlights.
DRAWBACKS
A grass bag not included;
Has a really high price.
5. Best Electric Start Lawn Mower: Craftsman M275
No products found.
This front-wheel-drive self-propelled model is powered by a 159cc gas engine with pull and electric start for fast, effortless starts. For this type of product, it is quite powerful to show excellent results even on hilly terrain. Overall, I would say that it is one of the most comfortable mowers in terms of handling. Despite its rather large weight (86.8 pounds), it is very maneuverable and easy to move. Its 8- and 11-inch wheels provide good traction.
The cutting width is fixed at 21 inches, while its height can be adjusted according to your needs from 1.25 to 3.75 inches. This device combines three functions: mulching, rear, and side discharge. A fabric grass catcher is attached to the back of the product, which, in my opinion, could be bigger. If you have a large backyard, you will need to clean it pretty often. The product is supplied with a charger for electric start. The manufacturer gives a two-year warranty for this model.

ADVANTAGES
Auto choke;
Convenient controls;
Easy electric start.
Electric Lawn Mowers Buyer's Guide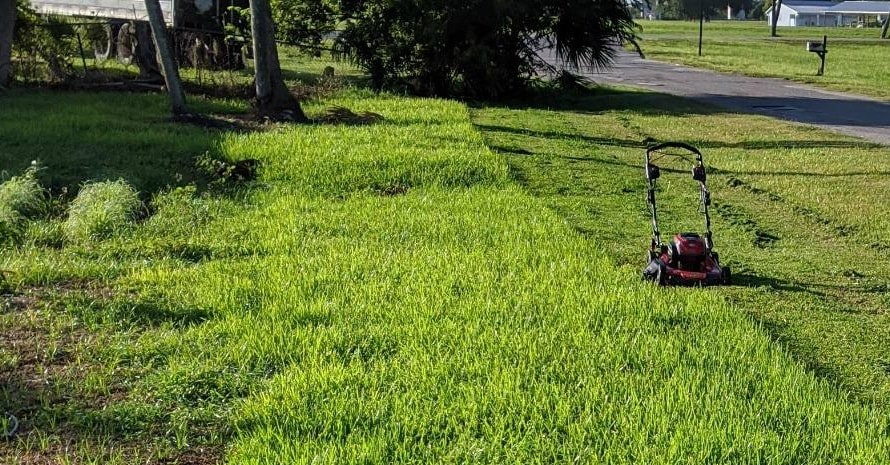 Now you know which models are the best in my opinion. It's time to find out what to look for when choosing a device.
How to choose an electric lawn mower
Choosing the right lawn mower, you should consider quite a lot of aspects. Otherwise, you risk getting a tool that won't match your expectations. Even if you have a small yard where any mower seems suitable, make sure you understand all the features correctly.
Power source
Modern electric lawn mowers are available in both corded and cordless variations. Both power sources have their pros and cons. As for the corded models, they provide effective and uninterrupted action, regardless of how powerful the motor is. The obvious disadvantage of "being corded" is the limited coverage of the tool. You need bulky extension cords to mow larger areas. This may not be a problem for you, but many readers of my blog argue that cords get cut by the blade by accident. That's something that cannot happen if you get a cordless model.
Battery-operated lawn mowers are usually powered by lithium-ion batteries and let you treat remote areas without those annoying cords. However, you have to sacrifice the uninterrupted work of corded mowers to achieve this. Although modern batteries last quite long, you should always compare the approximate time needed to mow your yard with the mower battery's single-charge lifespan. If cutting the cord is necessary, I recommend purchasing an extra battery to keep working while the drained battery is charging. Finally, battery-powered mowers are usually more expensive than corded counterparts.
Drive type
Not all electric lawn mowers are the same. The drive type is not an obvious characteristic, but it can affect your workflow significantly. Here are the types and their main differences:
Front-wheel – drives the mower along and allows you to keep the drive on while turning. It's a great option for medium and large flat lawns.
Rear-wheel – this type works better for moving uphill, and sidehill parts of the lawn as the front wheels don't lose traction when you push down on the handle and move up a hill.
All-wheel (AWD) – this type is great for treating tough grounds, including steep up/downhills and sidehills.
Non-self-propelled – these mowers are usually the cheapest as their motors do only the cutting job and don't help you push the tool forward. You need to put more effort into pushing them around the yard. It's a good option for small yards and budgets, but I don't recommend refusing a wheel drive if your yard is medium or large.
You may get very tired before the job is done.
Cutting deck width & height adjustments
The wider your mower's cutting deck is the more grass cuts per minute. At the same time, larger mowers are notably harder to maneuver, so there's no sense in purchasing a large machine if you are not comfortable enough with pushing it around. Most household owners find 14"-21" models a good compromise.
As for the height adjustments, an optimal solution is to have a 1.5"-4" range. Still, it might be unnecessary for your terrain, so there's no reason to overpay. You can also choose between systems that adjust each wheel height separately or simultaneously.
Additional features
It's always nice to have a bunch of extras for the money, but make sure you really need them:
Mulching – this option lets you turn all the clippings into mulch and use it for your gardening purposes.
LED headlights – it's nice to have them if you mow in the evening and have poorly lighted areas to treat.
Cruise control – this feature is usually included in seated mowers and lets you adjust the permanent speed and direction to make accurate passes and avoid over/under-cutting.
Warranty
We all expect power tools to last long, but there's always a chance that a machine stops working all of a sudden. The funniest thing that it doesn't depend on its price! For this reason, you should always review the warranty terms and conditions and read real owner's reviews of the customer service. Along with having a considerable warranty service duration, you need the service team of the brand/retailer to be responsive and helpful. It's also a good idea to learn the limits to avoid doing things that terminate your warranty.
Durability tips for electric lawn mowers
To prolong the life of your appliance, follow the basic mowing lawn guidelines, and remember to apply the useful durability tips below.
1. Inspect the lawn
This step is easy but requires you to be super attentive. Make sure you remove all the debris from the lawn. Check out what's underneath the long grass too. A single stone can destroy the blade and even harm you, so peel your eyes and prepare the area.
2. Inspect the mower
Mower inspection includes the following necessary steps:
Check if the battery is in good condition and charged;
Make sure the main cord and the extension cord are intact and check if the outlet voltage is matching the recommended voltage;
Ensure that all the nuts and bolts are well-tightened;
Make sure all the attachments are secured;
Check whether the blade is sharp enough. Sharpening is essential at least once during the mowing season;
Ensure that the cutting height matches the terrain character.
3. Essential precautions
Here are some more quick tips you must follow every time you mow:
Wait for the battery to get cold before recharging, or use a charger with a cooler if it's available for your battery model;
Don't cut the grass when it's too moist or when it starts to rain unless the manufacturer allows you to do so;
Keep looking for debris all the time as you may have missed something;
Don't cross gravel patches when the mower is on;
Stop the motor and unplug/remove the battery if you notice any minor or obvious signs of breakage. Don't try to solve the problem without an expert if you are not 100% sure of what needs to be done;
Start the motor only when then you are on a flat surface, and don't push the tool before it starts properly.
4. When the job is done
Here's what you have to do when the yard is mowed:
Clear the undercarriage – use a plastic hairbrush to remove all the clippings from the blade and the entire undercarriage. Don't use a hose or pressure washer unless it's offered by the manufacturer. Most electric mowers are not protected from water;
Slightly lubricate the wheels with WD-40 or its counterpart;
Tighten all the bolts and screws as the vibration could have loosened them;
Blow out the rest of the clippings using a blower or an air compressor.
NEVER:
Use harsh chemicals on plastic and painted parts;
Don't store the tool next to fertilizers, pesticides, and other corrosive matters.
5. Battery Maintenance tips
Although batteries are made to simplify your chores, they require proper care to last. Remember the following rules:
Inspect the battery regularly – make sure there are no cracks and housing issues with your batteries. You'd better notice that before the warranty runs out;
Avoid the cold – don't store the batteries in places where temperatures can get below the required minimum storage temperature. Otherwise, the battery will degrade in the cold or even stop working forever;
Don't store drained batteries – Li-ion batteries are designed to be charged to a certain level all the time. Charge them to the full before storing, check the charge indicator every 6 weeks, and charge up if it drops.
FAQ On Electric Lawn Mowers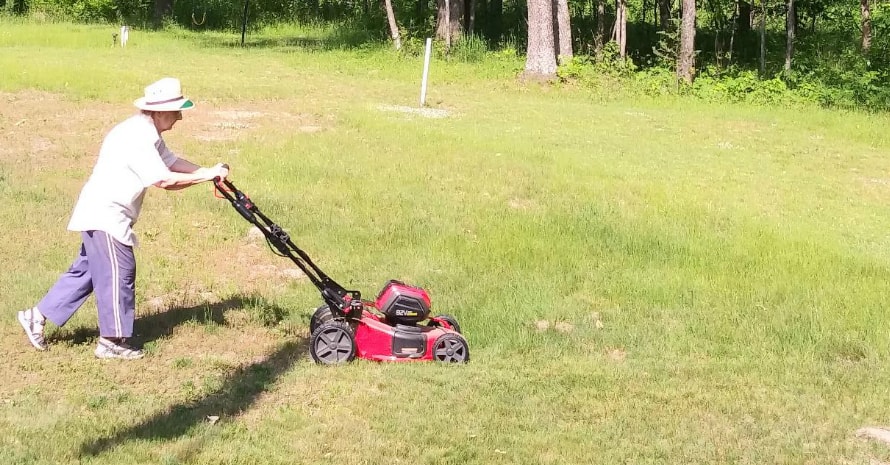 Here are the answers to the most interesting questions from my readers.
How to clean an electric lawn mower?
Most of the grass residues are collected under a deck. Clean it after several uses and remove clippings from under the shell. Compressed air can be used to blow debris out of hard-to-reach areas. Wipe all exterior surfaces with a slightly damp cloth and soapy water, but do not wet a motor.
How to test an electric lawn mower motor?
If your instrument does not start, the engine may be damaged. In this case, you will need a new one. However, do not rush to change it, but examine it from the outside and inside carefully. Check the vents, power cable, and circuit breaker.
Can I use an electric lawn mower commercially?
Of course, among the electric tools, some are designed for commercial use. They have great power, heavy-duty blades, durable bodies, and can work for a long time without stopping. However, not every tool is suitable for such a job.
Are electric lawnmowers better for the environment?
Yes, in comparison with gas appliances, they do not emit exhaust gases and make significantly less noise during operation. You should pay attention to both of these criteria as there may be noise restrictions in the area where you live.
Top Electric Lawn Mowers for Top-Looking Lawns
Before starting your search for a device, assess the scale and complexity of the work ahead. The dimensions, power, and other characteristics of a tool directly depend on it. Again, I think the Snapper XD 82V MAX is the best item overall. It has excellent power ratings, cuts even thick weeds, and can handle up to 10000 square feet on a single charge. I hope my electric lawn mower reviews and guide will help you make the right choice.
Please share your experience with such tools. Which model do you use? Which features did you find most useful?