As an Amazon Associate we earn from commission of qualifying purchases.
If you are the type to enjoy coniferous trees in your garden, you know that sometimes they cause issues when cleaning time. Though needles are not supposed to fall down in the autumn-like leaves, they often do and have to be raked up. But, due to their size, you will need the best rake for pine needles to do the job. It's very different from rakes for leaves.
Do they just have to be thicker? It's the most obvious solution, but there are others as well. For example, we'll encounter even adjustable models well fit for both leaves and needles. Great if you have a mixed park to clean up. And that's not all.
Affiliate links and images placed from the Amazon Product Advertising API on 2023-09-22
Best Rakes for Pine Needles Reviewed
Not that there is diversity comparable to consumer things like clothes or mobile phones. Still, there are quite various rakes that deserve a closer look at each.
1. Gardenite 63 Inch Adjustable Garden Leaf Rake
Affiliate links and images placed from the Amazon Product Advertising API on 2023-09-22
This leaf rake, it's designed to do the fine sort of job. Not meant to move stones or other heavy stuff, this one with an expandable head is great for small areas. Of course, for this sort of job you need its head collapsed from the regular 22 inches down to 7 inches. The distance between the tines then shrinks down to half an inch.
When it comes to raking up needles, the rake has to be head-collapsed as well. After this, the head becomes thicker, and it's harder for needles to slip through. I had to purchase one for myself last year to make sure, but then I realized it was one of the best purchases for pine needle removal in my garden. In addition, it requires little space, and its handle is zinc-coated. The sliding mechanism is partly plastic, though, and it will take a couple more years to see how it endures.
Last but not least: it's great for cleaning paved or asphalted paths, but feel way harder on raw ground. As for me, I don't consider cleaning the ground as necessary.

ADVANTAGES
Expandable head;
Zinc coating;
Lightweight;
Easy to store;
Handles needles well.
DRAWBACKS
Plastic parts seem not as durable;
Not meant for stones and other heavy stuff.
2. TRG GK102R The Groundskeeper II Rake
Affiliate links and images placed from the Amazon Product Advertising API on 2023-09-22
And here comes another brand from the Amazon/Walmart ecosystem. This rake by TRG is quite a different sort. Meant for raking up leaves, it's nevertheless good for handling pine needles. You will just need to repeat cleaning up pine needles, as some needles will inevitably slip through its tines.
This model is not collapsible: just a heavy narrow rake with rounded tines that does not get you bending while raking. The tines are steel and durable, while the handle is fiberglass; it takes one raking session in the cold to appreciate that (though its durability suffers from that). It's easy to clean: just flip the rake to have leaves and needles fall down from the tines. From my experience, it's the major upside to curved tines.
Due to its construction, it can be used for sorts of work like raking up raw ground or moving stones – just what Gardenite rake isn't meant for. So if you're seriously into gardening, I'd recommend having both.

ADVANTAGES
Stiff thick steel tines;
Fiberglass handle, lightweight and not cold;
Easy to assemble and use;
Easy to clean while working;
Very affordable.
DRAWBACKS
The handle needs to be handled with care.
3. ROOT ASSASSIN RK-001 58-Inch Yard & Garden Rake Multi-Tool: a Premium Pick
Sale
Affiliate links and images placed from the Amazon Product Advertising API on 2023-09-22
Root Assassin is suddenly a brand that exists outside major marketplaces and feels good. The creativity it applies to its products is surprising. The one we see now is a shovel-shaped rake that obviously has the best of both worlds.
Yes, its times are thick enough for pine needles lawn care even if it's covered with thick grass. When you have them piled, you can use the rake as a shovel to move them, and (as I saw) very few will slip through. With it, there's no question how to pick up pine needles when piled, no need to switch tools while working, and that's great.
What's not so great is that the manufacturer overtries to make it as lightweight as possible. It's really under 2 lbs., but plastic parts do not feel durable, and I have felt them almost breaking. Luckily, when it comes to light jobs (like cleaning paved paths), it doesn't take enough effort to break it. Partly it's recompensed by lifetime warranty.

ADVANTAGES
Multifunctional design
Unusual look
Very lightweight
Lifetime warranty
DRAWBACKS
Quite pricey
Does not feel durable
Takes a little time to learn
4. Professional EZ Travel Collection Adjustable Telescopic Folding Rake
Affiliate links and images placed from the Amazon Product Advertising API on 2023-09-22
EZ Travel Collection is rather a well-known brand of various outdoor tools and accessories, including rakes. The one we review here quite fits the name, being both telescopic and expandable – it is a great option to rake pine needles with it.
Collapse the rake to make it thicker, unfold the handle to achieve the most comfortable height; that's it. Scalability also lets you do the raking in places hard to access. Strong and lightweight at the same time, it's a great tool for those who do a lot of raking. In addition, its small size when collapsed lets you take it out for hiking. It's a great tool to prepare your camping place and clean it from leaves and needles.
Lightweight devices, though, need special handling. If you apply too much force, you can bend the handle severely.

ADVANTAGES
Collapsible head
Telescopic handle
Takes little space to store
A great hiking tool
Buyer's Guide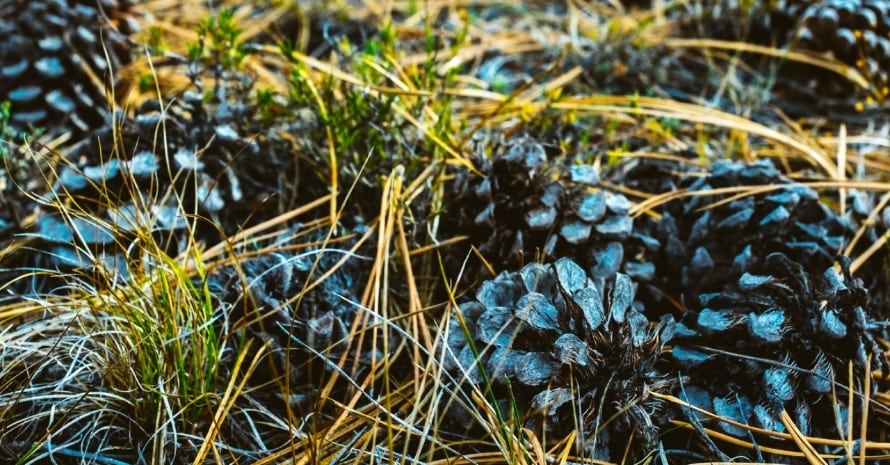 Although a rake seems to be such an obvious thing, you should learn what features to consider before buying one for pine needles.
How to choose a rake for pine needles
Here is a quick list of the features you should check out before you pay the money.
Handle – it can be made of aluminum, hardwood, or even steel. But what matters the most is the height and grip comfort. Lightweight models will attract you first, but you should know that they require gentle use. Otherwise, such a handle may bend over time. As for the height, you need a longer handle if you are tall and vice versa. The best solution is to opt for a telescoping one. Finally, a rubberized grip area will make the process much more convenient.
Tines – pine needles require tines that are close to each other and strong enough to lift the needles from the grass. For diverse areas, an adjustable rake would be perfect. It's also recommended to choose metal or plastic-coated tines. The second is less exposed to rusting, but with proper care, you don't need to bother.
Rake Head Size – large open grassy areas require a rake with a larger head. If access to the needless is an issue, a straight or adjustable head will save your day. Other designs don't offer any notable benefits.
Ease of Use – raking usually takes a lot of time, so the more comfort-first features you have, the better. If you suffer from back pain, a 3-in-1 rake model will help to take the strain off. Actually, all the previous aspects matter for the ease of use, so just look for a rake that meets all of them.
FAQ on Rakes for Pine Needles
Here are the questions I often hear, some of them just recently.
Should I rake up pine needles?
You know it prevents forest fires? Speaking seriously, needles are not much of a calamity when they fall down in a regular way. But after a heavy storm, you can see lots of them down on the ground, and they are so easy to spread around. And, no matter what you think of state projects, needles can ignite, and the consequences are too serious to joke about.
Can I use anything else instead of hand rakes for pine needles?
It's considered that a 3-point pine needle rake is the best tool. But, as you see, not all of those reviewed fit this definition. Versatile rakes are good too.
What if I won't clean up pine needles?
If there are just some, it's okay. Hardly will they cause you as much trouble as leaves. Some say they make the soil more acidic, though it's proven to be a misconception. They are not as slippery, and not as inclined to rot. And if you take a slightly Oriental perspective, it's even beautiful. But when you have done enjoying, they still need to be.
How to remove pine needles from lawn?
What you need to remove pine needles from a lawn is a thick and stiff rake. I would recommend one by TRG. Any similar one, though, will do. As for telescopic expandable lightweights, they are rather made for paved surfaces, asphalt, concrete, and whatever needles don't get stuck in.
How to rake needles from paved or asphalted areas?
For this, you need a softer touch. You may even get a special rake for that. Selecting one, you should care about thick tines and comfort rather than durability. Having two specialized tools at home is affordable, at least more affordable than frequently replacing the one versatile.
Sharp Versus Sharp
So, as you see, it takes a thick rake to rake pine needles, and an expandable one is quite an option. But you may have different preferences, and that's okay. So let's take a rest and talk.
What do you use for raking pine needles? Do you have any experience with these? What do you think about them? What else can you recommend? Drop a comment, and we will not rake it up. Let it spread and grow!