As an Amazon Associate we earn from commission of qualifying purchases.
Old, branchy oaks are a perfect decoration of any well-groomed garden. Their rich foliage provides superb shade on summer days and gives your property a splendid look. Cleaning your yard of fallen acorns is necessary if you want to prevent rodent contamination and whatever diseases it can bring. While you can cope with the task using your hands or a vacuum blower, the easiest way to collect acorns is with the help of a rake. In this review, I will examine the top-five most reliable models of this garden gear and choose the best rake for acorns.
Pros
The durable handle for extended reach and an extra-comfortable grip
Versatile gardening solution
Top Pick
Pros
The durable handle for extended reach and an extra-comfortable grip
Runner-Up
Pros
Versatile gardening solution
Affiliate links and images placed from the Amazon Product Advertising API on 2023-12-07
5 Best Acorn Rakes to Entrust Your Lawn
Having a high-quality rake will not only increase the speed with which you remove acorns from your lawn but also make the whole experience a lot more pleasant.
1. Corona QuickCollector – Best Rake for Acorns Overall
Affiliate links and images placed from the Amazon Product Advertising API on 2023-12-07
QuickCollector is a sturdy and reliable tool well-suited for heavy-duty exploitation. The model comes with a 9.5*7-inch steel basket, which flexible tines can accommodate various acorn removal needs and work effectively on different soils. It also has a 48-inch carbon steel handle that ensures long reach and comfortable grip.
I am a big fan of this particular tool because it is so easy to use and requires no special experience from the operator. Even young kids will find their way around this rake since a simple rolling action with minimum pressure is enough to get the job done well. The slim and compact QuickCollector model is easy to store and will not occupy much space in your garden shed. You can save even more floor space by hanging it to a nail or hook on the wall.

ADVANTAGES
The rolling action mechanism helps reduce the required effort;
The durable handle for extended reach and an extra-comfortable grip;
Easy basket emptying;
Perfect for collecting nuts, acorns, and seed pods.
2. MLTOOLS Gardening Rake – 3-in-1 Acorn Lawn Care Tool
Affiliate links and images placed from the Amazon Product Advertising API on 2023-12-07
When looking for an efficient and durable product to take care of your gardening needs, you should consider the MLTOOLS Gardening Rake. Thanks to its ingenious design, the item eliminates the need to juggle up to three different tools since it successfully combines the functionality of a traditional rake, a shovel, and a gardening sieve.
I have used this all-rounder to pull weeds in the garden, collect branches after pruning, rake nuts and acorns, spread muck, and shovel leaves into a wheelbarrow. One of my personal favorites here is the extendable handle that makes the tool both easy to operate and compact to store.

ADVANTAGES
Versatile gardening solution;
The practical design ensures top-notch functionality;
Durable and easy to lift thanks to the high-quality plastic.
DRAWBACKS
The handle may get loose with time.
3. HOMIMP Leaf Rake – Best-Priced Acorn Gatherer
Affiliate links and images placed from the Amazon Product Advertising API on 2023-12-07
This lightweight, rustproof tool is ideal for performing a wide range of outdoor chores like gardening, weeding, and landscaping. Its compact size allows raking leaves and acorns in tighter spaces, and the adjustable handle makes it possible to reach hard-to-get places. The HOMIMP Leaf Rake is a handy instrument to use by kids on camping trips.
The overall build of the rake is sturdy and reliable. The 11 head tines are placed close to one another to prevent leaves and acorns from getting stuck in between. Quite a few friends of mine have chosen to buy this particular piece of gardening gear because of the superb price-quality balance it offers.

ADVANTAGES
Adjustable handle with 3 different height settings;
Easy to store and transport;
Perfect for tight spots;
A budget-friendly option.
DRAWBACKS
Not great for heavy-duty use.
4. Bully Tools Bow Rake – Wide-Range Acorn Nut Rake
Affiliate links and images placed from the Amazon Product Advertising API on 2023-12-08
I would recommend the tool to homeowners who seek a more versatile, inexpensive product. The Bully Tools bow rake can make short work of a variety of gardening chores like collecting leaves, acorns, and nuts from your property. Also, it can cope with some more labor-intensive tasks such as moving rocks or spreading mulch.
The head of the rake contains 16 steel tines, which are much thicker and tougher than the tines on a regular leaf rake. Thanks to the level-headed design and the handle that is welded to the head of the rake, the tool allows moving around heavier objects without risking to separate the shaft from the end.

ADVANTAGES
Suitable for a wide range of labor-intensive tasks;
Made of commercial-grade steel;
Comes with a limited lifetime warranty.
DRAWBACKS
Heavier than some pricier rakes.
5. Turbine Roll-A-Nut – Acorn Removal Tool for Tall Grass
Affiliate links and images placed from the Amazon Product Advertising API on 2023-12-07
If you want to make short work of picking up fallen acorns and nuts from tall-grass, uneven surfaces, Turbine Roll-A-Nut Gatherer is your safest and surest choice. The wire spring basket is made to be super-durable and resilient, capable of holding up to two whole quarts.
Due to the unique design of the basket, pushing and rolling this nut gatherer is an effortless task that can be handled with ease even by your youngster. This piece of gardening equipment has a 3/8th cold roll steel shaft that ends with a wooden handle for safe grip. The lightweight, rustproof construction allows moving the tool through tall grass and lifting mid-sized acorns without much hassle.

ADVANTAGES
The rolling mechanism saves time and effort;
Handy and safe grip;
Performs excellently in tall grass.
DRAWBACKS
Not suited to cover larger areas.
Rake for Acorns Buyer's Guide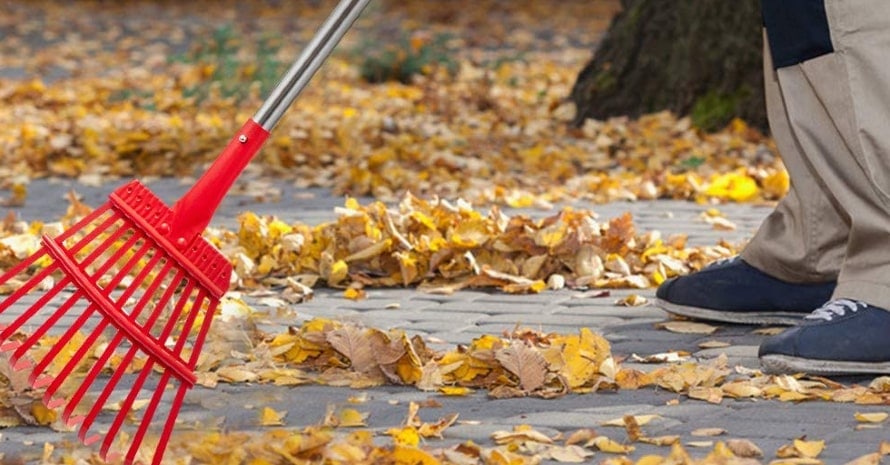 Using a rake to clean a bumper crop of acorns before it turns into a rotting, squirrel-attracting mess is one of the simplest methods. To ensure the success of your enterprise, consider the following:
Area size. Rakes work best for smaller areas. Removing acorns from a spacious yard with the help of a rake can be too laborious and ineffective.
Type of rake. The rake you are using needs to be longer and more lightweight than regular leaf rakes, with a firmer end to be able to extract the acorns buried deep in the grass.
Additional gear. To scoop up the piled acorns, you will need a shovel and a sturdy bag. Have it ready in advance to save yourself a lot of time and effort.
FAQ on Rakes for Acorns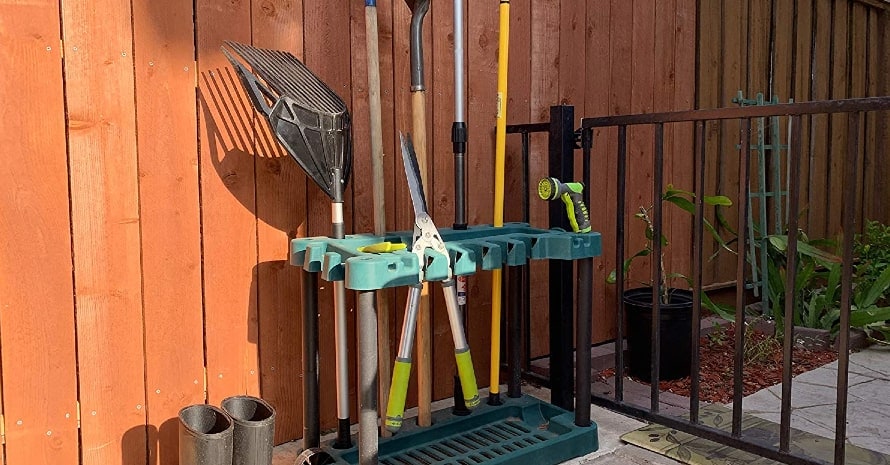 People who face the problem of removing acorns from their yard often ask the following questions.
What can I do with fallen acorns?
If you are artistic enough, you can use fallen acorns to make figures, candles, wreaths, photo frames, jewelry, etc. Some use acorns for food, turning them into a savory snack.
What is the best way to rake up acorns?
Using a rake is the best way to get acorns off the lawn if you own a small yard. If the territory is vast, you might be more comfortable using a lawn sweeper or picking the best yard vacuum for acorns and leaves.
Can acorns be composted?
Backyard composting of acorns returns helpful nutrients to the soil, facilitating the growth of other plants.
Best Acorn Removal Tool: Final Verdict
When unsure about what to do with acorns in the yard, investing a little money into a reliable acorn lawn care tool like the Corona QuickCollector is a wise move. It is a handy, functional, reasonably priced option that will serve you for years. If you need something more budget-friendly, the HOMIMP Leaf Rake should not disappoint.
Do you use a rake for acorn removal from the lawn? How does it work for you? Which of the reviewed rakes have you tried? I`m always thrilled to know what you think, so feel free to share your wits in the comments!