As an Amazon Associate we earn from commission of qualifying purchases.
If you have any vegetation other than grass that you like to keep neatly trimmed in your garden or yard, you are more likely than not to find yourself spending a ridiculous amount of time tending it. Luckily, a gas powered hedge trimmer eliminates the problem effectively.
Pros
Commercial grade air filter.
Best Commercial Gas Hedge Trimmer
Pros
Commercial grade air filter.
Affiliate links and images placed from the Amazon Product Advertising API on 2023-09-21
Unlike their predecessors, today's shrub care devices don't have to be bulky beyond maneuverable; instead, the best gas hedge trimmer models on the market will bring you the power and ease of access that you need to spruce up the most unruly shrubs in no time. Read below for unbiased gasoline hedge trimmer reviews and a buyer's guide to help you shop wisely.
5 Best Gas Hedge Trimmers Reviewed
No products found.

– Top Pick
Poulan Pro PR2322 22-Inch 23cc 2 Cycle Gas Powered Dual Sided Hedge Trimmer – Best Budget Option
Echo 20 in. 21.2 cc Gas 2-Stroke Cycle Hedge Trimmer – Best Commercial Gas Hedge Trimmer

No products found.

– Best Gas Hedge Trimmers for Thick Vegetation
SENIX HT4QL-L 26.5cc 4 Stroke Gasoline Hedge Trimmer – Unique Inexpensive Gas Powered Bush Trimmer
In this section, I've picked up five gas operated hedge trimmers that stand out in one or more essential respects. The reviews are based on my experience or the impressions reported by someone I know I can trust. Please mind that each item has its pros, cons, and situations that it's perfect or suboptimal for.
1. Husqvarna: Top Pick Gas Hedge Cutter
No products found.
In the world of hedge trimmers, gas is known to deliver more power than any other source. This model by Husqvarna, a lawn equipment manufacturer with a stunningly long history that hardly needs to be introduced, illustrates it with its 21.7 cubic centimeter two stroke engine. I had got it as a replacement for my Poulan Pro PR2322, also reviewed below, and I didn't find it any less powerful. Giving a really smooth top even to an overgrown hedge doesn't take much time with this trimmer.
The efficiency of this tool is partly attributable to its dual action 18-inch stainless steel blade, which is enough for cutting branches up to 4/5 inch thick. It starts quickly and isn't prone to stalling.
Finally, this is a lightweight model at just 10.36, making it easy to maneuver. It also features an anti-vibration design to reduce the stress on your arms further. The noise level is more than decent for a gas-powered model.
ADVANTAGES
Powerful;
Versatile blade size;
Efficient blade design;
Lightweight and maneuverable;
Reduced vibration and noise.
2. Poulan Pro: Best Gas Powered Hedge Trimmer on a Budget
Affiliate links and images placed from the Amazon Product Advertising API on 2023-09-21
This affordable shrub cutter by a US based company with over seven decades of experience preceded my current favorite in keeping my hedge trimmed to perfection. There was just one thing I wasn't quite happy with, namely that it had trouble starting at times. This is a common problem with gas hedge trimmers, so I know that many users will gladly put up with the shortcoming given the price that the otherwise excellent model comes at.
Running on a 23 cc two stroke motor, this is a truly powerful tool great for taming overgrown vegetation. It weighs only 11.1 lbs and is well-balanced, which means you can use it for really big areas without having to take a rest too often. The stainless steel blades offer a cutting width of up to 22 inches and boast a double action design for increased efficiency, potentially dealing with branches as thick as a whole inch.
The rotating handle along with an anti-vibration technology makes this model a truly convenient tool, which I highly recommend to anyone shopping on a budget.
ADVANTAGES
Quite lightweight;
Great engine power;
Ergonomic handle;
Quick cutting blade;
Good for cutting thick limbs.
DRAWBACKS
Might take time to start.
3. Echo: Best Commercial Gas Hedge Trimmer
Affiliate links and images placed from the Amazon Product Advertising API on 2023-09-21
If you are looking for a tool that's suitable for professional use but don't feel like investing a fortune, this model by ECHO has every chance of becoming your trusted companion. ECHO is a US registered brand with nearly fifty years of experience, and it is a part of a larger Japanese company.
This is the smallest blade option in the series, measuring 20 inches. The blade uses a double sided design combined with dual action for extra swift cutting. A 20-inch shaft makes the tool perfect for working in hard-to-reach areas. The commercial grade high performance air filtering system is very easy to maintain.
A relative of mine who is a big fan of shrubs and has a vast garden has been using this model to keep it impeccable. Her only complaint is the weight. With 13.92 lbs, the tool does feel heavy, especially when compared to electric trimmer models. The proprietary starting system prevents any problems with its 21.2 cc two cycle motor and makes it a breeze to get going.
ADVANTAGES
Clever blade technology for quick cutting;
Starts easily;
Easy to maintain;
Maneuverable design;
Commercial grade air filter.
4. Craftsman: Best Gas Hedge Trimmers for Thick Vegetation
No products found.
First introduced nearly a hundred years ago under the Sears brand, Craftsman is a product line currently owned by Stanley Black & Decker that targets the middle price tier.
Equipped with a two stroke engine as large as 25 cc, this model is also far from lightweight at 18.36 lbs. Even with an ergonomic multi-position grip, my neighbor, who has been using it for some time, complains about having to take five every now and then. This is partly made up by the immense power, combined with a 22 inch dual action blade, which translates to a great potential for cutting really thick bush limbs. Add a movement span of 135 degrees, and you will get decent maneuverability despite the weight.
The model uses an Easy Start technology to spare you some pulling. As an alternative, you can purchase an electric start drill bit separately. Finally, it is compatible with Craftsman's TrimmerPlus attachment range, so you can convert it into other yard and lawn care equipment.
ADVANTAGES
Very powerful;
Great for cutting through thick vegetation;
Simplified start;
Convertible to other tools.
5. SENIX: Unique Inexpensive Gas Powered Bush Trimmer
Affiliate links and images placed from the Amazon Product Advertising API on 2023-09-21
Developed by a young yet ambitious company with a focus on lawn care equipment, this model stands out due to its 26.5 cc engine that uses four cycles rather than two. This eliminates the need to mix gas and oil and reduces vibration while delivering impressive power.
The 22-inch blade uses dual action for increased efficiency. It has a cutting capacity of 1.1 inches, making the model a good budget-friendly option for thicker branches.
I couldn't miss the opportunity to test this trimmer when I was at my relative's place, and I found it quick as well as reasonably lightweight. What I didn't like was that it definitely lacked balance, causing more fatigue than it should have had.
ADVANTAGES
Extremely powerful;
High cutting capacity;
Quick dual-action blade;
Moderately lightweight;
Low vibration motor.
Gas Hedge Trimmer Buyer's Guide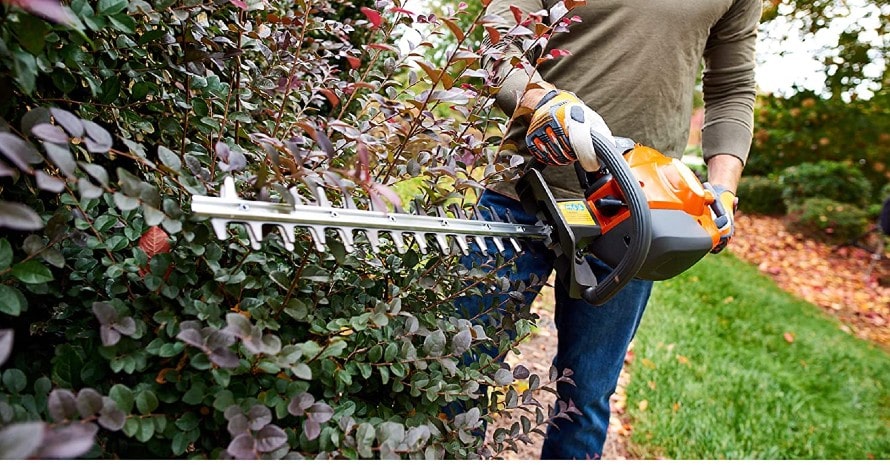 Petroleum powered trimmers are generally considered a viable investment if you have a larger garden to look after. Additionally, they are known to give you a smoother hedge top than manual tools. Here's a quick guide to help you make the best of your gas shrub cutter when used for either purpose.
The key criteria to take into account in a gas powered hedge trimmer are as follows:
Longer blades are better for trimming thick branches or working in tight spaces. However, they are also less stable.
The bigger the gap between any two blade teeth, the thicker and more mature branches it can cut.
Double action blades as opposed to single action ones are more efficient but also more expensive.
Power is expressed in cubic centimeters. The bigger the number, the more power you get.
Obviously enough, lightweight models are more maneuverable and easier to operate. Just make sure it doesn't come at the cost of power.
Eye and hearing protection is required when using a gas powered trimmer. Always cut away from where you are standing and remember to keep both hands on the device.
Gas Powered Hedge Trimmer FAQ
Here, I will answer two questions that I've often heard being asked when it comes to gas operated trimmers for your vegetation.
Are gas hedge trimmers better than electric ones?
This is a tricky question because each power source has its pros and cons. I'd say that gasoline is not the best choice if keeping the device light is your number one priority. A lightweight gas hedge trimmer is not a non-existent unicorn, but it will probably cost more than a similar model powered by electricity. It's also likely to generate more noise.
However, gas trimmers are more powerful and, therefore, better where speed matters. Just like cordless electric models, they offer good maneuverability in tight spaces. Finally, there's nothing to prevent you from using a gas operated trimmer on a rainy day, which is not the case with electric equipment.
Are Stihl hedge trimmers any good?
They are. Stihl doesn't make cheap gas hedge trimmers but offers a range of professional grade and residential equipment. It tends to be well-engineered and built to last but is probably too premium-priced for most users, which is why I haven't included any model by this brand in my personal top 5.
Top-Rated Gas Hedge Trimmers: Saving Time & Effort
When it comes to choosing the best hedge trimmer, gas is a great option because it combines mobility and power. My advice to anyone having a tough time dealing with their overgrown yard is to read a first-hand gas powered hedge trimmer review or two to make sure they invest in the device that's really convenient. Alternatively, Husqvarna 122HD45 is a great solution, sure to fit most users' purposes.
What kind of a hedge do you have? Tell us about the plant in the comments and don't forget to share any helpful trimming tips for it if you know some!