Owners of all-terrain vehicles, commonly known as ATV, can save themselves a lot of the drudgery that's traditionally associated with lawn and garden maintenance tasks such as seeding and fertilizing. Just get a spreaders attachment to go with it, and the job is largely done.
But how do you choose the best ATV spreader for your purpose, and how does one model even differ from another? Read our first-hand ATV spreader reviews below to find out. A buyer's guide for those willing to invest in an ATV mounted spreader is included for your information.
Pros
Works with a variety of materials, including salt
Compatible with most ATV models
High capacity makes it great for big areas
Top Pick
Pros
Works with a variety of materials, including salt
Runner-Up
Pros
Compatible with most ATV models
Best Value
Pros
High capacity makes it great for big areas
5 Best ATV Spreaders Reviewed
Buyers Products ATVS100 ATV All-Purpose Broadcast Spreader 100 lbs. Capacity with Rain Cover – Top Pick
Moultrie ATV Food Plot Spreader – Runner-Up
Buyers Products ATVS15A ATV All Purpose Broadcast Spreader 15 Gallon Capacity Black – Premium Option
Agri-Fab 45-0329 185 lb. ATV Tow Broadcast Spreader
In this section, we share our ideas as to the key advantages of some of the best pull behind seed spreaders for ATVs based on ouк first-hand experience or that reported by people we know.
1. Buyers Products ATVS100: Best ATV Broadcast Spreader Overall
The ATVS100 has a polyethylene hopper that's resistant to rust, holding up to 100 pounds of free-flowing material and spreading it to a maximum of 30 feet. You can adjust the feed with a manual gate regulator.
This model comes with a 12V motor that's hidden inside for corrosion protection, and a rain cover comes included.
The manufacturer specifies that this model can be used with bagged #1 rock salt, which a relative of ours has tested this winter. On the downside, she mentioned salt splatter landing on the ATV.
---
ADVANTAGES:
Won't kill your budget;
Works with a variety of materials, including salt;
Relatively large capacity;
Durable;
Comes with a rain cover;
You can adjust the feed rate.
DRAWBACKS:
You might need a screen between this and the ATV.
---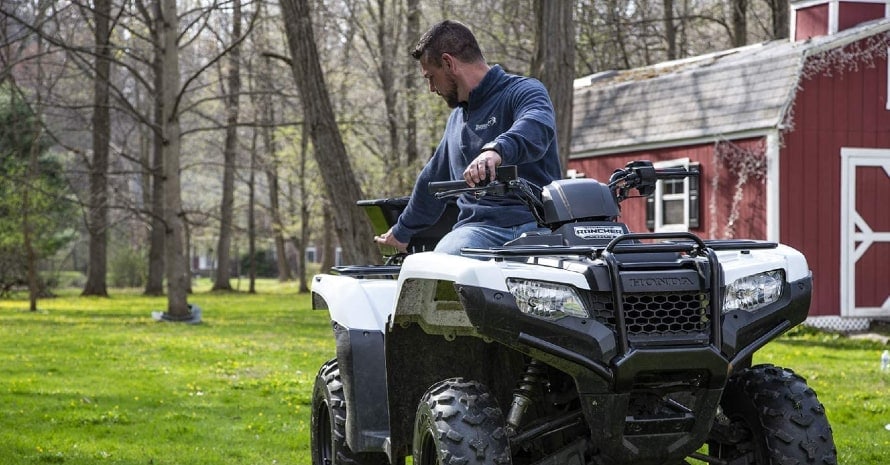 2. Moultrie ATV Food Plot Spreader: Best ATV Seed Spreader for Modest Areas
This Moultrie seed spreader for ATV use targets smaller gardens than the top pick as it only holds up to 50 pounds of material. It is not meant for salt spreading.
We have some experience with this model as it was the one our friend purchased for his modestly sized plot, and we took care of it while he was away. The 12V motor ensures efficient spreading, controlled with a shut-off gate, and there's a quick-release mechanism that makes it user-friendly.
---
ADVANTAGES:
Great for planting smaller areas;
Convenient quick release;
Compatible with most ATV models;
Controllable feed rate;
Affordable.
DRAWBACKS:
Limited range of materials.
---
3. Buyers Products ATVS15A: The Best ATV Broadcast Spreader for Larger Plots
This vertical ATV fertilizer spreader was the one we chose for all-season use on our lawn and driveways. Its rust-proof poly tank has an impressive capacity of 15 gallons, powered by a 12V motor. Spreading width ranges from 5 to 30 feet.
You can control how much material you distribute. The gate might require modification depending on your ATV model.
---
ADVANTAGES:
High capacity makes it great for big areas;
Sturdy;
Feed rate adjustment capacity;
Versatile.
DRAWBACKS:
Might need modifications on installation.
---
4. Agri-Fab 45-0329: A Premium Spreader for ATV Use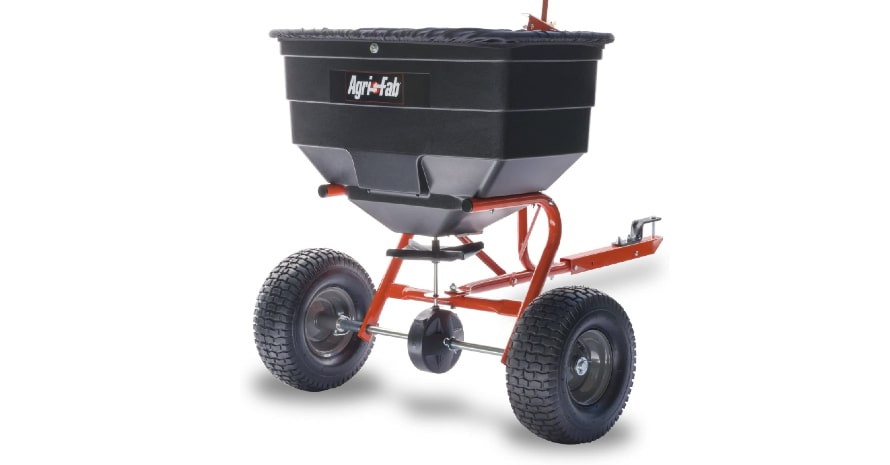 No products found.
With a capacity of 185 pounds, the model comes mounted on grippy 15″ X 6″ pneumatic tire wheels. The gear disengages feature in these enables higher speed, which our friend with an acre of land to process appreciates greatly. The spreading width is up to 12 feet.
The model has an enclosed gear box for maximum durability. It works well with fertilizers as well as sand, ice melt, and salt.
---
ADVANTAGES:
Will fit most ATV models;
Very high capacity;
Works with a variety of materials;
Big wheels.
---
5. Field Tuff AS-80ATV12: Best ATV Salt Spreader
This 12V receival mount spreader will fit nearly any ATV model and is clearly made to last. The hopper holds up to 80 pounds of material.
With a maximum broadcast width of 12 feet, our approach is to employ it in winter-time driveway maintenance. A number of ATV salt spreader reviews mention that the wiring included with this model is too short, with which we agree.
---
ADVANTAGES:
Compact;
Universal mounting;
Great for salt spreading;
Rain cover included;
Sturdy design.
DRAWBACKS:
The wiring might need modification;
Not for large areas.
---
A Buyer's Guide to ATV Lawn Spreaders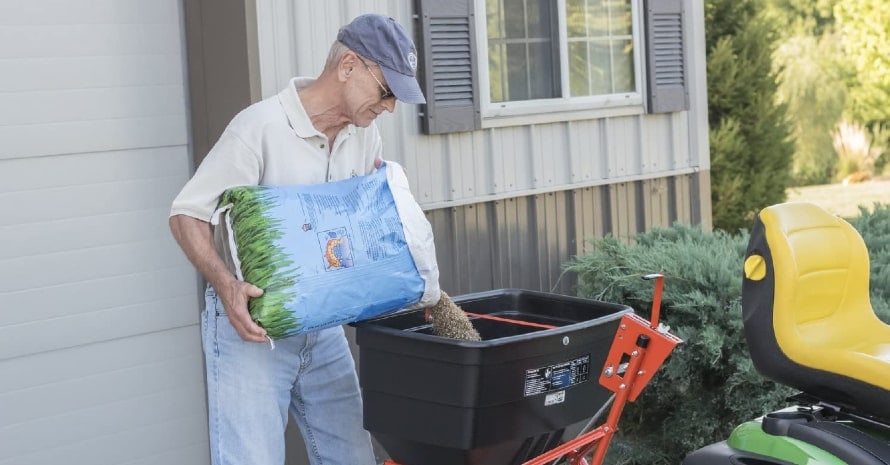 Here's a quick guide to help you pick the best ATV mount spreader for your purpose without overinvesting in a bulky device you won't be able to make the most of.
What is an ATV Spreader?
An ATV spreader is the name commonly used to refer to broadcast seeders, or centrifugal fertilizer spreaders, that are to be mounted on an all-terrain vehicle to be towed behind it for ease of use. ATVs are the preferred equipment for small to medium-sized plots where tractors aren't an option.
Choosing the Best ATV Spreader
The first step is to figure out your priorities. Some people are most interested in using their ATV mounted spreader to take care of their ice-coated driveways during the winter by sprinkling them with rock salt. This requires a larger feed gate and agitator/motor to crush salt clumps.
Whether it's fertilizer, ice melt, or salt that you intend to spread, choose a model with a capacity that fits your plot's area. The ability to control how much material you fed at a time is a valuable feature. Finally, invest in sturdy rust-proof designs with all the vital parts enclosed.
Make sure the attachment is compatible with your ATV model.
ATV Spreader FAQ
Here's a small collection of miscellaneous tow-behind broadcast spreaders questions that we often get asked, answered briefly to further familiarize you with the implement.
How to calibrate my ATV spreader?
Talking about ATV spreaders, calibration means ensuring that the device spreads the right amount of whatever material you intend to broadcast. Most manufacturers specify how much of their product you need per unit of area, so you can test your seeder on a small pre-measured plot of, say, 200 square feet.
Calculate how much of the material you need for this area and load it into the hopper. Cover the subplot you've chosen and check the hopper. If there's any material left, or you ran out of the material before finishing, adjust the feed rate accordingly.
Why do I need an ATV spreader?
The key benefit of using an ATV spreader for seeding and fertilizing is consistency. It eliminates the striping problem that might undermine your effort. It also makes the process less labor-consuming, which also applies to salt spreading.
Are all ATV spreaders compatible with any ATV?
Most models are made with a view for maximum compatibility but still might need modifications on mounting. Consider the hitch when you go shopping.
Keep Your Property Covered with the Right ATV Spreader
An efficient, versatile spreader like the ATVS100 by Buyers Products will save you a lot of time tending your lawn and/or fighting the ice on your driveways. Be sure to pick a properly sized and sturdy model to enjoy perfect consistency in your fertilizing and seeding tasks, and don't forget about compatibility.
What is the main purpose that you'd like to get an ATV tow-behind spreader for? Is it the winter getting on your nerves, or are you planning a grass seeding session? Tell us in the Comments section down below!
Last update on 2021-10-21. The post includes Affiliate links. Images from Amazon Product Advertising API