As an Amazon Associate we earn from commission of qualifying purchases.
Have you ever played golf in a fashionable golf club? The golf yard is so perfect that you may hear a crunch of every grass you step on. They spend a lot of time and money to take care of the lawn. Don't worry! I don't want to waste your time telling about heroic efforts of dozens of gardeners.
Safe for children and pets
No risk with over-application
Runner-Up
Safe for children and pets
Premium Option
No risk with over-application
Affiliate links and images placed from the Amazon Product Advertising API on 2023-12-08
In these best organic lawn fertilizer reviews, I want to share only useful and real stories. I chose 8 fertilizers for grass with different basis to show you all the spectrum of products. Also, here you will find tips on feeding, schedule, and ideal amount to use. I hope you'll enjoy my rating and comments.
8 Best Organic Lawn Fertilizers

1. The Best Organic Fertilizer for Lawn – Scotts Natural Lawn Food
 5/5 
No products found.
I recommend this product because I'm 100% sure it's a natural lawn fertilizer. It follows zero-waste principals, as it is made from animal leftovers. Nitrogen, phosphate, soluble potash, calcium, sulfate are gained from the organic sources. Blood, bones, feathers, and meat are ground into a powder and combined in an ideally balanced diet for grass growing, which is harmless for humans and animals. The 30 lbs package is enough to turn a 4 000 sq. ft. yard into a green paradise.
You don't need to wait for a special occasion to feed a lawn. Use it when you are planting the grass and spread the fertilizer 6-8 weeks later. You'll see the results in five days from the first try, but I'm pretty sure you want to enjoy green yard all year, not just a month after the product`s application. That's why consider a permanent usage of the Lawn Food. Feeding your lawn 4 times a year helps to maintain an adequate level of nutrients for the fabulous grass.
Despite its effectiveness, my favorite plant food smells like a chicken coop. Once, a good friend of mine phoned being panic-stricken. He applied the Natural Lawn Food and walked home to enjoy a cup of tea. Accidentally, he forgot to close the door, so his pug ran out. 10 minutes later, he found his dog eating the smelly grass on the back yard. He was terrified about his clumsy pet's health and phoned me in search of an antidote.
How could the meat or bone powder harm a dog, if they are a part of dog's ration? His pug was definitely fine and proud of such a successful trick. The smell vanished in few hours as well as my friend's panic. Therefore, you may be sure this fertilizer is safe for pets and children. Now my friend has the best backyard on the street and his always hungry pug.
ADVANTAGES
Suitable for any season and any grass type;
Harmless for pets and children;
It is safe to walk on the grass right after the product`s application;
Can be spread with a turf builder spreader.
Available in 18.2 lbs and 29.1 lbs packages.
DRAWBACKS
Not available in Connecticut, Florida, Maryland, Maine, Minnesota, New York, Washington, Wisconsin.
Smells for few hours after the usage.
2. Milorganite Fertilizer — High-Grade Nitrogen Fertilizer
 4.6/5 
Affiliate links and images placed from the Amazon Product Advertising API on 2023-12-08
Once I have played golf on a lawn that was improved with Milorganite organic lawn fertilizer. It was a pleasure to play on such thick grass. If you want to make the lawn as perfect as in golf clubs, think about the usage of this Organic Nitrogen Fertilizer.
The Milorganite Fertilizer is a mix of heat-dried microbes and 4% of non-staining iron. It is composed by biosolids, that are manufactured by the Milwaukee Metropolitan Sewerage District from sewage waste streams. For you not to doubt that Milorganite is an efficient product, let me explain what biosolid is.
Imagine you have an aquarium and a catfish. The catfish eats dust and dirt, that's how it cleans the water tank. If you pour mud in the aquarium, in a week, the water will be clean again, and your fish will lay on the bottom digesting food. The biosolid is that catfish. The microbe absorbs all the dirt in sewage waste streams and digests it. It doesn't mean it turns bad due to the particles it contains. On the contrary! The microbe produces nutritions from the dirt. In the updated bags of Milorganite, you may find "slow-release" nitrogen instead of "organic" nitrogen, due to such "artificial" process of making.
Milorganite provides a perfect fall fertilizer for lawn. If you decide to nourish the ground once a year, use the Milorganite product in fall. The best way to apply it is to use a spreader. It will control the dosage. You need to spread the granules all over the lawn evenly.
You can use it 4 times a year according to a recommended "holiday schedule". The developers advice applying this fertilizer in the north on Memorial Day (end of May), Canada Day (July 4th), Labor Day (early September), Thanksgiving (mid November). If you live in the south – on Easter (after turf breaks dormancy), Memorial Day (end of May), Labor Day (early September), in early October (or when overseeding).
ADVANTAGES
Safe for children and pets;
Can't burn the grass, thanks to the formula;
A slow-release feature, due to which a product feeds the grass when it's needed;
Available in 36 lbs package;
The smell scares away wild deers.
DRAWBACKS
Strong smell lasts 2-3 days after spreading;
The price may vary due to the transportation costs. You can buy it in a local hardware store for a cheaper price.
3. The Andersons 7-1-2 Innova Fertilizer — A Natural Lawn Fertilizer
 4.4/5 
Affiliate links and images placed from the Amazon Product Advertising API on 2023-12-08
It's another slow-release fertilizer. It means that you don't need to water the lawn immediately after applying the product, you can give it two-three days to stay or simply wait till rain.
Once, I was a witness of the Andersons result on the Bermudagrass lawn. It was applied with a rotary spreader, so it took just an hour to seed. After feeding the lawn, we had some extra pounds left. We decided to try the fertilizer on rose bushes and tomato plants. In a week, we saw the difference. The lawn became greener and thicker. The bushes had new leaves and blooms on them. The tomato plants were noticeably higher. Therefore, we were pretty impressed by the results.
This product is likewise plant-based. It's a mixture of byproduct of soybeans with a high rate of amino acids. So it's very gentle to the ground.
One bag covers almost 4000 sq fts. But if you want to make your lawn grass thicker, you may experiment with the amount of fertilizer.
Mind that, if your neighbor's house is situated too close to your lawn, there wouldn't be any complaints. The Andersons has no smell, so it won't bother anyone.
ADVANTAGES
No risk with over-application;
Safe for kids and animals;
Has no obnoxious odor;
Safe if you over-applied the product.
DRAWBACKS
Overpriced;
Sometimes, the bags come with mites.
4. Ringer Lawn Restore II — Best Fertilizer for Green Grass from the Soybean Meal
 4.4/5 
Affiliate links and images placed from the Amazon Product Advertising API on 2023-12-08
The Ringer Lawn Restore is a product of a Safer Brand. Perhaps, you have heard about this company as a developer of pest control products. Moreover, the brand philosophy is focused on care about the Earth by organic growing of plants indoors and outdoors. Thus, this fertilizer contains no phosphates.
For some householders, winter is the awfulest time of the year. All plants outdoors are bare, covered with snow, if you are lucky to have snowy winter, or with mud. Garden lovers can't stand long winter nights without dreams about their future lawn and flowerbeds in front of the fence. If you also can't wait till a planting season and want to start as soon as possible, think about this fertilizer. You can use the Ringer organic lawn fertilizer right after the last frost for revitalising it to a thick turf. Also, it is better to add it one time in midsummer and once in autumn.
The 25 lbs bag of this spring lawn fertilizer, covers up to 5 000 sq. feet. The formula works extremely fast; therefore, in 3-5 days the lawn will look much greener and healthier.
The Ringer Lawn Restore consists of the plant-based material. It is a mixture of distilled grains, soybeans, and sulfate of potash. This formula won't burn your lawn plants. It has no odor so it won't bother you after seeding with any unpleasant smell.
ADVANTAGES
Has no smell;
Fast result;
Safe for children and pets;
Available in 25 lbs package.
DRAWBACKS
May be useless for some grass types;
May provoke the growth of weeds.
5. Scotts Turf Builder Starter Food for New Grass Plus — A High Nitrogen Lawn Fertilizer
 4.3/5 
Affiliate links and images placed from the Amazon Product Advertising API on 2023-12-08
This option is another Scott organic lawn fertilizer. The Scotts is a prominent company in plant food development, they even have made a special addition for every season. In this review, I would like to focus only on 2 their products, and the second is this Turf Builder Starter.
I recommend it to those gardeners who want to change their lawn grass or who have just started caring about the yard. The fertilizer helps the beginners in the field to get used to new duties and tasks. The Starter Food for New Grass prevents crabgrass and dandelions for up to six weeks. It's a 2-in-1 product, intended for feeding grass and preventing weed. But to be honest, you will see the real effect and weedless lawn after a few years of annual usage. If you want to see the result as soon as possible, use the fertilizer 4 times a year and water the grass regularly.
In contrast to my favorite fertilizer, the Natural Lawn Food, this one is mineral-based. That is the reason it contains high level of slow-release nitrogen. The product is made for lawn only; therefore, don't experiment with fruit trees, kitchen gardens or flower beds.
ADVANTAGES
Combines two products in one;
Easy to use;
Available in 21.5 lbs bags;
Better to be applied with a spreader.
DRAWBACKS
Not available in Florida;
May cause temporary whitening of grass.
Its strong formula may result in eye irritation.
6. Advanced – Lawn Food Liquid — The Best Lawn Fertilizer for Summer in a Bottle
 4.2/5 
Affiliate links and images placed from the Amazon Product Advertising API on 2023-12-07
This liquid grass fertilizer is fine mixture of basics. It consists of minerals blended with seaweed and fish.
This spray will treat your lawn from neither diseases nor weed infestation. Nevertheless, use it to achieve healthy nutritious soil and prevent such chagrining conditions.
What I like the most about this product is the way of its application. It brings so much fun! All you need is a 32-ounce bottle and a hose.
My manual to the liquid fertilizer is the next:
Pay attention that the upper part of the bottle is a spray nozzle.
Attach it to the end of the hose.
Then switch on the low or medium water flow.
On the upper part, you will find the marks and a dial.
Turn the dial "on".
The plant food will sprinkle the lawn.
Control the water flow with the upper dial.
One small bottle is enough for 3 200 sq fts. Although, it depends only on your professional skills with the hose. Whether you spread the fertilizer in one spot or spray it around all grass coverage, you will see the results in almost two weeks.
After the applying, don't forget to water the lawn sufficiently. It is needed for the proper absorption of the product.
ADVANTAGES
Suits all grass types;
Ideal for use during hot seasons;
Doesn't contain harsh chemicals;
Available in 32 ounce, 1 gallon, and 2.5 gallons bottles;
The hose end sprayer bottle may be used with another liquid.
DRAWBACKS
Runs out of stock very fast;
It takes two or more weeks for the first visible result.
7. Purely Organic Lawn Food — The Best Fertilizer Without Phosphorus
 4.2/5 
Affiliate links and images placed from the Amazon Product Advertising API on 2023-12-07
It is a non-manure based natural organic lawn fertilizer. The main basis is soybean meal and dried grains, including corn. Thus, it may be a perfect product for homeowner associations or gated communities that forbid manure using.
I have questioned several users and opinions of those, who have pets, are divided.
? On the one hand, the product has no smell. So a dog owner doesn't need to worry about unpleasant odor and, what is more important, their pet's health, even if the latter eats the grass.
? On the other hand, the fertilizer may attract beetles. Consequently, they may ruin not only your lawn, but also the digestive system of your dog. Some dogs love to hunt and eat bugs, but this kind of behavior can provoke diarrhea for your dog on the next day.
Despite some rare animal issues, all the questioned users and I have agreed that this product is child-friendly. Kids may play on the lawn right after the fertilizer application. Thanks to the plant-basis product composition, it is possible to use the item for pot flowers as well as for a garden.
[powerkit_posts title="Learn more" count="1″ offset="0″ image_size="pk-thumbnail" category="" tag="" ids="3608,1708″ orderby="date" order="DESC" time_frame="" template="list"]
What I find attractive about the Purely Organic brand is that they care about the reputation and their products` quality. Also, they work to provide natural and organic alternatives to traditional pesticides. The company collaborates with prominent agronomists to create new products.
ADVANTAGES
No smell afterward;
Available in all states;
Easy to see where the product is spread due to its color;
The brand doesn't use dangerous chemicals.
DRAWBACKS
Expensive;
May attract beetles.
8. Espoma Organic All Season Lawn Food
 3.8/5 
Affiliate links and images placed from the Amazon Product Advertising API on 2023-12-08
This Espoma organic lawn food is developed for every season use. The formula is improved with minerals, dosage of iron, and bacillus colony forming units, so it helps to resist extreme environmental conditions.
It can be used with cool-season grasses (e.g. bluegrass, fine fescue, tall fescue, perennial ryegrass), as well as with warm-season grasses (e.g. bentgrass, bermudagrass, St. Augustine grass, zoysia grass, and centipede grass).
The distinguish feature of Espoma products is bio-tone microbes. The soil microbes like bacillus licheniformis, bacillus megaterium, and bacillus pumilus, are blended together to support plant growth. I would like to be more precise and pay attention to all improvements of the bio-tone:
? it converts nutrients faster;
? the product drains the soil;
? the source for root growth;
? supports the circulation of the air and water underground;
? controls soil salinity;
? includes 50% more active microbes than other plant food.
I advise following the instruction and use Scotts or Earthway spreaders for fertilizing. It helps with steady feeding without blind spots.
ADVANTAGES
Available in 20 lbs and 40 lbs bags;
Suits the majority of grass types;
Safe to use;
Includes bio-tone.
DRAWBACKS
Needs double watering for granules to absorb.
FAQ About Best Organic Lawn Fertilizers
Here you can find the answers to the most popular questions about organic lawn fertilizers.
I fertilize my lawn every season, 4 times a year. I like to follow the "holidays schedule", thus it is easy to control the feeding process and adhere to it. The majority of the above-mentioned products can be used every 8 weeks. It sounds like an ideal plan, but imagine what may happen to the soil, if you feed it 6 times a year. The overfeeding may cause the grass burning, the invasion of insects, or the excess of nutritious microorganisms that may lead to the soil suitability for planting the next year. In such a case, you will need to spend a lot of time on the lawn repair and renovation.
Also, the periodicity of usage depends on the grass type and climate. It may be enough to add fertilizer once a year in a humid climate with middle temperatures.
Most of the organic lawn fertilizer reviews advice to apply plant food in the fall. I really appreciate that some brands instruct their buyers when and how often to use the organic fertilizer for lawn. They organize the feeding schedules according to the climatic features of different regions. Nevertheless, the main dates of usage are close to 4 holidays — Memorial Day, the Fourth of July, Labor Day, and Thanksgiving.
I advise you to spread the feeding just before the grass peak growing phase. It is approximately in May. Another sign for starting feeding is the last frost. Check the weather forecast and plan your own schedule based on your local weather.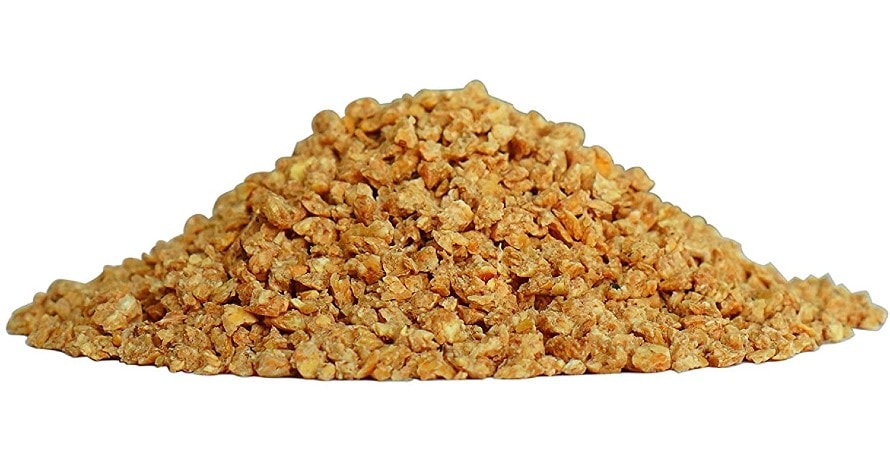 I suppose you have paid attention that some products include seaweed for potassium, bone powder for phosphorous, and feather source for nitrogen. These components are truly organic, and, what is more, their production follows the zero-waste principals.
I can distinguish 3 types of organic fertilizers:
Plant-based. The main components may be the cottonseed meal, soybean meal, or seaweed meal. The privilege of this fertilizer in the elevation of moisture retention.
Animal-based. They are made of manure, bone meal, blood meal, meat meal, feather meal, fish meal, or milk urine. These natural elements add a high amount of nitrogen to the ground.
Mineral-based. Their ingredients are magnesium, sulfur, potash, nitrogen, phosphate, etc. Add nutrients to the soil, as well as raising or lowering the pH level.
Choose the fertilizer type according to the chemical compound of your soil (check it in a laboratory). The soil nutrient analysis will help you to find out what NPK (nitrogen, phosphorus, or potassium) compound you need.
I advise using this formula to calculate the total amount of the needed fertilizer.
(0.9/number of actual Nitrogen in NPK compound (as a decimal))×(lawn size/1000)
Follow these simple steps:
Find out how to measure your lawn. Then, define the accurate lawn size.
0.9 is a stable nitrogen application rate. According to the University of Maryland's recommendations, it is 0.9 pound of nitrogen per 1,000 square feet.
Turn the number of the chosen fertilizer nitrogen to a decimal. Divide it on hundred.
Put the calculated numbers to the formula and multiply the values.
To make it more clear, let's imagine that you have a rectangular lawn. It is 40 fts in width, 60 fts in length. Therefore, its total size is 2400 sq fts.
Then you decide to use the best organic lawn fertilizer Scotts Natural Lawn Food. It has 11-2-2 NPK formula. So the decimal of the number of actual Nitrogen is 0.11.
Put the measures in the formula:
(0.9/0.11)×(2400/1000)=8.18×2.4=19.63
Consequently, you should use 19.63 of the Scotts Natural Lawn Food.
If You Want to See the Results, Try It Now
It may seem the grass feeding takes too much efforts and time. Nevertheless, it's worth waiting. Your lawn is not just decoration for your neighborhood. It is the basis for a healthy living: safe walking on the greenery, making picnics, sunbathing. Do not delay with fertilizer, especially if you started to notice lawn burns or lack of grass. I have chosen the products mentioned above to persuade you that soil needs your attention as much as plants. Choose the natural organic lawn fertilizer according to your soil peculiarities. Thanks to a great amount of plant food on the market, you will definitely find yours.
As I have already stated, my favorite fertilizer from this list is the Scotts Natural Lawn Food. What fertilizer suits you the most? Or, perhaps, you have your top list of fertilizers? Please, share your thoughts and experience in the comments below.