As an Amazon Associate we earn from commission of qualifying purchases.
Whether you want to provide your lawn with supplemental feedings or turn to an "all-liquid diet," you need the best liquid lawn fertilizer for the proper lawn care routine. The popularity of this product has increased over the recent years, and the reason lies in its effectiveness.
Only feed-grade nutrients are in the blend
Suitable for all grass types
Perfect for commercial use (covers up to 12,000 sq. ft.)
Top Pick
Only feed-grade nutrients are in the blend
Runner-Up
Suitable for all grass types
Premium Option
Perfect for commercial use (covers up to 12,000 sq. ft.)
Affiliate links and images placed from the Amazon Product Advertising API on 2023-12-08
If you want to admire the fresh green hue of your lawn and not end up with yellow or blown chessboard patches, you need to choose the right solution. Here I will examine the top 10 soil treatments on the current market, review their pros and cons, and explain all the specs of their application so that you can pick the one that suits your lawn the best.
10 Best Liquid Lawn Fertilizers Reviewed
The current market flourishes with a range of liquid fertilizers, which can make it challenging to choose the one you need. Let's look at the best options to ease the job for you.
1. Simple Lawn Solutions 16-4-8: Best Liquid Lawn Fertilizer
Affiliate links and images placed from the Amazon Product Advertising API on 2023-12-08
The top product on my list is manufactured by a US family-owned company with over 25-year history. This effective nutritional booster comes in the form of a 32-ounce spray.
I chose it for the rich nutritional blend and potent Nitrogen, Phosphate, and Potash formula. Pure NPK liquid nutrients enhanced the deep green coloring. I noticed it started strengthening after 2 weeks of application.
The key macronutrients gave enough energy for grass root vigor, so I got a shamrock-colored lawn. I've also pinpointed the ease of application, but you have to sufficiently water your lawn afterward so that the nutrients are entirely absorbed.
The manufacturer states this option is great for lawns with Nitrogen, Phosphorus, and Potassium nutrient deficiencies. I've noticed the lawn has become more tolerant to the heat impact during the hot days. It is beneficial for all grass types, such as Bermuda, Zoysia, St. Augustine, Buffalo, Florida Palmetto, Centipede, Bahia, Fescue, etc. Though its formula hasn't been changed in a while, a lot of dedicated customers appreciate it.

ADVANTAGES
Potent ingredients (Nitrogen, Phosphorus, Potassium, seaweed, and fish);
Only feed-grade nutrients are in the blend;
Aids every grass type;
Concentrated spray;
Great results after 2 weeks of use.
DRAWBACKS
The formula hasn't been updated recently, though the product works great.
2. Scotts Liquid Fertilizer for Grass: Best for Grass Strengthening
Affiliate links and images placed from the Amazon Product Advertising API on 2023-12-08
Before I tried the above-described product, my favorite was one by the Scotts company. It comes in a 32-oz bottle and is easy to apply. All I had to do was shake the product, connect the sprayer to the hose, and turn on the water.
The formula is designed to feed the grass when you water the lawn. It is suitable for any season and all grass types, so I used it from April to June. I got a thick, green, and healthy lawn after a month of consistent use. However, it didn't appear as effective as the broadcast spreader. It still worked well, but it covered an area of 2,000 sq. ft.
Compared to the previous Scotts Liquid Turf Builder Lawn Fertilizer, this product improves greening more. It provides the essential nutrients for the lawn health, feeds and strengthens the grass, and secures it from future problems.

ADVANTAGES
Works while watering a lawn;
Suitable for all grass types;
All-season option;
Makes the lawn withstand negative heat and drought impact;
Doesn't stain concrete;
Safe for kids and pets.
DRAWBACKS
1 bottle covers no more than 2,000 sq. ft.;
Should be applied only to the actively growing grass.
3. Simple Lawn Solutions 6-0-0: Commercial Size Lawn Energizer
Affiliate links and images placed from the Amazon Product Advertising API on 2023-12-08
Here is another liquid fertilizer for grass by Simple Lawn Solutions. Though I haven't had to purchase it for my lawn (it covers up to 12,000 sq. ft.), my friend involved in landscaping design gave me positive feedback. He reported that the grass on the objects gained a saturated moss shade. It is easy to refill the sprayer bottle, or you can use a pump-up or other sprayer.
The application is quick and straightforward. It can be used on turf and is beneficial for all grass types, including St. Augustine, Bermuda, Zoysia, Centipede, Buffalo, Florida Palmetto, and Ryegrass & Kentucky Bluegrass.
My friend said the solution worked wonders and darkened the green on the applied areas. This 1-gallon nutritional mix is also available in 32-ounce and 2,5-gallon bottles, which directly affects the price. I believe it is ideal for those who want to darken the green of a large lawn or use it for commercial purposes.

ADVANTAGES
Intensified with Nitrogen, Iron, Magnesium, and Manganese;
Provides grass with health, growth, and color;
Perfect for commercial use (covers up to 12,000 sq. ft.);
Ready-to-spray bottle;
Great for all types of grass.
DRAWBACKS
Some users claim the small spray nozzle doesn't suit a large lawn.
4. Simple Lawn Solution 28-0-0: SOS for Nutrient Deficiency
Affiliate links and images placed from the Amazon Product Advertising API on 2023-12-08
I chose this lawn food for its intensified Nitrogen formula. The developer stated that the remedy included 70% quick-release Nitrogen, which was exactly what I needed to aid my nutrient-deficient lawn. After a month of regular use, I got the grass darkened. A ready-to-use fertilizer spray bottle made the application quick and effortless.
A 32-ounce bottle covers up to 3,200 sq. ft. This product works on all grass types (Bermuda, Buffalo, St. Augustine, Zoysia, Florida Palmetto, Centipede, and the like), so I believe it suits every climatic area in the US.
If you find that your lawn has a nutrient deficiency, this solution can help it turn dense and attractive. However, be sure to keep your pets away from the solution or let some time pass before letting them out on the grass. My friend reported his dog ate the grass after he applied the treatment to it, and it had digestive problems. I would be careful with pets, just in case.

ADVANTAGES
Great for Nitrogen-depleted soil;
Quality feed-grade ingredients;
Works on all grass types;
Covers up to 3,200 sq. ft.
DRAWBACKS
You shouldn't let pets eat the grass after the product application.
5. Simple Lawn Solution 15-0-15: Phosphorus-Free Spray
Affiliate links and images placed from the Amazon Product Advertising API on 2023-12-08
I haven't used this treatment by myself, but my neighbor claimed vigorously it was the reason her lawn rejuvenated in a short time. Since I've observed this transformation, I think this spray can do wonders. It has a no-Phosphorus formula but contains humic acids, Sulfur, and Potash.
This lawn food is aimed at enhancing the green, growth, and health of a lawn. The bottle contains 32 ounces of liquid fertilizer, which you can conveniently apply when watering the grass. It helps cover the territory up to 3,200 sq. ft., and, unlike with the previous product, I haven't heard about any issues connected to pets or children.
The neighbor stated the grass became more strong and resistant to temperature fluctuations. She decided to purchase it since this product suits the sandy soil, which was the reason her lawn had a nutritional deficiency. Overall, she was pleased with the result, and her thriving lawn proves this product's efficiency.

ADVANTAGES
Perfect fertilizer for sandy soil;
Suitable for every grass type;
Contains humic acid;
Highly concentrated;
Covers 3,200 sq. ft.
DRAWBACKS
Might be not so effective in the fall;
A bit overpriced.
6. Southern Ag Chelated Liquid Iron: Great for Deep, Rich Coloring
Affiliate links and images placed from the Amazon Product Advertising API on 2023-12-08
If you live in the Southeast US, you might have heard about Southern Ag. This company offers high-grade lawn and garden products and specializes in professional-use insecticides, fungicides, herbicides, plant growth regulators, rooting hormones, and fertilizers. They can provide you even with potting soils and safety equipment.
This actionable product can help you cope with grass yellowing. A friend of mine who lives in Florida visited a retail garden center when he noticed yellow patches on the lawn. A consultant advised this Iron-boosting fertilizer to cope with the problem.
The solution has 5% of Iron in the 1-gallon jug. Jerry, my friend, mixed it with water and applied it as a drenching spray. He noticed the lawn became much better after a while. He also used it on garden trees, and the green in the foliage was enhanced too.

ADVANTAGES
Effectively copes with Iron deficiency;
Makes the grass color deep and saturated;
Can be also used on trees, roses, vegetables, fruits, etc.
DRAWBACKS
Can stain surfaces, so be careful during the application.
7. American Hydro Systems 19-0-0: Versatile Lawn Treatment
Affiliate links and images placed from the Amazon Product Advertising API on 2023-12-08
This product came as a life-saver for my lawn when I overdid mowing, and the lawn condition and look suffered a lot. Since the developer stated the components could replace nutrients lost due to consistent mowing, I decided to give it a try. I applied it with my usual sprinkler system, and the result was a steady promotion of grass growth. Besides, this solution made the grass pest-resistant.
This item comes in a 1-gallon bottle, and the form helped me with over-application and run-off waste. The solution is environmentally friendly, doesn't burn the soil, and works gently on any grass type.
Due to the amount of Nitrogen in this liquid grass fertilizer, I had my problem quickly solved. The grass became noticeably thicker and greener. As a bonus, it is very versatile: you can apply it both to cool- and warm-season grasses.

ADVANTAGES
Potent Nitrogen-rich formula;
Suitable for both cool- and warm-season grasses;
Doesn't burn the soil;
Promotes sustainable grass growth.
DRAWBACKS
Somewhat costly;
Some customers find Nitrogen pellets more effective.
8. Urban Farm Fertilizers 13-1-2: Economical Hand-Crafted Fertilizer
Affiliate links and images placed from the Amazon Product Advertising API on 2023-12-08
Urban Farm Fertilizers is a family-run company specialized in producing balanced fertilizers perfect for any lawn owner. Though they started in hydroponics, their business came to high-performance fertilizers for soil, hydroponics, and containers. The manufacturers have both concentrated liquid and dry-mix products in stock.
This 1-gallon professional solution is saturated with macro and micronutrients, including Iron and Nitrogen. I was impressed by the rich organic composition: mycorrhizae, enzymes, humic acid, bat guano, worm casts, and kelp. The reason I decided to include it in the list was my neighbor's praiseful review. He said this treatment appeared highly economical.
With a hose-end sprayer, he managed to treat a 5,000 sq. ft. lawn with a 1-gallon bottle 8 times in a row. He was glad it helped him not only get a lush lawn but save on lawn care. He used it twice a month, but you can vary the frequency of application according to your lawn needs.

ADVANTAGES
Economical offer;
Rich organic constituents;
Convenient hose-end and boom spraying;
Treats a 5,000 sq. ft. lawn.
DRAWBACKS
Some customers claimed more weeds popped up after they used the product.
9. Pendelton Turf Supply 18-3-6: All-Purpose Concentrate
Affiliate links and images placed from the Amazon Product Advertising API on 2023-12-08
If you don't have to deal with any particular problem, this 2,5-gallon fertilizer can become your all-in-one solution. It is specifically crafted for the growing season. My friends tried it to maintain their lawn's overall health and reported the grass started to grow faster and became more resistant to drought.
Intrigued by the photo of their aesthetic lawn, I studied the ingredients of this treatment and understood the reason for its success. No wonder this solution worked: readily available nutrients, 50% of slow-release Nitrogen, and 3% of phosphorus explain the effect. The developer suggests fertilizing once every 2-4 weeks, but friends applied more product on a monthly basis to maintain the lawn look.
They told me it was a long-lasting treatment, so I think I might try it one day. Now I am fully satisfied with Simple Lawn Solutions 16-4-8, but if my lawn's condition asks for a change, I will consider this option.

ADVANTAGES
Rich in micronutrients;
Promotes root development, growth, and disease resistance;
The grass withstands drought better;
Stimulates natural soil organisms;
Long-lasting effect.
DRAWBACKS
My friends had to use a different product-water ratio than stated by the manufacturer to maintain the effect.
10. Medina 12-4-8: Perfect for Fast Absorption
Affiliate links and images placed from the Amazon Product Advertising API on 2023-12-08
The last product I want to examine is from a trustable manufacturer with over 60 years of experience in the field. Medina has been proudly developing its biologically-based soil conditioners and natural fertilizers since 1962.
My distant relative recommended this 1-gallon solution for its absorption properties. He has small kids who like to spend time outdoors and frequently run barefoot on the lawn. Sometimes, waiting for the grass to absorb a liquid fertilizer can be a problem if you live in a sunny state and have a family.
When my relative chose Medina's product, he noticed the grass absorbed it faster than the one he had used before. Besides, the grass started to grow more vigorously from spring to fall. He applied it each month during the growing season and was quite pleased with the results.

ADVANTAGES
Effective during the growing season;
Fast absorption;
Highly concentrated;
Covers 12,000 sq. ft.
DRAWBACKS
I've heard about numerous shipping issues some customers face, but I think it depends on the seller.
Liquid Lawn Fertilizer Buyer's Guide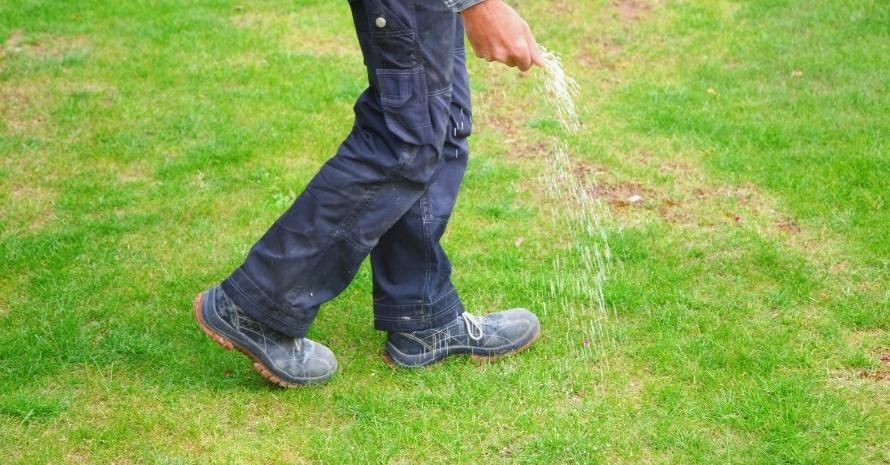 For the proper and consistent lawn care regimen, you should pick the proper fertilizer fitting your lawn needs. Read on to make the right decision.
Benefits of liquid fertilizers
I suppose you have heard about the two different types of fertilizers, liquid and granular. While a liquid fertilizer for new sod is a fluid nutritional concentrate, a granular option comes in the form of dry pellets or solid fertilizer. You should scatter the latter on your lawn to make it work. The liquid product is combined with water to supply the grass with the nourishing solution. If you don't know which option to pick, an extensive list of liquid fertilizer benefits might come in handy.
1. It contains 3 basic nutrients for the grass
Any grass type needs three main nutrients (Nitrogen, Phosphorus, and Potassium) to properly grow, strengthen, develop roots, and enhance green. A liquid fertilizer offers them all.
2. The grass absorbs the nutrients fast
Phosphorus is not a very mobile nutrient, and it struggles with moving from the spot you apply the fertilizer to the roots. This is where a liquid form works better: nutrients are quickly applied to the soil, so the grass absorbs them faster than with granular fertilizer.
3. Consistent product formula
Liquid lawn fertilizer contains an identical nutrient percentage throughout the entire bottle, while there is a different variation in granular fertilizer's dry pellets. This feature helps to ensure an even distribution of useful nutrients in liquid form. You can also avoid over-feeding some patches of grass with high-concentration dry pellets in one area and undernourishment in others.
5. Easy application
If you want to get a lawn full of even emerald grass, you need to choose a product offering consistent and effortless application. A liquid lawn fertilizer usage is straightforward: you have to spray it evenly on your lawn while watering. Use a hose to apply the product evenly.
How to choose the most fitting liquid fertilizer for you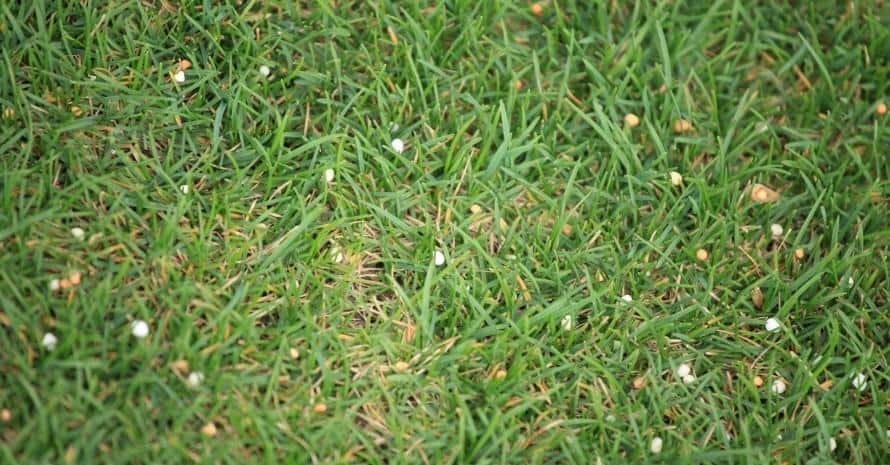 When you are on the prowl for the most suitable fertilizer for your lawn, you should take into account a bunch of factors such as:
your house surroundings;
the lawn specifics;
time and effort you are ready to spend on maintaining your lawn healthy.
Depending on the product peculiarities, there are different types of liquid fertilizers. Let's examine the most common names you can find on the labels. This will help you decide on the best lawn food for your backyard grass.
Weed and feed
Such treatments energize grass and prevent weeds from popping up. You can't use them on new sod or grass seeds since herbicides inside can inhibit the germination of seeds.
Fast-release
This is a fast way to supply the soil of your lawn with nutrients. The grass quickly gains a deep emerald color. Such offers are generally inexpensive but don't boast a long-lasting effect, so you should apply them more frequently.
Slow-release
These solutions help all grass types grow evenly without the risk of burning your lawn. However, you should wait for some time to see the results.
Winterizer
Applying this treatment in the late fall, you can help your lawn get ready for the winter season. It will help the grass stay healthy, increase resistance to diseases, and contribute to further growth in the spring.
Lawn-starter
You should use it on grass seeds or new sod. A high concentration of Phosphorus helps the grassroots develop.
FAQ on Liquid Lawn Fertilizers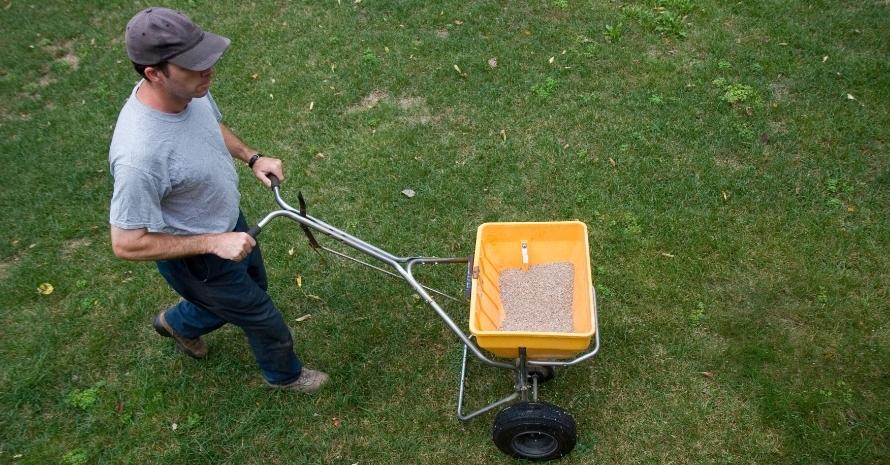 Choosing the best liquid fertilizer for lawns might sound tricky. These common questions about fertilizers can ease the task for you.
When should I apply liquid fertilizer to my lawn?
Use it after you mow the first grass. Don't apply it to your lawn during July and August. Ensure to nurture the soil during September and October so that the built grass can withstand unfavorable winter conditions.
Should I water the lawn after applying liquid fertilizer?
Don't hurry with the watering session after applying a fertilizer but wait for 24 hours to pass before watering your lawn. Then water it abundantly; it will help the product to activate and provide the lawn with nutrients.
Can liquid fertilizer burn grass?
If you apply an extensive amount of liquid fertilizer to particular lawn patches, the product can burn the grass. Thus it is crucial to evenly spread it across your lawn on a non-windy day. The wind can distribute the treatment throughout the already fertilized spots.
How long does liquid fertilizer last?
Most fertilizers stay on the lawn for 1-2 weeks before you need to supply the lawn with a new portion. The exact period depends on the product.
Best Liquid Fertilizer for Lush Lawn
One might say that the top X list is always subjective. So is every human experience. My reviews are based on product efficiency, provided results, and backed up by user experience. The best liquid lawn fertilizer concentrate I've encountered is Simple Lawn Solutions 16-4-8, chosen for its impressive nutritional blend.
Other solutions also worked great, so consider your lawn conditions and requirements to choose the most beneficial product. Apply it in the correct amount and on time, don't water the lawn for the next 24 hours, and enjoy your emerald grass. Have you ever used one of the solutions above? Which fertilizer is your favorite? Please, leave your comments below.