As an Amazon Associate we earn from commission of qualifying purchases.
For years I have been struggling to make my lawn both durable and good-looking. It took me quite a lot of time to figure out what brand to use. And I have finally grown it perfectly thanks to the best Bermuda grass seed. Moreover, during all those years of gardening, I also figured the best way to plant Bermuda grass seed.
With so many various options on the market, it is pretty difficult to make the right choice. So, I decided to help you with this process by putting together this buyer's guide with the best seed brand descriptions. I believe that this guide will make your choice much easier since I have tested these products myself and know all of their features.

Product
Top Pick
Pros
Stands up to heat and drought, produces durable lawn
Top Pick
Product
Pros
Stands up to heat and drought, produces durable lawn
Affiliate links and images placed from the Amazon Product Advertising API on 2023-12-07
Bermuda Grass: Choosing the Right Type
There are over fifty Bermuda grass types out there. All of them fall into two broad groupings: seeded and hybrid. Seeded Bermuda grass grows from seeds, hence the self-explanatory name. Hybrid Bermuda grass has been purposefully produced and is more disease-resilient compared to their seeded brothers.
Popular Bermuda varieties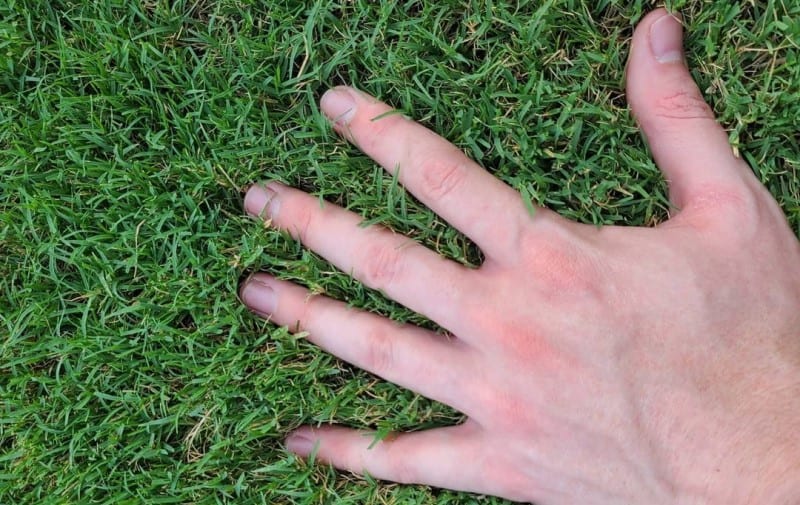 Blackjack: this seeded Bermuda grass variety will garnish your lawn with luscious, thick growth. It feels excellent in warm areas and tolerates cold months easily, too. If you're on the prowl for a natural-looking green carpet for your garden, this plant is your best choice.
Yuma: this seeded Bermuda grass will give you the amazing emerald color when fully mature. It adorns the terrain of the most high-end and top-level golf courses. That's because Yuma excels in tolerating extreme summer heat, doesn't require regular watering, and grows slowly, which means you won't have to mow and prune too often.
Oasis Blend: this Bermuda grass type, on the contrary, grows extremely fast. On an additional plus side, it's exceptionally resistant to pedestrian activity and a breeze to care for. La Prima is another Bermuda type that's equally non-demanding and fast-growing.
Sahara: this Bermuda grass variety is perfect for very hot and humid areas. So, if the grass in your garden gets burned on a regular basis because of how hot it is where you live, opt for Sahara. It's incredibly heat-tolerant and fairly inexpensive. Furthermore, it's low-maintenance and resistant to even the craziest activity that may be initiated by your kids outdoors.
Princess 77: the name says it all – structure-wise, this Bermuda grass type is all about fragility and delicateness. Yet it's so beautiful and stylish-looking. At the end of the day, if you intend to add a flair of sophisticated elegance to your home, Princess 77 might be right up your street.
5 Best Bermuda Grass Seed Options Reviewed
Bermuda grass makes a good choice for lawns because it requires very little care. But each lawn is different, and it's important to select seeds that can thrive in your specific soil conditions. Read on to get a better idea of which seeds are better for your garden.
1. Scotts Bermudagrass – Best Bermuda Grass Seed
 5/5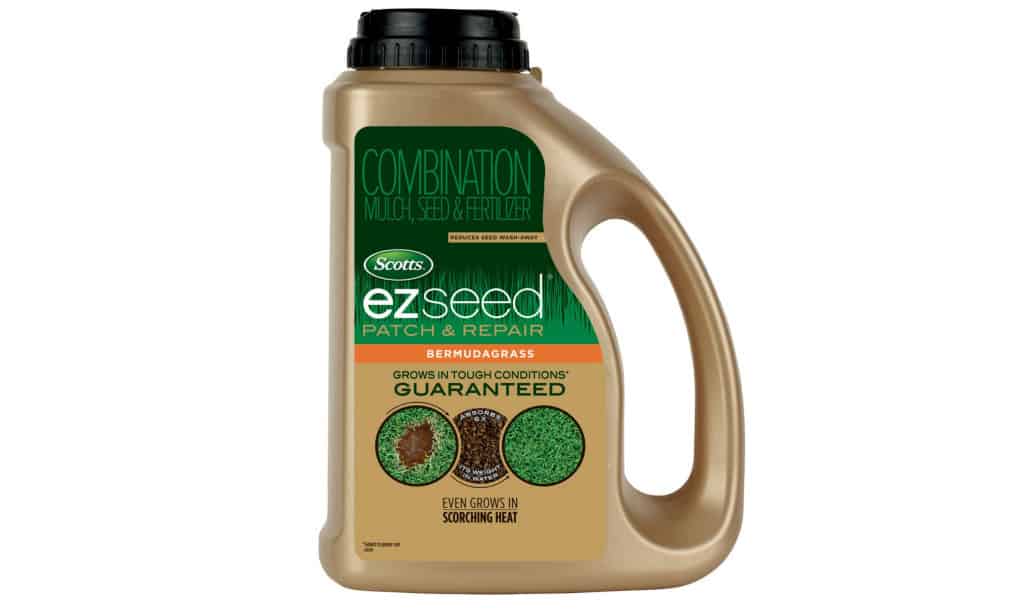 These seeds are produced by a global leader – Scotts. The lawn care industry company has everything that you may need to grow, maintain, and upgrade your ideal lawn. Sometimes I order and test new products from this manufacturer. Unsurprisingly, their Bermudagrass ended up at the top of my list.
It is a complex tool (5-in-1), not just grass seeds of a certain type. There is a little mulch in the composition, which perfectly absorbs moisture, creating favorable conditions for seed ripening. It also contains fertilizer and protectants, which promote the growth of young shoots and protect them from pests. I find this item extremely effective: you will notice the first results already two weeks after sowing. Scotts EZ Seed is an excellent option if you live in a region with less favorable natural conditions (scorching heat or difficult terrain). One package weighing 20 pounds is enough for a lawn area of ​​about 445 square feet.
ADVANTAGES
Complex product
Ideal for difficult weather conditions
Large packaging
Fast results
2. Hancock's Common (Coated & Un-hulled) – Best Bermuda Grass Seed for North Texas
 4.5/5 
Affiliate links and images placed from the Amazon Product Advertising API on 2023-12-07
Hancock Seed Company has been one of the best seed producing companies for over 40 years. Almost all of the seeds are being grown by the company itself. Moreover, the packaging and shipping are also done by the Hancock Farm, which proves that the seeds are always fresh and meet the highest standards.
The grass seeds produced by Hancock are my personal favorites. If you are as passionate about gardening, as I am, you will love it, as it is one of the best Bermuda grass seed that I have ever tried. It can be used not only to grow a drought-resistant lawn but also for various landscaping applications, erosion control, and even for pasture. I even experimented a bit and grew the grass in a sandy soil type, and it turned out great.
ADVANTAGES
Extremely drought-resistant
Green leaf texture and a nice color
Low-maintenance
Can grow even in poor quality soil types
DRAWBACKS
Sometimes can acquire a slightly brown shade
3. Princess 77 Hybrid Seeds 2 Lbs – Best Bermuda Grass Seed for Arizona, Texas
 3.9/5 
Affiliate links and images placed from the Amazon Product Advertising API on 2023-12-07
This Bermuda seed is manufactured by the famous Pennington Seed company. It has been running for over 60 years and has gained trust from millions of people, as well as mine.
It ranks pretty high on my list of the best Bermuda grass seed. One of the best features of this branded seed that I cannot but mention is that it has unbelievable drought tolerance. Also, if you do everything the right way, you will end up with dark green grass, which has a fine leaf texture, just as I did.
ADVANTAGES
Amazing tolerance to heat and drought
Traffic tolerant
High density
DRAWBACKS
In some cases, it doesn't germinate
4. Hancock's Common Seed (Hulled) – Best Bermuda Grass Seed Brand Seed
 4.6/5 
Affiliate links and images placed from the Amazon Product Advertising API on 2023-12-07
As I already mentioned above, the Hancock Seed Company is a seed company that I trust the most, and the reasons for this are numerous. It is the best supplier of high-quality Bermuda grass seed for a very affordable price.
The Hancock's Common Seed is a great choice if you plan to find a versatile seed type that will grow even in not so high-quality soils or in sandy ones. I think this seed is ideal for turfs, lawns, and landscaping applications. Besides, this type of grass can be planted even in tropical areas.
ADVANTAGES
Completely low-maintenance
Coated seeds
Wear-resistant and traffic tolerant
Fast growth
DRAWBACKS
Tends to turn brown in winter
5. Outsidepride Arden 15 – Best Hybrid Bermuda Grass Seed
 4.5/5 
Affiliate links and images placed from the Amazon Product Advertising API on 2023-12-07
Outsidepride is a leading US company in the gardening industry. It manufactures various supplies for gardens, lawns, and farms. Most of all, I like their herb seeds, and there is a huge variety of them.
This Yukon Bermuda grass seed has easy establishment properties. What I like the most about this seed type, is that they are coated, which was of great help when spreading. Moreover, it has improved germination.
ADVANTAGES
Coated seeds
Retains more moisture than other seed types
Cold tolerant
Easy to spread
DRAWBACKS
Germination problems may occur in cold winter
FAQs About Best Bermuda Seed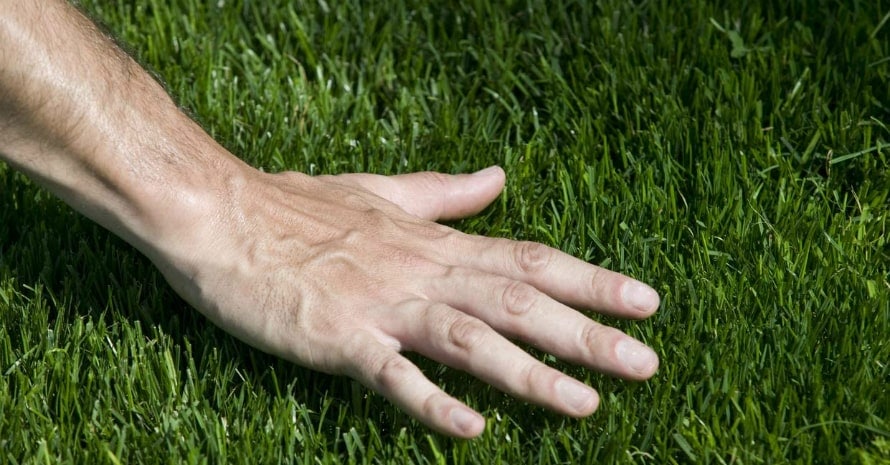 Here you can find the answers to the most popular questions about Bermuda seeds.
When is the best time to plant Bermuda grass seed?
Bermuda grass withstands hot and rainless days like a champ. Moreover, it loves summer heat very much. So, to make your lawn burst with new growth, the best strategy is to plant your seeds in summer. This will create the perfect environment for them to germinate speedily and healthily. Therefore, the warmer it is outside, the better your Bermuda grass seeds will 'feel'.
The soil temperature is paramount for planting Bermuda grass, too. In this sense, the perfect soil temperature range is 65 F to 100 F. Wondering how to measure your soil temp? Just insert a probe thermometer 2 or 3 inches into the ground and wait for the results. If your soil temperature is below 60 F, then this warm-weather-loving plant won't grow. Therefore, wait until it's 80 to 90 F if you want to do the whole thing right.
With that being said, the most important thing your soil needs for successfully growing Bermuda grass is warmth. Avoid planting the seeds less than two months before the first cold days in the south and less than two months before the first cold days in the north. Bermuda grass is not too picky when it comes to the type of soil, easily tolerating a multitude of soil pH ranges. However, it thrives with a soil pH of 6 or 7, so keep that in mind.
I prefer to plant in spring, but some of them can be planted in early summer. It is best to plant the seeds when the temperature outside reaches 65 F.
How often to water Bermuda grass seed?
Fresh grass seed should be watered at least 2 times a day. You should water it every day until it germinates.
When established, Bermuda grass tolerates low-water periods easily. However, freshly planted seeds require water for healthy germination, especially taking into account that you're most likely planting in the heat. Focus on watering the lawn regularly (i.e., up to 4 times a day) until the first blades of Bermuda grass start sprouting. If all goes well, your seeds will germinate in up to two weeks.
The most important thing for keeping your Bermuda grass healthy is practicing wilt-proof strategies. I recommend deep watering during the cool early morning time (before 5 a.m). However, you should avoid having standing water in the ground when quenching the thirst of your young seeds. Instead of leaving it soggy during this period, keep the soil moist to the touch after watering.
Bermuda grass can survive up to 3 months without being watered. Turfgrass scientists haven't yet determined the exact amount of water your established Bermuda grass-covered lawn will need. But based on my experience, once the germination process is over and the lawn is established, I recommend that you only water your Bermuda grass when needed to encourage deep root growth. Usually, it comes down to an inch of water per 7 days.
Should you overseed Bermuda grass?
Yes, it's preferable that you overseed your Bermuda grass. If you want to keep the plant looking thick and healthy on a regular basis, you're going to need to replace it over time. Plus, overseeding has multiple advantages, e.g., it reduces weeds and enhances the tolerance of your Bermuda grass to insects and drought.
I recommend overseeding in mid-spring when soil temps go up to 60 F. Reduce your mowing height to half for the winter overseed ryegrass. This will slow ryegrass growth and prevent it from competing with your young Bermuda seedlings. Also, it will allow more sunlight and boost germination.
How long for Bermuda grass seed to germinate?
Usually, it takes 7 to 10 days.
When to plant Bermuda grass seed in Texas?
Before planting seeds in Texas, check the temperature outside, it should not be higher than 100 F.
When to sow Bermuda grass seed?
The optimal time for sowing it is spring.
When to seed Bermuda grass in Arizona?
I advise you to begin seeding somewhere in the late spring.
When to plant Bermuda grass seed in Georgia?
As this seed likes warm seasons, it should be planted in the late spring.
Can you overseed with Bermuda grass?
Yes, it is possible. But if you stick to the instructions, this won't happen.
Grow Your Perfect Lawn with the Best Bermuda Grass Seed
As you see, each seed brand has its advantages, as well as flaws. I have already made my choice, and I am very satisfied with the results. Hancock's Common Bermuda Grass Seed is my number one choice for various purposes. Believe my word, you won't find a better seed option that grows as fast and is as drought-resistant, like this one.
What is the best Bermuda grass seed in your opinion? Which product would you recommend?