As an Amazon Associate we earn from commission of qualifying purchases.
When looking to enhance your yard/lawn care arsenal, you cannot go wrong with the good old broadcast spreader. A well-chosen tool will help you make short work of your seeding, fertilizing, ice-melt treatment tasks. In this post, I have picked the five most trusted and reliable models of 2021. Read on to see if you can find the best broadcast spreader for your gardening needs here.
Pros
Suited for multiple gardening tasks
Reliable foam-filled tires
Best for heavy-duty applications
Top Pick
Pros
Suited for multiple gardening tasks
Runner-Up
Pros
Reliable foam-filled tires
Best Value
Pros
Best for heavy-duty applications
Affiliate links and images placed from the Amazon Product Advertising API on 2023-12-07
Top-5 Best Broadcast Spreaders Reviewed
Scotts Elite Spreader – Runner-Up
Earthway 2150 Commercial 50-Pound Walk-Behind Broadcast Spreader
Below is my pick of the top-5 best broadcast spreaders suited for both home and commercial use:
1. Scotts Turf Builder Mini – Overall Best Broadcast Spreader for Home Use
Affiliate links and images placed from the Amazon Product Advertising API on 2023-12-07
My pick for the overall best broadcast spreader for smaller lawns and tricky grassy areas is Scotts Turf Builder Mini. It is a sturdily built, reliable, and easy-to-operate piece of equipment, which gets a variety of gardening jobs done well for much less money.
Suited for distributing salt and grass seed, this miniature model is a true year-rounder. I am impressed with all the control it gives me over how much product to spread and which flow rate to choose. Its storing convenience is another point of pride – thanks to the foldable handle and compact design, it fits into my crowded garden shed, no sweat.
ADVANTAGES
High-quality and dependable;
Suited for multiple gardening tasks;
Foldable handle for easy storage;
Comes fully assembled;
Lightweight and maneuverable.
2. Scotts Elite Spreader – Best Push Broadcast Spreader in the Elite Category
Affiliate links and images placed from the Amazon Product Advertising API on 2023-12-07
This broad-spectrum spreader is popular with regular gardeners and commercial property owners alike. Holding up to 32 pounds of fertilizer, the Scotts Elite model can cover around half an acre in a single, speedy pass. The spreading accuracy is fantastic, and the wastage is minimal due to the dual rotor technology.
Although I have no personal history with this product, the many broadcast spreaders reviews I have read on it prove that Scotts Elite is the best bet when you need to cover large areas quickly, comfortably, and with little effort.
ADVANTAGES
Works on various terrains;
Precise placement;
Reliable foam-filled tires;
All-seasonal use.
3. Brinly BS36BH Tow-Behind Hopper – Extra-large Broadcast Spreader
Affiliate links and images placed from the Amazon Product Advertising API on 2023-12-07
Based on the many tow-behind broadcast spreader reviews I have read, the Brinly BS36BH model is one of the most potent hoppers that offers the extra-large capacity of 175 pounds and comes packed into a reliable, well-measured design. The directional spread pattern control allows the broadcaster to achieve a superbly precise spread.
The hopper uses commercial-grade materials in its construction, which ensure its durability and reliable performance. It comes with fully calibrated controls, so changing the rate according to your needs will not be a problem.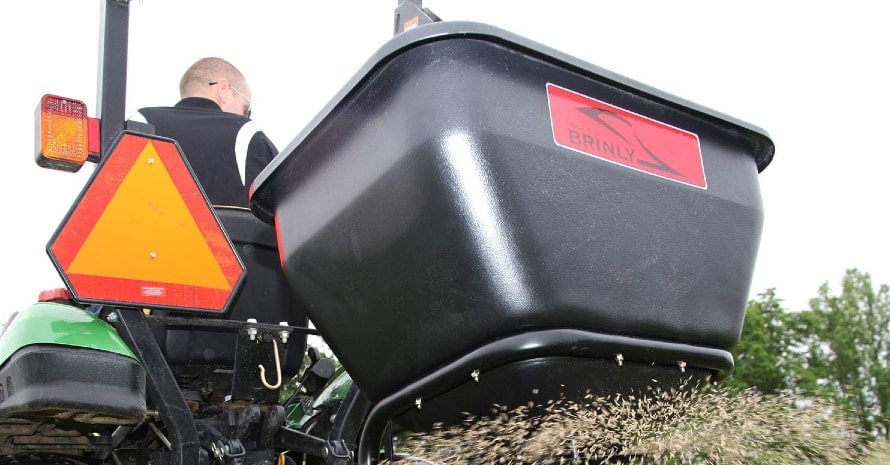 ADVANTAGES
Covers up to 1 acre in one pass;
Best for heavy-duty applications;
Universal tow point.
4. Agri-Fab 45-0462 Broadcaster – Top-rated Broadcast Spreader for All-Year Use
Affiliate links and images placed from the Amazon Product Advertising API on 2023-12-07
Even the best lawn broadcast spreader that costs twice or three times as much cannot always offer the same impressive functionality and versatility that this Agri-Fab model packs. Despite its significant holding capacity of 130 pounds, this all-season hopper is well-built as not to be too cumbersome or hard-to-maneuver when fully loaded.
Having used it on a couple of occasions, I can tell that this is one of the best, most manageable, and cost-effective alternatives to a traditional pull-behind when you need to cover larger areas in a shorter time.
ADVANTAGES
Durable, all-weather hopper;
Easy hand control;
Fit for heavy-duty jobs.
DRAWBACKS
Requires a bit of assembling.
5. Earthway 2150 Commercial – Best Broadcast Fertilizer Spreader for Heavy-Duty Tasks
No products found.
With the ability to spread seed, salt, and fertilizer, the Earthway 2150 model packs an impressive punch for heavy-duty, year-round exploitation. I cannot but admire the well-thought-out design and sturdy build that add durability and reliability to this model.
The model is easy to maneuver across slopes and rugged surfaces. Its pneumatic tires and the 2-position adjustable handle offer you more control over the spreader, making it stable and responsive and ensuring an even spread.
ADVANTAGES
Commercial-grade quality;
Perfect for heavy-duty exploitation;
Precise distribution.
Broadcast Spreaders Buyer's Guide: Quick Manual on Picking the Right Product
Manually distributing grass seed, ice-melting products, or granulated fertilizer is a lot of time-consuming work. The more ground there is to cover, the more laborious this task gets. Luckily, there is a simple solution to the problem – a mechanical broadcast seed spreader. A well-chosen spreader will allow you to get the job done evenly and quickly.
How to choose?
There are a few things to keep in mind when choosing a spreader. Here is a quick instruction:
Step 1. Define the purpose.
Assess the scope and variety of tasks you will be doing with it. Do you want a salt spreader? No need to pay extra for a fertilizer distributor too.
Step 2. Measure the coverage area.
The size of the ground to be covered affects your choice of the broadcast spreader's capacity. The larger the area, the more powerful spreader it takes to get the job done.
Step 3. Decide on the budget.
With so many options to pick from, it should not be hard to find a product that meets your budget demands fully. Make sure you are not paying for fancy features you do not need.
Best Lawn Broadcast Spreader FAQ
I get that you still may have some questions about choosing and using broadcast spreaders. Let me see if I can answer some of them below:
What do the numbers mean on a broadcast spreader?
If it is a Scotts spreader, the numbers usually identify how many pounds of fertilizer it places over 1000 sq. feet.
Which Scotts spreader is best?
It depends on what your gardening and lawn-caring needs are. For smaller lawns and narrow grassy areas, I would recommend using the Scotts Turf Builder Mini model. However, if you need to quickly and efficiently cover medium-to-large lawns or rough terrains, Scotts Elite Spreader might be a more suitable choice.
Can you use a broadcast spreader for topsoil?
Even the best-rated broadcast spreader models are not particularly suited for this task as they usually lack the precision and accuracy needed to apply materials like topsoil or compost. A drop-spreader or a shovel and a wheelbarrow will get the job done more efficiently.
Wrapping it up
A broadcast spreader is not something you can just go and buy without thinking it through and weighing up the pros and cons first. It takes time and effort to find the one product that will meet all your gardening needs for years ahead.
Of all the spreaders I have ever used, the Scotts Turf Builder Mini is my all-time favorite. This well-designed and reliable tool will not disappoint you with either its performance or price.
What product do you use to take care of your lawn? How precise and reliable is it? Do you agree with my pick for the best walk-behind broadcast spreader of 2021? Let me know what you think in the comments below!