As an Amazon Associate we earn from commission of qualifying purchases.
Practicing your hobby doesn't make it less challenging. Passion is, however, what keeps your going. My name is Bryan, and I am a gardening enthusiast who gained expertise in this field over many years. That's the reason that has compelled me to prepare this blog on the best fertilizer spreader models for smooth application.
The many options to pick from present a challenge to first-time buyers. When you don't know the features that make a good purchase, you end up buying faulty or low-quality products. That's why below I will be covering all the pros and cons of the ten best fertilizer spreaders available in the market.
Affiliate links and images placed from the Amazon Product Advertising API on 2023-09-22
Having been gardening for years, I understand the need to apply fertilizer for healthy and productive crops. I have used a lot of fertilizer spreaders so that now, I can share my knowledge and experience with you. The article aims to equip every farmer and gardener with the best choice and information on the best time to spread fertilizer.
Best Fertilizer Spreader Reviews – Top 10 Models to Consider
If you are a first-time buyer or you are not satisfied with the quality of your current equipment, it is hard to decide on the next purchase. You may be wondering what is the best fertilizer spreader among the products in the market. Are the new items available better suited to tackle the present gardening problems?
Without expert advice, it is hard to pick the best quality product by yourself. The reviews below can act as a guide for you as I have used several fertilizer spreaders in my gardening years. I have picked the equipment below based on:
Easiness of use and assembly
Size of lawn that the item can cover best
Quality and durability
Also, a comparison of costs should give you the value for money upon purchase. Read these reviews and choose the best product that will suit your needs.
1. Turf Builder Edgeguard Broadcast Spreader – The Best Fertilizer Spreader
Affiliate links and images placed from the Amazon Product Advertising API on 2023-09-22
This wheeled spreader is made to ease your gardening tasks. The item is easy to use for a lot of applications, including salting. It comes already assembled, so no complicated setup is required. To those wondering if it can fit in their small store, the item is foldable and compact.
The spreader is calibrated to ensure it doesn't put out more than required. Depending on the amount of fertilizer you want to apply, the equipment is anything but hard to adjust. Durability has been ensured, and this lightweight product will make pushing it less cumbersome.
Whether you need to use it along the driveway or lawn, the item is easy to move because this turf spreader is designed for use in small pieces of land. It is not suitable for extensive use. When salting, the door at times gets stuck, but that happens with all broadcast spreaders. Unblocking it should not pose a challenge at all.
The cost meets the needs of those under a strict budget. The Scotts fertilizer spreaders are made in the US, so the quality is the least of your worries.
During my first use, I experienced some challenges when the wheel collected some of the products I was spreading. I was able to solve the issue without much straining.
Despite the slight problem with the door and the small size of the spreader, the item proved to be a useful one. I profoundly recommend you to purchase this equipment as it is suited to meet and exceed your expectations.
ADVANTAGES
Affordable
Comes assembled
Lightweight for ease of use
Foldable for easy storage
High-quality
Suited for more than a single-use
DRAWBACKS
The door gets stuck when salting
It is suitable for use on a small piece of lawn only
2. The Best Fertilizer Spreader Small Yard – Spot Spreader
Affiliate links and images placed from the Amazon Product Advertising API on 2023-09-22
This hand spreader can become your accompanying tool for a lot of spreading tasks. Moreover, you will be more surprised at the cost it is retailing at. The multi-application is possible due to the adjustable opening on the item, making it suitable for any spreading needs.
The item is superb in minimizing seed or fertilizer wastage and ensuring the same gets into the right place you need it. The spreader has a large capacity to allow for spreading as much as you want. The handle provides a comfortable grip that prevents slipping, which may lead to wastage. The item is made of plastic, and it isn't substantial to bear.
It is straightforward to use and comes already assembled. Adjusting the needed opening size is simple, and the tool is compact so that you won't experience storage problems. With the lifetime warranty provided, you have little to worry concerning your value for money. You can use this equipment for driveway and backyard tasks as well.
The only con is the way it is made to effective use over a small piece of land only. Extreme usage may leave you a bit tired. All in all, it is a product any gardener needs for seed planting and fertilizer spreading.
It is worth every penny spent as it provides the best value for money. Make a purchase today, and have your needs met beyond expectations.
ADVANTAGES
Lightweight
Hand spreader, so it is easy-to-use
Affordable
Durable
Reduces wastage
DRAWBACKS
Not suitable for extreme use
Made of plastic
3. The Best Spreader for Fertilizer – Scotts Elite Spreader
Affiliate links and images placed from the Amazon Product Advertising API on 2023-09-22
The rotor technology used in this fertilizer spreader ensures your gardening needs are met beyond expectations. The wheeled spreader is easy to use even in large areas. With incredible accuracy in spreading it allows, it is impossible to speak of simplified spreading tasks without using the item.
The dual rotors available ensure minimal wastage and maximum accuracy for a speedy spread. You do not have to do the same task all day. The perfectly made wheels are suitable for any terrain, and they move freely without getting stuck. The capacity is the last thing you need to be concerned about. The spreader is big enough for average to vast land use.
The wheels are filled with foam to ensure they won't need to be inflated. The item is suitable for multiple uses, including fertilizer, seeds, and salt spreading. The cost, given the quality and effectiveness, is a bit higher compared to single-use products.
I was much impressed by the ergonomic handle that makes the item easy to use and the smartphone holder that puts your phone safe. I want to mention that you will need a slight assembling before utilizing the equipment. The wheels will also require frequent greasing for enhanced efficiency.
For those looking for an item for lifetime use, I recommend you to purchase the Scotts Elite spreader without hesitation. It will provide the best value for money.
ADVANTAGES
Wheels are suitable for all terrains
Highly accurate
Speedy spreading
Big capacity
Comfy handles and a phone holder
DRAWBACKS
The cost is a bit high
Requires an assembly
4. The Best Commercial Fertilizer Spreader – Solo Inc Solo 421 20 Pound Capacity Spreader
Affiliate links and images placed from the Amazon Product Advertising API on 2023-09-22
The 20-pound spreader is what you need for speed spreading on large areas. Unlike the hand gripped and pull behind fertilizer spreader models, this item contains straps that make it even more convenient for use. You need to strap it across the shoulder for a comfy spreading experience. The perfectly fitted levers will help you to spread fertilizer as you want with the volume and direction you need.
The large and adjustable opening makes the item suitable for many uses. Loading the tool is straightforward, and so is cleaning. The high-quality engine is made to ensure it is protected from rust. This equipment can become your favorite tool for spreading seeds and fertilizer in any season.
The available lid ensures the content inside is protected from contamination and dust. The straps are comfy to let you perform daily tasks without much exhaustion. It is also lightweight for full-day use. The product is well-sealed to ensure no leaks, and thus, no wastage.
The item is suited for use in small to average-sized fields. It is highly durable and can serve you a lifetime. You will, however, need to do some maintenance such as greasing the moving lever to increase efficiency.
Despite the few greasing necessities before using the item, I cannot see a better tool for this Solo Inc 421 spreader. It is the best drop spreader for fertilizer, and its quality is excellent for lifelong use. It is an ideal item to buy. That's my recommendation.
ADVANTAGES
Lightweight
Comfortable to use since it is hand-controlled
Suitable for use in moderately large fields
High capacity
DRAWBACKS
The levers need maintenance
5. Scotts Pro Edgeguard Broadcast Spreader – The Famous Scotts Wizz Hand-Held Spreader
Affiliate links and images placed from the Amazon Product Advertising API on 2023-09-22
A little spice up in this modern spreader makes it unavoidable when settling on a purchase. The equipment is battery-powered and hand-held, making it simple to use and yet speedy. It can be used in all seasons for applying ice melt, fertilizer, and seed spreading.
In my opinion, it is the best hand held fertilizer spreader that will serve you for long. The accuracy of spreading of the item is high that allows for minimal wastage and speedy task execution. The capacity remains the last thing you should worry about.
It is delivered assembled with little maintenance needed. The cost is favorable to all, and it is so cheap given the capacity. This makes many doubt the quality, but I can assure you it remains uncompromised.
It is possible to regulate the amount you are spreading and also the width you are covering. The perfect grip makes the item comfy to use the whole day without exhaustion. That's also made possible by the way the equipment is lightweight. The tool is perfectly designed and ensures a uniform spread. Given the affordable cost, it may seem too good to be true.
The Scotts hand spreader beats most of the expensive brands with its efficiency. Its cost made me think of it as a risky purchase, but after some use, I was surprised at the quality and durability of the item. I highly recommend you to purchase this tool if you are looking for high-quality equipment at an adequate cost.
ADVANTAGES
Affordable
Lightweight
Perfect grip
Battery-powered
It enables fast task execution
DRAWBACKS
The battery life is a bit short
6. The Best Hand Held Fertilizer Spreader – Stalwart Hand-Held Lawn Spreader
Affiliate links and images placed from the Amazon Product Advertising API on 2023-09-22
Are you looking for a lawn spreader review about an affordable, easy-to-use hand-held fertilizer spreader? The item under this review is made to meet all your current gardening needs.
It is lightweight with a capacity of over 2 liters to ensure a smooth spreading without the need for frequent refills. The item is made of plastic, and the ideally crafted openings make it suitable for multiple uses.
It is hand-held and, hence, not seasonal. It is suitable for a moderate or small piece of land. The lid is easy to open for straightforward refilling, and the handle is big for comfortable gripping even for those with huge palms. This ensures a pleasant experience and uniform spreading of the content inside.
The item is most suitable for salt and seed spreading, which is the main focus of the manufacturer. Quality is uncompromised, and the item is durable.
The spreader is lightweight yet made of sturdy plastic to ensure durability. It will give you the best value for money, so I recommend going for this product for light spreading on small areas.
ADVANTAGES
Comfortable to use
Ensures uniform spreading
Affordable
Multifunctional
DRAWBACKS
Only suitable for salt and seed spreading
7. Another Best Lawn Fertilizer Spreader – Agri Fab Push Broadcast Spreader
Affiliate links and images placed from the Amazon Product Advertising API on 2023-09-22
By being ideally designed for fertilizer spreading, the item is a must-have to any gardener. The spreader's capacity is significant to carry content for over half an acre. This means that you do not have to do frequent refills. The item can be used during any weather and ensures the plants get the required nutrients for healthy growth and increased productivity.
The item is wheeled, and therefore, moving it around is effortless. Its huge wheels will not get stuck in any terrain you are using it on. The handle gives you a comfy grip for simple control of the tool.
It has a rust-resistant covering, which ensures the product will last as long as you use it. Those asking, what is the best lawn fertilizer spreader, should without hesitation consider this item.
It is quick to assemble, and the manual accompanying the item ensures you can set up the product in a minute. The item is also easy to maintain, and only greasing on the moving parts is required. When salting, ensure you clean the spreader before storing.
The additional grate kit provided helps in improving content flow and the overall performance. The only item missing from the manufacturer is the deflector cover. It would help to minimize wastage by preventing overspreading.
Despite the slight overspreading problem one might experience due to the lack of a deflector shield, the item has impressed me on all other grounds. You may spend a few more dollars and buy a deflector for precise application. The item is a must-have and will give the best value for money.
ADVANTAGES
Wheeled and easy to maneuver
Easy to put in place
Added grate kit improves performance
Huge capacity
Ideal to use in any season
DRAWBACKS
The deflector cover is sold separately
8. Among the Top Lawn Fertilizer Spreaders – Lesco High Wheel Fertilizer Spreader 101186
Affiliate links and images placed from the Amazon Product Advertising API on 2023-09-22
The item comes as a replacement of the previous 091186 models. It doesn't include a cover as its predecessor, though the cover is separately available at a slashed price. However, Lesco manufacturer has made some significant improvements on these new models.
By being made to endure harsh outdoor conditions, the item includes corrosion and rust-resistant axle and frame. These items ensure durability while improving the efficiency of the product.
There is no time of the season you can't use this spreader. It is perfect for multiple uses such as seed and fertilizer spreading. Moreover, it is ideal for salting to reduce the danger posed by the slippery snow that covers the sidewalks. The item is made to accurately spread seeds and fertilizer to the targeted base with minimal effort and zero wastage.
The huge wheels are ideally made to move quickly across any terrain. With a 44-pound weight, the tool is well-stable for every use. The vast capacity is excellent because you won't need to refill the item frequently. It is ideal for use on a large piece of land. The comfy grip ensures you effortlessly handle the item. Its quality is uncompromised, and durability ensured.
The only drawback is the high cost the item is sold at. The cost is, however, a reflection of the high capacity, quality, and efficiency. It is less popular as it has been recently introduced as a replacement for an earlier Lesco model. All in all, it is worth every penny spent.
ADVANTAGES
Stable
Big wheels make it effortless to use
Durable
Rust-resistant frame and axle
DRAWBACKS
The cost is extremely high
9. One of the Most Useful Lawn Fertilizer Spreaders – Brinly Push Spreader with Side Deflector Kit
Affiliate links and images placed from the Amazon Product Advertising API on 2023-09-22
The 50-pound spreader is an ideal item for lots of gardening needs. It contains an adjustable handle that makes it efficient irrespective of your height. The item is made of sturdy plastic that makes it lightweight to push and durable.
For a precise spreading and minimal wastage, the manufacturer has included a deflection shield as part of the package. In terms of assembling, you have the least to worry about as the equipment is super easy to set up and have running.
Given the gearbox available and the maneuverable wheels, you buy the item knowing that frequent maintenance will always be needed. It might be a little challenge to some, but once you do the first maintenance, you will perform the next ones in no time.
I recommend everyone looking for a moderately priced and durable item to consider making the purchase.
ADVANTAGES
Contains a deflection shield
Easy to maneuver
Quick to set up
Adjustable handle
DRAWBACKS
Requires frequent maintenance
10. The Pull Behind Fertilizer Spreader – Earthway 2150 Commercial Walk-behind Spreader (Currently Unavailable)
Try this instead:
Affiliate links and images placed from the Amazon Product Advertising API on 2023-09-22
The walk-behind fertilizer lawn spreader is made in the US with maximum concern on quality and durability. The heavy-duty material of the item enables it to support over 175 pounds of load. In the event you are looking for a tool suitable for extensive fertilizer spreading, then I see no need to look for other less quality equipment.
The ability to control the amount you are spreading enables you to perform the task simply. The huge and perfectly crafted wheels ensure easy transportability when using the tool. They also make the item ideal to use in any season and terrain. Its vast capacity comes to the advantage of those who need a perfect tool for a large piece of land.
The item has adjustable handles, making it ideal for use by anyone irrespective of their height. With minimal energy being required to push it on any terrain, the tool is suited even for the elderly. The weighty products add to its increased stability.
The cost is a bit higher, but spending some few dollars on this equipment will be the best way of securing an item to last you a lifetime. I, therefore, recommend you to purchase this spreader without hesitation.
ADVANTAGES
Durable
Wheeled to work on any terrain
High capacity and weight support
Adjustable handle
Frequently Asked Questions About Fertilizer Spreaders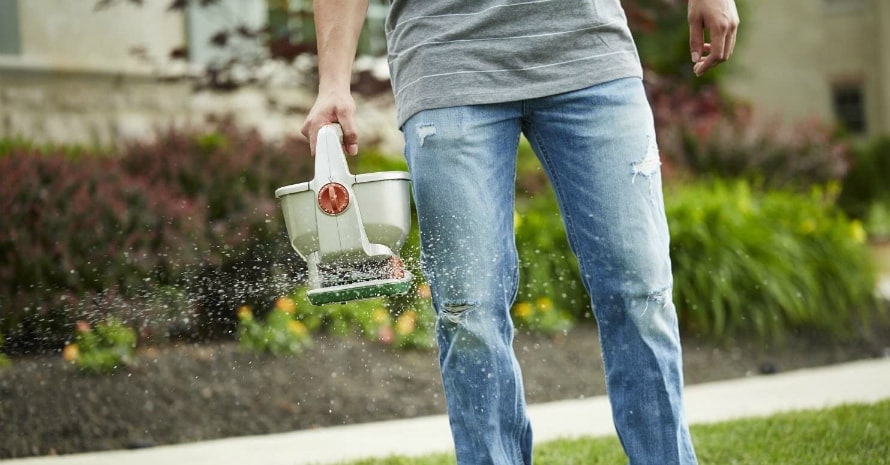 Here you can find the answers to the most popular questions about fertilizer spreaders.
Fertilizer adds nutrients to the soil, which makes it essential for healthy plant growth and increased production. It is vital for foliage, roots, and fruit development. It, therefore, becomes critical to apply fertilizer when the plant is developing or growing new leaves. If you wonder what the best time to spread fertilizer on your indoor or outdoor plants is, you need to note the season specifics for optimal growth.
Applying fertilizer during early spring can be challenging as there might be a late frost, which can be damaging. I recommend using fertilizer spreaders not earlier than the end of March when the late frosts are less expected.
During the winter, most plants are dormant, and therefore, fertilizer application may not be practical then. The use of fertilizers during winter will also expose tender foliage to extreme freeze, which might end up killing them instead of helping to develop and grow.
Moreover, make sure that you apply fertilizer when plants are at the peak of their growing cycle. That way, you will be using the nutrients as a boost for optimal plant development. The spring, therefore, presents the best time to spread fertilizer.
For indoor plants, spreading fertilizer every month should become your routine as that will lead to perfect plant development. I recommend applying liquid fertilizers on most of the indoor plants as they proved to be the most helpful solutions. During the winter, you can halt the process as it would be ineffective due to the little growth occurring.
For veggies, ensure you apply the slow-release fertilizer. This will mean the vegetables will be fed with the nutrients gradually throughout the season. It will lead to optimal growth and production for the vegetables. I recommend applying fertilizer only on established plants.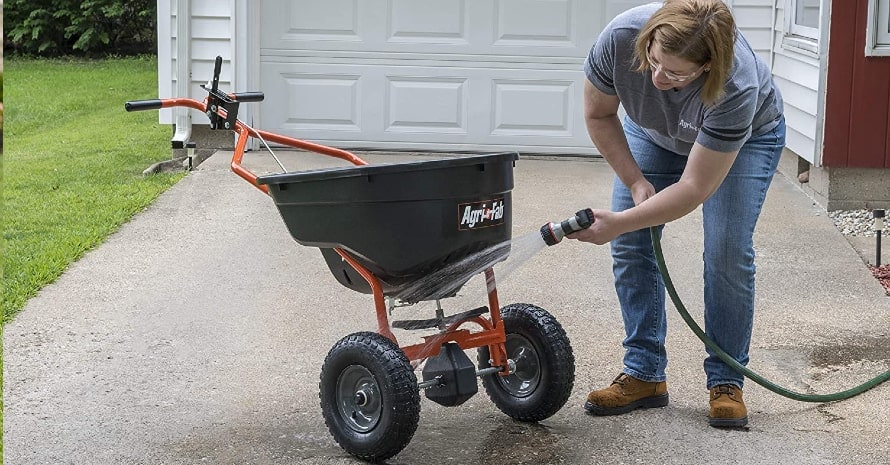 Here are my guidelines on how to spread fertilizer with this equipment. Note these steps and tips for the efficient use of your fertilizer spreader model. When a spreader is rightly used, its efficiency in fertilizing and seed spreading is unmatched. Since most spreaders use rotating gauges or well-crafted holes, they ensure fast and accurate spread.
When using a spreader, ensure you set up the flow rate. This is essential in providing only the right amount to apply with little wastage.
Determine the maximum dispersal range in the spreader. This will help you to avoid overspreading as you will be placing your equipment in the right place.
When spreading fertilizer, you need to ensure a steady pace. This will provide a uniform spread which is vital in minimizing wastage.
If you have a large lawn, consider pull-behind fertilizer spreaders instead of hand-held ones. It will allow you to apply fertilizer evenly on a large surface with a little time.
Using a spreader comes with a tone of advantages. You should consider using a spreader in the event you are still managing with traditional spreading methods. These tools are easy-to-use, allow quick and moderate application, can work for large lawns, and easy your gardening routine a lot. When you try a fertilizer spreader, you will probably not turn back to your previous approaches that took a lot of time and efforts.
Spreaders are ideal for efficient fertilizer application. They are effortless to use and ensure you complete the task in a short span. Spreaders provide a uniform spread that is hard to achieve when applying fertilizers by eye. Excess spreading can kill your plants, whereas insufficient spreading will leave the job not done. By using a high-quality fertilizer spreader, you get the right amount spread on your indoor and outdoor plants for better growth and productivity.
Closing Remarks on Best Fertilizer Spreaders
As I wrap up my reviews of the best spreaders fertilizer, I hope this article helped you to know more about fertilizer spreaders and decide on the product to purchase. The main reason I encourage you to use a fertilizer spreader is for the increased efficiency and speed you get when applying fertilizers.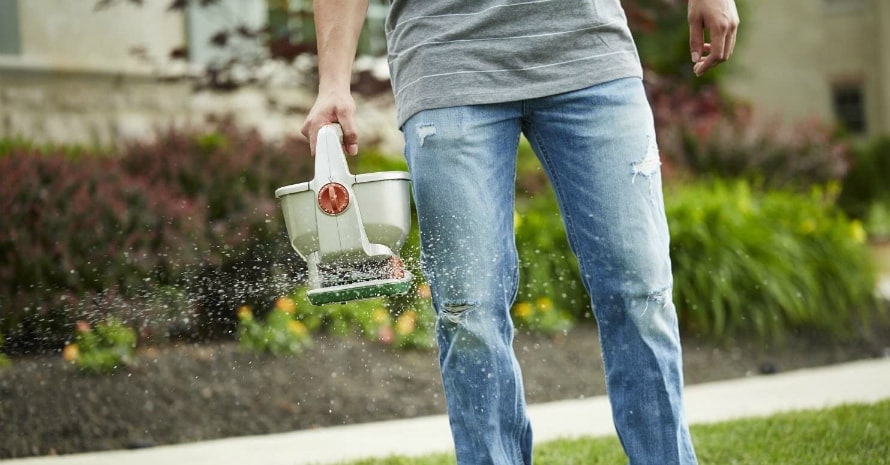 I have reviewed two types of spreaders, depending on the size of the lawn they work better on. For hand-held drop spreaders, consider using them on a small piece of land and for light-spreading needs.
Broadcaster spreaders are efficient for use over a large chunk of land and gardens. They are fast for the task; for example, you can go with those with geared wheels. However, such items are costlier compared to hand-held spreaders. Given the multi-functionality of many fertilizer spreaders, I value them as must-have equipment for use in any gardening needs.
What fertilizer spreader do you use for your garden and lawn? Is it a broadcaster or a drop spreader? Have you use any of the reviewed items, and would you recommend them to anyone else? Comment below and feel free to post any question you have concerning fertilizer spreaders, and I will be happy to discuss this equipment.