As an Amazon Associate we earn from commission of qualifying purchases.
A lush emerald-green lawn is part and parcel of a dream home for many people. The purpose is harder to achieve than it might seem, though – sparse or withered grass is sadly a common problem. It's therefore essential to treat your turf to the best lawn fertilizer out there.
Pros
The granules have a lasting effect of about three months
The nutritional effects are boosted by chelated iron
The shape of the bottle makes it easy to spray using a hose
Top Pick
Pros
The granules have a lasting effect of about three months
Runner-Up
Pros
The nutritional effects are boosted by chelated iron
Premium Choice
Pros
The shape of the bottle makes it easy to spray using a hose
Affiliate links and images placed from the Amazon Product Advertising API on 2022-11-25
A product that's genuinely good for your lawn will not only promote growth but keep away weeds and pests. Stick around to explore five excellent options through my lawn fertilizer reviews.
5 Best Lawn Food Products Reviewed
In this section, I'm sharing my five favorite yard fertilizers that will be beneficial for most turf types. If you are still unsure which to choose after you've read these reviews, the Buyer's Guide and FAQ sections can prove useful.
1. Scotts Green Max Lawn Food: Top Pick Best Grass Fertilizer
Affiliate links and images placed from the Amazon Product Advertising API on 2022-11-25
For those who cannot wait to see their turf lush and green with beautiful long blades, this Scotts fertilizer seems to be the best option. With an N-P-K formula of 27-0-2, the product enriches the soil with nitrogen to promote foliage growth.
This is a fast-acting solution indeed, promising a more intense hue of green within just three days. My experience with this fertilizer proves the claim. Whenever I find my lawn looking lackluster and pale, I apply this and wait for it to become emerald-green again.
This is probably due to further supplements apart from the standard nutrients, including iron. Iron is a vital substance when it comes to how your turf looks, but few products on the market contain it in adequate quantities.
According to the manufacturer, each application will last for up to three months. Since the product clearly falls on the pricey side of the spectrum, it's an important advantage that's mainly achieved through its granular formulation. Granules are generally more long-lasting than liquids, and this product is no exception.
I find this fertilizer reasonably easy to apply, but it's best to use a spreader or similar equipment for uniformity. Scotts also emphasizes that it's advisable to feed your lawn when it's dry rather than wet.
One Florida pack is enough to cover 10,000 square feet of turf. Please note that this variety is only available within the state, though. If you live elsewhere, the Standard option might be the best solution for you.
Although the product is described as all-season and all-purpose, my recommendation is that you apply it from late spring rather than shortly after the winter since excessive nitrogen application can cause overgrown foliage and poor root nutrition when the weather is cold.
ADVANTAGES
One pack covers a large area.
The nitrogen-rich formula provides ample nutrition for grass growth.
The product contains added iron, which helps you get a deeper green lawn in no time.
This granular fertilizer is not too difficult to apply.
The granules have a lasting effect of about three months.
DRAWBACKS
This is not a highly affordable fertilizer.
2. Miracle-Gro Water Soluble Lawn Food: Runner-Up Best Fertilizer to Grow Grass
Affiliate links and images placed from the Amazon Product Advertising API on 2022-11-21
Another all-purpose fertilizer on my list, this Miracle-Gro product boasts a water-soluble formula that makes it easier to apply in a controlled, uniform manner. The 5 lb pack, which is unfortunately far from inexpensive, contains 4 feeder refill packs.
The term refers to smaller packs that contain the right amount of the product for filling one garden feeder jar. Your next step, according to the instructions, is to attach a hose to the feeder and select the desirable spreading settings. Miracle-Gro recommends using the fertilizer with its Miracle-Gro Garden Feeder, with which each pack will cover about a thousand square feet in about 12 minutes, depending on the settings.
The manufacturer emphasizes that you should soak the base of your plants rather than the foliage. For those not willing to invest in the specialized equipment, though, there's always a watering can. 1 tablespoon of the fertilizer is to be mixed with a gallon of water.
Unlike the granular formula above, this product has to be applied every two to three weeks. It's labeled as all-season and contains a high amount of nitrogen as well as chelated iron. With an N-P-K formula of 30-0-6, it's even more potent than the top pick, so I wouldn't advise using it early in the spring. I have some experience using it for a change, though, and it did turn my grass bright green.
Generally, it's a very efficient solution, although the application is a little fussier than it would be with granules.
ADVANTAGES
The formula is very rich in nitrogen.
The nutritional effects are boosted by chelated iron.
This product makes the lawn bright and thick.
You don't have to use a specialized feeder if you don't want to; a common watering will do.
3. Simple Lawn Solutions 16-4-8 Lawn Food: Premium Choice Top-Rated Lawn Fertilizer
Affiliate links and images placed from the Amazon Product Advertising API on 2022-11-30
In case you feel apprehensive of extra powerful high nitrogen formulas that might cause excessive blade growth should you do it wrong, a more conservative 16-4-8 solution is probably more attractive. The concentrated spray, as the manufacturer describes it, is good for any grass type.
Apart from the standard nitrogen, phosphorus, and potassium, it contains seaweed and fish. This organic matter makes it easier for the plants to take in the good things from the product and provides additional nutrition.
The fact that there's phosphorus in it makes it especially good for the roots of the turf, which can be especially important to newly established and younger lawns. It also has a higher concentration of potassium, facilitating the nutrient transfer.
I used this solution for my new lawn once, and it did bring about hardy, resilient turf that looked lush and thick. I also liked its color, although it didn't get nearly as deep as with my absolute favorite (the top pick).
The 32 ounce pack will only cover 3,200 square feet, making it rather pricey. Yet, this is partly made up for by the fact that the container is spray-ready except you need to attach a hose.
Just like any liquid formula, this needs to be re-applied regularly. While you aren't likely to see the results overnight, a week can make a difference.
ADVANTAGES
The product has a balanced, all-nutrient formula.
The shape of the bottle makes it easy to spray using a hose.
The fertilizer has added organic matter like fish and seaweed that facilitates nutrition.
Regular application improves lawn color.
DRAWBACKS
The price is higher than ideal, given the small coverage.
Applying this product in certain states may require a soil test because it contains phosphorus.
4. Espoma Organic All Season Lawn Food: One of the Best Lawn Fertilizers for Spring
Affiliate links and images placed from the Amazon Product Advertising API on 2022-11-25
In case you are looking for an all-natural formula that is guaranteed to be low-risk for children and pets as well as your cherished vegetation, Espoma has something to offer you. The 18-0-3 formula has enough nitrogen to promote growth, with a little bit of added potassium for extra hardiness. Zero phosphorus content makes it universally applicable.
According to the manufacturer's direction, the amount of the product to use depends on whether you leave grass clippings on your lawn. If so, 6 lbs per 1,000 square feet will do the job. The number has to be doubled otherwise. It's, therefore, quite handy that Espoma sells large 40 lbs packs.
While not the cheapest option on the market, this product is great for those who care about the quality of water in their wells as well as the safety of their furry friends. A relative of mine bought it because she had a cat who liked to munch on the plants in her yard. She didn't regret it. The granules lasted for a couple of months after each application, from late spring to early fall, making her lawn bright and cheerful.
ADVANTAGES
The granular formulation ensures long-term feeding.
This organic fertilizer is safe to use around children as well as pets.
Many people find the formulation neat in application.
Large packs are great for repetitive applications on bigger premises.
DRAWBACKS
The product requires a bit of investment.
Don't expect a quick effect with this formula.
5. Milorganite Garden Care Organic Fertilizer: Best Rated Lawn Fertilizer for Deterring Animal Pests
Affiliate links and images placed from the Amazon Product Advertising API on 2022-11-25
Just like the previous product, this Milorganite fertilizer is labeled safe for pets and children alike. The manufacturer takes pride in utilizing strict regulatory and control measures to make its organic lawn fertilizers non-toxic yet effective.
It's also emphasized that the granular formula is fool-proof as it minimizes the risk of burning your plants if you overdo it. By looking at the formula, which says 6-4-0, one might expect little to no effect. However, my friend, who's passionate about all things organic, has tested it more than once and reports impressive outcomes.
Milorganite is a textbook case of how a slow-release formulation can become really powerful over time without bearing big numbers. It takes the fertilizer an average of 8 to 10 weeks to act.
Apart from the basic formula, the fertilizer contains added iron for better greening as well as organic matter. The spreader-friendly granules are a common formulation easy to apply. As an added bonus, it's a top-rated lawn fertilizer against rabbits and similar pests.
ADVANTAGES
This is a kid- and pet-safe product.
The formula deters animal pests such as rabbits.
There's a low-concentration nutrient formula under the hood that spares the plants without being ineffective.
Slow release is beneficial in the long run.
DRAWBACKS
The organic formula won't work quickly.
This is not a cheap product.
Good Fertilizer for Grass Buyer's Guide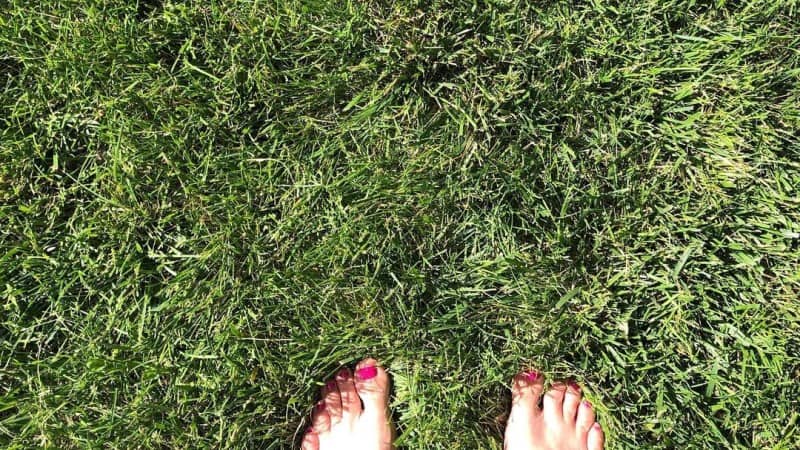 The market of lawn fertilizers might be confusing to navigate because the promise is pretty much the same no matter who makes the product and how much it costs. Yet, there are certain criteria to take into account when shopping.
Nutrient Formula
First of all, it's the makeup of a fertilizer that makes it (hopefully) beneficial for your turf. If you look at the package of pretty much any product, you'll see three numbers with hyphens between them. While many people think these refer to the amount of certain nutrients, it's the source of those that this formula specifies.
The three numbers stand for nitrogen, potash, and phosphate. For instance, a fertilizer with 16-0-0 written on it consists of sodium nitrate alone. Yet, the formula is also indicative of the product's potency. Divide the total weight of the product by the number specified for each nutrient to find out how much of it the fertilizer contains. That is, a 50 lb bag of a 10-10-10 fertilizer contains 5 lbs of each nutrient.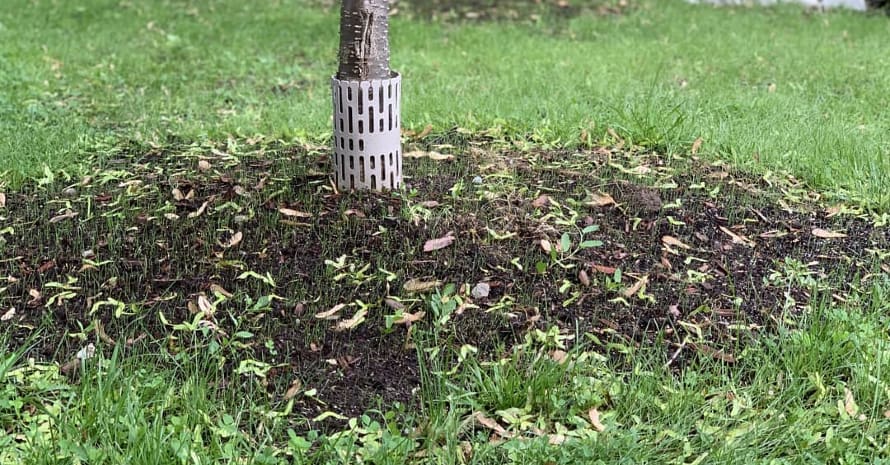 The best way to determine what formula you need is to carry out a soil test. For most grass types, however, 4-1-3 for removed clippings or 8-1-4 for existing clippings is considered to be adequate.
Synthetic vs Organic Fertilizers
Organic fertilizers will often have less immediately available nutrients in their formulas but will release more over time. Despite the lower potency, they have the advantage of being milder in action and improving soil texture.
If you are afraid that a fertilizer might prove too "strong" for your turf or "burn" it, organic fertilizer is the recommended solution. For those who don't have the patience to wait for a slow-release formula to act or feel like their turf needs a quick boost, though, a synthetic formula might be more beneficial.
On the downside, organic or natural options are also more expensive than synthetically produced ones.
Formulation
Fertilizers usually come in granules or liquid formulations. The former tend to be easier to store and apply but act more slowly (though for a longer period), while liquids facilitate even distribution and are generally more fast-acting.
Lawn Fertilizer FAQ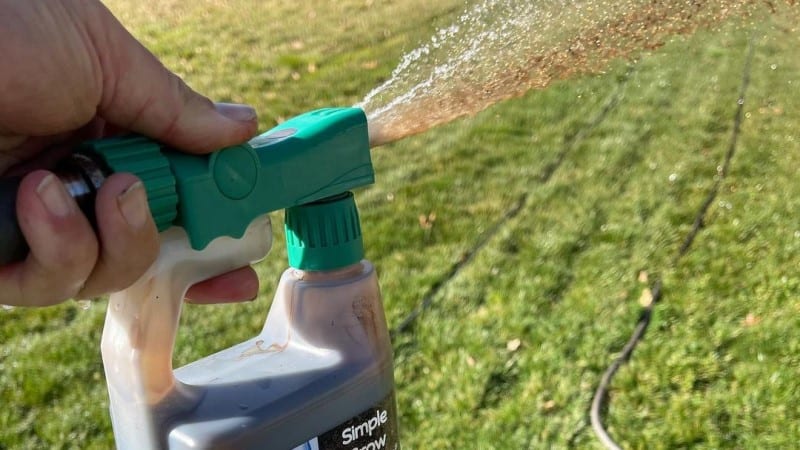 Here, I briefly answer the most common questions when it comes to choosing the best fertilizer for green grass.
What is the best lawn fertilizer for early spring?
The key reason for fertilizing your yard vegetation in spring is to give it enough nutrients to develop healthy roots and blades for the summer. High nitrogen content is thus advisable (don't overdose it, though!). It's also important that the product you are using should contain a preemergence herbicide for crabgrass control.
What should I put on my lawn in early spring?
Generally, early spring fertilization is advised against. Administering too much nitrogen that's followed by a freeze can ruin the turf by promoting the shoots more than it should and leaving poorly developed roots.
When should you fertilize your lawn?
Generally, it's best to apply lawn food in late spring, around the middle of the growing season, and in fall.
Your Lawn Is What It Eats
Finding the best fertilizer for grass keeping might be a challenging task, but it's also a promising investment. Remember that not all fertilizers are created equal. Your turf deserves safe and healthy food like Scotts Green Max Lawn Food that will not only nourish it but also fight the problems that are typical of your setting, protecting the grass, grom pests and other potential dangers.
Speaking of dangers, what's the most ubiquitous lawn problem in your area? Is it yellowing or some kind of animal? Tell us in the comments section!