As an Amazon Associate we earn from commission of qualifying purchases.
This time, I want to help you choose the best walk behind salt spreader model for your private or commercial purposes. The salt and ice melt spreader is a highly useful tool when it comes to applying salt over your driveway or larger areas that are exposed to ice build-up.
I bought my first tool around 10 years ago, and many readers of the blog had asked me to talk about this experience. I decided not just to write a comment but review several popular solutions.
Pros
Suited for multiple gardening tasks
Reliable foam-filled tires
Top Pick
Pros
Suited for multiple gardening tasks
Runner-Up
Pros
Reliable foam-filled tires
Affiliate links and images placed from the Amazon Product Advertising API on 2023-12-08
The tool that I left for my personal use after the tests is Scotts 76121 Broadcast Spreader, but you may need another one, so read on to see the details.
5 Best Salt Spreaders Reviewed
Scotts Elite Spreader – Runner-Up
Earthway 2150 Commercial 50-Pound Walk-Behind Broadcast Spreader
Chapin 82088 80-Pound Professional Salt and Ice Melt Spreader with Baffles
My tests included 8 most popular models, but I decided to narrow down the listing to introduce only the most ergonomic and durable models to you. Here is my top 5 walk behind salt spreader reviews.
1. Scotts 76121 Broadcast Spreader – Best Salt Spreader
Affiliate links and images placed from the Amazon Product Advertising API on 2023-12-08
Scotts offers a huge variety of high-quality gardening tools, and the 76121 spreader is amongst their best-sellers for a good reason. This lawn spreader lets you distribute the salt at up to 5,000 square feet without too much effort. The tool costs below $40 and provides all the features that you may need as a household owner.
The spreader mechanism is very simple and can be adjusted to spread the right amount of salt with a convenient large wheel on the dashboard. Actually, you will get a recommended setting if you buy the melting salt by the same brand. You can also cut off the side areas if you don't want the salt to get anywhere except the planned route.
ADVANTAGES
Precise spreading due to the edge guard;
Easy to adjust;
Foldable handle for compact storage;
Protected gearbox;
No assembly and calibration needed;
Covers up to 5,000 feet at full capacity;
Affordable and durable.
DRAWBACKS
Plastic wheels (but large ones).
2. Scotts Elite Spreader – Advanced Sidewalk Salt Spreader
Affiliate links and images placed from the Amazon Product Advertising API on 2023-12-08
The Elite Spreader is a larger version of the same tool. It's equipped with strengthened plastic wheels and 2 spreader rotors to cover a wider area per second. The container size lets you cover up to 20,000 square feet.
The handle is more ergonomic to keep your hands from fatigue longer. There's also a nice smartphone holder so that you can have fun watching YouTube or something while working.
ADVANTAGES
2 rotors cover a wider area;
Large container – covers up to 20,000 square feet;
Easy to set up;
Smartphone holder;
Strengthened plastic wheels.
DRAWBACKS
Large, but not sturdy enough for commercial purposes.
3. Ice Master 5000 – Large Commercial Walk-Behind Salt Spreader
Affiliate links and images placed from the Amazon Product Advertising API on 2023-12-08
Ice Master is the largest and most powerful tool on my list. It has a strengthened frame, large pneumatic wheels, and a 100lb container so that you can use it to cover entire streets. It's also rather high and lets you adjust the handle quickly.
Due to the flexible side guards, you can choose any spreading width. It's the best pro-level solution.
ADVANTAGES
Flexible spreading width;
Large wheels;
All-metal construction;
Remote output control;
Even weight distribution.
4. Earthway 2150 Commercial – Excellent Medium Salt Fertilizer Spreader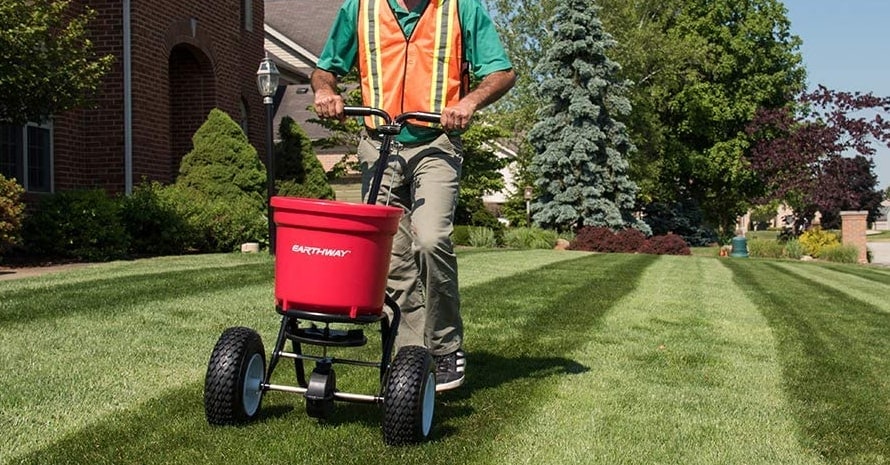 No products found.
This solution by Earthway is highly durable so that you can apply it for commercial purposes and treat large areas around organizations. You can easily adjust the height of the handle and control the output right from the handle.
The inflatable wheels won't suffer from low temperatures and make it easy to push the tool anywhere. It's a totally simple yet powerful and sturdy model for commercial use.
ADVANTAGES
No-clogg gearbox design;
Wide coverage area;
Heavy-duty pneumatic wheels;
50lbs container;
Adjustable drive handle;
Remote output controller.
DRAWBACKS
No edge guard for side spreading cutoff.
5. Chapin 82088 – Heavy-Duty Driveway Salt Spreader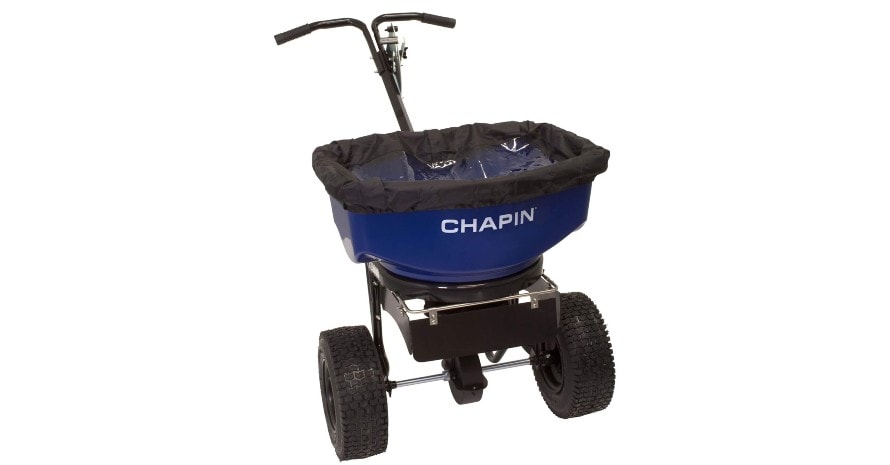 No products found.
This driveway spreader is designed similar to Ice Master but has a bit smaller capacity. The main differences include a more aggressive auger that crashes large salt pieces and a coated gearbox that won't clog under any circumstances. If you're a pro user with a demand for a smaller heavy-duty tool, you may like this one.
ADVANTAGES
80lbs container;
360° baffle with adjustable angle;
Sturdy metal frame;
Remote output control;
Aggressive auger design.
DRAWBACKS
It can't be used with magnesium chloride ice melts.
Walk Behind Sand and Salt Spreaders Buyer's Guide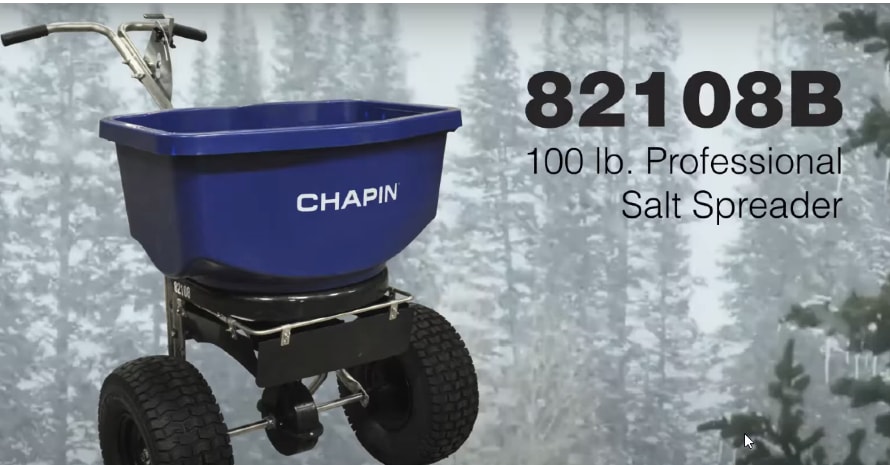 Although a salt spreader walk behind concept may seem elementary to you, you actually need to know several tips to choose the right one for your need. Otherwise, you will end up wasting time or even money if you are looking for a commercial salt spreader.
How to choose the best walk behind salt spreader?
Now, let's take a look at the features that you should consider choosing the right walk-behind rock salt spreader:
Container capacity – the container capacity determines the size of the area you can cover without refilling. Usually, small spreaders like the one I've put in the first place are enough to cover 5,000 square feet. You probably won't need more unless you need a commercial tool for larger areas. Take a hand salt spreader if the yard's very small.
Ease of use – adjustment simplicity is a key to fast adaptation of the tool for the conditions. Don't opt for extra that you're not likely to use.
Wheel size – while average plastic wheels are ok for private use, a commercial tool should have sturdier wheels for extra durability and vibration reduction. You need this comfort for long runs, especially if you are treating cobblestone areas.
Extra features – professionals will largely benefit from adjustable handle height/length, spreading pattern, and a gearbox.
Salt Spreader FAQ
I knew you will have some more questions as many readers have already sent me lots of questions on the topic. Here are the answers to some of the most frequent of them.
Can you use a grass seed spreader for salt?
Technically, you can use a seed spreader for that, but they are not designed to be used for such purposes. Some seed spreaders just drop the seeds under the spreader or broadcast them around it. The success of your attempt will depend on the size of salt crystals as well as on the calibration of the particular drop spreader or rotary spreader.
Check out the links to see how you can adjust your seeder to achieve the needed effect. To my mind, both broadcast and drop spreaders can be used effectively as they are adjustable, and salt won't damage them.
Can you put salt in a fertilizer spreader?
The case with the fertilizer spreader is pretty much the same. However, fertilizer spreaders are usually designed to cover larger fields in a short time, so they can be too large and have an overly generous output. If the spreader is of reasonable width and can be adjusted to the size of your route, I can only say 'Why not?'.
Spread It Right
Now you're ready to make your driveway and paths not that slippery. You have various options, but I would like to say once again that my favorite one is the Scotts 76121 Broadcast Spreader, as it matches the size of my driveway and yard paths just right.
Make sure to match all the specs of the tool with your actual needs, and enjoy saved time and solid ground under your feet.
Have you used spreaders before? Which one did you use? It would be great if you share your experience and opinion with other readers and me in the comments. I'm open to questions as well.