As an Amazon Associate we earn from commission of qualifying purchases.
Imagine the necessity to gather dead leaves and debris every 30 minutes? It sounds extremely tiring and time-consuming, especially if your garden is very spacious and surrounded by trees. If that is the case, cleaning up and gathering leaves will be slow and very tedious. In this article, I am going to guide you in choosing the best backpack leaf blowers, thus saving your time for something different. I will take you through different types of backpack blowers, starting with the best products in my review.
When we moved, I had to struggle against dead leaves and debris. Cleaning them had always been a hard time until I came to use backpack leaf blowers. That really saved a lot of time, and I was enabled to dedicate more time and effort to the well-being of our garden.
Affiliate links and images placed from the Amazon Product Advertising API on 2023-09-21
With the constant change of technology, the backpack leaf blowers are also upgrading. We have transitioned from the very noisy and vibrating leaf blowers to the cordless and much quieter ones. In this review, I will cover top backpack blowers, starting from the types of backpacks leaf blowers and ending with peculiarities of their usage.
7 Best Backpack Leaf Blowers Reviewed
Most of the blowers pollute the environment by the toxic emission of the exhausts. Sometimes oil spilling to the ground occurs, thus
acidifying the soil
. They may also be very noisy and hence harmful to the ears, which may also lead to deafness.
Nowadays, the blowers have transformed from vintage models to the modern ones. The latter are cordless and equipped with a battery charger, hence being more caring for the environment. The reason is they do not cause any pollution; fewer vibrations during use allow you to enjoy the process of cleaning up your yard or lawn. Read the reviews thoroughly to differentiate between the different models and pick the best blower for your cleaning purposes.
1. Poulan Pro PR48BT: One of Most Trusted Backpack Blowers Review
 5/5 
Affiliate links and images placed from the Amazon Product Advertising API on 2023-09-21
Imagine owning a blower that is not heavy, strain-free, comes with all the harness for the most ideal fit, guarantees excellent coziness and reduces fatigue while using. With all those features, this Poulan leaf blower is by far the best backpack blower for the money spent when purchasing it.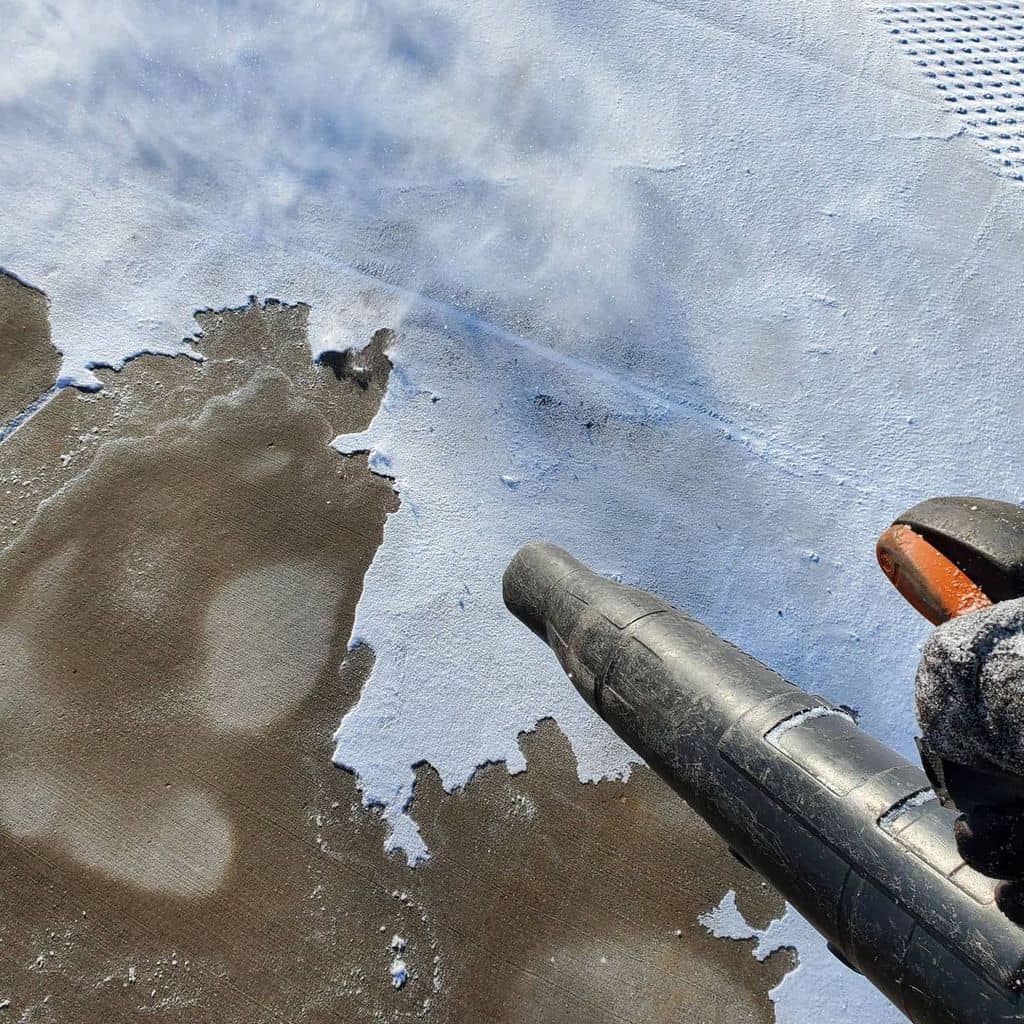 This blower uses gas fuel for optimal use and is fitted with a powerful 48 cc 2-stroke engine motor that produces extraordinary airspeed of up to 200 MPH and airflow of up to 490 CFM. It is the ideal fit for cleaning your yard or lawn from annoying debris, grass and wet or dry leaves. Furthermore, the product is suitable for cleaning snow instead of using shovels to get it out of your way.
This foliage blower is supplied with all high-performance structures that are really handy for the operator. For example, the cruise switch with variable speed control can be easily turned on and off, which helps in maintaining a constant speed. This device will eventually save you gas without over-expenditure.
Due to the heavy-duty frame and the soft gripped handle, the operator has minimal strain while using this fatigue-reducing blower. It also has an ergonomic design, the adjustable well-padded shoulder harness that aids in reducing the load. For this reason, the work with the blower is very relaxing, and you can use it for a long time without straining the shoulders.
It is the best commercial backpack blower, which can be used by small business owners with a space yard ranging from ½ an acre and beyond like in entertainment parks. It is also suitable for taking care of your home lawn, as it removes all the dead leaves. You can use the item in all seasons; even when it snows, it can be used instead of shovels. Keep in mind to mix the oils properly when using the Poulan Pro leaf blower.
ADVANTAGES
Best suited for commercial purposes
Reduces fatigue
Has a cruise control variable speed throttle
Highly effective due to the high power speed
DRAWBACKS
It produces a very loud noise
2. Echo PB-580T: The Best Backpack Gas Leaf Blower
 4.8/5 
Affiliate links and images placed from the Amazon Product Advertising API on 2023-09-21
This is the second backpack leaf blower that I have used in vacuuming of my garden, and it is among top-rated backpack blowers in my review. This item is manufactured in the United States. It requires gas for power and provides the velocity of 215 MPH with a 2cc, 2 stroke engine. This backpack leaf blower is supplied with an adjustable velocity controller and a fuel tank that can hold a capacity of 62oz.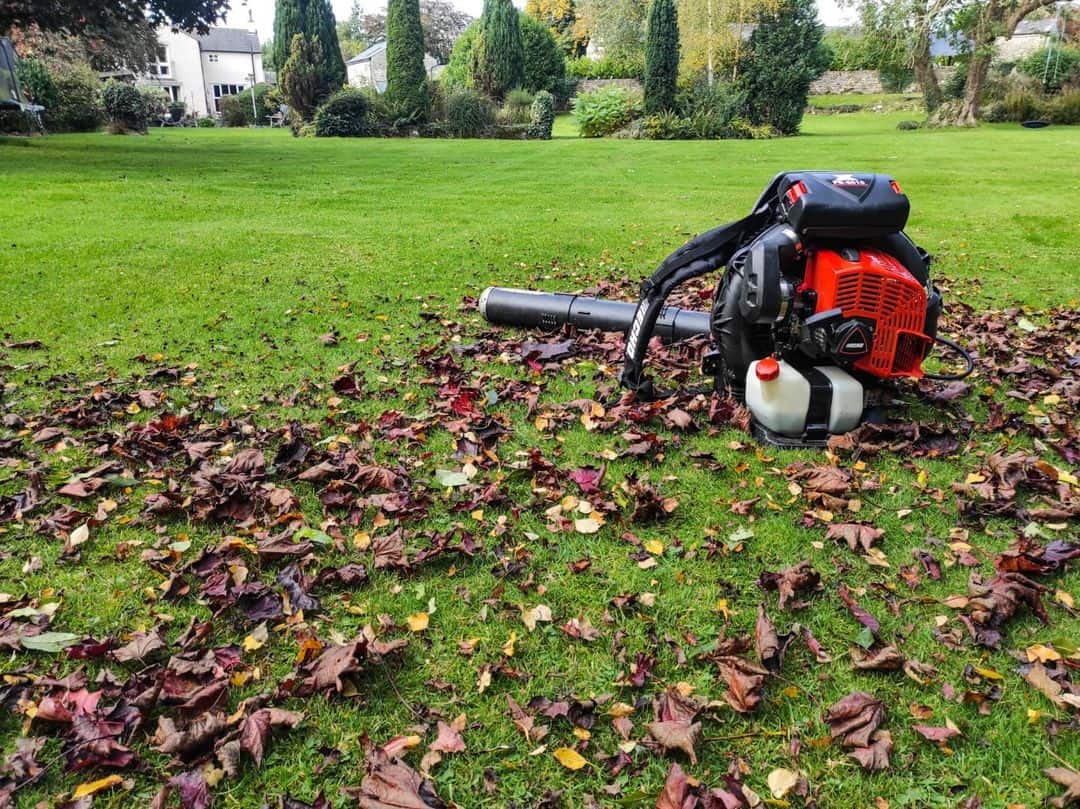 If it is cold outside and you haven't used the blower for a long time, you need to charge it. Generally, it is supposed to be primed more than 6 times to make sure that the blower functions appropriately. When starting, always remember to turn the throttle flipper on the handle, or else it will not start the next time you will be using the leaf blower.
Echo gas backpack leaf blower ratings are very high compared to most leaf blowers. It will remove leaves from your garden within no time. You will highly appreciate it in case you own a very spacious garden. The shoulder straps are very comfortable and well-cushioned, hence you can carry the backpack blower for a prolonged period. On the other hand, the item lacks the chest or hip straps to even the load.
You can use this product even in hot weather, due to a system of ventilation with airflow control. The backpack's tube pipes are well-designed indeed, one is set on the hip and the other on the side throttle. The noise this leaf blower produces is less compared to the sounds of other leaf blowers. Its light weight makes it very comfortable in use. Due to the powerful engine, you will permit the garden's cleaning in a span of time.
Although there are different models of this blower that vary both in price and size, I highly recommend the smaller one if your yard is not very big. The item I have discussed above is the latest model. Even though it costs more than the competitors, the output will be overwhelming, especially for a spacious yard.
ADVANTAGES
It makes less noise than other blowers
Very comfortable and easy to use
2-year warranty
Suitable for big yards
DRAWBACKS
Uses a lot of gas fuel
No chest or hip strap
3. Greenworks BPB80L00: The Best Backpack Blower with Cordless Battery
 4.8/5 
Affiliate links and images placed from the Amazon Product Advertising API on 2023-09-21
I can rate this powerful blower as the best commercial backpack blower since it can be used outdoors far from houses and does not have to be plugged to work. You can use it for places like entertainment venues and corporate parks. This blower does not pollute the environment due to its design. Although you will have to charge the battery when it runs low.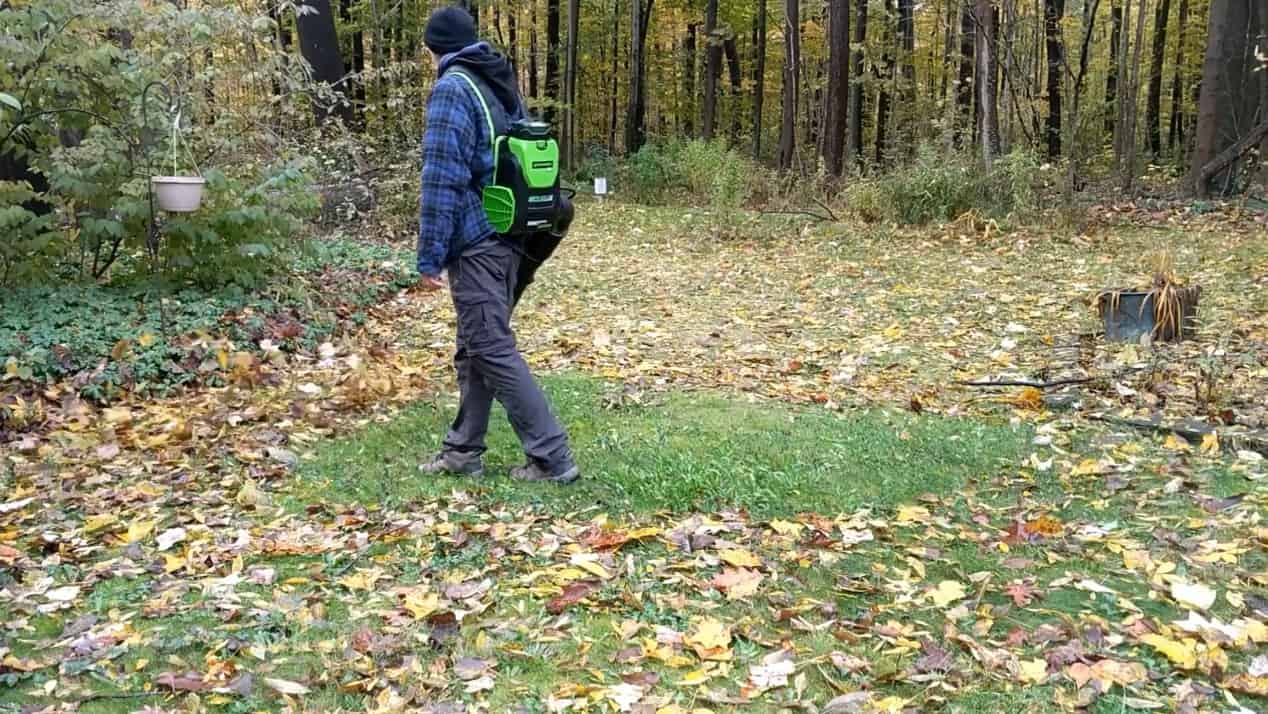 Greenworks uses 40 volt 2.0 amp an hour lithium-ion battery that stipulates long-lasting power. The variable-speed motor delivers a maximum speed of 150 MPH with the help of extension tubes that ensure the effective work of the blower. This leaf blower is a battery-operated machine that works successfully from the electric cord, so nothing can hinder you from maneuvering from one corner to another.
Sometimes the battery push buttons can get stuck in the unit and won't come out. In case this happens, try to push harder on the lever. Also, make sure to put rubber gloves on for that firm grasp on the battery. Try tapping it lightly, do no unseat the button to prevent damage to the blower. The last may happen due to dust accumulating on the blower and getting to the channels where the battery slides into the channels. The grit creates friction which makes it hard for you to take the battery out.
The product is friendly to the environment because of minimum emissions and no oil spillage to the ground. It is designed to cause minimum vibration and is very silent. Therefore, it cannot damage your eardrums or bother people around you.
This leaf blower is very comfortable with an attachment that ensures you won't be under strain when using it for a long period of time. It is extremely easy to start this backpack blower – all you have to do is to push a button. The item comes with inbuilt cruise control buttons which help you to manage power using the variable speed trigger. It is very caring for the environment hence being the most top-rated gas backpack leaf blower.
ADVANTAGES
Environmentally friendly
Lightweight
Easy to use with a push of a button
Has cruise control buttons to manage power
4. Makita BBX7600N: Secure Value Backpack Leaf Blower
 4.5/5 
Affiliate links and images placed from the Amazon Product Advertising API on 2023-09-21
My third best blower is this very influential cleaner equipped with a 4-stroke motor engine that runs for long smoothly and does not produce excessive noise. It is a very powerful fuel and the best backpack leaf blower gas resourceful with a 75.6 cc commercial duty engine. It is mostly known for cleaning lawns and gardens of big size. The engine uses fuel which you don't have to mix beforehand.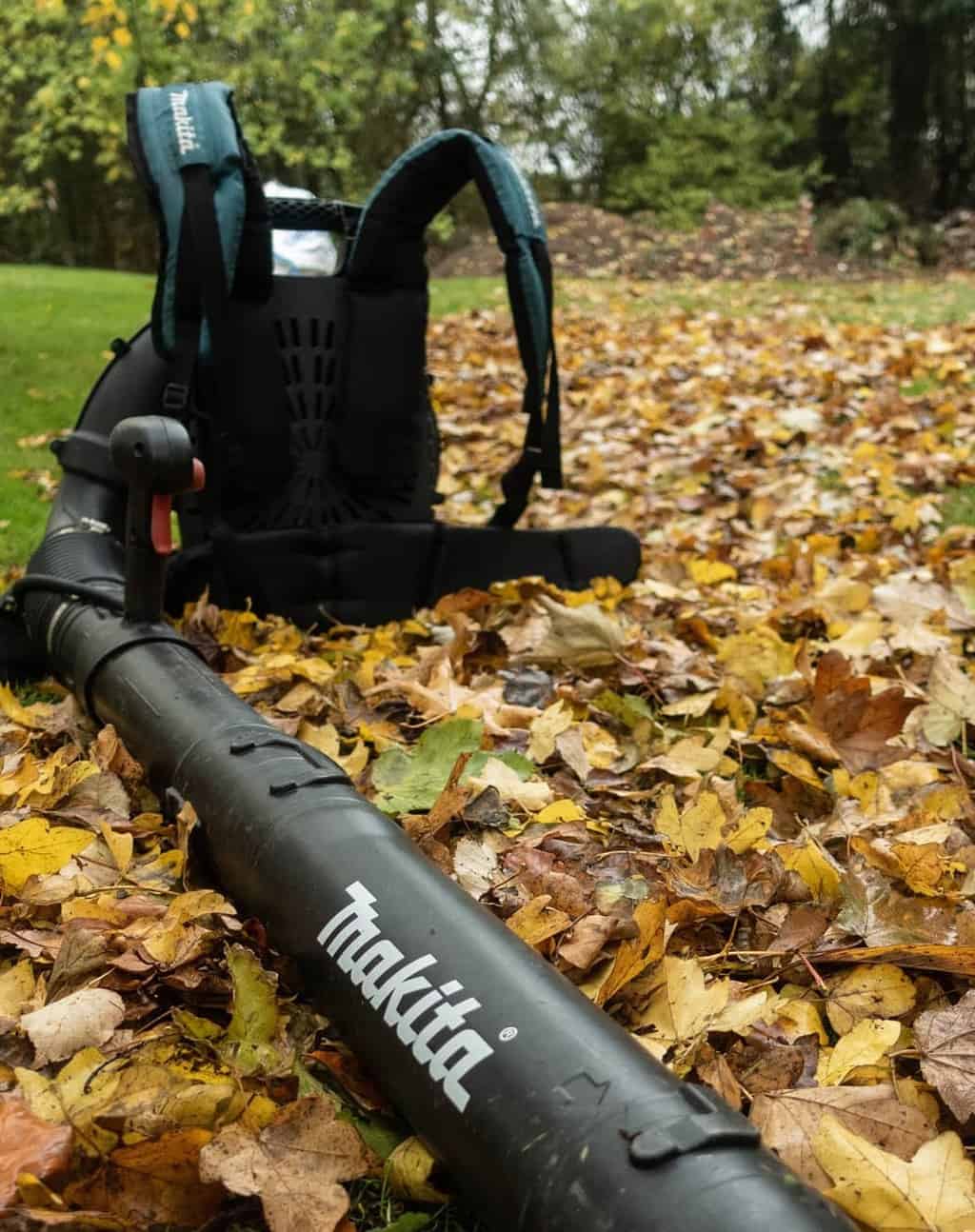 The blower can easily be aimed in the desired direction because of the handy hip adjustment that also is effective in reducing the weight load. It is very comfortable to work with because of the well-padded and fitted straps which you can carry for long without straining your shoulders. This leaf blower is very easy to use as it is designed with an on and off switch.
Most of the customers that I used to consult had some difficulties when it was time to assemble this product. The leaf blower comes with only three attached turbines and an adjustment that can be long or short according to your comfort when using the blower. There is a screw to attach the trigger on the tube. It is easily screwed to hold it firmly, thus enabling the best performance that is needed. Add a little more oil to lubricate the blower and finally contribute gasoline to get the service you are searching for to clean your yard.
What I like most about this blower is the fact that besides having the best backpack leaf blower ratings, it is very cheap to maintain. It can clean up to 4 inches of powdery snow and pave a path through the driveway in a very short time, hence you won't face the hustle of using shovels when it snows lightly.
Despite its advantages, when compared to other blowers of the same size and power, Makita leaf blower is significantly heavier. I always place it on the table or the trailer fender when mounting or dismounting. This way, I ensure there will be no damage if it falls off, as it is not lightweight.
The blower is supported by the 4-stroke engine with a 3.8 hp and the cruise control button. The engine provides opportunities for very quiet operations and no fuel mixing. It is also mechanically automated for an easy and quick way to start the blower. In addition, the product is fitted with powerful air filters. They aid in avoiding damages to the blower, are replaceable and easily accessible.
ADVANTAGES
Easy to use due to the on/off switch
Best used for commercial purposes
Comfortable cushioned straps
The blower makes less noise as compared to other ones
DRAWBACKS
Very expensive maintenance
5. Dewalt DCBL59OB 40v MAX: The Best Backpack Blower for Leaves
 4.3/5 
Affiliate links and images placed from the Amazon Product Advertising API on 2023-09-21
I tested this backpack leaf blower for the first time when I was still working in landscape design and consultation company. I was amazed by the power and the low level of vibration this insubstantial leaf blower produced. Due to these features, the product is good for a noise-restricted area. I remember advising most of my clients to use it, getting, in turn, positive feedback and satisfaction from those who managed to purchase it.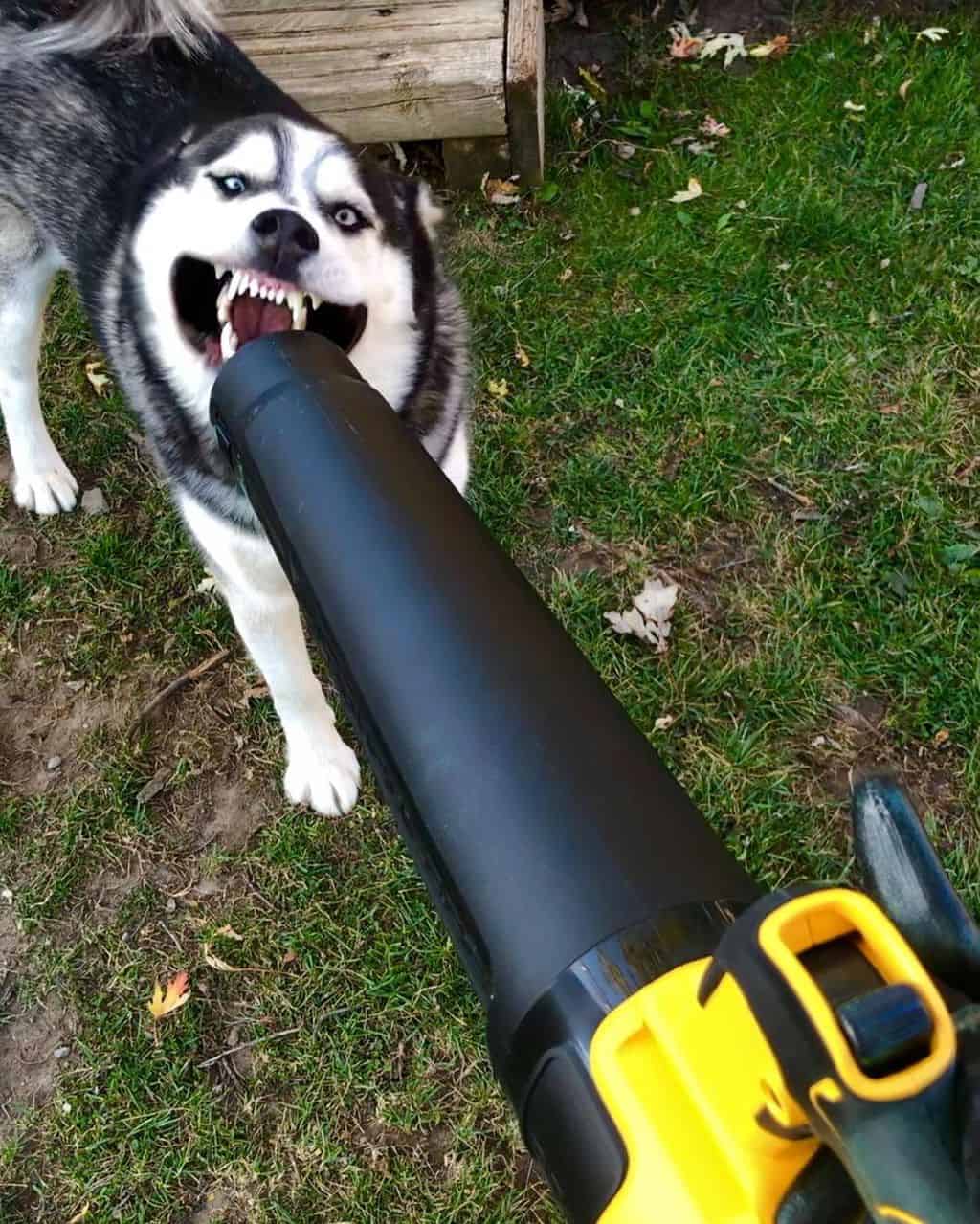 This leaf blower is a bare tool that uses lithium-ion 40 volts max battery, and by bare I mean the tool and the battery are sold separately. It is designed with a brushless motor that provides lots of power to clean debris and wet or dry leaves with an air volume of 142 mph.
This model is designed with structures that help the battery to switch on and off. Otherwise, you can use the regulator handle tool to turn the blower off during transportation or when you don't plan to use it for a long period of time. The blower comes with a variable speed trigger and a speed lock that can be switched on or off by pushing the button, making it very simple to use even for starters.
Dewalt is a lightweight backpack leaf blower which is compliant with sound pollution rating. You will highly appreciate working with it in a very loud noise-restricted area. Not having a cord makes the blower so simple to maneuver around the small-sized yard or lawn—there's no cord hindrance. It is intended to handle tough usage due to the variable speed starter and speed lock to govern the blower output. The battery is charged using 20v max chargers.
ADVANTAGES
Friendly to the environment due to zero emissions
Suitable for noise-restricted environment
Low cost of maintenance
DRAWBACKS
The battery doesn't last for long
6. Troy-Bilt TB4BP EC: The Best Value Backpack Leaf Blower
 4.1/5 
No products found.
Talking about big jobs for cleaning the yard, Troy-Bilt has the gas backpack leaf blower ratings that will amaze you in cleaning very spacious yards. This leaf blower uses a 4-cycle engine motor with no mixing of gases. It is a strong backpack blower for effortless moving big piles of fallen dead leaves; it also owns comfortable ergonomic features for reducing fatigue when using it.
This blower uses gas for power and has a 32 cc 4-cycle complete activated engine, which is skilled with an output of 150 MPH and 500 CFM. The engine has spiral-assist expertise that helps in pulling the cable and a jumpstart that is used to flinch up the machine easily. It has a tube-mounted throttle control lever ensuring easy use. In addition, the item is suitable for operators using it for the very first time. The jumpstart is sold separately.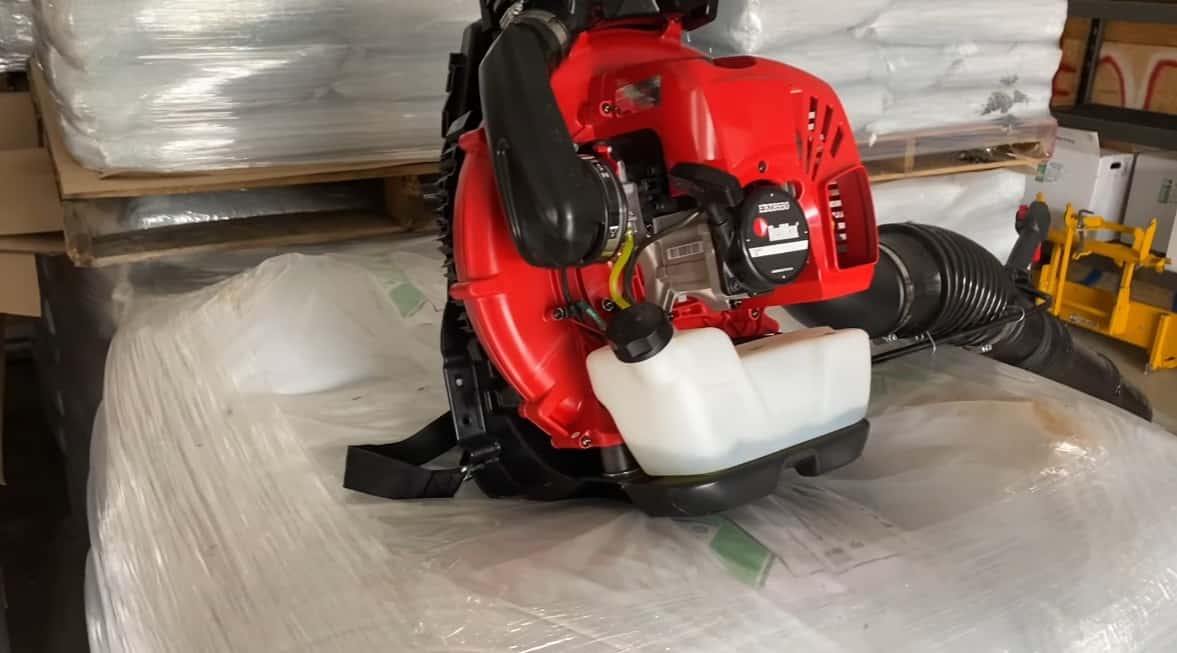 The greenery blower is human-friendly, compacted and premeditated to lessen fatigue for the person using it. It is reached by patenting harness design with cushioned buckles, that provides a circulation of chilled air towards the back of the worker. Due to this feature, the person is very relaxed when using the Troy-Built backpack leaf blower, and can work for the extended time. It is one of the lightweight backpack leaf blowers that clears all the wreckages, dry or damp leaves and grass from your lawn or a standard-sized yard.
The machine has a flex tube, which allows the person to operate the blower easily and move everywhere, hence covering a massive area even in tough regions. It is made with a modifiable cruise switch control for the exceptional regulation and helps to save gas.
ADVANTAGES
Reduces the user's fatigue due to the ergonomic harness
The operator can easily maneuver around and is able to clean the surface under objects
A 2-year warranty
Easy to maintain and use
Best for a medium-spaced yard
DRAWBACKS
Expresses a loud clicking noise
7. Husqvarna 350BT 2-Cycle Gas Backpack Blower: The Biggest Best Backpack Blowers
 4.5/5 
Affiliate links and images placed from the Amazon Product Advertising API on 2023-09-21
This item is rated to be the best one out of 5 blowers that I have ever used. I love its productivity and highly recommend it in my backpack blower reviews. This leaf blower cleans your garden tirelessly by a very powerful airflow. It is very lightweight, designed with a 50 cc powerful X-torque engine, which increases the ease of maintenance. The blower produces a lot of power by use of fuel and helps to clean your garden effortlessly. It produces few emissions, hence being friendly to the environment.
The harness system and controls are ergonomically designed for high-level capability and easy use. Adjustable controls mounted on the tube make this product the biggest backpack blower, which is essential for a very spacious yard with dry leaves or snow. With this kind of blower, your yard will instantly get clean, and you will be able to rest or do something extra in your free time. The Husqvarna 350BT backpack blower produces a maximum power speed of 7500 RPM with a speed of up to 180 MPH. It is appropriate to blow off snow from your yard and the most persistent waste from a lawn.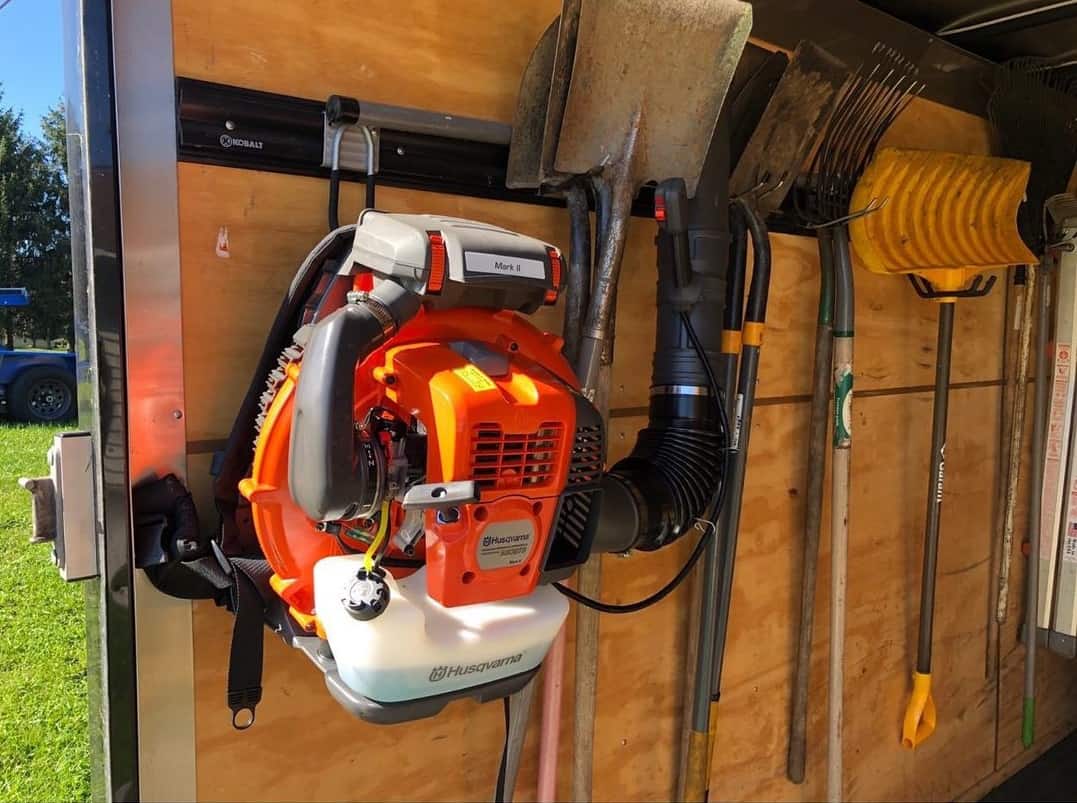 The model is modified with adjustable handles for ample's coziness while working during long hours. Due to the integrated ventilated harness, the blower reduces load. Another advantage is a flexible hip belt that fits the operators' shoulders. Wide straps together with the adjustable soft grip of a handle guarantee optimal movement.
ADVANTAGES
Reliable brand
Lightweight
A comfortable ergonomic handle
A comfortable harness
A variable speed throttle with cruise control
Eco-friendly technology
DRAWBACKS
It uses a lot of fuel, thus it may be expensive
Buyer's Guide When Purchasing the Best Backpack Blower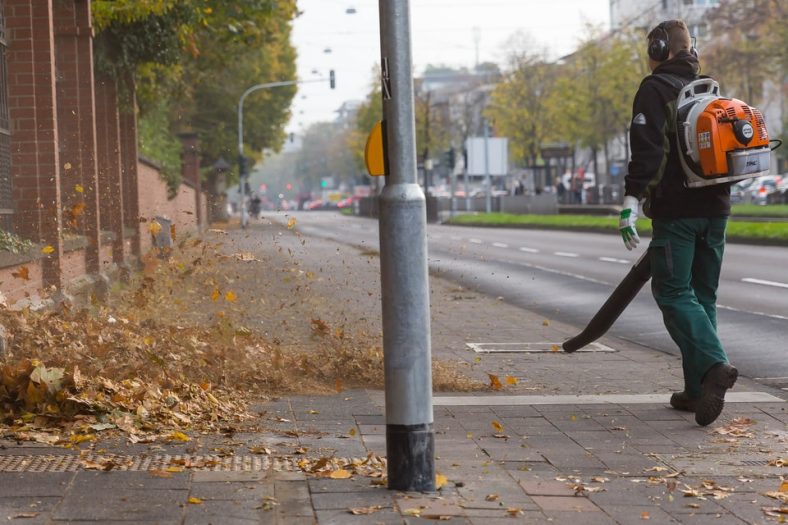 Perhaps, the reason you are interested in leaf blowers backpack reviews is that you might be exhausted from the dropped leaves that remain all over your yard. It takes so much time to clean them with brooms. It is the perfect time to start using blowers by yourself, or to hire people to come and remove wreckages from the yard. You are probably considering what is the best backpack leaf blower to buy? Or who makes the best backpack leaf blower? Good questions. A blower is your quick solution in collecting leaves from the yard, but it also depends on the right dimensions of the blower and the control used considering your plot area. You might own a foliage blower but still not sure how to use it. In my leaf backpack reviews, I will guide you with steps on how to use it.
How to Use Backpack Leaf Blowers
In this backpack leaf blower reviews article, I am going to share how to use a blower and the procedure to be followed. Therefore you will achieve a productive goal of seeing your garden, lawn or yard clean and free from leaves.
You ought to be aware of the selected spot where you will pull all your collected leaves. For instance, don't forget to include in your plan the compost heap when you finish blowing. This will help you to blow the leaves to the selected area and will finally collect them in one peculiar place. Some leaf blowers are designed to have a vacuum suitable for collecting and disposing of vegetation.
During very windy days, you will not be able to blow your yard to the selected direction. Let the wind calm and be still; otherwise, you will do zero work and just tire yourself. If possible, wait till the leaves dry to ease your cleaning, as it is simpler to blow dry leaves than wet ones. But you should also take into account that some leaf blowers are designed for all seasons, even including when it snows. These can be the best blowers to go for as they will serve you all year round.
Hold the blower at your side, the tube pointing at the ground at a shallow angle. Then do slow motions back and front holding the leaf blower in front of you. Different models of leaf blowers come with different designs. Some designs are ergonomic and ensure good usability of the product. It is highly recommended that you purchase the blower that is user-friendly to help you not to strain much while working for a long period of time.
Types of Leaf Blowers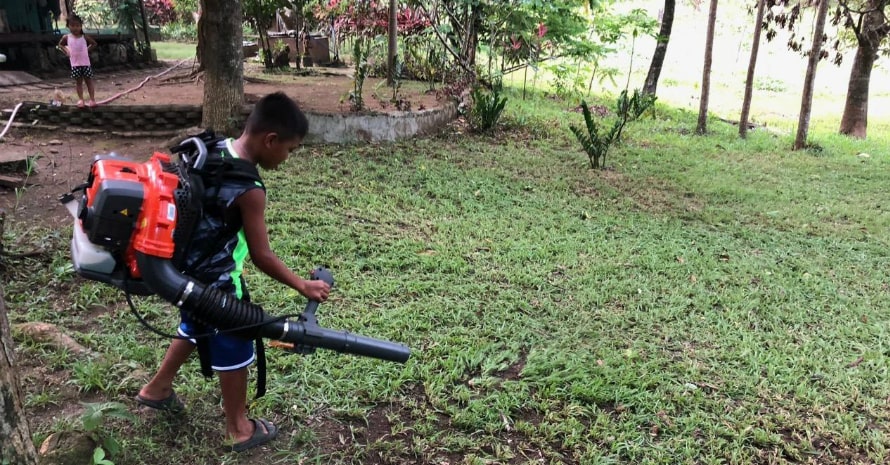 With this bunch of reviews in mind, you should observe different types of backpack leaf blowers. There are 3 kinds—the handheld, backpack or the walk-behind. All serve one purpose—blowing leaves and cleaning your yard or garden, ensuring you have a clean garden even after cutting your grass. The only difference in blowers is the design.
Handheld item, according to its name, is operated while held in your hands. This blower is very light and perfect for small-sized yards, and can only deal with light snow or dust and small areas with dry leaves. The walk-behind leaf blower provides a lot of power and is the best commercial leaf blower that rests on wheels. The wheels have to be operated manually by pushing. This blower is used to get rid of heavy debris, garbage, and cardboards. Finally, the third type of blowers—the backpack leaf blower—has been thoroughly discussed in this review with various examples. It is very comfortable, and its power runs for a long time.
Power Used and Sources
When choosing among top backpack blowers, it is very important to be acquainted with the following units: cubic feet per minute and the miles per hour. CFM is the volume of air flowing out of the blower while MPH is the power used to push. Both are important in making sure that your cleaning is done with the right amount of the required speed.
Battery-powered leaf blowers are easy to operate and are suitable for those who are not around gas and fuel. This is very useful for first-time users. Although they do not last for long, these blowers will surely clean a small area. The batteries are easily available and one can always change them. The blowers of this kind do not spill gases or pollute the environment, therefore, they are considered as extremely silent and very effective to the noise-restricted neighborhoods.
Another feature of these blowers is they have no cord, hence they do not restrict you to maneuver around the yard or even to clean under objects. They are also suitable for tough areas like places near the fence, as you don't have to plug into the electricity to power. Battery chargers are compatible; their battery power ranges from 20 to about 80 volts.
Electric-powered leaf blowers are corded to easily plug in to power. With this, you will run your blower for a longer time as compared to the battery-powered leaf blower. However, maneuvering around will be a hard task because of the cord limiting. It is inconvenient as the cord gets in the way. Although most of them come with extensions, this will hardly help you to reach the very far area – the cord will surely hinder you from reaching very far. They have reduced vibration hence produce less noise when working.
Gas-powered leaf blowers are the most effective when cleaning a spacious yard. The time they will last depends on the amount of gas and oil used and the tank of the blower. They are very noisy and need taking care of and high maintenance. 2-stroke engine motors require the mixing of gas and oil. They highly pollute the environment because of emissions, noise pollution, or even spillage of the gas. Nevertheless, consider these blowers if you are looking for the best backpack blower for money.
Maintaining a Leaf Blower
Leaf blowers are very pricey, and a lot of care should be applied for them to serve you for a long period. These leaf blowers are not intended for all seasons. When stored for a long time without use, the engine may damage, so it is advisable to run them at least once a month. If there is fuel remaining in the tank, add fuel stabilizer and mix it with the fuel. This measure ensures the fuel will not go bad.
Features and Advantages to Consider
You need to consider some special features and the advantages of leaf blowers before making your final choice. Some blowers come with a vacuum kit for people who are fond of recycling and re-using of the leaves in the garden. Others come with gutter kits and head tip variables. They can be very useful when it snows to help in clearing your way instead of shoveling, which is tedious.
Some models of the corded leaf blowers come with extensions to aid when maneuvering around and cover a bigger distance without the cord coming in the way. Others are designed with a disposable leaf bag.
Best Backpack Blower – Final Remarks
Hopingly, I have solved a couple of challenges you were stuck with while considering the best backpack blowers for leaves. Husqvarna's product has been my top-rated backpack leaf blower; you may also love this blower and have that splendid experience as I did. With the characteristics this blower provides, you won't have any regrets. However, being a landscape designer and a consultant, I can recommend most of these blowers for particular purposes. Getting the best of the best is determined only by your personal preference.
Use the buyer's guide to help you in narrowing your search and selecting the best leaf blower for your needs. Also, this information may be handy in its maintenance for a long time without damaging. The features under review are a supported advantage, so go ahead and select the blower that will suit your own preference. Do you still have any questions concerning backpack leaf blowers? Or maybe you want to comment? Please feel free to share your thoughts in the comment box below, and I will be delighted to get back to you and offer my assistance if needed.