As an Amazon Associate we earn from commission of qualifying purchases.
There's a great variety of leaf blowers to choose from. For example, you can pick a gasoline model with a powerful engine or an electric blower that works perfectly for small lawns and gardens. To find the best leaf blower to match your needs, you don't have to be an expert. It is enough to know the basics and check expert leaf blower ratings to be aware of the most popular models.
To help you sort all things out and give an idea of what is the best leaf blower today, I've created this helpful guide.
Pros
Powerful enough to deal with a standard garden size.
Premium Choice
Pros
Powerful enough to deal with a standard garden size.
Affiliate links and images placed from the Amazon Product Advertising API on 2023-12-07
7 Best Leaf Blowers Reviewed
This section contains detailed reviews of top-rated leaf blowers. Be sure to check it and see which device suits you best.
1. Best Leaf Blower – Husqvarna 360BT Backpack Blower
Affiliate links and images placed from the Amazon Product Advertising API on 2023-12-07
Husqvarna 360BT is at the top of this list for many reasons. This professional backpack blower is equipped with a powerful modern X-Torq engine combined with E-TECH II exhaust control technology. Husqvarna 360BT is one of the best gas leaf blowers on the market. The backpack blower is easy to operate thanks to its ergonomic mount and conveniently located controls. The handle of the device ensures a comfortable process and fast cleaning of your site. Whether it's a small lawn or a big garden, the Husqvarna tool is a good leaf blower for processing the whole location without getting tired too soon. A comfortable backpack attachment with padded shoulder pads and a belt strap allows you to reduce stress on your back.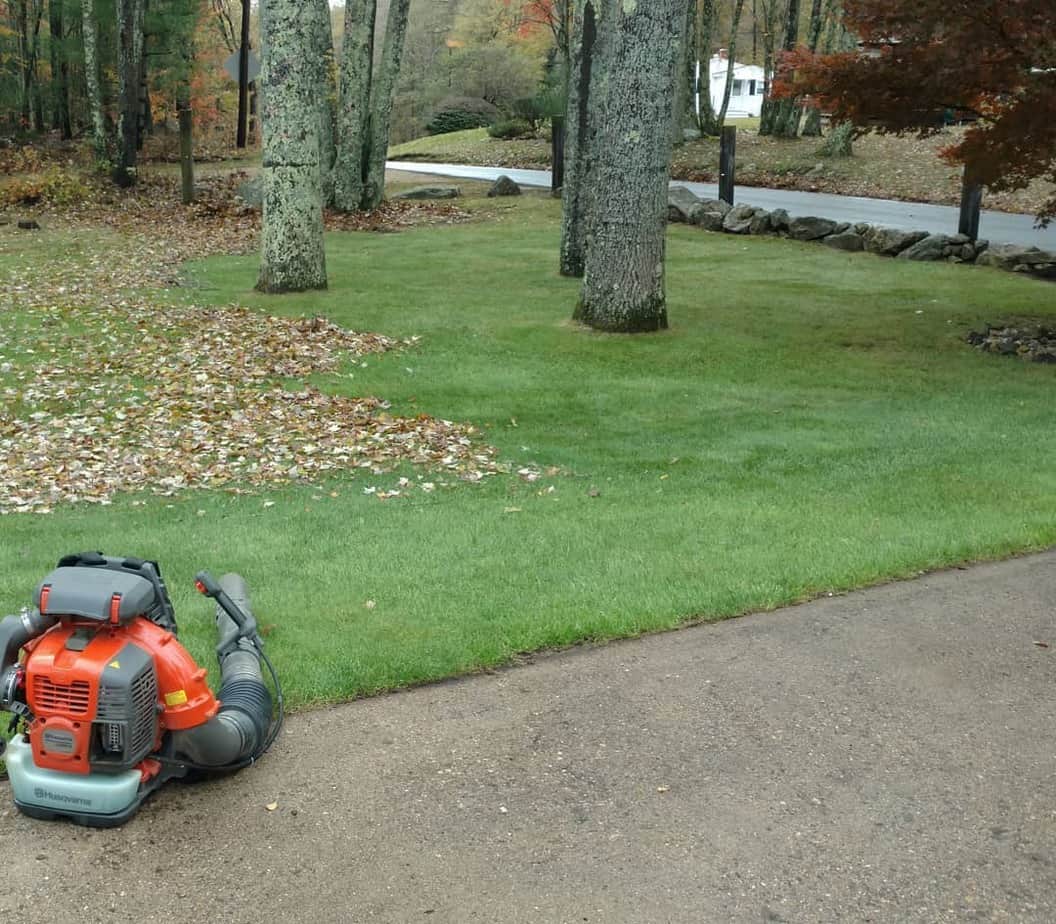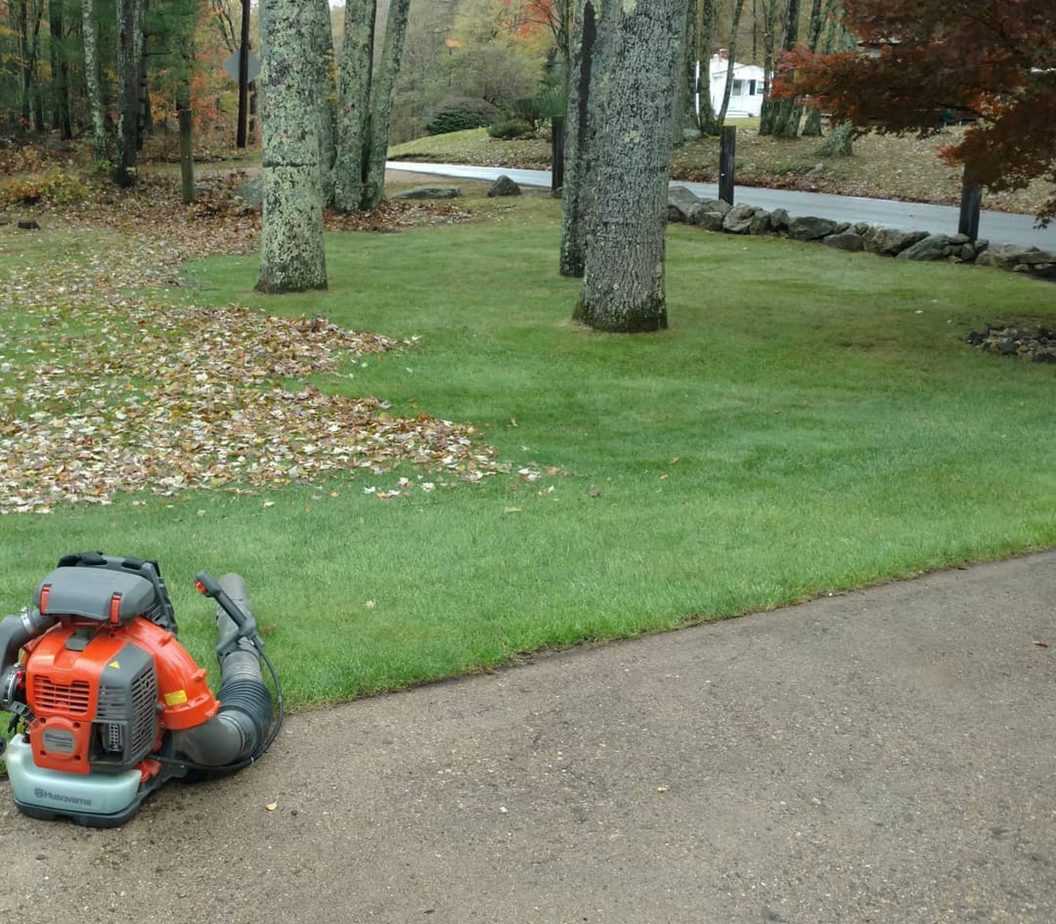 This Husqvarna 360BT gas-powered blower is probably one of the best choices for owners of big households, as it is one of the most powerful consumer-grade blowers available. Its weight of 23.5 pounds does not affect usability, even when working all day long. The ventilated harness straps evenly distribute the weight, and the handles are adjustable for maximum comfort.
Husqvarna 360BT can also boast of the cruise control function, which means the ability to lock the throttle in a static position for even airflow. The blower removes large amounts of debris with ease thanks to the 50cc engine. The machine creates gusts of air at a speed of more than 100 meters per second. This is not only enough to blow off wet leaves, but also to move small to medium-sized pieces of debris with ease.
ADVANTAGES
Easy to operate;
Cruise control option;
Suitable for different plot sizes.
2. Best Cordless Blower – WORX WG584 Turbine Blower
Affiliate links and images placed from the Amazon Product Advertising API on 2023-12-07
The WORX leaf blower WG584 takes the quality of cleaning your yard or lawn to the next level. The innovative Turbine technology provides powerful airflow for every procedure from simple sweeping the road or sidewalk after mowing to cleaning leaves on an autumn day. The turbine blower is very lightweight, ergonomic, and powerful. It provides a simple operating system with intuitive control.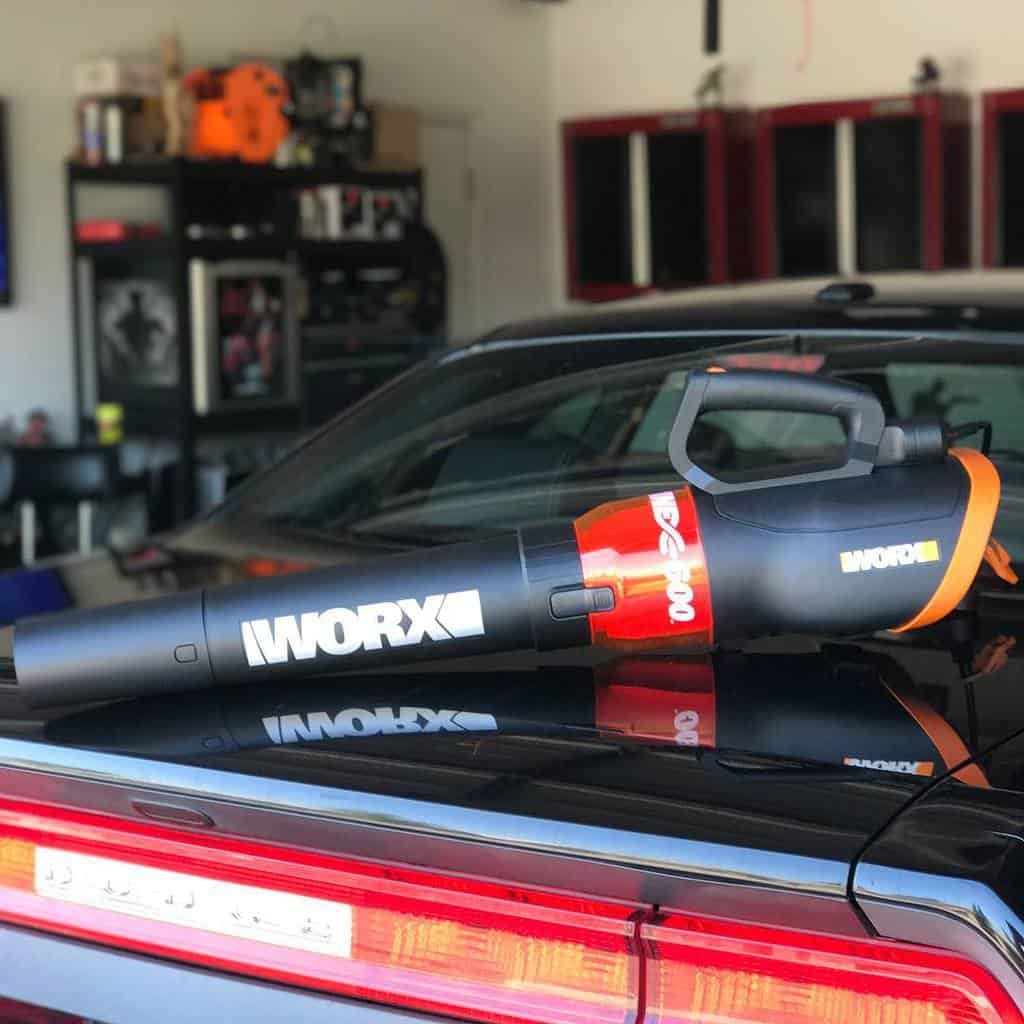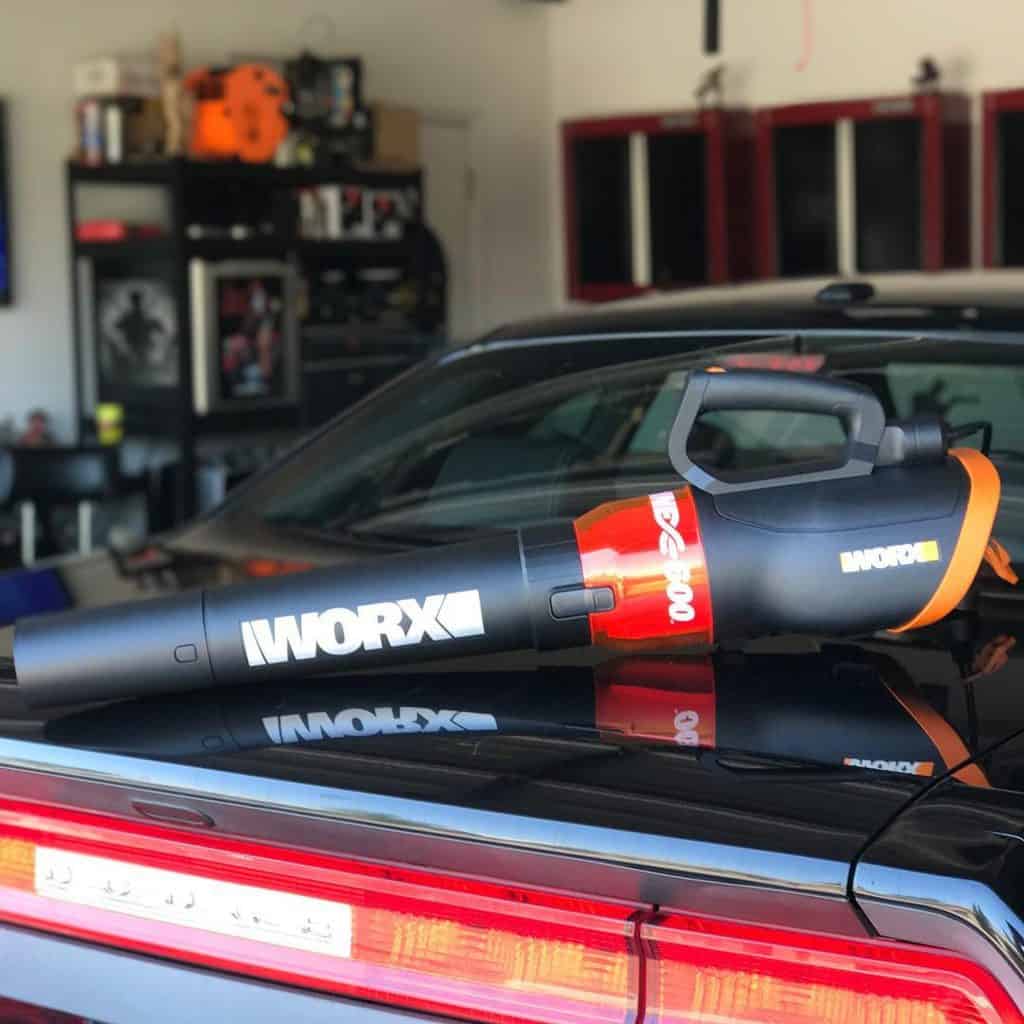 You can choose between three different speed options for the efficient process of cleaning. The WORX WG584 Air Turbine has a powerful brushless motor, which makes the device more powerful and economical. It works quietly and requires less maintenance and repair. The brushless motor generates a magnetic field to transfer the electricity directly from the power source. Due to the absence of friction of the brushes, the duration of operation, power, and service life are significantly higher in contrast to brush motors.
This powerful airflow is provided by the patented WORX Air Turbine technology. A special turbine generates 4 times more air volume than a conventional axial flow blower. That is why the WORX WG584 blower can cope with any challenge. High performance, functionality, and lightweight (only 11.43 pounds) make this WORX blower one of the best yard blower options with a battery supply.
ADVANTAGES
Lightweight and portable;
Simple design;
Brushless motor.
DRAWBACKS
It doesn't work well on wet leaves.
3. Best Corded Electric Blower – WORX WG520 Electric Blower
Affiliate links and images placed from the Amazon Product Advertising API on 2023-12-07
This WORX WG520 garden leaf blower combines an affordable price with excellent functionality. The device reaches the speed of 600 CFM. It works using a cord, so it's a great option for a small territory. This tool has a minimalistic design and works as a handheld blower. The controls are located on the handle of the blower, so it's easy to operate and work with the device.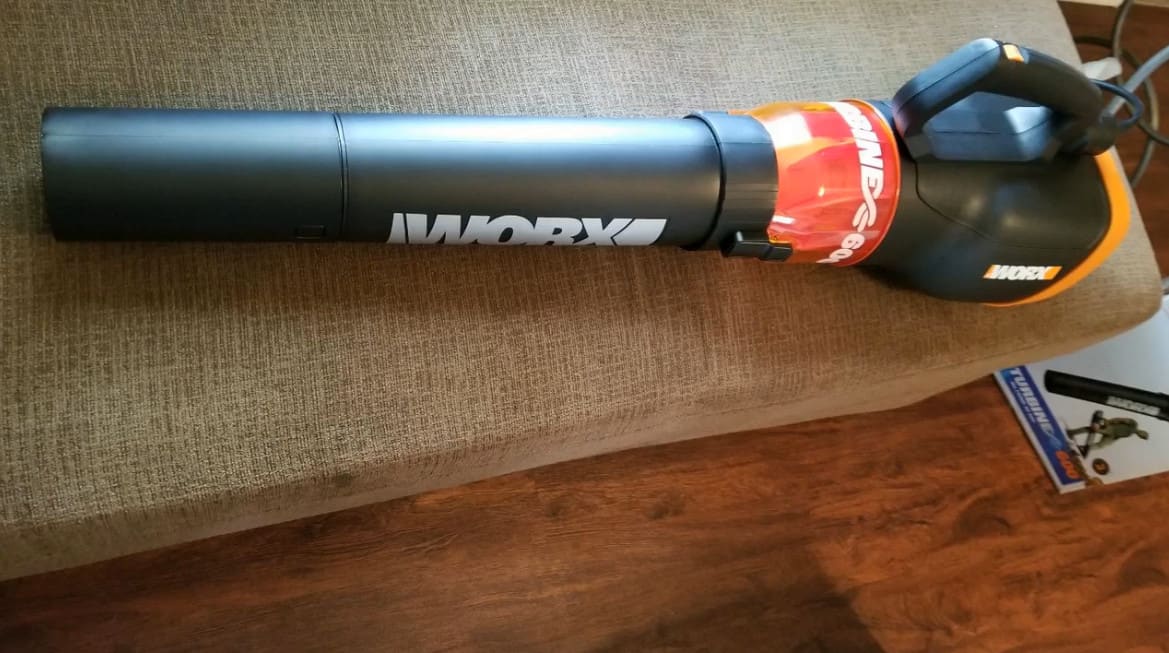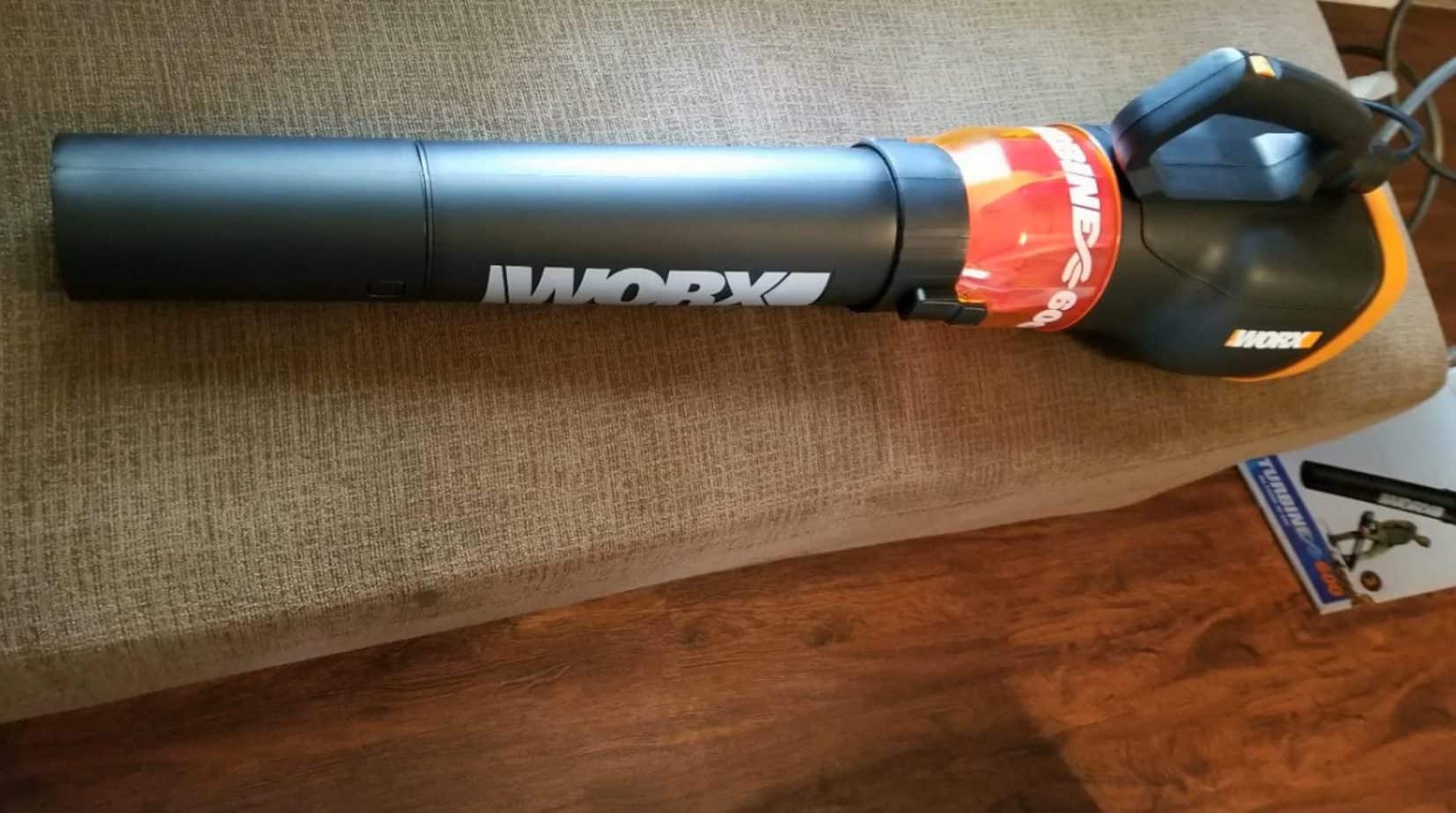 The blower is equipped with a powerful turbine that provides an impressive air stream. It helps to remove small debris, twigs, grass, leaves, and even wet foliage. Ultra-light and compact, this hand-held blower is capable of sweeping away different pieces from the lawn or garden paths if you have a source of electricity nearby. In addition, the body of the blower is covered with a special coating that withstands moisture, abrasion, and sun rays.
WORX is a leading manufacturer of industrial-grade hand tools for landscaping, agricultural, and emergency work, occupying 4/5 of the gardening market. This WORX leaf blower is a powerful tool that not only provides high performance but also has an extremely long service life. It features an excellent balance of power and weight, combining optimum performance with durability, which contributes to the efficiency and the perfect result of cleaning.
ADVANTAGES
Simple design;
Lightweight and easy to store;
Powerful enough to deal with a standard garden size.
DRAWBACKS
Works using a cord, which might cause minor inconvenience if your territory is big.
4. Best Tool with 4-Stroke Engine – Makita Throttle Backpack Blower
Affiliate links and images placed from the Amazon Product Advertising API on 2023-12-07
It would be unfair not to include this powerful and reliable blower by the famous Japanese company in the list. Makita is a well-known long-time manufacturer of gardening and landscaping tools that are famous for their high quality and efficiency. This is a good leaf blower for big sites and rough terrain. The model is designed for professional work when cleaning garden and park areas. With this powerful and productive tool, you can quickly and efficiently clean dry leaves, grass, and small debris from your area.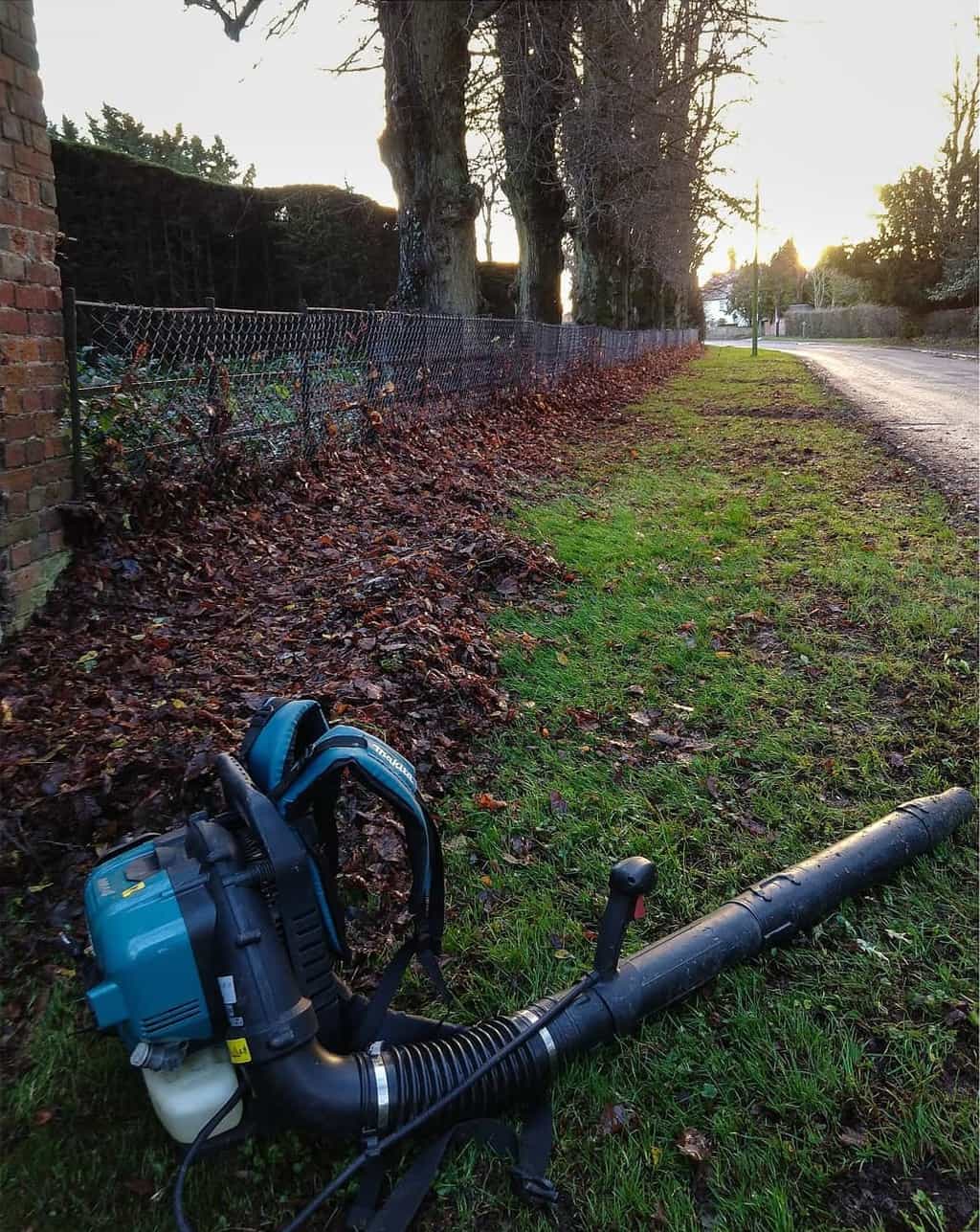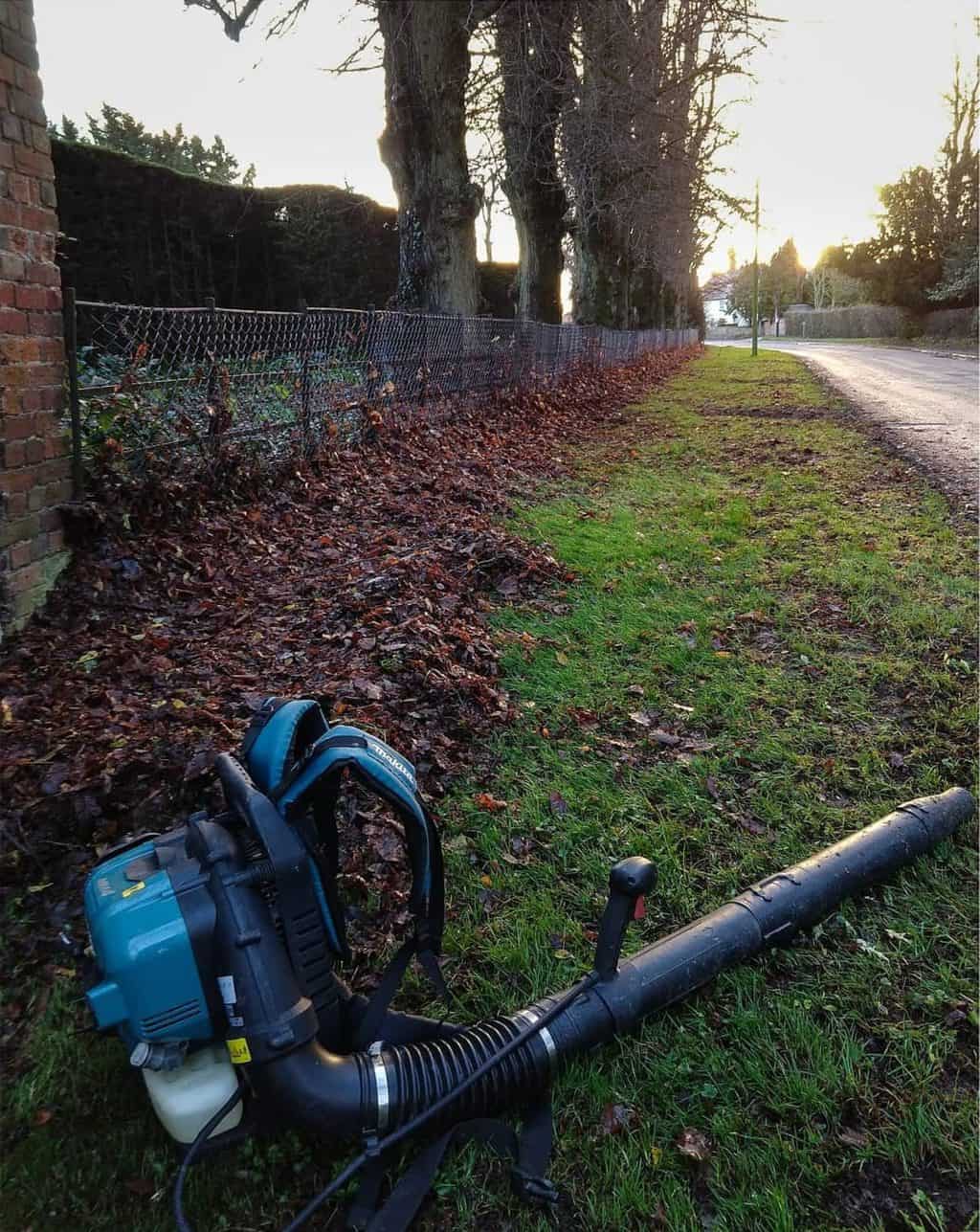 Combining portability, economy, and efficiency, the blower is ideal for daily intensive use. It is equipped with a maintenance-free 4-stroke engine that ensures a long tool lifespan and provides a possibility to work at low temperatures. The mechanism is protected from dust and debris. The blower is fueled with ordinary motor gasoline, and the tank capacity is 1.8 liters. The fuel it uses is automobile oil, which is poured into a separate 140-ml tank.
The device is equipped with a muffler of a large capacity, which ensures a low noise level. Mechanical automatic motor decompression is designed for quick and easy starting, with powerful anti-vibration mountings between the frame and engine for improved operator's comfort. The padded shoulder harness can be adjusted to the height and build of the operator. The blowing tube is also adjustable to the preferred length with additional attachments, which also provides perfect blower convenience.
ADVANTAGES
Perfect for professional cleaning of the site;
Easy to operate;
Durable.
5. Best Lightweight Yard Blower – SnapFresh Leaf Blower
Affiliate links and images placed from the Amazon Product Advertising API on 2023-12-07
This is the lightest and most ergonomic leaf blower on this list. With a weight of only 2.7 pounds, this device delivers a quite powerful air stream and can become the best assistant for cleaning your lawn. The airspeed is 130 miles per hour, thanks to which there are no problems with removing any kind of debris. However, this high productivity requires an intense power supply, so the battery power will be used very quickly. This limits the working time because you will have to charge the blower for an hour.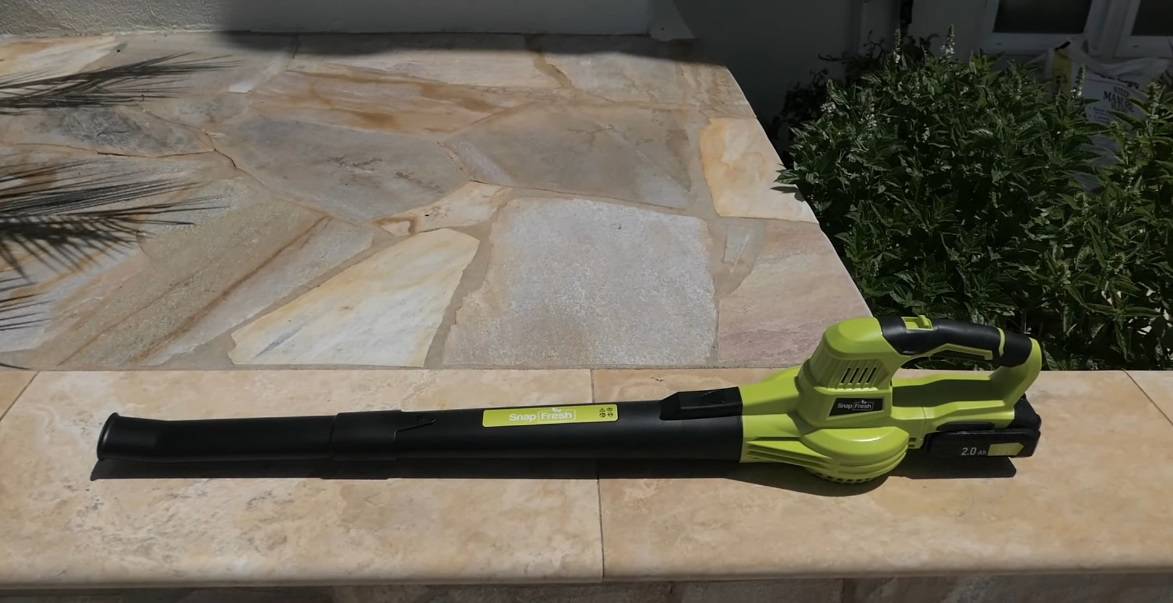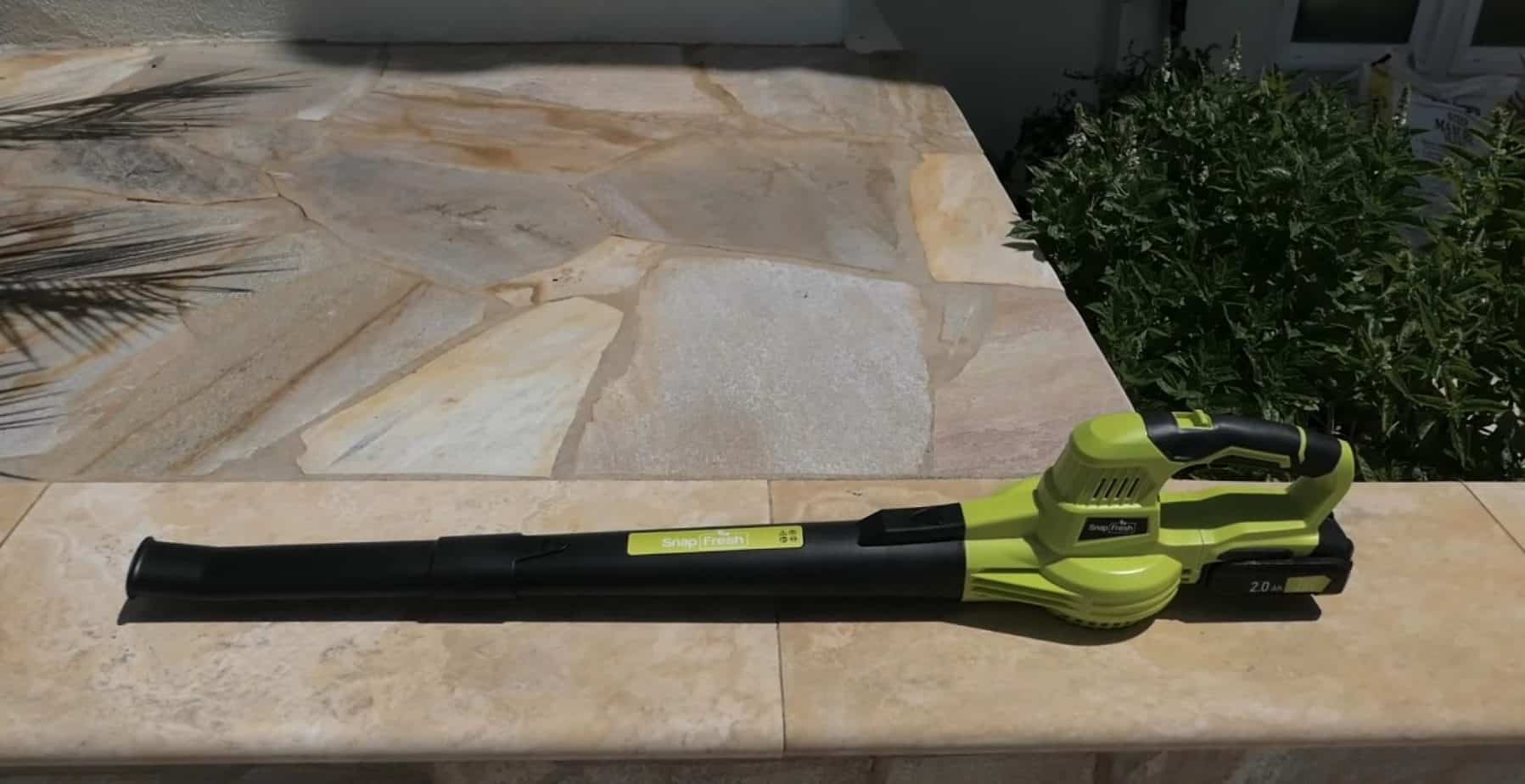 This electric blower is used for quick cleaning of areas from dead foliage, mowed grass, and other plant debris. There are two-speed options available, the button is located on the handle for the best user experience. If you need an inexpensive but efficient electric blower for cleaning your summer cottage, take a closer look at this model. Despite the affordable price, it provides a powerful performance. At the same time, the airflow volume reaches 130 MPH so that you can quickly deal with the dry foliage and grass. The weight makes it easy to carry the blower in your hand. Even after a long cleaning period, working with the blower isn't too tiresome. I recommend using this blower for small areas.
ADVANTAGES
Cordless design;
Light and easy to operate;
Two speed modes available.
DRAWBACKS
Discharges rather quickly.
6. Best Professional Blower with Battery – Cub Cadet Cordless Blower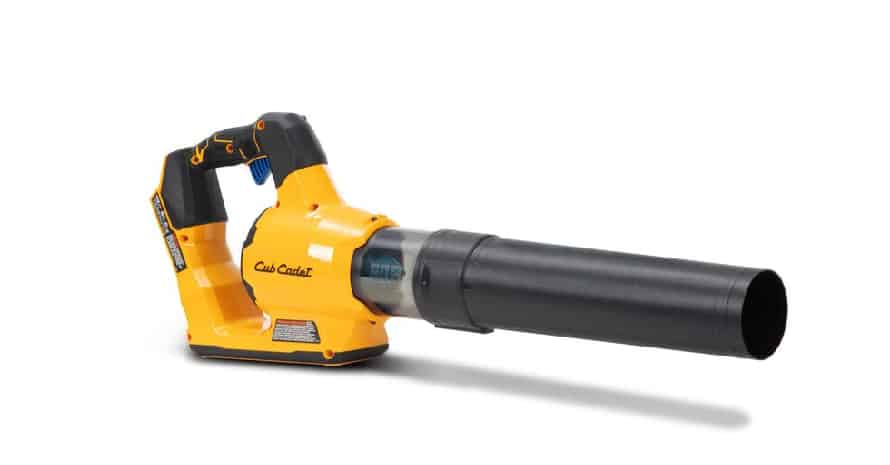 A good and simple electric battery-powered leaf blower that weighs only 6.15 lbs, the Cub Cadet's device is made for processing big plots and professional cleaning experience. At the same time, the airflow here reaches only 110 MPH, which is a little less than most of the modern professional leaf blowers provide.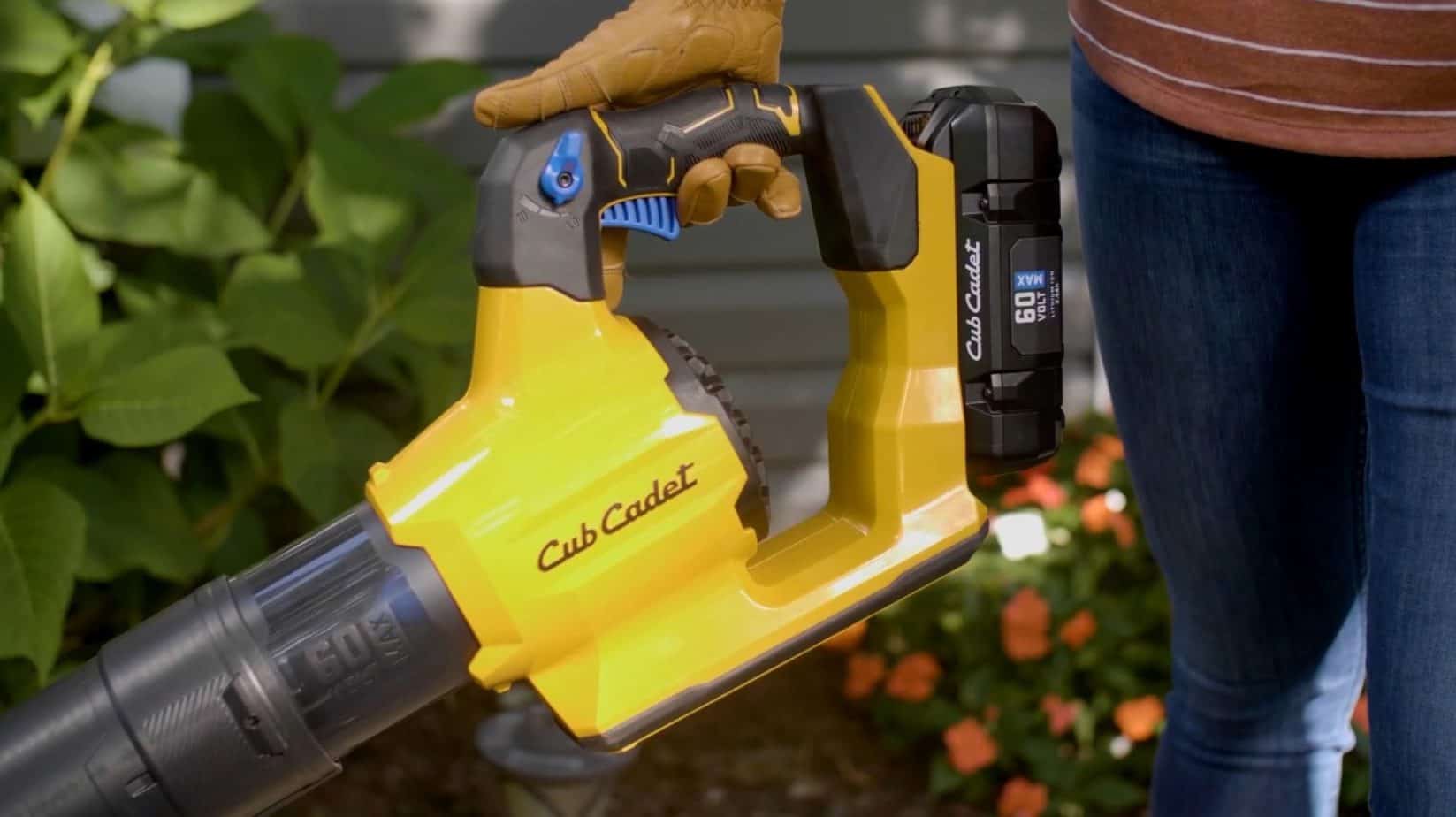 The power adjustment function makes the work even more convenient. It is located on the handle of the device, and this is especially important when you use both speed modes for cleaning. Though it's quite expensive, it is a very durable and effective tool. It provides 90 minutes of a strong and incessant air stream.
This top-rated leaf blower stands out by the high-quality assembly of all parts and long service life. It operates with an all-powerful 150Wh lithium-ion battery. It charges quickly using only 60 volts and is also equipped with a cruise control option.
ADVANTAGES
Two speed modes for better cleaning;
Powerful battery;
Smart design.
7. Powerful Model for Big Lawns – Dewalt 20V Max XR Leaf Blower
Affiliate links and images placed from the Amazon Product Advertising API on 2023-12-07
The Dewalt brushless battery blower is a high-performance unit designed for complete and high-quality cleaning of backyard areas and other sites from debris, leaves, dirt, and snow. It's a professional-level device for big sites and effective cleaning.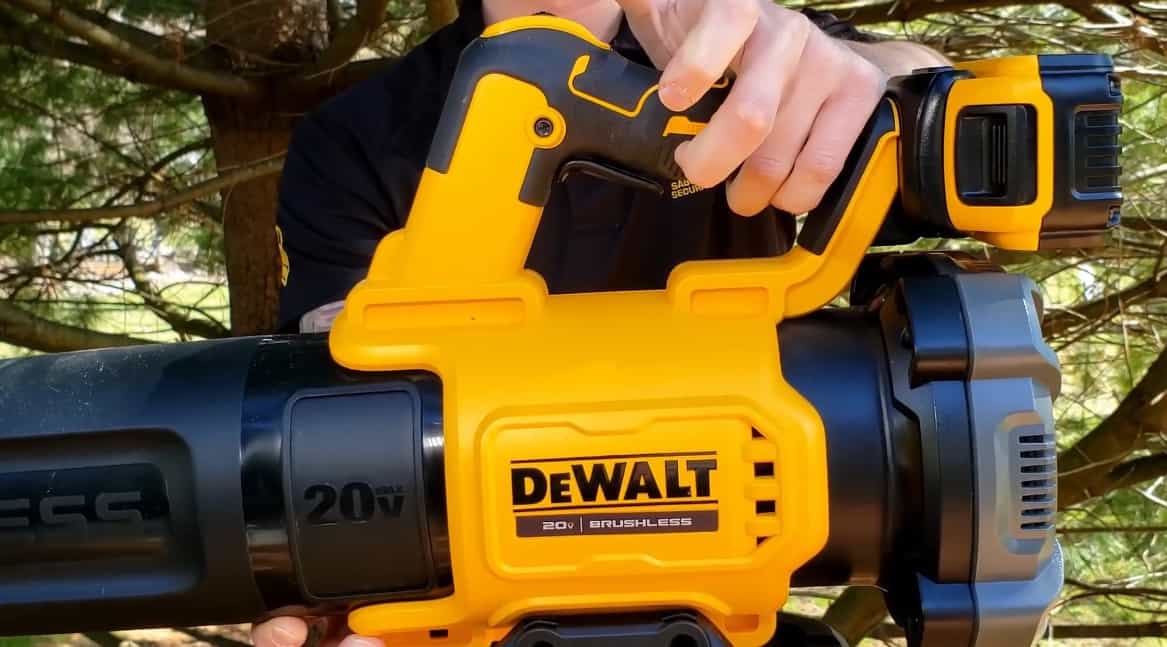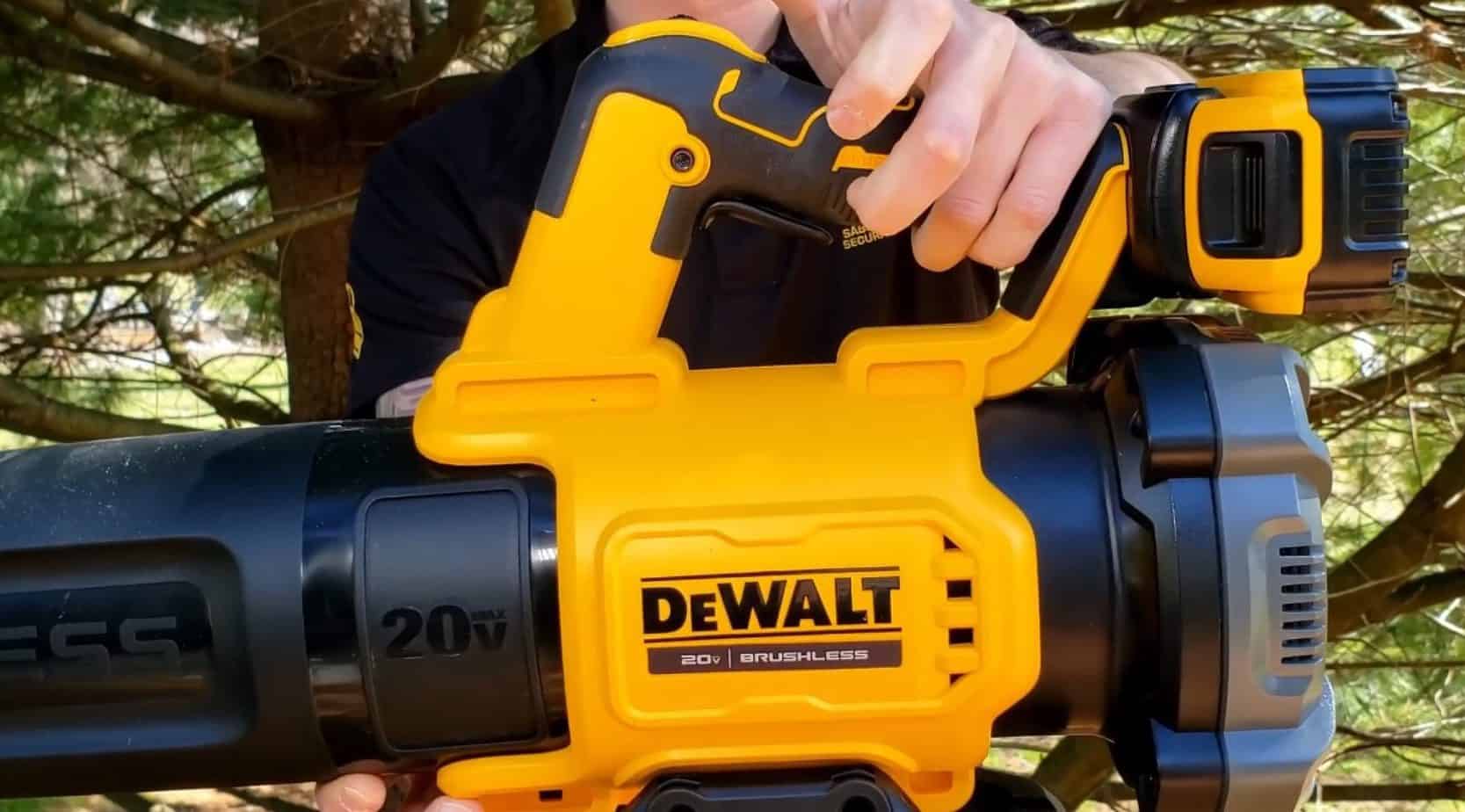 This highly efficient model provides strong performance due to the brushless motor and variable speed control for full comfort, with an airspeed of 125 MPH. Designed for simple and noiseless work, it blows out dirt from hard-to-reach places and also effectively copes with cleaning snow.
The concentrator nozzle increases the force of the airflow. Thanks to the 66 dB(A) battery, there is no need to use a cord. The blower also has a cruise control option and is ready to work for more than 80 minutes, featuring high-performance indicators. The weight of the device is only 9.88 pounds, so it doesn't make you feel tired during the process of cleaning.
ADVANTAGES
High performance and powerful battery;
Works with many kinds of debris;
Quick charge.
DRAWBACKS
Not suitable for every budget.
Leaf Blower Buyer's Guide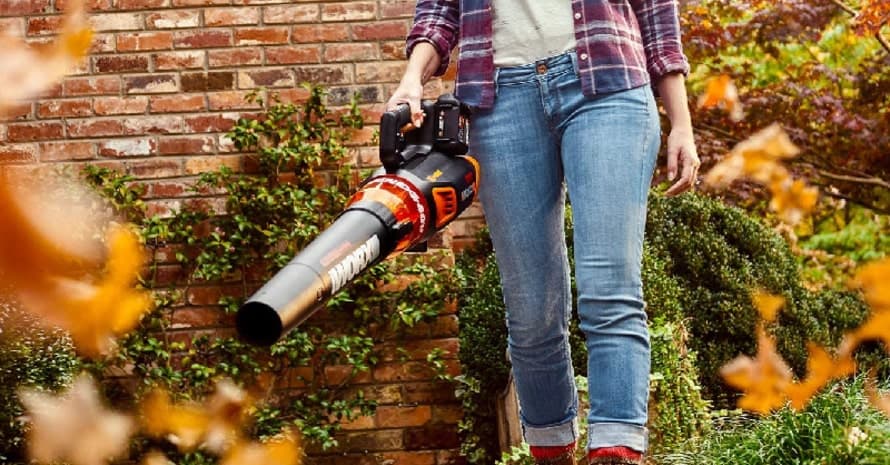 Now you can use a list of good leaf blower options to choose one based on the provided leaf blower reviews. But do you know how to make sure that the tool you're about to buy is really effective? This buyer's guide will help you to decide on the most suitable option.
How to choose the right blower for your garden
Fallen leaves, cut grass, and any other debris can be easily driven into one corner of your yard and then removed with a rake or shovel. Some blowers have several operating modes and can be used for suction and blowing leaves.
There are various types of power supply for leaf blowers (battery, corded, and gas) and additional options including waste shredding or bags for collecting debris and leaves. They can make the cleaning process more comfortable and efficient. These devices are versatile and very convenient to use. But how can you choose one that will serve as your most powerful leaf blower?
To choose the model that suits you best among the best-rated leaf blowers, you have to know several criteria of such devices.
When buying, pay attention to several parameters:
A standard device blows off small debris, leaves, and dry plants. It is suitable for cleaning yards, sidewalks, driveways, and some people even manage to blow off the ice from the roofs of houses in winter.
A vacuum cleaner blower can solve the same tasks for cleaning the surrounding area, but it is equipped with a suction option and a garbage collection kit: a bag and nozzles.
Backpack blowers are professional tools for cleaning big garden areas, lawns, parks, etc. These blowers are powerful and equipped with backpack straps for long-lasting comfortable operation.
The volume of air that the blower moves is determined in meters per hour (MPH). Each blower is equipped with a turbine that moves air at a specific speed and volume. The ratio between these two performance indicators determines which task the tool can accomplish, and how much waste it can move, directly depending on the performance of the blower.
The airspeed from the turbine is measured in cubic feet per minute (CFM). A high airflow speed allows you to move debris at a greater distance, so you will clean a more spacious area in less time. In addition, high airflow speeds move larger objects and debris, displacing even compacted items. A high-speed blower is capable of moving wet leaves, snow, ice, tree debris, and even small stones.
Electric blowers
The main advantage of these devices is their portability and low weight. In most cases, they are hand-held, although this causes minor inconveniences. Electric blowers are usually bought to clean up small areas. Of course, you can work with them on more spacious plots, but in this case, you will have to spend too much time cleaning. However, for small lawns and yards that occupy one or two hundred square meters, electric models are the best choice.
Gasoline blowers
If you have to remove debris from a spacious area, it is best to use a gasoline blower. Though they have a more complex structure, which influences their weight and price, they're very powerful. Therefore, they are most often equipped with shoulder straps. Gasoline models can boast of higher performance, which saves a lot of time and effort. Users claim such a blower for a garden or lawn is a beneficial purchase.
In addition, when you're looking for the best yard blower, be sure to pay attention to the package bundle. Sometimes, it happens that some electric models are sold without batteries. As a result, you have to spend more money to purchase accessories. The same is the case and waste bins. Some blowers have a bag for removing accumulated debris but come without a cover for storage. This might be an especially unpleasant surprise if you first open the box in your house and have to return to the store to buy a bag that is more expensive than you would like to spend.
FAQ on Leaf Blowers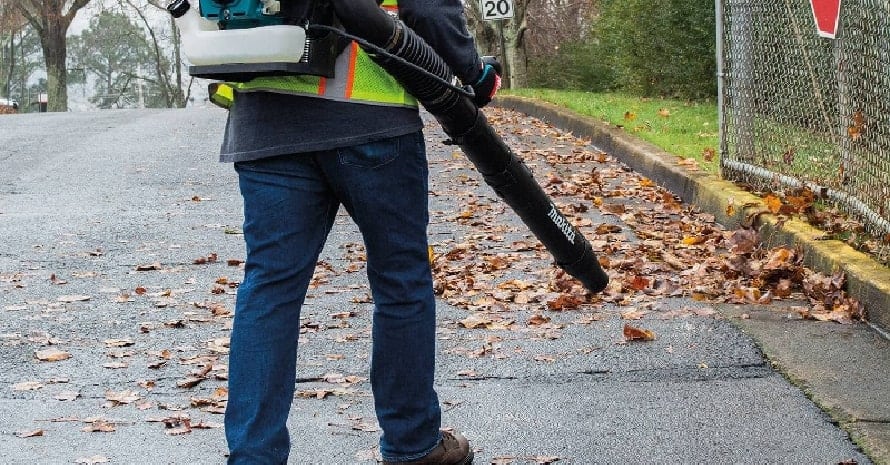 Do you still have questions about choosing the best yard blower? You can find all the answers to the most popular queries about who makes the best leaf blower and what is the most powerful leaf blower here.
How do you use a leaf blower effectively?
It is worth noting that the vast majority of garden vacuum cleaners on the market are rather strong equipment, and you can get an amazing effect. In particular, a good leaf blower not only deals with fresh fallen leaves but blows out debris on flat surfaces, copes with the debris in the grass, moves small stones, branches, and even snow and ice.
Are leaf blowers dangerous?
While leaf blowers are very handy when it comes to cleaning yards and lawns, there are a few safety rules to consider before you buy one. A leaf blower can cause several injuries if you don't use it properly, including:
Cuts;
Bruises;
Pinching;
Burns.
Though hearing loss from excessive noise exposure, problems with breathing from air pollution, etc., are less possible, they might still occur. Follow the instructions and use disposable gloves, a mask, and special glasses to avoid any kind of injuries from using a leaf blower.
Is MPH or CFM more important for a leaf blower?
Everything is pretty simple here. If you have to work on a large area with few trees and a small volume of fallen leaves, it is best to use a blower with a low capacity but higher CFM. This will allow you to move faster around the site, blowing debris and foliage at a greater distance. If you have a large area with a lot of garbage, it is preferable to choose a device with high speed and MPH. In case you have to clean a small area, like a patio in a country house with a large number of fallen leaves, then it is more important to consider the blower's performance.
What should I do with leaves after blowing?
There are not many options to do with the leaves after you finish the cleaning routine. You can either sweep, leave, or vacuum them with your leaf blower if it has a suction option.
Are leaf blowers bad for the environment?
Gas engines, which are often used in blowers, can generate large amounts of airborne pollutants and particulate matter. However, many manufacturers strive to make their tools eco-friendly.
Final Tips on the Best Gas Leaf Blower
When choosing the best leaf blower for your lawn or garden, consider that the most expensive tool isn't necessarily the best one. Look for something potent and appropriate for your site. Your blower should be able to process your entire area without additional recharges and refills with gasoline for an hour. A tool should be lightweight, easy to operate, and very functional, just like the leader of my list by the Husqvarna manufacturer.
Have you ever tried using Husqvarna gardening tools? Which leaf blowers have you used?