As an Amazon Associate we earn from commission of qualifying purchases.
A leaf blower is truly a life-changing device when it comes to taking care of your yard space. Once you find the best battery powered leaf blower, you will be able to get rid of leaves, small branches, dirt, debris, and cut grass significantly faster than if you were to use a rake or another tool. The cordless options are especially convenient as they offer more freedom of movement. In this article, you will find reviews of 7 excellent leaf blowers, so you can compare them and make the right choice.
Pros
Convenient handle for easy carrying.
Quieter than most other models.
Runner-Up
Pros
Convenient handle for easy carrying.
Premium Choice
Pros
Quieter than most other models.
Affiliate links and images placed from the Amazon Product Advertising API on 2023-12-07
7 Best Battery Powered Leaf Blowers Reviewed
As it's impossible to try every leaf blower out there for yourself, here I offer some variants of the tools personally tested by me. Below, you can read cordless electric leaf blower reviews to help you decide which one will be best suited for your particular yard.
1. Greenworks Pro 80V BPB80L2510 – Best Cordless Leaf Blower in Terms of Price and Features
Affiliate links and images placed from the Amazon Product Advertising API on 2023-12-07
The first leaf blower on the list that I think deserves attention comes from the brand Greenworks. There are a number of reasons why I consider it to be the top pick among the mentioned leaf blowers.
Just like all other leaf blowers in this review, it is a cordless battery-powered option, which makes it easy to walk around with it, especially if you have a large territory. It is made in the backpack style and weighs around 14.6 pounds. It is a fairly lightweight leaf blower and the fact that it has a convenient handle and is made like a backpack makes it easy to carry and use.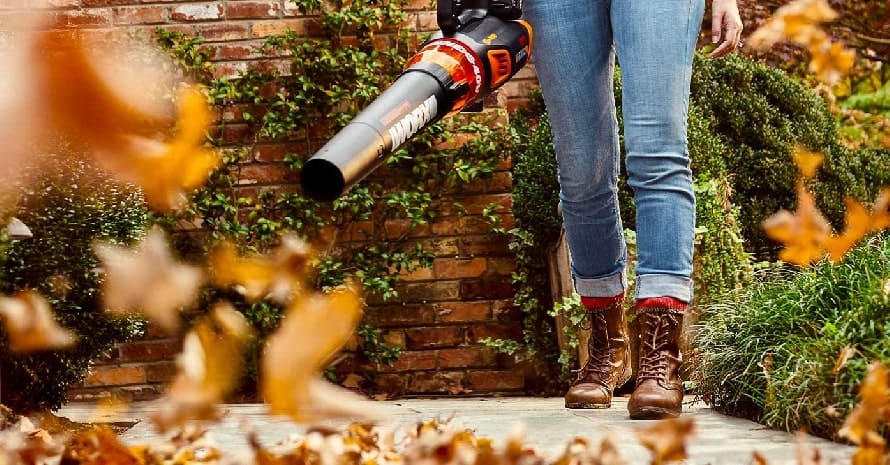 When it comes to technical characteristics, it has a powerful airflow speed of up to 145 miles per hour. As a result, the airflow capacity of this Greenworks Pro is 580 cubic feet per minute. In my experience, this leaf blower manages to effectively blow through debris, cut grass, and also wet and dry leaves. Overall, there are three-speed regimes to choose from depending on your needs. The item comes with a 2.5Ah battery, and the charger is included. Once you charge it fully, you will be able to use the leaf blower for about 30 minutes. The device comes with a 2-year battery warranty and the actual tool has a 4-year guarantee.
Another advantage of this Greenworks model is that it doesn't use oil and gas, which means that there are no emissions that can be harmful to the environment.
ADVANTAGES
Eco-friendly leaf blower;
Convenient and lightweight;
Powerful air flow speed;
Three speed regimes to choose from.
DRAWBACKS
Its tube may be difficult to remove.
2. Makita XBU02PT1 18V X2 – Your Best Lithium-Ion Cordless Leaf Blower Option
Affiliate links and images placed from the Amazon Product Advertising API on 2023-12-07
The runner-up of this review is a leaf blower from Makita. This is a product from a Japanese company that has been around for decades and offers professional pieces of equipment in a range of categories.
This leaf blower is a handheld cordless model that features two 18V LXT Lithium-Ion 5.0Ah batteries and a brushless motor. One of my neighbors has this model and he says that it works perfectly fine for half an hour after charging. It has a good fan that works during charging, so the device can be charged quickly but not heat up too much at the same time. If you don't want to produce too much noise and disturb others, this Makita model is a good option as it's not too loud. When it comes to the air flow, it delivers up to 473 CFM or 120 miles per hour, which is sufficient for regular at-home use. There are 6 modes to choose from that control the air speed, so you can pick and choose depending on your needs and how much leaves or debris you have on the property.
A great thing about this Makita leaf blower is that it weighs only 9 pounds. You can easily carry it around in your hand without getting tired. It doesn't produce any emissions harmful to the environment, which is another serious bonus. When it comes to the additional features, it comes with the so-called extreme protection tool that allows you to work in harsher conditions.
ADVANTAGES
6 air speed modes to choose from;
Lightweight;
Made by a reliable manufacturer;
Convenient handle for easy carrying;
An extreme protection tool is included.
DRAWBACKS
It may not be powerful enough for large yards.
3. EGO Power+ 600 CFM – Premium Choice Cordless Backpack Blower
Affiliate links and images placed from the Amazon Product Advertising API on 2023-12-07
Another great device that I decided to include in this review is a cordless backpack leaf blower from EGO Power+. The company was first established in the United States, and it specializes in next-generation cordless power equipment. I personally tested this device for several weeks and I think it deserves attention.
As it was mentioned, it's made in the backpack form while the weight is around 25 pounds. The shape of the tool makes it convenient to use, and you don't feel the weight. Both the tube length and the waist belt can be adjusted. The leaf blower offers impressive 600 CFM or 145 MPH when it comes to power, thanks to its efficient brushless motor. It uses a Lithium-ion battery, which can last up to two hours when you choose the low-speed mode. One thing to note is that this mode may not be powerful enough for many tasks. If you choose a more efficient regime, the battery will last for about 30-40 minutes after being fully charged. You can switch between different regimes while working depending on what kind of debris you run into.
The leaf blower works fairly quietly reaching only 64 dB, which is definitely not a lot for this type of tool. What I like is how reliable this leaf blower feels. It has a sturdy construction and is made to be weather-resistant.
ADVANTAGES
Quieter than most other models;
Tube length and waist belt are adjustable;
Construction is weather-resistant;
Comfortable;
Powerful with air speed of up to 600 CFM.
DRAWBACKS
The low-speed regime is too weak for effective work.
4. WORX Nitro WG585 – Ultra-lightweight Top-Rated Battery Powered Leaf Blower
Affiliate links and images placed from the Amazon Product Advertising API on 2023-12-07
The next leaf blower device on the list is Worx Nitro 40V LEAFJET. The first thing that is immediately obvious about it is its size – it is an extremely compact handheld model. It will be ideal for people who want a lightweight leaf blower, as it weighs only 7 pounds with a battery. Also, it's a good option for those who want to save storage space. When using this device, I noticed that it's completely effortless thanks to its ergonomic design.
Despite being so humble in its dimensions, it is still a powerful tool, as it delivers 620 CFM, which is more than enough in most situations. It comes with a brushless motor, two 40V 4.0Ah batteries, and a charger that allows you to fully charge both batteries in just 2 hours. The battery lasts for about 20 minutes, which is less than some of the options presented in this article.
When using this device, you can choose from two modes – one for dry leaves and an even more powerful one for wet leaves. It has a variable air control nozzle that you can set in two positions. This is quite convenient, as you can either have air blow more narrowly and directly or you can choose a position where it blows wider. Depending on the application, you can pick high-speed or high-volume air output.
ADVANTAGES
A compact design.
Reduced weight.
Two modes you can choose from.
Delivers up to 620 CFM.
Two nozzle positions for different areas.
DRAWBACKS
Battery life could be slightly longer.
5. DEWALT FLEXVOLT 60V MAX DCBL772X1 – Powerful Rechargeable Leaf Blower
Affiliate links and images placed from the Amazon Product Advertising API on 2023-12-07
This leaf blower included in my list comes from the well-respected brand DeWalt. The company has been created in the United States and has an almost hundred-year history. This 60V Max FLEXVOLT model of a leaf blower is definitely a well-developed tool that I was lucky enough to borrow for a test from my friend.
Similar to many modern leaf blowers, it features a brushless motor that offers a high level of power. This is a handheld model with a robust yet convenient design. Its weight is just around 9.8 pounds, which won't strain your hand. When it comes to air volume, it covers up to 600 cubic feet per minute and achieves 125 miles per hour. There is a trigger to switch between speeds and also a lock that helps control the leaf blower output.
The tool uses one Lithium-ion battery, and it comes in the kit when you buy this leaf blower. When you charge the battery, you will get about 20 minutes of run time. In the case that it's not enough for you, it is a good idea to invest in another battery so you don't have to wait for it to charge. If you have other 60V Max tools from DeWalt, you can use the battery from this leaf blower in them.
Overall, this is a powerful tool that effectively gets rid of leaves and debris in the garden and will be ideal for small and medium-sized properties.
ADVANTAGES
Efficient brushless motor;
Variable speed trigger with a speed lock;
Covers up to 600 CFM;
An eco-friendly option.
DRAWBACKS
No audible warning that the battery is low.
6. WORX WG584.1 40V – Best Battery Operated Leaf Blower in Terms of Ergonomics
Affiliate links and images placed from the Amazon Product Advertising API on 2023-12-07
Yet another leaf blower in this review comes from the company WORX. It is a leaf blower with an ergonomic design that can be held with one hand. The great thing is that like most such models, it is lightweight and weighs only 7.3 pounds.
What I liked about it is that it has 3 speed control options, so you don't always have to use it on TURBO if there is just not much debris in your yard. The tool uses WORX TURBINE technology that offers up to 430 CFM of air velocity. This is not the most impressive number out there, but it does the job and works well for home use.
Both two 20V batteries and the dual-port charger are included in the set when you purchase this model. It is convenient that this blower comes with an indicator so you can easily see the battery charge level. The lowest setting will give you around 20 minutes of use while if you choose the TURBO mode, you can expect around 10 minutes.
This means that this particular leaf blower will be best suited for smaller yards. The tool supports the Power Share platform of WORX, so you can use compatible batteries from other WORX devices in this leaf blower if you happen to have them.
ADVANTAGES
Weighs only 7.3 pounds;
Has a convenient and ergonomic design;
Comes with a dual-port charger;
Has 3 speed control options;
Quiet operation.
DRAWBACKS
The batteries' run time is quite humble.
7. Cub Cadet LB600E 60V Max – Most Powerful Battery Leaf Blower in Terms of Run Time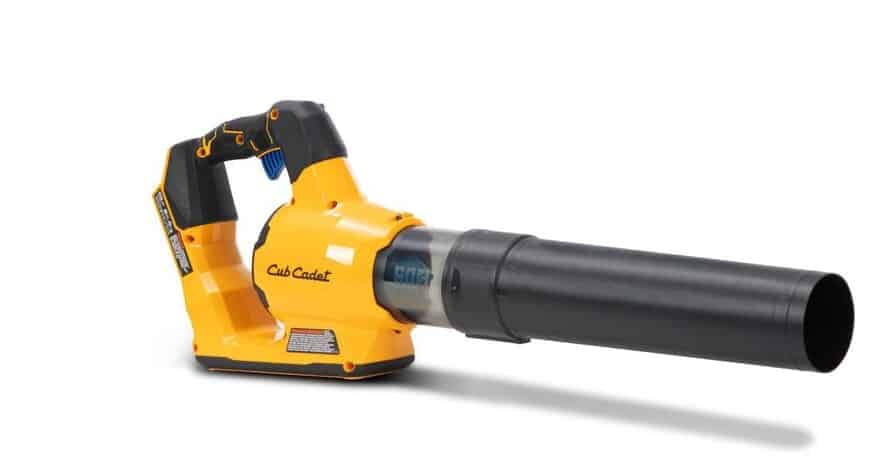 Last but not least, let's talk about the leaf blower from Cub Cadet. The manufacturer of this leaf blower is an American company with a rich history that specializes in creating everything from lawn tractors to snow blowers.
I heard a lot of positive reviews from friends about this leaf blower and it definitely doesn't disappoint. The first thing to note is that it is a lightweight model with comfortable rubber grips, so it's easy to hold and carry.
Secondly, the most impressive thing about this particular leaf blower is its extended battery life. It has a 2.5Ah 60V lithium-ion battery that can continue working for up to 90 minutes at a low speed. The combination of these specific batteries and a brushless motor offers increased run time. If you go for the maximum speed and use it the entire time, the battery will run out in about 11 minutes on a single charge.
In terms of air speed, it delivers up to 110 MPH or 600 CFL, and you can use a speed trigger at any moment to adjust the numbers based on how difficult your task is. Another thing to mention is that there is a 3-year limited tool guarantee with this tool. Overall, this is certainly a powerful tool for any yard and if you don't have too many leaves, its battery may even last for several uses.
ADVANTAGES
Up to 90 minutes of run time on low speed.
Delivers up to 110 MPH.
Lightweight design with a convenient handle.
Made by a reliable manufacturer.
DRAWBACKS
10 minutes at high speed may not be enough for some yards.
Best Battery Powered Leaf Blower Buyer's Guide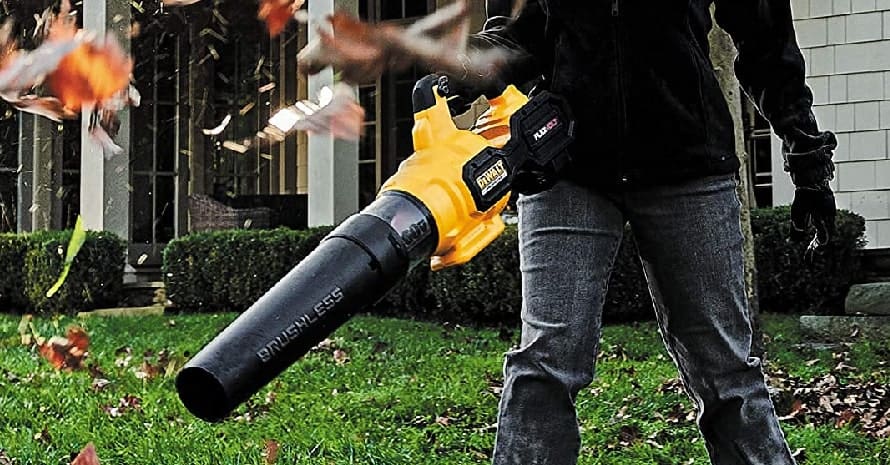 It's easy to get lost when choosing the right leaf blower for your yard because there are so many different alternatives available. There are several things to keep in mind and you can find them in this buyer's guide.
Yard Size
One of the first things to consider before you buy a leaf blower is how powerful it should be. This will depend on how large your yard is, because you may not need a very powerful leaf blower if you don't have a large property. There are different categories of leaf blowers available depending on your needs.
Air Speed
When looking through different battery-powered leaf blower reviews, you will always see measurements, such as CFM (cubic feet per minute) or MPH (miles per hour). Depending on the manufacturer, either both of these or one of these measurements will always be mentioned. They are used to indicate the speed of the wind and thus directly refer to how effectively a leaf blower will remove the leaves and debris.
For medium-sized yards, anything between 400 and 450 CFM is sufficient. The most powerful leaf blowers out there are the ones that deliver 500 CFM and they easily get rid of debris, wet leaves, and work well for large yards.
Size and Weight
More powerful cordless leaf blowers tend to weigh more and come in the form of a backpack so they are still comfortable to use. When you choose this option, it is best that it has an adjustable harness for maximum convenience.
If you plan to purchase a handheld one for a smaller yard, you should make sure that it is lightweight, as otherwise, you will get tired quickly. The normal weight for a handheld leaf blower is from 6.5 to 10 pounds.
Working Modes
It is undoubtedly a good idea to look for leaf blowers that have several settings, so you don't always use them at the highest speed and can adjust according to the task. Usually, there are three modes available, which is an optimum number for home use. The mode with the highest speed will quickly consume a lot of your battery life, so make sure that you can switch from it whenever necessary.
Battery Life
The battery power is measured in volts, so the higher the number – the longer the tool will last after being charged. 60V leaf blowers work for larger yards, but if you have a smaller one – a 40V battery or even a 20V one may work. One battery is sufficient for a small yard, but if you have a large property, you should definitely make sure that your device comes with two or more batteries.
Additional Features
Generally, leaf blowers for home use are quite simple devices without many additional features. There are some that offer vacuuming functions and can even be used in your house. There should be a conversion mechanism in place in such situations, so it's something to consider. Another thing you may want to consider is having a leaf blower with a shredding function for leaves.
Also, some leaf blowers have the ability to control the air nozzle, so you can choose if it blows the air in a wider or a narrower fashion. This can be useful in situations when you have narrow pathways on your property.
FAQ on Best Battery Powered Leaf Blower
What is the strongest battery powered leaf blower?
It's difficult to create any exact battery-powered leaf blower ratings, as there are many models with similar characteristics. Overall, the strongest battery-powered options deliver around 600-620 CFM, which makes them comparable to the gas ones in terms of power. These options are usually used for larger yards or commercial purposes.
Which is better, a gas or battery-powered leaf blower?
The question is complicated, as it depends on what you look for. The advantage of cordless leaf blowers is that they are lightweight, eco-friendly, and also significantly cheaper. The only real benefit of a gas leaf blower is that it is more powerful than many battery-operated blowers and thus may be chosen by people who need to use it professionally.
Which leaf blower has the most power?
While the modern battery-powered leaf blowers do the job very well, the most powerful ones are still gas leaf blowers, but they are highly detrimental to the environment. In this review, the most powerful leaf blowers are Greenworks Pro 80V, EGO Power+, DEWALT FLEXVOLT 60V, and Cub Cadet 60V. They are just as strong as the gas ones and have enough power to remove wet leaves, small branches, and other debris you may have in your yard.
How long should a battery-powered leaf blower last?
It all depends on the model and the types of batteries used in the leaf blower. The average run time in high-quality leaf blowers is around 30 minutes using an average mode. You have to charge it for several hours to be able to then use it for half an hour. Most modern leaf blowers also include high-speed regimes that last significantly less and can be around 10 minutes.
Powerful and Eco-Friendly Leaf Blowers for your Yard
Keeping a yard clean can be quite a task with all the leaves, small branches, and dust constantly messing up your hard work. While raking is always an option, it can be too time-consuming and difficult for most people. In this case, a leaf blower is almost a necessity. After reviewing different options, I chose Greenworks Pro 80V as the best leaf blower because of its price, power, and convenient design.
What are your thoughts on any of the reviewed leaf blowers? Have you ever tried any of them? Please, share your experience and leave any suggestions in the comments below!