As an Amazon Associate we earn from commission of qualifying purchases.
It is better to get ready for any business in advance. Now is the time to think about how you will remove leaves and other debris from your site in the fall. If you have a large backyard with many different types of trees or are involved in the landscaping business, you definitely cannot do without the best gas leaf blower. Gasoline models are the most efficient and powerful; therefore, they can easily cope even with heavy-duty tasks. I present seven of the best devices with which picking leaves in the fall will cease to be an annual headache.
Pros
Gives fewer exhaust fumes.
Top Pick
Pros
Gives fewer exhaust fumes.
Affiliate links and images placed from the Amazon Product Advertising API on 2023-12-07
7 Best Gas Leaf Blowers Reviewed
Husqvarna 360BT Backpack Blower – Best Gas-Powered Leaf Blower Overall
Makita EB5300TH 4-Stroke Engine Tube Throttle Backpack Blower – Affordable Top-Rated Gas Leaf Blower

No products found.

– Most Powerful Gas Leaf Blower

No products found.

– Best-Rated Gas Leaf Blower
PX-Trunk Gas Leaf Blower – Easy-Start Gas Leaf Blower
Echo PB-580T 58.2 CC Back Pack Blower – Lightweight Backpack Gasoline Leaf Blower
I have compiled this top based on years of experience with garden equipment. Unlike outdated rakes, even the most powerful leaf blower gently removes debris from the lawn without damaging the grassroots or leaving any bald spots. So, I consider such a tool to be indispensable for quality garden maintenance.
1. Best Gas-Powered Leaf Blower Overall: Husqvarna 360BT
Affiliate links and images placed from the Amazon Product Advertising API on 2023-12-07
The Husqvarna 360BT is one of the best devices I've ever tested. Perhaps someone would say that its price is not the most affordable, but it is reasonable to me. The tool fully meets buyer's expectations, has excellent build quality, and gives pro-grade results. Note that it's not the most lightweight model on my list; it weighs 23.2 pounds.
The blower power is evaluated by two main parameters: CFM and MPH. This model's 2-stroke engine can accelerate 631 CFM airflow at 232 MPH. These are some of the most impressive metrics among gas-powered tools. The 65.6 cc engine is made using X-TORQ technology, which aims to reduce exhaust gases (up to 70%) and cut fuel consumption (up to 20%). While gas instruments are not considered the most environmentally friendly, Husqvarna does its best to lower pollution.

The tank capacity is 74.4 fluid ounces, which is standard for these powerful models. Of course, you will have to refuel the device in the process, but this volume is enough to cover a large area. The manufacturer has installed an air purge system in this model, which allows you to remove excess air from a carburetor and start the machine with just one or two pulls.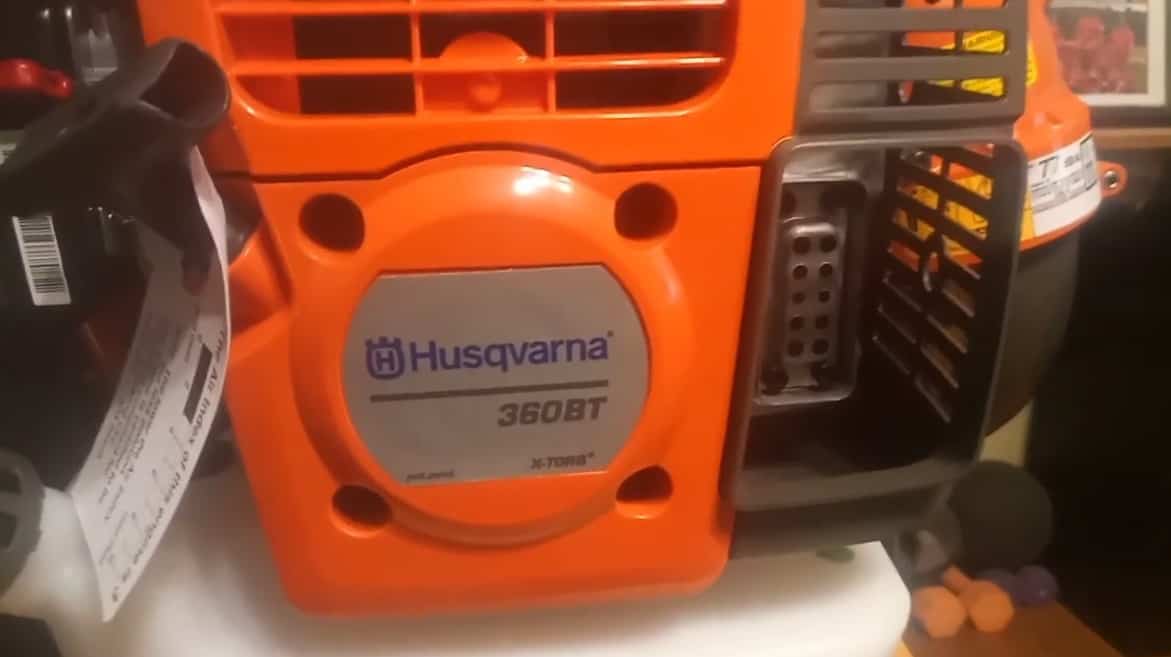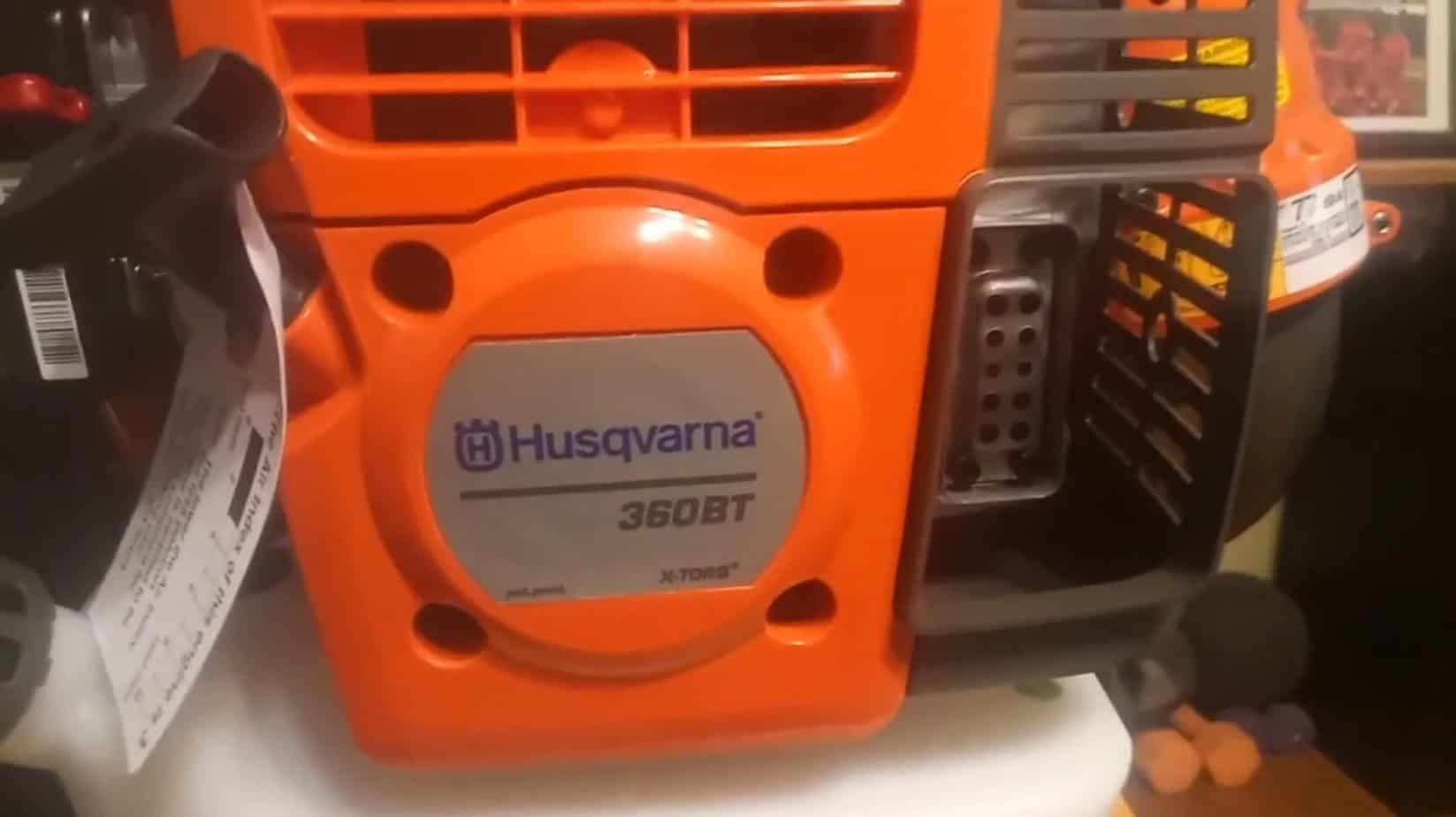 It is designed as a backpack to make it easier to use. When buying such devices, I recommend that you always pay attention to the system of straps and belts. Cleaning it can turn into a torture for you if a harness is uncomfortable. There are no such problems with this model. The shoulder and chest straps are padded and won't cut into your body.
ADVANTAGES
Excellent power;
Gives fewer exhaust fumes;
Economic fuel consumption;
Comfortable harness.
2. Affordable Top-Rated Gas Leaf Blower: Makita EB5300TH
Affiliate links and images placed from the Amazon Product Advertising API on 2023-12-07
Makita's equipment is deservedly popular among gardeners, producing reliable, ergonomic, and efficient devices. This blower is no exception, and I consider it a worthy competitor to the first product on my list. At the same time, it has a slightly more budget-friendly price, which falls into the middle range for such machines.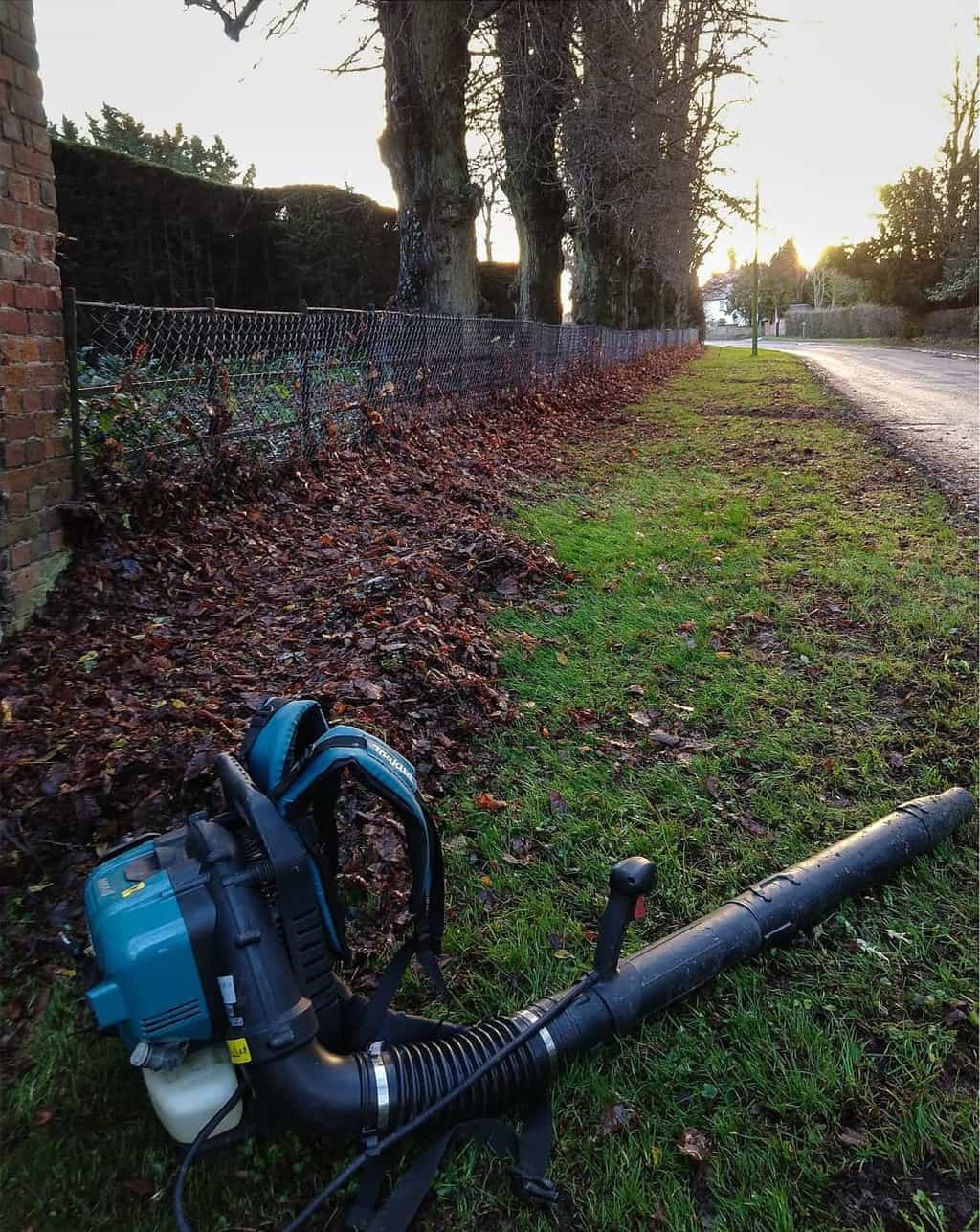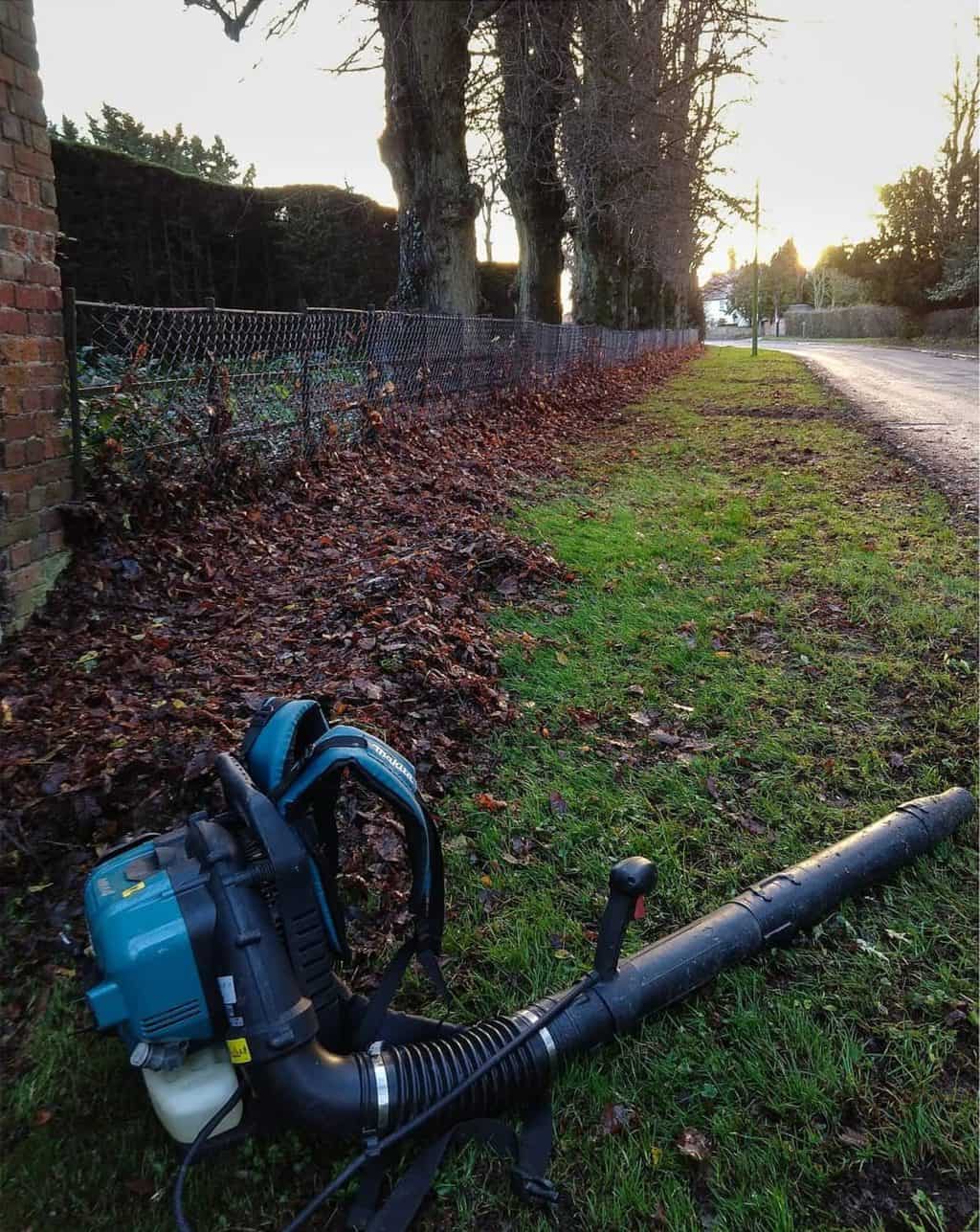 What I especially like is the reduced noise level. Usually, gasoline models work loudly, and this one gives out about 70 dB, which is quite a bit compared with analogs. However, I still recommend using ear protection when working with them. I also noticed the low vibration level. This device is pleasant and convenient to use because I did not get tired of the vibration load during quite a long time of work.
A distinctive feature of this blower is a 4-stroke 52.5 cc engine, which is much easier to maintain, safer, and more eco-friendly. It is made with proprietary MM4 technology, which provides low noise levels and reduces vibration. The maximum blown air volume reaches 516 CFM, and the speed is 184 MPH. As you can see, it is far from the most powerful model, but it copes well with collecting leaves and small branches. It is what I would expect for the price.
Like other advanced models, there is a cruise control function here. You can set a fixed speed if you work with the same debris over a large area. It greatly simplifies the task. The fuel tank capacity is 60.9 fluid ounces, which is slightly less than average, so you will need to regularly refuel the machine.
ADVANTAGES
Equipped with a 4-stroke motor;
Works quietly;
Low vibration levels;
Affordable price.
DRAWBACKS
There are more powerful devices on the list.
3. Most Powerful Gas Leaf Blower: Husqvarna 580BTS
No products found.
This model belongs to the premium segment in terms of price. However, its value is fully justified by the excellent power, efficiency, and comfort. A 2-stroke engine with a volume of 65.6 cc and X-TORQ technology can accelerate an airflow of about 941 CFM to a speed of 206 MPH. It is one of the most impressive speed-to-volume ratios I've come across. If you are looking for a leaf blower for commercial purposes, the Husqvarna 580BTS is truly an excellent tool. It is especially remarkable considering the increased fuel tank volume compared to other popular models (87.9 fluid ounces).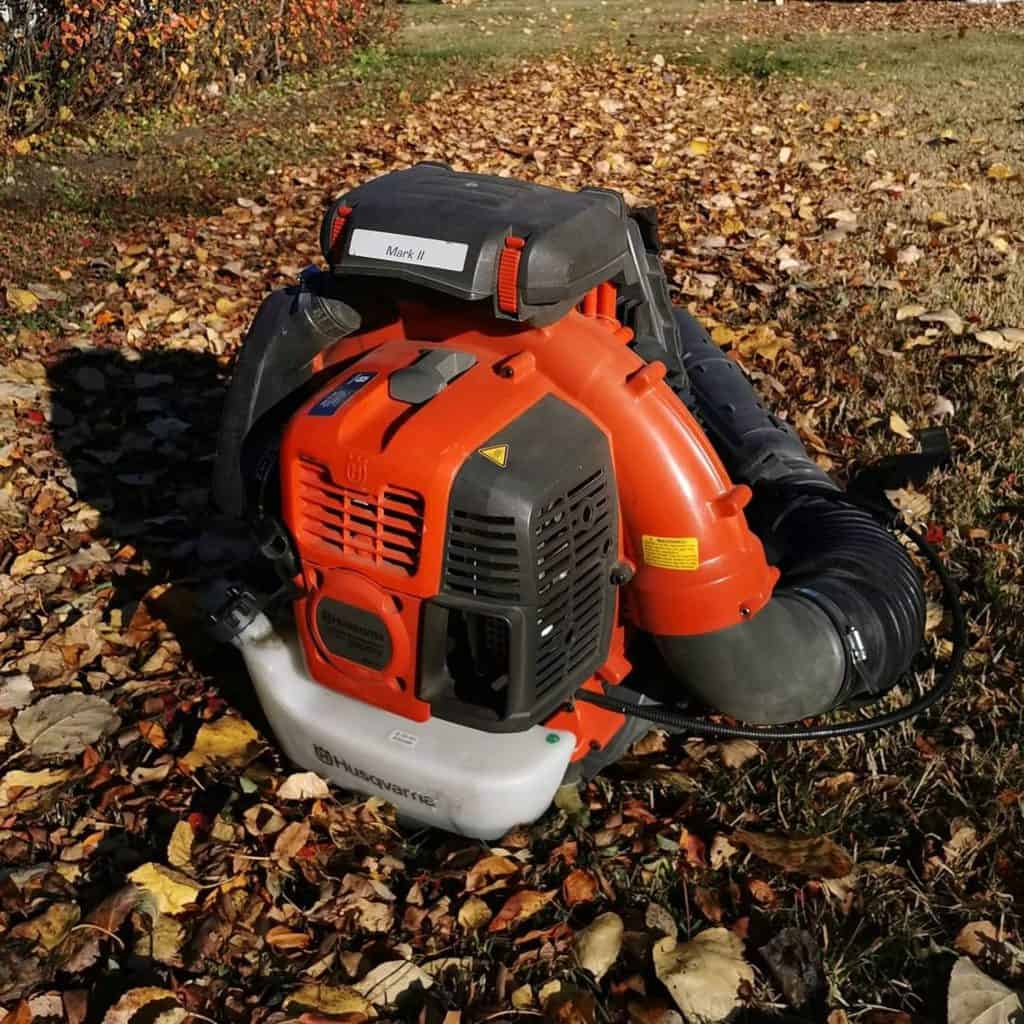 Like all extra-powerful devices, this one isn't quiet. At maximum speed, its roar can reach 112 dB. It is where hearing protection is a must. Thanks to the reliable and high-quality assembly and a comfortable harness, I did not feel much vibration during work. However, there were certain vibrations, so I recommend taking regular breaks if you work for a long time.
As for the belts and straps of this model, I consider them to be one of the most convenient. They are moderately padded, fix the instrument well on the back, and do not let it fall on one side. In general, I always recommend looking at those tools that are equipped with a hip belt. Trust me, it significantly reduces the strain on the shoulders. Considering the weight of the device (23.2 pounds), it is a critical factor. Also, this model has an adjustable handle for your convenience, the position of which you can change so that your wrist does not get tired.
ADVANTAGES
Great hip belt;
Large fuel tank;
Excellent build quality;
Extra-powerful.
4. Best-Rated Gas Leaf Blower: Echo PB-755ST
No products found.
If you are looking for a device that can blow away wet leaves and large debris, then the Echo PB-755ST is for you. Its 63.3 cc engine is capable of a 651 CFM airflow up to 233 MPH. It is one of the highest rates among gas leaf blowers. With this speed, it can easily blow off even stones from its path. So before using it, make sure that there are no people, pets, and fragile objects nearby, and follow the general safety precautions for this type of device.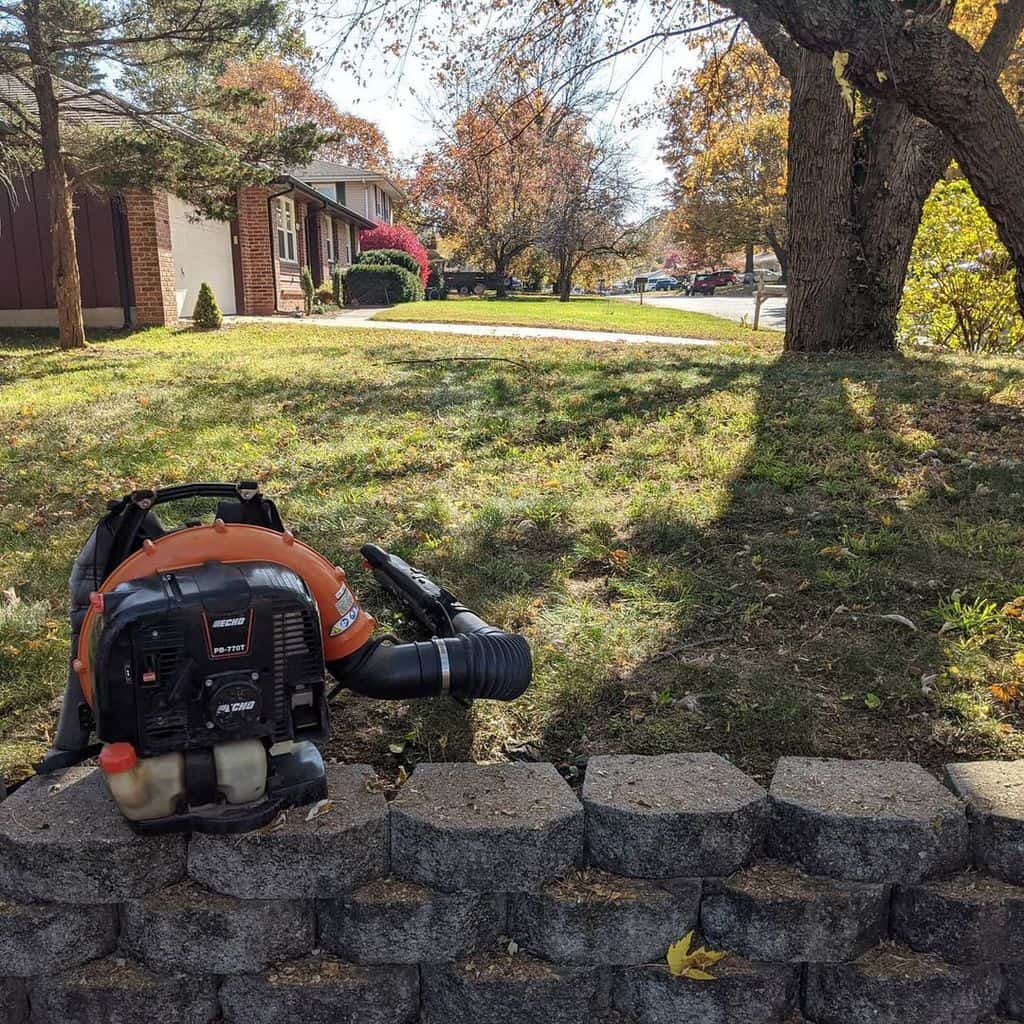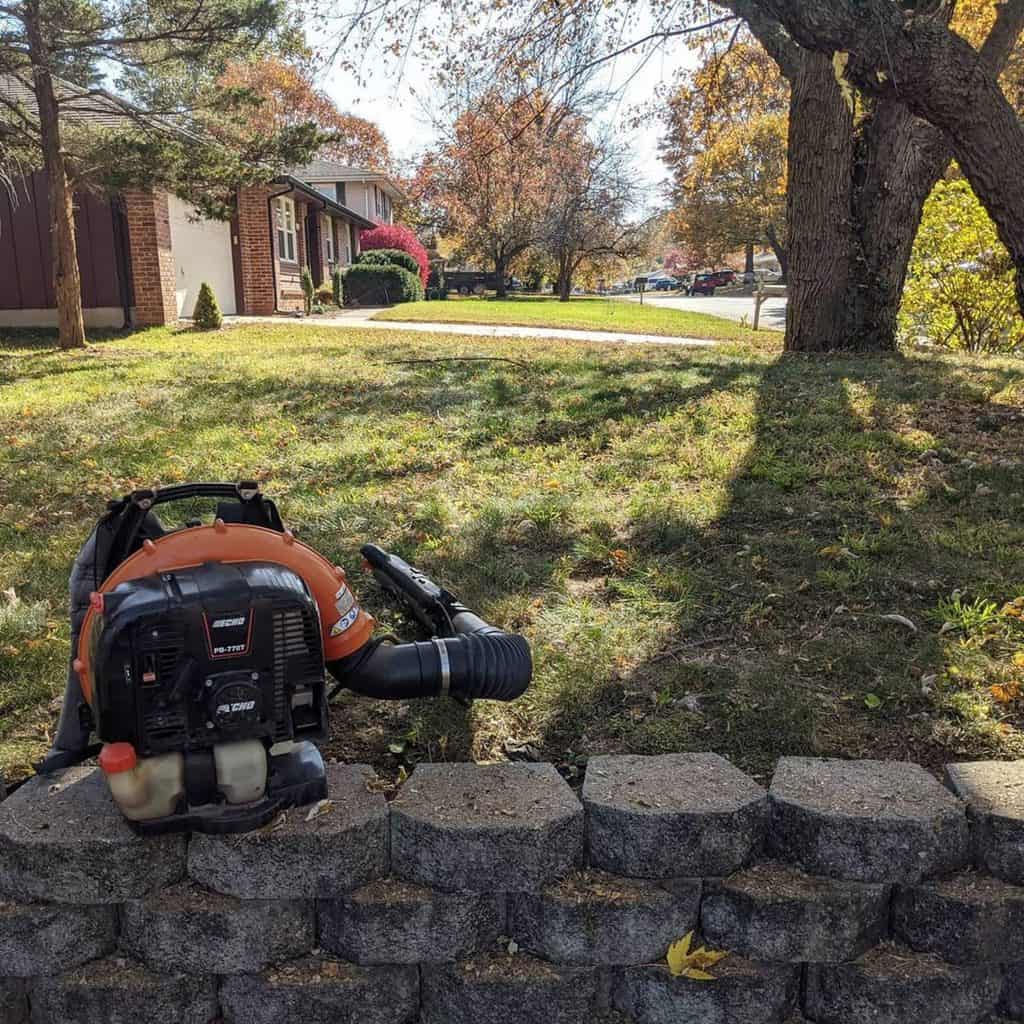 I also liked this model because, despite this power, it runs impressively quietly. A 74 dB instrument can be considered practically noiseless. It is equipped with a 67.6 fluid ounces tank, which is pretty standard for devices in this price range. A 2-cycle engine is installed here, so you will need to mix oil and gas in the correct proportion.
Like the previous products on my list, this one is a backpack type. Although straps and the back are cushioned, in my opinion, they are not soft enough, given the heavyweight of the device (24.7 pounds). It lacks a waist or hip belt for greater stability, which should take the load off the shoulders. I recommend this tool to those in good physical shape who can carry that weight for quite some time.
It is pretty reasonable that such a powerful engine cannot be lightweight. The disadvantages of this model are largely offset by its benefits that give an affordable price compared to other professional counterparts. On the plus side, I would also like to point out a flexible tube, which provides you with better control over the airflow.
ADVANTAGES
Quiet;
Reasonable price;
High speed;
Can be used for snow removal.
5. Easy-Start Gas Leaf Blower: PX-Trunk 5200
Affiliate links and images placed from the Amazon Product Advertising API on 2023-12-07
For those who need a budget model that still delivers professional-grade results, I can recommend the PX-Trunk 5200. It is one of the inexpensive models on my list, yet it is pretty powerful to handle tough jobs. A 2-stroke 55 cc engine propels a 600 CFM airflow to 150 MPH.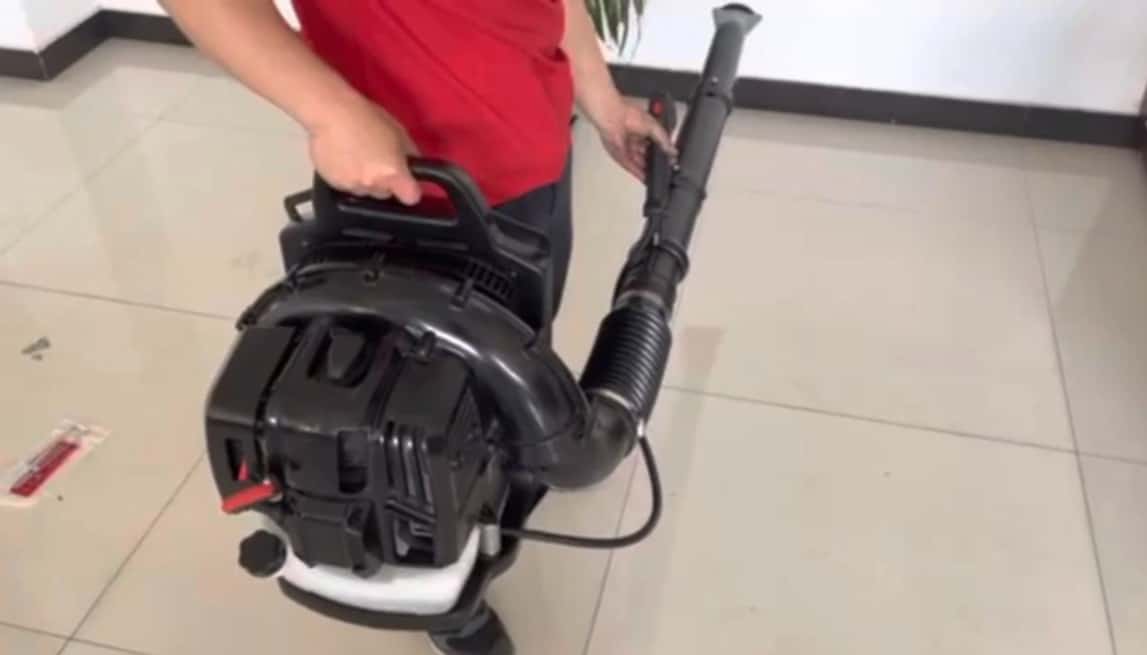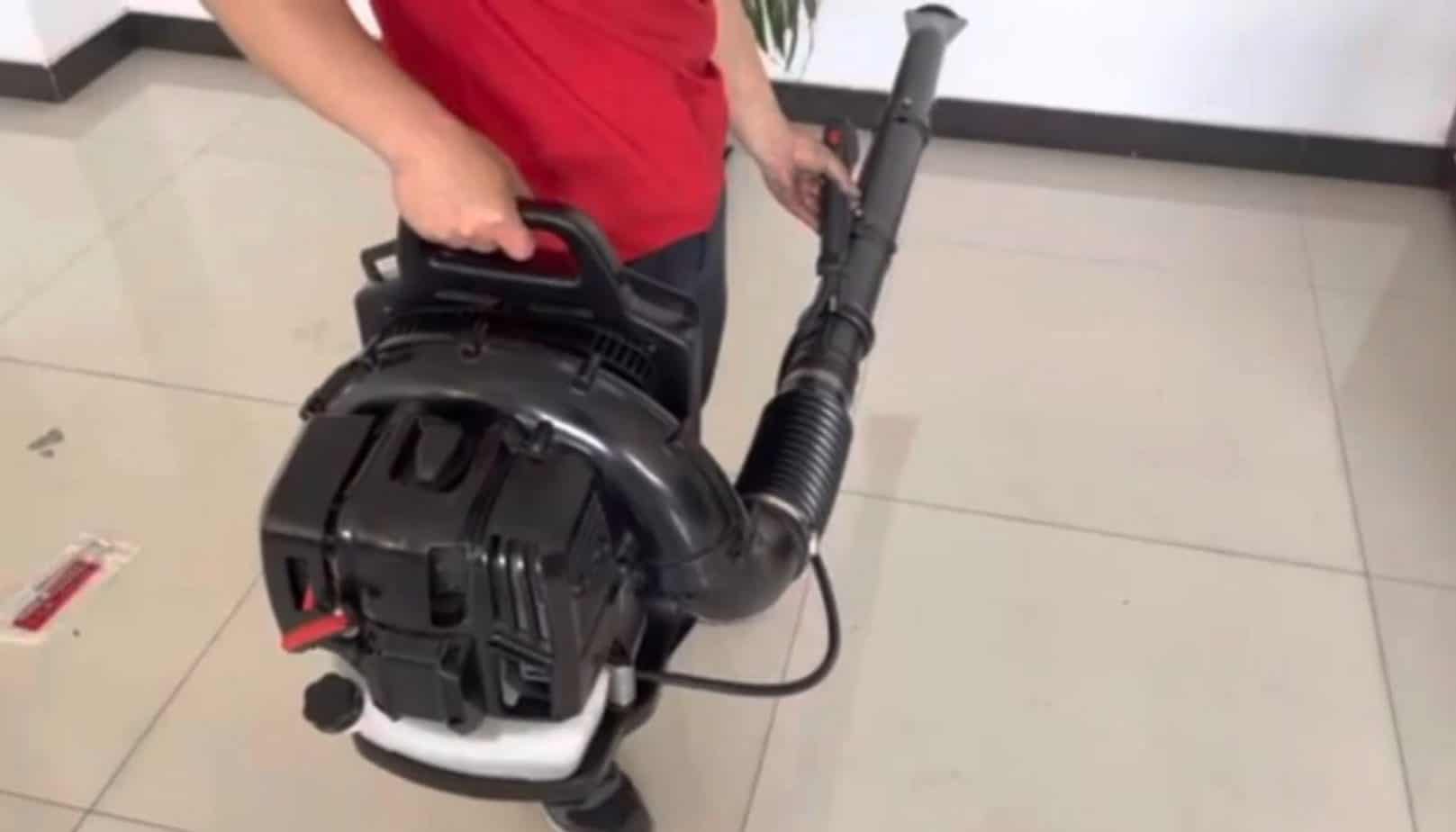 While this device is not the most powerful one, it is quite loud. At maximum speed, its noise reaches about 111 dB. Also, the tank installed here is not the most capacious on the list; its volume is only 47.3 fluid ounces. Despite it, the engine uses fuel quite economically, so one refueling will be enough for you to cover a large area.
As a rule, inexpensive models weigh quite a lot, and this device is no exception. Compared to its analogs, it is heavy (24 pounds) and might be challenging to put on yourself. However, I felt comfortable working with this device thanks to its incredibly comfortable harness. The back, like all straps, has a fairly thick lining and is well-ventilated. So you won't sweat even on the hottest days. Besides, the harness is excellent at absorbing vibrations, making a user's job much easier. You can adjust the length of the straps to your liking.
Like in more expensive products, there is speed control and a cruise control function. Even though it is a gasoline device, it is not difficult to start it. The engine starts within several pulls and requires no extra effort on your part. I also like that the blower comes with a narrow nozzle, making it much easier to remove stuck leaves from hard-to-reach places.
ADVANTAGES
Very inexpensive;
Economic fuel consumption;
Comfortable harness;
Easy to start.
6. Best Handheld Gas Leaf Blower: Echo PB-2520
Affiliate links and images placed from the Amazon Product Advertising API on 2023-12-07
Echo PB-2520 is the only handheld device on my list. As you understand, tools of this type cannot be bulky and heavy; otherwise, you simply couldn't use them for a long time. The weight of this blower is 8.8 pounds, excluding the tank. While it comes close to backpack products in some respects, it is still not that powerful. The maximum possible volume of the airflow is 453 CFM, and the speed is about 170 MPH. But it is offset by its low cost. As far as I know, it is one of the most inexpensive blowers from the Echo company.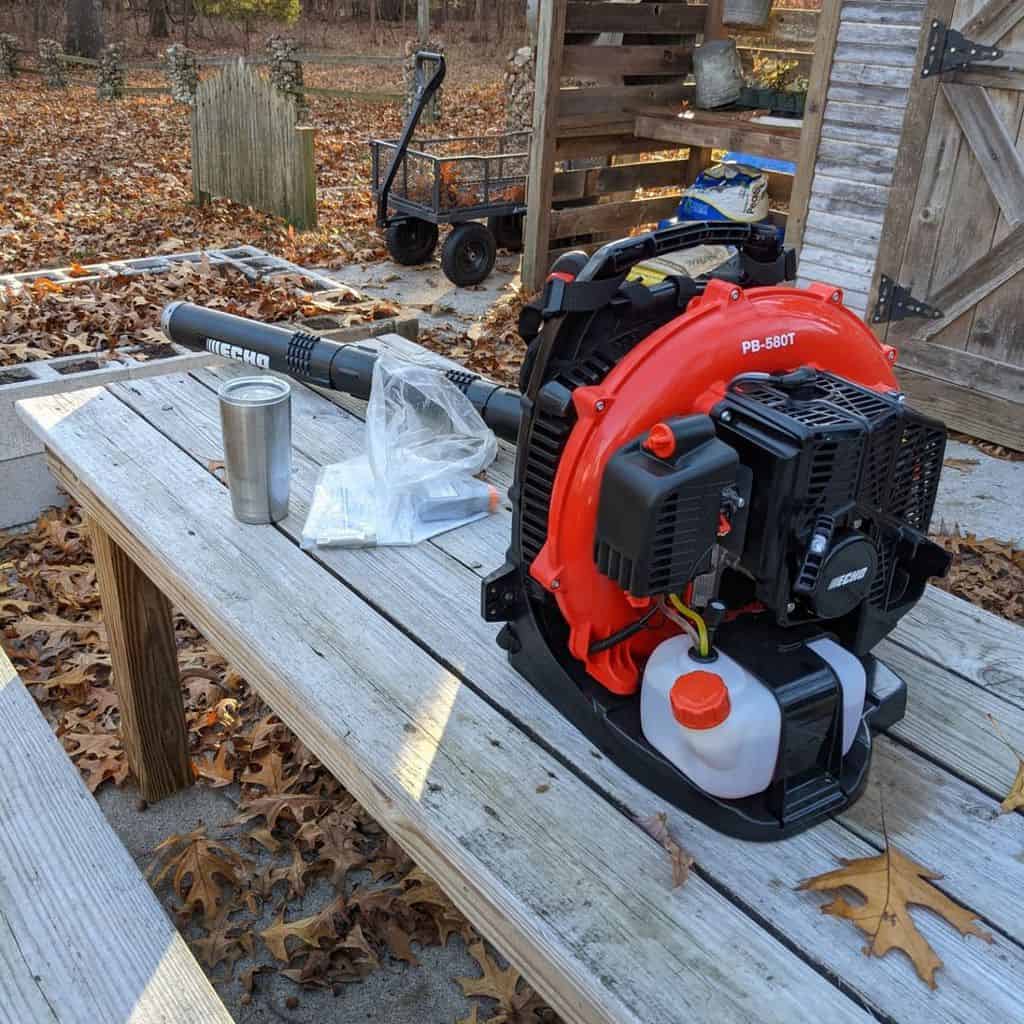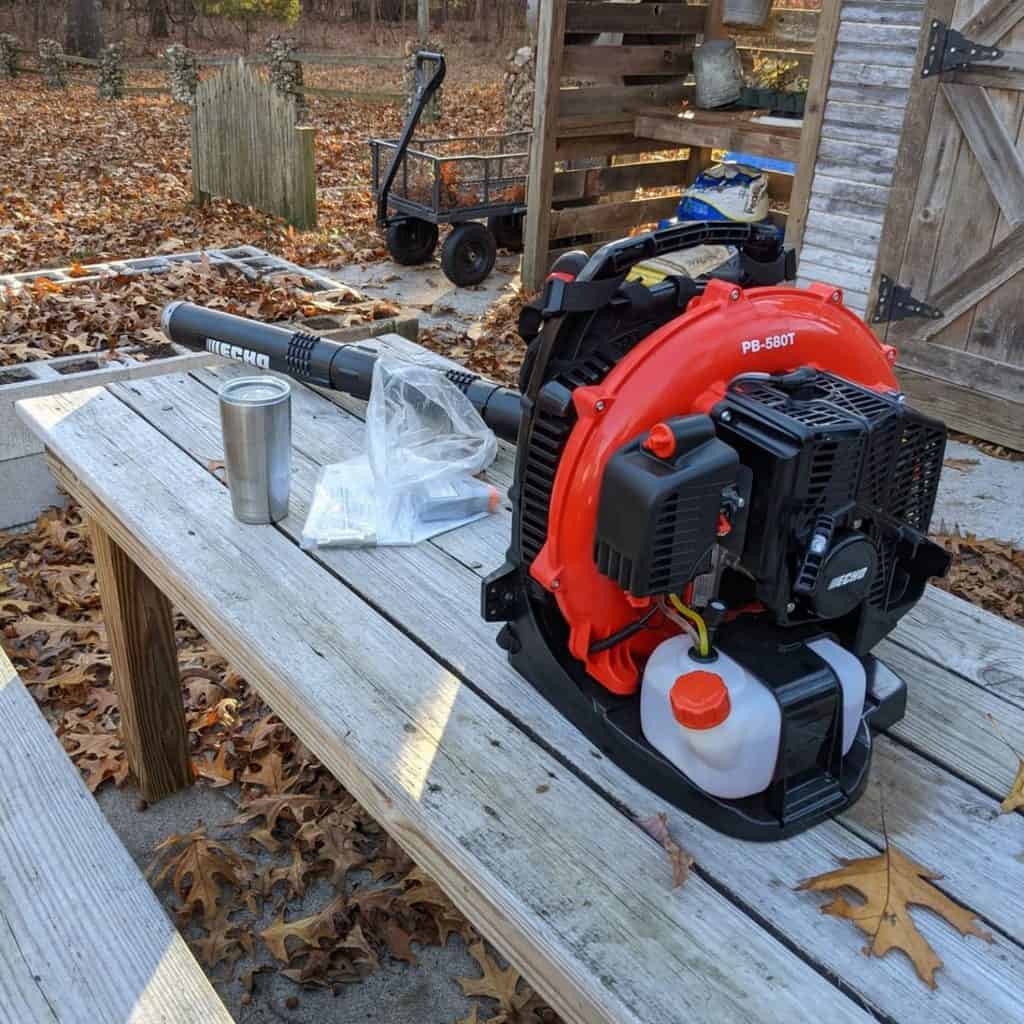 To reduce weight and make the tool suitable for one-hand grip, the manufacturer has installed a smaller and less powerful motor here. However, the 25.4 cc 2-cycle engine produces impressive results for handheld devices. I would say that this model is perfect for those who are looking for a product from a reliable manufacturer for frequent home use. Of course, compared to other products on my top, this one has a much smaller fuel tank (16.9 fluid ounces). However, it wouldn't be possible to carry a larger volume in your hands.
I believe that the model fully meets the buyers' expectations, is worth its money, and has no significant drawbacks. In my opinion, the manufacturer could have put an anti-slip coating on the handle to make the device more comfortable to hold. By the way, this tool is suitable for both left- and right-handed people, unlike backpack blowers, where a control stick is on the right side.
ADVANTAGES
Lightweight;
Portable;
Efficient;
Suitable for left and right-handers;
Inexpensive.
DRAWBACKS
Small tank volume;
No anti-slip coating on the handle.
7. Lightweight Backpack Gasoline Leaf Blower: Echo PB-580T
Affiliate links and images placed from the Amazon Product Advertising API on 2023-12-07
It is another model from Echo that gives you professional-grade results. A 2-stroke 58.2 cc engine blows out 510 CFM airflow at 215 MPH. It ideally cleans the lawn even of damp leaves and stones, so you don't have to wait for the debris in your area to dry. Like all products from this company, it is easy to assemble and start. Its robust body and excellent build quality provide good vibration and noise reduction. In general, compared with other popular analogs, the instrument works quietly (70 dB).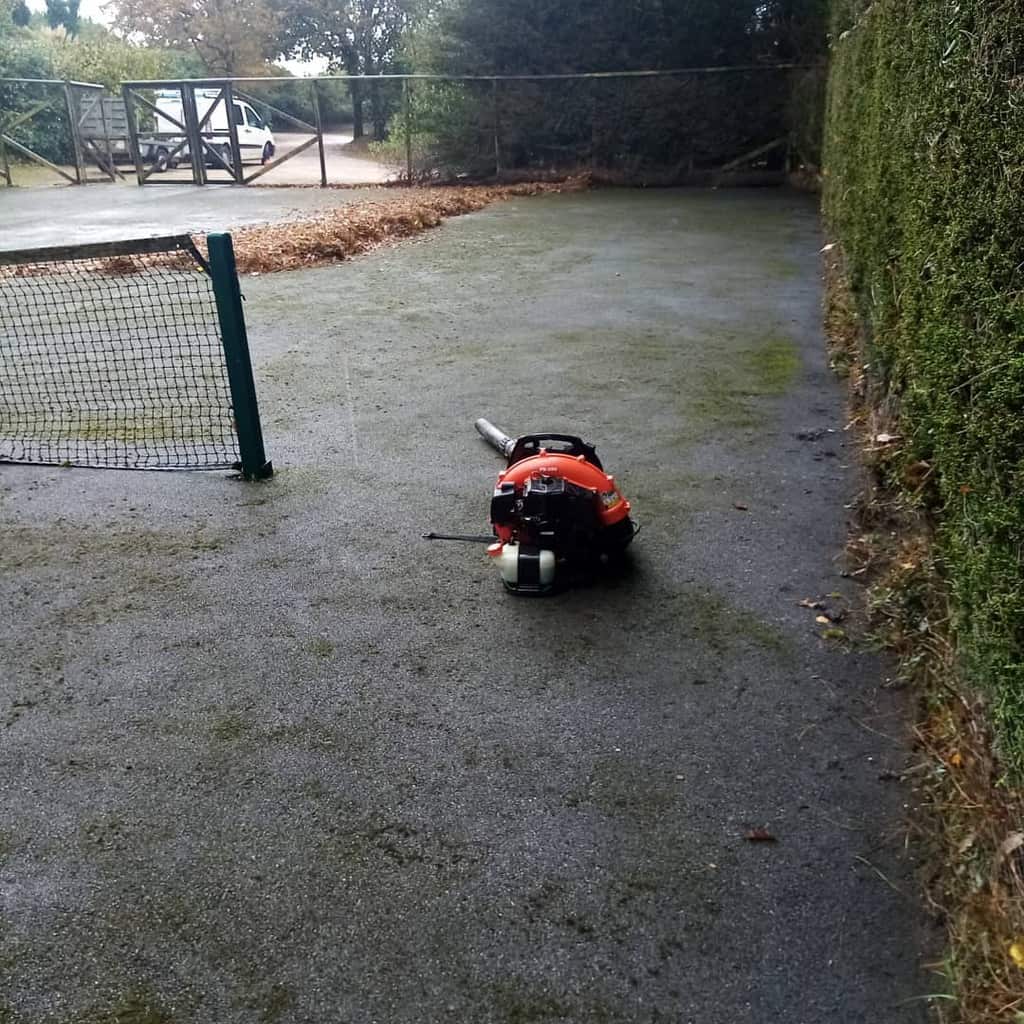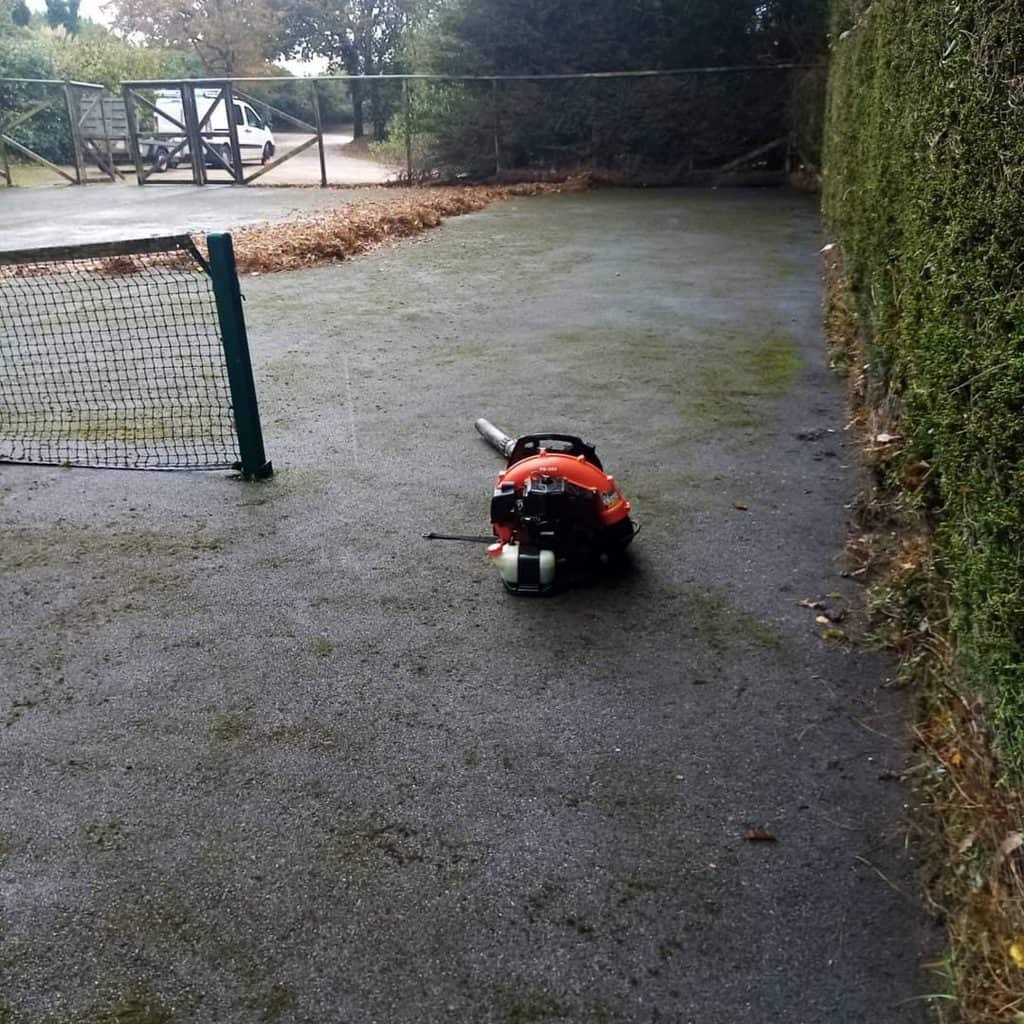 All backpack blowers weigh quite a bit compared to their handheld counterparts. However, this device is one of the most lightweight on my list. It is still easier to use the blower weighing 22.6 pounds than more bulky models, although it is rather big. At least, I didn't need any assistance to put it on. By the way, the harness is pretty comfortable here. It is well-ventilated and does not cause discomfort during hot weather. Its straps are padded enough not to put too much pressure on the shoulders. Perhaps, this device lacks a hip or waist belt for better fixation.
The tank volume is 62 fluid ounces, which is pretty standard for backpack instruments. You can also adjust the speed according to your needs, but there is no cruise control mode. I liked that there is a metal ring at the end of this models' tube. It protects the plastic cap from hits and other mechanical damage.
ADVANTAGES
Good value for money;
Fairly lightweight;
Excellent build quality;
Easy to start.
DRAWBACKS
No cruise control;
No hip belt.
Buyer's Guide on Gas Leaf Blower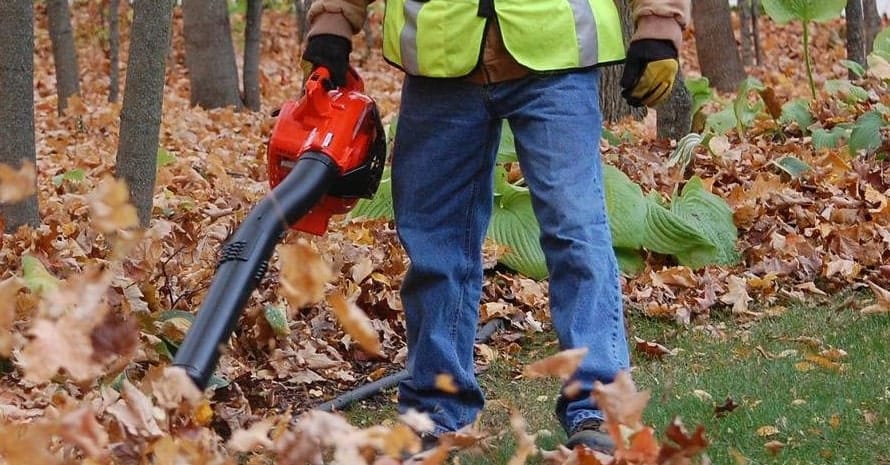 After you read my gas leaf blower reviews, I would like to tell you in general about this type of tool and how to choose the most suitable one for your needs.
Types of gas leaf blowers
All devices can be divided into three main groups depending on the type of handling. By and large, it can serve you as an identifier for the work a device is designed for.
Walk-behind
These leaf blowers are the most powerful but also the heaviest and most expensive. As a rule, they are profitable for those engaged in cleaning leaves and other debris on a commercial scale. Because of their price, they are so common on the market. At the same time, I find them an excellent option for those who cannot carry a lot of weight on their shoulders.
Handheld
Handheld devices can be called the "basic" type as they are suitable for small areas and removing dry and small debris. They are maneuverable and lightweight; using them, you can quickly get the trash out of hard-to-reach places. These devices do a great job of blowing leaves or dry snow from a small yard or patio, but you will definitely get tired of cleaning a large garden with many trees.
Backpack
I find this type to be the most versatile and ideal for medium to large lawns. You can find a model that suits you in terms of power, weight, and dimensions among the wide assortment. It will help you get rid of any debris, from dry leaves to stones and wet cardboard. In most cases, I recommend backpack blowers to my readers.
Why should you choose a gas leaf blower?
Gasoline devices have a number of undeniable advantages over other fuel types, making them indispensable for large-scale and complex tasks. They are truly powerful and can last longer than their battery-powered counterparts. Moreover, you are not limited in the radius of movement as when using corded tools. Gas blowers are pretty loud, produce exhaust fumes, and might be somewhat challenging to maintain and repair. If you are new to such devices, choose those equipped with 4-stroke engines as they are easier to maintain.
How to choose a gas leaf blower
As with any garden equipment, the first thing you need to do is assess the scale of the work and the area to be treated. These two factors determine which characteristics of an instrument you need. When choosing a device, pay attention to the parameters below.
Power
Two indicators determine it. CFM shows how much air the blower can produce. The higher it is, the more leaves you can move in one pass. MPH stands for the speed at which air exits the pipe. The faster the flow, the heavier and more complex garbage the device can handle. This data gives you an understanding of how powerful the tool is in your hands.
Type
As I have written above, I generally recommend purchasing backpack blowers as I find them versatile. However, if you prefer compactness and lightweight, choose handheld devices. Just keep in mind that you will have to refuel them regularly due to the small volume of tanks. If there are many adult trees on your site, it might be worth giving preference to the walk-behind type. With it, you will cope with heavy-duty tasks much faster.
Noise
Given that gasoline models can be loud, manufacturers should equip their devices with noise-absorbing housings. You can damage your hearing if you carry a noisy instrument behind your back for a long time or violate local noise laws. The range of levels can be from 70 to 115 dB.
Comfort
It is a somewhat subjective factor but one of the most important ones during long-term work. The comfort of using a tool can be in different indicators, such as padded harness, the presence of anti-vibration mounts, cruise control functions, the opportunity to switch speeds, and various nozzles for a tube.
Meet Fall Fully Armed
Thanks to modern technology, garden and backyard maintenance has never been easier, quicker, and more comfortable. So, what is the best gas leaf blower? In my opinion, it is the Husqvarna 360BT. While the other devices on my list are noteworthy as well, I believe this particular model has excellent value for money. It is suitable for both home and commercial use.
Please write in the comments whether you agree with my opinion. If not, which model do you think is better and why?