As an Amazon Associate we earn from commission of qualifying purchases.
Leaf blowers are divided into 3 types according to their size and construction. There are handheld, backpack, and walk-behind leaf blowers. In this article, I look closely at the first category as it seems to be the most popular and widespread. No wonder many people select this kind of tool: they are compact, lightweight, and multipurpose. You can use it for cleaning sidewalks and lawns from leaves and debris, yet some models also allow indoor use. How to pick the best handheld leaf blower? How do you know which type of fuel fits your purposes and which additional features matter to you? I will provide detailed answers below.
Product
Runner-Up
Budget Option
Title
Cordless Leaf Blower - BHY 21V Electric Leaf...
Pros
The lightest instrument on the list
Runner-Up
Product
Title
Cordless Leaf Blower Battery Operated: 20V...
Pros
The lightest instrument on the list
Budget Option
Product
Title
Cordless Leaf Blower - BHY 21V Electric Leaf...
Affiliate links and images placed from the Amazon Product Advertising API on 2023-09-22
Best Handheld Leaf Blower: 5 Solutions That Fit Anyone
The easiest way to figure out the basic features of any type of equipment is to analyze some examples. Here I give five trustworthy tools to illustrate the differences between different types of handheld blowers.
1. WISETOOL 20V Leaf Blower: Yard Blower for Indoor Job
Affiliate links and images placed from the Amazon Product Advertising API on 2023-09-22
WISETOOL 20V leaf blower belongs to cordless equipment. A 2.0ah 20v battery provides variable air speed, ranging from 60 to 130 MPH and 320 CFM of air volume. 2-speed modes are a feature that highlights this tool from the list since it expands the range of functions and makes this model suitable not only for cleaning the yard but also for indoor work. You can use WISETOOL to clean a garage, a shop, or a warehouse. The battery provides about 15-20 minutes of runtime, depending on the speed mode you choose, while recharging takes about an hour. I recommend keeping 2 sets of batteries if you need to clean a big site.
For shame, this instrument turned out louder than I'd expected from a battery-powered tool. The noise level reaches 88.2 dBA instead of an average of 70 dBA. This figure is noise is less comfortable but still acceptable since gas leaf blowers tend to be even louder. Apart from that, the WISETOOL 20V leaf blower is a well-made machine whose design is thought out to the last detail, like wrapped with an elastic rubber handle to prevent slipping.
Main properties:
Battery-powered
Air speed: 60-130 MPH
Air volume: 320 CFM
3.3 pounds
ADVANTAGES
Variable speed control allows using indoors as well as outdoors;
Lightweight (3.3 pounds);
Convenient handle.
DRAWBACKS
A bit louder than battery-powered leaf blowers (88.2 dBA).
2. Electric Mini Handheld Leaf Blower: Lightweight Gas Leaf Blower With Longest Runtime
Affiliate links and images placed from the Amazon Product Advertising API on 2023-09-22
Unlike the previous item, Electric Mini Handheld Leaf Blower is battery-powered. Batteries are less strong power sources, and this model is not an exception. Its air volume is three times lower than one Husqvarna 125BVx performs, it is only 140 CFM, and this figure is the weakest on this list. However, the difference between air speeds is not that noticeable, with only 40 entities.
On the other hand, battery-powered handheld leaf-blowers have a number of significant advantages over gas-powered equipment, for example, weight. Electric Mini Handheld Leaf Blower is the lightest instrument I name in this article. It weighs only 3 pounds. Such equipment is maneuverable and easy to use for any family member. It is comfortable to hold with one hand and creates minimal strain on the wrist. Low weight and lack of wires make it perfect for cleaning large sites. Low capacity might even be an advantage if you need to work indoors cleaning a shop, a workshop, or a garage.
This model features 2-speed modes, and its runtime depends on your selected mode. The battery block provides 50 minutes of run time on the low speed, which fits clearing sidewalks and driveways. If you decide to work at a higher speed, you must finish the task in 10 minutes. This mode removes leaves and debris from lawns. Electric Mini Handheld Leaf Blower is simple to assemble; you only need to install batteries, select a blow nozzle and push a start button.
Main properties:
Battery-powered
Air speed: 130 MPH
Air volume: 140 CFM
3 pounds
ADVANTAGES
The lightest instrument on the list;
Maneuverable and easy to hold;
Long runtime (50 minutes).
DRAWBACKS
Small capacity, fit mostly small tasks.
3. BHY 21V Electric Leaf Blower: Handheld Blower With 6 Speed Modes
Affiliate links and images placed from the Amazon Product Advertising API on 2023-09-22
BHY 21V Electric Leaf Blower is another battery-powered leaf blower, yet, its properties are a bit closer to those Husqvarna 125BVx has. They belong to the same category according to air speed. This model provides 150 MPH, only 20 entities less than the first item I named. BHY 21V Electric Leaf Blower also has decent air volume —320 CFM. This figure is close to the highest limit household leaf blowers have. 4.0Ah ensure at least 30 minutes of the runtime. To keep it performing its best, follow the instructions on storage.
6 adjustable speeds make this tool suitable for a wide range of tasks. BHY 21V can be used indoors and outdoors. It fits cleaning lawns, paths, and driveways. Moreover, it is suitable for removing light, dry snow powder. You can also tidy your home or garage. For more agility, this leaf blower is provided with 2 section tubes. This instrument has a medium weight, which is 6 pounds. The small detail that influences your comfort much is ergonomic design. It might seem insignificant at first glance, but it matters in the long run. The handle is made of flexible rubber material, preventing an instrument from slipping off your hands, especially if you wear gloves when working.
The only flaw I found about BHY 21V is the level of noise, which is almost as high as a gas-powered tool. However, the package includes a pair of foam ear plugs, so you can protect your ears from the noise.
Main properties:
Battery-powered
Air speed: 150 MPH
Air volume: 320 CFM
6 pounds
ADVANTAGES
Six speed modes;
Decent runtime (at least 30 minutes);
Lightweight.
DRAWBACKS
Less powerful than most gas-powered tools.
4. Poulan Pro PRB26 Handheld Gas Blower With the Biggest Capacity
Affiliate links and images placed from the Amazon Product Advertising API on 2023-09-22
As well as Husqvarna 125BVx, Poulan Pro PRB26 belongs to handheld gas blowers but provides a slightly bigger capacity. The air speed is 200 MPH, 30 more than the first item provides. Air volume is also bigger; Poulan Pro PRB26 provides 470 CFM instead of 425 CFM. This model is the most powerful on the list, so it efficiently clears debris and heavy wet leaves. Besides the big capacity, variable speed control makes it a multipurpose tool that can be used in various circumstances and tasks.
As any gas-powered leaf blower, Poulan Pro PRB26 can't be light compared to other instruments. It weighs 11 pounds, which makes it the heaviest tool on the list, so it might not be convenient for everyone. However, it is still comfortable to use due to the soft-grip handle. Such design reduces fatigue allowing working as long as you need to.
Main properties:
Gas-powered
Air speed: 200 MPH
Air volume: 470 CFM
11 pounds
ADVANTAGES
The most powerful tool on the list that copes with heavy debris;
Convenient design;
A soft-grip handle prevents slipping.
DRAWBACKS
The heaviest item on the list might not fit everyone.
5. Husqvarna 125BVx: Leaf Blower With Big Air Volume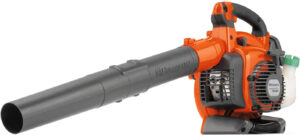 Husqvarna 125BVx is a leaf blower run by gasoline. Its 1.1-horsepower engine provides 425 CFM of air volume and 170 MPH of air speed, enough to remove light dry leaves and stubborn wet debris. The fuel tank contains almost 17 ounces, while a fuel consumption reaches 575 g/kWh. This engine provides efficient gas spending and ensures a quick start with minimum effort.
Husqvarna 125BVx is one of the heaviest items on the list, it weighs more than 9 pounds, yet it is still easy to handle and operate due to its ergonomic design. The air stream directly follows the handle line reducing strain on a wrist caused by constant rotations. As any cordless instrument, it reaches any point of the plot you need. For shame, it is also the loudest tool on the list. The noise level reaches 107 dBA, which is much louder than the noise household applications make. Some neighborhoods limit or restrict the use of this loud instrument.
This model is multipurpose, and it can serve not only as a leaf blower but also vacuum. It is equipped with mulching knives that reduce material. They cut leaves and debris for more capacity, collecting them into a bag you can hang on a shoulder. Another advantage I value is the various speed modes. This feature saves fuel for bigger tasks if your purpose is a quick clean-up. The package includes all the basics you need to start as soon as you receive the tool: a vac kit, harness, and round and flat nozzles.
Main properties:
Gas-powered
Air speed: 170 MPH
Air volume: 425 CFM
9.6 pounds
ADVANTAGES
Big capacity;
Ergonomic design;
Variable speed modes.
Buyer's Guide
To summarize all the variety of options I named, here is the list of essential parameters you need to take into account. I also provide some basic figures so you can define to which category any tool you selected belongs.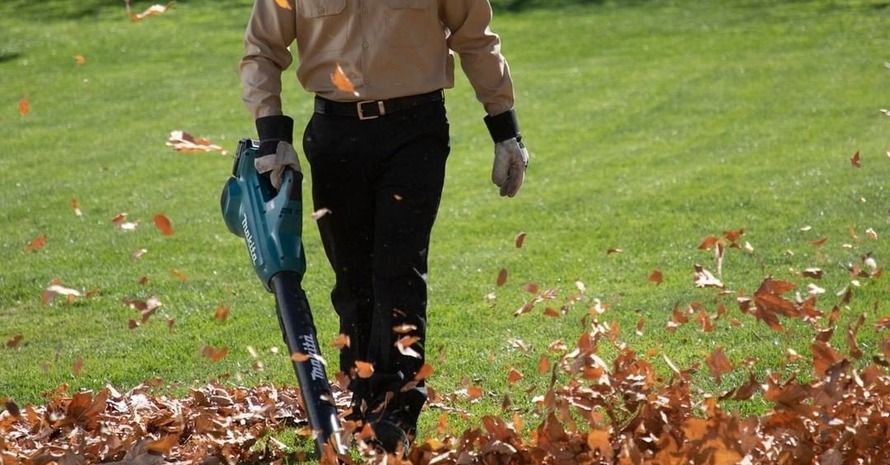 Types of leaf blowers
The power source defines the rest of the properties any leaf blower has. Selecting between gas, electric grid, and batteries is the first step to finding a tool that fits your needs and will last as long as possible.
Electric leaf blowers are definitely the best option for those looking for an environmentally friendly tool since they are carbon-free and have no details to be disposed of over time. The corded equipment requires minimum maintenance and makes relatively little noise. However, they fit mid-sized plots because wires restrict the user's movements.
Handheld gas blowers are considered the most powerful machines, yet there are several controversial points regarding their safety. Firstly, some areas restrict or even forbid using this kind of equipment because of the noise it makes. Gas-powered leaf blowers are the loudest compared to the other 2 types. Secondly, most gas instruments have no pollution control devices. Thus, they can be harmful both to the environment and your health.
Battery-powered leaf blowers seem to be a mixture of 2 previous kinds of machines. As well as corded instruments, they require much less maintenance and make less noise than gas-powered ones. You only need to worry about changing batteries from time to time and disposing of them in the right way. Otherwise, this kind of equipment is no less harmful to nature than a gas-powered one. Running autonomously from the power grid, they allow moving around plots of any size, which is a big advantage over corded leaf blowers. On the other hand, battery-powered machines are considered the least powerful.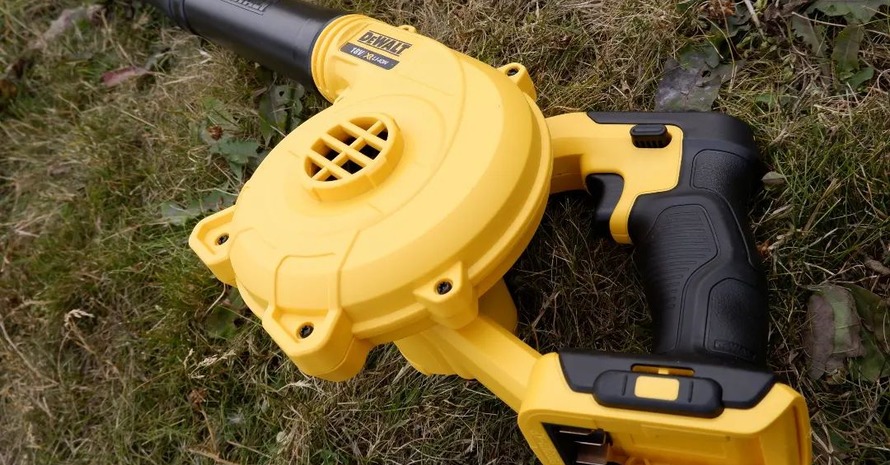 What to consider when choosing the best leaf blower
Airspeed and volume are the essential characteristics you need to know to see if a leaf blower will meet your expectations. Airspeed is measured in miles per hour and refers to the speed the leaves are removed, and air volume means the number of leaves a machine can remove and is measured in cubic feet per meter.
Depending on airspeed, there are 3 types of leaf blowers. 130 MHP is the minimum you need for working. Tools up to 150 MHP provide a similar efficiency level and suit small yards with few trees. Leaf blowers with airspeed from 150 MHP to 170 MHP are designed for mid-sized plots with trees. They are perfect for everyday household use. Professional equipment starts from 170 MHP, and such tools are good for a big landscape job.
200 — 400 CFM is the air volume household leaf blowers usually provide. Tools whose air volume lies between 400 and 700 CFM are intended for sites that are more than an acre. 3,000 CFM is the biggest figure a leaf blower can provide. These instruments belong to professional equipment. Besides removing leaves, you might need it to clear the yard from debris. The bigger this parameter is, the heavier debris it can remove.
Noise level is no less important than the previous properties. We primarily use leaf blowers in residential areas, and the noise they make can easily disturb the neighbors. The noise level a machine produces depends on the type of power it uses. Gas-powered instruments are the loudest because of the engine. Some cities even limit or ban using them. Corded and battery-powered are quieter and allowed in more places.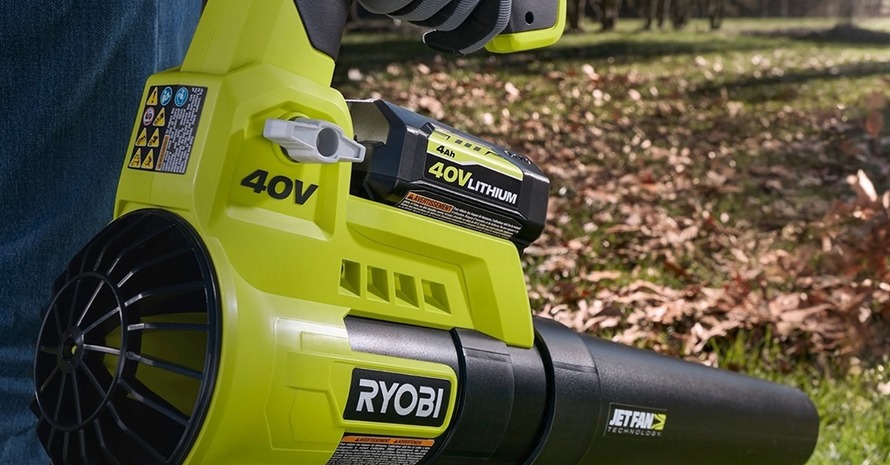 FAQ on Handheld Leaf Blowers
There are some controversial questions and restrictions you need to pay attention to before buying a leaf blower. Here is additional information about using this garden equipment.
Why shouldn't you use a leaf blower?
However nice a clean yard might seem, we interrupt a natural ecosystem by removing leaves. They feed the soil by decomposing, creating "feed" for the trees, and ensuring their growth in the future. Leaves also provide a home for many creatures and help to create a food web, essential for plants in the yard.
Will leaf blowers be banned?
Gas-powered leaf blowers are already banned in more than 100 cities. The reason is the high noise pollution they cause. The noise level can reach 100 dba, almost twice as high as residential areas allow. Other cities allow using gas-powered tools for certain periods of time.
Why are leaf blowers controversial?
There are 3 reasons why leaf blowers cause disputes. Firstly, some kinds, especially gas-powered ones, make more noise than allowed in residential areas, significantly increasing noise pollution. Secondly, gas-powered equipment produces toxic emissions which are challenging to track and control. In addition, removing leaves from the ground damages the soil and makes it susceptible to erosion.
Selecting a Handheld Leaf Blower
The main thing that defines most of the properties of any leaf blower is its power source, and handheld ones are no exception. Gas, corded and battery-powered tools differ in capacity, weight, maintenance, cost, and many other characteristics. Before deciding which instrument seems to be the most profitable, define your needs. For example, I use Husqvarna 125BVx since I need a tool with a big capacity and variable speed, and I also value ergonomic design.
What are your needs and priorities? What kind of tools would suit them? Please share your suggestions.