As an Amazon Associate we earn from commission of qualifying purchases.
Keeping your garden clean and tidy can be challenging. The Brinly yard sweeper can be your reliable assistant in this matter, as you can quickly and efficiently deal with debris, including fallen leaves, branches, grass, and other things that spoil the look of your yard. This tool will save you time and money on on-site maintenance. It is easy to use and requires no exceptional support.
Here you will find a Brinly lawn sweeper review of several brand models to help you keep your area clean. You can also get information about the brand and the advantages of its products.
Affiliate links and images placed from the Amazon Product Advertising API on 2023-09-22
2 Best Brinly Sweepers Models Reviewed
If you're looking for a potent lawn sweeper for your garden, check out these reviews. Perhaps, there you will find the Brinly tool that suits your needs.
1. Brinly 42" Tow-Behind Lawn Sweeper — Top Pick
Affiliate links and images placed from the Amazon Product Advertising API on 2023-09-22
This 20 cubic feet Brinly leaf sweeper can pick up all sorts of debris, including cut grass, twigs, and even pine cones. This Brinly machine has six high-speed brushes. I like that I can get the job done quickly and still operate the device smoothly. It also picks up even the smallest debris, as the brushes have improved surface contact.
This Brinly 42 lawn sweeper will save you tons of time as the waste bin holds 20 cubic feet. You don't have to interrupt your work to empty the trash can many times. I also like to adjust the height using the swivel brush lock and work without any problems, even on uneven surfaces.
With this device, I get less tired as I don't have to pick up trash in a bent position. But the most essential and convenient thing about this tool, in my opinion, is its patented design. This piece is foldable, so it is very convenient to store it. You don't even have to build a separate garage!
To assemble this Brinly vehicle, you will not need much time either. The manufacturer provides clear and straightforward instructions. It helps a lot because the device comes partially assembled, which means you don't have to think for a long time in front of a pile of Brinly lawn sweeper parts.

ADVANTAGES
Easy-to-store;
Powerful;
Capacious basket.
2. Brinly Tow-Behind Sweeper/Dethatcher — Premium Quality
Affiliate links and images placed from the Amazon Product Advertising API on 2023-09-22
This Brinly Tow-Behind Sweeper and Dethatcher (model STS-42BHDK) is also a robust and powerful option. You can quickly and easily sweep and brush your lawn without separating these procedures. The device is easy to move due to the maneuverable tires, which also take the load off. If you're short on storage space, that's not a problem either. The brand makes these machines foldable and convenient for small homes.
The tow-behind lawn sweeper works without interruption, and my expectations were not disappointed. If you have a lawn of about one acre, it will be convenient for you to use. However, if you have flower beds, you will still have to remove foliage and branches from them manually. So you have to clean the flower beds without a sweeper.
This vehicle will not cope with such places as you will not be able to get too close. But it will still save you a lot of time that you would otherwise spend on cleaning the lawn manually.
This Brinly 42 lawn sweeper can also be easily assembled without spending years. You are provided with instructions in which everything is indicated and shown.

ADVANTAGES
Durable;
Easy to store;
Agile.
DRAWBACKS
Not suitable for flower beds.
How to Choose Brinly Tow Behind Lawn Sweeper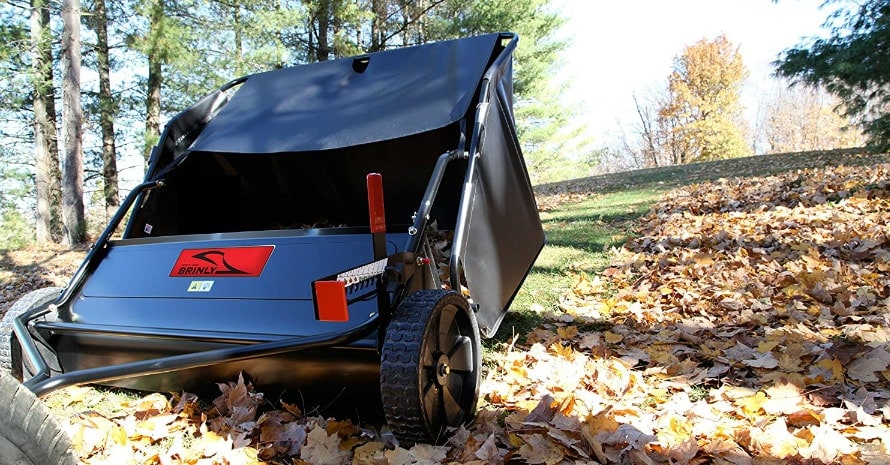 In this section, you get some information about the Brinly brand and everything you need to know about its lawn sweepers.
What is the Brinly lawn sweeper?
Many years of the company's experience have been invested in the creation of each Brinly hardy lawn sweeper. The brand is about 200 years old, and all this time, its products have been manufactured in the USA. Of course, over this time, humanity has moved from the production and use of plows to more complex tools, but the brand's main principle remained the same. Brinly continues to produce high-quality gardening and ground tools.
Why do you need the Brinly lawn sweeper?
Brinly creates reliable and powerful lawn sweepers that are perfect for cleaning your garden. They are suitable for lawns of different sizes depending on the volume of the bag. One of the main advantages of this brand is its patented design. Due to this unique design, the machine can be folded. It's easy to store and doesn't need to be allocated too much space. The sweeper is delivered fully or partially assembled, which is quite convenient. You will also have instructions due to which you can assemble the car quickly and without problems.
How does the Brinly lawn sweeper work?
As the sweeper moves, the turn of the wheels creates the brushes to clean the grass. It eliminates debris or grass cuttings and then throws the material into the bag. Once the container is full, you throw the garbage into the waste bin or heap for disposal.
Brinly Lawn Sweeper FAQ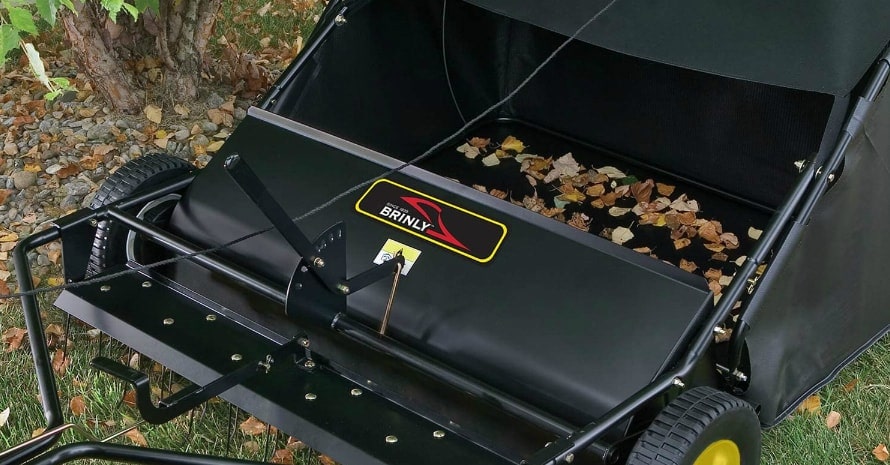 Here I have the answers to the most popular questions about Brinly lawn sweepers. I hope they will help you to choose the best option.
What are the main features of the Brinly lawn sweeper?
The main features of Brinley sweepers include brushes that move at high speed. They also produce high capacity baskets. Users will also love the vertical storage option.
Why is Brinly better than another brands?
The tools of this brand are created with high quality and durability in mind. In addition, these sweepers are very convenient to store as they fold up and have a vertical storage function.
Make Your Lawn Perfect
The Brinly Lawn Sweeper is your reliable lawn care assistant. It will help you make your local area well-groomed and not spend a lot of time on it. My Top Pick is the Brinly 42 inches Tow-Behind Lawn Sweeper (the model STS-427LXH 20) as it is very powerful and easy to use. You don't have to allocate a particular storage space for it. How do you care for your lawn? Do you use a lawn sweeper? Share your thoughts in the comments.