As an Amazon Associate we earn from commission of qualifying purchases.
If you are tired of gathering all the leaves, fallen tree branches, pine needles from the lawn, you may be looking for the Ohio Steel lawn sweeper review. This lawn sweeper is lightweight, potent, and simple in use. Though it has its minor flaws, it does the job well. Ohio Steel sweeper saves your time and money and is pretty reliable. You may decrease the number of hours you work with the rake and broom in your yard.
Pros
Semi-pneumatic wheels of 11 inches
Removes damped leaves easily
Top Pick
Pros
Semi-pneumatic wheels of 11 inches
Premium Pick
Pros
Removes damped leaves easily
Affiliate links and images placed from the Amazon Product Advertising API on 2023-12-08
The American-based company has developed several lawn sweepers since its foundation in 1958. It is important to find the instrument you need the most among them. You may check out all the Ohio lawn sweepers that are available on the market and order the one that is the most beneficial to you. With a proper instrument, you will quickly forget about all the inconveniences that appear during the fall.
2 Best Ohio Steel Lawn Sweepers Reviewed
Here are my two favorites with detailed descriptions that may help you to choose. Make sure that your Ohio Steel industries lawn sweeper answers your demands. Pay attention to the basic features of both models to pick the one your yard needs.
1. Ohio Steel Leaf Sweeper 42" SWP22 — Top Pick
Affiliate links and images placed from the Amazon Product Advertising API on 2023-12-08
Ohio Steel was founded back in 1958. For more than 60 years they have been producing tools from plastic and steel to make the life of a gardener easier. They sell their products around the world. For this particular sweeper, they offer 3 years warranty.
This sweeper comes with a heavy-duty 22 cu ft collector bag and 42 inches sweeping path. This feature allows you to finish the work twice as fast, no matter the territory you have to clean. The spiral brushes, which are a pride of Ohio Steel, patented exclusively by the company, gather more leaves in the bag than any other machine. The spiral brushes are 11 inches, made of polypropylene.
From my experience, the main advantage of this tool is 11-inches wheels that are semi-pneumatic and can deal with any obstacles on their way. Besides, there is a height adjustment with a secure lock that does not slip no matter how hard the sweeper vibrates. This is a real dream for anyone tired from constant bending. You may empty the hopper without leaving the tractor. Just pull the rope.

ADVANTAGES
Exclusive spiral brushes;
Semi-pneumatic wheels of 11 inches;
Hitch pin is in the pack;
High durability;
Affordable price.
DRAWBACKS
This machine works efficiently in dry weather with dry leaves.
2. 50SWP26 Pro — Ohio Steel 50 inch Lawn Sweeper
Affiliate links and images placed from the Amazon Product Advertising API on 2023-12-07
Ohio Steel company had one employee back in 1958. Now they have multiple departments and numerous workers. According to them, this sweeper is the finest product made in the USA. The warranty for the device is 3 years as well. They have attached spiral brushes from polypropylene, made by them exclusively, to this machine.
The sweeping path is 50 inches wide, which significantly cuts the number of steps you have to make around your lawn during its work. It has a 26 cu ft capacity hopper. It may not be sufficient for commercial use, but for the private sector, this is a great tool. The chute is 9 inches, which is extra wide and prevents clogging. The hopper is collapsible, and you can quickly pack everything back and place it into the storage.
There is a 3-position hitch adjustment, which I personally love, as it is suitable for all tractors. This is great news for me, as I hate the necessity to use the spacer rigs, which are so simple to lose. Unlike the previous model I have described, it suits damp grass perfectly due to its anti-clogging chute. Attach it to your tractor and enjoy the ride.

ADVANTAGES
Extra wide chute;
Can be attached to any tractor;
Removes damped leaves easily;
Spiraled brushes;
Well-known company.
DRAWBACKS
The price is slightly more expensive compared to the other model.
Ohio Steel Lawn Sweeper Buyer's Guide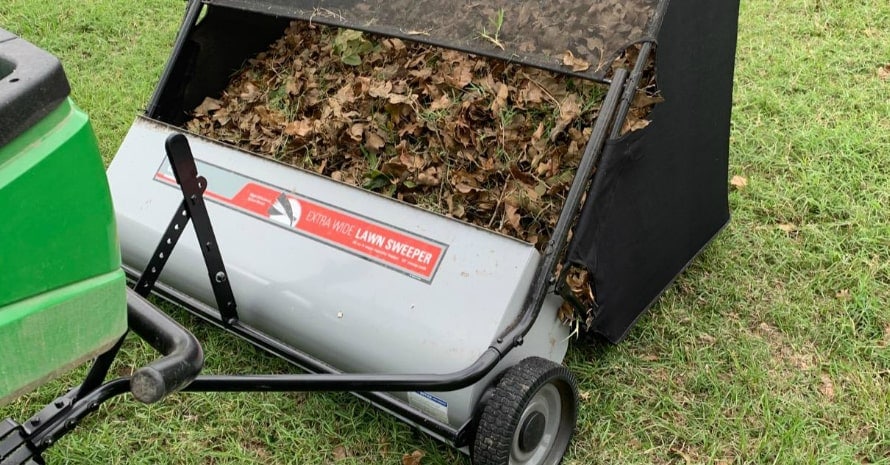 Before you buy an Ohio Lawn sweeper, learn as much as you can about the model you need and the brand itself. Think about the features you need the most and whether a particular lawn sweeper can provide them.
What is Ohio Steel lawn sweeper?
The lawn sweeper made by the Ohio Steel company is well-known around the USA and abroad. Ohio Steel brand does not produce variations of sweepers. They have only a few models. Whether you are looking for the Ohio Steel 42 inch lawn sweeper or the 50-inch machine, you will receive guarantees of quality and exclusive spiral brushes that sweep the lawn more effectively.
Why do you need an Ohio Steel lawn sweeper?
This tool is useful for everyone who has a big lawn and the trees around it. My own gratitude is to the extra-wide brushes that clean the grass from the leaves better, to the Ohio Steel lawn sweeper hopper bag that can be released with one pull, and to the adjustable and strongly fixed height. But you may find your benefits there. With the device, you don't need to hire anyone for lawn and street sweeping.
How does Ohio Steel lawn sweeper work?
This kind of device works really simply. You have to attach the sweeper to the tractor. Make sure that all the locks are secured. After that, just hop into the tractor, and ride across the lawn. Release the bag when it is full. After everything is done, hide the sweeper in the storage.
Ohio Steel Lawn Sweeper FAQ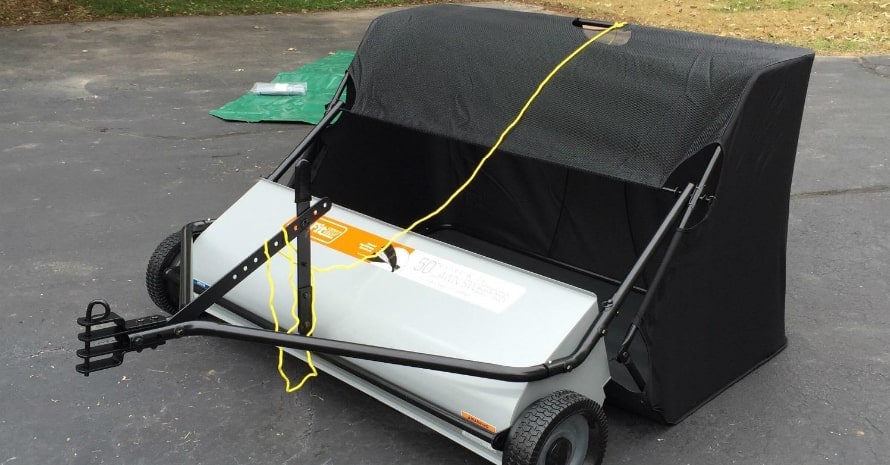 Here is a list of questions about these machines that people ask the most. I hope my answers will be helpful to you.
What are the main features of the Ohio Steel lawn sweeper?
This machine has an extended area of work, so you don't need to go back and forth or rake leaves yourself. No matter the model, you receive a warranty and exclusive spiral brushes that remove more dirt from your lawn in one move.
Why is Ohio Steel better than other brands?
I can't say that I've tried all the brands in the world. I believe that the high durability of the product says for itself.
Will a lawn sweeper pick up apples?
A sweeper does not recognize an apple from a rock, for example. It may push the apple forward, as well as the ball.
Ohio Steel: Best Sweeper Model for Clean Lawn
Both models I've described above have their own advantages and minor disadvantages. Both are affordable. Both of the items can save you from the hard work. If you have ever tried at least one of these models, please share your thoughts in the comments. Which benefits do you enjoy the most? How long have you been using the sweeper? Do you gather leaves or branches from the lawn?