If you notice the signs of rust disease on your lawn, you should undertake the measures to save it as soon as possible. You're not likely to have much time for testing different remedies, so it's essential to adopt the experience of other gardeners. I wrote this brief article to help you choose the best fungicide for lawn rust quickly and learn the most important application principles.
Rust looks like orange powder on the grass. It parasites on the grass and other plants and can even kill them if you don't solve the problem on time. Usually, proper fertilization and shade minimizing prevent it, but I've seen many cases of infestation that couldn't be solved without chemicals. If you're not sure about the size of the problem, the best way is to treat it to prevent spreading.
Pros
1 bag covers up to 5,000 sq. feet
32 oz concentrate (1 bottle) is enough for 2,500 sq. feet
Covers up to 5,000 sq. feet
Top Pick
Pros
1 bag covers up to 5,000 sq. feet
Runner-Up
Pros
32 oz concentrate (1 bottle) is enough for 2,500 sq. feet
Premium Option
Pros
Covers up to 5,000 sq. feet
4 Best Fungicides for Lawn Rust
Below are the most effective lawn rust treatment fungus remedies that I've tested over the years of my gardening experience. Surprisingly, the majority of remedies I tested were ineffective, so only 4 of around 12 products I tried qualified for this listing.
1. Scotts DiseaseEx Lawn Fungicide – Best Lawn Rust Treatment Overall
Scotts is a monster US-based gardening brand with over 150 years of experience on the market. The company has its own scientifical facilities where they test each solution before launching it on the market.
DiseaseEx fungicide is a complex solution that heals grass from 26 types of diseases, including rust fungus on the grass. Due to the loose dry structure of the remedy, you can easily distribute it over the lawn with a rotary, drop, or wizz spreader.
The granules can remain effective for up to 4 weeks, depending on the weather, so you can be sure that fungi are controlled effectively. One 10lb bag is enough to cover 5,000 square feet, which is equal to 2 tennis courts. Your lawn is probably smaller, so one bag will be enough for 2-3 treatments.
---
ADVANTAGES:
Cost-effective solution;
Works with all types of spreaders;
Prevents and fight 26 diseases;
1 bag covers up to 5,000 sq. feet;
Effective up to 4 weeks after 1 spreading;
First effects in 24 hours.
DRAWBACKS:
Hard to distribute without a spreader.
---
2. Spectracide HG-96187 – Best Liquid Fungicide for Lawn Rust
Spectracide is another brand that you've probably heard of, even if you're new to gardening. The company makes professional-grade liquid solutions that are easy to apply with the most basic equipment.
The formula of HG-96187 is focused not only on fungus but also works as a contact pesticide against insects that can potentially damage your lawn. The effect lasts up to 14 days, so I recommend applying it at least 2 times to gain the needed result. The concentration of chemicals in water is safe for pets.
Using the bottle is very convenient as you just have to plug the garden hose into it, unlock the valve and spray Immunox all over the yard.
---
ADVANTAGES:
Easy hose-plug application;
Kills fungi and insects;
Works up to 14 days;
Rainproof composition;
32 oz concentrate (1 bottle) is enough for 2,500 sq. feet;
Fast-acting formula.
---
3. Quali-Pro Propiconazole 14.3 – Powerful Liquid Alternative
Quali-Pro is a Control Solutions Inc. brand that has been in the business since 1958. Quali-Pro is a line of pro-grade products. This Propiconazole 14.3% solution offers a broad specter of action and can eliminate rust on all types of plants, including grass, shrubs, and trees.
The liquid isn't very aggressive but can sustain bad weather up to 12-16 days. This remedy could deserve a higher position for its effectiveness, but it cannot be used without a hose sprayer, so you will have to get one to start.
---
ADVANTAGES:
32 oz (1 bottle) is enough for an average 2,500 sq. feet yard;
Provides quick result;
Can be used for prevention;
Almost odorless;
Cost-effective.
DRAWBACKS:
Hose sprayer not included.
---
4. BioAdvanced 701270A – Great Compact Solution
This remedy is produced by a family-owned SMB Life Science company. Although the company is rather young, it covers the entire US and EU. The concentrate provides basic disease protection from rust, red thread, dollar spot, and some others.
Similar to the Spectracide solution, this one can cover up to 5,000 square feet but remains effective for up to 30 days. It costs a bit more, too, though, but it lets you save some time. The result will appear in a few days, but don't forget to water the lawn after spraying to let the chemicals reach the roots.
---
ADVANTAGES:
Easy-to-use hose sprayer;
Covers up to 5,000 sq. feet;
Effective for up to 30 days;
No mixing required;
Heals the plant from inside.
---
Fungicide for Lawn Rust FAQ
So how do I get rid of rust in my lawn? Well, I apply the remedies following the unique instruction and choose the right time for doing that. Read the facts below to understand the process better.
When should I apply a fungicide to my lawn?
You can apply the remedy as soon as you notice the signs of orange fungus on the grass or use it as a preventive measure from time to time. However, I don't recommend mixing it with fertilizers.
Will lawn rust go away on its own?
The symptoms of lawn rust may go away on their own if you make the conditions unsuitable for spreading. But the spores will remain there until you apply the fungicide.
How do you get rid of rust fungus?
If the infestation isn't severe yet, you can try to stop it from spreading by applying proper fertilization and correcting the watering schedule. If you have an option to let more light on the grass, do it too. If the rust lawn disease doesn't go away and keeps spreading, the only way is to apply one of the remedies from my listing or another trusted source.
Stop it Already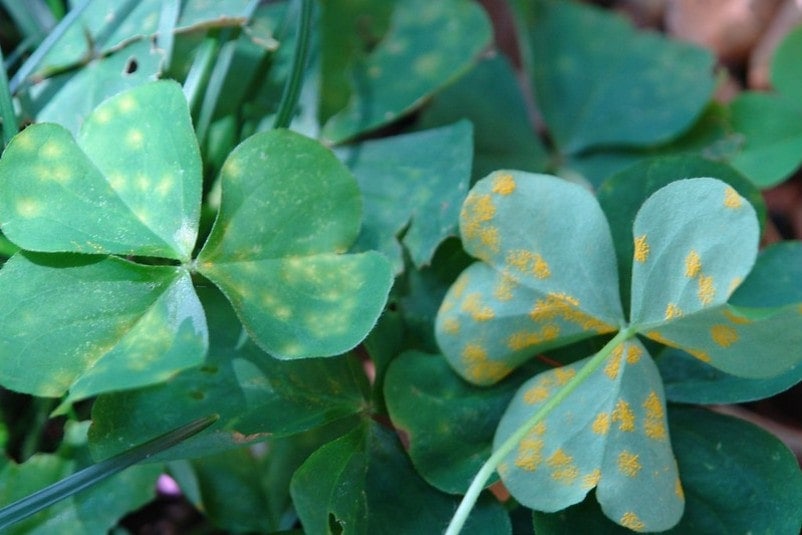 Now that you're ready to fight yard rust, you should also figure out what may have lead to this and other issues. Do you mow your lawn often enough? Does it get enough nutrition from the soil? Do you choose the right time to water it? And is the amount of water you spend right?
Having the answers to these questions, you will have many more chances to avoid the problems in the future. For more useful gardening tips and reviews, keep reading bumpercroptimes.com. I have loads of fresh content on the way! If something's not clear, I will reply in the comments section.
Last update on 2021-10-21. The post includes Affiliate links. Images from Amazon Product Advertising API