As an Amazon Associate we earn from commission of qualifying purchases.
Now that we got the gist of string trimmers in other posts, time to take a look at, well, the "string" element. This part of the device is expandable but if you choose it wisely, the replacements won't be frequent.
I gathered together 4 options to help you find the best trimmer line for edging, trimming, and cutting your lawn. Let's cut to the chase! (No pun.)
Pros
Impressive sharpness and sturdiness
Red coloring makes it easy to keep an eye on the string
Runner-Up
Pros
Impressive sharpness and sturdiness
Premium Choice
Pros
Red coloring makes it easy to keep an eye on the string
Affiliate links and images placed from the Amazon Product Advertising API on 2023-12-07
4 Best String Trimmer Line Reviews
Let me preface this by saying that maintenance is crucial. While every trimming line listed below is pretty durable, you still need to follow precautions to prevent breakage and shortage. Some how-to's and must's include:
Cleaning the device after every trimming session;
Not making the line too rigid (let it slack a little);
Not beating up the line against firm surfaces, even if you know it's strong;
Not balancing the moving parts properly;
Not running your string trimmers at full speed.
1. Titanium Force by Husqvarna — Best Trimmer Line For Edging
Affiliate links and images placed from the Amazon Product Advertising API on 2023-12-07
This round 095-inch line is our household's top pick. We've tried several Husqvarna products before — giving that this famous Swedish brand doesn't mess around when it comes to quality — but this is our favorite by far.
The 140 ft roll lasts forever because A. it's robust and doesn't snap easily and B. it refuses to wear out. You'll be losing maybe a couple of inches of the line per standard edging, all while demolishing thick grass, turf, vines, and any type of long and whiskery weeds that may mess with your edges. The cuts are honestly immaculate and give our lawn the manicured look to die for.
Despite the impressive toughness (you'd think it really is made of titanium steel and not co-polymer) this line has never scratched or chipped our concrete, fences, or lawn decorations. It's also easy to install, doesn't require spooling, and it's not at all noisy, as promised by Husqvarna's design approach.
Titanium Force line fits the majority of weed eaters (with according cutting head gauges). Which we would know since we've hooked every lawn owner we know on it. But yes, it does give an average device a bit of a superpower kick, with a faster and cleaner edging.
ADVANTAGES
Durability and longevity.
Fewer bumps.
Reduced noise.
Rips through basically everything that grows on lawns yet can be delicate enough for edging.
Provides clean cuts.
DRAWBACKS
The free line cutter it comes with is quite generic and not that sharp.
2. Magnum Gatorline by Oregon — Strongest Trimmer Line For Money
Affiliate links and images placed from the Amazon Product Advertising API on 2023-12-07
Square-shaped Magnum Gatorline is a powerful beast that goes full Hulk on your lawn. We'd heard about this somewhat legendary trimmer line before, but seeing it in action, as my colleague cut down a shrub with it, was another story. So we got ourselves the whole 685-feet 3-pound donut of 095-inch goodness.
It's made of polymer and doesn't have a strengthened inner core; however, aramid fibers of the outer shell make it really, really durable. This coating is also heat-resistant, withstanding up to 300°F, which adds to the string's toughness.
Gatorline performs better with tougher stuff, which makes this trimmer line great for edging overgrown lawn borders or creating clean new edges in thicker vegetation. Careful with milder, softer grass, however, as it can maul it in a heartbeat. It can also be noisy, albeit not as loud as the majority of nylon trimmer lines out there.
ADVANTAGES
Impressive sharpness and sturdiness.
Good flexibility.
Doesn't weld.
Enormous supply in a single donut for a great price.
DRAWBACKS
May be noisy.
Can be damaging for softer grass.
3. Desert Extrusion by Cyclone — Best Trimmer Line For Heavy Weeds
Affiliate links and images placed from the Amazon Product Advertising API on 2023-12-07
This 315-pound donut of a co-polymer string is labeled as a tool for professionals, but you absolutely can use it for non-commercial trimming and edging. It is 115 inches thick, which makes it a heavy-duty trimmer line.
I've used it while helping a relative to renew a pretty overgrown garden and Desert Extrusion was sliding through crowfoots, broad leaves of signalgrass, and young trees as if through butter. It also operates fast, giving crisp results in shorter work time. I assume the patented six-sided shape is the reason.
ADVANTAGES
Can handle not just thicker grass but tougher shrubs and branches too.
Durable.
Cuts really clean really fast.
Red coloring makes it easy to keep an eye on the string.
DRAWBACKS
Is quite stiff and thus can be tricky to load up.
Noisy.
4. Maxi Edge by Arnold — Best 095 String Trimmer Line For Small Yards
Affiliate links and images placed from the Amazon Product Advertising API on 2023-12-07
If you don't have acres of complicated landscaping, your compact lawn will love this light yet very capable trimmer line. A 095-inch trimmer line size is within the range recommended for medium-heavy lawn work, and the nylon material is gentle with shorter, softer grass.
Its star-shaped cross-section smoothly glides through grass and weeds, leaving sharp edges and pleasingly even lines. With that being said, if your yard is drastically overgrown and has a thicker vegetation problem, Maxi Edge will struggle. But this is the string trimmer line alternative perfect for regular maintenance, edging, and trimming, and provides a stress-free experience.
ADVANTAGES
5-7 refills in a donut.
Sturdy and sharp.
Provides clear cuts.
Doesn't tangle.
Reasonable price range.
DRAWBACKS
Can break against thick heavy vegetation or hard obstacles.
Best Lines For Edging: Buyer's guide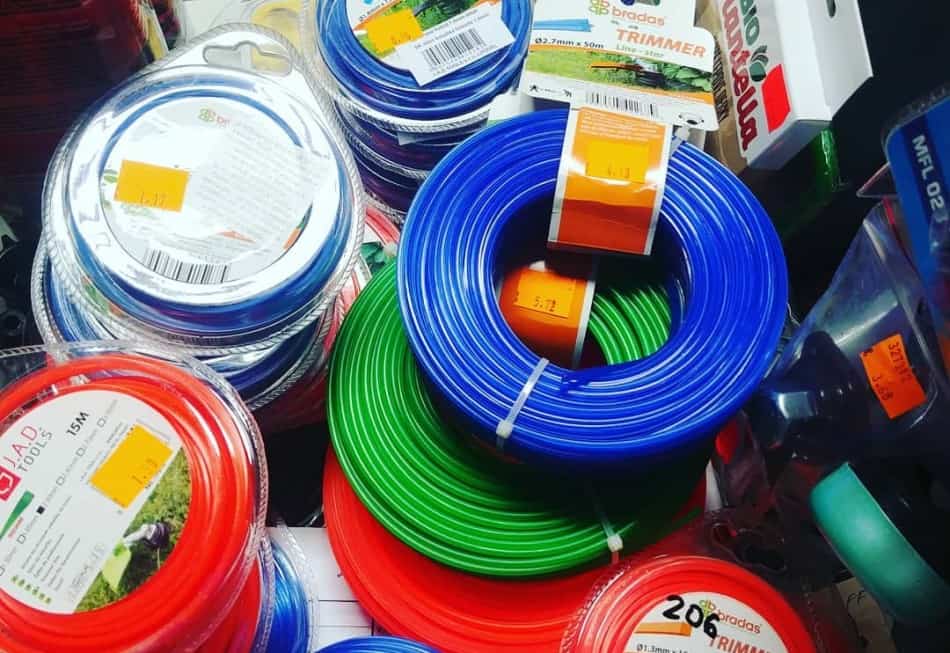 Check the basics for a better understanding of the trimmer line world.
Types of trimmer lines by cross-section shape
Round (oval) — a standard, most common classic. Typically less prone to breakage;
Multi-sided (triangle, square, star-shaped, 5-, 6-, and 7-pointed/bladed) — are made to be sharper, for medium-heavy and heavy work. Can have different outer shell shapes:

Serrated — has little peaks akin to a bread knife that make the line grab and tug the grass.
Twisted — a bit tamer but still have enough edges to slice with.
Material types
The absolute majority of trimmer lines on the market are made from plastic, nylon, vinyl, and polymers. It's the strengthening materials and methods that do the trick. This includes:
Pulverizer titanium;
Aluminum particles;
Aramid filaments;
Monofilament wire.
A trimmer line can be reinforced either by coating or from the inside.
Diameter guide
0.065″ — 0.085″ for light-medium work (light edging, trimming, and cutting regular lawn grass.)
0.085″ — 0.110″ for medium-heavy work (longer and thicker grass, smaller weeds.)
0.110″ and thicker for heavy work (very long and thick grass, all weeds, shrubs, and other types of tough vegetation.)
Trimmer compatibility and string installation methods
Every string trimmer, be it electric or gas-powered, has a manual that specifies the cutting head's dimensions. This makes it easier to find a compatible line for a replacement. The common installation methods are:
Manual restringing. You get springs either pre-cut or in bulk and wrap them around the spool yourself before placing it into the trimmer. Buying bulk for pre-winding may save you money but certainly not time.
Installing a pre-wound string. You buy a strimmer line already wrapped around the replacement spool. All you have to do is install it following your trimmer's manual (which is usually a few easy steps.)
FAQ on String Trimmer Lines

What is the best trimmer line to use?
Invest in well-known manufacturers like Husqvarna, Arnold, or Oregon. Experimenting with off-brand trimmer lines will give you nothing but headache, uneven edges, and clogged trimmer. Also, choose pre-wound spools for quicker replacement. Store several line shapes and sizes for different types of edging and cutting — even though some lines, just like our top pick from today, can deal with multiple challenges.
What trimmer line do professionals use?
Mostly thick, armored lines labeled as "Commercial." The majority can be purchased through regular retailers and are used by residents (see our reviews above.)
Is square trimmer line better than round?
Square lines are designed to be more aggressive against thicker vegetation. However, that doesn't mean they will always surpass round ones. A higher-quality round trimmer line can be just as effective.
Bottom Line
Before making your trimmer line pick, analyze the workload to determine which brand, type, shape, and size you need to get. Don't forget to check its compatibility with your string trimmer's head.
Which string trimmer brands are your favorite? Do you have any breakage-proof lifehacks? Share below.