As an Amazon Associate we earn from commission of qualifying purchases.
A prim and proper landscape can turn punk easily if you let its edges overgrow. Today let's find out how to edge a lawn with a string trimmer — one of the most ergonomic devices for the task. We'll start with some trivia and move to the basics of keeping your green oasis harmonious and crisp using a classic "weed-eater." Also, I prepared a little "How to use a string trimmer" guide based on the method we ourselves prefer.
What is a string trimmer?
Stringer trimmer (or strimmer/weed-eater) is a type of grass edge cutter. The cutting element is a flexible plastic string (line) that rotates at different speeds. Modern trimmers are powered by either electricity (with both cord and cordless options) or gas. Your average weed eater is a compact, low-power, lightweight device created in good ole's scythe image.
Lawn Edger vs String Trimmer: Is There a Difference?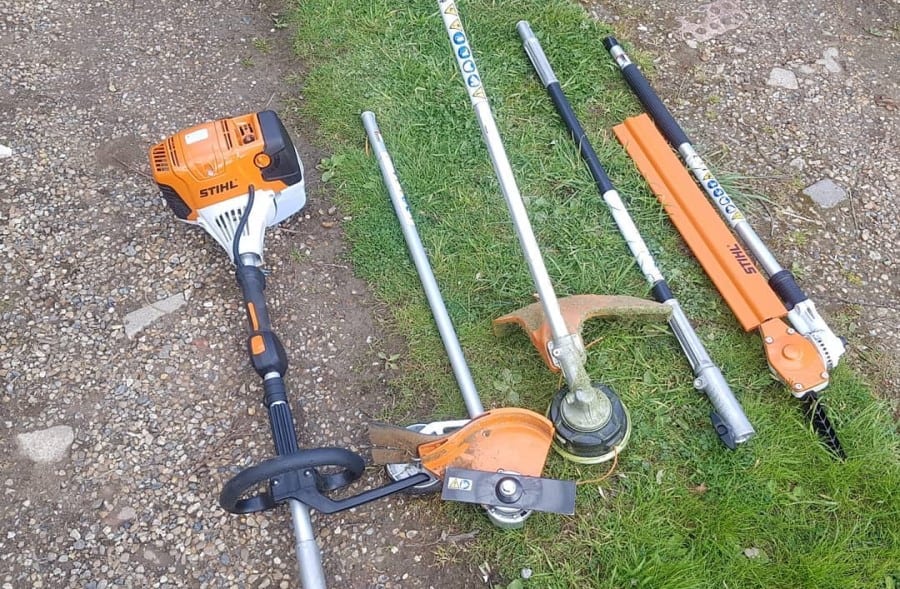 Strictly speaking, they are cousins, providing your lawn with crisp border lines. But lawn edgers are heavier than trimmers and have a spinning blade made of steel for a cutting element. That means more brutal force while cutting through long heavy grass, turf, and branches. Thanks to this, lawn edgers are better for creating the initial boundary lines and angles.
However, string trimmers do a better job of maintaining the edges. Whenever newborn weeds start blurring the borders and the lawn begins to look shabbier, strimmers provide a neat touch-up.
String trimmers are also better against bumpy or firm terrain. Their cutting line, made with abrasion resistance in mind, can withstand most types of hard or uneven surfaces.
Finally, string trimmers can reach areas most of the lawn edgers can't. By adjusting the angles of the rod, you can get to the grass, small branches, and twigs in hard-to-reach places: in narrow areas and slopes, around the trees & flower beds, across the fences, etc. If you have an elevated lawn, a string trimmer will help neatly pluck the stubborn zones.
Edging Guide for String Trimmer: Step-by-Step
STEP 1: Turn the device on and lower it 1 inch above the ground — but no further.
STEP 2: Position the trimmer at a slight 90-degree-angle, holding the shaft at the shoulder level of your non-dominant arm. Do not press it against your body: use your non-dominant arm to prop the shaft up.
STEP 3: Start moving along the edge, keeping the string vertical. If there's an obstacle, making a scything motion helps. If you need to taper an edge, maintain a 45-degree-angle. Do not rush, don't swing the device abruptly, and keep a steady pace.
Clean the area beforehand, removing as much debris as possible.
Make sure the string is attached properly, there's no fuel leakage (for gas-engine edge grass trimmers,) and the device isn't blocked with debris.
Put on long pants, sturdy footwear, and goggles. Avoid loose clothing. Remove all jewelry.
FAQ on Edging a Lawn

Can you edge with a string trimmer?
Yes. But be careful with overhanging grass and tangled weed. Opt for the lawn edge trimmers with thicker cutting strings.
Is it OK to hang string trimmer vertically?
Yes. Just make sure to keep the cutting element down.
How can I edge my lawn without an edger?
Use grass shears, a scythe, or "stab out" a line with a shovel. To prevent grass from growing over the edge, put plastic, metal, or brick borders along the perimeter.
What is the best way to edge a lawn?
Combining tools yields the best results. Equip yourself with a lawn edger, a string trimmer, and grass shears for a go-to edging arsenal.
Edging With A String Trimmer: Price Guide and Bottom Line
The price range for string trimmers varies quite widely. You can grab a corded model for about $30 and a cordless one for $500 or more. Most marketplaces also offer $200-ish hybrid models where you replace the string head with the bladed one, turning it into a lawn edger or even a bush cutter. This is a good way to resolve the whole edger vs trimmer dilemma
So what to choose? My advice: invest in a rechargeable cordless string trimmer with a 40-56 volt battery. It can be as powerful as the majority of gas trimmers minus the whole fuel shenanigans. Also, don't forget that straight edges take practice. Even the most expensive lawn trimmer can't make them perfect on a whim — but your patience can.
Are you a fan of edging grass with a trimmer? What do you use to trim your lawn borders? Do you have any tips for rookies on how to use an edge trimmer or a cutter? Drop your tips, life hacks, and recommendations below!