As an Amazon Associate we earn from commission of qualifying purchases.
Okay, you've got a lawn mower—a great machine to cut the grass on your lawns and other large clean areas. You have appreciated its electric power and handiness. But, alas, it's too awkward or just unable to fit in in smaller areas and thus useless. That's why you may want the best corded electric string trimmer for these. It's an especially great choice if the area is not too large or distant so that you can go with an extension cord rather than fiddle around with batteries. So, let's see what's in store.
Pros
Great for full care of small areas.
Replaceable attachments supported.
Top Pick
Pros
Great for full care of small areas.
Runner-Up
Pros
Replaceable attachments supported.
Affiliate links and images placed from the Amazon Product Advertising API on 2022-11-21
4 Best Corded Electric String Trimmers Reviewed
It's quite a specific sort of device, with string-made blades, so the selection is not as enormous (though this market is large enough to research). Still, if you want the best corded weed eater for your property, you should see what areas you're going to apply it to. Is it large or small? Plain or curvy? Are there flower beds, trees, other objects you'd like to leave undamaged? Have a look at these corded weed trimmer reviews before choosing.
1. BLACK+DECKER 3-in-1 String Trimmer/Edger & Lawn Mower: My Top Pick
Affiliate links and images placed from the Amazon Product Advertising API on 2022-11-21
One by a famous American manufacturer looks like a small lawn mower, and it can be used as one. However, its modular structure allows for removing the wheeled deck and using the 12" trimmer on the handle. You can also use it to edge the grass near paths and alleys; to switch modes, you just need to rotate the trimmer to put it vertically.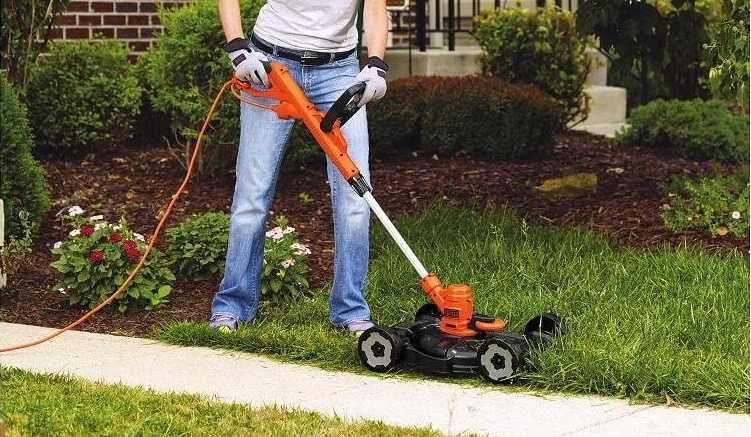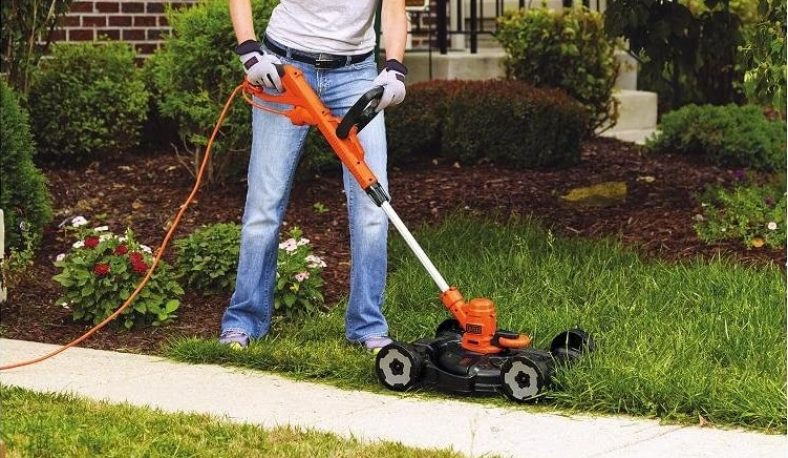 It may be even more comfortable than having a full-size lawnmower machine. It feels lightweight and easy to operate, and under $100. This comfort only feels on small areas, though. You would gladly exchange the lightness for productivity and cut the cord for a powerful battery or a gas engine for large lawns.
ADVANTAGES
Multifunctional;
Great for full care of small areas;
Easy to switch modes;
Lightweight;
Reasonable price.
DRAWBACKS
Not so great as a lawn mower;
Narrow cutting path;
Only makes sense for small lawns.
2. Greenworks 21142 Trimmer: The Runner-Up
Affiliate links and images placed from the Amazon Product Advertising API on 2022-11-21
If you do not need that extra functionality and just want the best corded string trimmer for yourself, consider this one by a fresh American vendor. Its 18" cutting path lets you process the area quicker. Also, with its 10 Amp motor, it's the most powerful electric weed eater reviewed here. It matters if you trim your grass after a long absence when it has grown thick and high.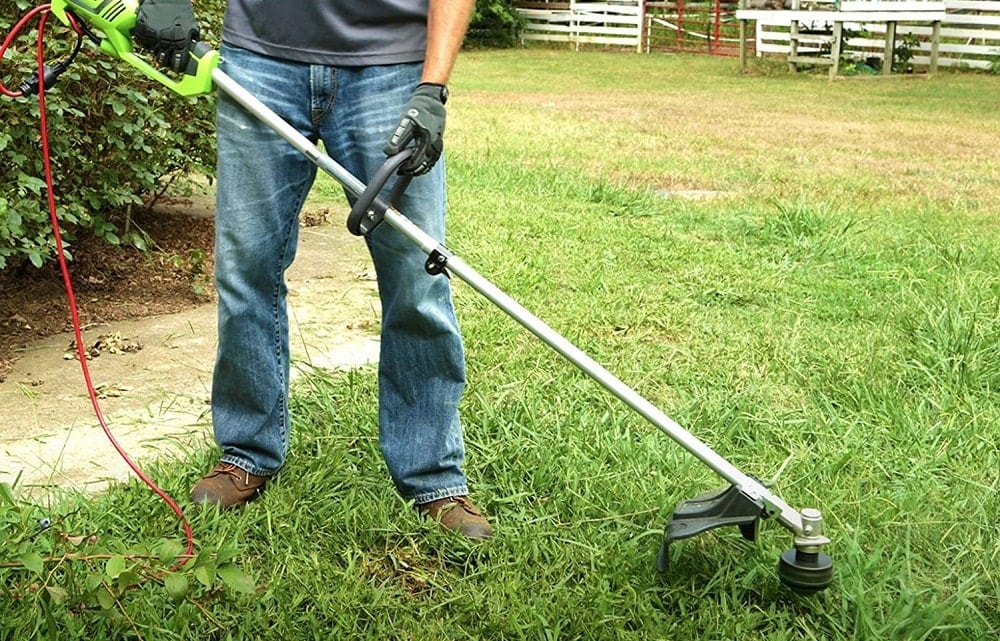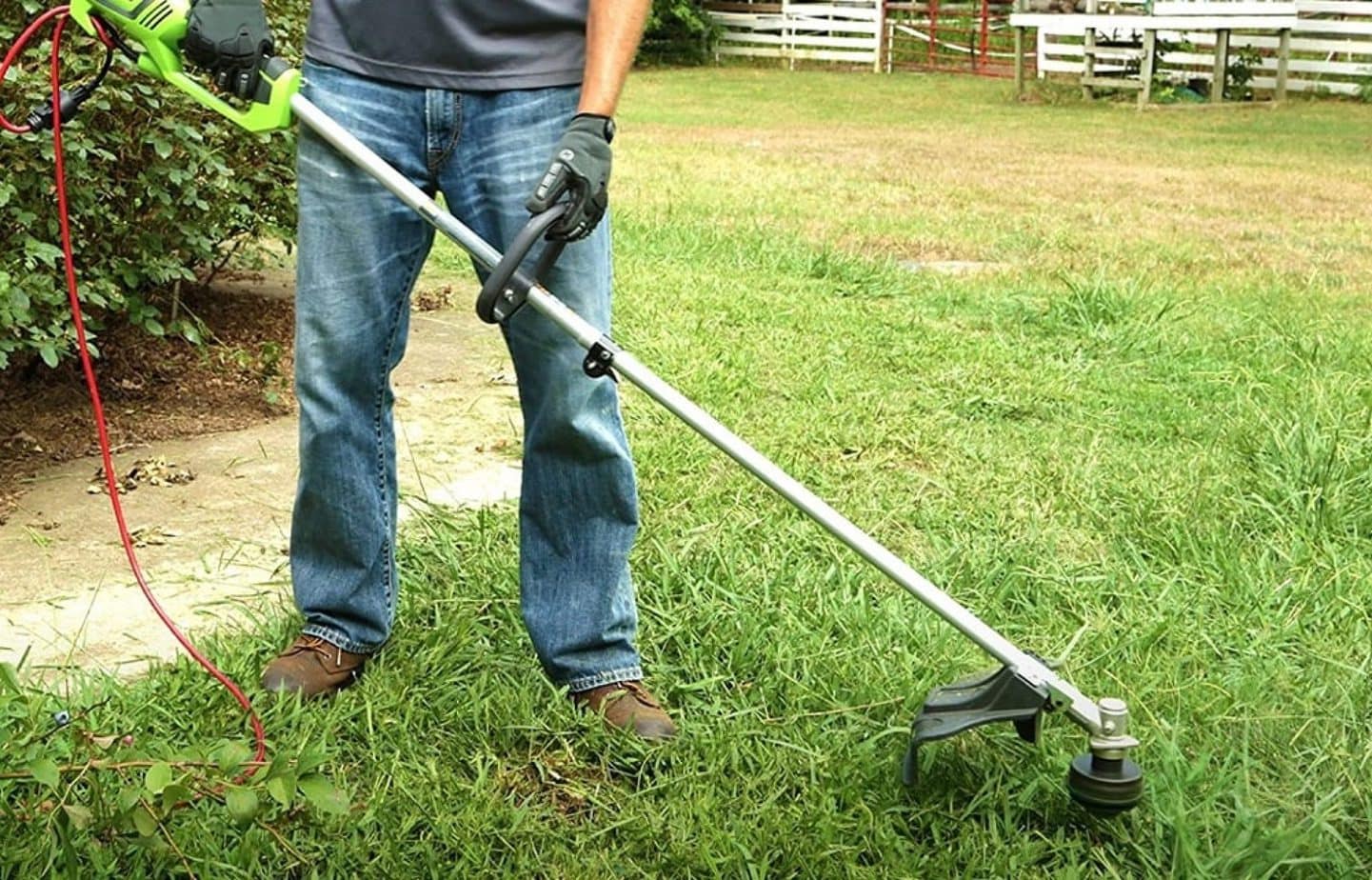 You can also change attachments for other uses – use it like an edger, a cultivator, a disc blower, even a pole saw! It's compatible with attachments by Greenworks as well as by other vendors. Its regular price, though, is slightly above $100, unless you find a discount.
ADVANTAGES
Powerful motor;
Wide cutting path;
Replaceable attachments supported;
Comfortable grip.
3. Toro 51480 Electric Trimmer: The Budget Pick
Affiliate links and images placed from the Amazon Product Advertising API on 2022-11-21
Founded in 1914, Toro has been providing lawn and garden tools for over a century. As for this particular trimmer, it's the lightest in this selection, at just 6.3 lbs, though due to balancing, it may feel heavy. This size reduction had its cons. The cutting path is just 14" (though still wider than the 3-in-1 by Black+Decker). The motor is just 5 amps. The price of this is, though, just under $60.
Yet if you need it for an extra small area (size of a living room or a bit larger), this budget corded grass trimmer definitely pays out. A more powerful device would have been overkill. If you have used something bigger before, though, you'll have to use this one with extra care. An extra effort may kill it. And… as it's less powerful, you'll have to apply it more often, not to let the weeds grow out of control. Otherwise, you might end up fixing the string constantly.
ADVANTAGES
Ergonomic build;
Functions as a trimmer and an edger;
Affordable;
Power saving motor;
Great for small areas.
DRAWBACKS
The engine is only 5 Amp;
Requires frequent cutting;
May feel heavy.
4. CRAFTSMAN CMESTE920: The Best Balanced Trimmer
Affiliate links and images placed from the Amazon Product Advertising API on 2022-11-21
Anh here comes another American vendor with a long history and an excellent reputation. This corded weed wacker lies somewhere in between, so if you want a balanced solution that is good for small and medium areas, take a look. While its cutting path is the same 14", the motor is a bit more powerful so that you can cut thicker grass with it. It can be used as an edger too, with a turn of the string blade.
It's just a little more expensive than our budget pick, at just under $70. A typical Craftsman design looks and feels solid and sturdy, with its handle being telescopic.
ADVANTAGES
Easy to operate;
More powerful motor;
Trimmer and edger functionality;
Reasonable price;
Craftsman's style and build.
DRAWBACKS
Not made for large areas;
May fail if the grass has grown too heavy.
Electric String Trimmers: Buyer's Guide
Even after reading these corded electric string trimmer reviews, you may feel some questions are left unanswered. Here are more specific answers you might crave for.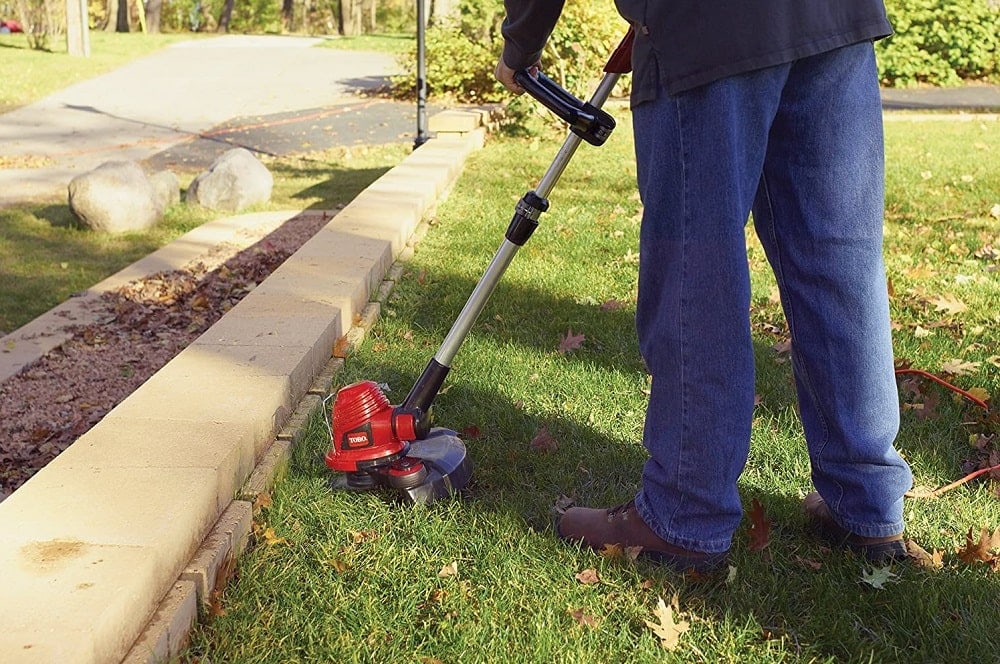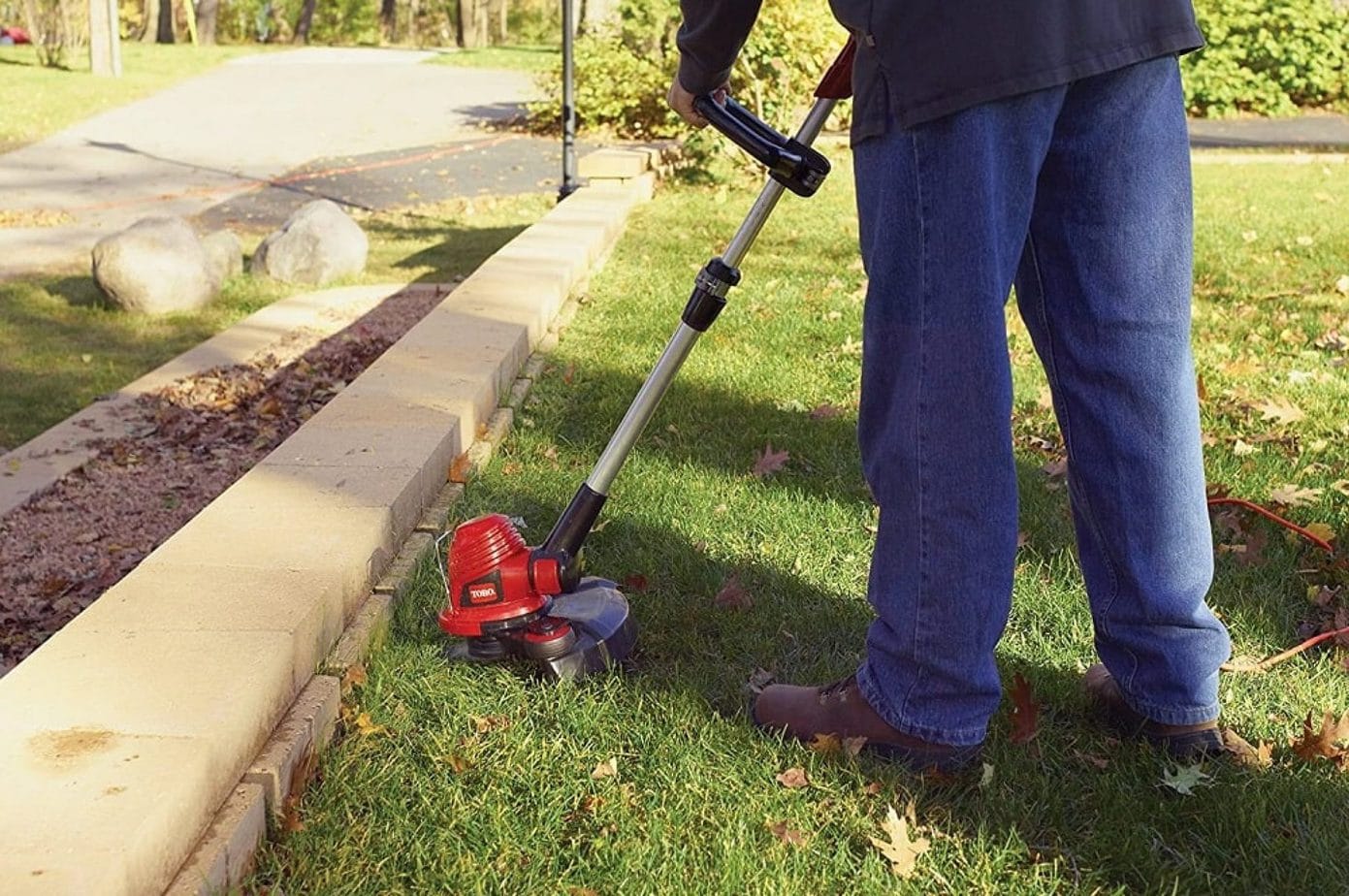 Why corded?
Corded trimmers are greater for smaller areas, as they make the device lighter, as no battery is required. Scientists prove they perform with their strings as greatly as their analogs with metal blades.
Things to consider before buying corded electric string trimmer
Property size. Even the best corded electric string trimmer will not be the optimal choice for large areas where you'd rather go with a cordless electric or even a gas-powered device.
Outdoor power outlets. Having them will be great assistance; otherwise, you will need a really, really long extension cord. You may even think of installing some extra outdoor sockets where you might feel the need to, say, charge your laptop while working outdoors.
Unit power. The more powerful it is, the heavier weed it can cut. If you're not the type of trimming your grass daily, it matters.
Weight. The lighter – the better? Not necessary. Good balance is just as important, and a heavier trimmer will usually be a more powerful one.
Cutting width. The larger area it cuts at the moment, the faster it does the job. Wider cutting, though, requires a more powerful motor, with higher power consumption.
Trimming height. The more options you have, the better.
FAQ on Electric String Trimmers
Here are frequent questions on what you always wanted to know about electric trimmers but were afraid to ask.
Is a straight shaft or a curved shaft better?
They are better each for their missions. Curved shaft models are usually lighter and easier to handle, while straight shaft makes it longer, more powerful, and easier to reach narrow areas with. Having both may be too much, so choose which is more important.
Can I use a corded electric string trimmer on wet grass?
Electrically, it's quite safe unless the coating of the power cord is damaged. So you better check it before you start… or delay the procedure until the grass dries. It's recommended as well because wet grass gives a harder job to the cutter. The grass clogging can even damage the engine with it. So – yes, you can, but you'd rather not. However, if you have to raise the trimmer height to reduce the cut grass volume and follow OSHA's safety guidelines anyway.
Can I use a string trimmer to mow the lawn?
In theory, yes, you can. There are even some models that look like lawnmowers (the first one reviewed). But you need to know that it's usually less powerful than a lawnmower machine. Besides, it does not have a container for the mowed grass, so you will have to remove it manually later. For small areas, they may make sense, but it's better to have both for larger ones.
To Cut the High Grass Low
All these corded trimmers here are made for small areas, not far from your home and near a power outlet – that's what you should remember before buying one. For large plain areas, you better get a lawnmower machine. For large curvy ones, a battery – or gas-powered one will function much better.
And which is your experience with corded electric trimmers? Which one would you recommend? What tricks have you tried, or maybe invented, to trim the grass better? Let us know in the comments, or share it on Facebook or Twitter to discuss with your friends.