As an Amazon Associate we earn from commission of qualifying purchases.
Fans of perfectly tidy lawns, for sure, cannot imagine their life without string trimmers. They can tackle grass and weeds in hard-to-reach places, which a wheeled lawnmower will never crawl through, like near bushes, trees, fences, walls, footpaths, and more. They can help keep your yard unrivaled. If you also belong to such gardeners, this article is for you.
I have reviewed seven best string trimmer models with different specs so that every reader can find the tool that suits them. And to make it easier for you to choose the perfect device, I have compiled a small guide that contains basic information about these trimmers.
Pros
You can change the speed.
Best Cordless String Trimmer
Pros
You can change the speed.
Affiliate links and images placed from the Amazon Product Advertising API on 2023-12-07
7 Best String Trimmers Reviewed
String weed eaters are designed to remove grass in tight areas, trim yard edges, and be used as a finisher after basic lawn mowing. Read my string trimmer comparison and review to find the model that's ideal for your needs.
1. Best String Trimmer Overall: DEWALT DCST925M1
Affiliate links and images placed from the Amazon Product Advertising API on 2023-12-07
I think this model is the best in many ways. Like all DEWALT tools, it has excellent build quality, making it really durable. It is equipped with a maximum 20V 4.0Ah battery, which is enough for quite a long time. It is generally accepted that cordless tools are less powerful than gas ones. This device can't handle very thick weeds, but it's powerful enough so that I have used it quite effectively as an edger.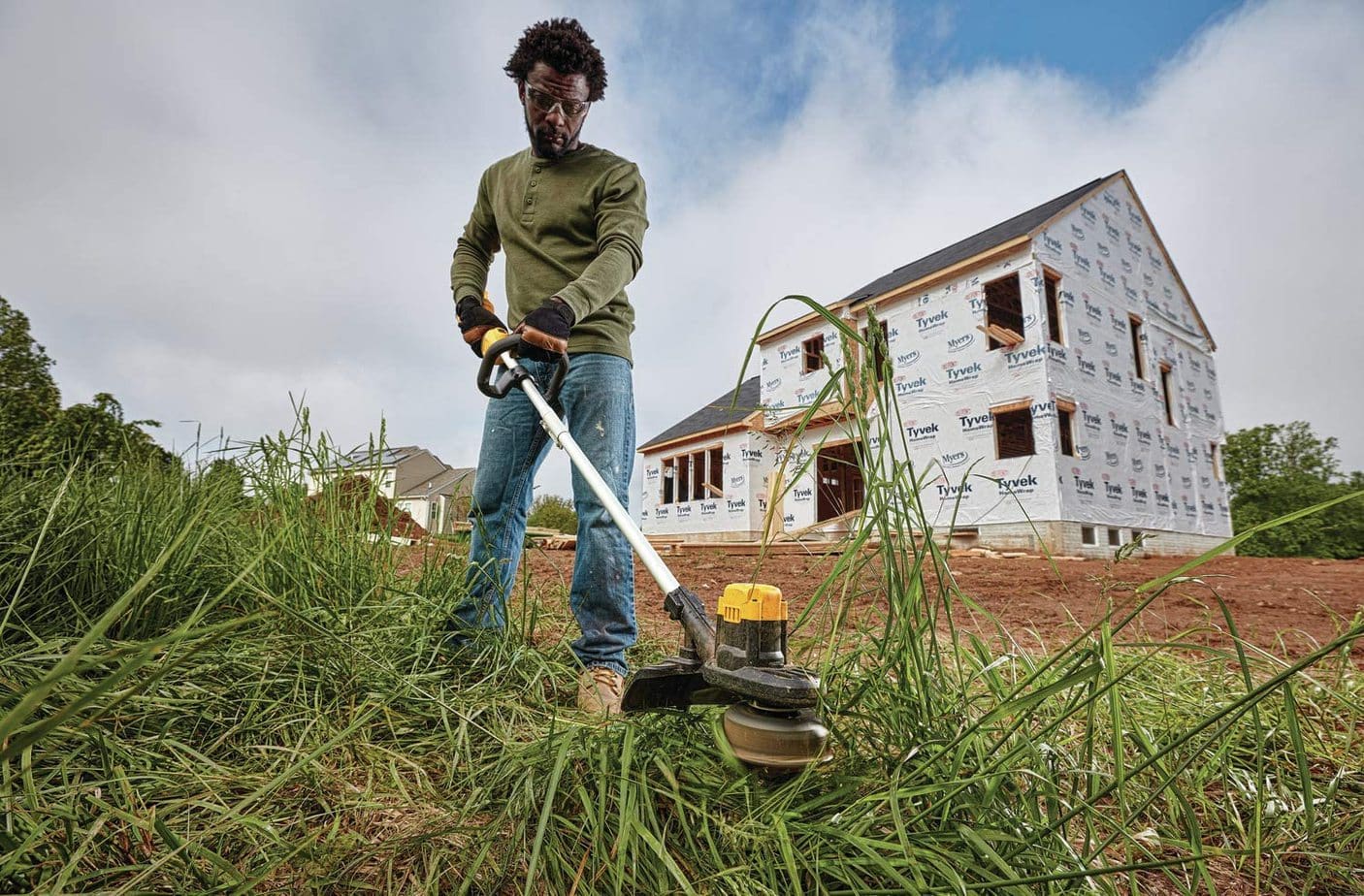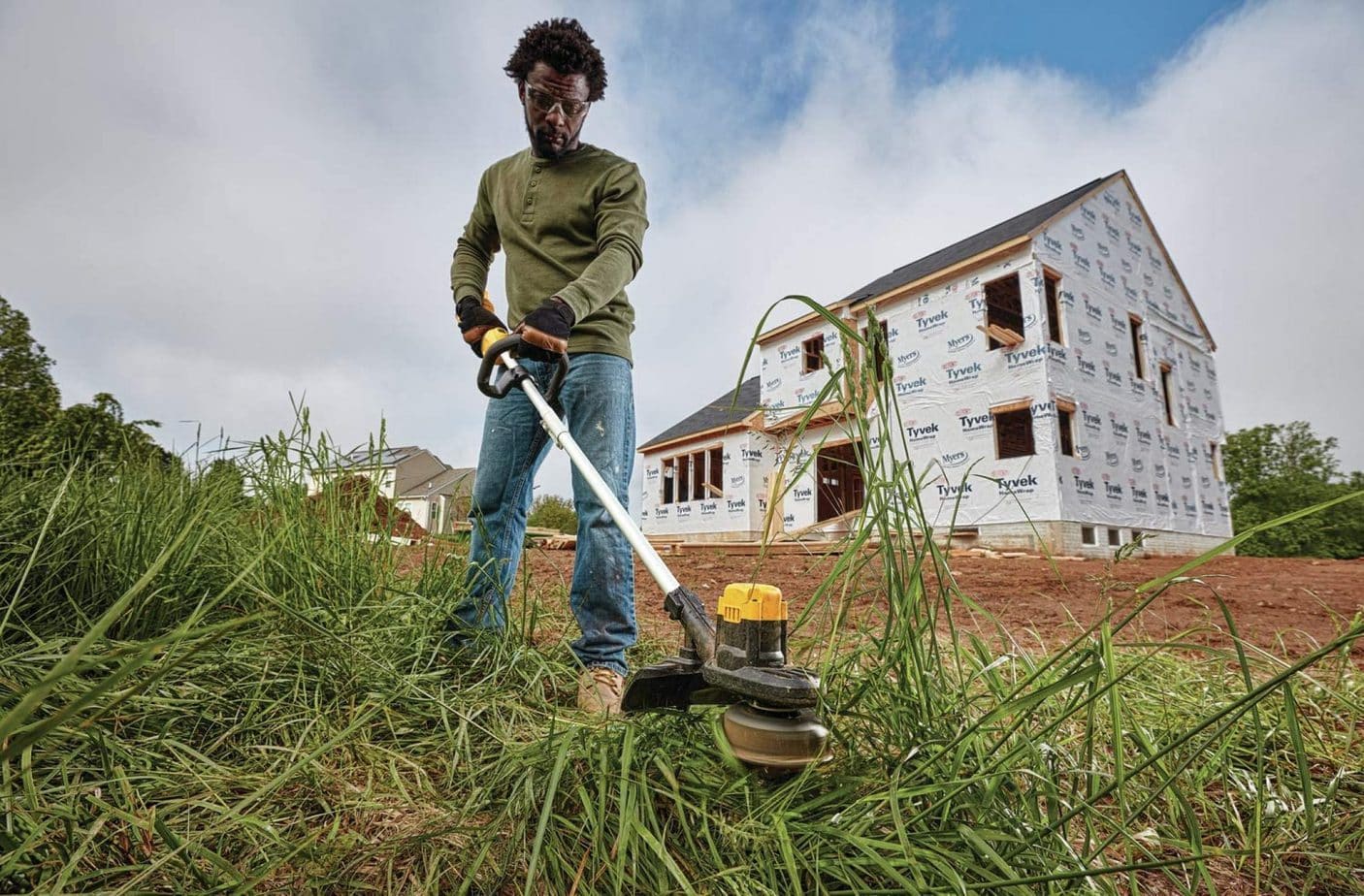 The swath is 13 inches in diameter, and an installed line is 0.080 inches thick. There is a speed switch here, and depending on the work to be done, you can change it from 5300 to 6300RPM. It's not the most lightweight model on my list, but it's not the heaviest one either, with the weight of 11.38 pounds (including the battery). I find it quite well-balanced, and perhaps the only drawback is an insufficiently wide guard.
ADVANTAGES
Has a reliable build;
Long battery life;
Adjustable speed;
Easy to use and maintain;
Excellent value for money.
2. Best Gas String Trimmer: Poulan Pro PR28SD
No products found.
As I have already mentioned, gas string trimmer models are considered more powerful, and it is indeed the case. I think that Poulan Pro PR28SD is excellent for professional use or large-scale tasks due to its technical characteristics. Its two-stroke 28cc engine is capable of a speed of about 8000RPM. A swath is wider than most other devices at 17 inches, and a line is 0.095 inches thick. The big advantage of this product is that it is a "multitool", that is, you can buy additional attachments and use them, for example, for pruning trees.
The more powerful a device, the greater its weight, which is true with this 14-pound tool. Since it is on the heavy side, assess your own strength correctly before buying it. This trimmer is relatively inexpensive, but you need to know how to care for gas models properly and make fuel mix. It is also quite loud, so I recommend checking local noise acts before ordering this item.
ADVANTAGES
Powerful;
Wide swath;
Inexpensive;
Suitable for professional use.
3. Best Cordless String Trimmer: RYOBI 40-Volt Trimmer
Affiliate links and images placed from the Amazon Product Advertising API on 2023-12-07
This model is another multitool on my list. You can attach a head from any other RYOBI garden tool to it. Also, I like that you can change a swath diameter from 13 to 15 inches, depending on your needs. It makes this trimmer even more versatile. The line used here is 0.08 inches thick. The device is powered by a 40V 4.0Ah battery and is comparable in power to some corded and gas-powered instruments.
Despite its rather heavyweight (13.37 pounds), the trimmer is well-balanced. And thanks to a padded grip, which can be adjusted to your preferred height, it can be used fatigue-free for long periods. You can also change the speed of rotation of cutting elements. I liked that despite the impressive power, the tool barely vibrates and makes little noise. However, I think this tool is more suitable for private use than for professionals.
ADVANTAGES
Adjustable swath width;
Easy-to-replace line;
You can change the speed;
Handles thick weeds effectively.
4. Best Electric String Trimmer: WORX WG163
Affiliate links and images placed from the Amazon Product Advertising API on 2023-12-07
WORX WG163 proves that a battery-powered tool can be both inexpensive and useful in many gardening tasks. When you buy it, you get a trimmer that turns into an edger with a simple movement of its head. It comes with two 20V 2.0Ah batteries and a charger. However, the charging time is quite long (it takes about 5 hours to recharge it). Its motor is powerful enough to accelerate to 7600RPM. Despite the relatively high number of revolutions, I practically did not feel any vibrations.
A swath is 12 inches wide, and a line is 0.065 inches thick. While these specs are somewhat smaller than other products, they are still sufficient for quality care for medium-sized lawns. It is one of the most lightweight models on my list. It weighs only 5.3 pounds with one battery. I felt comfortable working with this tool thanks to a convenient front handle, the tilt of which you can adjust.
ADVANTAGES
Extra lightweight;
Easily converts to an edger;
Adjustable handle;
2 batteries included;
Inexpensive.
DRAWBACKS
Takes a long time to recharge.
5. Best Corded Electric String Trimmer: BLACK + DECKER MTE912
Affiliate links and images placed from the Amazon Product Advertising API on 2023-12-07
This model is a great option for small lawn owners. In my opinion, such a transformer tool will significantly facilitate gardening, especially for those who cannot carry heavy things. From a wheeled lawnmower, the device turns into a trimmer and then into an edger. Everything is done so that you can keep your yard neat and tidy. Despite its versatility, this product has a budget-friendly price tag.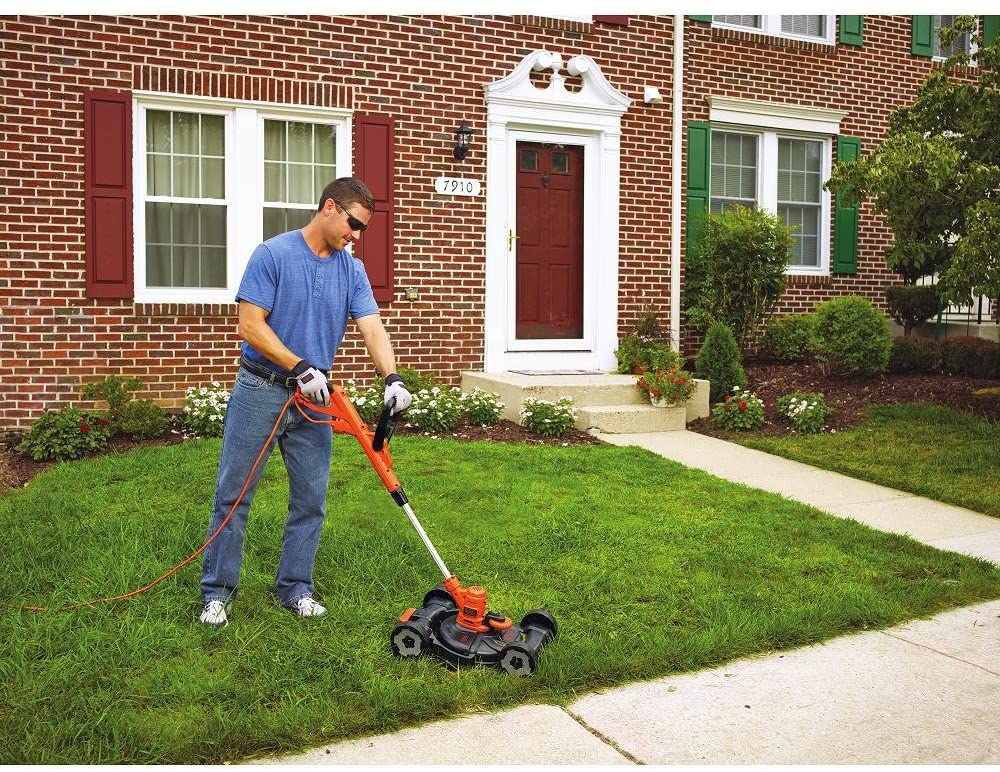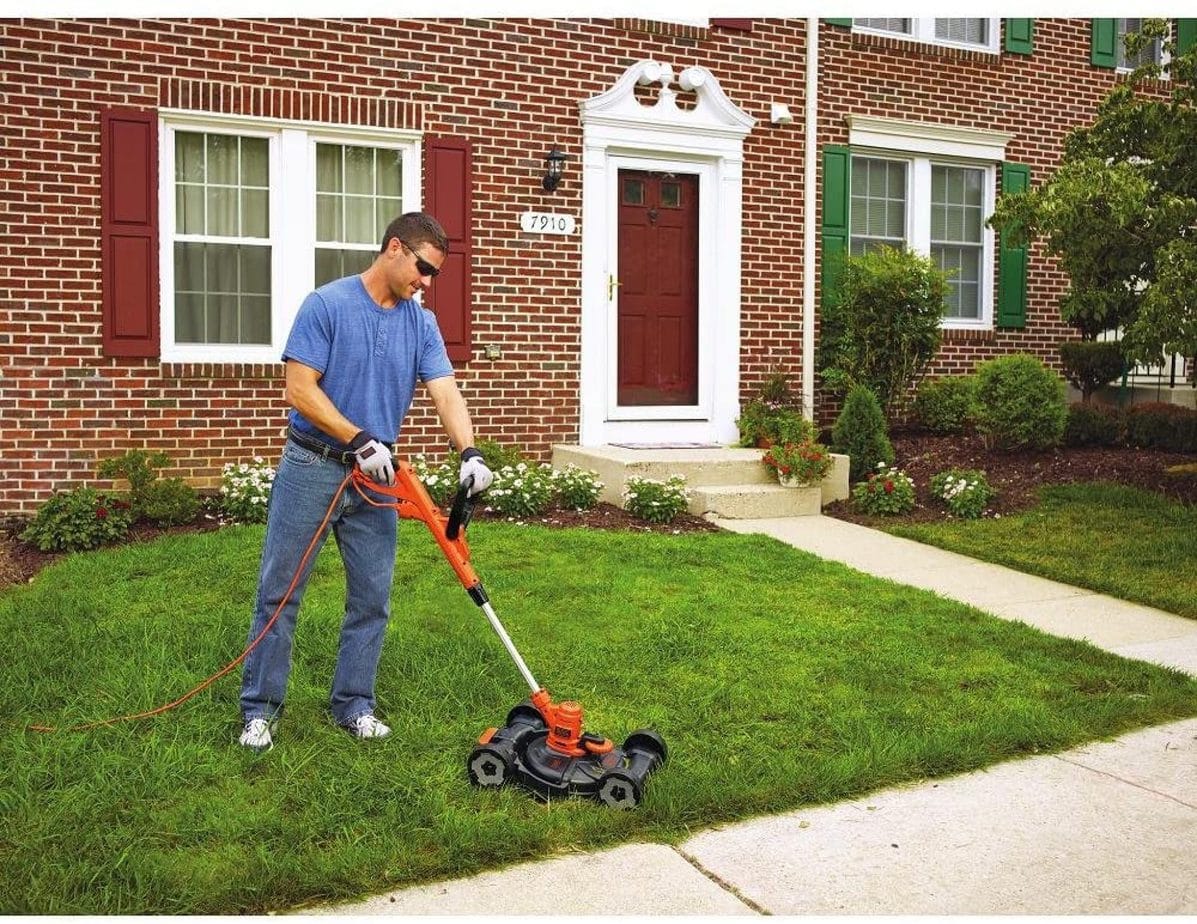 Its 6.5Amp engine is capable of speeds up to 8000RPM. A cutting path is 12 inches wide, and a line is 0.065 inches thick. The tool is quite heavy (13.1 pounds), but it doesn't feel too much, thanks to a mower deck, which you can remove when needed. Also, you can adjust the position and height of a handle according to your height. In my opinion, the only drawback of this model is that it is wired. That is, the length of a power cord limits your movement.
ADVANTAGES
Ergonomic design;
Powerful;
3-in-1 tool;
Budget-friendly.
DRAWBACKS
Extension cord is not included;

Quite heavy.
6. Best Battery Powered Weed Eater: Milwaukee 2725-21HD
Affiliate links and images placed from the Amazon Product Advertising API on 2023-12-07
It is another battery-powered weed eater model with excellent technical characteristics, which is suitable for use in large yards. It is not a multitool like some of the products on my list but a very high-quality trimmer. The device is powered by one 18V 9.0Ah battery. I was pleasantly surprised by the duration of work on a single charge. It was enough to treat a lawn of more than one acre. The total weight of the product is about 13 pounds.
I always give preference to tools with different settings and adjustments, making them suitable for various jobs. A swath width ranges from 14 to 16 inches, and a line can be set to either 0.080 or 0.095 inches thick. There are also two-speed settings here, 4600 and 5800 RPM. Although this trimmer has a front handle that allows you to hold it horizontally and vertically, it does not have any padded cover.
ADVANTAGES
Quality structure;
Long run time;
Adjustable swath width and speed;
Ideal for large yards.
DRAWBACKS
Its grip is not padded;
Heavy.
7. Best Commercial String Trimmer: Honda 647620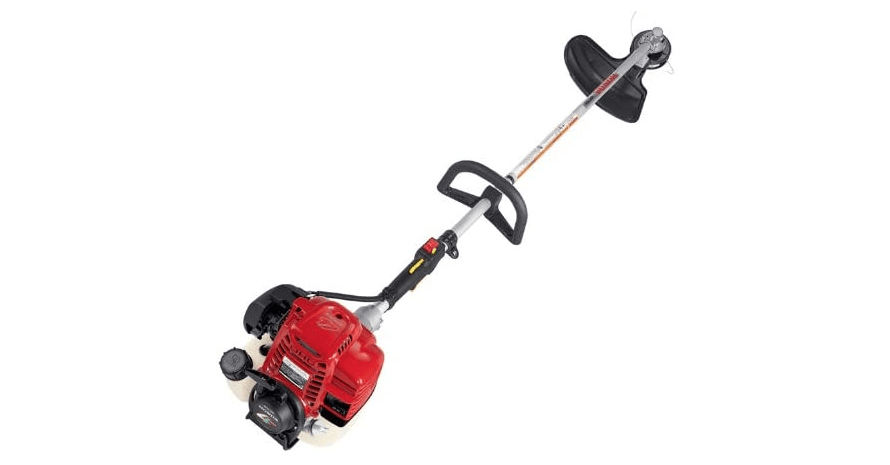 No products found.
The gas Honda 647620 is equipped with a 4-stroke engine, which makes this model ideal for professional use. It is powerful and, at the same time, quieter than 2-stroke competitors; it emits less exhaust (therefore, it is considered eco-friendly), consumes less fuel, and has a longer service life. The maximum speed this commercial trimmer can reach is 10000RPM. However, because of it, this tool is quite expensive compared to other models on my list.
This model's cutting path is one of the widest at 17 inches. Its line thickness is 0.095 inches, and if you wish, you can purchase an optional 9 or 10-inch steel blade for trimming bushes and hedges. The tool has an ergonomic design and is perfectly balanced despite its heavyweight (15.5 pounds without fuel). It also comes with the best string trimmer harness I've ever tested. Among the disadvantages of this model, I would highlight the small tank volume (22 fluid ounces).
ADVANTAGES
Eco-friendly;
Uses 50% less fuel;
Reaches a high speed;
Ideal for tough tasks.
DRAWBACKS
Expensive;
Small tank volume.
String Trimmer Buyer's Guide
In this section, you will find all the information to help you choose a good string trimmer for any needs.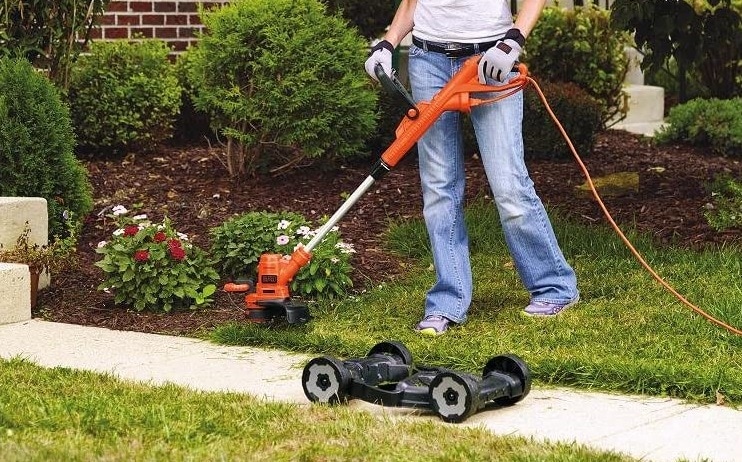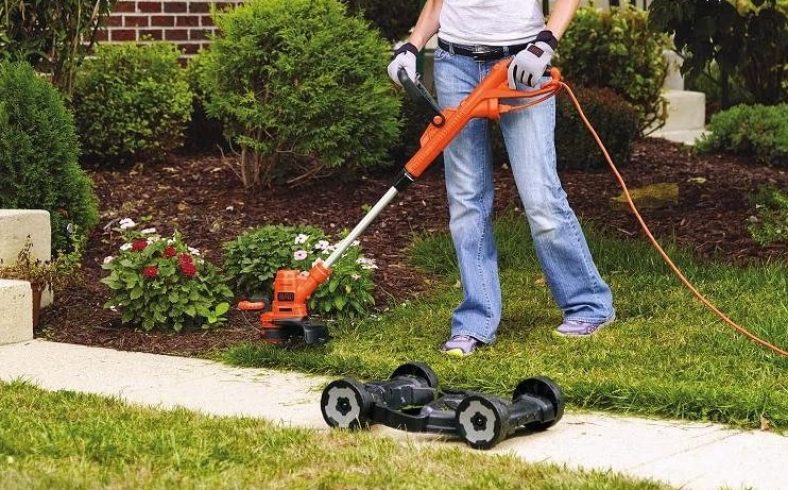 How to choose the best string trimmer
It is worth choosing a suitable device, depending on your goals, and focusing on several basic characteristics.
Powersource
Trimmers can be gas-powered and electric (corded and cordless). The former is usually the most powerful, but it is noisy and can be difficult to maintain. A corded model gives you great efficiency combined with ease of use, and a quality battery powered string trimmer offers excellent autonomy.
Runtime
The operating time of corded devices is practically unlimited. Gas tools should be equipped with a capacious tank; then, you can work without stopping for refueling for up to two hours. Cordless trimmers have the shortest battery life. Typically, one battery lasts for 30-60 minutes of operation.
Comfort of use
Comfort is subjective. However, top-rated grass trimmers are equipped with padded grips, anti-vibration systems, and harnesses bindings. If an instrument is well balanced, you will be comfortable working even with a heavy tool.
Ease line change
A line becomes thinner during operation, so it should be replaced periodically. With the most reliable string trimmers, you can change the line semi-automatically or automatically. Since you need to do it regularly, it is advisable to choose the most straightforward option for you.
Shaft type
Trimmers are available with straight or curved shafts. The former is more versatile; it's equally well suited for mowing lawns and cutting shrubs. The latter is more focused on trimming grass.
How to use a string trimmer
Check the condition of all parts before starting work. Be sure to use protective equipment and follow safety precautions. Remove large debris from your lawn and keep kids and pets away from the area. Typically, a cutter rotates counterclockwise, so you should sweep the trimmer 1-2 times from right to left, gradually moving 10 inches forward. Then the cut grass remains on a treated surface on the left. Do not try to work too fast, as it can overload the motor, and the grass will wrap around the head.
FAQ on String Trimmers
Here I have answered some popular questions about lawn trimmers.
How to replace string trimmer lines?
Many modern models have a semi-automatic or automatic line-changing mechanism. If you got the first option, you need to press your trimmer head to the ground, after which the reel will unwind a new line. In the second case, each time you start the engine, the trimmer releases a new line itself.
Why does my trimmer line keep coming out?
There may be several reasons for it. Even the best weed eater head can have several faults. First of all, you should ensure that you use a spool and the correct thickness line. Next, you need to inspect a trimmer head, cap, spring inside, and guard blade. If traces of damage (cracks, chips) are visible somewhere, the part should be replaced.
What is better: a battery-powered or gas-powered string trimmer?
It depends on the area of ​​your lawn and the complexity of the work being performed. If you own a small yard with thin grass, a battery-powered device will suffice. If the cultivated area is larger than average (5000 square feet), and you often have to deal with thick plants, it is better to buy a gas-powered tool.
Which string trimmer do professionals use?
In most cases, professional gardeners prefer gasoline trimmers as they are more powerful and allow up to 8 hours of work per day. Such models are equipped with thicker lines and can withstand even heavy loads.
Final Tips on Choosing String Trimmer
When buying a tool, consider the size of your yard, the growing trees, grass, and flowers, and the presence of obstacles such as rocks and bumps. Also, be sure to check the noise laws governing the use of garden power tools in your area. I hope my string trimmer reviews will help you make your choice. My personal experience has shown that DEWALT DCST925M1 is the most optimal option for various types of work.
Tell me in the comments below, which trimmer do you use? Why do you like this particular model?