There are a variety of useful trimmer attachments; some are suitable for perimeter lawn adjustments, while others will help with groundwork. There also are those that will be useful when cutting knots and branches. There are nozzles that can serve you in trimming bushes. I've researched and compared the best weed eater heads that are most in-demand for the garden. Perhaps my recommendations on choosing trimmer attachments will help you in your choice.
Pros
Saves up to 30% of your energy.
Effectively reduces fatigue.
Distributes the weight effectively.
Top Pick
Pros
Saves up to 30% of your energy.
Runner-Up
Pros
Effectively reduces fatigue.
Premium Choice
Pros
Distributes the weight effectively.
3 Best Weed Eater Heads Reviewed
Husqvarna 966674401 T25 Tap Trimmer Advance Head – Best Universal Trimmer Head
WW EZ Lock Head – Quality Weed Eater Head with Double Line
ECHO Speed-Feed 400 Trimmer Head – Premium Weed Eater Head for ECHO Trimmers
Read my review of the best garden trimmer heads to choose the best option for your work. I have taken into account the most prominent features of the products, their pros, and cons.
1. Husqvarna T25 Tap — Best Universal Trimmer Head
Husqvarna T25 Tap is a modern and convenient attachment for the trimmer with a fishing line. The trimmer head replacements are done without turning the trimmer over. I've used a similar attachment and was very pleased with its practicality. After a few weeks of use, the line did not get tangled up at all, because it was held in place by special slots. It only takes 1-2 minutes to change the line. With this head, you can use 0.065″, 0.080″, or 0.095″ fishing line. A 0.080-inch diameter fishing line is provided in the kit.
This attachment is designed for straight trimmer shafts. You can choose the optimum fishing line of the right strength and elasticity. The dimensions of the product are 11.5 x 6 x 3 inches.
---
ADVANTAGES:
You can change the line very quickly, without taking apart the construction of the nozzle;
It is possible to use a fishing line of different diameters;
The line does not get tangled due to the special grooves.
DRAWBACKS:
The nozzle is small (often smaller than the original nozzle of popular trimmers).
---
2. WW EZ Lock — Quality Weed Eater Head with Double Line
WW EZ Lock is a quality trimmer attachment that occupies the second place in the ranking of this top. Its special feature is the double line, which makes it even easier and faster to cut the grass. This mowing head is small and has a plastic body, but nevertheless, it can cope even with coarse grass and small bushes. It's the right choice if you don't want to use a metal disc but still want to mow through coarse grass and bushes.
This nozzle fits a variety of line diameters from 0.080″ to 0.105″. If the line runs out, you can replace it with any from a reputable manufacturer. No tools are required to change it. Even the best weed eater head replacement may be challenging if you lack professional skills. Here, the process is simplified by the presence of special locks. You just need to secure the EZ head retainer using one of the included nuts and adapter equipment.
The nozzle size is 6.5″ x 3.5″ x 10.1″.
---
ADVANTAGES:
The double line for better lawn mowing;
Easy line replacement;
Even thicker lines are suitable.
DRAWBACKS:
Grass and debris can get stuck in the hole where the fishing line is inserted.
---
3. ECHO Speed-Feed 400 — Premium Weed Eater Head for ECHO Trimmers
ECHO products are developed in Japan, which is a guarantee of quality and reliability. ECHO Speed-Feed 400 is not compatible with many non-popular trimmer models, so you should be careful when buying it. But I do have an ECHO trimmer, so I had the chance to appreciate the quality of this model's durable Polypropylene (PP) head. However, this head has a more complicated line change procedure than the top products described above.
The size of this head is 3.6 x 5.8 x 9.9 inches. You can use a 0.080-inch diameter fishing line. Because of the few drawbacks described above, I have given this model third place in my ranking, though the device is still of premium class.
---
ADVANTAGES:
Lightweight and durable body and reinforced plastic;
Remarkable Japanese quality (products are of Japanese origin).
DRAWBACKS:
Does not fit other trimmers except ECHO.
---
Buyer's Guide on Weed Eater Head
You may still have questions after comparing the best products on the list. I'll answer the most relevant ones below.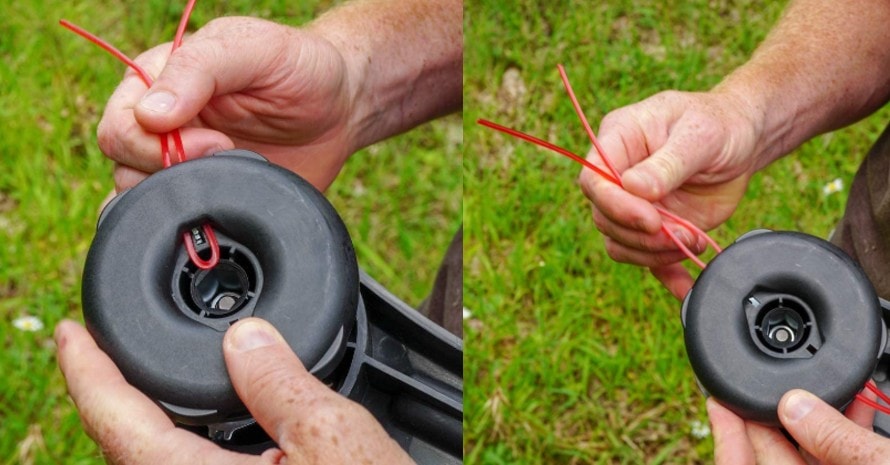 Types of weed eater heads
Choose the types of weed eater heads depending on the conditions you plan to use the device. Consider the following parameters to find the most helpful solution for your site.
A sweeping brush attachment. You can quickly and efficiently remove leaves or debris with this attachment. Thanks to the brushes, you can remove dirt and dust from paved paths, etc.
Cultivator attachment. With the help of this useful attachment, you can plow the ground without much effort. It is very convenient to plow the soil in seed beds or in the greenhouse.
A blower attachment (pump). Suitable for removing dry leaves and small dirt. With the help of strong air pressure, it effectively clears the territory.
Brush cutter nozzle. Helps trim bushes and cut down small knots.
Trimmer nozzle. Gardeners use it for mowing lawns.
Weed eater head size
The size of the best string trimmer heads depends on the type of nozzle and its purpose. Metal knives always have a fixed size. If you choose metal knives, you should pay attention to the length of the knives, the distance between them, and their width. When choosing the best string trimmer head, you should pay attention to the length of the line, the diameter of the head, and the thickness of the line. Note that all heads have a different diameter of attachment, so not all trimmers will fit the heads. In this trimmer head review, I have chosen the best universal trimmer heads that fit most trimmer models.
The shape of the line
You can buy a trimmer head with two, three, or four lines. The more lines, the stronger the line you will get. If you need to mow soft lawns, two lines are enough. If you need to mow small bushes and coarse grass, it is better to choose heads with more lines.
Best Weed Eater Head: Perfect Trimming Attachment
To get an even and easy mowing of grass of any height, you need to choose the right attachment to a modern trimmer. Choose from models of fishing line and metal, depending on the complexity of mowing and the type of your lawn. For regular grass trimmer, heads with a fishing line are the most suitable, and for overgrown areas and bushes, the best choice is overgrown heads with metal teeth. I think that Husqvarna T25 Tap is the best item for garden work as it is really convenient to change the line, and it doesn't get tangled due to the thought-out design. This model has a 0.065″, 0.080″, or 0.095″ gauge trimmer lines, which come pre-wound with .080″ (T25C) or .095″.
Which trimmer heads do you use? Share your experience in the comments. I would like to know which type of attachments you prefer to use for this tool.
Last update on 2021-10-21. The post includes Affiliate links. Images from Amazon Product Advertising API