As an Amazon Associate we earn from commission of qualifying purchases.
Cordless outdoor tools are the most popular amongst household owners in the US and worldwide. But how to choose between gas-powered and rechargeable weed trimmers? Which option is right for you? I mostly choose battery-powered models, but you are here for the comparison, right? That's why my guide is quite long and includes detailed answers to the most important questions about cordless string trimmers.
I also provide reviews of the 5 best cordless string trimmer models to help you make a good choice as quickly as possible. Still, you can become an expert yourself if you read the buyer's guide first. It's quite easy to google top-rated cordless weed eaters, but being able to check out the recommendations yourself is what really matters.
Pros
Adjustable head rotation speed.
Compatible with all RYOBI trimmer attachments.
Top Pick
Pros
Adjustable head rotation speed.
Runner-Up
Pros
Compatible with all RYOBI trimmer attachments.
Affiliate links and images placed from the Amazon Product Advertising API on 2023-12-07
5 Best Cordless Weed Trimmers Reviewed
Here are my cordless string trimmer reviews. It includes 5 tools that proved to be most reliable during field testing. These are not just top rated cordless weed trimmers but my personal picks, so you're welcome to discuss other alternatives in the comments.
1. EGO Power+ ST1521S – Best Battery String Trimmer
Affiliate links and images placed from the Amazon Product Advertising API on 2023-12-07
EGO Power Plus was founded in 1993 with the idea to create a cordless outdoor power tool that can produce the same output as conventional gas-powered models. Today, the brand is amongst the leading cordless power makers armed with a proprietary ARC Lithium™ 56V technology. Due to this invention, EGO makes the most powerful battery trimmer at the moment.
The ST1521S comes with a 2.5Ah 56V battery pack and a medium 15" trimmer head. Such a power-width ratio leads to great cutting power. You can also adjust the rotation speed to save the charge on simple tasks and keep cutting for over an hour.

The whole tool with a battery on weighs only 12 pounds, and it's rather well-balanced, so you're not likely to overstrain your back even after an hour of swinging. The part of its "lightweight-ness" is due to the carbon fiber shaft that is lighter than most aluminum counterparts and significantly stronger than them.
I like that EGO is so sure about the quality of its devices that provide the best warranty services. The item is covered with a 5-year tool warranty, 3-year battery warranty, and a separate lifetime warranty for the carbon fiber shaft. This makes me feel confident about my investment, so I'll keep using it instead of anything else. That's only my choice, though, so keep looking to have a comprehensive picture in your mind.
ADVANTAGES
Great warranty coverage;
One of the most powerful tools in the category;
Adjustable head rotation speed;
Not overpriced at all;
Weighs only 12 pounds;
Sturdy carbon fiber shaft;
Pro-level spiral line compatibility.
DRAWBACKS
They could add a telescoping shaft to make it more universal.
2. RYOBI 40-Volt – Best 40V String Trimmer (Top Runtime)
Affiliate links and images placed from the Amazon Product Advertising API on 2023-12-07
RYOBI is a highly trusted Japanese power tool manufacturer from Hiroshima. The brand has over 75 years of history behind its tools, so I've been really interested in testing its cordless string trimmer for this review.
This 40-V trimmer comes with an adjustable cutting head, which lets you change the cutting width from 13" to 15". The shorter position saves some energy and expands runtime. Replacing the string is made very simple and takes less than a couple of minutes. You can also experiment with any RYOBI string trimmer attachments, even if they were made for earlier gas-powered trimmer models.
The best thing about this trimmer is the battery capacity. The standard battery pack is 4.0Ah, which is equal to up to 100 minutes of nonstop runtime, depending on the speed you set. With a weight of 13.2 pounds, the tool is an excellent runner for larger yards. The only thing I dislike about this product is the warranty. They provide 3 years for all the items, but some users report having difficulties with returning defective parts. Fortunately, 95% of buyers don't report anything like this.
ADVANTAGES
Adjustable cutting width;
4.0Ah battery (up to 100 mins runtime);
Variable rotation speed;
Compatible with all RYOBI trimmer attachments;
Fast-charge: 90 minutes.
DRAWBACKS
Takes effort to get a return.
3. Husqvarna 324L – Best Gas-Powered Pick
Affiliate links and images placed from the Amazon Product Advertising API on 2023-12-07
Husqvarna is probably the oldest European power tool manufacturer and the oldest functioning weapon brand of the EU. Their power tools are of very high quality and focus mainly on heavy-duty exploitation.
The 324L trimmer is super lightweight (5.5 pounds with the full tank) but has an 18" cutting head, which is great for processing bigger areas in less time. The 24cc motor makes up to 7000 RPM without significant drop-offs when it comes to thicker weeds, so it's quite universal.

This tool is a joy to use if you don't mind the noise. It features a tap-n-go line release mechanism that lets you release a new line without long pauses. It's also very easy to start as Husqvarna's motors are amongst the most progressive in the field. Still, I don't recommend it for average small yards as you're not likely to need so much power. If the garden is big, it's amongst the best options.
ADVANTAGES
2-year warranty for residential use;
Stable 7000 RPM;
Made for heavy-duty use;
Simple line release mechanism;
Affordable pro-grade tool;
One of the lightest trimmers;
18" swath.
DRAWBACKS
It's quite loud compared to other models on the listing;
Requires more maintenance than electronic cordless trimmers.
4. Greenworks STBA40B210 – Affordable 40VTrimmer + Blower Combo
Affiliate links and images placed from the Amazon Product Advertising API on 2023-12-07
Greenworks is a young American manufacturer focused on affordable corded and cordless power tools for gardening and other yard care chores. I had a leafblower by the brand, and it was very good, but I broke it with my pickup's wheel. Don't ask how it happened! So, I needed a replacement, and this combo appeared to be a good deal and an occasion to try Greenworks trimmer for less cash.
The Greenworks trimmer in this combo comes with a 12" dual-line auto-feed head and a flower guard, which makes it a great compact trimmer for those tight areas between the flowers. The motor is installed right above the trimmer head, which adds balance to the tools and provides high cutting power without draining the battery too fast. The 40V 2.0Ah pack lets you work for up to 45 minutes, but you can also order a 4.0Ah model to double the time.
ADVANTAGES
Compatible with 2.0Ah and 4.0Ah batteries (1 and 2 hours charging)
Direct drive motor;
Compact dual-line 12" head with a flower guard;
Affordable combo;
4-year tool and battery warranty.
DRAWBACKS
Not the best cutting width for larger yards.
5. DEWALT DCST920P1 – Best Compact Option
Affiliate links and images placed from the Amazon Product Advertising API on 2023-12-07
DEWALT is an American brand with decades of experience in manufacturing construction-grade electronic power tools and one of the leaders in the Li-Ion battery market.
The DCST920P1 is a surprisingly powerful line trimmer that is also the lightest on my listing. Weighing only 8.5 pounds, it has a 13" dual-string head and makes up to 6,000 RPM. All due to the patented gear technology that converts 20V into high rotation speed.
The runtime of the tool can be extended with a line of DEWALT universal batteries that range from 1.5Ah to 8.0Ah. The included battery is 5.0Ah and lets you cut up to 110 minutes nonstop. This tool is an excellent choice for small and medium yards and well as for users who already have DEWALT batteries in the rack.
ADVANTAGES
Compatible with all DEWALT batteries (the basic is 5.0Ah);
Weighs only 8.5 pounds;
Dual-line head;
3-year warranty;
Two speed options.
DRAWBACKS
A bit more expensive than similar models, but the quality is great.
Cordless String Trimmer Buyer's Guide
This buyer's guide will help you to understand what are the main aspects to consider before making the order online or buying a cordless electric trimmer or a gas trimmer from a store. In both cases, you should be able to resist marketing charms and make your own weighted decision.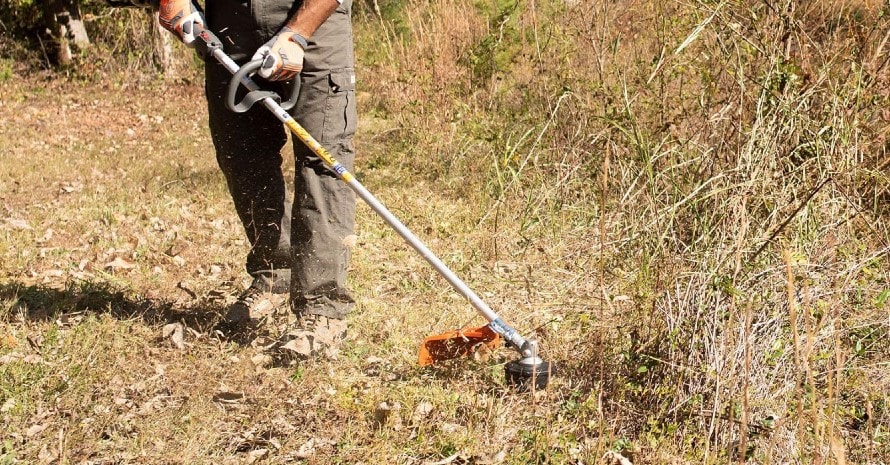 How to choose a cordless string trimmer
Choosing the right tool for your gardening needs, you should pay attention to the following characteristics:
Power source – gas trimmers usually offer higher cutting power, but require more maintenance and pollute the air. Battery-powered models are usually a bit more expensive, and battery recharging takes time, so you need an extra battery pack to avoid waiting. In the long run, there's no critical price difference as you will spend the same amount of cash (or even more) for fuel.
Battery type – you can choose between Lithium-Ion and Ni-Cad batteries. The first type is the most common due to low weight, no drop-off performance, and a large number of recharge cycles. Ni-Cad is a cheaper technology, but these batteries are also heavier, less durable, and drop off cutting power when the charge is low. The winner here is obvious.
Shaft types – a straight shaft is convenient for cutting under fences and in hard-to-reach spots. Such shafts may be telescoping. Curved shafts are less common and universal, but professionals prefer them for large open areas.
Running time – the running time of a cordless string trimmer is usually from 30 to 60 minutes, depending on the battery size. I recommend you to press the trigger only when you need to make a cut and release it as often as possible to avoid wasting the charge. Gas-powered tools usually run above 60 minutes and can be refueled quickly.
Cutting width – the recommended cutting width is usually between 12" and 14". I prefer 14"-18" heads. The tool must be convenient enough for you at first, so it's up to you. The higher the width, the more you cut per minute.
Ease of use – this aspect includes the weight and size of the tool, and it's totally up to you. You should consider your fitness and look for a tool that's light enough for you to operate for an hour or so.
Safety features – the vast majority of line trimmers today have all the essential safety elements, but you still should know that your tool should have a sturdy safety guard around the head and take a tool that's long enough to be at a secure distance from your legs.
How to use a cordless string trimmer
Here's a quick list for you to get ready to work, but don't be lazy and read more materials and watch videos that show how to operate this kind of tool.
Wear personal protective equipment (PPE) – just because you don't want a small stone or a piece of the snapped line to get into your eye at 300 MPH or have skin on your legs and arms cut;
Inspect the ground – remove all the pebbles, glass, metal, or any other pieces;
Avoid cutting near other people – the debris is more likely to hit other people than the operator;
Avoid cars and windows – just not to break the glass;
Charge the battery in advance (at least 3 hours before cutting) and use an extra battery for larger areas;
Use the shoulder strap and hold the tool firmly;
Don't hold the trigger when not cutting to save charge.
FAQ on Cordless String Trimmers
I'm almost sure you want to ask some more questions or to have a quick glance over the main points. Here's a brief FAQ for both cases. For more questions, go to the comments, and I will reply asap.
What are the main safety precautions for a cordless string trimmer?
The basics of sting trimmer safety require wearing the following items:
Protective glasses;
Long-sleeve top;
Strengthened construction-grade pants;
Gloves;
Shoes that cannot be cut with a string.
Besides, you must be aware of the right cutting techniques and know-how the tool works. Awareness is the main safety measure.
Is it hard to maintain a string trimmer?
Maintaining a battery-powered cordless string trimmer is notably simpler than a gas-powered one. While the trimmer head care is totally the same for both types, a gas weed eater also requires motor maintenance, proper filling for air pollution reduction, and special storage conditions. A lithium weed trimmer requires you only to charge the battery instead. The overall maintenance difficulty is low for an electronic tool and moderate for a gas-powered one.
Are battery-powered string trimmers any good?
Battery-powered cordless weed eaters are an excellent alternative to conventional gas trimmers. It's quite clear that gas tools are more suitable for heavy-duty professional use, but the electric models offer a wide range of benefits for household owners who don't trim 20 days a month. They are lightweight, powerful, easy to maintain and recharge, and don't stink at all.
Ready for Action
Now that you're ready to make the best choice possible, make sure to learn how to use a string trimmer in detail before actually turning it on. Handling an electronic and a gas-powered machine is very similar, while cutting techniques and safety precautions are totally the same.
Rechargeable tools like Ego Power and the rest have a lot of benefits for householders to make a thorough gas vs. cordless string trimmer comparison, and don't forget about nature! What do you choose? Join the conversation in the comments or start it with a question if you still have any. Take care!