As an Amazon Associate we earn from commission of qualifying purchases.
Making a trench is part and parcel of many gardening and lawn care activities. Whether you are eager to try trench composting in your garden, an approach to organic waste management that's become wide-spread due to the fact that it hardly requires any maintenance and doesn't need the often hard-to-get "browns" (the term refers to ash, cardboard, newspaper, and similar materials), or it's the idea of soil enrichment by trench gardening that appeals to you, you're likely to need efficient trench digging tools in your gardening practice.
In this article, I share with you what I know about some excellent handheld trenching tools as well as larger-scale power equipment. Stick around to find out the best way to dig a trench in your garden, depending on why you need it and what to look for when shopping for appropriate tools.
Pros
3 blade depths to choose from
Comes with a long, solid handle
Affiliate links and images placed from the Amazon Product Advertising API on 2023-12-07
A trenching tool is an umbrella term that covers two major categories. First, there are shovels and other handheld devices designed with the task of trench digging in mind. Second, some people prefer to rely on a power trenching tool. I've picked the best of both groups and divided my reviews into two parts, respectively.
4 Best Manual Trenching Tools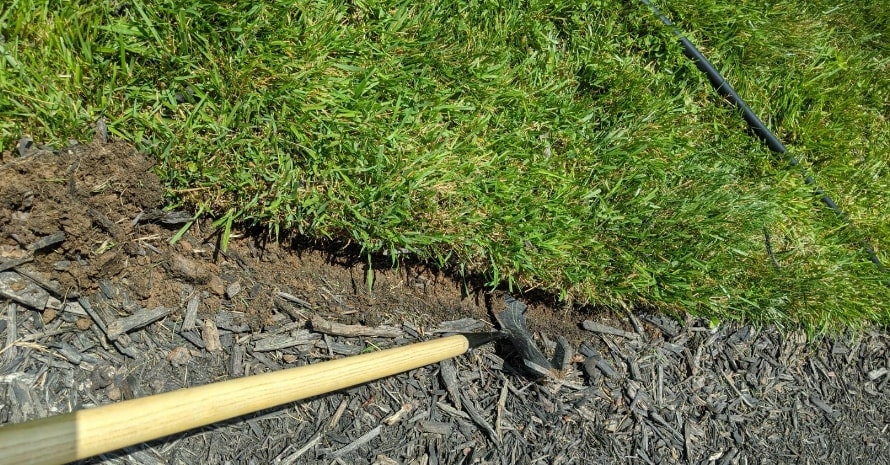 The products below are not powered by electricity. Rather, they facilitate effective and efficient use of muscle power and are generally more affordable compared to electric tools.
1. Kwik Edge Duo Trench Hand Tool: Top Pick
Affiliate links and images placed from the Amazon Product Advertising API on 2023-12-07
As its name suggests appropriately, this Kwik Edge Duo tool is essentially a garden edger. That is, it was designed to help you keep your property nearly divided into dedicated areas and beds without grass creeping in where it's unwelcome. This is done by making and maintaining little trenches around the respective area.
The Kwik Edge Duo has a specially designed blade consisting of a curved vertical part and a horizontal portion. The bend in the vertical section is aimed at grooming the soil as you turn it. There's also a cutting edge opposite from it, which enables you to make small trenches such as those used for planting in a quick, effortless manner. The horizontal part is designed primarily to cut roots.
A sturdy wooden handle that comes attached to the tool is reasonably long. However, you should consider it carefully if you are 6'1″ or taller since you'll probably have to work in a stooping position.
The attachment is made of durable, thick metal that doesn't seem prone to bending or dulling.
The manufacturer stresses that the tool works best for maintaining existing edges rather than creating new ones. Yet, I find it easy to operate when making small trenches. It's the cutting edge of the vertical portion of the blade that mostly does the job, so make sure it faces the right direction as you go.
I've been using Kwik Edge since last spring, and I've found that it's most efficient when the soil is dry.

ADVANTAGES
A quick way to make small trenches;
Improves soil quality;
Can also be used to cut roots and remove weeds;
Robust design;
Stays sharp.
DRAWBACKS
The handle might be shorter than ideal if you are very tall;
Not the best option for compacted soil.
2. Corona SS 64104: Best Trenching Shovel, Curved
Affiliate links and images placed from the Amazon Product Advertising API on 2023-12-07
This straightforward tool was made specifically for digging but can be applied in a variety of settings.
The Corona SS 64104 is a curved trenching spade/shovel with a 4-inch head made of 13-gauge steel. The blade has a V-like shape that's become the classics for a small trencher due to its pointed end that cuts through the soil easily. With its 1-inch raised sides, the blade boasts increased efficiency in the cleanout.
This product comes with a beefy handle made of wood. It's as long as 4 feet, meaning it's comfortable to use for most people regardless of their body type and can spare you a lot of back strain. The only improvement I would wish for is a non-slip grip.
You can use this shovel to dig four-inch wide trenches about 6 to 8 inches deep. It's also a good cleanout tool for finishing bigger trenches. It works well in loose ground and clay, but you might find it helpful to loosen the soil first if it's really hard.
I used this shovel fairly often before I got my Kwik Edge Duo, and I still do where there's a bigger project to complete. I love how sturdy and foolproof the seemingly unsophisticated design is. Although it's less quick than the top pick in the manual category, it's a great case of value for money.

ADVANTAGES
Sturdy blade made of thick steel;
Comes with a long, solid handle;
Good leverage;
Raised blade sides increase capacity per stroke and save time;
Good for dry, loose soil as well as clay.
DRAWBACKS
Not as quick as the top pick;
Lacks a non-slip handle for long-time operation.
3. Seymour S702: Best Fiberglass Handle Trenching Shovel
No products found.
This tool is a premium version of the classic trenching shovel. It is wider than Corona's product above, featuring a 5-inch blade for somewhat bigger trenches at about the same weight.
The head of this shovel bears rear-rolled steps that enable light digging and cleanout alike. In this model, the blade is pointed and features a front turn step. You can use it to break hard clay and other difficult soils.
The blade is neither too thick nor too thin, but the steel it's made of resists wear even in rocky areas with frequent use. Another feature that makes the model particularly good for heavy-duty operation is the well-engineered junction where the handle meets the blade.
My neighbor has been using it for a couple of seasons now, and he says it's proven very sturdy while his previous purchases would all crack at that place.
In this shovel, the fiberglass handle is long enough even for a tall user. It comes with a cushioned ergonomic grip for increased comfort.
This tool can be used to cut the outline of a trench and then take out the soil. The V-like shape of its blade and the step design enables both activities, although it's less efficient in the latter application than the Corona model above.

ADVANTAGES
Long fiberglass handle with a cushioned grip;
Efficient blade design;
Well-made handle/blade junction;
Can break hard soil.
4. Radius Garden Manual Trencher: Best V-Shaped Trenching Shovel
Affiliate links and images placed from the Amazon Product Advertising API on 2023-12-07
Originally designed to cut roots, this V-shovel is a great choice for working in muddy conditions. The blade measures 10.5 inches at the widest point and has serrated sides. The aggressive design enables it to cut into the ground efficiently, ripping mud without too much stress on your hands and back. An inverted V edge further facilitates the task.
The Radius Garden 22011 is a rugged model with a powder-coated carbon steel head for increased resistance to impact and scratching as well as corrosion. Unfortunately, the clever O-grip handle lacks its strength as it's made of ordinary plastic, which is the model's main drawback.
The tool can be used as a regular trenching shovel. Remember to make use of the wide foot placement spot for increased precision as you dig into hard ground and cut any occasional roots with the serrated side as you go. This is how another neighbor of mine makes new edges in her garden, and she says it has spared her a lot of time. I can't recommend it for making bigger trenches as it doesn't have the best cleanout capacity.

ADVANTAGES
Great for hard soil;
Comfortable grip design;
Very sturdy head;
Root-cutting blade design.
DRAWBACKS
Not inexpensive;
The non-reinforced plastic handle doesn't match the durable tip.
3 Best Electric Digging Tools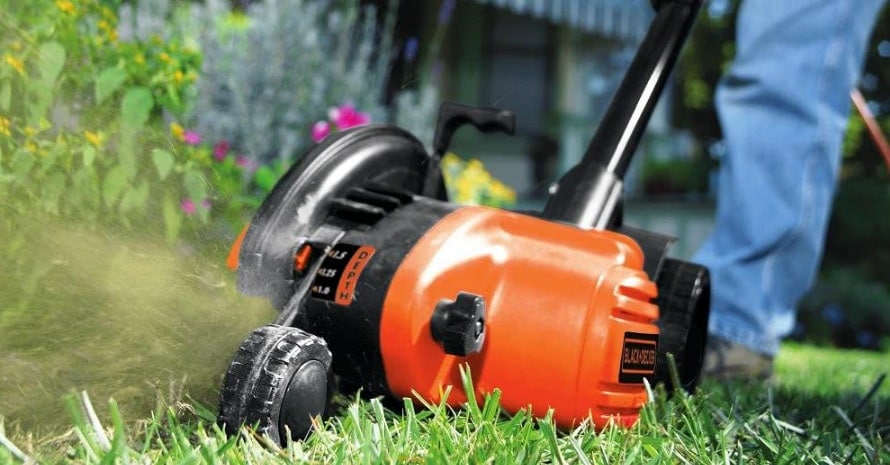 This category is represented by more expensive, labor-saving equipment that can be purchased or, sometimes, rented.
1. BLACK+DECKER LE760FF Small Trencher: Top Pick
Affiliate links and images placed from the Amazon Product Advertising API on 2023-12-07
When it comes to making trenches in the context of gardening, less is often more. This affordable compact corded edger will meet the needs of most gardeners due to its 12-Amp motor that delivers high torque at 4,700 RPM, cutting effortlessly through the overgrown ground for neat trenches.
I borrowed my friend's new LE760FF a couple of times for the sake of an experiment to make a couple of edges, and I loved how hassle-free it was with its toolless assembly. Starting the tool was a breeze, too.
As a trencher, the 2-in-1 tool is a highly maneuverable walk-behind machine to dig small trenches as you go. The model comes with a pull-up edge guide, enabling it to double as an edger. Three blade-depth settings are available, and the maximum trench depth you can reasonably expect is about 2 inches.

ADVANTAGES
Won't hurt your budget;
Doubles as an edger;
Easy to assemble and use;
Makes clean grooves;
3 blade depths to choose from.
DRAWBACKS
Doesn't make deep trenches;
The cord can be a nuisance.
2. Earthwise Power Trenching Tool: Best Corded Electric Tiller
Affiliate links and images placed from the Amazon Product Advertising API on 2023-12-07
This is a more massive tool than my favorite, but it also makes bigger trenches about 8 inches deep. Trench width is adjustable over the range of 11 to 16 inches. Being a tiller/cultivator, the TC70016 cannot be used for edging and other small-scale trench digging.
The model comes with a 13.5-Amp motor that starts at a single pull of the trigger. It is really powerful and quick, even on bumpy terrain with lots of roots. Measuring 40.00 x 19.00 x 42.00 inches, the product weighs just under 30 pounds, which is reasonably lightweight and is easy to direct and control, partly due to the ergonomic handle with a lot of room for comfortable hand placement.
Just like the top one in this category, this is a walk-behind device, although the backward movement is possible as well. Be sure to take a firm grip on the handle as the tiller is likely to bounce on hard surfaces! At least, this is what my friend who uses it as soil maintenance and trenching device tells me. He also warns that a thick heavy-duty extension cord that you might want to buy won't fit in the retention clip that comes with the product.

ADVANTAGES
Deals with the very hard ground;
Lightweight;
Reasonable price;
Adjustable trench width of 11 to 16 inches.
DRAWBACKS
Might bounce;
Bigger cords might be a pain to secure.
3. Earthquake Trenching Machine: Best Walk-Behind Lawn Trencher
Affiliate links and images placed from the Amazon Product Advertising API on 2023-12-07
This edger is a premium option with the potential to appeal to those who tend to get control-freaky about their gardens, especially when it comes to edging precision. This is achieved through an adjustable cutting angle that can be set depending on the prevalent grass type with as many as 5 settings for clean and crisp cuts.
With a 9-inch spring steel blade revolving at 3400 RPM, the tool will save you a lot of time doing edging and small-scale trench digging tasks. 5 depth settings from 0.5 to 3.5 inches are available.
The 60-pound beast is probably not the easiest to operate, but it is perfectly stable and comes with extras such as a convenient tool holder and a guard to protect you against debris. I learned about it from a relative who wanted to get the perfect edge but also use it for occasional trenching, and her only complaint is that the initial assembly takes a lot of time and effort.

ADVANTAGES
Adjustable cutting angle for clean cutting;
Powerful on most soils;
5 depth settings up to 3.5 inches;
Comes with a tool holder and debris protection.
DRAWBACKS
Expensive;
Difficult to set up.
Digging into Trench Diggers: Buyer's Guide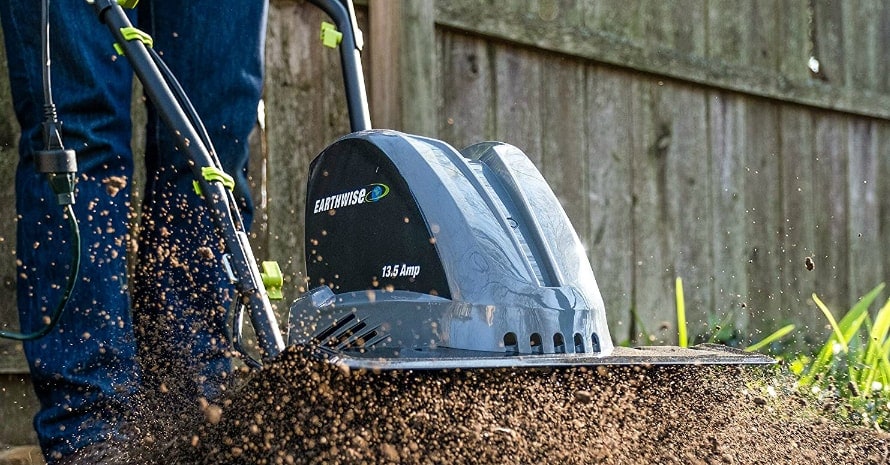 The best tool to dig a trench may vary depending on the size of the area to cover and how much time you'd like to invest in the project.
Digging a trench by hand
Special varieties of common tools such as spades, shovels, hoes, and more can be used for making shallow, flat-bottomed trenches. Speaking about gardening, I find hoes and shovels to be more efficient than spades since they generally offer greater precision.
Digging with power equipment
If you need to cover a large area or like to make new trenches on a regular basis, an electric device such as a tiller/trencher can be used to create relatively wide and deep trenches. As an alternative, you can use edgers where depth is not a priority.
What to look for in a trenching tool
The choice of powered vs. manual device mainly depends on the area to cover. Bulky equipment might not fit in tight spaces, especially with obstacles.
Whichever category you pick, be sure to purchase a tool that will give you the necessary size. For example, sprinkler systems generally require a 9" to11" trench, meaning an edger that only gives you 2 inches won't do.
Choose thick-gauge steel blades, preferably with corrosion-resistant coating. Wood and fiberglass are the two most viable handle options, the former being cheaper and the latter somewhat more durable.
The right blade shape on handheld tools depends on your priority. Boxy blades help you take out large amounts of soil at a time, while narrow ones are better at cutting through overgrown and hard ground.
Serrated edges and uniquely shaped tips can all serve specific tasks such as ripping roots to save your time.
Finally, pay attention to comfort features such as ergonomic handle design and the leverage it provides (with manual tools) as well as power supply options for electric devices.
Trench Digging Tools FAQ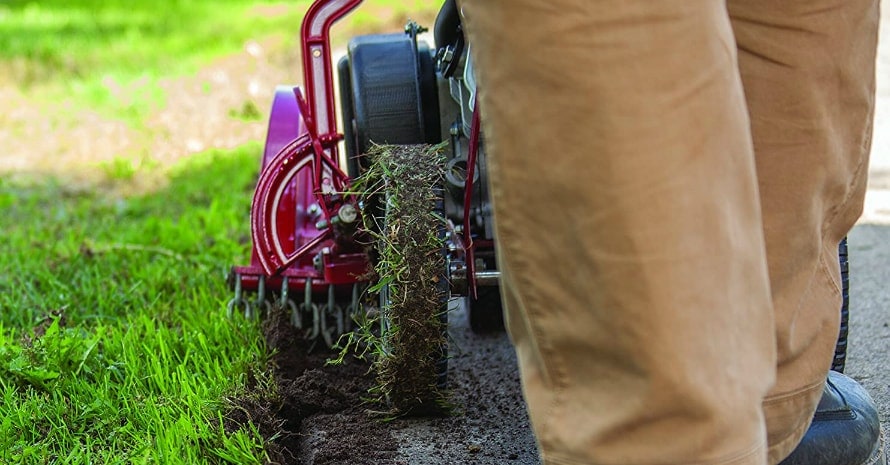 There are questions that people ask very often in the context of trench digging, so I'll cover them briefly for your reference.
Are all shovels useful to dig a trench?
Yes, but rounded ones work better for cutting, while pointed blade shapes are more efficient when it comes to cleanout. A V-shaped blade can be a one-size-fits-all solution.
Are straight handles suitable for trenching shovels?
They are. Straight handles are very common in trenching shovels.
Is it necessary to sharpen the blade of the shovel?
Most shovels designed specifically for trench digging come pre-sharpened. However, you might want to sharpen the edge of the blade as it dulls over time.
How wide does a trenching machine dig?
This depends on the model. Most walk-behinds range from 3 to 12 inches. 4 inches and 6 inches are probably the most common options.
What to look for in a trenching machine?
Choose a model that has the right footprint based on the size of your property and adequate power (corded models are generally more powerful than gas-powered ones). The width that it provides must fit your purpose, and adjustable depth can be a valuable bonus. Make sure the device has the right geometry for your body type.
Dig Like a Pro with the Right Trenching Tool
A sharp, sturdy handheld tool for smaller projects or a powerful yet maneuverable trencher for those working on a larger scale is one way to indulge your garden. Which to pick is up to you.
Whether you choose the Kwik Edge Duo hoe or the BLACK+DECKER LE750 edger, the purchase can make the answer to the question, "How to dig a trench?" so much simpler.
What kind of trenches are you planning to make? Tell us in the comments, and be sure to share your experience with trenching tools, if any!