As an Amazon Associate we earn from commission of qualifying purchases.
The benefits that a good riding lawn mower has to offer are quite obvious — it can save you an enormous amount of time and effort that you would otherwise have to invest in keeping your lawn happy. Yet, the relief comes at a cost. Riding mowers typically come with a weighty price tag, each boasting a set of features that don't always easily translate to performance measures.
Read further to find the best riding lawn mower under 2000 dollars. A shopping guide and question-and-answer section are included to help you make the decision consciously.
7 Best Riding Lawn Mowers Under 2000 Reviewed
I've included comprehensive reviews of some of the best priced riding lawn mowers that deliver excellent performance. The research that I carried out in order to make up the list did reveal an absolute leader. I still decided to include other options that might appeal to users who are looking for some specific features depending on their setting.
1. Husqvarna YTH18542
Affiliate links and images placed from the Amazon Product Advertising API on 2022-11-30
Dating all the way back to a 17th century's firearms plant, Husqvarna has long become a big name in the world of outdoor powered equipment from chainsaws to cultivators to mowers. The fact that this product is made by a manufacturer with a long history must appeal to those looking for a truly reliable piece of equipment. There's much more to Husqvarna's YTH18542 than a trusted brand, though.
This is a consumer-grade lawn tractor built with maximum operator comfort and cutting consistency in mind. Equipped with an 18.5 HP Briggs and Stratton Intek motor, it leaves your lawn neatly trimmed in no time. The only considerable drawback I've been able to find in it is the fuel tank size, which is 2.5 gallons. This should be sufficient for a medium-sized to a moderately large lawn, but those looking for outstanding fuel capacity might want to consider other options.
The Husqvarna YTH18542 belongs to the category of compact lawn tractors, measuring approximately 70 x 50 x 41.4 inches. A turning radius as tight as 16 inches further enhances this selling point. I first tried this model while taking care of my relative's lawn while she was in the hospital, and I must admit it struck me how easy it was to maneuver on her tiny land plot.
The model is made of strong materials such as a cast-iron front axle and a crack-resistant steel hood.
The 42-inch riding mower comes with a reinforced deck with a deck wash that uses an air induction technology, covered by a 10 years' limited warranty. It creates additional lift, improving the quality of the cut. It also has anti-scalp wheels, which is a welcome feature since turf scalping can cause intensified weed growth and other problems.
The model is easy to mount due to its well-thought-out step-through design and has a comfortable 13-inch seat that can be adjusted without the use of any tools. It comes with a hydrostatic transmission that's operated using a foot pedal for improved driving control and safety. Headlights are included.
Finally, this lawn tractor gives you an opportunity that many models lack, namely reverse mowing. Although mowing in reverse is generally frowned upon for safety reasons, it is sometimes necessary and enables you to save fuel and time.
I highly recommend the Husqvarna YTH18542 to anyone who's looking for a space-conscious solution to the overgrown lawn problem that will make mowing less of a chore.

ADVANTAGES
Great cutting consistency;
No scalping;
Extremely comfortable and easy to adjust;
Foot-controlled transmission for enhanced safety and comfort;
Compact and maneuverable with a 16-inch turning radius and a mow-in-reverse feature.
DRAWBACKS
Near the top end of the price range;
Might lack fuel capacity for very large lawns.
2. Cub Cadet XT1 LT46: Best Riding Lawn Mower Under $2000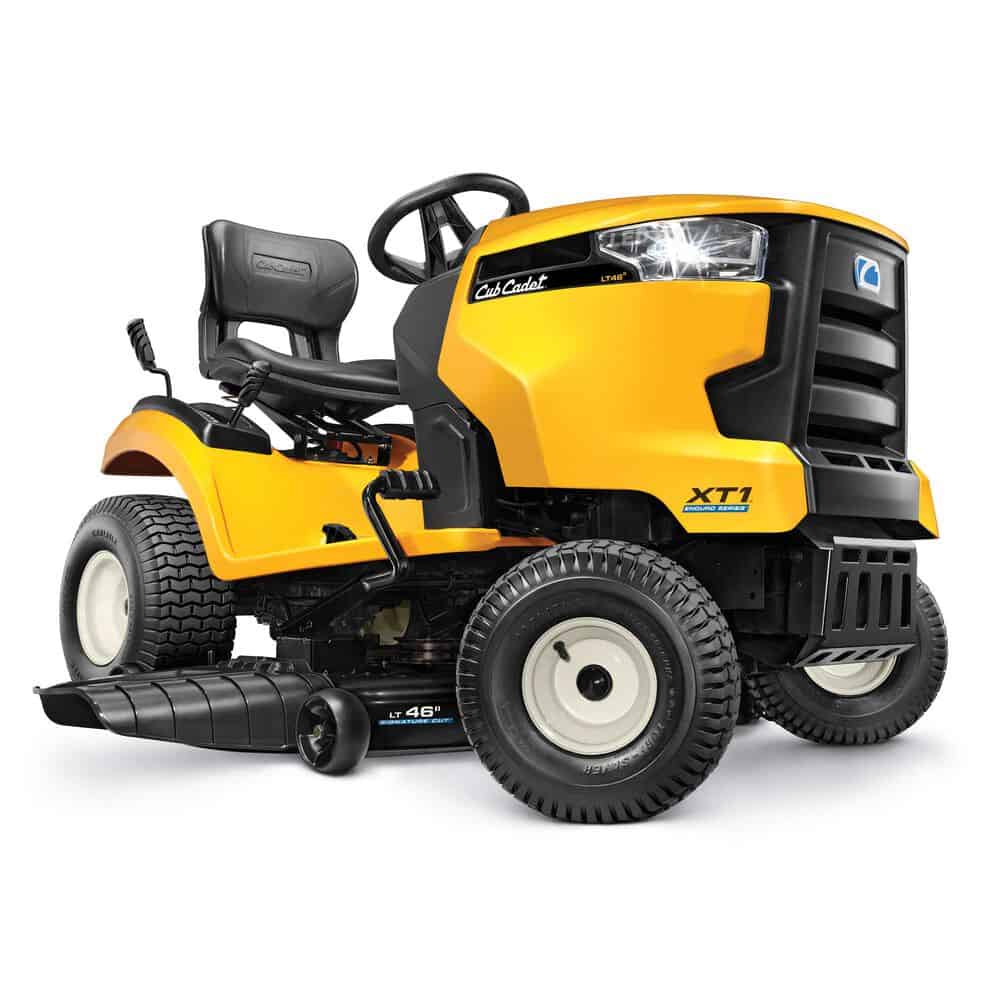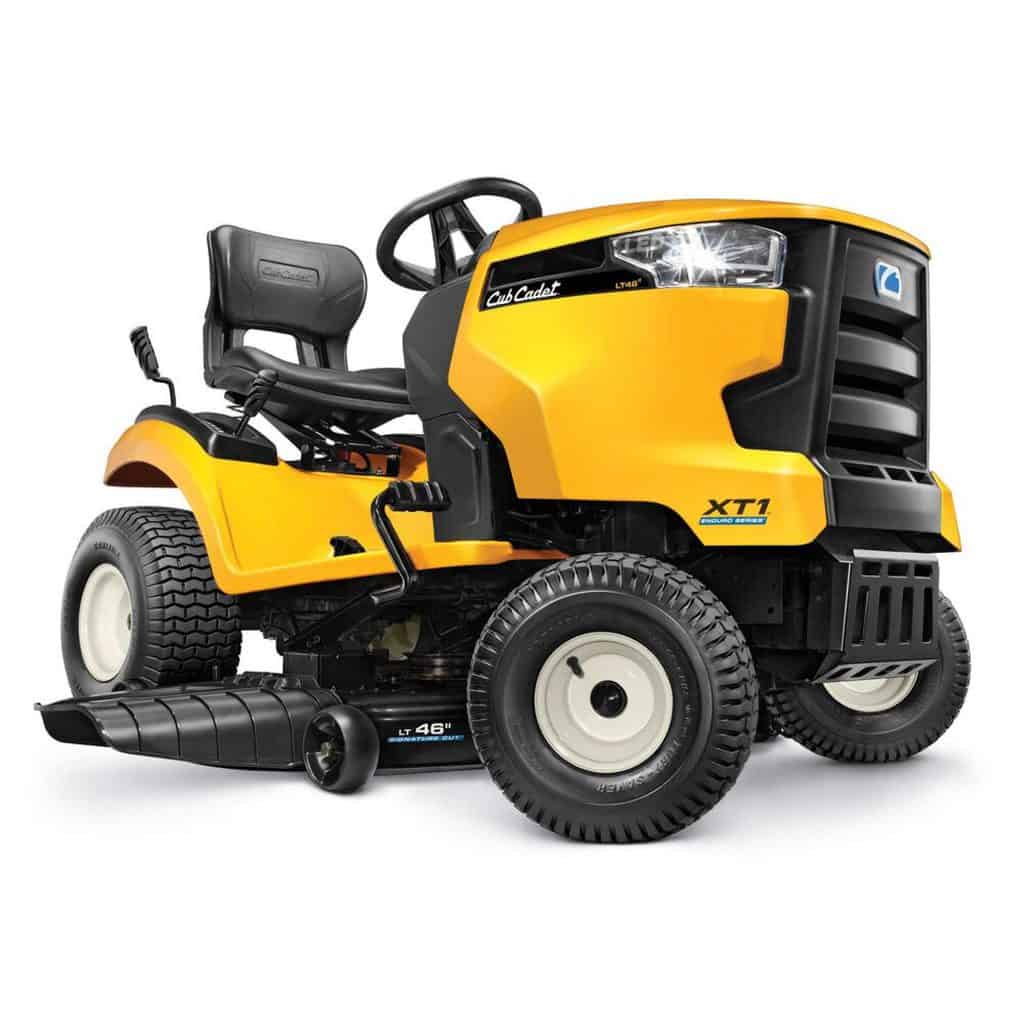 [wpsm_button color="main" size="big" link="https://fave.co/3NVODGF" icon="" class="" target="_blank" rel="nofollow sponsored"]

Check on Home Depot

[/wpsm_button]
If you're on the prowl for a fast, easy-to-use riding lawn mower with lots of power and the possibility to cut your yard half the time you used to, this Cub Cadet model might be right up your street. This is not your average lawn tractor. It's really fast, strong, and reliable. The assembly is easy. It starts right up, mows like a champ, and turns tight corners with ease.
Operating (and maintaining) this smart machine is a breeze. Shifting into reverse immediately and smoothly, this device will also please you with an incredible turning radius (which is almost a zero-turn). On an additional plus side, this lawn mower is strong enough to mow wet grass. It excels in dealing with uneven surfaces. And the Cub Cadet mobile app is super handy, especially when it comes to ensuring proper maintenance and monitoring.
Overall, the machine leaves the yard with professional-look striping, offering you the smoothest ride ever. It makes mowing in general much easier and faster. And the safety features it comes with are top-notch. Once you get this model, chances are your neighbors will start complimenting you about how well it cuts and how evenly it disperses grass.
ADVANTAGES
Well-designed and decently made;
Mows brilliantly, particularly the bumpy areas;
Top-notch maneuverability;
The assembly is effortless;
The seat is comfy.
DRAWBACKS
A bit on the expensive side, but you do get what you pay for with this machine.
3. Cub Cadet CC30H: Best Small Lawn Mower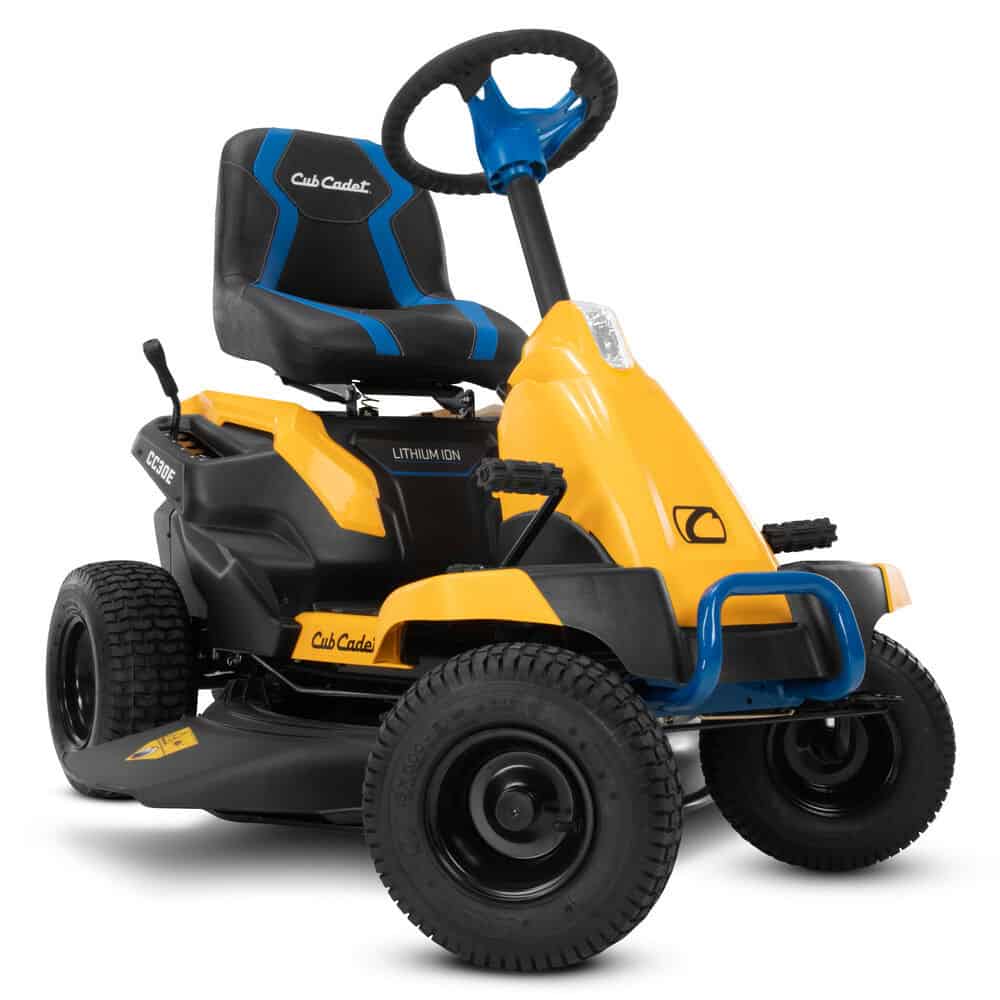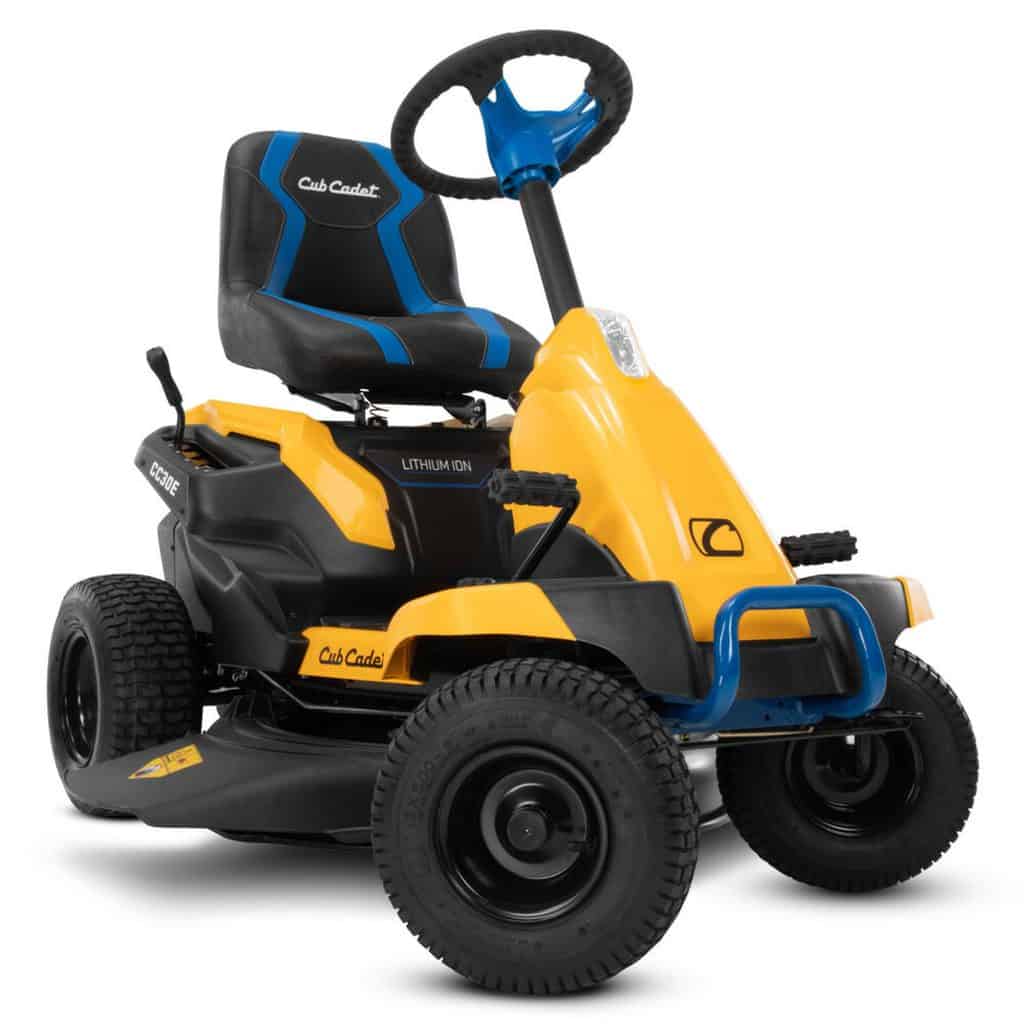 [wpsm_button color="main" size="big" link="https://fave.co/3wOz8u1″ icon="" class="" target="_blank" rel="nofollow sponsored"]

Check on Home Depot

[/wpsm_button]
This lawn mower is small but very efficient. It's almost effortless to set up and drive, and it makes maneuvering around tight areas so easy. You'll love the convenience of the hydrostatic drive. The machine corners nicely, and you can cut in reverse. Due to these and other perks, your mowing time will be reduced from an hour using a self-propelled machine to under 35 minutes using this rider. Nothing but good!
Worried that your yard is hilly, and the mower won't manage to deal with it? Don't panic. This Cub Cadet device will crawl right up your biggest hill like a champ. The machine does have lots of plastic in its construction but nothing structural. The motor is fairly quiet, and with the blades on, it's no louder than any other mower you've used. As the mower is compact, it will fit easily into your garage.
All in all, this mower is a joy to ride, maintain, and store. If you get this awesome machine, chances are it will soon become the envy of your neighbors. Treat yourself and get the armrests, they are such an excellent addition.
ADVANTAGES
Efficient compact rider;
Impressive maneuverability;
Excellent grass cutting performance;
Mows backward and forward just using the foot pedals;
Strong warranty.
DRAWBACKS
Wheels could be of better quality.
4. Troy-Bilt Super Bronco: Inexpensive Riding Lawn Mowers with Hydrostatic Transmission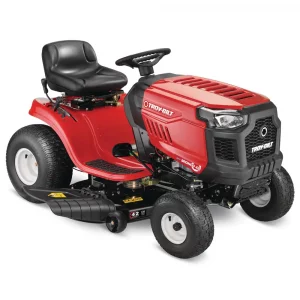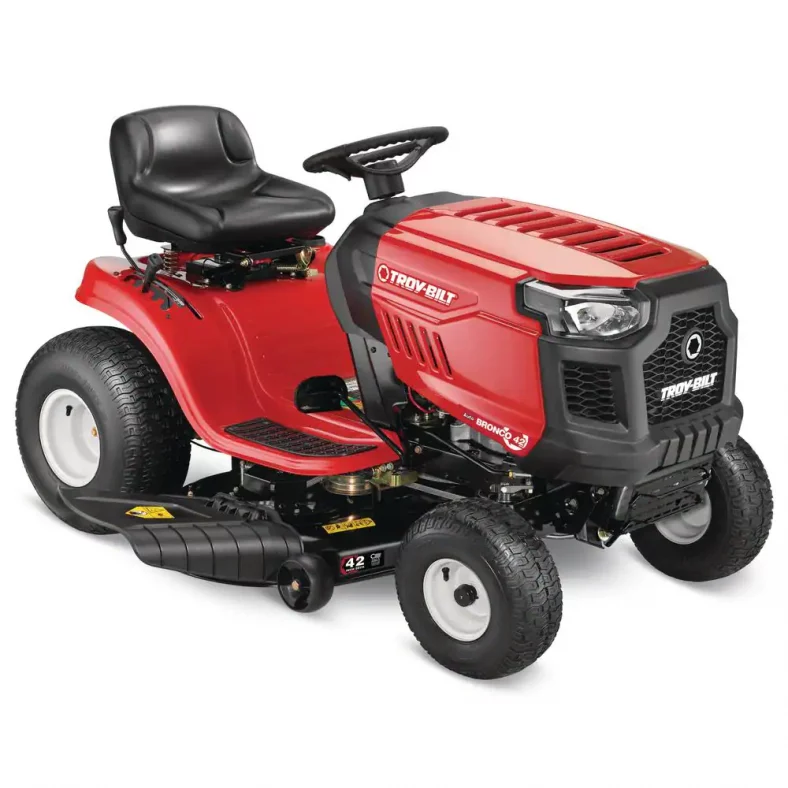 [wpsm_button color="main" size="big" link="https://fave.co/3NZqizJ" icon="" class="" target="_blank" rel="nofollow sponsored"]

Check on Home Depot

[/wpsm_button]
Troy-Bilt is yet another manufacturer with a history of nearly a century, first entering the market in 1937. It enjoys a good reputation with non-professional users for offering reliable, easy-to-use products made and tested in the USA. I've included two Troy-Bilt lawn tractors on my list. This one is the best riding lawn mower under $2000, judging by the hydrostatic transmission criterion.
Rather than sticking to a limited number of gear settings, the transmission in this model enables you to adjust speed and direction smoothly. With a twin-blade 42-inch cutting deck and a turning radius of 16 inches, it will easily maneuver across a lawn up to 2 acres. Its 17 HP OHV engine, fuelled from a 3-gallon tank, delivers enough power and torque for consumer-grade applications. The cutting height can be adjusted from 1.5 to 3.75 inches. A deck wash is included.
The model has a cast-iron front axle and large wheels. With a pair of headlights and a high-back sprung seat, it is not just rugged but comfortable to use.
My relative bought this model several months ago as a replacement for his outdated pusher, and he absolutely loves it. The only thing he misses is the ability to mow in reverse.

ADVANTAGES
Large fuel tank;
Comfortable to drive;
Smooth hydrostatic transmission;
Tight turning radius;
Durable.
DRAWBACKS
No mow-in-reverse option available.
5. Troy-Bilt Pony 42X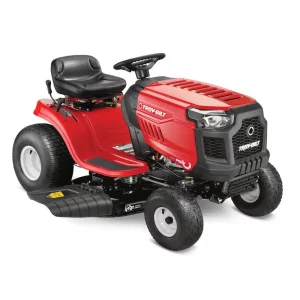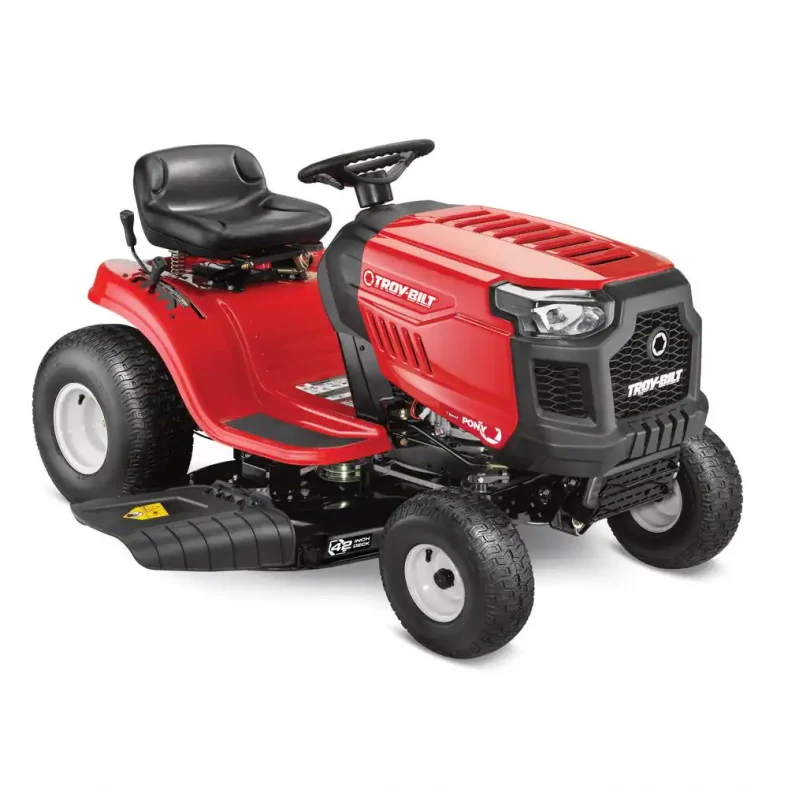 [wpsm_button color="main" size="big" link="https://fave.co/377Jj2g" icon="" class="" target="_blank" rel="nofollow sponsored"]

Check on Home Depot

[/wpsm_button]
Another affordable lawn tractor by Troy-Bilt to be included in my Top 5, the Pony 42X, has an extremely powerful 24 HP OHV motor utilizing the efficient twin-cylinder design. I had a chance to try it on a friend's law, which is quite big, and I was amazed by how much power it had.
The hydrostatic transmission in this model provides for smooth speed adjustment, and mowing in reverse is made possible for time-saving purposes. Complete with a 3-gallon fuel tank and an integrated deck wash system for its 42-inch deck as well as a pair of headlights, this model is ideal for large residential lawns that need regular care.
It comes with a high mid-back seat and features a roomy step-through design that will probably appeal to tall people who like to have a lot of space around them. Both mulch and side discharge are provided. Its key drawback, in my opinion, is that the front axle is made of steel and not the super-durable cast-iron.

ADVANTAGES
A lot of room around the comfortable seat;
Extremely powerful;
Comes with a deck wash;
Big fuel tank;
Mows in reverse.
DRAWBACKS
Not the most durable front axle material.
6.

John Deere

S100: Best Value Riding Mower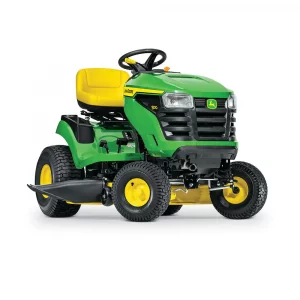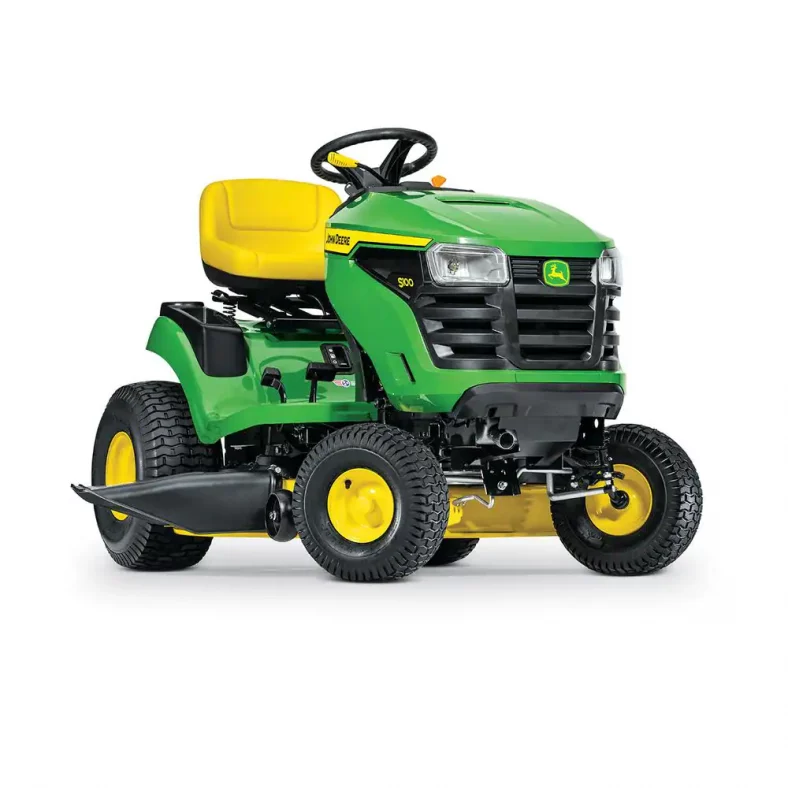 [wpsm_button color="main" size="big" link="https://fave.co/3uuSsL8″ icon="" class="" target="_blank" rel="nofollow sponsored"]

Check on Home Depot

[/wpsm_button]
Another well-established brand on my list, it offers inexpensive lawn tractors that are still reliable and efficient.
This is a small model, which makes it a good choice for not-so-big lawns. The turning radius is 18 inches. It is powered by a 17.5 HP John Deere branded engine that belongs to the V-twin category, a time-tried configuration that's mostly associated with motorcycles but is also found in industrial applications such as on gardening equipment.
While less cool in operation than its single-cylinder counterpart and potentially noisier, the motor generates more power. Indeed, it produces enough torque to become a time-saver for a friend of mine who uses this mower on a regular basis to take care of her modestly sized lawn.
Please mind that the person I'm referring to is a petite woman, and she's mentioned that tall people are likely to find the seat too tight.
The 42-inch deck is adjustable from 1 to 4 inches.
The model's main drawback being the extra-tight seat, I can recommend it to shorter users looking for a budget-friendly yet powerful grass cutter.

ADVANTAGES
Affordable price;
Powerful motor;
Decent turning radius;
Compact;
Mulching feature included.
DRAWBACKS
Might prove too cramped for a tall operator.
7. Craftsman T225: Best 46-inch Affordable Riding Lawn Mower
Affiliate links and images placed from the Amazon Product Advertising API on 2022-11-21
A brand of the well-known Stanley Black & Decker, Craftsman, was first introduced to the US market back in 1927 and still makes a wide range of tools and equipment that has won it a reputation of a trusted brand.
What makes the T225 lawn tractor stand out is its 46-inch deck, which is an uncommon feature in the inexpensive riding mower category. This model is a viable option for those who have a large area to cover, but it also boasts a precise turning radius, making it ideal for tight spaces as well.
The machine's 15×6/20×8 wheels ensure a turf-saving clearance while offering increased stability.
This model features an efficient deck with a diameter of 46 inches that comes with a deck wash included for ease of cleaning and ensures consistent, quality trimming. With a foot-controlled hydrostatic transmission and a mow-in-reverse option, it's a true time-saver. It also has a large 3-gallon fuel tank.
I've heard several people praise the heavily cushioned ergonomic seat in this model. However, my friend who bought it about a year ago to take care of his two-acre yard has mentioned the back giving "too much support". Take this into account if you prefer a more relaxed position while mowing with the seating loose around your mid- to lower back.

ADVANTAGES
Time-saving 46-inch deck;
Ergonomic padded seat;
Large fuel tank;
Comes with a deck wash;
Mow-in-reverse included.
DRAWBACKS
At the top end of the price range;
Some people might not like the enhanced support that the seat gives your back.
Riding Lawn Mower Under 2000 Buyer's Guide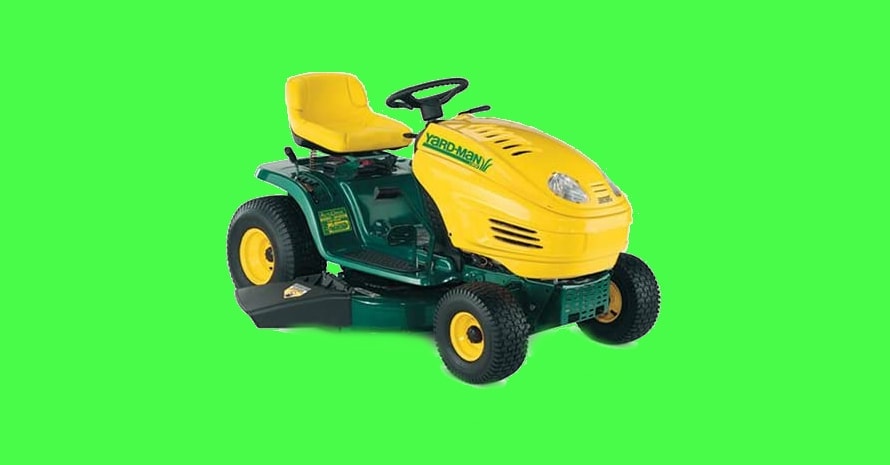 This section explains what you should look for when shopping for a lawn tractor within a pre-set budget of no more than 2000 dollars.
Cheap vs. expensive riding mowers: What to expect
Budget-friendly ride-on mowers are different from those that come at a premium price based on their reliability, the degree of comfort that they offer to the operator, and performance features.
Heavy-duty cast-iron front axles and crack-resistant hood material are investment-worthy durability features.
When it comes to comfort, hydrostatic transmission can become a key selling point as it enables smooth speed adjustment across a continuous range. Ergonomic features such as seat back support and padding generally cost more than bells and whistles like cup holders.
Performance is what largely determines the price. You pay for horsepower and cool, smooth motor operation, efficient deck design, and adjustment. Another important point is zero turn mowers under 2000 are extremely rare because a tight turning radius is a valuable and costly feature.
Finally, it's not common for budget-friendly ride-on models to come with mulching discharge installed. Since a layer of mulch can prevent weeds and benefit your lawn in other ways, some users might miss the capability.
How to choose a riding lawn mower under 2000 dollars
There are a number of key parameters that should guide your decision within the set price range.
1. Engine power, usually expressed in horsepower, or HP, is probably the most obvious measure of how much the machine can do. It's a common misunderstanding that motor displacement in cubic centimeters, often shortened to cc, is the same thing.
However, the relationship between the two parameters is complex, and I recommend relying on the HP number rather than cc. Extra-powerful motors can save you a lot of work if you have a large property or there's some difficult terrain in your yard.
2. The cutting width is another indirect indicator of efficiency. Choose a wide deck if you have a lot of space, and maneuverability is not a priority. For example, a 46-inch deck will work well on 2 acres, but a one-acre lawn will be quite happy with a compact 24-inch mower.
It's not just the deck that influences maneuverability, though. A tighter turning radius and compact overall dimensions both add to the quality. Mow-in-reverse can save time navigating spaces filled with obstacles, too.
3. The cutting case plays a major role in ensuring quality performance, so pay attention to what blades are included and what replacement you can use, say, if you want to switch to mulching.
4. Comfortable seating matters. Make sure there's enough space for your legs and support for your back. Ample padding can be a bonus, and so is a common fastener type that enables seat replacement.
Since mowers are associated with a lot of injuries, it's essential that you do the job in a comfortable position, preferably holding the steering wheel with both hands. I strongly recommend transmission that's controlled with a foot pedal because it provides for increased safety.
If you don't have the skill required to assemble your mower, consider getting a pre-assembled unit based on your location. In some cases, poor assembly might affect the warranty unless done by the brand's representative. Speaking of warranty, I advise investing in equipment that comes with long-term coverage since riding mowers are equipment meant to last.
Riding lawn mower safety tips
When you mow your lawn with a ride-on mower, it's essential to observe the following safety rules:
Don't entrust the task to children under 16 years old unless supervised
Keep your pets and little children away
Never carry passengers
Don't add oil/fuel in the garage to avoid fires
Inspect the mower for visible damage before each session
Avoid mowing in reverse unless necessary
Durability tips for riding lawn mowers
Since we generally expect our mowers to last, here are some tips to prolong the life of your new lawn-care equipment.
Clean the mower regularly, using compressed air to remove dirt and debris
Change gas, oil, and the oil filter at the beginning of every season
Clean/replace the oil filter as often as the manual suggests
Keep the tires inflated to the recommended pressure
Check blade sharpness regularly and call a pro if sharpening is needed.
Riding Lawn Mower Under 2000 FAQ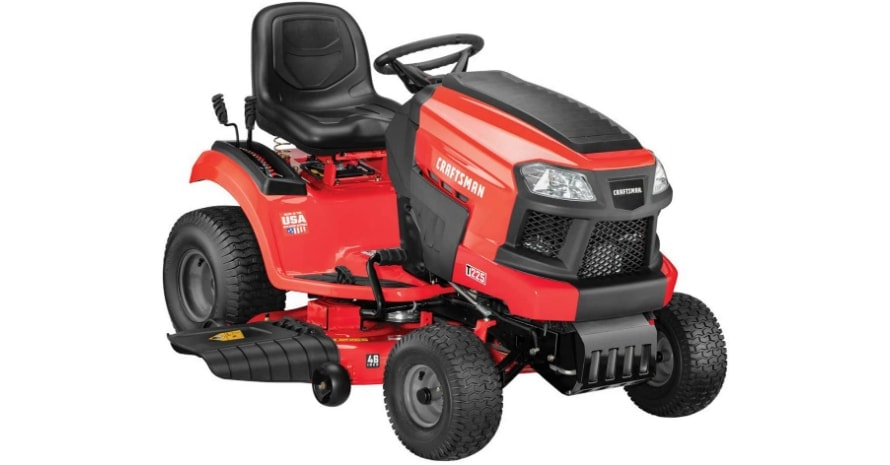 Here's the traditional frequently asked questions section where I answer some of the most common questions regarding lawn tractors that fit in the price group in question briefly.
How to know if you need a lawn mower with a lot of horsepower?
While it's obvious that more power means greater efficiency, it also translates to a higher price. That's why it's important to factor in two major aspects when choosing a lawn tractor based on its horsepower — the amount of grass that you need to cut, that is, the size of the lawn and the terrain. Larger lawns require more engine power in order to save your time.
Generally, I wouldn't recommend anything below 15 HP. This is the bare minimum, and you'll surely need more if you have a difficult plot with lots of uneven ground as the machine will require extra power to negotiate all the bumps and pits.
Does a bigger cutting width make the most efficient machine?
The short answer to this is no. While a wider deck does ensure greater coverage, it might also compromise maneuverability. Mowing your lawn is not all about actually mowing since there's a lot of turning to do as well. If the time spent adjusting your direction and overcoming obstacles exceeds that saved due to the increased deck size, the efficiency reduces.
Power and cutting quality is another thing to consider. A wide-deck mower that leaves the lawn crying for another pass is highly unlikely to become a time-saving device as compared to a smaller one that actually delivers.
Do all riding lawn mowers have headlights?
Most modern models come with lights of some kinds, but the way they work varies, and so does the output. I've heard users complain of dim bulbs where lighting intensity changes according to the speed, and I've seen really good options such as the ones on my top pick by Husqvarna. Headlights are needed for evening-time mowing sessions, especially when days start getting short.
Can I adapt a larger seat to my lawn mower?
Replacing your seat with a larger one is not a problem provided that it has appropriate fastenings that match your mower. When shopping for a replacement seat, check the bracket requirements for the size you've chosen.
Is it convenient to buy a pre-assembled riding lawn mower?
For those who lack experience with ride-on lawn mowers, getting one that's been assembled by a professional is probably the best option because the assembly usually takes a lot of time and requires some skill. Alternatively, some online stores offer pro assembly service. You can even have the machine gassed up for you if you want to so that you can start using it immediately.
Budget-Saving Lawn Tractors for a Happy Lawn
Now that you know what to look for in the best riding lawn mower under $2000, it's time to go shopping! While reading another lawn tractor review before you make the decision can be helpful, especially when it comes to aspects such as operator comfort and experience with the manufacturer's Customer Support, I'm ready to offer those short of time a safe bet.
Husqvarna YTH18542 is my absolute favorite in the affordable ride mowers category. It combines excellent cutting power and quality with durable materials and reliable design that provides an enjoyable user experience. With its 42-inch easy-to-wash adjustable deck, the model is perfect for moderately sized lawns. It has all you need for ease of maneuver, from compact dimensions to a tight turning radius.
Being aware of how the same product can make a different impression on different people, I'm curious about your priorities. What makes a great lawn mower for you? Please share in the comments!