Gas-powered devices are known to be very powerful. However, the battery-operated tools that are produced nowadays may be even more efficient and durable. There are so many models to choose from today. To help you purchase the best battery powered hedge trimmer, I have prepared comprehensive reviews of the top devices.
Pros
Copes with the toughest shrubs.
Lightweight Cordless Hedge Trimmer
Powerful Battery Powered Shrub Trimmer
Pros
Copes with the toughest shrubs.
The one I would like to point out is Black+Decker 22-inch cordless hedge trimmer. It is probably the most powerful and user-friendly tool among the battery-operated hedge cutters. Such a trimmer design is most suitable if you have a large yard, and it's inconvenient to use the gas-powered one. Also, you will discover more about gas vs battery hedge trimmer features in today's reviews.
5 Best Battery Powered Hedge Trimmers Reviewed
WORX WG261 20V Power Share 22-Inch Cordless Hedge Trimmer – Lightweight Cordless Hedge Trimmer
DEWALT 20V MAX Cordless Hedge Trimmer – Powerful Battery Powered Shrub Trimmer
EGO Power+ HT2400 24-Inch 56-Volt Lithium-ion Cordless Hedge Trimmer – Lithium-Ion Battery-Operated Hedge Trimmer
BLACK+DECKER 20V MAX Cordless Hedge Trimmer – Best Battery Operated Hedge Trimmer with Dual-Action Blade
When buying the power tools online, it's quite simple to get a completely different device from what you have read in the description. So, in these battery-powered hedge trimmer reviews, I will provide the products of the manufacturers you can trust.
1. Greenworks – 24-inch Battery-Operated Hedger
Greenworks believes that gas-powered products bring a lot of mess and discomfort while working with them. That's why this manufacturer focuses only on battery-operated tools. You will find a proper device for both DIY-consumers and landscaping professionals on their product list.
If you have large shrubs and a lot of work to do, this Greenworks model is the correct choice for you. It has a 24-inch blade with a dual-action design. It reduces the time spent on cutting at least two times or even more. The hedge trimmer weighs about 5.8 lbs.
With this Greenworks battery-powered bush trimmer, you can cut the branches of ¾ inches. The battery provides up to sixty minutes of runtime. By the way, it comes with an integrated USB port. The cutting speed reaches up to 3200 strokes per minute.
Small weight and a long blade make this model one of the most comfortable trimmers on the market. It also has a rotating rear handle. In addition, it is supplied with a cushioned overmolded grip. The device starts with one push on the button – so, no more endless cords on your way.
---
ADVANTAGES:
Has the 24-inch blade;
Lightweight;
High cutting speed;
Powerful battery;
Comfortable handle.
DRAWBACKS:
Requires more energy than other models.
---
2. WORX – Lightweight Cordless Hedge Trimmer
The best battery hedge trimmers require well-built technology and improvement mostly all the time. WORX focuses not only on building the devices but also on creating a unique design. They strive to make their products faster, more efficient, and convenient.
This WORX model is considered to be one of the most lightweight trimmers on the market. It weighs only 5.5 lbs. If you need to work for a long time, this device will suit you perfectly. The blade is 22 inches in length.
The maximum cut diameter reaches ¾ inches. The device comes with a 20V battery and a charger – it allows you to work for about an hour without interruptions.
As I have noted before, this small battery powered hedge trimmer weighs a little, and it also reduces most of the vibration. Its medium cutting speed is 2600 strokes per minute. According to all these features, you will get a little finger and hands fatigue.
---
ADVANTAGES:
Has a small weight;
Reduces the vibration;
Comes with a battery and charger.
DRAWBACKS:
Works at a lower speed than other models.
---
3. DEWALT – Powerful Battery Powered Shrub Trimmer
DEWALT started its development as a small company, but nowadays, it's a worldwide provider that offers powerful innovations. Their flexvolt batteries, for example, have automatic voltage switching technology, which is highly convenient in power tools application.
This hedge trimmer, battery operated device, has a 22-inch blade. The design is compact – however, the device weighs about 7.5 lbs.
Like most hedge trimmers, this model has a ¾ inches cutting capacity. Talking about the speed, it reaches up to 2800 strokes per minute.
The tool starts and finishes its work with one pull on the trigger. Also, it is supplied with a high capacity 5Ah lithium-ion battery, which works for more than an hour. This model is suitable if you have to manage tough shrubs in the fastest way.
---
ADVANTAGES:
Compact design;
High cutting speed;
Has a powerful battery;
Copes with the toughest shrubs.
---
4. EGO Power+ – Lithium-Ion Battery-Operated Hedge Trimmer
At the very beginning, EGO Power+ was concentrated on cordless technology. They strive to get rid of the unnecessary mess and noise when using gas-powered equipment and offer a reliable renewal.
This EGO Power+ model of the battery-powered hedgers is perfect for the large yards, where you have a lot of work to do. It has hardened steel blades. They are dual-action and are 24 inches in length. The device weighs about 6.2 pounds.
You will make your cutting quite fast thanks to the device speed of 3000 strokes per minute. It can cope with the ¾ inches branches at ease.
The tool has a weather-resistant construction. Also, the EGO Power+ battery provides a long runtime. However, this model is quite heavy because of the blade construction.
---
ADVANTAGES:
Has long blades;
Powerful lithium-ion battery;
High speed;
Durable blade construction.
---
5. BLACK+DECKER – Best Battery Operated Hedge Trimmer with Dual-Action Blade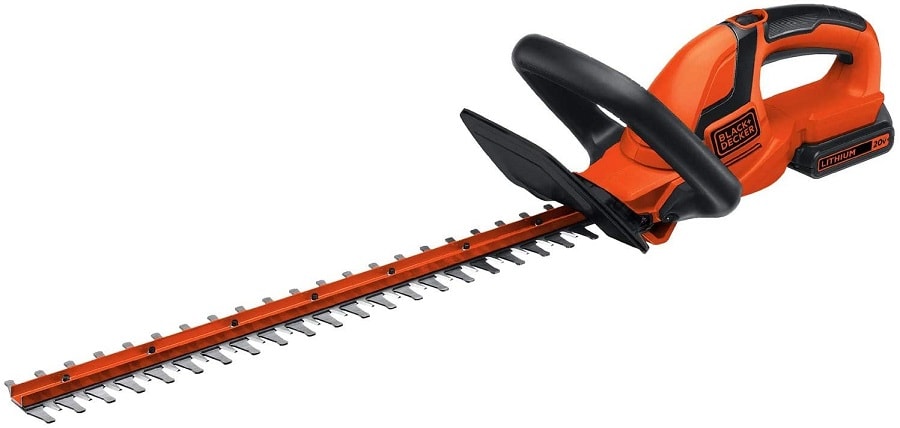 No products found.
Black+Decker is a global company that has been offering its innovations for more than one hundred years. They started with a portable electric drill, and now they provide a huge variety of saws, sanders, lawnmowers, leaf blowers, etc. Their latest technologies are mostly battery-powered.
This model has a small weight, and thanks to the large dimensions, it copes with the branches in a little time. The trimmer weighs about 5.7 pounds. Therefore, it's easy to maneuver and cut under various angles. The blade features 22 inches in length.
The construction of the device allows cutting the branches up to ¾ inches in diameter. It copes even with the toughest shrub. Its design has dual-action blades. As a result, the cutting takes less time and makes the hedge trimmer highly efficient.
All battery-operated hedge clippers have a similar advantage – you don't need to pay attention to the cord behind your back because there is none in the device. The fully-charged battery allows you to cut for a whole hour. Also, the Black+Decker battery hedger reduces the vibration by up to forty percent.
It has a convenient and lightweight handle, so you can operate for a long time without any discomfort. You can purchase a kit that consists of a single tool. However, there are also options with batteries, a charger, gloves, safety glasses, or a leaf collection bin. I think this trimmer model fits people who are searching for an efficient product with comfort usage.
---
ADVANTAGES:
Comfortable handle;
Lightweight;
Long dual-action blade;
Cuts even the toughest shrubs;
You can purchase additional safety glasses and gloves.
DRAWBACKS:
The standard option doesn't include the battery and charger.
---
Battery-Powered Hedge Trimmer Buyer's Guide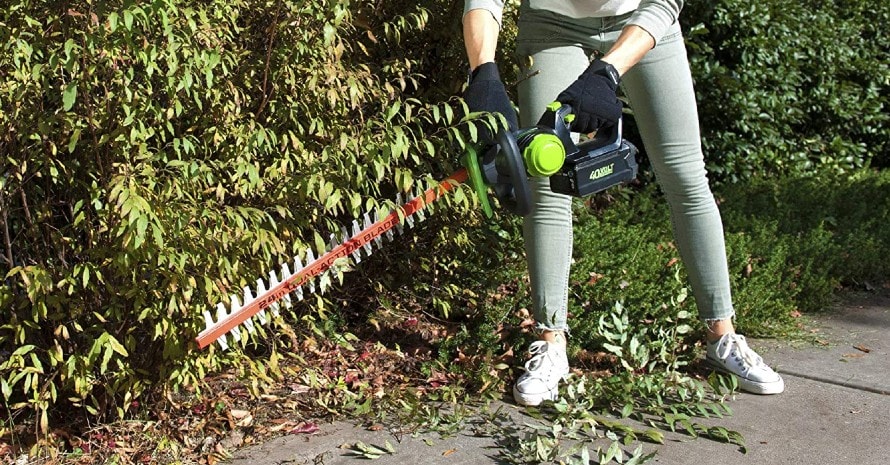 Let's discover some other significant features of the battery-powered hedge trimmers you should know.
How to choose the best battery powered trimmer?
First of all, you need to decide on the tool's dimensions. If you have large shrubs, it's better to choose a 24-inch trimmer – in another case, the 22-inch option or even less will be alright. The lightweight devices are easier to operate. However, the ones with a stronger and heavier blade cope with the tough brunches faster.
You should search for a battery that works for at least one hour. Usually, the manufacturer offers the right one for the particular model. Talking about the trimmer speed, those tools with smaller speed produce less vibration, but at the same time, they make the shrubs and hedges pruning several times quicker. So, you should purchase the item according to your preferences. I recommend you to consider the products from these battery hedge trimmer reviews.
Battery Powered Trimmer FAQ
If you haven't found the answers you need in the battery-operated hedge trimmer review yet, here are the most common questions.
What are the best battery operated hedge trimmers?
There are many features you should consider when choosing the best hedge trimmer. I can admit that the Black+Decker's tool is the most durable cutter on the market nowadays – it has all advantages of the battery-operated equipment.
How good are battery hedge trimmers?
They are usually as powerful as the gas-powered ones. Moreover, they reduce the vibration and don't create a lot of noise and mess during cutting. In a short word, they are highly comfortable to use and provide a high level of hedge trimmer safety.
Which is better: electric or battery hedge trimmer?
The electric hedge trimmers have their advantages. However, battery hedge trimmers are becoming more and more multi-featured, and the batteries are improving all the time. So, talking about petrol vs. battery trimmers, the second ones are more affordable and convenient.
New Era of Hedge Trimmers
The battery-powered devices appeared on market not so long ago. However, they have reached popularity in a little time. That's not a surprise – they are more convenient and manage to cut the toughest shrubs in your yard. In today's battery hedge trimmers review, the Black+Decker tool occupies the top place. I recommend purchasing it because it is suitable for various lawn sizes and cutting types.
Have you ever used a battery hedge cutter? Is it more comfortable than the gas-powered one? Please, share your comments in the section below.
Last update on 2021-10-21. The post includes Affiliate links. Images from Amazon Product Advertising API