The holiday season is filled with a lot of activities. While there are a lot of festivities and merrymaking, there also exists one issue resulted from the winter season: snow-clearing becomes a top task in your activities. From my experience as a gardener, this activity can be fun if you are equipped with the right tool.
Speaking of tools, in this article, my aim is to give you an overview of the best electric snow shovel. As I write about it, I am already thinking that it would be a good Christmas present for someone living in the area experiencing low to medium amounts of snowfall. This tool is not only economical in terms of price and maintenance, but it is also small in size to save on your garage space. This shovel is also light, which makes it easy to push around your porch and pathway. Let's get straight to analyzing a thing or two about it.
Snow Joe 13-Inch Electric Snow Shovel – Best Electric Power Snow Shovel for Decks
4.5/5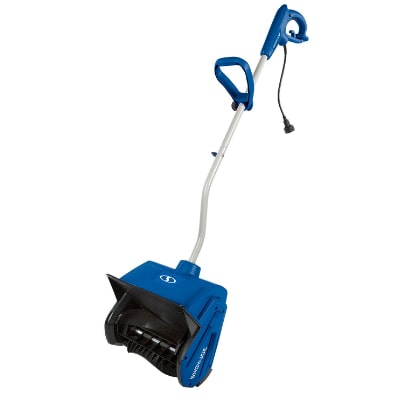 ADVANTAGES:
Can clear snow even to a depth of 6.5 inches
Small in size, yet very powerful
It has one of the highest clearance rates of 400 pounds per minute
Light (lighter than other items from our list)
For most consumers, Snow Joe is a brand that does not require much introduction. Despite not being around for a long, it has gained a huge reputation for manufacturing quality outdoor tools. The Snow Joe 323E electric snow shovel is an example of this qualitative equipment. This machine summarizes a concept that is becoming something of a trend in the 21st century. Everything is being made smaller yet more powerful. This tool guarantees you thirteen inches wide and 6.5 inches deep snow clearance. 
On the other hand, the Snow Joe electric snow shovel has a nine-ampere motor that powers its augers. This enables it to collect and throw snow at a rate of four hundred pounds per minute. This is one of the highest clearance rates you will find for an electric shovel. It is also an outstanding rate for a fourteen-pound electric power shovel snow thrower. For efficient usage, it has also been fitted with an adjustable handle. This means that you have the option to position the device at the right height for yourself. Therefore, it is easier for you to enjoy working with this tool as it involves minimal straining.
Electric Snow Shovel Reviews – A Glance at 6 More Options
In this section, I will focus on a sample electric shovels worth adding to your shopping list. I will also highlight the strengths and weaknesses associated with each product. My hope is that the information will help you make a better buying decision.
1. Greenworks 20-Inch Corded Snow Thrower Shovel – Most Efficient Snow Electric Shovel
4.9/5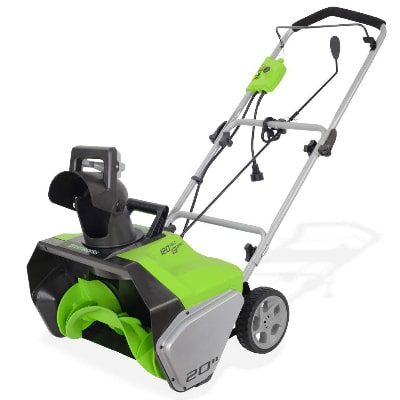 ADVANTAGES:
It is one of the most powerful throwers in the electrical shovel category
Has a wider clearance shovel
Comes with a rotating chute that can make a 180-degree turn
Has wider seven-inch wheels for improved maneuverability
DRAWBACKS:
Certain people have complained that the shovel requires a lot of force to move it around
You are probably among those people that believe clearing snow should be simple before you head off to work. If you belong to this category of individuals, you have allocated this activity very little time. Therefore, you will need a tool that helps you stick to this tight schedule. 
Lucky for you, there is nothing to be disappointed about because GreenWorks 2600502 has addressed all your concerns. How is that? To begin with, the tool is wide enough, so it covers a ground of twenty inches wide and a depth of twelve inches. To put this into context, it is able to clear snow in an area almost twice larger than some other electric snow shovels in this category do. In terms of the depth, the shovel is capable of digging out ice twice more as compared to the levels of other electric shovels.
As you might expect, these capabilities would require more power. GreenWorks 2600502 has not disappointed me in this respect. Its thirteen amperes motor ensures that the shovel can throw a minimum of four hundred pounds of ice within a minute. It is these high capabilities that have led to most Greenworks electric snow shovel reviews rating it as almost having the same capabilities as the gas-powered blowers.
2. Earthwise Electric Corded 12Amp Snow Shovel – The Powerful Electric Snow Shovel with Wheels
4.7/5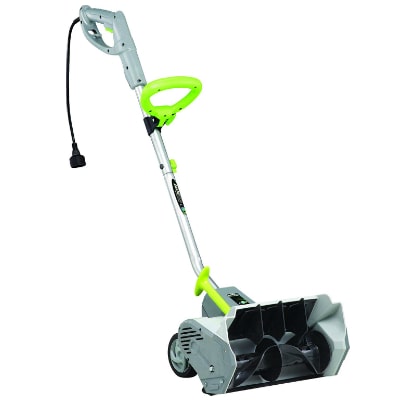 ADVANTAGES:
Considerably light for such a powerful shovel
It has a flexible chute
Enjoy a wider snow clearance of sixteen inches
Has a more powerful 12-ampere engine
Can be used even on a surface with uneven terrain
DRAWBACKS:
This specific model is corded
If the power of a tool is your main concern, then Earthwise SN70016 should be among the options to consider. This machine is equipped with a 12-ampere engine. This gives it a huge edge over other best electric snow shovels for effective clearing four hundred and thirty pounds of snow to a thirty feet distance. Moreover, unlike the other items in its class, this shovel has an additional feature of a flexible chute. This offers it an added advantage of having about three chute directions. These are more options of where to angle it when throwing the ice. 
Due to its huge clearing capacity, the product has also been highly rated in other best electric snow shovel reviews. It will sweep ice a sixteen-inch wide distance and dig it from eight inches below. You will effectively cover a wide area within a very short time period. With these capabilities of the machine in your garage, a night of snowfall shouldn't be a bother anymore. It will comfortably clear the snow without consuming much of your precious time. Moreover, the six inches wheels fitted on this shovel offer it better maneuverability even when working on uneven terrain.
3. Snow Joe Cordless Snow Shovel, Kit – Best Cordless Electric Snow Shovel
4.6/5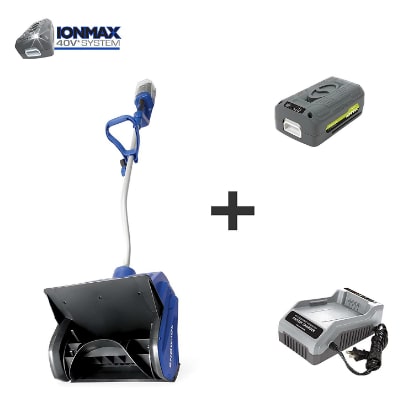 ADVANTAGES:
The shovel is cordless, hence can be used in places not close to a power source
Once full, the battery can power the machine for approximately an hour
It is a good option for environmentally-conscious consumers
Minimal maintenance operations required
DRAWBACKS:
Require charging before beginning the snow-clearing process
The one drawback that most electrical shovels cannot manage to shake is their dependency on the proximity of power sources. Critics in previous electric snow shovels reviews have argued about its obvious limitation in terms of maneuverability. This area of usage is determined by the proximity of an electrical power outlet. As a part of its competitive strategy, the Snow Joe electric shovel has found a way around this weakness with a cordless model.
This cordless electric snow shovel has been fitted with a lithium-ion rechargeable battery. Once fully charged, this forty-volt battery can keep the machine running for about an hour. I would say without doubt that this is more than enough time to work on your whole driveway. You will also enjoy working with the device as it is lightweight.
4. Greenworks 12-Inch Corded Snow Shovel – Simple to Use Electric Snow Shovel
4.4/5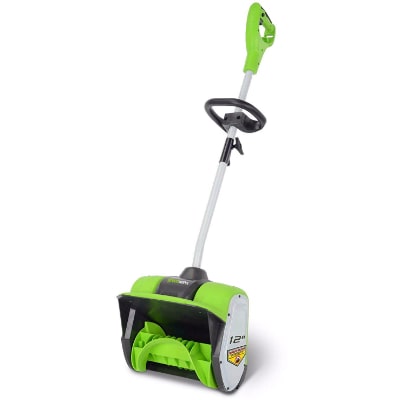 ADVANTAGES:
Requires minimum effort and expertise to operate
It features a clearance rate of 300 pounds per minute
Can clear snow as low as six feet deep
DRAWBACKS:
It will take you longer to clear deep-layered snow
Greenworks electric snow shovel is one of the familiar brands in this category of farm tools. It is a very good option for those people intending to handle low or medium levels of snowfall. The eight amperes motor ensures it achieves a maximum clearance of three hundred pounds of ice in a minute. This snow is collected from an area of twelve inches wide and a depth of six inches. Then, the shovel is throwing the collected snow to a distance of twenty feet.
The fact that the product is electrical makes it stress-free equipment. All you need is to connect the tool to a power source and press the power button to get it fired up. The Greenworks 12 electric snow shovel is also fitted with an adjustable handle that makes it possible to move it up and down depending on your height. This feature, combined with the light weight makes it one of the friendliest electric items to use. By friendly I mean that it will not require excessive force or special technique to operate.
5. WEN Snow Blaster 18-Inch Shovel – Electric Snow Shovels Best Representative for Medium
4.8/5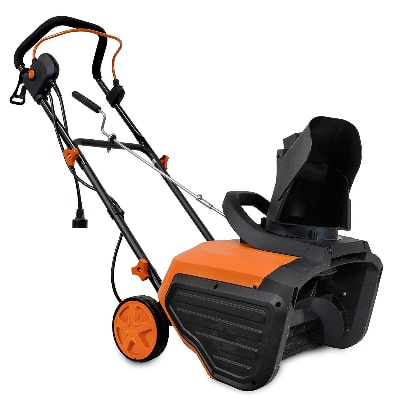 ADVANTAGES:
Has a better clearance rate as compared to the others in the category
Its auger rotates at 2000 revolutions per minute
The six inches wheel improves the tool's maneuverability even in uneven terrains
Has one of the best motors of all-electric shovels in this category
DRAWBACKS:
Comes with a shorter warranty than other brands
A simple gaze at this shovel, and you will have a thought that it looks like a real work beast. Well, you are right. Having made thorough research while examining the best electric snow shovels reviews, I should admit WEN 5662 is staking its elite among the renowned elites. Why wouldn't it? Inside this machine is a 13.5-ampere motor that rotates the auger at two thousand revolutions per minute. As a result, the electric shovel will clear up four hundred and ninety pounds of snow in a minute. This ranks as the highest rate of any other machine I have reviewed in this article. 
Backed by this immense power, the shovel will help you comfortably move eighteen inches of ice out of your way. Moreover, it will help you to clear snow that has piled up to a height of 7.8 inches. The chute will then throw the collected ice to a distance of twenty feet either to the left or to the right of the path being cleared. The reason is the chute is flexible so that it can rotate at 180 degrees.
6. Toro Power Shovel – Best Electric Snow Shovel Overall
5/5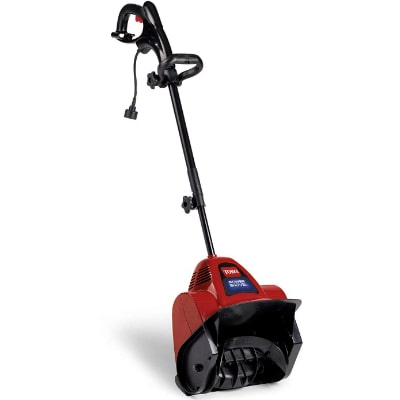 ADVANTAGES:
No assembling knowledge required
You just have to plug in and switch on the power source
The electric cord can be extended
Can throw snow as far as twenty feet
Has a 7.5-ampere engine that enables it to throw ice fast and efficiently
DRAWBACKS:
Struggles in wet and heavier snow conditions
If you are clearing snow in a clammed space, using a blower may not be a wise choice. You need something that is more compact in order to penetrate through the squeezed spaces. On the other hand, you want to make work easier and take less time clearing the snow. This is why the Toro 38361 power shovel 7.5 amp electric snow thrower should be the equipment in mind. It measures 15 by 12 inches and weighs a mere 13 pounds. Nevertheless, it will still help you clear snow within a 12 inches width and a depth of 6 inches.
You will love the fact the handle of the tool is adjustable, which means you can bring it to the height that you are comfortable with. Despite being this small, this best rated electric snow shovel is powered by a 7.5 amp engine, which gives it the capacity to throw 300 pounds of snow within a minute. What happens is that the rotor crushes the collected snow and effectively throws the powdered ice for a longer distance as far as twenty feet.
There is a common fear about the corded electrical shovels as you can use them only in areas with close proximity to electrical outlets. However, Toro electric snow shovel comes with a cord that can easily be extended and even has a lock to ensure that it does not get in your way while working.
What Are Different Types of Electric Snow Shovels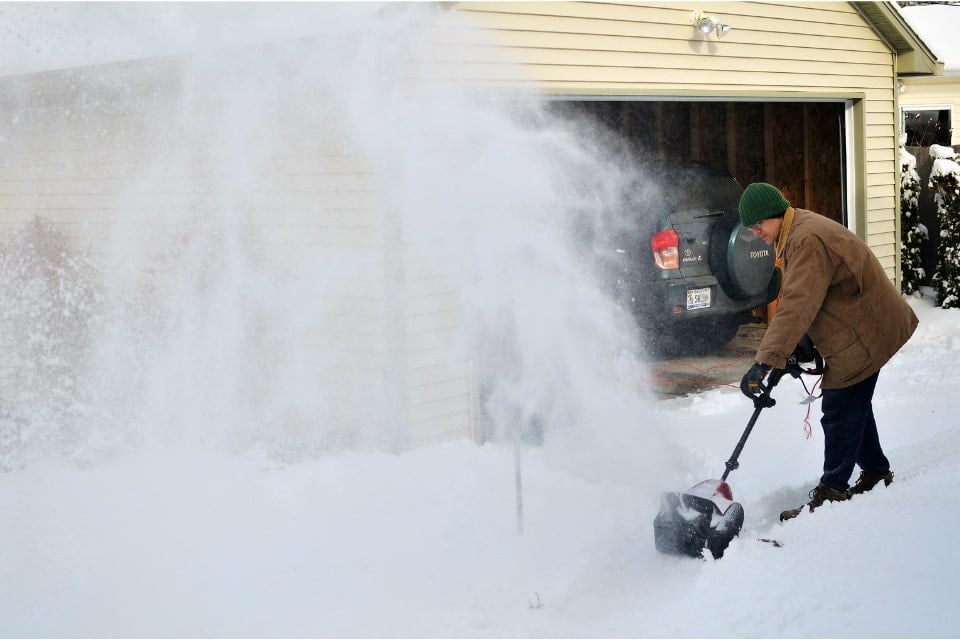 When it comes to purchasing these shovels, you have to be sure about the model you would like to have. Their variation is mainly dictated by the usage and source of power. The main models are as discussed below.
❄️1. The Power Cord
Power cord types are a sub-group of the general electric shovels. Their distinguishing characteristic is that the shovels will require their power-cord to be plugged into a power source for them to work. Critics consider this as the main weakness because such devices cannot be used in a location without electricity or at least a power generator.
❄️2 . Battery Pack
This is quickly becoming a familiar choice of electrical shovels for most households. The simple explanation for this is that they are portable. Their rechargeable battery pack can be charged in advance before you begin the clearing process. This means that the distance you work will not be limited by the size of the cord. In certain cases, once full, the battery can sustain the clearing operation for about an hour.
❄️3. Adjustable Handles
This is also a distinguishing feature among the electric snow shovels. It is actually one of the main features that most people look for when buying this equipment. These models are recommended for households that have more than one person handling the snow-clearing task. With adjustable handles, you can comfortably set the shovel to a height that you are most comfortable with. This means that you do not strain or excessively bend your back when using this equipment.
❄️4. Manual Push Shovels
Manual push shovels are common among the electrical category of shovels. Some people consider it a huge limitation, but I disagree with them. The reason behind this form of classification is that they lack the ability to propel themselves, hence will require you to manually push them around. The motors simply do not produce enough energy to even power the wheels.
❄️5. Self-Propelled Shovels
This group of electrical shovels includes the ones that are fitted with more powerful motors. This enables them to produce enough power to propel them in all terrains. Most users love these shovels because all they have to do is press the necessary buttons, and the machine will cope with the rest of the work.
❄️6. Headlight
In certain cases, you may find yourself with a lot of chores that you have to complete. Therefore, you need to arrange your schedule for clearing the snow to be the first thing you do once you wake up or at night when you get home. When shopping for an electric shovel, you should look for the one that comes with headlights as an added feature. They will help you illuminate the surface you are clearing.
What Is The Best Electric Snow Shovel – What To Look For When Shopping For A Shovel?
The above section has been centered on understanding the different classifications of electrical shovels. This may have helped to shed some light on the different categories available. But what are some other specific aspects to look out for when buying this equipment?
One of the important aspects to consider is the size and capacity of the motor. 
If you live in an area that experiences regular and medium level snowfalls, you should better choose a machine with a more powerful motor. You will find it rare to end up with an electrical shovel that has a strong motor and a low clearance rate. Therefore, ensure the size of the motor is matched by a wide shovel and a deeper clearance range.
Another aspect worth consideration is the location and accessibility of your power supplies. If you do not have any outdoor sources of electricity, you will have some decisions to make. You can either choose to buy a shovel with a bigger extendable power cord or purchase a cordless version altogether.
The size of the electrical shovel is also another important issue to consider when buying this equipment. It becomes a major influence on the aspect of storage space and the amount of snowfall. If you have little space, you would like a shovel that is very lean and small.
Another important consideration is the financial issue. Your available budget will determine the specific models to narrow your research to. Therefore, first, determine the amount you want to spend so as to narrow the list of shovels to shop for.
Additional Information on Electrical Shovels
When it comes to power equipment, there is so much information you have to learn about it. In certain cases, you will even have to investigate the ways of assembly. Therefore, this section addresses some of the common aspects associated with electrical shovels.
Final Thoughts on Reviews of Electric Snow Shovels
In conclusion, electrical snow shovels are an excellent choice for those people who care about the environment. Their strengths outweigh their drawbacks by far. Firstly, they will not consume much of your storage space when not in use. Their lean small size ensures that the shovels will consume a minimum garage room. 
On the other hand, they have minimal maintenance/assembly requirements. A simple plugin to a power source and press of a button, and you are good to go.
Therefore, if you live in an area experiencing snowfall from low to medium levels, how about thinking of Earthwise electric corded snow shovel? It is both powerful and light, which means great efficiency. While this may be my choice, which one of these shovels is of your preference? What feature do you love the most about the electric shovel you are interested in?