As an Amazon Associate we earn from commission of qualifying purchases.
Preparing for heavy snowfalls requires careful and advanced planning. Therefore, choosing an electric snow shovel vs. a snow blower is a significant point for those people who live in areas with frequent blizzards. When you have to pick up a regular shovel too often, buying powerful equipment can make life a lot easier. However, these options are very similar, and you need to learn their purposes and differences. In this article, I'll briefly tell you about the pros and cons of each option to make it easier for you to decide.
Pros and Cons of Electric Shovel and Snow Blower
Power shovel:
+ Lightweight and compact;
+ Low price;
+ Easy maintenance and use;
+ Ideal for cleaning steps and terraces;
– Not suitable for cleaning large areas;
– Can't handle deep drifts.
Snow blower:
+ Ideal for large areas;
+ Can clear drifts over 12 inches deep;
+ There are self-propelled models;
– Heavy and requires a big storage space;
– High price;
– Not as maneuverable as a shovel.
Power Shovel vs. Snow blower: Buyer's Guide
During frequent snowfalls, cleaning with a plastic or metal shovel becomes your daily chore, both time-consuming and tiresome. In this case, the best solution is to purchase equipment that will help you deal with snowdrifts faster and easier. Both electric shovels and blowers work based on the same principle. The auger moves the snow and throws it to one side. For a power shovel and a single-stage snow blower, this happens in one step, while for two-stage options—it is in two steps.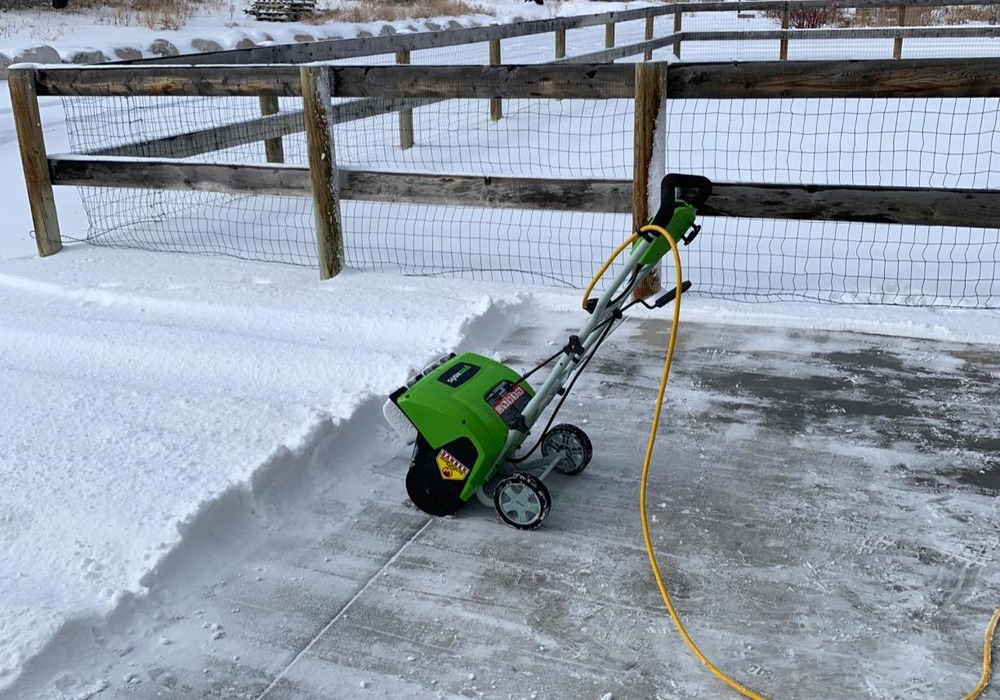 Main differences
Before choosing your best option for the winter, decide which tasks the machine should be able to handle.
Electric shovels are much lighter and more compact than blowers. Accordingly, the width of the snow clearing is also less—about 1 foot, while it varies from 21 to 30 inches in a snow blower.
An electric shovel is not suitable for clearing deep snow drifts; it can remove a layer of up to 8 inches. Snow blowers will help you get rid of the snow that is 12 inches deep or more.
Think about where you will store your equipment. An electric shovel takes up little space while a blower, due to its size, requires much more storage space.
The snow collected by the blower can be thrown from either side. A power shovel only throws snow forward. The auger of this tool rotates from front to back. Therefore, you will have to think about how to properly maneuver in your yard so that the snow does not fly where it should not.
Although electric shovels are lightweight, they typically have a not very comfortable long handle, which is not that convenient to control. Snow blowers have a double comfortable handle. In addition, many models are self-propelled, and you do not need to make any effort to push them.
Power shovels are only electric and can be powered by a battery or from an outlet. Battery models usually allow you to remove snow within an hour. Shovels with a cord are more powerful, but the area of ​​​​their work is limited by the length of this cord. However, you can always use an extension one.
Snow blowers can be electric, diesel, or gasoline. Single-stage models are powered by an outlet or have a battery. They are much smaller and lighter than two-stage ones. Two-stage machines are heavier, louder, more powerful, and more expensive. They are great for cleaning large areas and deep snowdrifts. Three-stage models are superior in power to all others. They have the highest cost among blowers. However, these options are rarely used for cleaning the local area and are popular in industries.
Since snow blowers are more powerful machines, their cost is much higher than the price of an electric shovel.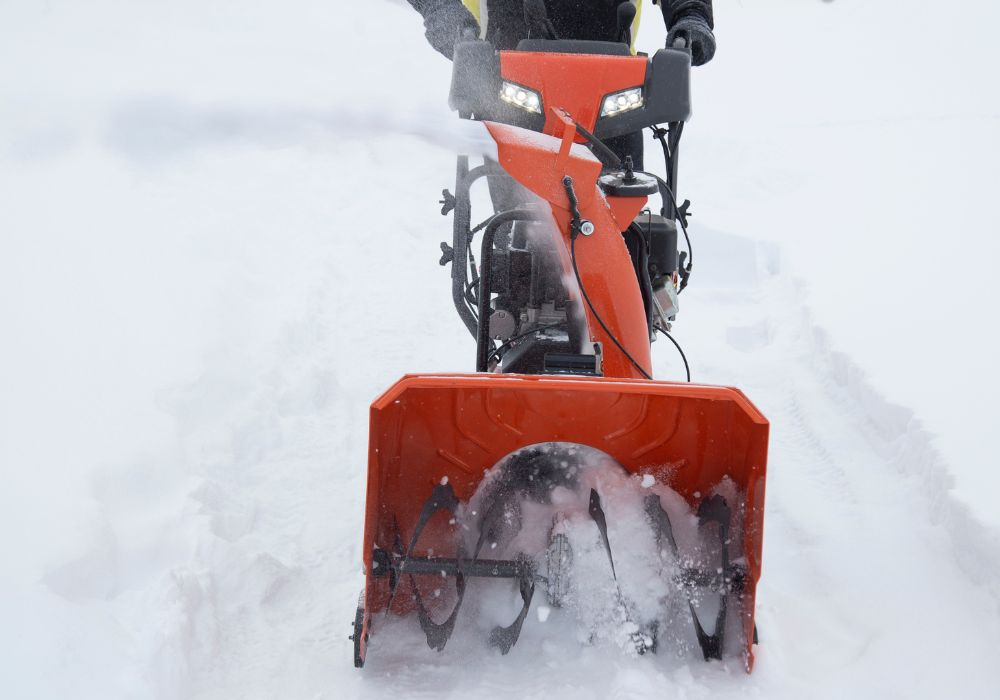 Purpose of power shovel and snow blower
An electric shovel is a perfect option if you need to remove small pieces of snow close to your home. This machine is especially suitable for cleaning steps, terraces, and short driveways. It has a low cost and takes up little storage space. The power shovel can be considered an intermediate option between a plastic shovel and a snow blower. This is your choice if you are tired of constantly hauling and shoveling snow manually but do not want to spend money on a blower or don't require such power for your small area.
Snow blowers are the choice of those who face severe blizzards every winter and constantly need to clear deep snow drifts. A shovel is not suitable for cleaning a large area. The cord is unlikely to allow you to clean the entire area, and the battery does not last long. With a small cleaning width, an electric shovel is only suitable for narrow paths. The snow blower will allow you to complete a large amount of work faster.
Pay attention to the augers of these tools. The single-stage blower and electric shovel have augers that are very low to the ground. That is why these options are ideal for cleaning smooth surfaces such as paved driveways. A two-stage snow blower does not have the augers touching the ground, so this option works well on uneven surfaces.

FAQ on Snow Removal Machines
When choosing the perfect option for winter work, you need to pay attention to all the nuances.
Is an electric snow blower worth it?
Electric snow blowers do not pollute the air, cost less than gas-powered options, and are ideal for clearing narrow areas. This is a great choice if you need something more powerful than an electric snow shovel.
Do snow blowers damage driveways?
Single-stage blowers touch the ground during snow removal, which can damage the surface. Two- and three-stage models have auger height adjustment to prevent damage to your driveway. You can also purchase special skid shoes to save any surfaces.
Which is better: a snow shovel or snow blower?
Choosing the best tool depends on your snow removal needs. The snow blower is more powerful and suitable for cleaning large areas and deep snowdrifts. However, it has a higher cost and requires more storage space. If you need to clear small paths near your home, consider purchasing an electric shovel.
Change Your Shovel for Powerful Equipment
Winter is a wonderful time of the year. You should not spend too much time with a heavy metal shovel in your hands or constantly hire people to remove the snow. You can devote more time to rest and enjoy the winter atmosphere because buying the right tool reduces the time for cleaning snowdrifts. Compare your needs with the potential of the options available. A snow blower can be an unnecessary luxury, and vice versa, an electric shovel will not cope with deep snowdrifts.
Which features of the snow removal technique are your priority? Share your thoughts in the comments box!
Also Read:
References
Snowiest Places in United States | Current Results – https://www.currentresults.com/Weather-Extremes/US/snowiest.php
Snow Blower | The Canadian Encyclopedia – https://www.thecanadianencyclopedia.ca/en/article/snow-blower