As an Amazon Associate we earn from commission of qualifying purchases.
A car is a small movable home, and I'm not talking about RVs. As you drive away from home, you need to have everything most necessary with you and be prepared for troubles like snowfalls which can get really severe. Your home snow shovel is great when you need to make the way out of the garage for your vehicle, but you won't take it with you. If you often find yourself in a Snowpiercer situation, you need to be prepared and get yourself the best snow shovel for a car that you can find.
What should it be? First, it needs to be compact unless your car is as big as a real home. Second, it needs to be more durable than usual; if you're stuck in the middle of nowhere, you won't just go to Walmart for a replacement. Third, it's better when multifunctional. Knowing this, let's take a look at some of them.
Product
Top Pick
Runner-Up
Premium Pick
Title
BIRDROCK HOME 34" Folding Emergency Snow...
SubZero 17297 Auto Emergency Shovel with...
ORIENTOOLS Folding Snow Shovel with D-Grip...
Pros
Portable trunk-friendly construction
Top Pick
Product
Title
BIRDROCK HOME 34" Folding Emergency Snow...
Runner-Up
Product
Title
SubZero 17297 Auto Emergency Shovel with...
Premium Pick
Product
Title
ORIENTOOLS Folding Snow Shovel with D-Grip...
Pros
Portable trunk-friendly construction
Affiliate links and images placed from the Amazon Product Advertising API on 2023-09-22
5 Best Snow Shovels for Car Reviewed
Compact yet wide enough. Well-suited for specific missions, like removing the snow from under the bottom of your car or from around the tires. Easy to fit in the trunk. Which emergency snow shovel for a car ticks all the boxes better?
1. BirdRock Snow Shovel: Almost Full-Size Yet Compact
Affiliate links and images placed from the Amazon Product Advertising API on 2023-09-22
I had to take it with my hands to see if it was really folding: It looked like a residential model but a bit smaller. The one by Birdrock Home is as wide as some home or professional models, its blade being 9" wide and 2.4" deep. Being bigger than most, it's collapsible and so easy to place in the trunk, as its weight is only about 2 lbs. Though it feels rather sturdily built when unfolded, it's great that its blade is small; still, you'd better not overload it with snow.
It's also suitable for mud, sand, or other substances you might need to release your car (though I wouldn't fully load it, given how the build felt). The aluminum it's made of is durable and high-quality. It's quite usable even when folded, for example, when you need to remove the snow from under the bottom. But if you unfold the handle, it becomes as long as 34", so you can operate it like a full-size tool. The D-grip is covered with textured rubber, so your hands won't get cold or slip.
It's not only usable in the car: The manufacturer points out that you can also place it in your backpack, hinting at its usage while hiking. Alas, the one we see is only available in red; though bright colors are practical when surrounded by snow, you can't choose the color that fits your car. Let it be your biggest problem, though.
ADVANTAGES
Original foldable design
Durable aluminum
Solid easy anti-slip grip
Lightweight
Available in different colors
No detachable parts
DRAWBACKS
Only available in red
You need to control your effort with it
2. SubZero Auto Emergency Shovel: Bigger Yet Smaller
Affiliate links and images placed from the Amazon Product Advertising API on 2023-09-22
This trunk snow shovel by a well-known American manufacturer (the brand appeared in the 1950s) has a greatly fitting name, even if you're no Mortal Kombat fan. The character in the game would have used it as a weapon; in real life, it's a great snow fighter, its plate being 9.5" wide. The handle is telescopic, extending up to 37". Being bigger than the one by BirdRock, this one is also compact and even more lightweight, at 1.4 lbs.
The D-handle is covered with soft foam, both protecting your hands from slipping and from the cold. As for the handle, it's easy to expand to the height you find the most convenient. The head is made of plastic (polypropylene), though it felt hard and durable enough for me.
Last but not least: Though it's not meant to remove ice, the item comes with an ice ripper that gets this job done. More and more drivers have come to realize its importance recently. The color is blue (symbolically, given the name and the function), but it's hard to lose sight of it in the snow. I tried throwing it three or four feet away and lost sight of it only in twilight. The only thing that keeps me from championing it as the best one is that defective items happen too often, are flimsily built, and are too ready to break.
ADVANTAGES
Very lightweight
Good blade
Telescopic handle
Wide plate
Quite affordable
Comes with an ice ripper
DRAWBACKS
Sometimes, the build is flimsy
3. ORIENTOOLS Folding Snow Shovel: The Most Affordable
Affiliate links and images placed from the Amazon Product Advertising API on 2023-09-22
This manufacturer doesn't try to conceal its Chinese roots, proudly putting it onto the logo. Neither do they try to hide the similarity between its small car snow shovel and the one by SubZero: Even the dimensions are similar, the shovel being 1.4 lbs. heavy and 9" wide. There are also 6" and 11" wide options, though I preferred the medium size. The shape of the handle, though, is different, looking and feeling even sturdier and more reliable than the American one.
The plate has reinforcement ribs which make it more durable, and its edge is protected with aluminum: It must be cheaper in the All-under-Heaven country. The handle has a user-friendly lock that allows you to expand it to different lengths, up to 26". It can be adjusted in three positions (folding, horizontal, and vertical), so you can choose the most appropriate option for any particular job.
It can also be used not just to shovel your way through the snow but also with mud, sand, dirt, etc. The adjustable positions are an extra help with these modes. I wouldn't recommend sweating this tool too much, though, as it feels like the locks might loosen as you use it, and then the tool will become useless (unless you replace the handle). For a not-so-heavy-duty model, though, it's quite suitable and convenient.
ADVANTAGES
Portable trunk-friendly construction
Lightweight
Blade edge aluminum protection
Adjustable handle length and position
Available in different sizes
DRAWBACKS
The lock loosens with time
Smaller than some might expect
4. Behandy Folding Shovel: The Most Versatile Shovel
Affiliate links and images placed from the Amazon Product Advertising API on 2023-09-22
I haven't found any information about the manufacturer; it often happens with brands that supply their products to Amazon and Walmart and don't appear anywhere else. Well, this one looked quite convincing as the multitool among shovels. Hardly does it come from Switzerland (unless there is a district with such a name in China), but its attempts to be a Swiss knife among car snow shovels deserve some applause.
What else is there, in addition to the shovel itself? It can be used as a pickaxe, a hoe, a gardening shovel, a camping shovel (hence its shape, not that of a traditional snow-removing device but suitable for that too), and even as a saw, with the blade on one of the edges. It's not the best saw I have tried in my life but it worked. This versatility means the shape isn't perfect for snow that falls from the edges but it is still suitable. It took me a little more effort to make a path when trying it.
Given its decent build, it's the ultimate portable shovel for a car. The trick is, you might need nothing of these extra features but just a decent shovel, and this will be an overkill (though hardly an overpay, given its price under $20). You might also be deterred by its short handle (just 18.5").
ADVANTAGES
Sturdy build
Multifunctional
Quality metal
Saw edge
Very compact when folded
Affordable
DRAWBACKS
Shaped as a regular shovel rather than a snow one
Might be too short
5. LIFELINE Aluminum Sport Utility Shovel: Ultra-Lightweight
Affiliate links and images placed from the Amazon Product Advertising API on 2023-09-22
This tool doesn't even look like a small car snow shovel: It can pass as a home one. Unless you fold it, of course; then it obviously belongs in a trunk. The brand, again, is one of those featured by Amazon and Walmart, so they are responsible for the quality, and it is decent, to say the least. Made of aluminum and shaped like a regular snow shovel (though with fewer ribs than one might expect), this model does a decent job.
For transportation, it can be disassembled into three pieces and reassembled when necessary. It's the ultimate solution for compactness, though I wouldn't like to discover one piece missing. The handle is extendable up to 32" long, which is more than decent for such a solution, and the width of the plate is 8.5" – well, let it be. The weight of the construction is just 1.1 lbs., and yet it feels solid. I tried not to overload it, though, because it had yet to be returned, hehe.
It's available in different colors – yellow, orange, red, black, olive, and blue, so you can choose the one that fits your car. For some, this might be the selling point. Given the price that's under $30 (and for some versions under $20), it's a no-brainer if you need a mini version of a traditional tool.
ADVANTAGES
Very lightweight
A long handle
The optimal shape for removing snow
Fits in a backpack
Made of metal
Affordable
DRAWBACKS
Detachable elements
Needs some care
Snow Shovel for Car Buyer's Guide
The demands for a travel snow shovel logically follow from its use. It should be small and lightweight, foldable or collapsible, able to function in different modes (like a snow shovel, a tactical shovel, in some cases as a hoe or pickaxe), and not too expensive. All the models reviewed here comply, but here is a deeper look.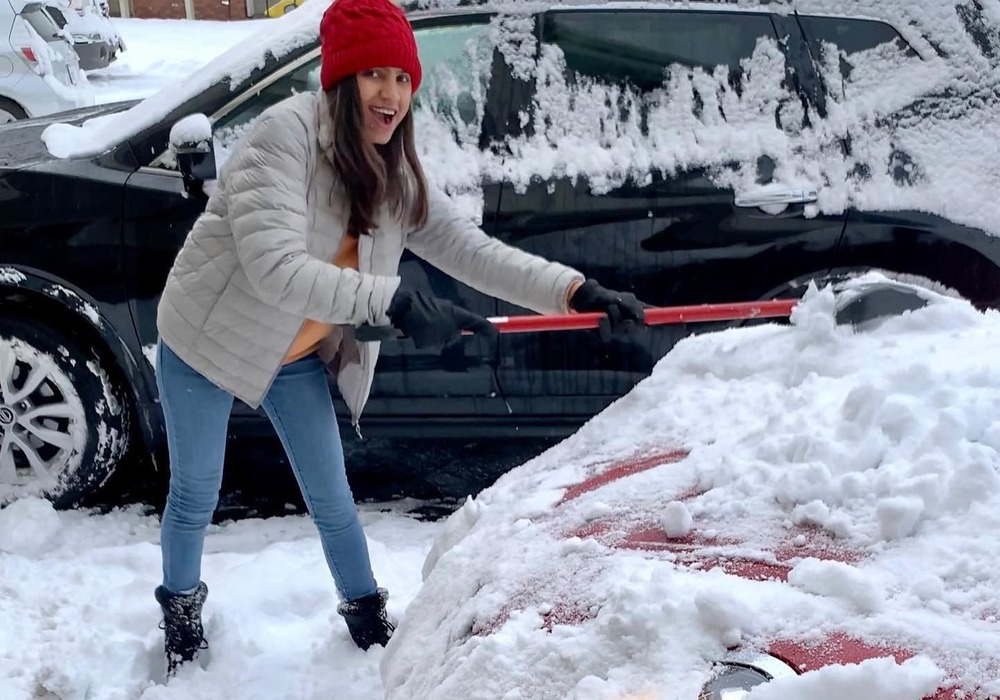 What to look at when choosing the snow shovel for a car
The questions that you should ask yourself (or, well, the manager) as you're choosing the model must include the following:
Does it fit in your trunk? Won't it take too much space? If it won't, it's not the type of shovel you're looking for.
Does it feel sturdy? Flimsy ones are not to be trusted, especially on the road.
Is it easy to unfold and prepare for work? And in the cold? It should be easy to prepare; otherwise, it makes no sense.
How much snow can it handle? You need to know it well to avoid overloading.
There are other matters worth considering, like the material (since you won't leave it in the open overnight, metal is preferable), the shape (do you need a versatile shovel or one for snow only), and, of course, the matter of price. But none of the models on the list is too expensive.
As for customer support, it's important, but it's much better if you never need to contact it. They can send you another shovel for free if this one breaks, but how does it help you right on the road? So you'd better choose one that feels the most reassuring. After that, give it a test run at home so that if you damage it, that won't be that critical.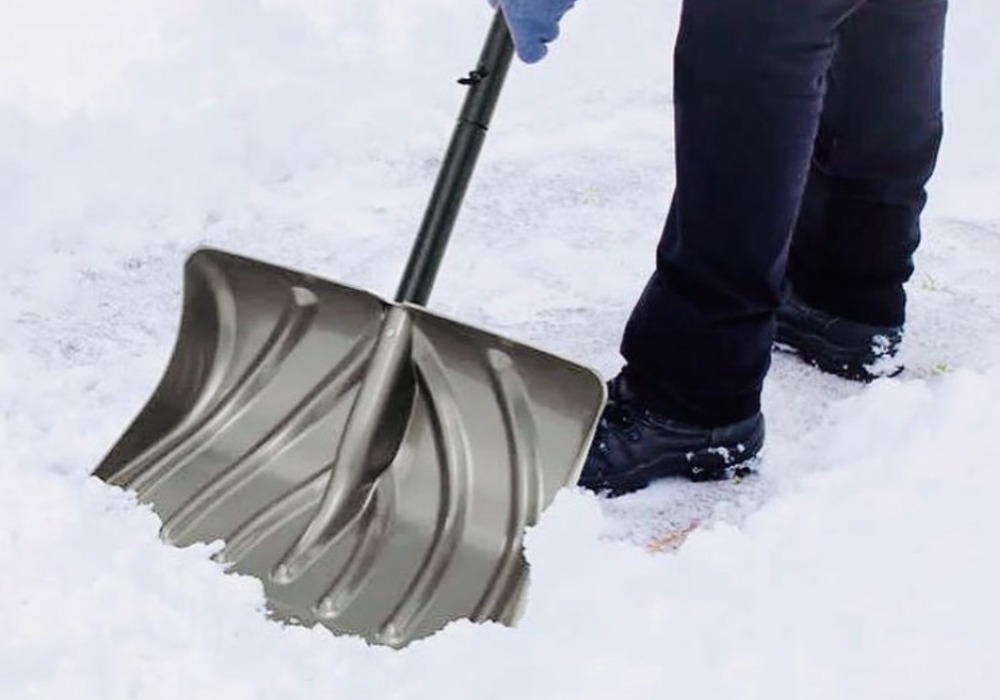 How to choose the snow shovel for a car you need
As it's the tool you're going to use with your hands, let them do the choosing. You might be tempted by its looks, versatility, or price, but it's the convenience of work and the durability that matter in the end. Are you sure you won't regret these ten bucks of difference when caught in the middle of nowhere with a broken shovel? Think twice. Then do the following.
Choose the size. Only you know how loaded your trunk is, so it's for you to decide how big a shovel you can use.
Choose the construction (and the extra features if any are required). An ice peeler or a saw might be great, but this is the last resort of multifunctionality you might go to. First, choose a shovel.
Check whether it works at all. It should be easily disassembled and assembled back, no matter how cold it is outside, and not break under the weight of snow. You'd better check it at home: If it does break, you'll lose your money (if not covered by the warranty) but nothing else. Pay some special attention to the joints.
Choose the color you like. You can opt for a brighter color that's less likely to get lost.
Let your hands have the final say. If they say "no," that's the "no." If they can work with this shovel, it's yours.
It's recommended to give the shovel (as well as other winter equipment) a test once in a while.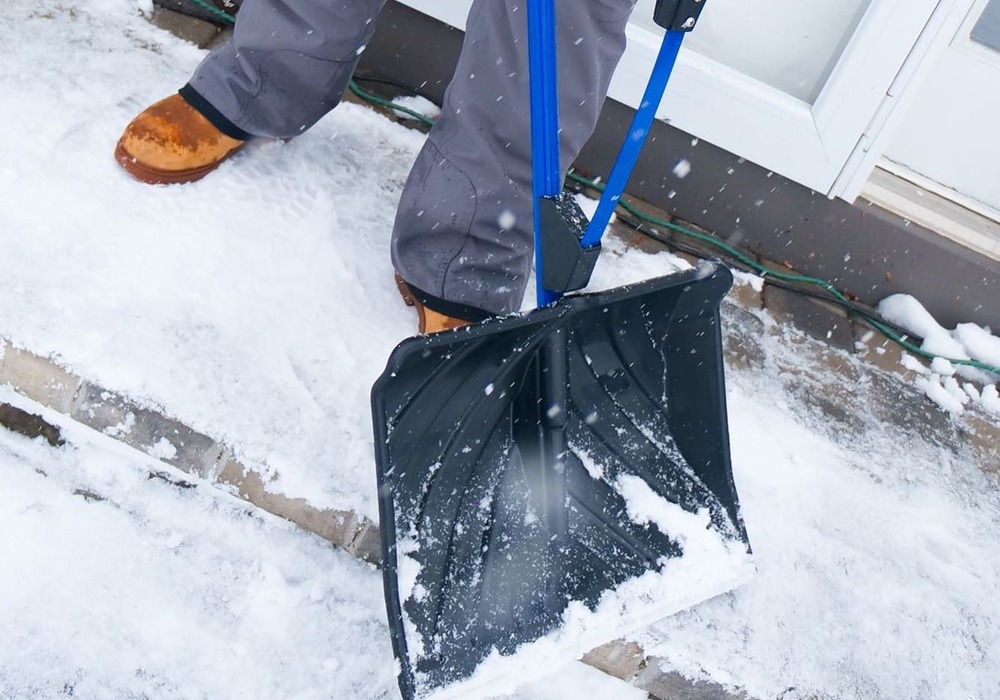 FAQ on Snow Shovels for Car
Do you have any questions? There are some around any specialized tool. I'll try to address as many of them as I can; if you have a question of your own, you can leave it in the comments section.
Should I keep a shovel in my car?
Yes, that's what they are for. It's not only about snow: In New Mexico, for example, you might need it to handle some sand. The importance of this tool is even highlighted by car manufacturers sometimes.
How do you shovel snow around a car?
Like you regularly do, but you need to pay attention and remove it from under the tires – as deep as you can reach. Sometimes, you also need to get under the bottom of the car, and that's where the smaller size helps. You can also adjust the position of the pole to put it straight, then it's easier to push it under the bottom.
What is the easiest way to remove snow from a car?
With a shovel, of course. Or you can wait until the summer comes, and it all melts down. Or you can use bonfires to accelerate it. Joking. Good old mechanical ways are the best. But don't expose yourself to the cold too much, especially if you're sweating hard.
Road All Clean?
You never know when the snowfall will catch you on the road; if you travel a lot in your car, though, this day will surely come. You can hope that global warming will leave this problem in the past; but while you do, it's better to have a shovel in your trunk, and I still recommend the one by BirdRock Home as the best-balanced one.
Do you have any questions? Maybe, you want to share your impressions from one of these models or from a different one? Welcome to the comments section where we'll dig it!
Also Read:
References:
Why do People Die Shoveling Snow? | NSC – https://www.nsc.org/community-safety/safety-topics/seasonal-safety/winter-safety/snow-shoveling
18 Chilling Winter Driving Statistics In 2022 | Policy Advice – https://policyadvice.net/insurance/insights/winter-driving-statistics/
Subaru helps Montrealers shovel the snow off their car | JCDecaux – https://www.jcdecaux.com/mobility-trends/subaru-helps-montrealers-shovel-snow-their-car