As an Amazon Associate we earn from commission of qualifying purchases.
When the winter comes and it starts snowing, it seems beautiful… for the first hour or two. Then the snow starts causing problems, covering your property in thick layers, making it harder to walk or drive through. Then you need to take the shovel and start making paths in this cold white matter, but this job is more dangerous than some think.
Pros
Great at throwing the snow really far
Premium Pick
Pros
Great at throwing the snow really far
Affiliate links and images placed from the Amazon Product Advertising API on 2023-12-07
The snow falls in the XXI century AD just like it did in the XXI century BC, but now we're much better armed than those who lived before: With an electric snow shovel, it gets much easier to deal with snow. How do you choose the best cordless snow shovel to make snow removal easier? Here are some tips and a list of the models I consider optimal for most of us.
6 Best Cordless Snow Shovels Reviewed
An old-school snow shovel was quite an easy tool, and yet some were more convenient, and some were less for any person. Still, one had to throw the snow away manually, and it resulted in strain and pains in the whole body. This is addressed by power shovels, which are way more diverse and form a market of their own. Logically, some models qualify as the best in the class; let's take a look through them all.
1. Snow Joe: Top Cordless Snow Shovel
Affiliate links and images placed from the Amazon Product Advertising API on 2023-12-07
Imagine a XIX century immigrant from China, addressed by locals, too ignorant to memorize their real name, as Snow Joe as they walk by while he cleans the street. Today's Snow Joe brand gains all the respect owed to the Snow Joes of the past. With this shovel by Snow Joe, the job is much less hard and more fun.
This shovel is an impressive handheld machine with a powerful battery that throws the snow up to 20 feet away as you go through the snowdrifts. The shovel is 11" wide and 7" deep. As for me, it is powerful enough to handle most drifts, though those I encountered were not enormous. The two-blade paddle auger powered by a 400W motor mulches the snow and throws it away as you go, so you need little effort to make it function.
As for its design, it looks very… snowy. In blue and white colors, it harmonizes with the winter blue sky and the white snow it's made for.
Last but not least: It comes with a quick charger, so if you need to use it after the battery's run dry, you won't have to wait long until the snowfall makes it much worse. One charge, though, is enough to clean about 2,000 lbs. of snow.

ADVANTAGES
Powerful motor;
Wide;
Easy to operate;
Stylish design;
Two-year warranty.
DRAWBACKS
Not to be used on gravel;
Has issues with removing ice.
2. VOLTASK Cordless Snow Shovel: Dark Horse That Wins
Affiliate links and images placed from the Amazon Product Advertising API on 2023-12-07
Little is known about the brand that has appeared on Amazon and Walmart directly, trusting the merchants with all the advertising and warranties. However, the shovel is indeed a capable device. Its plate is 12" wide (1" wider than one by Snow Joe), yet 6" deep.
The 20V motor is powerful enough for it to process large piles of snow. To prevent starting it accidentally, there is a dual-safety switch. Yet, I found it easy both to start and to stop.
The plate (which is the selling point, according to most reviews) is rotatable, and this makes operating it much easier. With it, you can control the direction of snow throwing, which is hard to overrate. It's made even easier with an ergonomic adjustable handle. Given that the weight is just 11.2 lbs., it's probably the most convenient one on the list.
It comes with a quick charger that charges the battery in less than two hours and a 3-year warranty. The blades are plastic, though, yet if you leave a little snow above the gravel, it's okay.

ADVANTAGES
Rotatable plate;
Wide;
A great ergonomic handle;
Capable battery;
Lightweight.
3. Greenworks PRO: The Greenest Snow Shovel
Affiliate links and images placed from the Amazon Product Advertising API on 2023-12-07
Greenworks is one of the respectable Chinese brands that have proven both decent quality and working customer support overseas. This battery-operated shovel for snow comes in trademark black and green colors, with a 12" wide and 6" deep plate. The dimensions are quite typical, allowing you either to make a walkable path in the snow or clear entire sites in several goes.
The best thing about it, though, is its 80V motor, more powerful than that of the others. The battery is able to power it in 45 minutes, which is quite a long time, given the performance. It raises the weight up to 15 lbs., which is heavier than others. Yet as you don't have to lift it up to throw the snow away, it's acceptable.
It throws snow much further than the rest: I couldn't even see how far exactly (snow disperses as it flies), but they say about 25 ft. Its size requires a big handle, which is not comfortable for small-handed people, and it's not so great. For me, though, it was okay. In short, it's the tool for bigger people and bigger jobs.

ADVANTAGES
Powerful motor;
Durable battery;
Great at throwing the snow really far;
Quiet, given its force;
Batteries compatible with other products.
DRAWBACKS
Rather heavyweight;
Not for small hands.
4. SuperHandy Snow Power Shovel: Some Like It Smaller
Affiliate links and images placed from the Amazon Product Advertising API on 2023-12-07
Is it really super handy? For those who like it smaller yet not weaker, it is. It features a typical 20V motor, which is good, given that the plate is only 10" wide and 5" deep. The weight of it is just 10 lbs., making it suitable for people not so tall and strong.
The tool is able to impressively throw the snow 20 feet away, yet it means you need to be careful. The curved auger blade is dual, efficiently processing the snow, making it a real snow fighter. If you have other tools by SuperHandy, you will appreciate the versatility of the battery. Its capacity, though, is about 20 minutes. I didn't even have a chance to get tired, given that the tool was definitely too small for me.
There is an adjustable ergonomic handle with two grips. The pole is telescopic, enabling you to clear linger paths in one go or reach remote spots. Overall, it's a great choice for smaller properties and not-too-heavy snowfalls.

ADVANTAGES
Lightweight (10 lbs.);
Throws the snow really far away;
Doesn't cause pains;
Great for making paths.
DRAWBACKS
Might be too small for you;
The battery is weaker.
5. AlphaWorks Electric Shovel: Best for Smaller Properties
Affiliate links and images placed from the Amazon Product Advertising API on 2023-12-07
I'd never heard about AlphaWorks before running into this model. This shovel turned out to be a decent one. Its dimensions are similar to those by SuperHandy: 5" deep, 10" wide, which says it's greater for smaller properties like walkways or residential works. Similar is also the 20V motor enabling the tool to throw the snow up to 25 feet away.
Sometimes, I feel like this tool and the one by SuperHandy are made by the same manufacturer, and the most visible difference between the two is the color. Unlike the industrial orange by SuperHandy, this option is made in black and blue, somehow reminiscent of Snow Joe. So, if you choose between them, it's a matter of taste.
Another difference is the better-optimized battery that lasts about 30 minutes. There is a green LED indicating how full it is. Yet the use case for this cordless electric snow shovel is similar: It's great for small and short jobs.

ADVANTAGES
Very lightweight;
Throws the snow far away;
Affordable price;
Comes with a charger.
DRAWBACKS
Short battery life;
Seems too generic.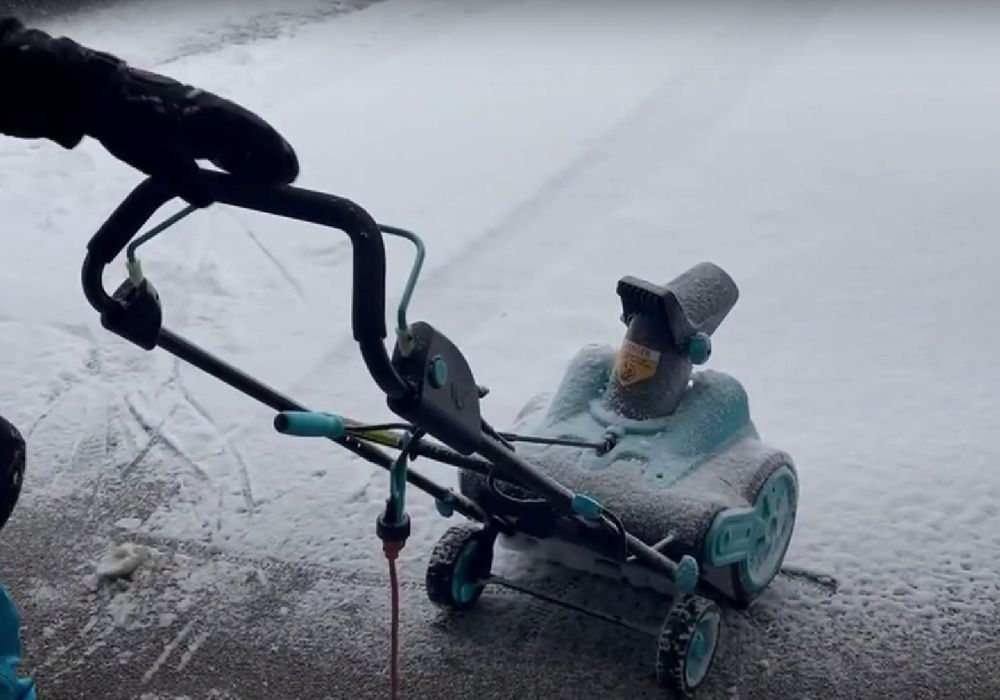 6. Snapper Snow Shovel Kit: Heavy Monster
Affiliate links and images placed from the Amazon Product Advertising API on 2023-12-07
After these upstart brands, here comes the real innovator. Snapper was among the first to manufacture today's lawnmowers and other outdoor equipment; how could it skip power shovels? This one is the most serious when it comes to size: The panel is 12" wide and 4" deep.
These dimensions require a really powerful motor and battery which make the whole appliance the heaviest on my list at 25 lbs. It's easy due to its ergonomic handle and weight distribution. The powerful motor throws the snow up to 20 ft away, and the battery is capable of providing up to 45 minutes of work. It's great for larger areas due to its wide plate. Yet its depth is just 4", so with it, you can't afford to wait until a lot of snow piles up. On the other hand, it's quickly processing larger areas.
Last but not least: Sometimes, it arrives with a dead battery. My friend who bought it and lent it to me to remove snow from his yard, which was quite Tom Sawyer-ishly, was luckier than that. But they say the support doesn't make you wait for long until a replacement comes.

ADVANTAGES
Good for bigger tasks;
Powerful motor;
Big battery;
Famous brand.
DRAWBACKS
Might come with a dead battery;
Not the most affordable.
Cordless Snow Shovel Buyer's Guide
Even after reading these reviews, you might still be wondering what's the best battery snow shovel for you. Here is the guide that will make some matters easier to figure out.
Why cordless snow shovel?
Everything gets electrified nowadays, and powered snow shovels are a good example. If you had any experience with a regular snow shovel, you might remember pains in the back after some working time, coming from the need to throw it away manually. It also used to take longer. Today's electric snow shovel combines the maneuverability of a regular shovel with the power of a snow blower.
There are other types of equipment for removing snow. However, there are also reasons to prefer a rechargeable snow shovel, because it is:
More efficient and less muscle-dependent than a regular snow shovel;
Can be used further away from the nearest socket than a corded snow shovel (and you don't risk damaging an extension cord);
Is more maneuverable and affordable than a professional snow blower.
If you need to remove snow once in a decade, you can do it with a simple shovel, and if it's an everyday problem, a gas-powered snow blower will be a better solution. For smaller properties, corded ones do the job. The versatility of the powered snow shovel is to be appreciated as well as its ability to save your effort.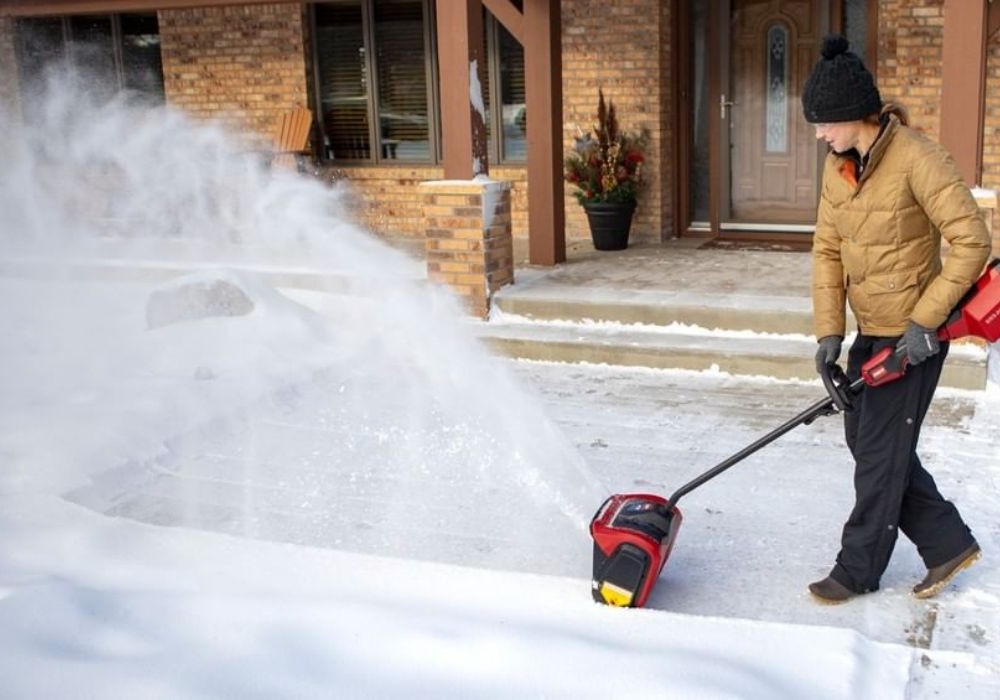 Who needs power shovels?
It's a great tool for those who do this snow job (and now only snow) themselves but don't want to face the consequences of hard physical labor. Electric snow shovels are popular among the elderly who are especially sensitive to pain in the back or are not able or willing to deal with a regular shovel again. This saves the effort and makes removing the snow more of a pleasure.
Another audience for battery-powered snow shovels is professionals who need to keep properties and public places in order, especially where snowfalls are frequent. These spend a lot of time removing the snow, so they benefit from anything that minimizes the effort. Many of them use a cordless snow shovel as the secondary tool, the primary being a fully-fledged snow blower.
Finally, if you prefer to handle your property with ease and give this work a lot of time, you're on the same bench with professionals. If you have a bunch of tools by a certain manufacturer, be it Snow Joe or, say, Greenworks, you can use batteries and other accessories (like chargers) with multiple tools, thus saving money and space.
For many of these, though, a corded snow shovel might be a better choice, if they only remove snow close to the nearest electric socket. If this is your case, think about how long an extension cord you will need to reach all the places you want to be cleaned. Then decide whether a cordless tool will be a better solution.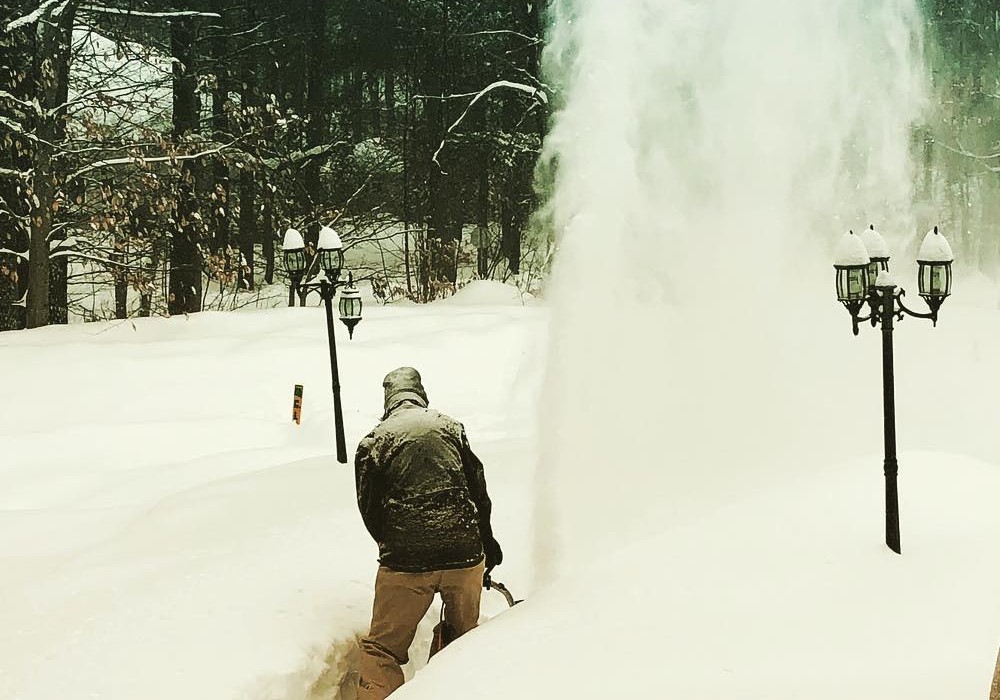 What to look at when buying an electric snow shovel
When you buy a shovel for snow, it's not an accessory: It's the tool you're supposed to work with, using your own muscles. Though this use is minimized by the motor, you still need to carry and move it. So that's what you should consider while choosing your model:
Performance. Is it capable of cleaning your property (or making the paths if that's your intention) in a reasonable time? Is the battery capable of providing enough time to do it with one charge?
Size. It's what defines performance and the ability to clean areas and make paths in one go.
Weight. An excessively heavy shovel will make your working sessions torture; if it's too lightweight, though, you might have to lay your paths twice.
The handle. If it's not convenient, you won't enjoy the job at all.
Manufacturer. It's not just about the name but about quality and support as well.
Price. You don't want to overpay but neither do you want to waste your money on something that will break in a week.
Considering all these factors, you can choose the perfect tool to keep your property free from snowdrifts where they don't belong.
FAQ on Cordless Snow Shovels
There are always questions, so let's address the most frequent of them. You can ask your own ones in the comments section if you want.
How does a cordless snow shovel work?
You turn it on with a button on the handle and move it forward. The plate grabs the snow which is then mulched with an auger and thrown away. So, it's effectively a snow blower that looks and is operated like a shovel, which is familiar and convenient for many.
What is the weight of a cordless snow shovel?
The weight of the models chosen here is between 11.5 and 25 lbs. It depends on the plate size, motor power, and battery capacity. The heavier ones have longer battery work time and are capable of throwing the snow further, while the smaller ones are easier to handle, and they are better for smaller jobs.
How do you make snow shoveling easier?
Adjust the handle so that it feels the most convenient. Don't wait until too much snow falls down. If you have an extra battery, keep it charged so that you can replace it immediately. On the other hand, don't sweat yourself too much.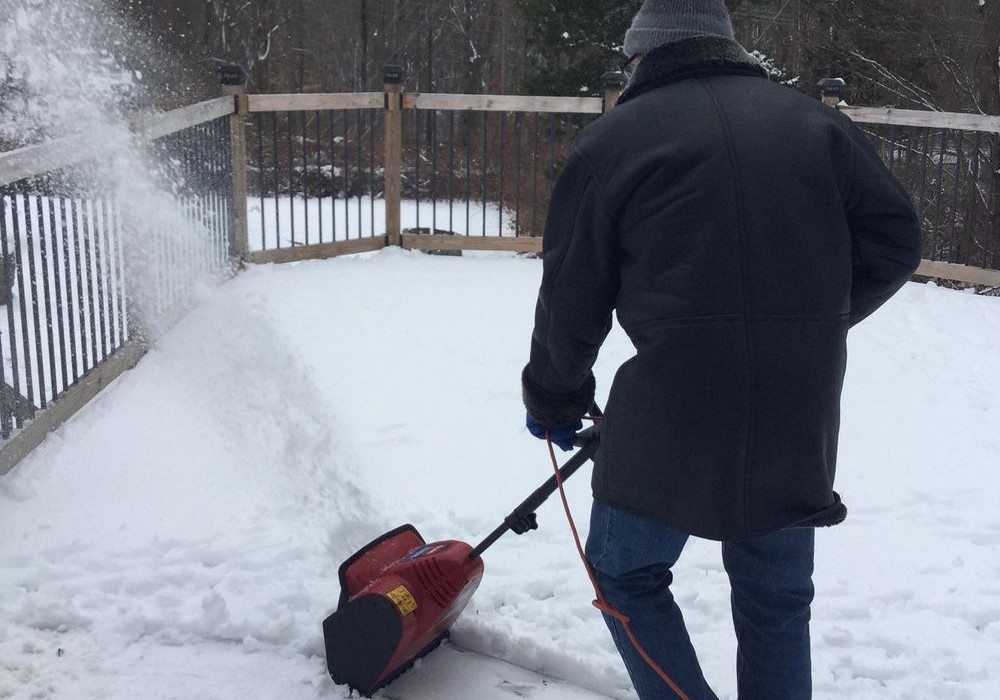 The Last Square Foot: Concluding the Work
Literally, any electric snow shovel (as long as it works) will make the job easier. However, don't settle for just any: Choose the best one you can get, with optimal parameters and for the optimal price. I hope this guide has helped you even a little bit with making your choice.
Maybe, you have something to add (say, tell us about the model we've skipped), or ask a question. Then welcome to the comments section and leave us your message!
Also Read:
References

A market of their own | ResearchNester – https://www.researchnester.com/reports/global-electric-snow-shovel-market/2494
Pain in the back | SPINE-health – https://www.spine-health.com/wellness/ergonomics/snow-shoveling-techniques-prevent-low-back-injuries