As an Amazon Associate we earn from commission of qualifying purchases.
Owners of the country houses are not always happy about the onset of the cold season. With each snowfall, a lot of physical effort and a shovel is required to clean the paths and territory. This activity is often accompanied not only by a mass of wasted time but also by such troubles as calluses on the hands and pain in the muscles and back.
Pros
This electric
snow blower
does not emit any harmful gasses at all
You don't have to put much effort into putting the machine together: All preparations can be done in less than 10 minutes
Top Pick
Pros
This electric snow blower does not emit any harmful gasses at all
Runner-Up
Pros
You don't have to put much effort into putting the machine together: All preparations can be done in less than 10 minutes
Affiliate links and images placed from the Amazon Product Advertising API on 2023-12-07
That is why it is worth thinking about how to choose the best electric snow blower for your house. This guide can help you solve the problem of cleaning with minimal effort and time.
6 Best Electric Snow Blowers Reviewed
Snow Joe 120V – Top Pick
Greenworks – Runner-Up

No products found.

– Premium Option
Manufacturers of modern special equipment are constantly refining and improving household snow blowers. Today, even the smallest snow removal equipment is capable of clearing a large area in a matter of hours. However, due to the huge range and significant design differences of models, it might be challenging to understand how to choose the right snow blower for you.
1. Snow Joe 120V: Best Easy-to-Use Electric Snow Thrower
Affiliate links and images placed from the Amazon Product Advertising API on 2023-12-07
This snow blower model entered my collection two years ago. Despite a little experience in operation, I am still very satisfied with its work. This model is corded, so you should have an extension cord to plug it in. Note that this company has been developing such machines for a very long time (13 years, since 2009), so excellent quality is guaranteed. This model went on sale in April 2015.
Like any corded snow blower, it is not suitable for cleaning very large areas. However, if your finances allow you to run electricity over the entire plot, then even a huge area will not be a problem for this model.
I recommend this model based on the pros and cons I have found in it. The blades are made of tough rubber, so they won't snap like plastic or cheap metal. It features a simplified construction, so even a child can manage it, though I strictly do not recommend letting children operate it because of safety concerns. I would also like to mention that the tool requires really low maintenance when compared to the gasoline-powered models.
ADVANTAGES
This electric snow blower does not emit any harmful gasses at all;
It is heavier than a shovel but light;
No need to buy gas or gasoline: Just plug it in;
It requires no maintenance, no oil changes, and no spark plug changes;
There is no need to pull the starter knob, just push the button;
The engine can't stop even if there is too much snow in the bucket.
2. Greenworks: Best Snow Thrower for Hard Snow
Affiliate links and images placed from the Amazon Product Advertising API on 2023-12-07
The next model is not much different from the first contender. The dimensions of this snow blower are slightly wider, but it weighs less. In terms of power, it is not that inferior to the first model, but there is still a minor difference: rather cheap plastic, which affects a cheaper price.
I recommend this machine for purchase to those who want to spend less time cleaning snow and don't have a big area to clean. In terms of price-to-quality ratio, this model is great because it can provide high performance even on hard snow.
ADVANTAGES
You don't have to put much effort into putting the machine together: All preparations can be done in less than 10 minutes;
It takes only 30 minutes to clear an area of 200 square meters;
The 20-inch shovels are perfect for walking. If you need a wider cleaning area, you'll have to walk twice.
DRAWBACKS
The chute and auger are made from plastic.
3. EGO Power+: Best Battery-Powered Snow Blower
No products found.
Compared to previous models, this snow blower does not need electricity to operate: two 56-volt batteries are enough. This has its advantages, for example, you will be able to clean large areas. The disadvantage of this model is the battery backup, which can not provide cleaning of particularly hard snow.
However, the manufacturer states that there are no problems even during these weather conditions. After several serious tests on my behalf, this snow blower didn't stall, so I can claim this model is a good investment for everyone who can afford it.
I believe that this battery snow blower suits better for those with harsher weather conditions. It appeared not that efficient for my situation, but I still recommend it for purchase because this model handled everything it was supposed to do, and I had no problems with it at all.
ADVANTAGES
It comes with two 7.5 amp batteries. Each battery holds a charge for up to 40 minutes, which is enough for a typical cottage area;
The device is much more powerful than most of its competitors;
You do need to fiddle with electricity or gas, just press a button and charge the batteries in a timely manner.
4. WORX: Best Cordless Model for Maneuverability
Affiliate links and images placed from the Amazon Product Advertising API on 2023-12-07
This model from the WORX manufacturer appeared on the market relatively recently, only two years ago. The snow I threw at it for the first run ranged from dust to 6-inch drifts with ice on top. This blower handled it without hesitation. With heavier, ice-covered snow, I was still getting a blower throw from 10-15 feet away, which is ideal given the environment.
After I trimmed the driveway, the long sidewalk on the corner of the property, and the deck, there was only one light bulb left on the battery info screen. The plastic blades held up very well considering icy conditions, but their durability worried me a bit.
I'm not sure this tool is that effective for more snow than 6 inches. However, if snow is colder and drier, it might be fine, so I'm looking forward to using this more in winter and seeing how it does in extreme conditions. I will try to update this review with my future observations.
ADVANTAGES
Lightweight and easy to maneuver;
Simple to operate;
Handled well in 5″ heavy sleet conditions but it was approaching the limit
It efficiently cleans the driveway and pavement.
DRAWBACKS
The scraper is located very close to the ground, so it catches on every uneven crack;
The auger is plastic, which might affect its durability.
5. Snow Joe 40V: Best Snow Blower for Portability
Affiliate links and images placed from the Amazon Product Advertising API on 2023-12-07
Another model from the same company, Snow Joe, came out in 2020. It is a portable snow blower, so there are no problems with maneuvering it. First, I was a bit skeptical about this snow blower's potential because of the higher price compared to other options.
However, when I used it, this thing did all that had taken me about 30 minutes with a shovel, coffee, and ibuprofen in 10 minutes. I have to admit that it's one of the fastest snow-clearing devices I've ever had.
Snow Joe works great even on the heavy, slushy snow. It literally throws it away easily. In addition, the snow blower is very light.
ADVANTAGES
High speed of cleaning;
Very simple to use: just push the button;
Lightweight and portable.
DRAWBACKS
The battery doesn't last that long, especially when the snow is deep;
I tried to buy another set of batteries, but I am having a hard time finding them.
6. PowerSmart: Most Potent Electric Snow Blower
Affiliate links and images placed from the Amazon Product Advertising API on 2023-12-07
This model is very different from the snow blowers described above due to the fact that it resembles a small tractor in design. It looks quite serious compared to other models and requires very powerful 80-volt batteries to work. Like all the reviewed models, its chute can rotate to 180 degrees, but it cannot be done during the operation. Overall, although it is powerful, the material is mostly made of plastic, but I haven't had to complain about its quality yet.
Its appearance perfectly reflects its power abilities: This is a monster compared to other electric competitors. I felt it right when I pushed the button and started to work: Even hard layers of snow were cleaned relatively easily with it. I also have no complaints about other aspects like comfort and assembling. It's just a good-quality machine.
Its size is comparably larger than previous models, but this is easily explained by its specialization. You don't need to buy such a snow blower if your living area is fairly small.
ADVANTAGES
Eye-catchy design;
Easy to assemble and use;
Very powerful.
DRAWBACKS
You can't turn the snow chute while running this snow blower;
Slightly higher price.
Snow Blower Buyer's Guide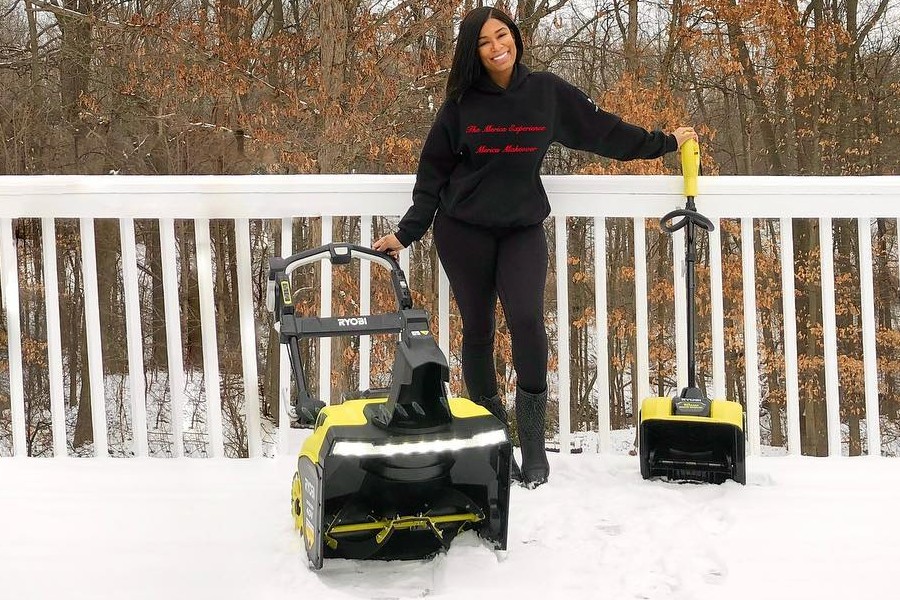 Snow blowers are specialized equipment that cleans the surface from the snow cover. They have a bucket with a rotating screw on the side, the task of which is to grab more snow and throw it in the right direction under pressure.
Different types comparison
All snow blowers are distinguished by several characteristics. In this article, I review only electric devices, but other types are distinguished as well.
Type of drive
According to the type of drive, these tools are divided into the following categories: a self-propelled electric snow blower and an electric handheld snow blower:
The first option is convenient to use since its movement requires minimum effort. It is optimal to use it for areas over 500 square meters, and such special equipment is effective in the work even with the rammed snow cover$.
Non-propelled machines are operated manually, so this option is suitable for small areas up to 500 square meters.
Type of engine
Here we distinguish between an electric snow blower and a gasoline one:
The electric engine equipped with a capacity of 2.5-3 hp technology is used in small territories;
The gasoline engines provide more power — from 5 hp. They are equipped with a gearbox, a powerful metal auger, and large wheels, which ensure their use on any surface.
Type of connection
There are corded and cordless models in this category of snow blowers. Science hasn't gone far enough to make batteries larger than 80 volts, so cordless snow blowers can't provide enough power in this regard.
How to choose an electric snow blower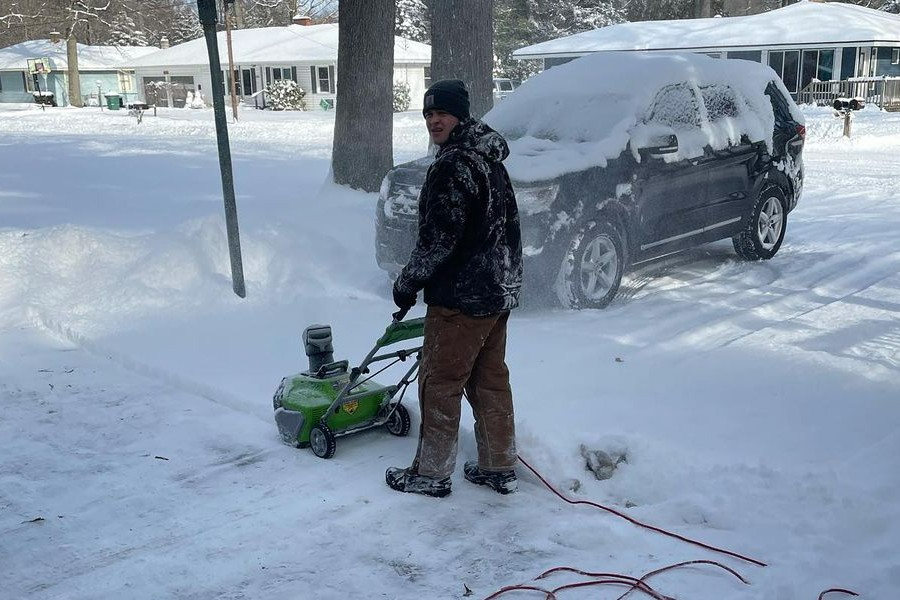 These are not all the characteristics of snow blowers. Let's take a deeper look to make the right choice when buying a suitable device.
Clearing width and depth
This characteristic greatly affects the choice of the model. Before picking a snow blower, you should be aware of the size of the area that you are going to remove. If it is too large, go for the option with wide buckets.
Intake height
In addition to the width and depth, the grip height is important as well. It influences whether the machine can remove a high layer of snow. For electric snow blowers, the normal figure is 4-8": This is enough if snowdrifts do not accumulate on the site. Gasoline models will effortlessly "eat" snow up to 12-23" high.
Speed control
Here we distinguish between self-propelled and non-self-propelled snow blowers. The latter represents a light class; they cannot move on their own, so the user must push the car a little in front of them. At the same time, non-self-propelled models are equipped with a rubberized auger and can delicately remove snow.
Self-propelled snow blowers are driven by wheels or caterpillars; the change in speed occurs with the help of a transmission. It can be stepped (mechanical, as in a car) and stepless (variator), in which the speed changes automatically.
Chute control
An important advantage of a snow blower compared to shoveling is that the tool crushes snow using a system of augers and discards it through a metal or plastic chute. As a result, the snow is evenly distributed over the site, and snowdrifts do not form along the paths, which will have to be scattered in the spring. I recommend choosing a model with a metal chute for ejecting snow: It is stronger than plastic, although more expensive.
Wheels of tracks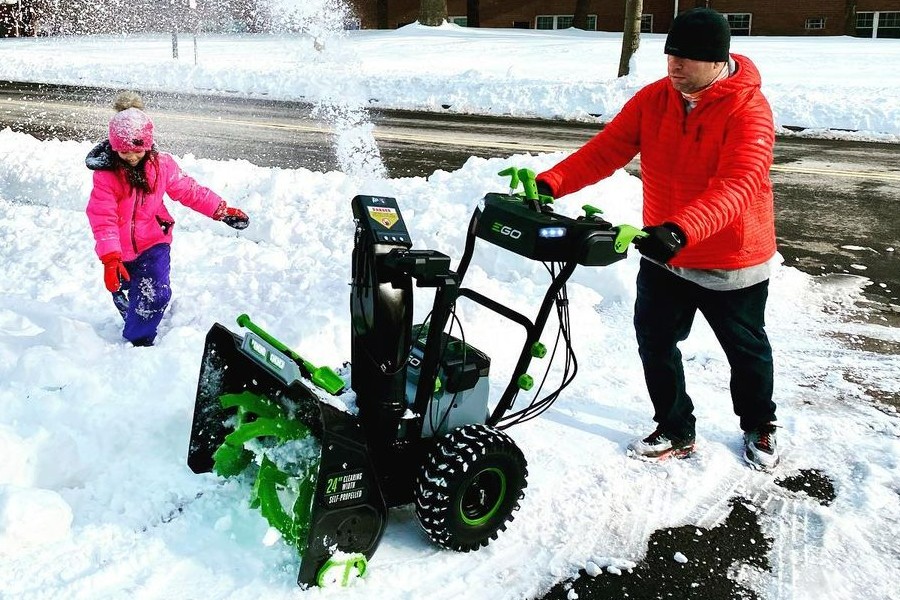 The caterpillar drive is effective in difficult places. When driving over bumps, it will not allow you to get stuck in deep snow or slide on an icy surface. Machines on a wheelbase are more maneuverable and comfortable. I advise choosing wheels with a modern deep tread: They are not inferior in cross-country conditions.
Size and weight
Here everything depends on the area of ​​your territory and your physical abilities. Usually, heavy snow blowers have more power and are well-suited for large areas.
Additional features
Petrol snow blowers can also be equipped with an electric starter, headlight, and heated handle. You can meet additional safety features on some models:
An electric starter will allow you to start the device faster than a conventional plant, using a cable. There is a nuance: The starter might not work during severe frosts;
As for the headlight, ask yourself whether you will be able to clear snow at night, as snow blowers are quite noisy (about 100 dB). On the other hand, it gets dark early in winter, and lighting will definitely come in handy;
The heating of the handle is a pleasant bonus so that your hands do not freeze during operation. This adds some comfort.
FAQ on Electric Snow Blowers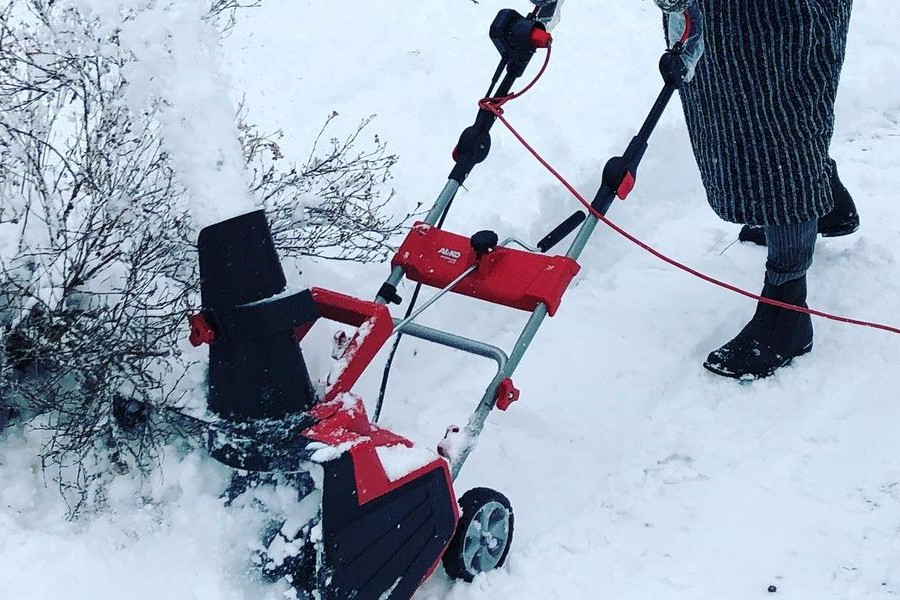 Here I have written answers to the most popular questions about snow blowers. You can find helpful tips among them.
Are corded snow blowers good?
Although such models have inconveniences in maneuvering, these snow blowers have much more power, so their power increases significantly. Corded snow blowers can draw up to 120 volts, while the most advanced cordless models only reach 80 volts.
Is an electric snow shovel worth it?
Compared to a conventional shovel, such models don't require work on your behalf. However, if your site is often completely covered with a deep layer of snow, then an electric snow shovel will not be of much use compared to a snow blower.
How do I choose a snow blower?
It depends on your situation. If you live in a harsh climate, these snow blowers are the best for you. At the same time, be sure to pay attention to the area of your site: If it is large but snow drifts do not reach the 10-inch mark, a cordless snow blower is more suitable for you.
Have You Decided on Your Snow Blower?
Now you know a lot about the characteristics of snow blowers. I hope that this article will help you choose the right model for you. If you ask my opinion, I would recommend buying the Snow Joe SJ625E, but base your choice on your needs and the size of your plot.
Share your thoughts about the topic in the comments below. Which snow blower do you like more: cordless or corded? Will you replace a shovel with a snow blower after having read this article?