For most people, winter is the worst season of the year. The snow that piles on the yard causes inconvenience, and it may be depressing to think about where or how to start clearing it. Only a few people know that they need the best 2 stage snow blower under $1000 to make the problem go away. Even those who know about these gadgets get confused when it comes to selecting an efficient one. Since most companies claim that they have the best deals on snowblowers, it may be hard to verify their arguments by just reading the information they provide.
Therefore, you need an experienced person to advise you. As a passionate gardeners, my wife and I have interacted with snow blowers and other gardening tools for over ten years. Having found that most people have a problem in selecting snow blowers, I have compiled this review to show you the best 2-stage snow blowers that you must have in preparation for winter.
Husqvarna ST224P – Best Two Stage Snow Blower With 24-inch Clearing Width (Almost Under $1000)
5/5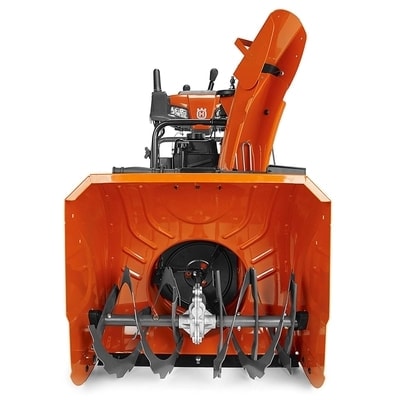 ADVANTAGES:
This blower's electric starter means that you can connect to an external power source to start the engine even when temperatures are extremely low
The auger is made of stainless steel for improved durability and resistance to rust
The company offers a 5-year warranty on its engine
It features adjustable handles for improved convenience while using
For those that do not have the luxury of affording the ST227P, the Husqvarna ST224P makes for a good alternative. For starters, it still offers you a clearing width of 24 inches, which means you can still blow ice from a vast area. This gasoline-powered blower has been fitted with a 208 cc motor that is capable of producing a 6.3 horsepower. This means that, similar to its ST227P counterpart, it is still capable of crushing even the hard-packed ice. It also provides enough power that ensures that it shoots to a far enough distance. You will also be glad to hear that the company offers a five-year warranty on this engine that is separated from the rest of the blower.
Being a power steering model, this two stage snow blower offers you greater control and improved movement, especially around the corners. The speed lever on the power steering enables you to accelerate and improve the snow blowing efficiency. The 15 inches power steered wheels positively impacts the maneuverability of this equipment. It has also been fitted with heavy tread tires that improve its stability even when moving on rougher paths. Further, these tires combined with the fact that its wheels are powered from the engine means that you do not have to worry about the blower sliding on ice.
Another impressive feature of ST224P is the fact that you can adjust the height of its handles. This is an important attribute, especially for those individuals that find the height of most snow blowers quite high. It has also been fitted with LED lights that make it possible for you to work even when it is dark outside.
Comparative Table of the Two-Stage Snow Blowers
Which Are the Best Two Stage Snow Blowers?
This section reviews some of the two-stage snow blowers worth adding to your shopping list.
Yardmax YB5765 – Best Snowblower With Multiple Speeds
4.8/5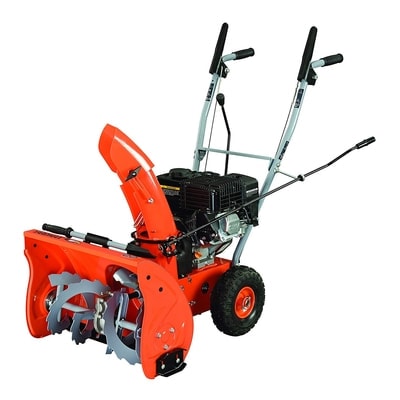 ADVANTAGES:
It can throw snow in different directions
It has two engines that increase its efficiency
It has a standard handlebar height that enables you to operate the machine without bending and hurting your back
DRAWBACKS:
Assembling the gadget the first time may be challenging, but once you get used to it, the process becomes easy
When the snow lying in your yard has become a total headache, you need a powerful machine. Nobody can outweigh the good work that Yardmax can do. It will clear snow off your path without requiring you to use too much force because the machine has excellent features that make it automatic.
The gadget is self-propelled, minimizing the amount of effort you have to make when moving it around. Therefore, all you have to do is fire up that engine and enjoy the whole ride. The entire concept of using a machine is to make work easier. The efficiency of this blower is also enhanced by having two engines on the machine. One of them is the 196cc recoil, while the other one is a 208cc engine, effectively producing 7.0 horsepower. With such power in your hands, everything becomes possible in terms of snow clearing.
With Yardmax best affordable snow blower, there is the guarantee of enjoying using a control crank that ensures it emits snow in various directions. Another feature that makes this thrower enjoyable to utilize is the attribute of five speeds control. Three of these gears are front-drive, while the other two are used for reversing. Therefore, it gives you flexibility while operating it. There is also the added freedom of either moving fast or slow, depending on your work rate.
Finally, its durability has been improved, given that it is made from stainless steel. Therefore, based on these attributes, it cuts a blower that guarantees you value for money. With this gadget, you will enjoy maximum efficiency at an affordable price.
Husqvarna ST227P – Best 2 Stage Snow Blower with Power Steering
4.8/5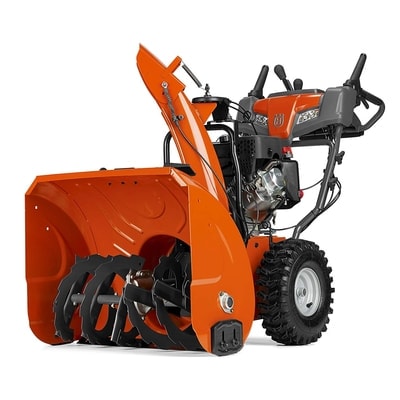 ADVANTAGES:
It is fitted with LED lights, which make it convenient for you to blow ice late at night or very early in the morning
It features heated handgrips for extra comfort of usage
It has a power steering for better movement and efficient control
The gasoline-powered engine produces an 8.5 horsepower that makes this blower ideal for crushing even the hard ice
DRAWBACKS:
Several users have complained of how the auger-belts get worn-out very fast
Husqvarna is a very popular brand, mainly because of the production of quality power equipment. Loyal customers of their products will point to the fact that their products are both reliable and durable. What I love most about them is their innovativeness. They will always come up with more improved features for every new product they produce. This being the case, let's take a look at what is unique in the Husqvarna ST227P.
It has a 27-inch depth meaning that you do not have to stress about the size of your driveway. This blower will take as little as two trips to clear a normal-sized driveway. In terms of control, this blower is way ahead of its competition. This best 2 stage snowblower features an innovative power steering that makes things easier for you. By this, I mean that you do not have to worry about getting tired in the morning. All you have to do is get your headphones ready and enjoy the ride. Your work is simplified to just adjusting the speed using the appropriate lever. To make it even more interesting for you, the handgrips include a heating feature. This is very thoughtful of them because your hands are not at risk of getting very cold.
Are you worried about the compactness of the ice in your driveway? Does your driveway have rough gravels? These are issues that should no longer concern you. This all thanks to the 254cc gasoline-powered engine that effectively ensures that you enjoy an 8.5 horsepower. This implies there is enough power to put the 12-inch steel auger to work and crushing the hard ice. Power is also transmitted to its wheel using a friction disc, which implies that you do not have to use any effort to move it around. It has also been fitted with bigger trends wheels, which means that you do not have to worry about the possibility of the blower sliding.
Husqvarna ST224 – Best 2 Stage Snow Blower Under $1000 With Electric Start
4.6/5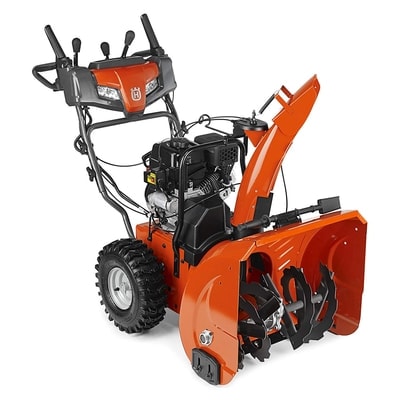 ADVANTAGES:
It has 15-inch tires that increase its maneuverability
It can throw snow up to 50 feet
It is made from a quality stainless steel material that improves its durability and resistance to degradation
This model may not be among the cheap 2 stage snow blower, but it is, undoubtedly, among the most innovative ones. This thrower comes with a powerful 208cc engine that produces sufficient power to dig through twelve inches of snow. This power also enables it to throw snow to a distance extending to 50 feet. Among the things I love about Husqvarna ST224 is its maneuverability.
The thing with the premium snow blower models is that they are a little bit bulky. Most are made from high-quality metal, such as stainless steel, as in the case of the ST224 model. This bulkiness makes their movement challenging, and the user has to use more effort to push them around. However, the Husqvarna ST224 has seemed to address this issue by being fitted with 15-inch tires. The wheels of this blower are also powered from the engine, which makes them self-propelling.
Another innovative attribute in this lower is the flexible chute. It has been made to provide a 180 degrees turn. This ensures that you can throw snow on either side of your driveway. Moreover, it has been fitted with innovative LED lights. Therefore, you will have the option of clearing snow at your most convenient time without worrying about the darkness.
Briggs & Stratton 1696610 Snow Blower – Best Snowblower under $800
4.5/5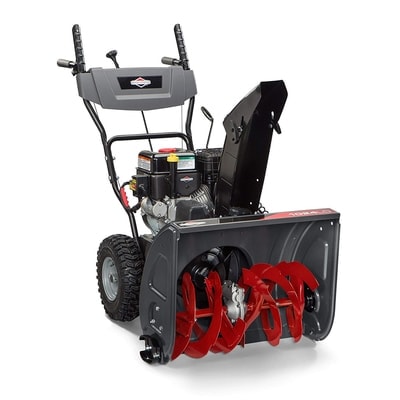 ADVANTAGES:
The auger is made of stainless steel hence can handle even the most extreme winter conditions
It has a flexible chute so that you can move in the direction of your preference
It offers an extended warranty for three years
It provides the option of two reverse gears
DRAWBACKS:
It does not include a power steering system
It does not come with headlights, hence, difficult to use when it is dark outside
Briggs and Stratton has been in the business of producing power equipment and engines for quite a long time. Many years of experience have given the edge in terms of making quality snow blower for both residential and commercial use. Usually, there is that sign of relief among most people who see the Briggs and Stratton tag on an engine of any power equipment. The reason is that this brand is associated with the development of quality, reliable machines. So, does the 1696610 dual-stage snow blowers live up to the high reputation?
From a design aspect, you can tell that this thrower has been made to be a class apart from your standard best snow blower under 500. To back this talk with facts, this blower has been fitted with a 208cc engine. It has the capability of cutting through 21 inches deep snow. It can also throw snow up to 35 feet away. It is also wide enough to clear snow for a width extending up to 24 inches. The six forward and two reverse gears facilitate the operation of this blower.
The wheels are connected to the power system of this machine using a friction disc drive. The wheels are also fitted with 13- inch tires, which helps in boosting its grip and stability on the snow. Perhaps one of the innovative features is the large-sized controls on this blower. The advantage is that they make it more convenient to use even when wearing gloves. Very thoughtful, right?
Troy-Bilt Storm, 2625 – Best 2 Stage Snow Blowers With Airless Electric Start
4.2/5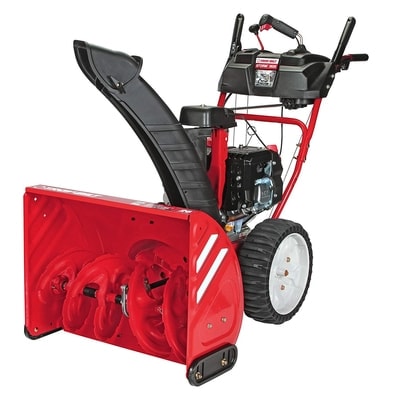 ADVANTAGES:
It has two years warranty
It has a gas engine that is easy to start
Needs to be operated using only one hand
DRAWBACKS:
It has eight speeds which may be confusing
Troy is one of the best, mainly because anyone in the family can use it. It weighs only two hundred and thirty-eight pounds. Given that there is no lifting involved, most people can handle the gadget and clear snow up to twenty-six inches. In terms of depth, it can dig up to twenty-one inches deep. Hence, with Troy, you can clear any amount of snow, whether you live in Utah or any other part of the country that experiences heavy snowing.
It has a 243cc gas engine that is very easy to start. You need to pull the cord once or twice, and the engine will start functioning immediately. As the engine runs, you can operate the machine with one hand. How convenient is that? For most people, it is very efficient because you can operate the device without stopping it first. I believe this is what an automatic blower should do because it makes the snow throwing easy, hence less time-consuming.
Troy can also throw snow in various directions simultaneously. This is enhanced by a two hundred degrees chute that moves around in whichever side you desire. Therefore, it makes your work easy because you do not have to keep turning to either side. The chute will do that for you while you focus on driving the machine to the heaps of snow that you want to dismantle.
One thing that you may never want to experience is the breaking of your gadget's tires when you are in the middle of the cleanup. With Troy, you may never experience this challenge because it has airless tires that can withstand any amount of pressure.
The Complete Guide to Buying 2-Stage Snow Blowers
The above two stage snow blower reviews shows that there are certain aspects to mind before getting one. This section will discuss each of the factors independently.
Get One of the Above Two-Stage Blowers and Enjoy Gardening
You should get one of the above best 2 stage snow blowers under $1000 if you want to enjoy winter. Select one based on the buying guide I have compiled above. For example, is your pathway 26 inches wide? If yes, then you may consider Troy-Bilt. Other factors that you should look at include the price and the type of product. For some people, manual propellers may not be a problem, while for others, it may be a massive disaster because of all the energy you have to use to operate the machine. The bottom line is that each thrower has different features. Therefore, you should take time to determine if all the features you want are in the gadget that you have selected. Have you used a two-stage snow blower in the past? Which one have you used, and how did it serve you? Would you like to see it in the above list?