As an Amazon Associate we earn from commission of qualifying purchases.
Are you looking for a powerful machine to remove snow from the entire yard? Or maybe you need a reliable tool for commercial use? In both cases, you clicked on the right site. Here I share a comprehensive guide that will help you understand how a double stage snowblower works and what are the real capabilities of each sub-type. After reading, you will be able to select the best 2-stage snow blower for your needs and decide whether you need this type of tool more than a one-stage blower.
I also provide detailed 2-stage snow blowers reviews with relevant information and tips as I've tested each of the models that I describe. My favorite one is PowerSmart PSSAM24, but I recommend reading all the reviews as other models may work better in your case. All the tools below are really powerful and require knowing some of the tips for effective work!
Pros
Powerful 4-cycle 212cc motor
Top Pick
Pros
Powerful 4-cycle 212cc motor
Affiliate links and images placed from the Amazon Product Advertising API on 2023-09-22
7 Best 2 Stage Snow Blowers Reviewed
As I promised, here are the detailed reviews of the best two-stage snow blowers that managed to pass my tests. At first sight, they all look more or less similar, but you have to consider every feature to avoid frustration after a hurried purchase. And don't forget to figure out your state snow rank before purchasing.
1. PowerSmart PSSAM24 – Best 2-Stage Snow Blower
Affiliate links and images placed from the Amazon Product Advertising API on 2023-09-22
PowerSmart is a relatively young medium-size domestic and professional outdoor equipment manufacturer from Illinois. Although the company isn't a big name on the worldwide market like, say, Husqvarna, it provides superior quality for modest prices.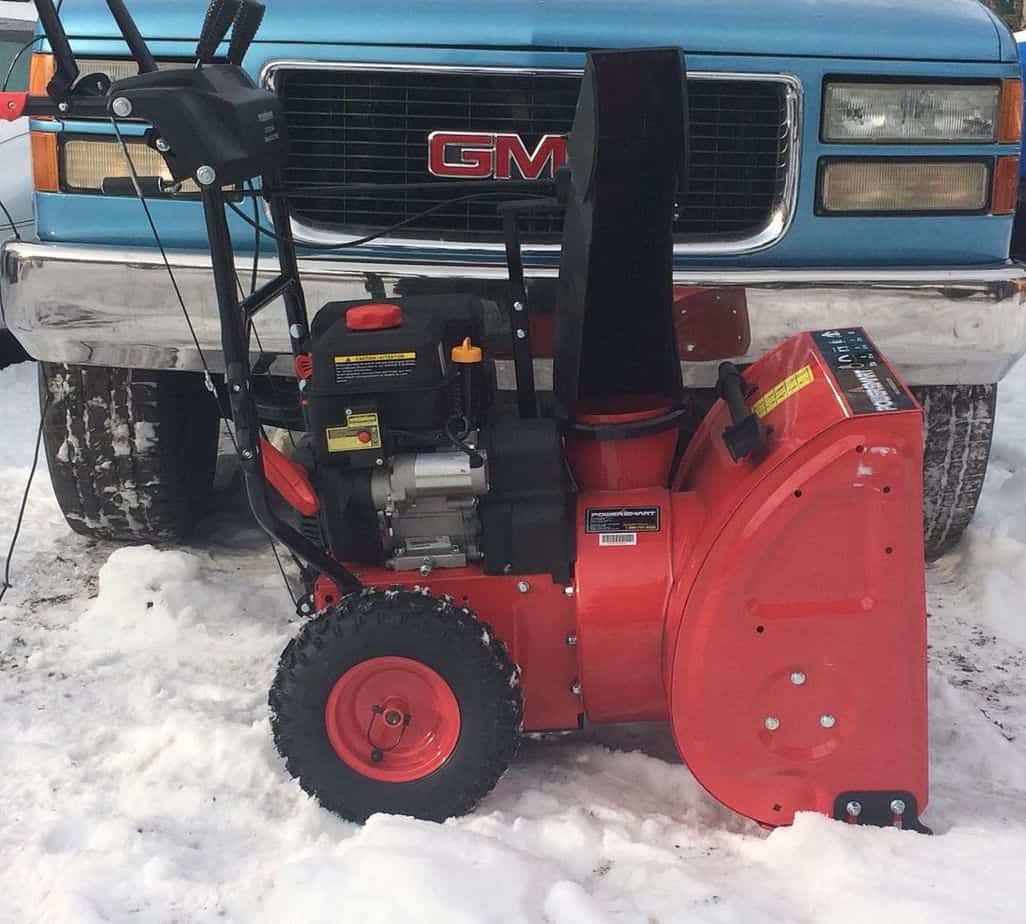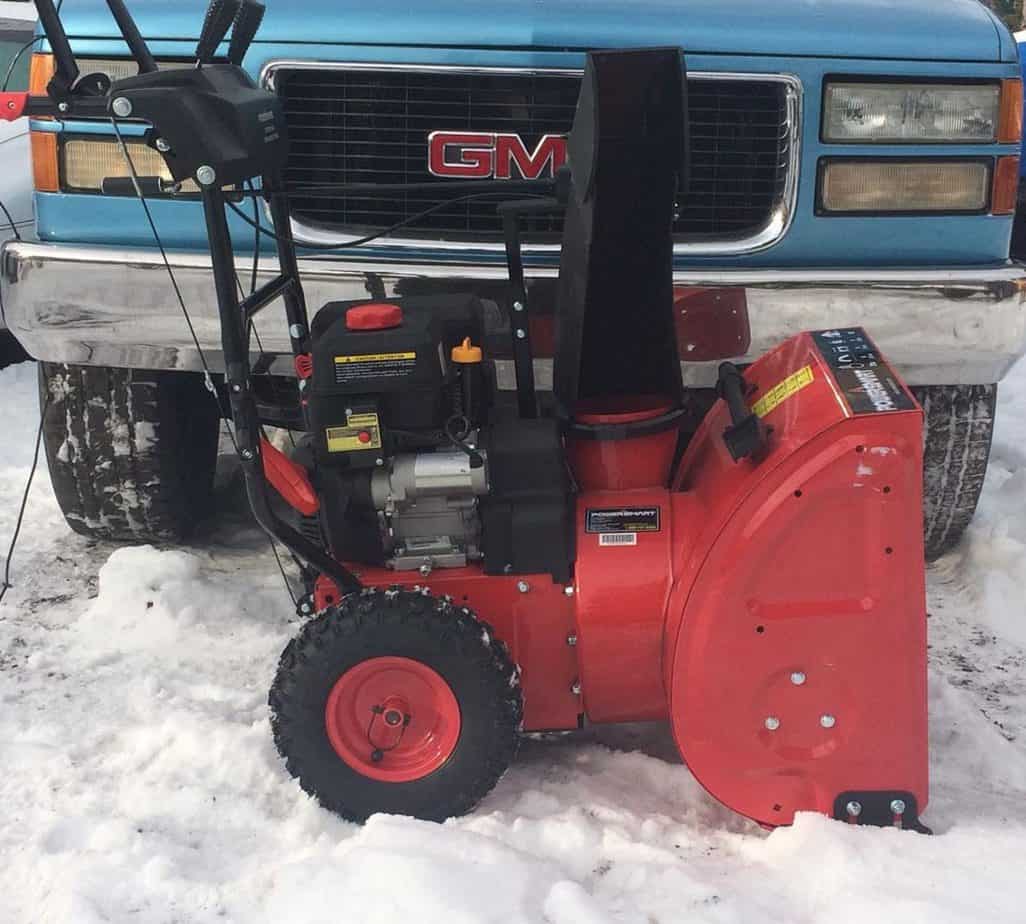 PSSAM24 is the company's best dual-stage snow blower. It's a relatively compact machine equipped with a 4-cycle 212cc gas engine and a 24-inch clearance width, which makes it an optimal solution for snowy regions of the US. You can start the engine at the push of a button or, in a classic style, manually.
The transmission of this model includes 6 forward and 2 reverse gears so that you can adjust speed smoothly and work at the most convenient pace. The remote chute can be rotated 180° with a small handle on the left of the steering rack. Chute direction (up to 40 feet discharge distance) can be adjusted with an electronic controller as well as the gear.
The wheels of this model have thick 13-inch tires with deep tread that makes it effortless to drive the tool across slippery spots. Due to metal skid shoes on the shovel, you can adjust the height of the auger and clear snow on different surfaces.

ADVANTAGES
Powerful 4-cycle 212cc motor;
24-inch clearing width;
Push-button engine starter;
Up to 40 feet discharge distance;
Inflatable 13-inch tires with deep tread;
Remote chute and angle and discharge height;
6 forward and 2 reverse gears.
DRAWBACKS
No lighting;
No power steering system.
2. Poulan Pro PR241 – Best 2-Stage Snow Blower With Electric Start
No products found.
Poulan Pro is a big name amongst American power tool manufacturers. It has been supplying the market with excellent tools since 1946. Today, Poulan Pro runs as a subsidiary brand of the Swedish Husqvarna and borrows many high-end technologies from this leading progressive brand.
PR241 is a 24-inch 208cc snow blower with excellent deep-treaded 13-inch wheels that bite the ground and don't let this heavy 240-lbs tool skip away. It's a good solution for clearing 2-3 driveways above 20-feet long.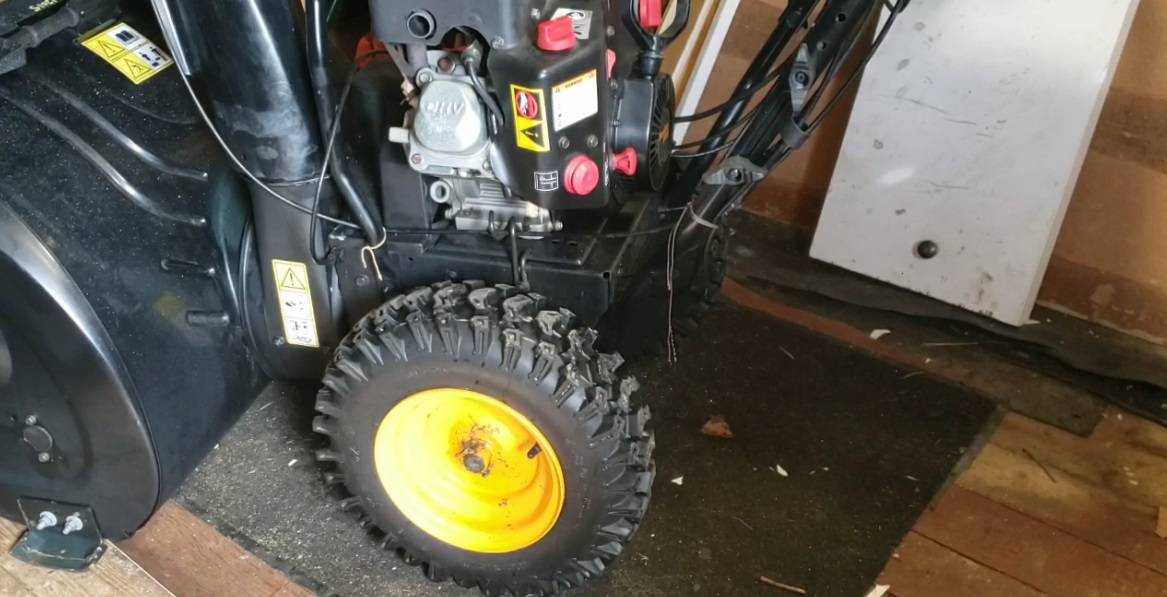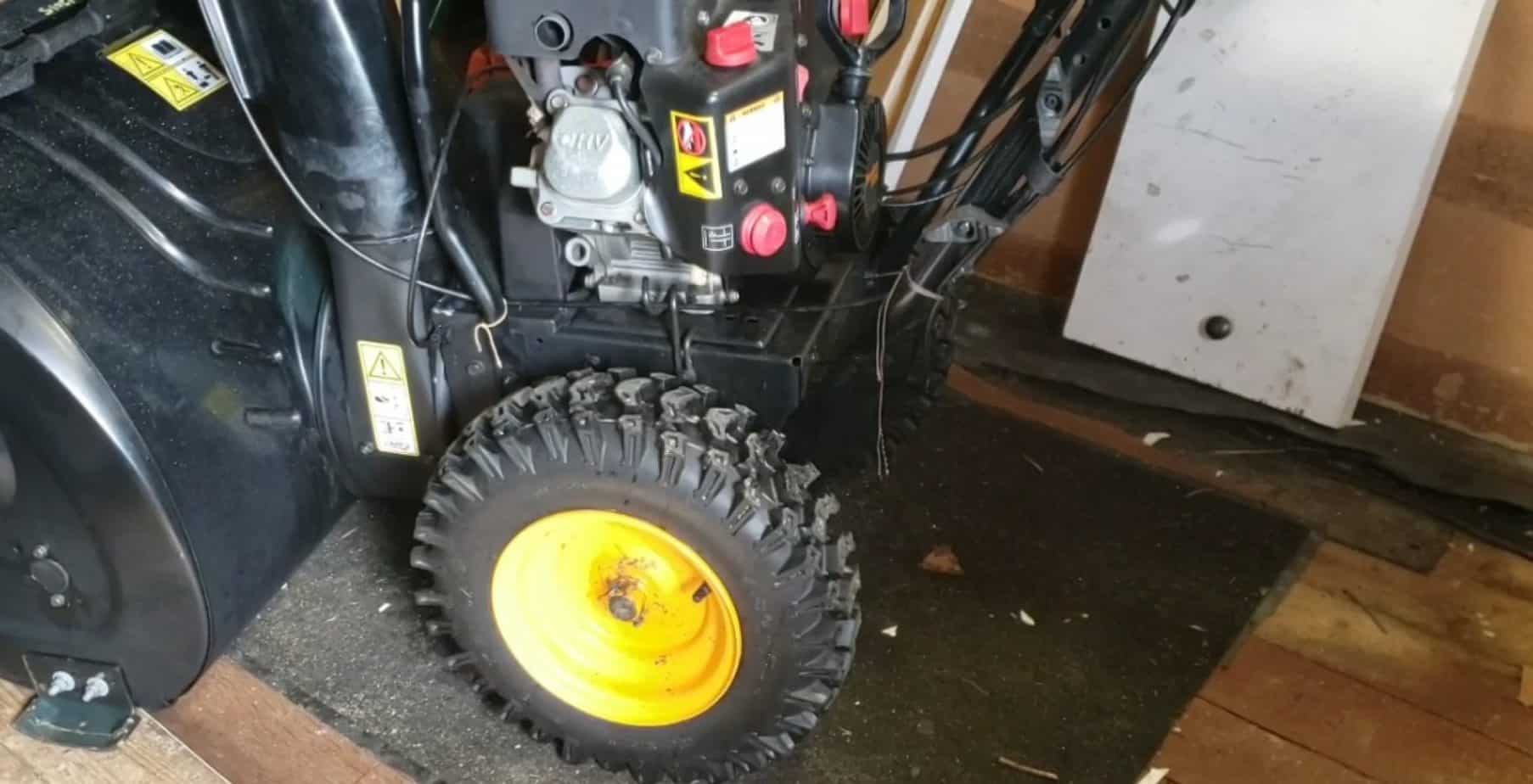 All the controls are placed on the console so that you can control the tool without the need to stop it. The sturdy 12-inch auger easily crashes ice and can be adjusted to work effectively on different surfaces.

ADVANTAGES
Excellent 13-inch tires;
Remote chute and deflector control;
4-year engine warranty;
Convenient steering;
One-push electric starter;
23-inch intake height.
DRAWBACKS
Lights come only with large models;
Heavier but less powerful than PowerSmart.
3. Husqvarna ST224P – Best 2-Stage Gas Snow Blower WIth Power Steering
No products found.
Husqvarna is the best-selling power tool brand in the world as it provides premium-quality instruments for a variety of works without overpricing it. All their tools have an ergonomic design and excellent characteristics. Well, this one isn't an exclusion.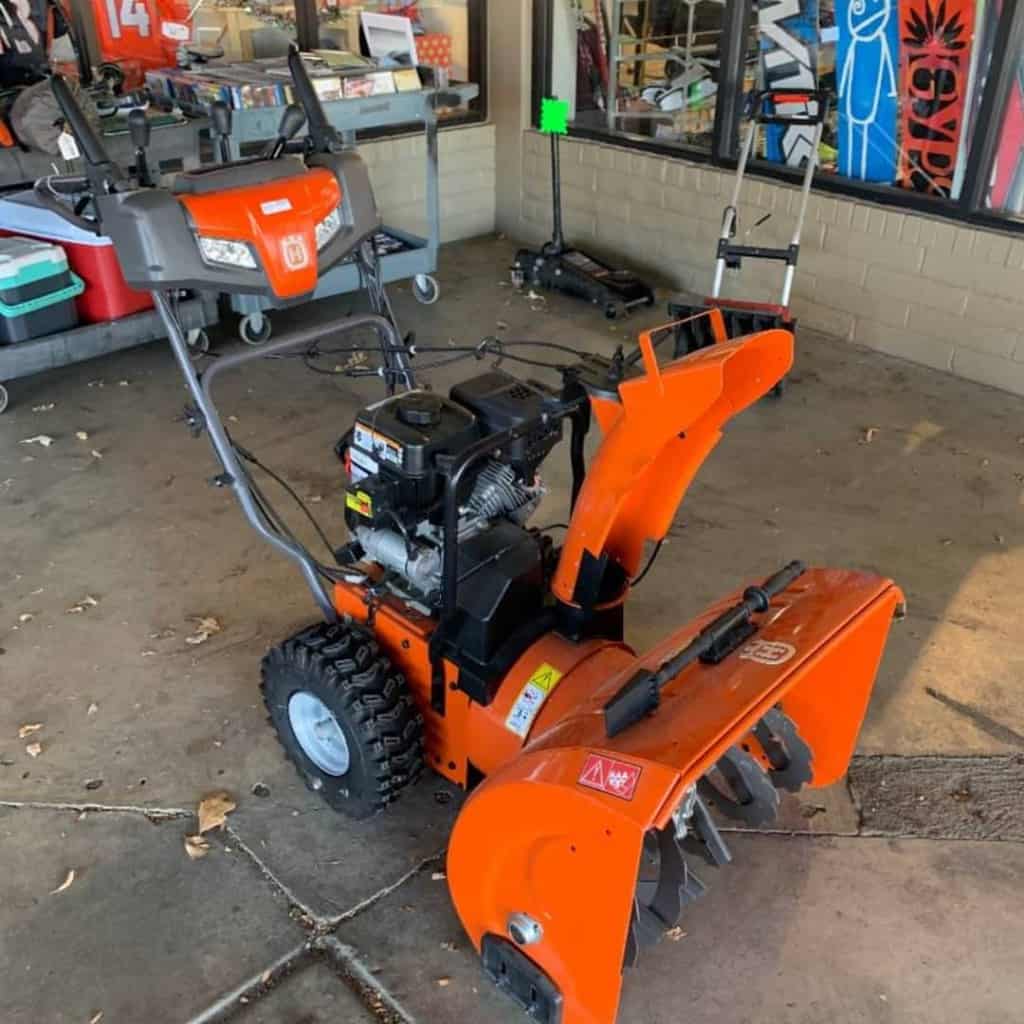 The tool comes with a 208cc that has 6 forward and 1 reverse gear. Two other levers on the console let you rotate the cute and change the deflector angle without stopping. Due to power steering, it's effortless to push and turn the tool around.
Other nice extras include 2 bright LED floodlights on the console and a metal stick with a fork for cleaning the auget of snow before storing. The model is provided with the best 5-year engine warranty and 3-year full-tool warranty, so you may expect it to work without issues many years in a row.

ADVANTAGES
Heated handles;
5-year engine warranty and 3-year full warranty;
Bright LED lights;
Convenient power steering;
Instant electric start;
Corded start feature for dead battery;
Tough auger.
DRAWBACKS
The plastic panel is a bit brittle;
It's quite expensive.
4. Ariens ST24LE Deluxe – Best Professional 2-Stage Gas Snow Blower
Affiliate links and images placed from the Amazon Product Advertising API on 2023-09-22
Ariens is a Wisconsin-based manufacturer with a long history of making snowblowers for commercial use. The brand is an official Lambeau Field snow blower supplier and one of the oldest manufacturers in the category. Actually, their designs haven't changed a lot since the 1960s. That's how good they are.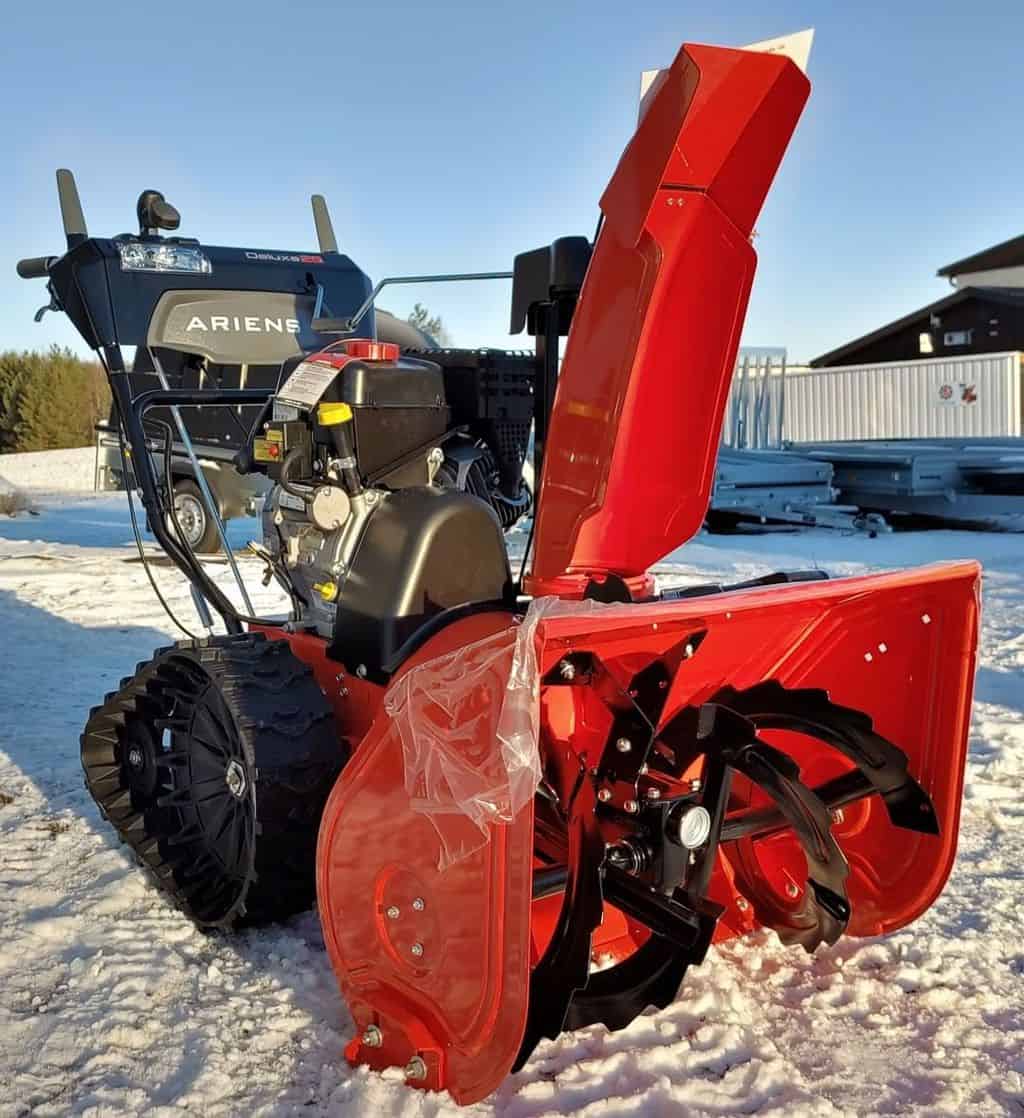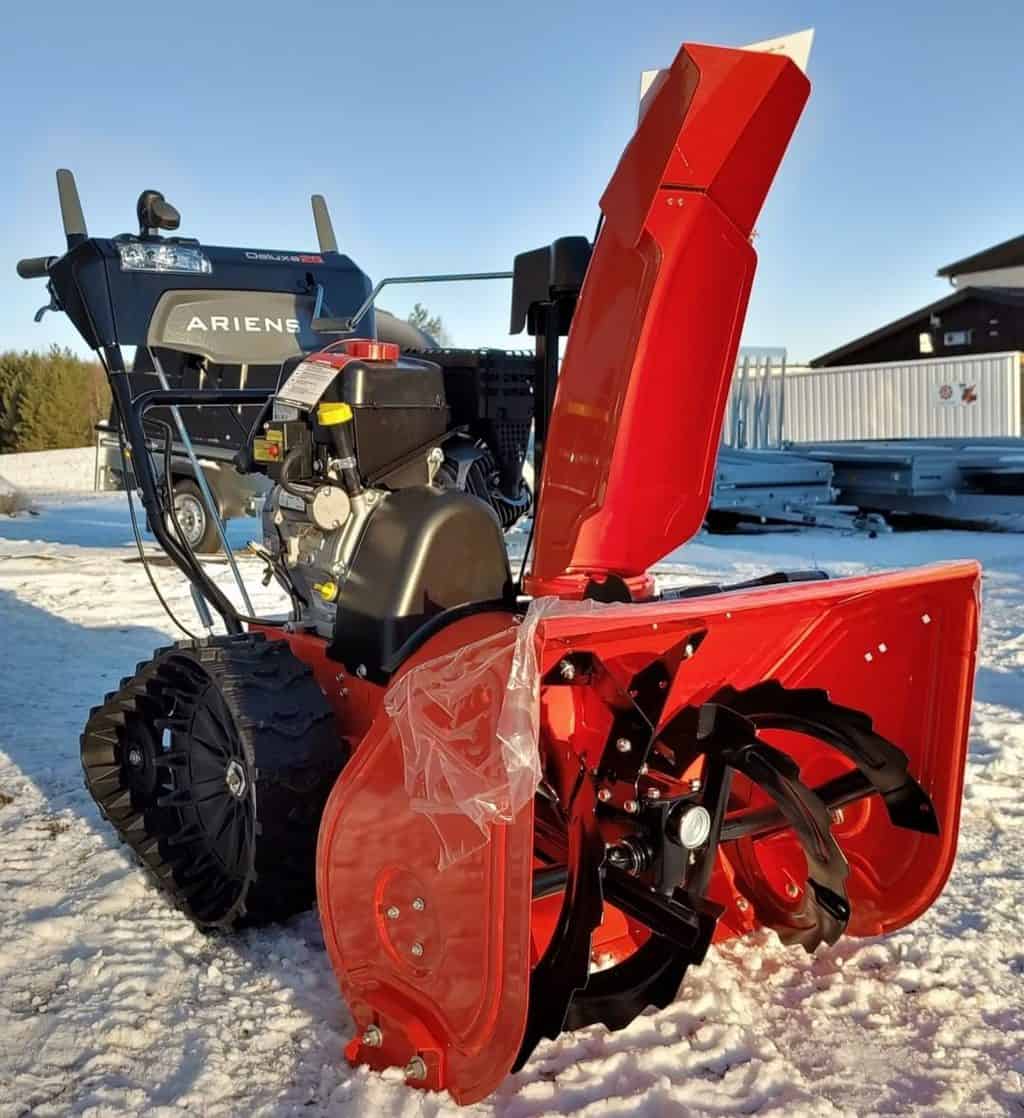 ST24LE Deluxe is a direct descendant of the original Ariens snowblowers. It's built of the sturdiest materials that provide superior longevity for commercial use. Of course, the tool is quite expensive, but the safety margin of the model is worth every cent. In addition, it has smooth power steering and a large flood LED light for easy navigation at night. ST24LE are excellent snow blowers 24-inch 2-stage for professional and domestic use (if the price is ok for you.)

ADVANTAGES
Remote chute and deflector controls;
Effortless power steering;
A stick for cleaning included;
Heavy-duty construction;
Powerful 254cc US motor.
DRAWBACKS
No electric start button;
Expensive (but professional-oriented).
5. WEN SB24E – Best Self Powered Snow Blower
No products found.
WEN is a 70+-year-old US-based power tool brand that's focused on manufacturing affordable, high-quality tools for households and pros. WEN's SB24E top-rated 2-stage snow blowers attracted my attention in 2011. Since then, they've been my most highly recommended budget 24'' snow blowers.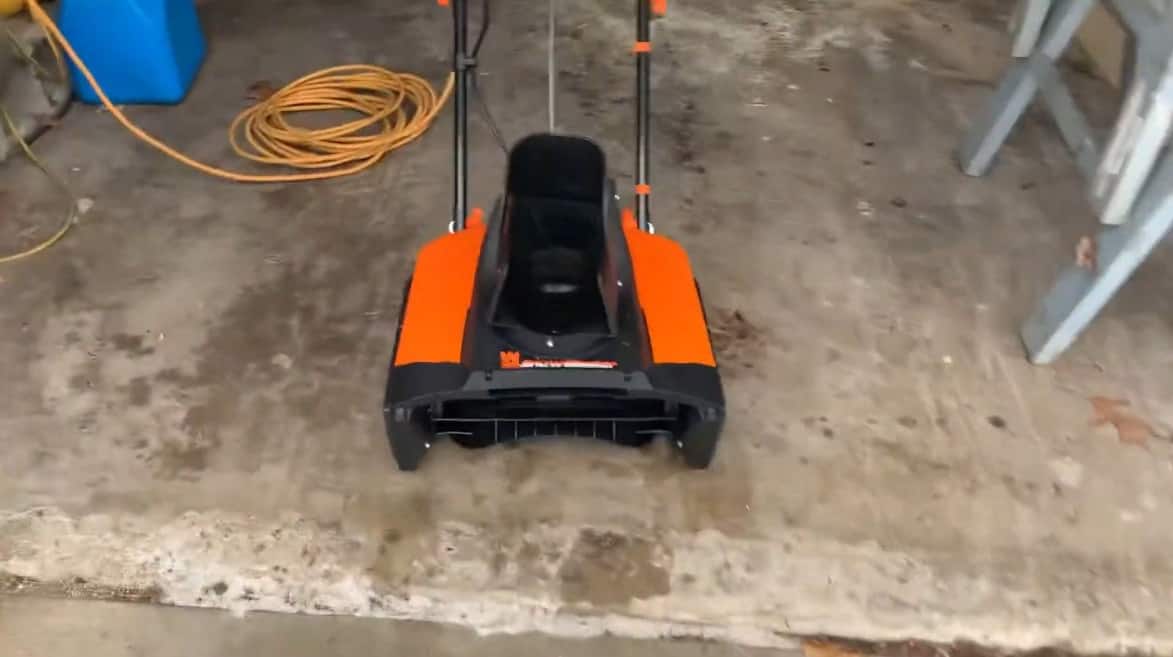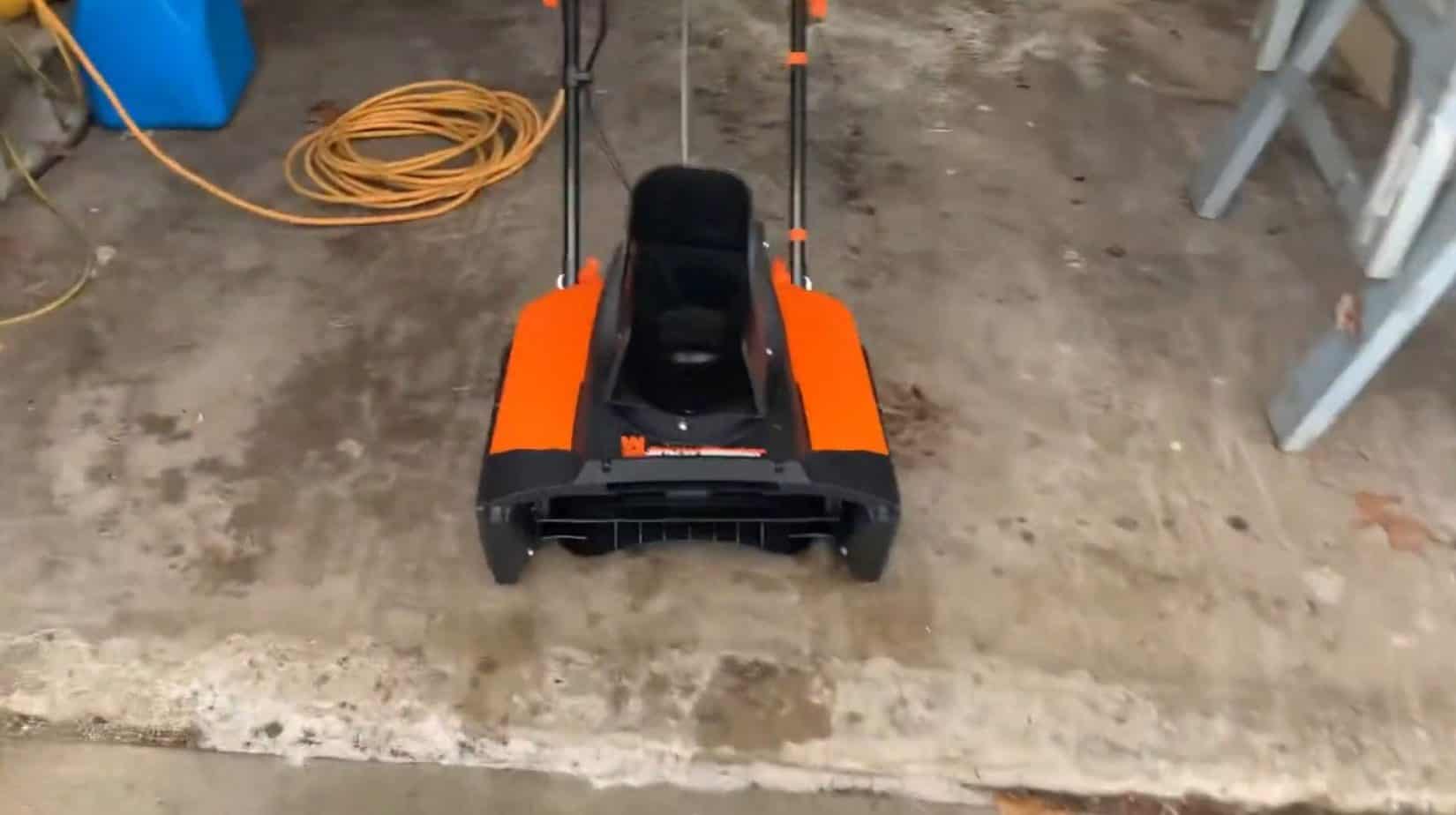 SB24E combines a powerful 212cc engine with a self-propelled drive that lets you operate the tool effortlessly. The auger smashes ice of any thickness and intakes up to 24'' by 21'' of snow, which results in clearing over 1800 lbs of snow per minute.
Despite a relatively low price, the tool has push-button start, the best aggressive tires amongst machines on my listing, and even a 2-year warranty. Still, there are no lights and heating. It's a good and simple performer!

ADVANTAGES
Tough ice-breaking auger;
The tires provide excellent grip;
24'' by 21'' clearing path;
Bottle of oil included;
2-year warranty.
DRAWBACKS
Not the most versatile remote console;
No lighting and heating.
6. YARDMAX YB5765 – Best Small 2-Stage Snow Blower
No products found.
Need an even more affordable tool? Yardmax is a brand that offers some of the cheapest
compact 2-stage snow blower models on the market today. The price for YB5765 is usually below $500. For this money, you can get an easy-start 196cc engine with 5 forward and 2 backward gears.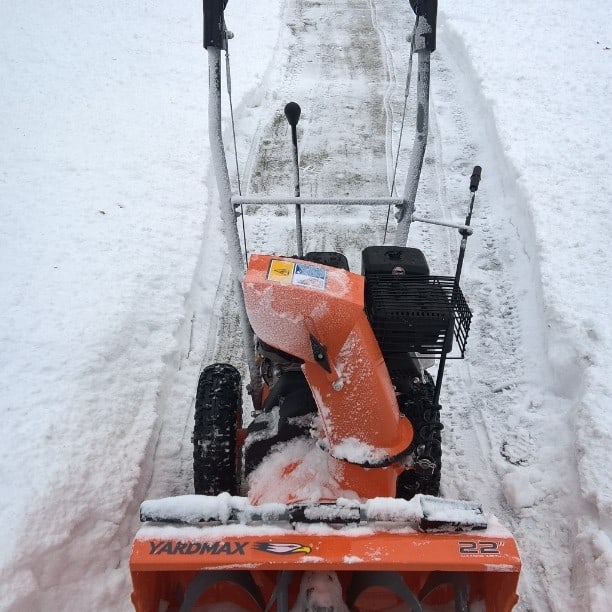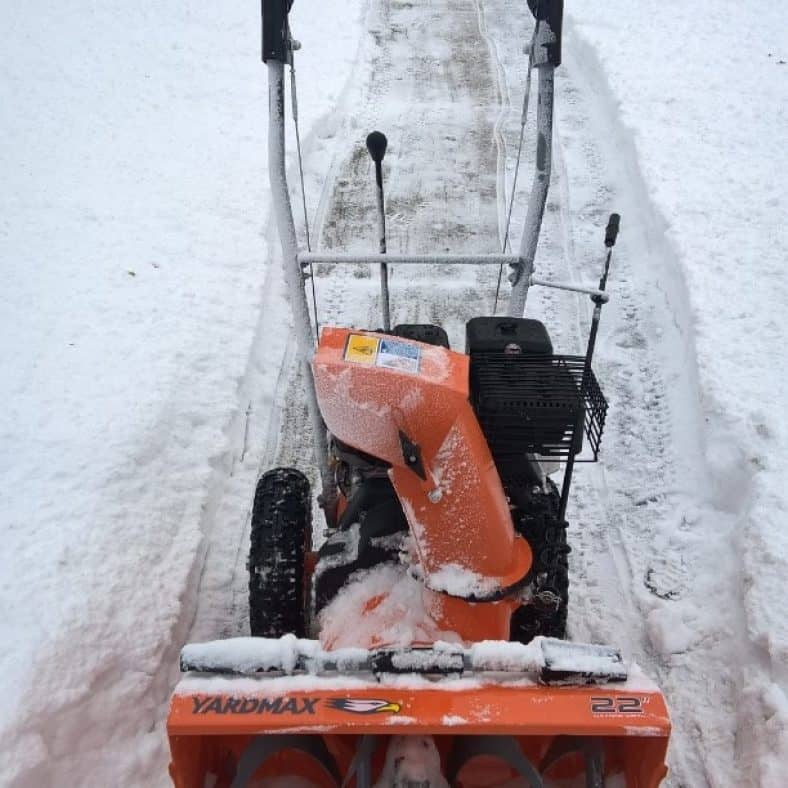 The snow flow can be up to 20 feet, and the power of the flow is high enough to minimize the blowback if it's windy outside. Despite its small size and price, the tool's engine is perfectly protected from damage and runs only on synthetic oils that extend lifespan.
Unfortunately, you cannot expect lights, handle heating, and large wheels for this price, but the chute angle is adjustable remotely, as well as the gears. I think they could have made a remote deflector too, but they didn't. Anyway, it's the best budget 22'' blower I've ever tested.

ADVANTAGES
Power steering;
Reliable protective gearcase;
Ice-breaking auger;
Affordable model;
Runs on synthetic oil;
Remote chute.
DRAWBACKS
No remote deflector controller;
Tire tread could be deeper.
7. Briggs & Stratton S1227 – Best 27-inch Dual Stage Electric Snow Blower
No products found.
B&G is the world's largest manufacturer of gasoline engines for power tools of all kinds. Bran's engines are considered the most durable today, and they perform really well on large snow blowers like S1227. This tool is great for cleaning long broad driveways quickly. The 27 cleaning width along with 11.5-foot torque lets you remove huge amounts of snow per minute. I only dislike that the intake height is limited to 20 inches. The friction disk system provides 5 forward and 2 reverse gears, making it really easy to adjust the needed speed.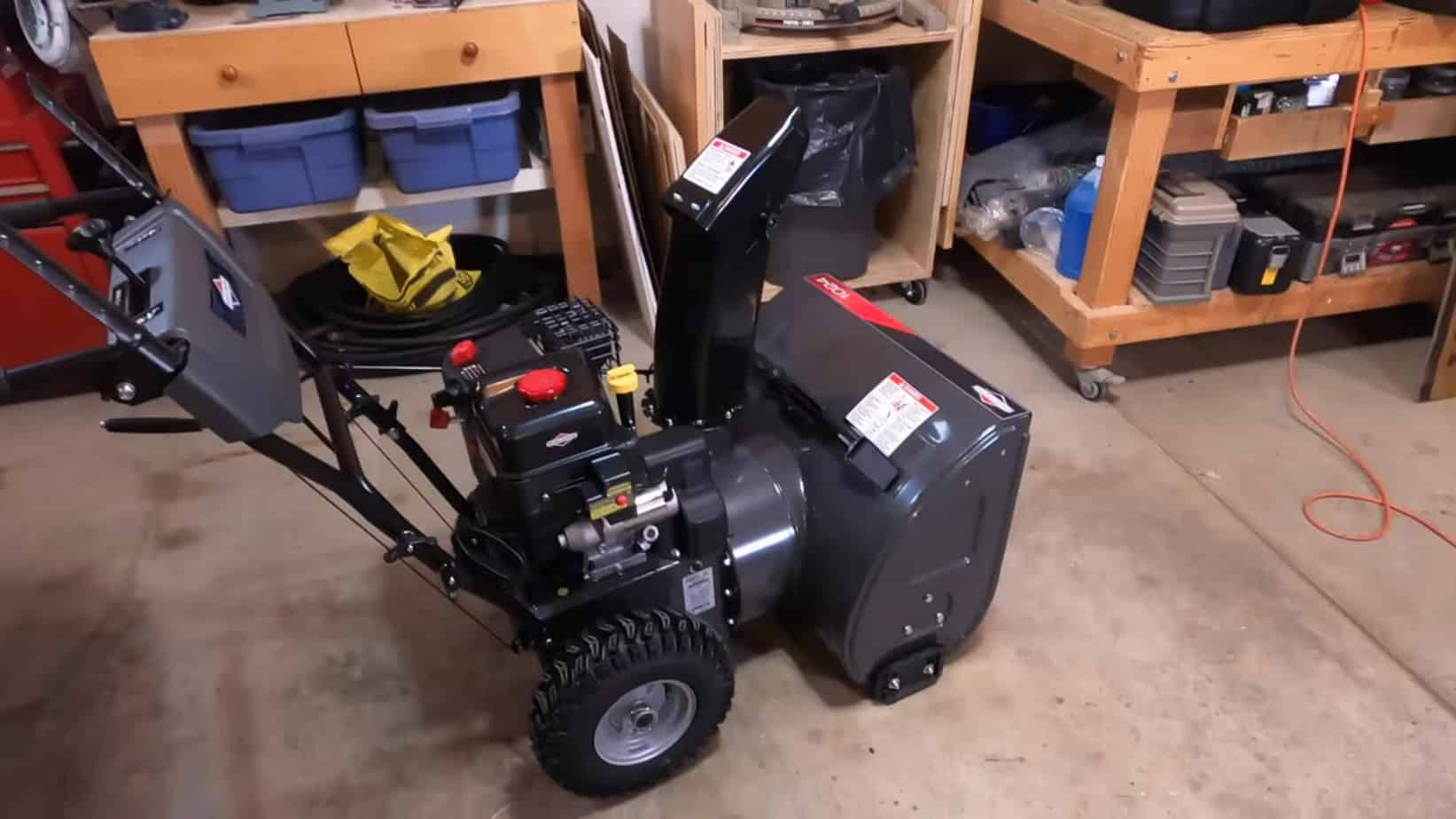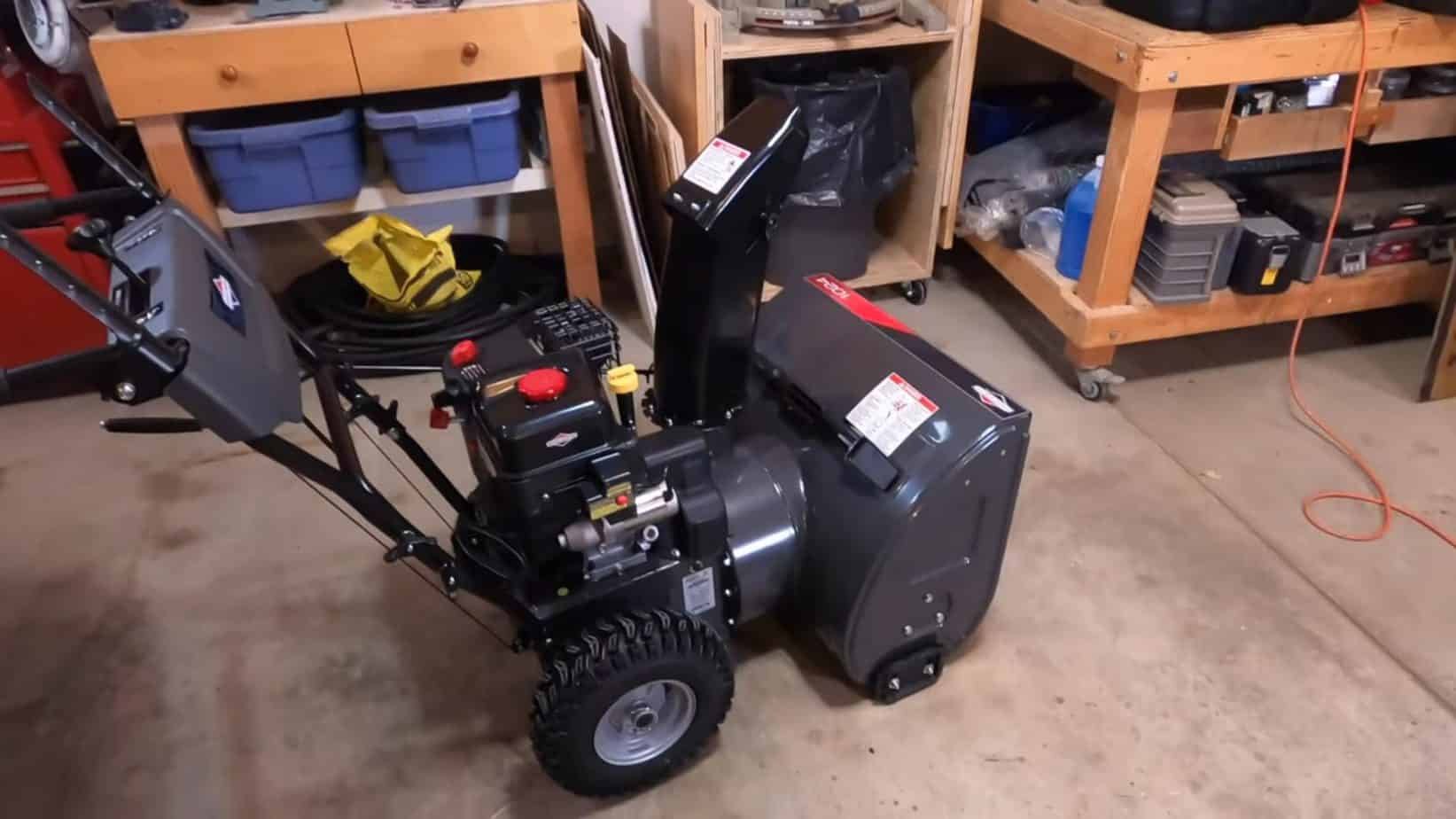 Unlike most snow blowers, this one doesn't require 2-hand control all the time. You can hold the handle with 1 hand while adjusting the gearbox or chute. As for such a huge boy, S1227 doesn't cost too much but provides great durability. It's a good solution for large households and commercial use.

ADVANTAGES
3-year full-body warranty;
Remote chute and deflector;
Powerful LED light;
Electric start;
Friction disk drive system.
DRAWBACKS
The intake height is limited to 20 inches;
No handle heating.
2 Stage Snow Blower Buyer's Guide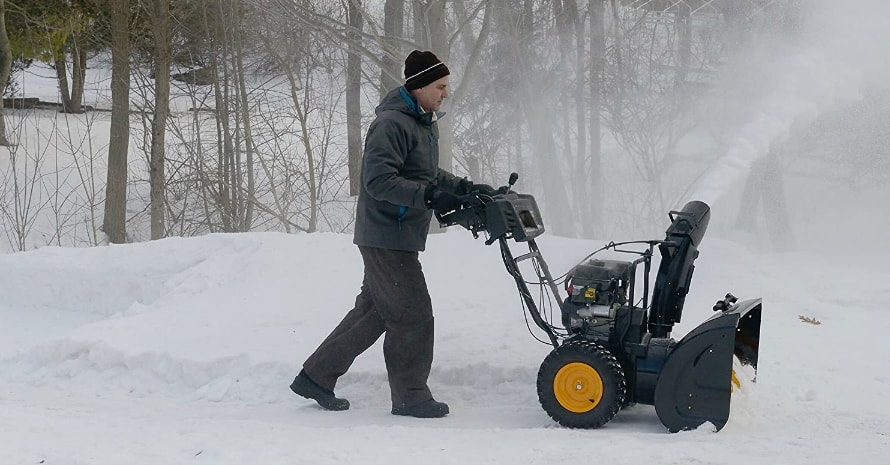 Given that you already know about the benefits of using snowblowers, I'd like to explain what you should look for while choosing the one for your needs. These tools are quite complex, so a bit of education will only boost your experience.
Two-stage snow blower vs. one-stage
It's very easy to understand which one you need. If the snow level in your region can exceed 8 inches and your driveways and are longer than 20 feet, you will probably need a 2-stage blower rather than a one-stage thrower. The second type is of great use if you don't need a complicated, cumbersome machine, and there's no need to deal with large amounts of snow in a short time. There are many options with quiet battery-powered and corded motors, while 2-stage machines are mostly gas-powered and require more skill and maintenance efforts.
How to choose the best two-stage snow blower
Use this part as a reference chart and compare every model that seems to match your needs with it. If you want the blower to be a really helpful tool, knowing the information below is a must.
Power source
Two-stage blowers are usually gas-powered, as battery-powered motors rarely provide enough operating time. Even if they do, the price is usually significantly higher than for gas-powered models. Corded 2-stage blowers are a rarity on today's market because of limited coverage, while gas-powered models with 8-12 HP can clear around 24-38 inches of snow without difficulties.
Electric start
Machines with an electric start feature are a lot easier to use as they have an automatic starter. You just turn the key and push the button instead of bending your back and pulling the cord. This feature makes the price higher, though.
Clearance measurements
The clearance width of snowblowers is an important measurement that defines how much snow you can remove in a minute. The wider it is, the faster you work. Average 2-stage snowblowers have from 24'' to 38'' clearance width.
Transmission
There are several types of transmission used on two-stage snow blowers, including:
Single-speed – my experience shows that this transmission type drives the wheels rather too fast or too slow. It's the cheapest type anyway;
Friction disk – the most common type. It's very reliable, relatively cheap, and provides you with 5-6 gears and a reverse gear;
CVT (Continuously Variable Transmission) – a newer and simpler transmission type that doesn't require training;
HydroStatic – a heavy-duty type of CVT used in high-end machines.
Power steering
This feature makes handling a snow blow much easier for people who are not tall enough, cannot lift over 30lbs because of a bad back, or just don't want to get tired too quickly. Blowers with this feature have small triggers, levers, or automatic drives for steering. The price usually starts at $850.
Property size
Let's compare the most common tool sizes with average American car driveways:
24'' – enough for 2 driveways between 20-60 feet long. These 250cc tools are acceptable in areas with over 70'' of snow per year.
26'' – works around 15% faster, good for 2 30-80 feet long sectors. It is equipped with 250-290cc motors to clean over 70'' of snow per year.
27-28'' – 300cc tools that clear over 70'' of snow per year on 150-feet sectors;
32-38'' – 300cc+ motors for large flat areas, including sidewalks and parking lots.
Extra features
The extras that you may wish to have on your tool include:
Lighting for working in the evening;
Remote chute – lets you adjust the discharge angle without stopping the tool;
Remote deflector – make it effortless to control the blowing distance;
Electronic chute and deflector – a newer type of remote controls.
Heated handles – a great thing if your yard is large and the weather's too cold;
Tire chains – needed if the tires on your machine aren't aggressive enough.
2 Stage Snow Blower FAQ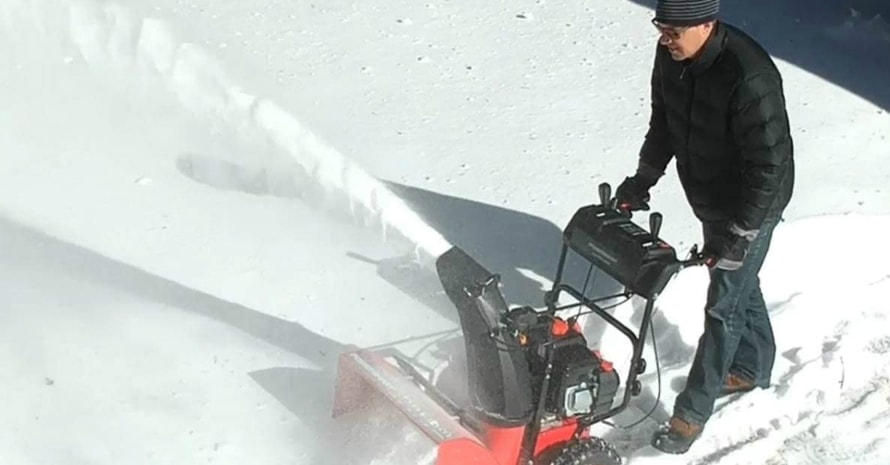 Many of you asked me these questions about snow blowers in the comments and by email. I decided to include the answers here to save your time and clarify everything in advance. If something remains unclear, welcome to the comments section below.
What is a 2-stage snow blower?
These outdoor power tools are designed to help you remove large amounts of snow (above 8 inches) quickly. Unlike 1-stage blowers, they are usually equipped with gas motors to make you more mobile and give more power to the auger and wheels. This makes them the most popular commercial tools on the market.
What's the difference between a snow blower and a snow thrower?
Tools that pick up the snow and through it away through the chute in a single motion are called single-stage snow throwers. Snow blowers are more complicated tools that have an auger to pick up the snow (first stage) and an impeller that works like a powerful fan and blows the snow away through the chute (second stage).
Do I need a two-stage snow blower?
Two-stage snow blowers are needed if you have a wide and long driveway, hilly areas, and, what's more important, snow levels in your region usually exceed 8 inches. These machines are powerful enough to remove heavy wet snow, and the auger doesn't touch the ground, which makes it more maneuverable on slopes and hilly areas.
How do I store a gas snow blower between seasons?
Similarly to any other gas-powered outdoor tool, you are required to drain the fuel tank before taking the tool to the storage area. Ensure that it's empty and run the tool until all the fuel in the line burns completely. After that, dry the tool with a rag and place it in a dry clean place to prevent rusting.
Snow Won't Bother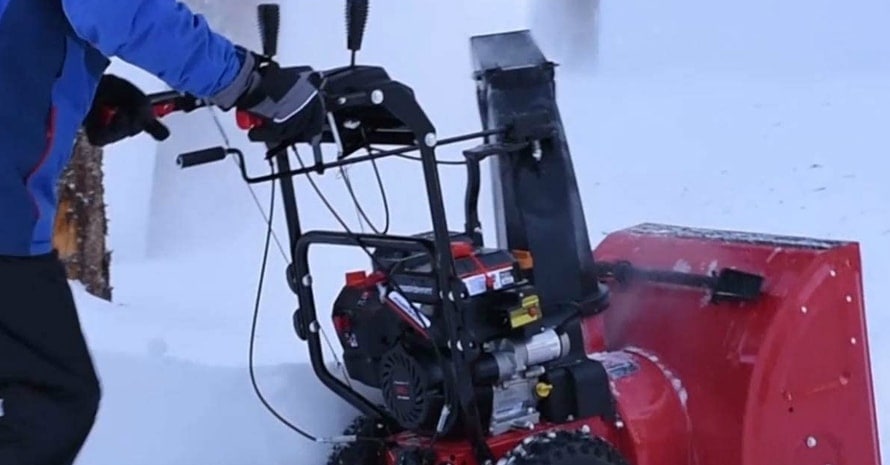 Now you know as much as a snowblower expert with years of experience! You can either get one of the tools that I find good or look for more offers elsewhere, as no one will be able to misguide you now. Still, my personal recommendation is to get PowerSmart's PSSAM24 blower that combines good size, power, and pricing.
Have you ever used snowblowers before? If yes, why did you decide to change the one you have? What was the model you had? I'd be happy to see your feedback below and reply to any of your questions related to the topic. Thanks a lot for reading, and don't forget about safety!