Are you one of those people who love gardening and enjoy the sight of a well-maintained lawn? Well, achieving such standards will require some effort on your part. However, since we are living in the 21st century, technology has made things easier for us. Creative inventions such as a traveling sprinkler ensure that any work can be made easier. What exactly is a traveling sprinkler? This device stays in motion as it dissipates water from its overhead spray arms in a rotation motion. With this equipment, you do not have to move around watering every section of your lawn.
Nelson Traveling Sprinkler – Nelson 1865 Raintrain Traveling Sprinkler
Nelson Traveling Sprinkler is a brand that does not require much of an introduction to most people. It was among the first brands to introduce a traveling sprinkler into the market. The early entry has offered a considerable advantage of this brand. It has enabled it to produce one of the best traveling sprinklers characterized by innovative design features.
As the name suggests, it has been designed to water your lawn similarly to the rain. This is mainly due to the shape of its arms. One unique element of this sprinkler's arms is that they can be adjusted to your preferred curve or even aligned to the water's angle. These adjustments effectively enable it to throw water up to 50 feet. They also make it possible for the sprinkler to spray water-varying patterns depending on your preference. Based on other reviews I have read online, accuracy in terms of irrigation patterns should not be an issue when using this sprinkler. Its 3-speed setting enables it to control the intensity and distance of its sprays.
ADVANTAGES:
It is made of strong iron that is powder-coated with chip-resistant yellow paint. This helps increase its lifespan while also making it aesthetically appealing
It has a three-speed setting that helps you control the amount of water and distance of spraying
The arms of this sprinkler are adjustable to the curve and angle of preference, depending on the pattern you want them to spray water
With it being one of the oldest sprinkler models, you can easily access its spare parts
DRAWBACKS:
Some customers consider them as very expensive
Comparative Table of the Traveling Sprinklers
4 Traveling Lawn Sprinkler Reviews
To this point, we have understood the concept of traveling sprinklers. In the next section, I will analyze some of the brands you can choose from.
Orbit 58322 Traveling Sprinkler – Best Traveling Lawn Sprinkler
The whole idea of a traveling lawn sprinkler will fascinate with the continued inventions and improvement of gardening tools and equipment. Thanks to these innovations, you can now have your lawn effectively watered without the hassle of having to move your sprinkler around. While there are other brands of best traveling lawn sprinklers, Orbit 58322 is in a class of its own. Its added innovative features make it a popular choice among most gardeners.
The self-propelled Orbit traveling sprinkler is dependent on water pressure to propel itself along a predetermined path of a hose that the user has set to develop their customized watering system. For an optimum result, you are advised to always use a 5/8 inch hosepipe with this sprinkler. This diameter of the pipe facilitates enough pressure build-up to push water through the sprinkler while also propelling it along the set path.
While operating in the right conditions, the Orbit 58322 can move across a hose distance extending to 200 feet, which implies that it can irrigate an area of up to 13,500 square feet. The rotary spray system also facilitates the even distribution of water in the watered area. The essential things are that you can even change the distance your sprinkler sprays water by twisting each of the spray's arm.
This adjustment can effectively change its range from 15 feet to about 50 feet. Another aspect worth mentioning is the fact that it features three-speed controls: high, neutral, and low-speed gears. These gears determine the speed the sprinkler travels per hour and the amount of water it sprays.
Another factor that contributes to the Orbit 58322 efficiency is the quality of materials used in making it. Cast iron is utilized in making this sprinkler. Among its main advantages is that it provides the right weight to maintain the sprinkler stable on the ground while also ensuring that it maintains the path of the hose without stopping. The Cast-iron has a strong coat of dark green color paint that makes it look attractive. Also, it enables it to remain resistant to all weather conditions while also preventing the cast iron from rusting.
ADVANTAGES:
It is made from cast iron that helps increase its stability on the ground and facilitate its movement
The sprinkler features a three-speed control with the high-speed setting enabling it to travel at 37 feet per hour
You can use the ramp stop to facilitate its automatic shutoff
You can twist the spray arms to enable it to spray water to a longer distance
DRAWBACKS:
It is not ideal for smaller lawns
Watering Equipment Rain Train – Rain Train Traveling Sprinkler
This is one of the simplest models of a traveling sprinkler. All that is required of you is to lay your hose in the pattern you want to water the lawn. This product from Raintrain traveling sprinkler reviews will effortlessly travel through that path while watering your lawn. Professionals suggest that this product is capable of watering an area extending to 13,500 square feet. However, they are keen to note that for more improved performance, it is advisable to use it at a distance of 11,900 square feet. They also advise on using a hose with a diameter of about 5/8 inches. The idea is to ensure that the sprinkler has enough pressure to propel it and spray water to desirable distances.
Similar to Nelson 1865, this sprinkler has adjustable sprinkler arms. This enables the user to tune them to different angles with a view of regulating the pattern of water spraying. These adjustments also make them efficient as they can throw water for a radius ranging from 15 to 56 feet. This range is also influenced by the speed it is operating on. The two-speed control setting enables you to alternate between high and low speeds. This adjustment depends on the distance and accuracy of the water spray you intend to achieve.
ADVANTAGES:
It is made of quality long-lasting cast iron that has been powder coated to protect it from poor weather conditions and rust
The sprinkler arms can be adjusted to regulate their spray patterns
It has been fitted with an automatic shut-off ramp system
DRAWBACKS:
It only seems to work efficiently with a hosepipe that has a diameter of 5/8 inches
Watex WX44 Traveling Sprinkler – Affordable Traveling Irrigation Sprinkler
Watex WX44 is also among the best traveling sprinklers that you can rely on for watering, even the extra-large lawns such as golf fields. Similar to the Orbit 58322, its body is made using heavy-duty cast iron. The reason behind the use of this material is to ensure that it can last longer. It also guarantees that the remains firmly held to the ground to avoid toppling off. The sprinkle is also self-propelled. It mainly relies on the water pressure to stimulate the internal transmissions that will, in turn, make the wheels turn. It has also been made using a lightweight design. Its feature ensures that the sprinkler can negate corners at ease.
Another notable feature in the Watex WX44 sprinkler is the fact that it has a two-speed gear control. This helps you regulate the amount of water it sprays, and the distance sprayed. On average, the sprinkler is capable of pushing water up to a distance of 11,900 square feet. Adjusting the arms of this sprinkler will enable it to spray water to a radius of up to 45 feet. It has also been fitted with the innovative shut-off ramps. This feature will help in automatically cutting off the water supply while also shutting off the sprinkler when the need arises.
ADVANTAGES:
It is reliable for watering extra-large lawns
It has been made with a lightweight design for efficient movement around corners
It has also been fitted with an automatic shut off feature
It can be bought as a complete set, including the hose
It has great innovative features, yet it's affordable
DRAWBACKS:
It includes many plastic components that make it less durable
John Deere 4010J Traveling Sprinkler – John Deere Traveling Sprinkler Review (Currently Unavailable)
Try this instead:
I have to admit I love how the brand imitates a toy model tractor. Everything from its shape to exhaust pipe, and even the engine compartment. For one, you can be sure that your kids will find the fun in helping you set it up. Another aspect they have imitated a model tractor is the large rear wheels. While the wheels look aesthetically appealing with their yellow color, they do more than being beautiful. They are responsible for maintaining the stability of the sprinkler, especially when moving on wet surfaces.
Another aspect that makes it rank among the best traveling sprinklers is the shutoff ramp. In certain instances, you may be using this sprinkler while performing other functions, such as restoring your lawn. Therefore, you will need the sprinkler to water the soil and then plant the grass so that you can water again. In such a scenario, the shutoff ramp will be useful because it will help the sprinkler to stop at your preferred point and also automatically end spraying water.
In terms of functionality, this one of the best traveling sprinklers is capable of spraying water within an area of 13,500 square feet. The body has been made from the strong and lasting die-cast zinc. It is further coated with a sleek green paint that helps protect it from rust and other harsh weather elements. It is important to inform you that a product is currently unavailable for purchase.
ADVANTAGES:
It has a unique tractor model design
It has been made to last longer with the body being made of die-cast zinc
It has been fitted with a practical shutoff ramp
The sleek green color makes it look appealing and prevents it from rusting
DRAWBACKS:
The release of this model has been suspended for a while
Importance of a Traveling Sprinkler
One reason why you need to consider a traveling sprinkler over the traditional one is that it will not require your effort once you set it up. Therefore, if you are one of those people who dislike moving around when watering gardens or lawns, this is something you should consider.
Additionally, if you have a large lawn or garden, a traveling sprinkler will come in handy because it can cover almost the entire area of it, depending on the way you angle its arms. Similarly, a traveling sprinkler is quite useful to people who have unconventionally shaped lawns or gardens. For example, if you have a lawn that has obstacles and contours, get yourself the best traveling sprinkler. Designed with wheels and a chassis, it can maneuver through various garden terrain.
The best traveling sprinkler will also ensure an even distribution of water across your garden or lawn. This is because it depends on waterpower to push its gears and turn its wheels. Thus, you are unlikely to have sections of your garden that look neglected or less watered. A traveling sprinkler is also useful during the summer when temperatures are raging high. You can use it to entertain and even cool your family on such days. These sprinklers are quite fun to watch.
An additional benefit of traveling sprinklers is their variety which helps in maximizing your property's value. By variety I mean that you can compare different types and features of each before settling on the best traveling sprinkler. Regarding maximizing your property's value, I mean that it shows how much effort you have put into maintaining a fresh and healthy garden.
So, if you were to sell such property at some point, you can be certain that the garden or lawn will help in demonstrating this value. Moreover, with a traveling sprinkler, you can brag about being up-to-date with the latest gardening technologies.
How a Traveling Sprinkler Works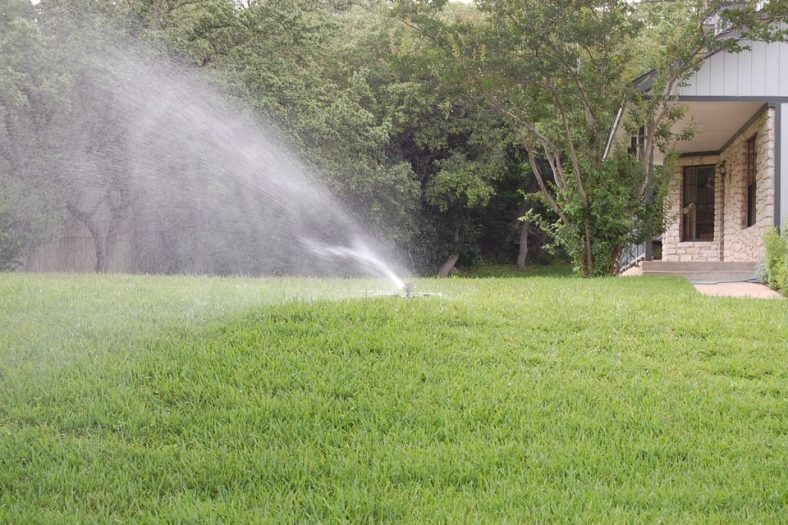 A traveling sprinkler has various parts, for example, sprinkler arm assembly, wheels, and a hose connection. Other components include a ramp and a worm gear. Opening the traveling sprinkler causes the pressure to drive water into the hose. The water inside the sprinkler then flows through a pipe inside it and gets out through the arms. The gushing of water out of the sprinkler causes a buildup of force on the arms. Since they are curved, this force thrusts out water at an angle. They are also designed with a bent located towards the reverse directions. As such, the force that acts on both of them does so in a rotational power.
The sprinkler arms are joined to a worm gear. It is made of plastic and is located inside the tractor body. When the arms start spinning, they cause worm gear to rotate, and this, in turn, leads to transmission. The typical traveling sprinkler design comprises the high, low, and neutral speed settings. You choose any of these options depending on your watering needs. As for the neutral speed setting, you only engage it for stationary watering. It is important to note that the number of transmission settings may differ from one sprinkler to another.
Once the traveling sprinkler gets to the final stretch of its path, it sets in motion an automatic shut-off setting. The simplest traveling sprinkler designs have a small ramp that acts as the shut-off trigger. On reaching this tamp, the back wheels of the sprinkler revolve around it while the front wheel goes over it. A plunger located at the sprinkler's bottom is hit by the ramp when this happens, thereby preventing water from flowing into the sprinkler arms. When this happens, the traveling sprinkler automatically goes off.
Directions for Using a Traveling Sprinkler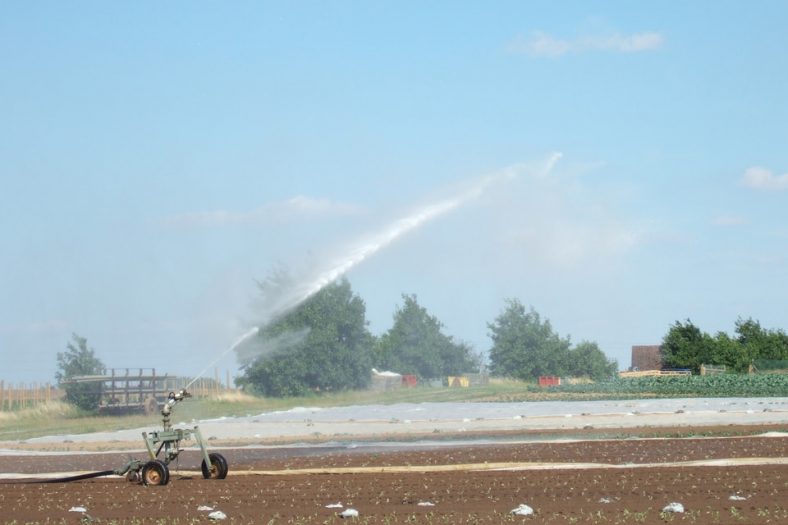 The first step to using a traveling sprinkler is to put together its arms into the spray head and to tighten them into place. You should then point the sprinkler arms according to the watering requirements of your garden. To prevent the sprinklers from sticking, ensure that you tilt the arms up to prevent them from touching the base.
Secondly, take the water hose, attach it to your source of water, and point it out to the watering path of your choice. To avoid kinking, you should connect the hose's end to the traveling sprinkler. Additionally, ensure that the turns are smooth and broad, to make sure that the sprinkler remains on track.
The next step is to select your desired transmission settings. For example, if you wish light watering, choose the high-speed setting. On the contrary, select the low-speed setting for thorough watering. If you want the sprinkler to focus on a single spot, choose the neutral speed setting. The last step is to turn off the sprinkler, once you are done watering your lawn.
Choosing the Best Traveling Sprinkler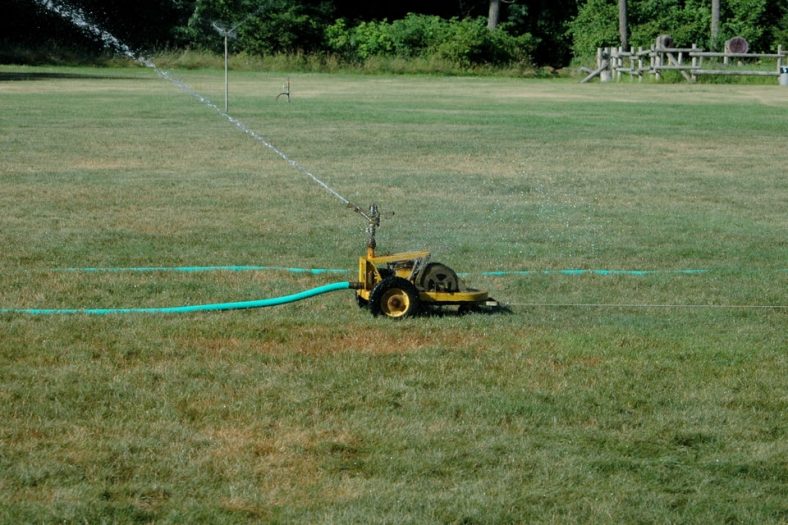 To choose the best traveling sprinkler, you must consider a few things. One of them is the number of transmission settings that it has. A standard model has three settings: high, neutral, and low. If you need additional settings, you should consider buying one with more than these three modes. I, however, recommend that you settle on a traveling sprinkler with these three standard settings because it does a good job as well.
Another important consideration is the size of your garden before choosing the best traveling sprinkler. It is useful for people with lawns that have a terrain and many contours. This traveling sprinkler will also cover the ground uniformly without leaving some of the sections unwatered. Besides, you should consider the coverage area of the traveling sprinkler of your choice before paying for it. If your garden exceeds its coverage area, you should seek an alternative.
Your water conservation objectives are another consideration that you need to make before settling on a sprinkler. The best traveling sprinkler is one that is programmed to switch off itself once it has reached the end of its watering path. A healthy-looking lane is desirable, but there is no denying that your water bill will most likely rise. Therefore, it is necessary that you choose one that will dictate how much water comes out of the sprinkler arms. This kind of flexibility will ensure that you achieve your water conservation goals.
Ultimately, you need to consider a traveling sprinkler that fits your budget. The best traveling sprinkler is one that functions satisfactorily for you and gives value for money. Additionally, you should settle on a traveling sprinkler that is durable so that you will not keep spending on sprinklers so often.
Should You Buy a Traveling Sprinkler?
This is a personal decision that is entirely dependent on your situation. I would recommend that you consider buying one if you have a large garden or lawn, which has an unsymmetrical terrain. Also, if you dislike moving the ordinary sprinklers around every few minutes, a traveling sprinkler may be a perfect choice. The sun, especially during the hot season, can be intense, and such heat can easily damage your lawn in a few days. This is why you need the best traveling sprinkler to sustain a healthy-looking garden.
I hope these traveling sprinklers reviews have been insightful and could help you decide to buy that particular traveling water sprinkler that suits you. Have you ever used a traveling sprinkler before? Do you feel that I have left out the best traveling sprinkler you know about? What other considerations do you feel that other gardeners should make before buying a traveling sprinkler?
Last update on 2020-04-06. The post includes Affiliate links. Images from Amazon Product Advertising API