As an Amazon Associate we earn from commission of qualifying purchases.
Of course, you want an attractive green lawn, as it will make your home look amazing. Also, a pretty backyard allows for outdoor parties, picnics, barbeques, etc. However, a lot of people are often confused about choosing which type of grass to grow on their lawns. St Augustine grass Vs Bermuda grass is a widespread problem.
The main difference between St.Augustine and Bermuda is that the former doesn't grow well in soils with a deficit in iron sulfate or iron chelate, while the latter requires a higher level of nitrogen and alkalescent or acidic environment. Bermuda is also more resistant to human activities.
These two grass types are the most popular ones for sowing lawns. Go through this article, where I've comprehensively covered St Augustine Vs Bermuda options. This guide provides you with several pointers to check out before settling on the type of grass to grow on your lawn.
I have always been passionate about gardening, and once my husband and I moved to a house in the country, I could dedicate myself to this activity. Thus, I am quite familiar with grass types and the features to look out for before settling on one.
The Difference Between Bermuda and St Augustine Grass
Before making a decision, you need to consider a few aspects, including maintenance, climate, shade, traffic, etc.
St Augustine grass needs excessive watering and a moderately hot climate to thrive, whereas Bermuda grass requires almost no moisture in drought-like times or inactive periods, like early fall.

Each type of grass has its advantages and disadvantages. Thus, understanding the characteristics of each type will help you in picking the one that will work best for your lawn.
Water Requirements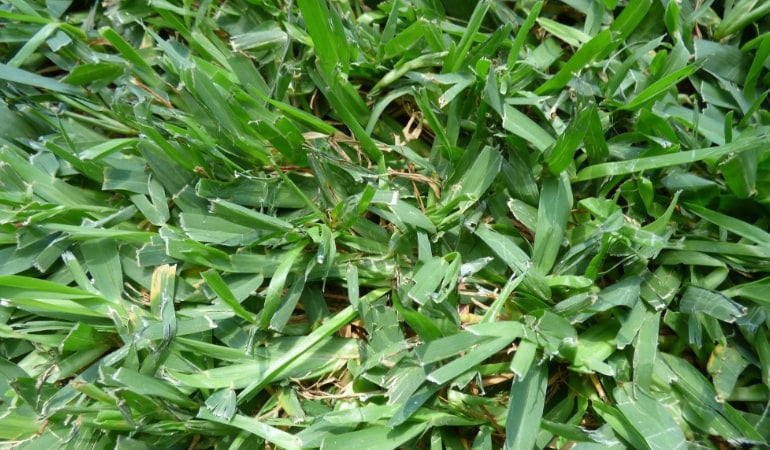 With the altering weather conditions, it is critical to prioritize water consumption. If you want to make reduced sprinkling sessions or intend to save water, then the Bermuda grass is definitely the ideal option.
Saint Augustine grass, however, requires twice as much water as compared to the Bermuda type. While it doesn't sound like a serious concern, you'll eventually notice the impact while paying the water bill each month.
Temperature Requirements
Neither of these grass types can thrive with temperatures fewer than 60 degrees Fahrenheit. However, St. Augustine type has better weather tolerance in comparison to the Bermuda one. Still, a heat-stressed lawn with St. Augustine grass grown on it becomes more susceptible to diseases and pests.
So, in this specific situation, the advantage of Bermuda grass is that it needs almost no moisture during inactive periods. Also, it has a better performance in comparison to St. Augustine grass in fighting lawn diseases and pests.
Growth Patterns of Bermuda Grass Vs St Augustine
When it comes to setting up your lawn, the choice of grass look depends on your personal preferences. It's quite easy to grow a Bermuda grass lawn from its seeds. 
However, if you want to grow a lawn with St. Augustine grass, it's better to lay off a turf layer on your yard firstly. The thing is, a Saint Augustine grass seed isn't as effective as the Bermuda one. Thus, this type needs more maintenance to grow in comparison to the cheaper Bermuda. However, once Bermuda grass starts to grow, it does it vigorously.
Sun and Shade Requirements
Is your lawn is entirely exposed to the sun, or is it submerged by the shade coming from the trees within your compound? St. Augustine grass can do well both in a shaded region or when regularly exposed to the sun. On the contrary, Bermuda grass will grow only under direct sunlight and will find it hard to thrive in shaded areas.
Soil Requirements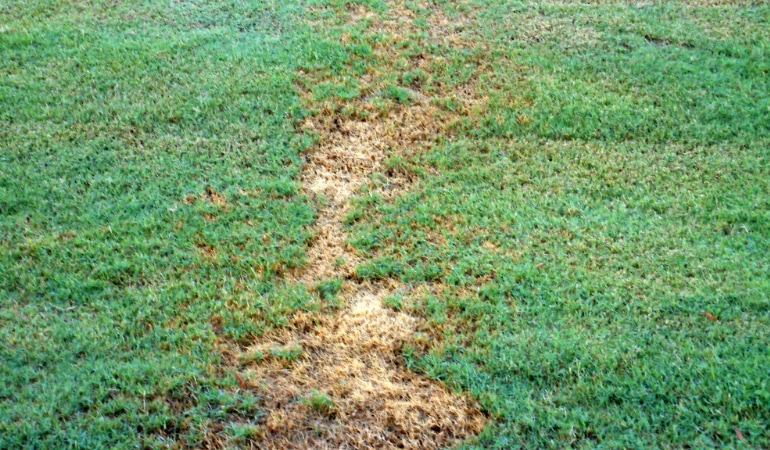 If you're just starting with gardening, make sure to carry out a soil test at first. You can find the test kits in any gardening store nearby.
I want to warn you that it is hard to grow St. Augustine grass in soil that has a deficit in iron sulfate or iron chelate. While such grass has similar potassium necessities as other types, it has to be fertilized once every two months. On the contrary, Bermuda relies on soil rich in nitrogen. So, it can thrive on both alkalescent and acidic environments.
Traffic Tolerance
Let's research the problem of traffic tolerance in Saint Augustine grass Vs Bermuda grass battle? It depends on the area of your lawn where you plan to grow grass, and whether or not it is regularly exposed to car or foot traffic.
St. Augustine grass has quite low resilience to human activity. So, it can be destroyed easily if you walk on it often. The Bermuda grass comes as a more irrepressible option and will still look good even after paw and foot traffic. It will not only maintain its shape but also fully grow again.
Bermuda Vs. St Augustine Grass Care
St Augustine maintenance specifics are more complex compared to Bermuda requirements. This grass needs extra maintenance, including constant mowing process and water consumption. Note that this grass may grow vigorously, taking over other areas of the lawn. So, you'll need a strong and effective lawnmower to care for a yard with St. Augustine grass.
The Bermuda grass needs less maintenance and mowing. Do you know how to identify Bermuda grass? It gets thicker when exposed to the sun. Also, this type of grass needs to be frequently trimmed because it can easily invade footpaths and driveways.
Choosing the Grass Type for Your Lawn
Nothing excites a gardener more than having a perfect lawn covered with green grass after putting in all the hard work. If you want to create a good-looking compound, it is important not only to pick the grass type but also consider many other factors.
After reading this article, choosing a grass type should now be easier since you know the specifics of both types in Bermuda Vs St Augustine confrontation. Do you want to know some tips on how to identify St Augustine grass in a trice? Let me know in the comment section below, and I'll gladly reply to you.