As an Amazon Associate we earn from commission of qualifying purchases.
I have been a gardener for a while now and find it to be a enjoyable hobby. It's fulfilling to watch what I've planted grow. I continue to enjoy gardening because I keep discovering new tools that make my gardening tasks, particularly preparing the garden, easier. One such tool is the lawn leveling rake.
It is worth taking the time to search for an affordable leaf rake that meets your needs. Although most leaf rakes have a similar design, finding the right soil leveler tool can still be challenging.
Pros
Available in several sizes
It can be used on any grass type
Runner-Up
Pros
Available in several sizes
Best Rated
Pros
It can be used on any grass type
Affiliate links and images placed from the Amazon Product Advertising API on 2023-12-08
Top 8 Lawn Leveling Rakes Reviewed
The following is a review of lawn rakes that I have compiled to help you make an informed decision. I have outlined the key features and listed the advantages and disadvantages of each model. By doing so, I aim to make your gardening tasks simpler and less burdensome.
1. Standard Golf Levelawn
Affiliate links and images placed from the Amazon Product Advertising API on 2023-12-08
The American Standard Golf Company has been around for 100 years and focuses mainly on creating golf equipment and tools for maintaining golf courses. You can trust in the quality and dependability of their Standard Golf Levelawn. It is an efficient tool for leveling both big sports fields and small gardens.
The working head of the rake measures 30 by 10 inches and the handle is 6 feet long. Despite being easy to use and comfortable, it could benefit from a soft coating on the handle to prevent blisters during use. The wooden parts of the tool tend to become dirty quickly and lose their appearance, but the overall construction is reliable and the rake will last for multiple seasons.
It can be used for various tasks such as breaking up clods, leveling fields and lawns, removing stones, and preparing soil for planting. It is recommended to trim long and thick grass before using the tool as it may not be able to handle it effectively due to its lightweight design.
ADVANTAGES
Fairly wide work head;
Lightweight;
Suitable for large areas;
Wide range of applications.
DRAWBACKS
A bit overpriced;
There is no soft coating on the handle.
2. Varomorus Rake – Best Lawn Leveling Rake for Grass Golf Field
Affiliate links and images placed from the Amazon Product Advertising API on 2023-12-08
Varomorus has created a top-notch lawn leveling device made of 304 stainless steel. Use the lawn leveler to distribute loose soil evenly on areas where you need to raise the ground, or to break up dense soil and even out the grass before mowing.
The tool ensures a smooth, even lawn without any bumps or dips, making it a must-have for any gardener. A lawn leveling rake from Varomorus is necessary for accurate leveling, as using just a shovel or rake by hand won't cut it.
Clean up your lawn by brushing away small stones, removing dead roots, and revitalizing the grass. The lawn leveler is appropriate for all types of lawn and soil.
It comes in three pieces that can easily be attached by twisting. The handle is 72 inches long, making it accessible for people of various heights to use.
You can choose this model from Varomorus in different sizes. The bottom part is between 18 and 40 inches long and 10 inches wide.

ADVANTAGES
Easy to assemble 3-piece structure;
Lightweight;
High-quality stainless steel fabrication;
Available in several sizes.
DRAWBACKS
Sharp corners of the tool may be dangerous.
3. Rocklin Industry Levelawn Tool – the Best Level Lawn Rake on the Market
Affiliate links and images placed from the Amazon Product Advertising API on 2023-12-08
The equipment from Rocklin Industry is remarkable, a company known for producing top-notch home maintenance tools. The tool excels at smoothing out soil levels and removing any uneven spots by simply filling them in with soil and using the equipment to level it.
The ground plate measures 48″ by 10″, the ideal size that enhances its functionality, versatility, and ease of use. The 78-inch handle allows for larger coverage with less effort, and the removable handle option of 50 inches provides even more flexibility.
The tool is compatible with different types of grass, such as Bluegrass, Bermuda, Kentucky, Ryegrass, and Fescue, and works best when the grass is cut to 1.5 inches or shorter. The tool is made of stainless steel with double spot welding, making it durable and rust-resistant, and weighs 15 pounds.
To use the tool effectively, simply spread some topsoil or plain soil in the working area and rake back and forth, breaking up the soil and removing rocks and sticks while pushing soil to the base of the grass. To achieve optimal results, experiment with raking techniques and the pressure applied.
ADVANTAGES
It carries out more work while using less effort.
It can be used on any grass type.
It is made purely of stainless steel to prevent rusting.
DRAWBACKS
It requires significant practice to use it properly.
4. FLY HAWK Lawn Leveling Rake
Affiliate links and images placed from the Amazon Product Advertising API on 2023-12-08
If you are looking for a compact version of a lawn rake with a foldable handle, then I recommend checking out the FLY HAWK Lawn Leveling Rake. Its work head measures 17 inches by 10 inches, and the metal handle screws in two places. It is convenient to take such a tool with you, as it will easily fit into any car.
The fully assembled handle is 6 feet long. Such a rake is convenient to use even for tall people. However, if necessary, you can remove one of the sections and shorten the handle by a third. Don't think that a foldable handle isn't the best option. In fact, this model is made with really high quality. All stainless steel parts are securely double welded.
Compact devices such as this rake are great because they can get into tight spaces. At the same time, they are not very convenient to use in large areas, since it requires quite a lot of effort on your part. If you're dealing with a large sports ground, I recommend looking for a larger ground plate model. In general, this tool does an excellent job with its work: it levels the soil, breaks up clods of dirt and sand, and helps to distribute plant seeds evenly.

ADVANTAGES
Easy to assemble;
Reasonable price;
Foldable handle;
Does not rust.
DRAWBACKS
Not suitable for processing large areas;
Works best with short grass (up to 1.5 inches).
5. COCONUT Lawn Leveling Rake
Affiliate links and images placed from the Amazon Product Advertising API on 2023-12-08
COCONUT Lawn Leveling Rake is another compact tool by a reliable manufacturer. Its small (17×10 inches) working head allows you to handle difficult terrain. Thanks to its size and lightweight (6 pounds), you can work without fatigue for a long time. Preparing the soil for planting, leveling the playground, or spreading fertilizer around the lawn — COCONUT's rake will help you with all this.
This product's handle is made of thick aluminum, has a total length of 6 feet, and can be disassembled into three pieces. If necessary, you can shorten it by removing one of the segments. The handle will then be about 2.6 feet long. One of the disadvantages of using folding tools can be that the joints of the parts are located in inconvenient places. Unfortunately, the manufacturer does not offer an option to replace this handle with a solid one. Also, parts tend to unscrew sometimes. I recommend checking the joints before each use and tightening pieces if necessary.
This model copes well with lawns planted with almost any type of grass, from Bermuda to Ryegrass and Fescue. However, for best results, the manufacturer recommends cutting the grass to 1.5 inches or less. It is important to keep in mind if you are going to enrich your yard soil by sprinkling fertilizer on it.
ADVANTAGES
Effective on any type of grass;
Handle length can be reduced;
Universal use;
Lightweight.
DRAWBACKS
Handle parts can get loosen;
It is better to cut the grass before use.
6. Variable Action Drag Chain Harrow – Best Leveling Rake for Heavy Duty Tasks
Affiliate links and images placed from the Amazon Product Advertising API on 2023-12-08
It is a level lawn tool made of 1045 carbon steel. It includes a heavy-duty universal drawbar, a tow ring and pulling chains. It has a 48-inch wide and 54-inch long harrow. It requires around 4 horsepower to pull the tool along your lawn since its weight is 60 pounds.
I have worked as a landscape designer, and on multiple occasions, at job sites, we used this chain harrow. It served very well, especially in the preparation of the land before planting vegetation such as flowers, trees, and shrubberies.
The tool is also useful in pasture renovation, root raking, and the incorporation of herbicides as well as paddock maintenance, among other uses.
ADVANTAGES
Easy to change tilling actions;
Suitable for heavy-duty tasks
Versatility of usage
7. Yard Tuff YTF-218DM – Ideal Lawn Leveling Rake for Fine Gravel and Soil
Affiliate links and images placed from the Amazon Product Advertising API on 2023-12-08
Tuff Products MN/BAC industries are the manufacturer of Yard Tuff Products. It is a U.S based global manufacturer and distributor of high-quality industrial and consumer products. They manufacture a wide range of garage, home, and shop products for both professionals and ordinary consumers.
The tool measures 24 by 18 inches, and I find it impeccable for leveling fine soil or gravel. It also has an adjustable aluminum handle. This drag mop features a steelhead and a brace that offer sturdiness.
ADVANTAGES
Easy to handle and operate;
Steelhead and brace offer a sturdy feel and durability;
1-year warranty.
DRAWBACKS
Significantly costly compared to other similar products.
8. Brinly-PRC-24BH Lawn Roller – Best Alternative to Using Leveling Rakes
Affiliate links and images placed from the Amazon Product Advertising API on 2023-12-08
Brinly is a company that has designed and manufactured gardening tools for over 175 years. They offer innovative, high-quality, and durable products.
The roller is the perfect tool for attaining a smooth and even lawn. From my personal experience, the tool served me perfectly well when erasing lawn damage done by frost heaves and moles. It is also an effective tool for compacting loose dirt, or even newly sewn sod or seed.
It is equipped with a 28-gallon drum, and thus it is lightweight enough to get pushed through the yard, particularly in the hard-to-reach areas. The roller is also rugged enough to be towed by a lawn tractor.
ADVANTAGES
It achieves smooth and even lawn;
It can be used both by hand or a towing tractor;
Resistant to rust and dent due to polyethylene coating.
DRAWBACKS
It requires relatively high precision to be effective.
How to Level a Lawn
The soil in your yard tends to move and settle over the years. As a result, you're often left with mounds, pits, and undulations that are really hard to maneuver. Caring for a bumpy lawn is challenging and frustrating. Therefore, levelling a lawn is something you should transform from theory to practice. The process is ongoing, but knowing what to do makes a huge impact on the overall condition (and appearance) of your yard.
Lumpy-Bumpy Lawn: Learn the Causes
Struggling with the itchy annoyance of a lumpy yard? Before making any attempts to solve this problem, identify its main causes. If you sort out these causes, you will succeed in finding the most reasonable, effective, and budget-friendly long-term solution.
Want to know how your turf got to be that way? An uneven lawn is a nuisance, indeed. Running or walking across all those lumps and bumps can be dangerous, especially for kids. Delve into the reasons for the lumps and then learn how to level a yard to avoid potential injuries.
Your yard may become bumpy for a number of reasons. Here are some of them:
improper maintenance: incorrect irrigation methods, mowing mistakes, misuse of gardening tools, and regular fertilization failures are among the potential reasons for bumpy turf;
earthworms and nightcrawlers: if there are too many earthworms too close to the surface of your lawn, the lumps they create (also referred to as 'castings') will contribute to your yard's uneven surface;
animals (both wild and domestic ones): they dig holes, you get lumps. Kids do that, too, by the way;
freeze-thaw-freeze conditions: they make the soil lift and drop, creating the annoying bumpiness;
thinning grass: thick, dense lawns are usually less bumpy.
How to Fix a Bumpy Lawn (Based on How Severe the Issue Is)
Prior to fixing the problem of a bumpy yard, evaluate the seriousness of the situation. Are we talking small/moderate bumps or is the case closer to critical? Your approach in dealing with a bumpy lawn will depend on how severe the problem is. If your lawn is mildly uneven, topdressing or filling in the holes will help. If the problem is a lot more serious, you're going to need to make the most of other lawn leveling solutions (e.g. regrading).
Leveling a Lawn That's Slightly Uneven
If you're facing small, less-than-one-inch bumps, practice stepping on them when the soil is at its softest. For an even better effect, use a water-filled garden roller to smooth out the surface of your yard. No result? Add some more water and try again. Avoid overdoing it, for it may lead to other frustrating lawn problems.
Topdressing for Yard Leveling
Theoretically, spreading a layer of compost or sand over your grass may not feel right at first. It's the grass that should be above the dirt, not vice versa. However, topdressing (that very process of spreading a thin layer of 'dirt' over your lawn) is very effective, particularly if you're interested in organic lawn maintenance methods — and planning to solve the problem of mildly uneven lawn areas.
Here's a quick step-by-step guide on topdressing your bumpy lawn:
1. Start by mowing the area at a low setting.
2. Proceed by dethatching the yard.
3. Prepare a soil mix (preferably compost-based) in a cart.
4. Use a shovel to spread batches of the mix over the low spots of your yard.
5. Rake the soil mix for the most even effect.
6. Use your lawn leveling rake to thoroughly work the mixture into the grass. When you're through, the leveling mixture should be under the grass.
7. Water the ground and evaluate the condition of your yard. If it's still lumpy, feel free to repeat the procedure.
Fixing a Moderately & Severely Bumpy Yard
Are the bumps in your lawn lower than an inch? Then topdressing is not what you should practice to solve the problem. Instead, practice resodding, for it's going to be the most effective strategy in this case. First, remove the existing sod, determine the reason for the sinking, then fill the holes with new stable soil, and let the whole thing settle. That's pretty much it when it comes to smoothing out moderate bumps in your yard.
If your yard is severely uneven, you're going to have to regrade the entire area to achieve maximum evenness. Regrading (or resloping) is the process of leveling out the ground of your yard to improve its drainage, sort out the unevenness, and enhance your home's overall appearance.
Here's a quick step-by-step guide on regrading your lawn:
'Skim off' the soil from the lumpy areas.
To work up a new grade, respread the soil you 'skimmed off' or add topsoil from a different source.
Finish by thoroughly distributing the soil until you form the slope you need, then smooth out the surface using a lawn leveler rake.
Prevention Strategies
The wisest strategy when it comes to preventing the nasty bumps and pits in your lawn is keeping the yard thick and lush. Practice regular aeration, proper fertilizing, and smart overseeding. Address any pest issues prior letting them get out of hand. Uneven lawns are a natural phenomenon, so don't panic if this is something you currently have to experience. Just make sure you investigate the cause of your unique situation and only then resort to practicing any remedy strategies.
Difference Between Landscape Rakes and Lawn Leveling Rakes
Even though rakes have a similar basic design, different varieties have been developed to suit special functions. Therefore, as a gardener, you might require more than a single type of rake, depending on the type of work you intend to undertake. So selecting the ideal kind of rake for a specific task can make your job easier.
Lawn Leveling Rakes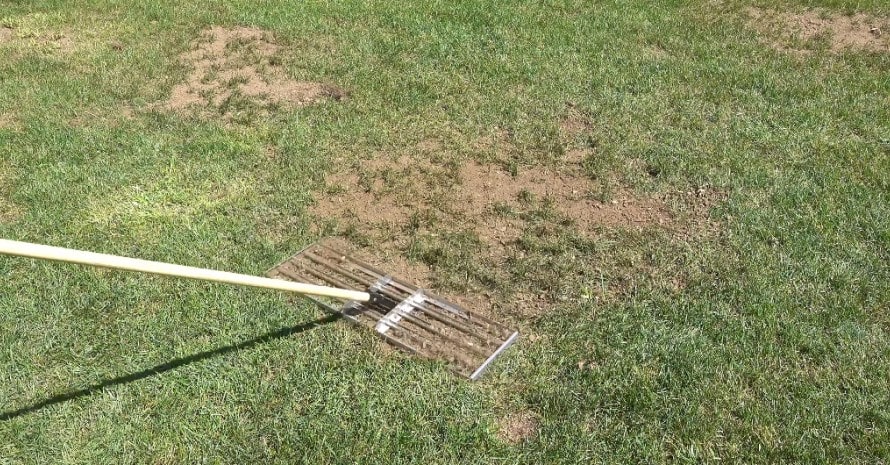 Lawn rakes are sometimes called leaf rakes or spring tine rakes since they can be used in the gathering of leaves as well. Nevertheless, they tend to be more versatile compared to leaf rakes. They also offer more flexibility, especially when used on uneven ground.
Landscape Rakes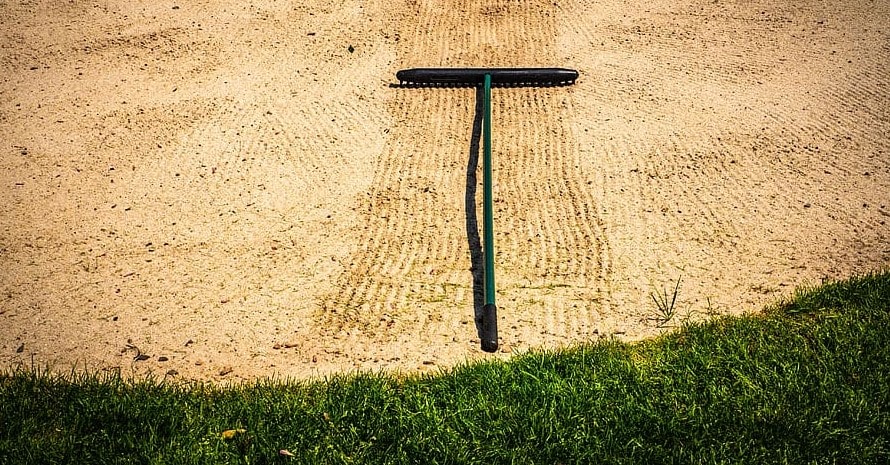 Landscape rakes typically have relatively wide and flatheads. Their most common use is to level up and spread ground materials like sand and soil. In case you have work in larger areas, you can opt for the mechanized landscape rakes that can be attached to tractors.
Why a DIY Lawn Leveling Rake Is Not a Good Idea
Most home gardeners usually wonder how to make a lawn leveling rake. It is an understandable gardening approach since a DIY rake saves costs, and you can customize it to your requirements.
However, making your own leveling rake can come with its challenges. First, most people do not use the right tools when constructing their leveling rakes. As a result, DIY rakes are usually prone to frequent breakdowns. What's more, they are usually not as efficient as commercial types.
Whenever you go to purchase a lawn leveler, you are likely to be given professional advice on the ideal rake type based on your landscape and the type of grass growing on it. Therefore, you are most likely to buy a tool that suits your height and mowing style. What's more, you will be able to buy something highly effective and cover a wide area, using less effort.
Closing Remarks
If you equip yourself with the right gardening tools, you will have a good experience in the garden. As a result, you will have more reasons to love gardening. The lawn levelers mentioned above are among the best to help you get perfect results on your lawn. Therefore, you should consider adding one of them to your gardening tools.
My top pick is the Rocklin Industry Levelawn Tool. The item is good at evenly leveling the dirt and soil level. Besides, it has enhanced functionality, mobility, and maneuverability.
Which brand of leveling rake do you prefer using or have been using? Why do you like it? Do you achieve the best results when you level a lawn with it? Share your views by leaving a comment.