As an Amazon Associate we earn from commission of qualifying purchases.
When growing flowers or plants in your lawn or potted in your house, you will need to do some maintenance activities. I know this because I am one of those people who just loves gardening so much. Having taken care of a lot of potted plants in our home, I can tell you for sure that their maintenance can be quite challenging.
From my gardening experience, I can say that dealing with pests, such as soil mites, tops the list of the challenges you may have to contend with. That's why in this article, I want to provide you with some helpful tips on how to get rid of soil mites.
Soil mites are some of the common insects that live in the top layer of the soil. While they may not be harmful to plants, they pose a threat to humans, especially if they invade your indoor potted plants. There, it is essential to deal with these pests as soon as you spot them in your home.
How to Kill Soil Mites: The Guidelines to Follow
When you face a weed or pest problem, the simple solution is to find ways to get rid of them. The same case applies to the soil mites that, if not killed, may pose a threat to you and your loved ones once they invade your potted plants.
While elimination may seem a simple solution, the way to do it may prove a challenge when it comes to certain pests. For example, dealing with soil mites requires adhering to a time-proven approach. The following section will discuss in detail the steps you need to follow to kill soil mites on your indoor potted plants and get rid of them for sure.
What Are Soil Mites? Tiny White Bugs In Soil
Soil mites fall under the category of arthropods, thus, having no internal bones and having legs emerging from the body segments. As their name suggests, their main habitat is soil, especially one with enough moisture.
The pests mainly feed on dead plants, insects, fungi, tiny worms, and algae. These organisms are very small, about a millimeter long. Thus, they can be very hard to spot with your naked eye. The common suborder of the soil mites is the Oribatid that has a larger shell-shaped body. This type of pests has effectively earned the nickname "turtle mites."
The fact that soil mites are very small makes it hard to identify them. However, if you look closely at the surface of your potted plants, you may notice tiny white bugs in soil. You may also identify them as small shiny spots that move around at a very slow pace on certain parts of the plant.
While most people consider soil mites as pests, scientists and agricultural experts may seem to disagree. Among the reasons why these groups of people consider soil mites important is the role of these bugs in decomposing the decaying organic matter. It helps in improving the soil's health, while the plant's roots can absorb nutrients from the organic matter more effectively.
Another point in favor of soil mites is that they are known as essential nematodes: predators, which are far more destructive than seem at first. As a matter of fact, the existence of soil mites is a sign of good soil conditions. However, they pose a danger to humans by carrying various disease-causing bacteria.
5 Best Insecticides to Get Rid of Soil Mites
1. BioAdvanced 701290B Insecticide – The Best Insecticide With 3-in-1 Formula
Affiliate links and images placed from the Amazon Product Advertising API on 2023-12-08
This BioAdvanced product is perfect for preserving the healthy look and prolong the life of flowers if you're searching for the best insecticide effect for a fair price. It helps to quickly cope with pests, as well as prevent their occurrence in the future. While destroying a wide range of pests in a few days, the treatment is absolutely safe for plants, animals, and people. The convenient spray bottle contains a concentrated liquid of high efficiency. It has a triple-protection formula that helps to:
Deal with pest infestation;
Cure plant diseases;
Prevent and control bugs.
Dilute the concentrate with water according to the instruction and spray the contents on the leaves and stems at a distance of 7-10 inches. Repeat the treatment after 5-7 days to reach the protective membrane on the plants. I learned about this product from a good friend of mine. She's a professional landscape designer, and she has her own beautiful garden. According to her, this product works best for roses, trees, shrubs, and houseplants.

ADVANTAGES
Controls mites and spiders;
Works on most plants;
Rainproof and safe for animals.
2. Garden Safe Insect Killer – The Best Mite Insecticide With Extended Protection Effect
Affiliate links and images placed from the Amazon Product Advertising API on 2023-12-08
An easy-to-use and safe mite insecticide that's made with natural ingredients. It kills pests on contact and protects plants from further infestations. This product's biggest advantage is harmlessness and the absence of phytotoxicity impact on the environment. It also has a long period of protective effect. The Garden Safe Insect Killer guarantees at least 20 days of protection from 2-3 generations of pests after you process the greenery.
It can be used without restrictions in organic farming because it does not affect the activity of other biological products. You can use this insecticide both inside and outside to deal with different pests. It works best with aphids, beetles, caterpillars, ants, mealybugs, mites, leafhoppers, scale, thrips, fungus gnats, whitefly, adelgids, and plant bugs. I've used this product for a while before, and I recommend spraying plants up to the day of harvest to get the best effect.

ADVANTAGES
Made of natural and organic ingredients;
Works both inside and outside;
Immediate contact killer.
DRAWBACKS
Can burn the leaves, so you have to use it very attentively.
3. Trifecta Crop Control Super Concentrate – The Best Mite Pesticide for Natural Pest Control
Affiliate links and images placed from the Amazon Product Advertising API on 2023-12-08
A beautiful and healthy garden requires using preventive treatments to deal with possible insect infestations. No doubt that using proper products and mite pesticide options helps you to minimize the risk of damage to the plant during the growing season. So, this Trifecta Concentrate treatment is often used for combating aphids, moths, spider mites, scale insects, leaf rollers.
It is created for crop control and consists only of natural ingredients that won't harm your harvest in any way. Just mix the concentrate with water in equal amounts and spray the plants. Active nano oils will deal with any type of pests quickly and easily:
Clove oil is used for dealing with fungus insects;
Peppermint oil is an ingredient that prevents pests;
Garlic oil is a natural repeller;
Thyme oil is another natural repeller that also has the best effect on soft body insects.
Mind you that a friend of mine used this product this season, and he stated that it doesn't work well with thrips.

ADVANTAGES
Completely natural pest control;
Safe and harmless for plants;
Pleasant price.
DRAWBACKS
Might not work with thrips.
4. Natria 706125B Ready-to-Spray Insect – The Best Pesticide for Controlling Mites of All Types
Affiliate links and images placed from the Amazon Product Advertising API on 2023-12-08
Natria is a broad spectrum mite insecticide. It's perfect for dealing with insects, plant diseases, and, most importantly, it's extremely effective for killing mites. It is especially active against all types of spider mites. Natria is a contact insecticide, that is, it kills insects on contact.
Therefore, it does not have a broad systemic effect. As soon as you see the first signs of insects, treat your plants without delay. Due to its organic composition, it can be applied directly to flowers. Shake the bottle well, and start spraying at the top of the plant and all the way to the bottom until the solution drips from the leaves.
According to the feedback of many of my neighbours, this product is a great and very effective way to combat harmful insects that destroy grain crops, fruit trees, vegetable crops, and indoor plants.

ADVANTAGES
The best pesticide for fighting mites;
Organic composition;
Very economical solution.
5. Bonide (BND285) Mite-X – The Best Insecticide for Indoor and Outdoor Use
Affiliate links and images placed from the Amazon Product Advertising API on 2023-12-08
Bonide Mite-x spray is designed to repel mites, thrips, ants, spiders, centipedes, moths, fleas, silverfish, and aphids. It can be used in domestic, industrial, and utility rooms, as well as on terraces and summer grounds. It is the best insecticide for protecting vegetables, fruits, nuts, vine crops, berries, herbs, spices, ornamentals, greenhouse plants, and interior plants. By the way, this treatment was also advised by a neighbor that is keen on houseplants growing. She uses it for several years already and says that it works amazingly.
It's a contact insect killer, so you have to use it very attentively. Avoid contact with food and containers intended for storage. In case of contact with hands, wash them immediately. After using the product in living and sleeping rooms, you should ventilate the empty room.

ADVANTAGES
Works using natural ingredients;
Provides the best effect for both indoor and outdoor plants;
Kills on contact.
DRAWBACKS
Requires using disposable gloves.
How To Get Rid Of Soil Mites In House Plants – The Steps To Follow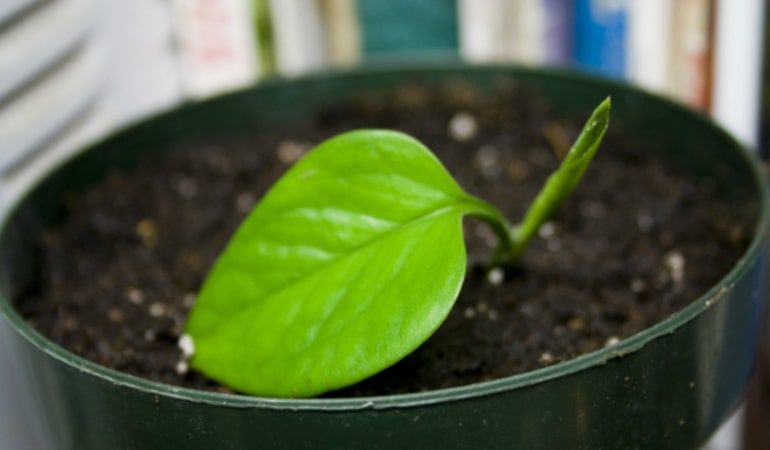 One interesting fact about soil mites is that with time, they usually chase away. For example, when their source of food runs out, these bugs won't stay on your plants for long. However, I don't recommend waiting for such a long period. But how do you kill soil mites? Here are steps on how to get rid of soil mites in house plants:
Step 1. Check whether your potted plants have soil mites
You can't eliminate something that does not exist. Therefore, the first step involves soil mites identification in your potted plants. As earlier indicated, white soil mites love feeding on dead plant parts, which may not be hard to find on your potted plant soil.
Thus, it is advisable to start getting rid of these insects by removing the soil from the pot first. However, this should be done carefully to avoid harming the plant's roots. The thing you need to understand is that both the white and red soil mites mainly restrict themselves to the top layer of the soil.
Using a mesh strainer, sift the soil you have removed from your pots. The objective here is to eliminate any possible dead plants or forms of debris in the soil. You need to remove anything that soil mites can feed on or anything that provides a good habitat for them.
Step 2. Place the sifted soil into the pot
Having sifted the soil, you can now be sure that it is at least free of the soil mites' natural habitats and their sources of food as well. Therefore, the soil can be considered safe for your potted plants. Now, return the sifted soil back into the pot. Ensure that you have effectively covered the plant's roots. 
Alternatively, you may opt for replacing the old soil with a new sterile one. It is a good move, especially if you have noticed that the soil has a huge infestation of the dirt mites. If you choose this option, make sure that you eliminate all of the old soil even around the plant's roots. It can be done by quickly soaking the plant in the water before returning it to its pot. It is an effective strategy that helps in killing the larvae of soil lice as well.
Step 3. Spray both the soil and plant with some pesticides
After returning the sifted soil into the pot, you need to make sure that the soil mites white problem will not recur soon. Thus, it is advisable to spray both the soil and plants with a pesticide. I recommend using chemical insecticides that have pyrethrins as a component. To improve its effectiveness, ensure that you follow the instructions provided on the solution in terms of mixing it with water.
In other cases, you may prefer to use an organic mixture in place of the chemical insecticides. Some of the helpful homemade products include a cinnamon mixture, a garlic-based solution, and a dish soap with starch. These are the products you can prepare from the comfort of your home.
For the cinnamon mixture, just add a teaspoon of the powder into about four cups of water. Stir the solution before letting it settle down. The dish soap and starch can also be prepared at home. Add three tablespoons of starch into about five cups of water. Add another three drops of dish wash soap and stir to mix the solution. For this mixture, ensure that it is only sprayed directly on the soil. It will help to eliminate mite in soil without harming the plants.
STEP 4. PROVIDE ADEQUATE CARE FOR YOUR PLANTS
Getting rid of soil mites is not something that you need to keep doing every week. You will have to take all the necessary measures to ensure that these insects won't return soon.
[powerkit_alert type="info" dismissible="false" multiline="false"] Proper care on the potted plants is one of such preventive measures. It entails removing the weak and dry leaves, as well as any dry branches or spoilt fruits that may soon start decomposing.
[/su_note]
What Harm May Soil Mites Cause to Outdoor Plants?
When it comes to your compound, soil mites may be more of a friend to you than a foe. The reason relies on the active role they play in aiding the decomposition process. So, are soil mites harmful to plants?
The simple answer is no. For plants, these little bugs are beneficial rather than harmful. They actively breakdown decomposing organic matter available mainly in the top layer of the soil. By doing so, soil mites make it easier for plants to absorb the nutrients from the matter through their roots.
From a scientific perspective, the presence of soil mites in your soil can be regarded as a good sign. If you spot these bugs in your compound, the soil can be considered healthy, meaning that it is ideal for plants. By aiding the decomposition process, these mites help to aerate the soil. It makes it easier for water to penetrate and ensure sufficient moisture retention.
Can Soil Mites Cause Any Harm to People
Soil mites become a problem only when they invade indoor potted plants. However, are soil mites harmful to humans?
When it comes to people, these mites are considered dangerous, too. The rationale behind this argument is based on what diseases soil mites can spread. These bugs are known as carriers of disease-causing bacteria. What is more, parasites such as tapeworms use soil mites as hosts for their eggs.
As you can see, the indoor potted plants infested with soil mites may expose your loved ones to different infections from the bacteria they carry. They may also expose you to disease-causing worms, which is never a good thing. Therefore, it is important to get rid of soil mites as soon as you spot them on your potted plants.
Why You Need to Eliminate Soil Mites in House Plants
To some people, having potted plants indoors is an important part of home beautification. Others like me, whose hobby is gardening, enjoy taking care of plants, whether inside the house or around the compound. It is essential to understand that indoor plants require care as much as a garden needs it. Similar to keeping a pet, there is always a suitable approach to maintaining your plants in order.
Among the things you need to check on constantly, there's a need for ensuring that your plants are free from pests and diseases. Keeping them pest-free is beneficial both for the plants and you. Infested plants may either be harmful to humans or act as carriers of diseases. Soil mites are among the most wide-spread problems that plant owners face.
Is it possible to kill mites in soil? This article has provided you with tips on how to identify soil miles and get rid of them. Additionally, to keep you informed, I have highlighted some of the dangers these bugs may cause to your family if not dealt with. After reading this post, can you effectively spot soil mites on your potted plants?
Do you know any other organic remedy for dealing with them? Share your tips in the comments below.