Adding trees to your garden is always so worrying. They live for decades (in some cases, for centuries), that is why you don't want to fudge this thing. You can potentially waste years on cultivating, maintaining, and growing something that, in the end, won't take roots and eventually die. Well, no matter if you already have trees in your garden or are only planning to add them, after the initial planting phase is complete, tree maintenance should come. 
To be able to look after and care for your trees successfully, you have to have correct gear (i.e. the best hand saw for cutting tree branches) and, of course, know how to use it. This article is exactly about these things, as I want to show you that tree maintenance isn't so hard.
Being a veteran gardener myself, I know exactly how intimidating it may be to approach gardening for the first time. After all, using your hand saw incorrectly can damage a living thing.
Corona RS 7245 – An Excellent Hand Saw for Cutting Small Trees as well as Medium Trees
5/5
ADVANTAGES:
Superior durability with a lifetime warranty to boot
Heavy-duty steel that is capable of coping with any task
Astonishingly effective and sharp teeth that cut through wood effortlessly
Incredibly ergonomic: the hand doesn't get tired quickly
This is my personal favorite from the list: the easiest 5 stars I have ever given in my life. Corona RS 7245 is not your mediocre Stanley hand saw. The brand offers high-quality gardening equipment of general-purpose, encompassing shovels, rakes, loppers, etc. Its motto is "season after season", and it proves to be true. 
I remember receiving the best first impressions from a product during my first weeks of using this hand held saw. Since those times, Corona RS 7245 has been an honored resident of my shed and a frequent guest in my backpack when I go trekking overnight. 
Let's get down to specifications: overall, Corona RS 7245 is a pretty simple 7-inch saw. The blade is high-quality Japanese-made curved steel with incredibly sharp teeth (6 per 1"). The Japanese origins of the steel explain why the item is so heavy-duty and lasts for long. Also, Corona RS 7245 has a blade lock that has prevented many injuries in my case. Lastly, the red-black ergonomic handle is made from common plastic. It may not look like it, but the handle simply falls into your hand like it was designed specifically with the dimensions of your hand in mind. All in all, this saw is a wonderful performer that can deal with really dense hardwood. Being only 7", it seems like no task will be hard for Corona RS 7245.
A Quick Overview of the Products
Here's a small table with all of the products from the list. Further below, you'll find more detailed reviews.
| Products | Ratings | Purpose | Blade Lenght | Blade Type | Non-Slip Handle | Electric | Warranty | Price |
| --- | --- | --- | --- | --- | --- | --- | --- | --- |
| | | Cutting small to medium-sized branches | | | | | | |
| | | All-purpose (wood, bone, PVC) | | | | | | |
| | | | | | | | | |
| | | | | | | | | |
| | | | | | | | | |
5 Best Hand Saws for Cutting Trees
For a start, I have created a list of the best garden equipment usually classified into the "tree pruning saw" category (but commonly, these saws are capable of many more functions). Hopingly, it will help you on your way to successfully maintain the trees. I have to note that only one of the electric hand saws on the list has impressed me so much over the years. That is why you shouldn't be impressed by the number of all the different types of hand saws for cutting trees here. 
Additionally, if, for some reason, you're looking for a right or left handed circular saw, then you won't find their description in the list below. Those kinds of saws don't suit the delicate process of pruning trees, unlike hand saws for cutting trees discussed below.
EverSaw Folding Hand Saw: the Best Hand Saw for Cutting Tree Limbs? It Sure Is
4.7/5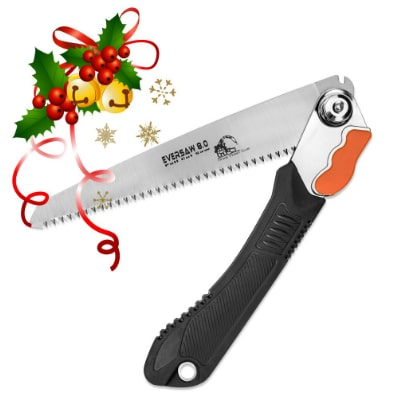 ADVANTAGES:
Sharp teeth stay sharp for long
Lifetime warranty
Multi-purpose feature
Can be easily taken on trips
DRAWBACKS:
Not a nice fit in the hand
Hand tires quicker
If you don't want to get bogged in all of the various saws, considering all of the pros and cons and determining what saw is the best one for you, then go for EverSaw Folding Handsaw. This saw is my best contender for the title "good at everything, great at nothing". In other words, the folks at EverSaw created a perfect little compromise. 
EverSaw itself is an excellent company that sells its products via a number of retail stores: if you go to your nearest Walmart, you will surely see dozens of EverSaw items. So, even buying one of these saws is minimal trouble for you.
EverSaw Folding Hand Saw has an 8" straight, sturdy blade. The blade's teeth are quite sharp and can cut not only through wood but also through bone and PVC. What's most impressive is that the teeth stay sharp for quite a long time after using the saw on various materials. 
The most attractive aspect of this saw is its multitasking feature. If you like to fix up the things around the house, then EverSaw Folding Hand Saw will definitely come in handy. One of the biggest downsides is its "ergonomic" design: the saw's handle doesn't actually cause a nice feeling when being in use, that is why your hand may tire quickly.
Tarvol Heavy Duty Pruning Saw: A Superb Hand Saw for Cutting Wood
4.5/5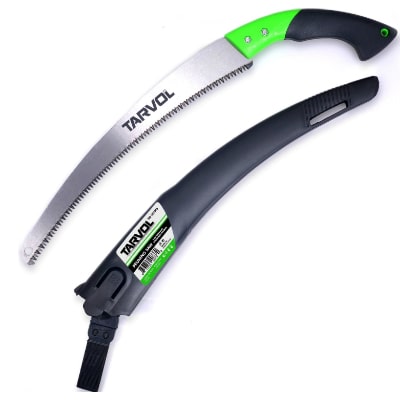 ADVANTAGES:
Structural sturdiness
Pleasant handle
Enclosure fits perfectly
Great for decorative works
DRAWBACKS:
Possibility of losing the enclosure
Not as efficient as Corona RS 7245
This saw comes from a popular brand Tarvol, known for its varied heavy-duty equipment. It offers protective gear, tool bags, electronics, measurement tools, and so on. Tarvol Heavy Duty Pruning Saw is an impressive 14" curved, Japanese-style blade. The handle is curved, making sawing seem not a painful process.
What's interesting is that this saw isn't a folding one, unlike the two previous entries. You receive a special enclosure with the saw that fits it perfectly. In my opinion, enclosures are better than folding mechanisms because they make the structure of the saw sturdier and less prone to breaking. However, you can always lose the enclosure and end up with a sharp dangerous tool waiting to hurt someone in your shed. 
When compared to Corona RS 7245, Tarvol Heavy Duty Pruning Saw performs not as effectively as the first product under review, but it can take on trees with considerably bigger trunk diameters. Also, the blade's specific curvature makes decorative trimming a walk in a park.
Flora Guard 9 Inch Folding Saw – Actually the Best Hand Saw for Cutting Christmas Tree
4.5/5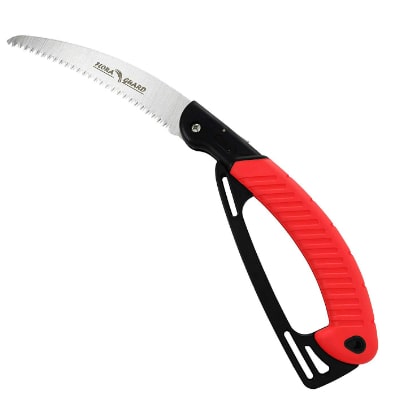 ADVANTAGES:
Great at sawing trees down
Handle allows a firm grip
Responsive and strong 3-way blade lock
Flora Guard is a lesser-known brand that specializes particularly in delivering excellent garden tools to the customers. Flora Guard 9 Inch Folding Saw upholds the company's reputation by being another amazing product in their line-up. This saw's curved blade excels in efficiently cutting through to the center of the tree.
I am almost certain that this saw is the best hand saw for cutting trees between all of the handheld type saws. The handle with enhanced grip definitely helps when sawing trees down. I used it more times than I can remember for cutting Christmas trees, and it became my favorite for this task specifically. 
Also, I used this saw as a Japanese tree pruning saw, and it handled the task quite well. However, there's a considerable minus to the Flora Guard 9 Inch Folding Saw. The blade is simply not suitable for big household projects.
Black+Decker PHS550B: the Smallest Hand Saw yet Astonishingly Effective
4.3/5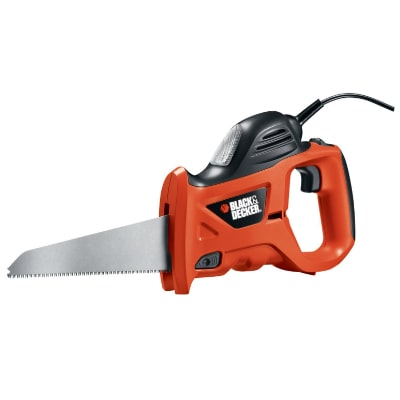 ADVANTAGES:
Cute design
Powerful motor
Makes gardening extremely easy
Modular
Empowers disabled people
DRAWBACKS:
Only a 2-year warranty
Can break under heavy workloads
The last but not least item under review is a Black and Decker hand saw. Black and Decker is an internationally-renowned company with an extremely good reputation. It is commonly well-known for its cleaning equipment, lawn tools, and especially power tools. It explains the reason behind Black+Decker PHS550B being on this list.
I am personally in love with this little amazing electronic saw. The 3.4 amp, 4,6K SPM motor inside it allows the saw to cut through wood, as well as metal, and the 6-foot cord makes it quite versatile. In addition, if the blade brakes, you can change it easily without any problem whatsoever. This saw is also great for trimming small to medium-sized trees, but I urge you not to go ahead and try it on a century-old oak, it's going to break.
The Art of Plant Maintenance and Tree Pruning Specifically
Gardening is a wonderful hobby, and you shouldn't let your fears stop you from trying to look after your garden. It refers especially to the maintenance of your plants, as some of them may simply die without your active help and care.
Yes, I know the argument: "Plants of all kinds have been living on our planet for hundreds of years, so why bother to help them?" While true, this statement is not relevant at all: you are trying to create a garden, not a forest, that is why each plant in your collection requires great attention.
In its essence, tree pruning is a simple removal of tree limbs by sawing them off with various types of hand saws. This is necessary in order to improve the tree's health. However, I must hammer down the point that each branch you get rid of should be removed for a reason. Sawing off branches just for fun will only stress the tree and may even kill it! Nevertheless, here are the reasons for justified pruning:
removing dead and weak branches;
amending the tree's structure to be more natural;
regulate flower/fruit produce;
lower wind resistance;
minimizing the risk of an accident.
Answering Questions About Pruning Hand Saws
I love surfing the web to find out something new and interesting about gardening, so I constantly do it. And when it comes to pruning trees, I see the same questions pop up all the time. For this reason, I decided to answer the most common queries in one place.
Decide on which wood you want to make a cut and which you don't.
Pick a comfortable position for yourself and choose an angle where the saw wouldn't slip and damage neither other trees nor you (saws have a tendency of slipping, so be extremely careful).
Think whether you need to saw off parts of one branch before sawing it off from the stem (some branches are heavy and will break off under their own weight when being sawed off).
Make an indentation (a groove) for your final cut to minimize the risk of the saw slipping.
Saw, keeping the blade straight and supporting the branch simultaneously.
Acquire a teeth-resetting saw set and a taper file (measure number of teeth per 1" – this is how you'll buy the correct saw set).
Eliminate the rust from the saw's blade with sandpaper and clamp the saw in a vise rigidly.
Set the correct width for the kerf with the pliers-looking tool from the saw set. Put the set against the individual tooth you want to correct, and the tool will bend it.
File the individual teeth with the taper file. You can use both single- or double-cut files.
Please note: tree pruners and tree pruning saws are two completely different tools, though people mix them up constantly. Tree pruners look like pliers with a small sawing blade piece while a tree pruning saw looks like a regular saw but (usually) smaller.
Detach the old blade. Achieve this by removing every bolt that connects the blade with the trimmer part. Apply lubricant to the bolts to make the process easier.
Recycle the old blade and clean the bolts.
Slide the new blade into the slot for the saw blade.
Screw in the bolts firmly.
After All of the Tree Pruning Saw Reviews
After reading this article, your tree pruning questions should all be resolved. I have provided you with the best tree pruning saws on the market currently, including the best one (at least in my opinion) – I Corona RS 7245. I have also given you advice on maintaining the saw itself, for example, how to sharpen hand saw blade. So, you should be a tree expert by now!
Nevertheless, I would really like to hear from you now. Did you like the article? Did I miss out on some important tree pruning detail? If you're a gardening veteran like me, maybe you can share the way you started out with tree pruning and encourage the newcomers! Please share your ideas in the comments below.