Having been in gardening for over ten years, I am worried that nowadays, it is much harder for people to learn about different groundcovers and mulch, as well as choose the best solution because of the current market saturation. There are so many options available today that I fully understand how challenging it may be to select some gardening tools or solutions for those who don't do gardening as a hobby. I have, therefore, found a need to write this blog to educate beginner gardeners and people looking for assistance on this matter on tips of choosing the best mulch for playground. 
For starters, choosing between the best product and the best value for money is a big problem. It is vital to have a source you can always rely on when it comes to playground and gardening concerns. In this post, I will  talk about how to choose the best mulch for playground area so that you could pick the right solution for your place. 
What to Consider When Buying the Best Mulch for Playgrounds
Children enjoy playing on covered surfaces, and the mulch protects kids from falls and injuries. However, it is vital to know what types of mulch are safe for children and fit playgrounds best before making a purchase.
When buying the mulch, there are many factors you need to consider, including the landscape you have and the cost of the solutions. I have selected ten mulch options that are the best in terms of affordability, ease of use, and safety for kids. Each product is worth purchasing as the best mulch for playground, but there are distinctive features of each mulch you need to know. So, check all the options and pick the right one for you.
The Rubber Mulch For Playground
It is one of the most popular options available on the market. The rubber mulch is easily affordable and requires low maintenance costs. The best rubber mulch for playgrounds is safe and drains water immediately, thus, reducing the occurrence of fall-inflicted injuries. It is also resilient since rubber doesn't decay.
The 6-inch deep rubber mulch can protect children from a 16-feet fall height. However, during the hot days, rubber produces an unpleasant smell. It can also contain some contaminants as this product is recycled from car tires.
The material is most suitable for the children's playgrounds. It is all-season effective and ideal for those under a strict budget. Below are the listed pros and cons of rubber mulch for playgrounds.
ADVANTAGES:
Low maintenance costs
Durable as it doesn't decompose 
Ideal impact absorption
DRAWBACKS:
May contain contaminants 
Produces an unpleasant smell on hot days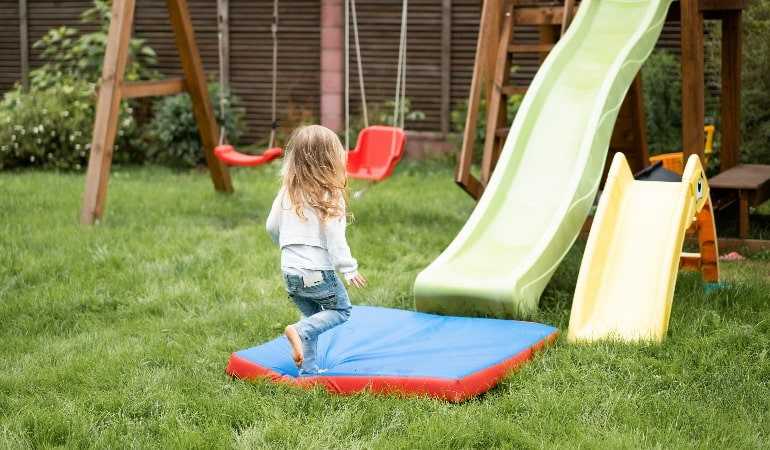 Green playgrounds add decor to your yard and are natural, thus, healthy for kids. The cost of natural grass is relatively affordable. The only upkeep processes required with it are weeding, fertilizer application, mowing, and watering. Grass grows naturally, so you won't have to worry about seeding or replacing it. 
However, I want to remind you that grass playgrounds get slippery when it rains. They offer poor impact absorption, and they're prone to pests.
Moreover, frequent watering can damage the installed playing equipment.
Natural grass is most suitable for backyards, parks, and playing fields. It provides an ideal relaxing scene for all and looks beautiful during the warm weather.
ADVANTAGES:
Natural grass grows easily
Low upkeep costs
Eco-friendly
DRAWBACKS:
Gets slippery when it rains
Poor absorption impact
The Engineered Wood Mulch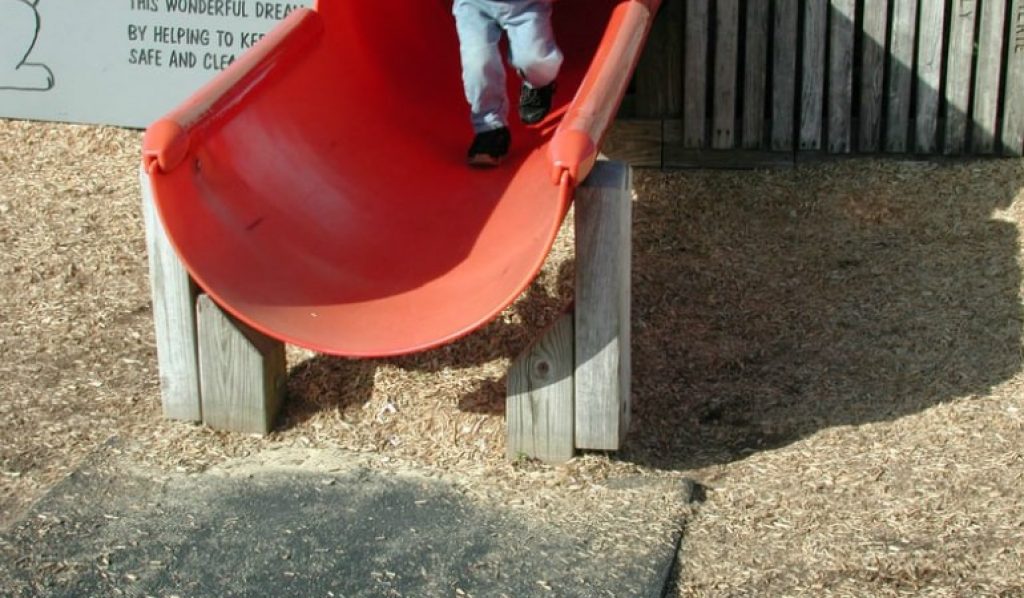 The engineered wood mulch is usually colorful and provides a superior visual appearance to the playground as it matches any landscape. Engineered wood chips are affordable, although slightly more priced than other options. This option is one of the most durable with a low upkeep cost. 
The material, however, may contain shattered glass pieces and requires constant replacing to ensure a bright appearance. When considering the best wood mulch for playgrounds, choose the one that is dye- and chemical-free. The engineered wood mulch fits these characteristics, and it is ideal in erosion prevention.
ADVANTAGES:
Appealing look
Affordable
Long-lasting
DRAWBACKS:
May contain dyes 

May contain shattered glass pieces
The Pine Bark – The Best Wood Mulch for Playground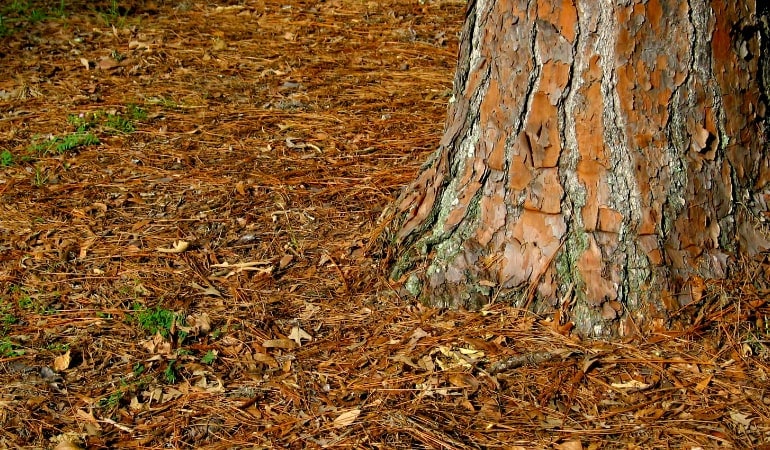 This material is obtained through pine bark tree shredding. Its biggest advantage is that there are different options of the pine bark chips in terms of tenderness, as you can pick between finely shredded pieces or bigger ones. 
The pine wood mulch for playground also looks colorful. Moreover, it doesn't easily decompose as compared to cypress mulch for playground. This option helps to prevent the spread of soil-borne diseases, as well as increases the soil moisture retention ability.
ADVANTAGES:
Durable and doesn't require frequent replacement
There are pieces of different size
Colorful and organic
DRAWBACKS:
Can be easily washed by the rain or blown away by the wind
The Synthetic Turf – A Plastic Mulch for Playgrounds
The synthetic turf and artificial grass don't require any weeding, watering, or cutting. It's a bit pricey to put all over the place, but there are no upkeep costs afterward.
Its main advantage is the way the artificial grass covering doesn't get slippery and offers cushion-like impact absorption. Its only con, however, is that it heats up during sunny days. All in all, the synthetic turf suits sports playgrounds best.
ADVANTAGES:
Considerably low maintenance costs
Anti-slip covering
Cushion-like impact absorption
DRAWBACKS:
Costly to install 

Gets extra hot when it's sunny
The Pea Gravel Border for Playground Mulch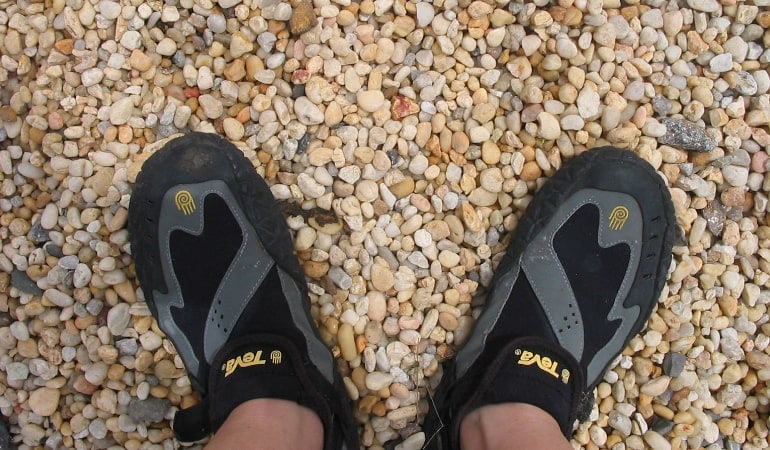 The pea gravel compresses into a hard surface that can inflict injuries during playtime. It isn't safe for children's playgrounds. However, this option is affordable and common for many playgrounds.
I highly recommend using the pea gravel on walkways or pavement borders only. It is also easy to put in place. Pea gravel suits more for car parks, as this material doesn't offer good fall impact absorption. If you have been told to use the pea gravel for the children's playground, I recommend taking a look at the other safer options reviewed here.
ADVANTAGES:
Easy to put in place
Affordable
All-season solution
DRAWBACKS:
Unsafe for children playgrounds
Low impact absorption ability
The Poured Rubber and Rubber Tiles
The poured rubber and rubber tiles are better options when compared to cheap rubber mulch. They come in different thicknesses to meet your needs and preferences. The material is easy to put in place, and it is slip-resistant and requires low upkeep costs.
The poured rubber is most suitable for neighborhood parks. It is the safest material available on the market nowadays. Both the poured rubber and rubber tiles are all-season options, but they can be used only by those without a limited budget.
ADVANTAGES:
The safest option out there
Anti-slip
Low upkeep costs
Easy to put in place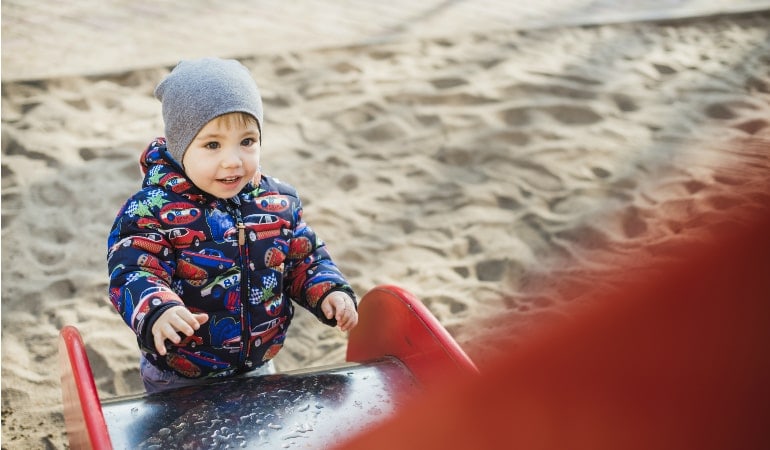 The play sand is an affordable option to consider as it doesn't retain water. A thin layer won't absorb the impact as desired, but a thick one should work great for a children's place. It is ideal for playgrounds at any time of the year but may lead to knee scrapes. 
Note that you will need to refill the play sand frequently. Moreover, it can be easily carried into the house.
ADVANTAGES:
Affordable
Easily accessible
Absorbs fall impacts well
DRAWBACKS:
Requires frequent replenishing
Causes knee scrapes
The Engineered Wood Fiber
The engineering wood fiber is among the most popular options being used currently. The material offers a perfect cushion for falls. It's an excellent soft mulch for playgrounds. Cedar mulch for playground is a common choice for playgrounds thanks to its high impact absorbing capacity.
Its only con is the way such a wood fiber is a bit expensive. Also, it degrades over time, so it requires frequent replenishment. The biggest advantage of the engineered wood fiber is that it is an all-weather option. This fiber is contaminants-free when extracted from virgin trees.
ADVANTAGES:
Provides an anti-slip surface
All-weather
High impact absorption ability
DRAWBACKS:
May contain contaminants if you buy a cheap product
A bit expensive
The Recycled Tire Mulch for Playgrounds
This material is a cost-effective option. However, there are many cons associated with the recycled tire mulch. First, the rubber gets hot on warm sunny days. Moreover, as the recycled tire is produced from car wheels, most of the products contain contaminants. It is a suitable option for schoolyards and playgrounds, but I don't recommend going for this option if the summer in your area is really hot.
ADVANTAGES:
Cost-effective
Cushioned fall surface
Low maintenance costs
DRAWBACKS:
Contains contaminants
Gets heated easily
Answering the Question What Type of Mulch is Best for Playground and More
With the variety of options available on the market, it would be unfair to wrap up this post without answering popular questions about the playground mulch. It is for this reason I have created this section, which contains helpful information on playground mulch specifics.
What is the Best Mulch to Use for Playgrounds in a Nutshell
As I finish my reviews on the best playground mulch, I hope you are now ready to purchase the right material for your place. Most of the options reviewed above perfectly suit children's playgrounds. That said, what mulch option appeals to you most? What material have you been using for the playground so far? Share your stories with me in the comment section below.
Last update on 2020-04-06. The post includes Affiliate links. Images from Amazon Product Advertising API