Looking after your own little garden is one of the most satisfying and creative things you can do. There are literally tens of thousands of ways (if not more) enabling you to combine various plants and patio décor pieces to create wonderful, neat, and stunning solutions for your garden.
Being a gardening fanatic, I have learned quite a lot about this passion, including how to transplant grass. This article is about one of the most foundational parts of any garden that people seem to forget when designing their garden – grass. Specifically, I will lead you through the process of transplanting grass.
Products You Might need to transplant grass
Grass Transplanting: General Guidelines
Firstly, let's discuss the most common prerequisites and universal actions that you have to take when transplanting grass in order to avoid repeating the same ideas. When it comes to transplanting grasses there are actually only two options: to transplant it with sods or with plugs.
Grass sod (also known as turf) contains the grown grass and the soil held together by grass' roots underneath. They make transplanting very easy and are sold in long strips.
Grass plug is very small (1.5" to 3" in length and width) in comparison to sods. Plugs are grown in a tray individually that is why their size may vary.
Additionally, before any transplant, either sod or plugs, you should thoroughly prepare the soil. You can do this by:
Killing all prior grass and weeds on the preexisting lawn either by tilling the area to a depth of 4" to 6" (best option) or with a non-selective herbicide.
Removing any drainage problems: slopes from buildings and low areas.
Adding fertilizer and/or other soil amendments and tilling the ground with the supplemented material anew to a depth of 4" to 5".
Raking the soil, completely removing all debris (rocks, big soil clods, plant roots).
After completing these steps, you should transplant grasses as described below. It is highly important to consider the peculiarities of the way of transplantation chosen by you.
How to Transplant Grass Sod
🌿Step 1. Water the planting area so that the water would reach several inches deep, testing the soil moisture with a hand shovel.
🌿Step 2. If you're not buying grass sod but merely transplanting it from one part of your garden to another, with a spade/shovel, remove the grass for transplantation in strips (the shovel's/spade's size).
🌿Step 3. Make sure the whole strip is detached from the ground by making a line on both sides. Place the shovel/spade under the strip's side and push it until the grass' roots are detached.
🌿Step 4. Roll the strip up and transport it to a new planting area. Repeat the stripping process for all of the strips you want to transplant.
🌿Step 5. Position the strips in your garden, unrolling and spacing them gently, if there are a lot of them.
🌿Step 6. Pack the grass' roots to the soil, employing a lawn roller with a water tank to firmly connect the roots with the ground.
🌿Step 7. After the successful transplantation, water the strips, soaking the sod and initial ground.
How to Transplant Grass Plugs
🌿Step 1. Measure the part of your garden intended for planting. Different combinations of plug spacings and plug trays offer various coverages. Every vendor owns a specialized system, so I recommend referring to the one you end up going with.
🌿Step 2. Create holes for the grass plugs either with a hand shovel (the holes should be a bit larger than plugs) or using a grass transplant tool (also known as a plugger device). Dig holes in a checkerboard pattern with even spacing.
🌿Step 3. Add some fertilizer for the lawn – starting into the holes, which now should contain plugs.
🌿Step 4. Tamp the created mix down, securing the plugs firmly in the ground. Add dirt to get rid of all air pockets.
🌿Step 5. Water your new, up-and-coming lawn daily until it fully establishes, meaning the roots of the transplanted plugs have grown into initial soil, i.e. your garden.
How to Transplant Grass Patches
Additionally, there exists such a horrible thing for all gardeners as patches in the grass. After you have transplanted the grass of your choice, it may not grow equally throughout your garden. These naked patches are what I am talking about. To repair the patches, you may have to plant the grass anew and take good care of it. You will need grass seeds, topsoil, lawn rake, and hose.
🌿Step 1.  Remove debris with the rake.
🌿Step 2. Scatter topsoil before beginning to sow your grass seeds.
🌿 Step 3. Protect the newly-sown grass from birds by covering it with a light sprinkle of topsoil.
🌿Step 4. Keep the area well-watered.
Peculiarities of Common Grass Types for Gardens
The procedures described above are pretty much universal for transplanting any grass type. Now, I would like to talk about the differences between them. I have chosen exactly these kinds of grass because of the constant questions popping up in regards to their transplanting.
How to Transplant Zoysia Grass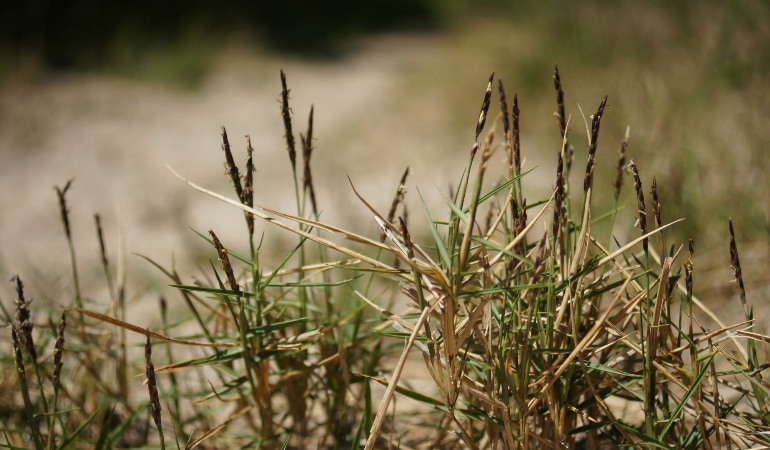 Zoysia is typically better suited for warmer climates; however, some varieties can survive in colder continental areas. Its high salt tolerance makes Zoysia an excellent option for coastal areas. Zoysia grass is particularly tricky to grow from seed, but poses absolutely no threat when transplanted from both sods and plugs. When to transplant Zoysia grass plugs? The best time to transplant Zoysia grass is immediately after the winter cold goes away.
How to Transplant Centipede Grass
Centipede grass requires minimal upkeep and can withstand extremely high temperatures (provided there's enough watering). However, this grass type has special soil requirements: it needs acidic soils, which are typical for the Southeast of the US. You should do transplanting in spring to achieve the best results.
How to Transplant Zebra Grass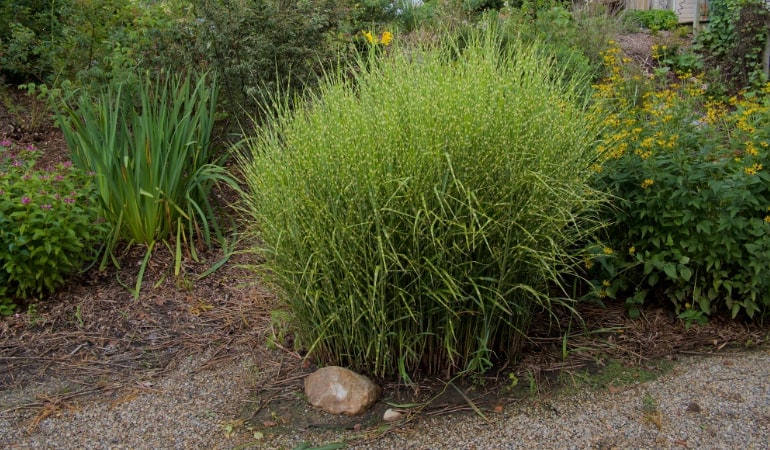 Areas where hot sunny summers are present are perfect for this ornamental grass from Japan. Zebra can show off its beautiful striped foliage with inflorescences the best in the Midwest of the US. Ensure a full sun environment and plenty of water to induce the best growth rates. It is better to transplant ornamental grass of this type and fertilize it in spring.
How to Transplant Monkey Grass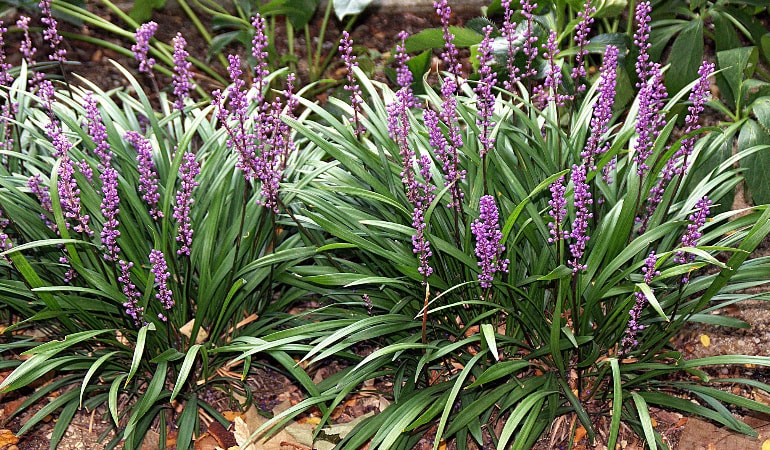 Monkey grass (also liriope) is another beautiful ornamental grass, but unlike Zebra grass, Monkey grass is drought-resistant. When is the best time to transplant Monkey grass? It should be transplanted when it's dormant, meaning at the end of the winter/beginning of spring. It is very similar in upkeep to any other perennials.
How to Transplant Pampas Grass
This extremely beautiful grass requires at least six hours of sun a day, and it grows well in drained soils. Be aware that Pampas grass is easily flammable, so if wildfires are common in your area, don't transplant it. You also need to know that this grass should be divided to prevent it from becoming shaggy and killing parts of itself. When to divide and transplant ornamental grasses of this type? They should be divided every 3 to 4 years and transplanted in early spring.
How to Transplant Bermuda Grass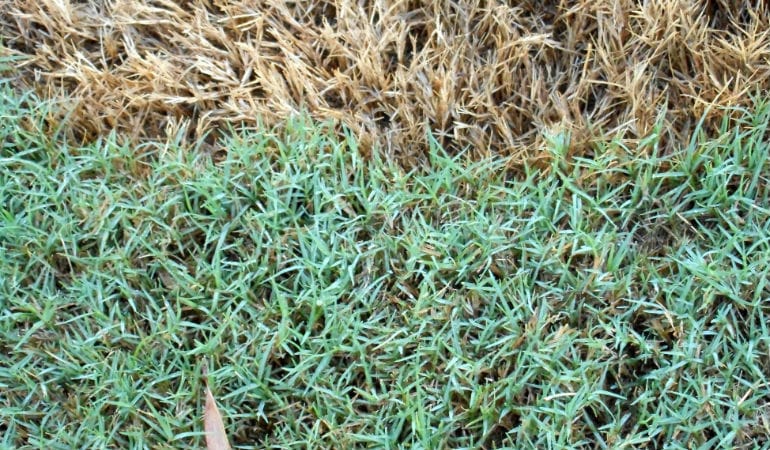 Bermuda grass is a heat-loving, easy-to-maintain, and quickly-spreading grass. It is suitable for a variety of soils. So, it shouldn't bring any headache to you in upkeep. Warning: the grass is of an aggressive type, and can kill off other plants if not treated smartly. Transplanting occurs best when done in spring or summer.
How to Transplant St Augustine Grass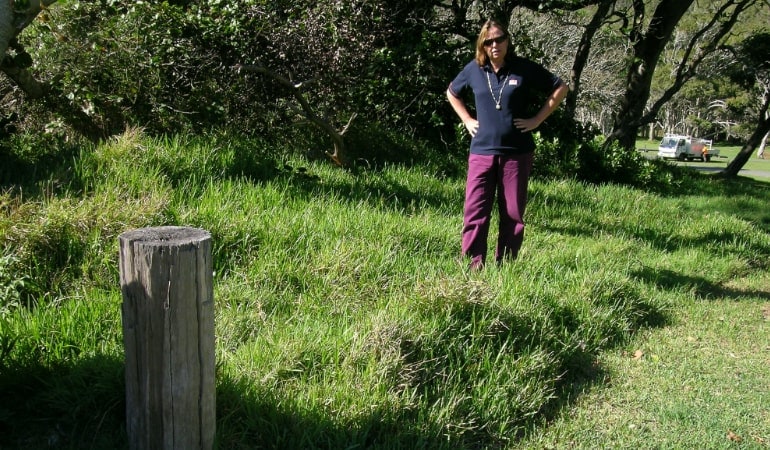 This type of grass loves warm and humid climates (like the one on the Gulf Coast of the US). It produces commonly a sterile/low germination seed but spreads swiftly from stolons (also called runners). You can deal with runners in a simple way by mowing them down and going in a horizontal direction. Also, if you want more of St Augustine grass, you can use stolons. 
Here is how to transplant St Augustine grass runners: just rip the runners up, cut them into 4" to 6" in length, dig an appropriate furrow, place the modified runners, and stem the soil in. Transplantation can be easily completed during spring and summer.
In Conclusion
Hopefully, I have succeeded in sharing my extensive expertise. Now, knowing how to transplant grass as well as the best time to transplant ornamental grass, you should try the given tips out and become a pro at this!
That said, I would like to hear from you now. Please share your opinions on the article down below in the comment section. Have I missed out on some details? Or you think I have not mentioned your favorite type of grass? Please let me know.
Last update on 2020-04-06. The post includes Affiliate links. Images from Amazon Product Advertising API