As an Amazon Associate we earn from commission of qualifying purchases.
Insects, both beneficial and harmful, are an important part of the ecosystem. It's hard to find a single garden that doesn't have them. But what if there are too many of them, and they cause significant damage to your crop? Then it's time to use the best insecticide for a vegetable garden!
Unlike broad-spectrum pesticides, these agents are specially designed for the targeted elimination of certain groups of insects, for example, aphids or Japanese beetles. They will allow you to get rid of breeding pests, preserve crops, and stay safe. In this article, I've reviewed three of the most effective insecticides I consider great for a vegetable garden.
Product
Top Pick
Runner-Up
Best Organic
Pros
Affects pests at the hormonal level
Top Pick
Product
Runner-Up
Product
Best Organic
Product
Pros
Affects pests at the hormonal level
Affiliate links and images placed from the Amazon Product Advertising API on 2023-12-07
4 Best Insecticides for Vegetable Garden
I have included various remedies in my list of the best items. It has an effective insecticide, organic oil, and an insecticide with pesticide properties.
1. My Top Pick: Monterey Garden Insect Spray
Affiliate links and images placed from the Amazon Product Advertising API on 2023-12-07
This product is designed to protect your fruits, vegetables, and even the lawn from a wide range of pests. Its active ingredient is spinosad. It is a biological insecticide; that is, a special bacterium produces it. Its main advantage is efficiency, high environmental friendliness, impact even on resistant pests, and compatibility with many other tools. I find that the products that contain them are the most effective yet safe pesticides for vegetable gardens.
The product is supplied as a concentrate in a 1-gallon plastic bottle. It is recommended that you dilute 2 ounces of this liquid in a gallon of water, so this bottle will last for a long time. Please note that the mixture cannot be prepared in advance. Within a day, the components will no longer be active, so you need to use the product after the preparation immediately.
For the even distribution of the substance, the mixture is recommended to be applied with sprayers. You will notice the results within two days after the application, which makes this product the best bug spray for a vegetable garden. If you still see pests on your plants and trees, reapply the mix.

ADVANTAGES
Very efficient;
Economic consumption;
Eco-friendly;
Multifunctional.
2. Runner Up: Bonide Eight Insect Control
Affiliate links and images placed from the Amazon Product Advertising API on 2023-12-07
Bonide Eight Insect Control is the best insect killer for a vegetable garden as it has a dual-action. First, it destroys adult insects by contact immediately after you treat your plants. Secondly, it remains active for a long time (up to 4 weeks) and kills new pests that hatch from eggs or come from other areas. It effectively targets over 100 pests.
The proven Permethrin is used as an active ingredient. It is safe for humans but toxic to pets, so I recommend keeping your cats and dogs away from the treated plants. Also, I advise you to use it wisely, as Permethrin is dangerous to bees and other pollinating insects.
This vegetable insect spray is available in 16 and 32 ounces bottles. It's a concentrate that should be mixed with water before use. The ratio of product to water depends on which plant you plan to spray it on. Generally, a lower concentration is recommended for fruit trees and vegetables.

ADVANTAGES
Kills over 100 pests;
Has a double action;
Long-lasting effect;
Reasonable price.
DRAWBACKS
Toxic for beneficial insects.
3. Best Organic Insecticide Concentrate: Dyna-gro Pure Neem Oil
Affiliate links and images placed from the Amazon Product Advertising API on 2023-12-07
If you are looking for an effective product to protect your vegetable and fruit plants, but do not want to use chemicals, choose Dyna-Gro Neem Oil. It is made of the seeds of a neem tree, which have pronounced insecticidal properties. This oil is sold as a concentrate in a 32-ounce bottle, which is enough to make 32 gallons of a spray.
It is safe for humans and pets because it has a different (hormonal) effect on insects than other chemical tools. Under the influence of this oil, pests stop multiplying, and gradually the entire colony dies out. Perhaps the only drawback of this method is that you will not notice the first results immediately. It will take some time for the agent to affect the behavior of treated insects.
But it is really effective, and my experience shows that it can fight many pests (a total of about 200 species). They cannot adapt and develop a defense against this product due to the complex chemical component Azadirachtin. True, when processing plants, you should be careful not to harm beneficial insects like bees.
ADVANTAGES
Large volume;
Safe for pets;
Effective against many pests;
Insects cannot adapt to it.
DRAWBACKS
Toxic to beneficial insects;

Doesn't give quick results.
4. Best Organic Insecticide for Vegetable Garden: Neem Bliss Pure Neem Oil
Affiliate links and images placed from the Amazon Product Advertising API on 2023-12-07
This product is an excellent choice for those who want to protect their garden from pests with minimal threat to their health. It is completely natural and organic yet effective. Neem oil acts as a repellent, insecticide, and pesticide at the same time. The toxin azadirachtin in its composition affects insects at the hormonal level, disrupting the life cycle and biological processes.
Using neem oil, water, and a small amount of dishwashing liquid, you can make a DIY spray. Since it is slightly toxic, I recommend, despite its naturalness, that you work with the solution in rubber gloves. If it comes into contact with the skin, it may cause an allergic reaction. This safe insecticide for vegetables stays active for 2-4 weeks. If necessary, you can reapply it after this time.
The oil is only available in small volumes of 16 ounces. For one gallon of water, you need only 1.5 teaspoons of the product. Despite the small consumption, this bottle is sufficient for treating indoor flowers or plants in flower beds, but you will need to purchase several bottles to protect the garden.

ADVANTAGES
Organic;
Affects pests at the hormonal level;
Remains active for a long time.
DRAWBACKS
Small volume;
Slightly toxic.
Insecticide for Vegetable Garden FAQ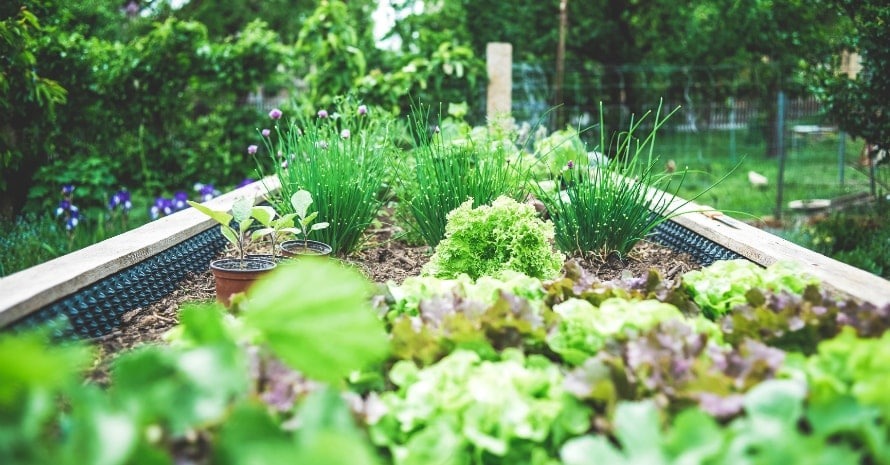 Now that you know all about the most effective garden insect control products, I will answer some popular questions.
What can I spray on my vegetable garden to kill bugs?
When it comes to edible fruits, of course, you want to use the safest means to kill pests. Permethrin, spinosad, and neem oil have low toxicity to humans, so you can use any garden bug killers that have them in their composition to spray your fruit and vegetable garden.
What is the best organic pesticide for vegetables?
Many people think that organic products are less effective than chemical ones. But it's far from the case, and in nature, there are many plants that are toxic to pests. From my own experience, I was convinced that neem oil, Permethrin, and spinosad do an excellent job of killing harmful insects in the correct dosage.
When should I spray my vegetable garden?
Since some garden insecticides do not target pests exclusively, they can harm beneficial insects as well. Therefore, I recommend treating plants and trees in the morning or evening, when bugs are least active. Besides, it is best to avoid spraying your garden during flowering, when bees and other pollinating insects flock to the scent of flowers.
Treat Your Garden with Best Insecticide for Plants
Chemicals of natural origin cope with pest control no worse than chemical-based products. All three garden insecticides on my list have active organic ingredients in their composition and can be used for vegetable garden processing. I find the Monterey Garden Insect Spray to be the best due to its efficiency and large volume that will last for a long time.
Share your pest control recommendations with my readers and me. Which plants in your garden are more likely to be infested by insects? Which product do you use?