As an Amazon Associate we earn from commission of qualifying purchases.
It used to be quite difficult for me to find the best lawn insecticide when I didn't have any experience 10 years ago. Of course, I tried well-advertised solutions, but not all of them worked out well.
It actually took me a while to test a bunch of remedies, and only 4 of them remained with me and my lawn until today. Catch my detailed reviews with links below.
My top picks for the best lawn insecticides:
Your lawn can get infested by grubs that later turn into Japanese beetles or other bugs. Common pests include mole crickets, chinch bugs, mole, and many more. These species can lead your lawn to death, so it's very important to keep an eye on the lawn.
By the way, the best lawn pest control alternative techniques can be applied for better long-term results as well.
Pros
1lb is enough for 1,000 square feet
Kills and prevents common insects
Effective for up to 2 months
Top Pick
Pros
1lb is enough for 1,000 square feet
Runner-Up
Pros
Kills and prevents common insects
Best Budget
Pros
Effective for up to 2 months
Affiliate links and images placed from the Amazon Product Advertising API on 2023-12-07
4 Best Lawn Insecticides Reviews
As I promised, here are my lawn insecticide reviews. I've tested these solutions multiple times on different lawns to make sure they're really versatile. My friends and I keep using them for upkeep, so they should work out for you too!
1. Ortho 0167210 Home Defense – Best Lawn Insect Killer
Affiliate links and images placed from the Amazon Product Advertising API on 2023-12-07
Ortho is one of the ScottsMiracleGro garden care brands that has become the best-selling insecticide manufacturer due to its high efficiency and affordability. Home Defence granule insect killer is available in 2.5lb, 10lb, and 20lb packages so that you can get the best bug killer for the yard of your size. Actually, 1lb covers 1,000 square feet, so it's rather economical.
This remedy can be used as a direct insect killer as well as a long-term prevention method. The granules start working on the surface from the first hours and keep penetrating the soil within 3 months after the 1st application, which makes it the best granular insecticide.
It's not toxic for pets and humans after drying but keeps killing all the nuisance insects.

ADVANTAGES
Very easy to apply;
Keeps working up to 3 months;
1lb is enough for 1,000 square feet;
Works both for prevention and killing;
Effective against all dangerous insects.
DRAWBACKS
Not always effective against black ants;
Gets washed away by heavy rains.
2. Orthene 97.4% Acephate – Best Lawn Pesticide for Common Pests
Affiliate links and images placed from the Amazon Product Advertising API on 2023-12-07
Orthene is a soluble insecticide with AMVAC, an old and trusted American industrial insecticide manufacturer. Farmers use these remedies a lot because of their long residual effect.
This acephate-based remedy can quickly get into the grass tissue and ward off insects for up to 3 weeks. It can also be used directly on your garden plants so that you can achieve a powerful anti-infestation effect around the entire garden.
As it comes in pellets, you can also dust it over the lawn and water it as if you were using the granules. However, it's better than granules if you live in a rainy area as it doesn't get washed out.

ADVANTAGES
Doesn't get washed by heavy rains;
Kills and prevents common insects;
Different ways to apply;
Penetrates plant tissue.
3. Spectracide Triazicide Insect Killer – Best Lawn Insect Control Budget Remedy
Affiliate links and images placed from the Amazon Product Advertising API on 2023-12-07
Here is the best yard insect killer if you're short on budget. Spectracide offers a powerful formula that can potentially ward off around 100 insect types. I haven't had a chance to prove that, but it managed to deal with grubs, ants, more crickets, and some other pests that came to my yard over the last 5 years.
The granules are very easy to spread, and they keep killing insects for up to 2 months. The best point is that you can cover up to 25,000 sq. feet with only 10lb. The residual effect isn't as strong as Ortho granules offer, but still high enough for average cases.

ADVANTAGES
Extra coverage;
Effective for up to 2 months;
Easy to spread;
Money-back guarantee.
DRAWBACKS
Ortho has a longer residual effect.
4. BioAdvanced 700270B – Effective Liquid Insecticide for Lawns
Affiliate links and images placed from the Amazon Product Advertising API on 2023-12-07
BioAdvanced is the top-rated insect killer for lawns that comes as a liquid and the only liquid solution that worked for me.
A 40 oz bottle lets you make up to 80 gallons of remedy that will cover up to 6,500 square feet and remain effective for up to 90 days. That's usually enough for average yards.
The good thing is that it can be connected to a hose or poured into a pump-style tank, so you will probably wish to take it if you don't have a special granule spreader.

ADVANTAGES
Up to 90 days of residual effect;
Great for pump-style tanks;
Can be used only with a hose;
Wards off mosquitoes from the area.
Grass Insecticide FAQ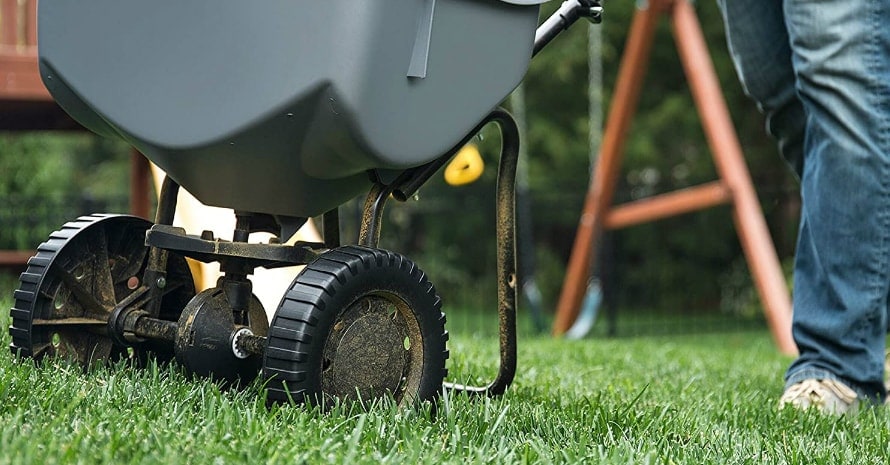 Below are the answers to the questions you ask me most often in the comments under other articles about lawn care. I decided that it will be much more convenient for you to find them here without extra googling.
Which insecticide is most effective?
My practices show that Ortho 0167210 Home Defense is the most versatile solution. This insect killer is capable of fighting not only against common pests but easily wards off large armies of insects too.
When should I apply insecticide to my lawn?
It may happen that you won't need any insecticides for years! However, if you know that a lawn infestation is possible in your area, you have to apply granules at the end of each winter to achieve a preventive effect during several months. If you observe your lawn and notice an infestation, treat the lawn in the morning or in the evening as many insects are most active at these times of the day.
What can I put on my lawn to kill bugs?
The best option is to use one of the most popular insecticides. They offer the strongest and fastest effect. There are no natural remedies that can kill bugs as effectively as chemicals, but I don't recommend applying the products by brands you are not familiar with. Use only those products that are tested and recommended by many real users like me.
Make it Greener!
Now that you have the best insecticide for lawn pest control in your arsenal, you can easily stop an infestation. Follow the instructions to make it as quick as possible and enjoy your healthy green lawn for long months and years!
Remember, the fastest way to prevent an infestation is to inspect your lawn for lawn pests regularly.
Which remedy are you going to try this time? Share your choice in the comments. If you have any experience of using other lawn insecticides, other readers and I will be glad to read about it as well. For more tips and product reviews, stay on my blog. Take care, and enjoy gardening!