As an Amazon Associate we earn from commission of qualifying purchases.
If you have a lawn, you want to enjoy it for as long as possible. And if you happen to live where the winter doesn't cover the land with snow, you'd like it to remain green in the cold season, wouldn't you? But not all grasses are equally good for that. To keep it fresh, choose the best winter grass seed for your climate and learn how to care about it.
Pros
Easily controlled when necessary
Doesn't take long to grow
Germinates and grows quickly
Top Pick
Pros
Easily controlled when necessary
Premium Choice
Pros
Doesn't take long to grow
Budget Choice
Pros
Germinates and grows quickly
Affiliate links and images placed from the Amazon Product Advertising API on 2023-12-07
Luckily, many plants can well survive cold seasons and remain a pleasant sight instead of turning dead brown. Here are some examples of grass seed for fall and winter that will make a perfect green carpet on the ground and make it lively. Don't let the joy move on with summer days; keep it growing!
5 Best Winter Grass Seed Reviewed
So, what do we call winter lawn grass? Primarily, these are types of grass seeds to plant in winter. It doesn't mean they are expected to sprout immediately, but they will endure, and as soon as the temperature allows, the grass will start growing out.
1. Kentucky Bluegrass: Most Common Grass Seed for Winter Growth
Affiliate links and images placed from the Amazon Product Advertising API on 2023-12-07
It's easily recognizable by its boat-shaped leaves and forms a thick carpet over the ground, with blades up to 24". Despite its name, Kentucky bluegrass grows in different climates as well, and you will probably want it to flourish when other grasses decline.
To choose the perfect time for sowing, you need to know that it germinates best at soil temperatures 50-65°F. When it's colder, it focuses on growing roots, and the carbohydrates it accumulates make the grass grow.
It's one of the most popular grass types where only cool season ones are growing (that is, in the upper third of the map) down to Kentucky (as well as New England, Colorado, or northern California).

ADVANTAGES
Grows thick and
Endures cool seasons well
Intense dark-green color
Low-maintenance
Easily controlled when necessary
DRAWBACKS
Doesn't shine in warm seasons
May spread too aggressively
2. Red Fescue Grass: Winter Seed for Sandy Soils
Affiliate links and images placed from the Amazon Product Advertising API on 2023-12-07
This widespread species is also best planted in winter, so it uses the cool time to accumulate carbohydrates and germinate when the temperature reaches 60-65°F. It lets the grass appear among the first, and it grows sold 2" a week.
The grass is tall, up to 24", but it can be mowed down to 2-3". It tolerates shade, and direct sunlight, doesn't require much water, and grows on various soils. When mowed, it forms a solid pleasant-looking turf. It grows well on sandy soils where other seeds may fail.
Just make sure you sow it evenly. This grass tends to grow in spots rather than spread all around. That may (learn from my mistakes) result in bare spots that had to be fixed the following year.

ADVANTAGES
Tall and beautiful
Survives cold well
Doesn't take long to grow
Grows on various soils
Survives in shade well
3. Rye Grass: Every Cool Season Grass
Affiliate links and images placed from the Amazon Product Advertising API on 2023-12-07
Look at its blades, and you'll see where its name comes from at once. Rye grass is one of the tallest types of grass, and it's both beautiful when mowed or not mowed.
Rye grass is easy to sow; the soil is humid enough for it in the fall, and annual ryegrass is quick to germinate and sprout. If you sow it in the winter, in the spring, it will be among the first to rise. It makes the best impression when growing alongside with summer grass types (like Bermudagrass), keeping the turf vivid all year long, especially in southern states.
It's also known for being resistant to diseases. If you like to walk barefoot on the grass, this is also the type that survives it well.

ADVANTAGES
Germinates and grows quickly
For lawns and meadows
Grows on different soils
Disease-resistant
Good for erosion control
4. Bent Grass: Best Grass for Winter Planting for Real Fans
Affiliate links and images placed from the Amazon Product Advertising API on 2023-12-07
Golf lawn favorite, bent grass is also still popular for lawns — at least if you are ready to invest your time to keep it. It grows fast in the spring if sowed in the fall and remains thick and green even in warmer seasons. Its wear tolerance is also above any praise. That makes it the golf or croquet field coverage of choice.
It takes up to 10 days for the seedlings to emerge, and soon you'll have an impressive turf. Still, it has to be controlled constantly: its fast and irregular growth is only okay if you don't let your lawnmower cool down. But if you set it as low as 0.25", it will be the best lawn surface one can imagine. For home lawns, 1.5" will also provide excellent results.

ADVANTAGES
Impressive color and texture
Grows fast
Low fertilizer requirement
Endures extreme conditions well
Endures active foot traffic
DRAWBACKS
High maintenance
Soil-sensitive
5. Chewing Fescue: Most Egoistic Cool Season Grass
Affiliate links and images placed from the Amazon Product Advertising API on 2023-12-07
This type of grass is widespread in the wild due to its aggressive growth, but when tamed on your lawn, it forms one of the most impressive turfs, especially in cooler seasons. Chewing fescue can drive away weeds, making lawn maintenance easier. This trace has a downside: if you want to sow it with a summer-type grass on the same lawn to see them replace each other, forget it.
Otherwise, Chewing fescue is a finely textured, upright-growing grass that can grow as high as 35 inches (unless you mow it, it survives even when cut down to 1-1.5". It's perennial, so there's no need to resow it every winter.

ADVANTAGES
Looks beautiful
Resists weeds
Survives shade and drought
Lives well on infertile soils
Perennial
DRAWBACKS
Grows in bunches
Poorly combines with other grass types
Buyer's Guide for Winter Grass Seeds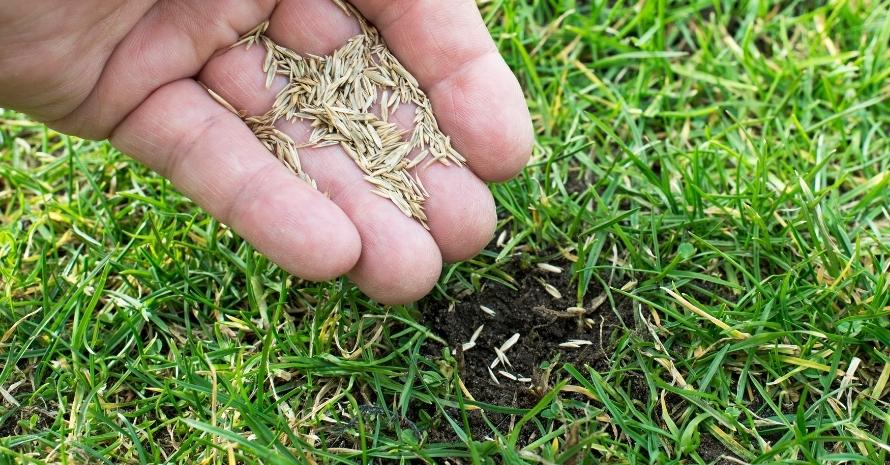 So, which is your perfect grass seed after you've read about the selected ones? There is no definite answer: the best winter grass for Arizona is obviously different from that in Nebraska, let alone North Dakota (who ever says Alaska?) So here is how to choose.
How to choose a winter grass
To choose the best grass seed for winter, consider some factors. The most important of them include:
The local climate, including average temperatures, humidity, and exposition to sunlight.
Soil type. Sandy soils are good for fescues, and ryegrasses grow well on clay soils and bluegrasses. On normal/loam-type soil, you can grow whatever you want (as long as temperatures allow).
The purpose of the lawn (whether it will or will not be mowed, or whether someone will walk or sit on it).
Your personal preferences. Choose the one you like best among those that thrive under given conditions.
Choose according to your location, but picking, say, the winter grass seed for Georgia requires more than just average temperatures or humidity for the entire state. In your location the soil may be unusual, as well as lighting conditions.
Read the manual before doing anything. Manufacturers often warn you about the conditions required. Remember that if you make a wrong decision, you will have to wait an entire year to retry.
Purpose of the lawn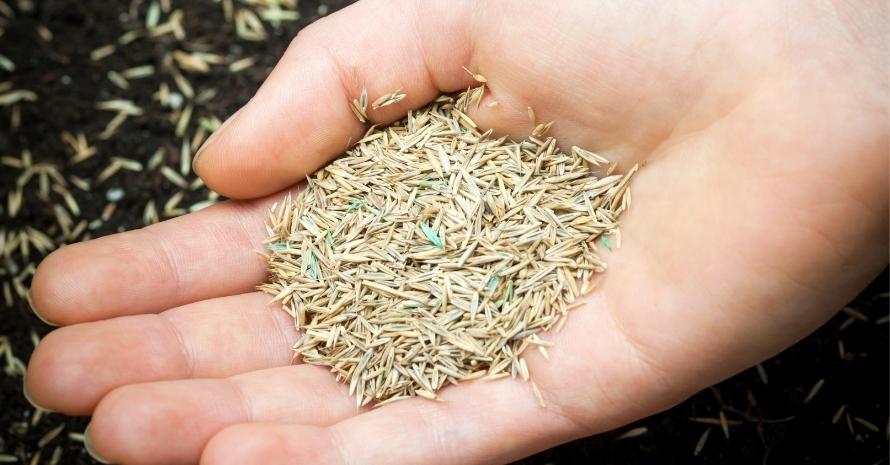 The main question is: will access to the lawn be restricted? Or will people freely walk or even sit and lie down there? Different types of grass have different sensitivity to foot traffic. One of the best options for walking lawns is bent grass, though some other types can endure it too – for example, Kentucky bluegrass.
Climatic conditions
The climatic conditions include more than average seasonal temperatures, and the amount of rain and the average number of sunny days also matter. Some deviation doesn't render a particular winter grass ungrowable, but nature has ensured there is another best grass seed for winter overseeding in your region.
So, what should it be? Here is a shortlist you can take as a reference.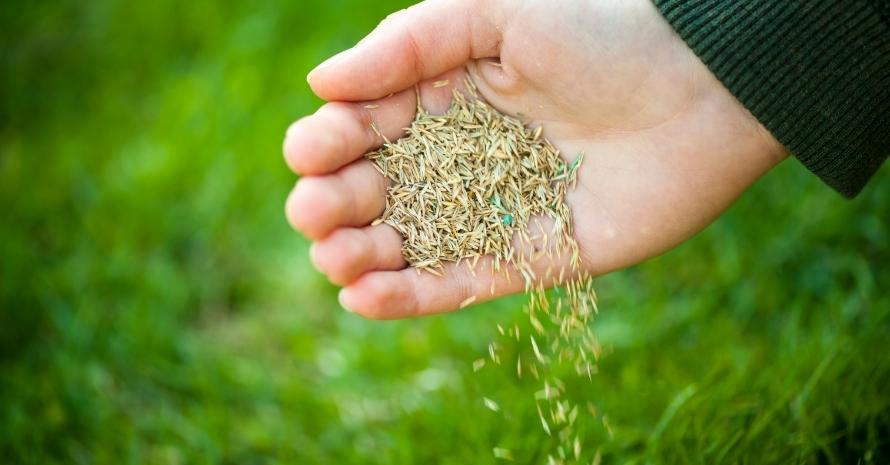 Northeast region. With its low temperatures and high humidity, the type of grass seed to plant in winter here is bluegrasses, especially Kentucky bluegrass, as well as fescues and ryegrasses.
Midwest region. It's also cool here, but less humid. While bluegrasses also feel at home, fescues and ryegrasses may require extra watering, especially in the eastern part.
Central regions. Tall fescue and other fescue types are the best to sow here for cool seasons.
Southeast region. Its humid and warm climate makes you prefer Bermudagrass, which would feel too cold up north.
Deep South and Gulf Coast. Here you can enjoy Bahiagrass and centipede grass which grow well, where Northern species would feel too sultry.
Southwest region. Given how hot and arid the climate is, what we call winter grass seed for Arizona is, say, Bermudagrass (which still requires watering).
Pacific Northwest region. Bluegrasses, ryegrasses, and tall fescues are also preferable here.
Geographical location
It defines more than just climate; it has a lot to do with the soil type and purpose. To learn whether a specific grass seed is suitable for your region, you better check if it's used here and if the conditions are good for it.
FAQ on Winter Grass Seed FAQ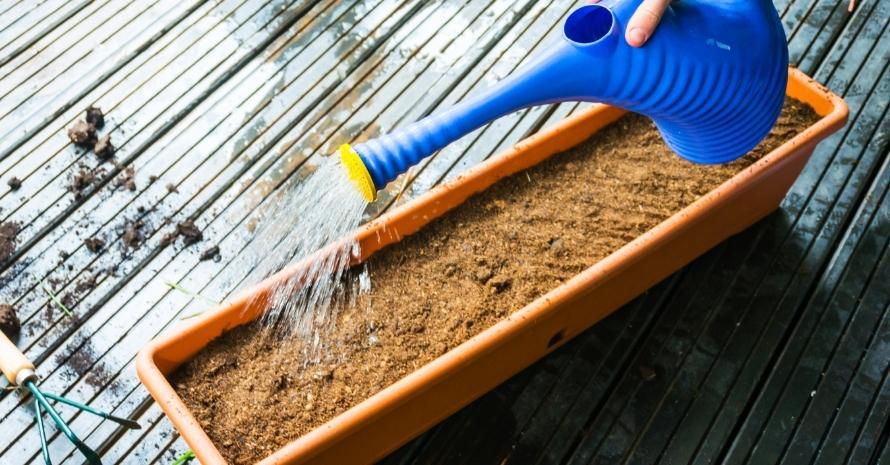 As you start growing these seeds, questions sprout just as well, so let's not leave them without answers.
What grass seed grows in winter?
Along with these reviewed, there are ones like perennial ryegrass, prostrate meadow grass, rough meadow grass, and colonial meadow grass. Many of them are used for lawns or parks.
How to store grass seed over winter?
If you prefer to sow them in early spring, you need to store the seeds in a dry, air-tight container in a cool place. These places may be found in a cellar, a basement, or a garage.
How long does grass seed take to grow in winter?
Grass seed for winter planting usually germinates for 7-10 days. It depends on temperature, humidity, species, and soil type. If you learn more about the kind of grass you choose, you can predict its germinating more precisely.
What if there's no grass when it's expected in the spring?
It may be low-quality seeds, or they've been damaged when being delivered. But if it repeats with seeds by various brands, you better try other plants and follow the instructions more carefully.
Keep It Green!
After reading this, what is the best winter grass seed for you? We still cannot help recommending Kentucky bluegrass, but if you live below that middle line, you may opt for a more sensitive one which thrives in warmer environments. The purpose of your lawn matters as well.
Hope you'll find your own best grass seed to put down before winter and enjoy your green lawn as long as it's seen. Have you tried any of these? Maybe one of them still forms the turf at your property? We'd like to read about your experience and impressions in the comments!