As an Amazon Associate we earn from commission of qualifying purchases.
To make sure that your garden is perfect, you have to use only the best weed killer for lawns. It must be suitable for your particular case and help you with the grass you don't need, saving the flowers and plants you appreciate the most. The best weed control does not kill the entire yard. Many amateurs prefer to avoid this tool in order to save other plants that grow nearby. However, after several hours of hand-pulling each weed by the root, they usually give up. Moreover, nowadays it is simple to find a weed killer that doesn't kill grass. All you need is to know where to look.
Pros
Kills multiple amounts of weeds.
Great for broadleaf weeds.
Top Pick
Pros
Kills multiple amounts of weeds.
Runner-Up
Pros
Great for broadleaf weeds.
Affiliate links and images placed from the Amazon Product Advertising API on 2023-12-08
There are hundreds of products on the market that serve the same purpose. However, their effectiveness is different. I have made this detailed guide with descriptions of my favorite helpers for you. Since every situation is unique, I've gathered the prime weed killers with versatile features, from dry to liquid, highly effective tools with chemicals, and completely organic. You may find here killers of broadleaf plants and killers of the weed with a wide root system. If you believe that your garden requires immediate action, make sure you have all the right tools.
Top 7 Best Weed Killers for Lawns Reviewed
You need to pick the best weed killer for lawns if you want a perfect garden. Here are the most trustable options for you. I have made these weed killer for lawns reviews based on my personal experience and the recommendations of my colleagues and friends. Check out their descriptions, and pick one or several products that answer all your demands.
1. Tenacity – Best Herbicide for Lawns for Systemic Use
Affiliate links and images placed from the Amazon Product Advertising API on 2023-12-08
Tenacity is a product line of Syngenta AG company from Switzerland. The company is considered to be one of the leaders on the market of agricultural technologies and science. They offer crop protection solutions and seeds. The company was created in 2000. Since that day, it has helped millions of gardeners around the world. Tenacity is the herbicide that can be applied as a preventive measure as well. If you want to make sure that the weed would not appear in the next few months, you can use Tenacity as a post-emergence measure.
Features of the product:
Weight: 10.6 ounces;
Dimensions: 2 x 2.5 x 4.5 inches;
Active ingredients: Mesotrione 40%;
Amount of herbicide in the bottle: 8 ounces.
The weed absorbs this herbicide from the soil. Its main active ingredient is Mesotrione of 40 percent. I have been using this remedy for 5 years. As far as I know, it can be stored for 8 years from the date printed on the bottle. It is simple to apply. You have to mix it with the water and sprinkle the roots. Since this herbicide contains chemicals, I do not recommend allowing children or pets to play on the lawn right after it was applied.
ADVANTAGES
Easy to apply;
Suits systemic use;
Kills multiple amounts of weeds;
Extended shelf life of 8 years;
Affordable price.
2. Ortho WeedClear – Best Lawn Weed Killer for Roots
Affiliate links and images placed from the Amazon Product Advertising API on 2023-12-08
This product is perfect for killing dandelions that can turn your life into a nightmare in no time. They grow fast; they stick reliably into the ground, and if you have them in your yard, you need to act immediately. Ortho brand is a part of Scotts Miracle-Gro Company, a giant Multinational Corporation based in the USA. They have been selling seeds and garden protectors since 1868. You can buy 1 gallon or 32 oz of this herbicide. I recommend going with 1 gallon since it is a savvy offer. I also advise you to buy the concentrate.
Main features:
Size: 1 gallon that covers over 64 000 sq ft;
Weight: 9.1 pounds;
Kills: over 250 weeds.
This tool is a deadly remedy for dandelions and clovers. It kills multiple types of broadleaf weeds. Apply it directly to the weeds, and it wouldn't harm the lawn. You can adjust the hose to the bottle and sprinkle the killer on dandelions.
Active ingredients will kill the weed quickly to the root. You will notice the first results in several hours. Since it contains chemicals, you should keep this product away from children. The product is not allowed to sell in TX. I have accidentally tried it before the rain, and it still worked as I wanted. It can be used on ryegrass, bluegrass, St. Augustine, bermudagrass, fescues, centipedegrass, and zoysiagrass. You may find your lawn perfectly safe.
ADVANTAGES
Works for 250+ weeds;
Rainproof in 1 hour;
Great for broadleaf weeds;
Simple to apply;
Savvy offer.
DRAWBACKS
Must be spread directly onto the weed.
3. Southern Ag Amine – Savvy Broadleaf Weed Killer
Affiliate links and images placed from the Amazon Product Advertising API on 2023-12-07
Southern AG or Southern Agricultural Insecticides is the company that appeared in the 1930s, in the USA. They still provide tools for gardening and protection from the weeds. The company offers multiple types of herbicides, insecticides, fertilizers, and sprayers for the lawns. This weed killer contains 2,4 D Dichlorophen peroxyacetic acid Dimethylamine salt as the main ingredient. And while it is incredibly active on multiple types of weeds, it can be dangerous for children. You require only 1-4 pints for an acre. You can use it not only for turf but for ditch banks, pastures, fences, and rangeland.
Features:
Size: 3.8 lbs of the substance in the bottle;
Active ingredient: 2,4 D Dichlorophen peroxyacetic acid Dimethylamine salt;
Kills broadleaf weeds.
The bottle contains 3.8 lbs of the remedy. It is a concentrate of the weed killer, and you have to use only up to 3 tablespoons of it mixed with 5 gallons of water for 1 000 sq ft. Don't worry, its shelf life allows you to use this product without any rush. It controls numerous broadleaves and woody plants. I have witnessed this remedy being spread across the golf course. It is safe for other plants. To apply this substance, you need a nozzle of a fan type.
ADVANTAGES
Kills broadleaf weeds;
Savvy pack;
Activates immediately;
Trustable developers;
Affordable price.
DRAWBACKS
Dangerous for children and pets.
4. Scotts Halts Preventer – Best Weed Killer for Grass and Crabgrass
Affiliate links and images placed from the Amazon Product Advertising API on 2023-12-08
This weed killer is produced by the same multinational corporation named Scotts Miracle-Gro Company as the Ortho brand. They have the Scotts brand with headquarters in Ohio. The brand was founded in 1998. Its main specialization is lawn, shrub, and tree care. This time, they offer a 5000 sq ft pack of preventers that was made to protect your lawn from the crabgrass during the whole season. The action must be repetitive, and you have to apply it once in a season if you have problems with weeds all year long. If crabgrass bothers you in the spring, you may need only one dose per year.
Features:
Coverage: 5,000 sq ft;
Weight: 9.63 pounds;
Weeds: crabgrass, poa annua, henbit, moss, chickweed;
Active ingredient: Pendimethalin.
Apply it during the fall to prevent winter trouble like henbit, poa annua, and chickweed. It can stand against the rain or snow, but it is better to give it at least one hour to soak into the weeds' roots. This tool is also helpful against moss.
You have to apply it in the fall to protect the garden from it. Scotts recommends applying the treatment with their own development Turf Builder EdgeGuard. It is ok if you don't have it. All you need is to spread the preventer on the weeds.
ADVANTAGES
Resistible to rain and snow;
Prevents moss;
Simple to apply;
Acts immediately;
Affordable offer.
DRAWBACKS
Must be used at least once in a season.
5. ECO Garden Pro – Lawn Safe Weed Killer
Affiliate links and images placed from the Amazon Product Advertising API on 2023-12-08
Eco Garden Pro is an eco-friendly company that produces weed killers and preventers for gardens. It is pet-safe. This tool is biodegradable, free of phosphates, and safe for the groundwater. There are no toxic chemicals. Besides, this product reveals the results you wanted to reach in 24 hours.
Main Features:
Weighs 9 pounds;
Kills: almost all types of weed widespread in the USA;
Active ingredients: white vinegar, rock salt.
This instrument is helpful against dandelions, crabgrass, clover, dollar weed, chickweed, thistle, white cover, and even moss, apart from other weeds. The main ingredients in the killer are white vinegar, plant activators, and rock salt. As you may have already noticed, vinegar is a powerful component in many organic products against weed. I don't recommend overusing it on other plants as you may dry out the root. However, this very component guarantees fast action and is safe for kids and pets. You can use it on flower beds, farms, parking lots, sidewalks, mulch beds, concrete, and pavement. I recommend you apply it directly to the weeds. You can use a garden sprayer to make the whole procedure more comfortable.
ADVANTAGES
Safe for children and pets;
Eco-friendly;
The results are visible in 24 hours;
Savvy pack;
Competitive price.
DRAWBACKS
You may need a garden sprayer to use it.
6. Monterey Turflon Ester – Best Liquid Weed Killer for Lawns
Affiliate links and images placed from the Amazon Product Advertising API on 2023-12-08
Monterey Lawn and Garden is a company that provides fertilizer products and efficient plant protection. The company was founded in 1963. It has headquarters in Fresno. The killer they offer is helpful against numerous broadleaf weeds and even bermudagrass in the ornamental turf. As for the broadleaf weeds, it is useful against clover, ragweed, oxalis, wild violet, and ground ivy. You can use this spray to prevent the weed from growing. It was created to use on the cool-season grass.
Main features:
Dimensions: 2 x 4 x 7 inches;
Weight: 1 pound;
Active ingredient: triclopyr;
Kills: broadleaves and bermudagrass. Suitable for cool-season grass.
To use it, you have to mix it with the water in the proportion indicated on the pack. Pour the liquid into the spray tank and shake it. 1 pint of this remedy covers a 20,000 sq ft area. Its main active ingredient is triclopyr 60.45%. You have to keep it far from children, as this product contains chemicals. I can add that it helps to keep the Kikuyu grass and bermudagrass on my lawn under control. I recommend buying a garden sprayer in advance.
ADVANTAGES
Cool-season grass control;
Simple to apply;
Visible results;
1 pint covers 20,000 sq ft;
Savvy offer.
DRAWBACKS
You should keep it far from children.
7. Espoma – Organic Weed Killer for Lawns
Affiliate links and images placed from the Amazon Product Advertising API on 2023-12-08
This weed preventer not only kills everything you don't need but also fertilizes the soil. Espoma was founded in New Jersey back in 1929. They started with one fertilizer and extended their services to hundreds of products on the market. Their main purpose is to sell organic helpers for the garden. This weed preventer is made from corn gluten. Children and pets can run around the lawn right after the product was spread. It kills crabgrass and dandelions, apart from other weeds.
Features:
Active ingredient: corn gluten;
Size: 25 lbs that cover 1,250 sq ft;
Kills: dandelions, crabgrass, apart from other weeds.
The pack of 25 lb will serve for a long time. To be honest, I was skeptical when my friends recommended me this preventer, mainly because of completely organic ingredients. Yet, it was affordable and in the big pack, so I decided to check it out. I apply it only twice a year, at the beginning of the spring and in the fall. Espoma also recommends you not use this preventer during the seeding process of the new lawn. There is also 8.23 percent of slow-release nitrogen for a greener and healthier lawn. I do not recommend applying this weed prevention during the rainy weather.
ADVANTAGES
Must be applied twice a year;
Family-friendly;
Fertilizes the soil;
Organic components;
Competitive price.
DRAWBACKS
Avoid using it during rainy days.
Weed Killer Guide for Buyers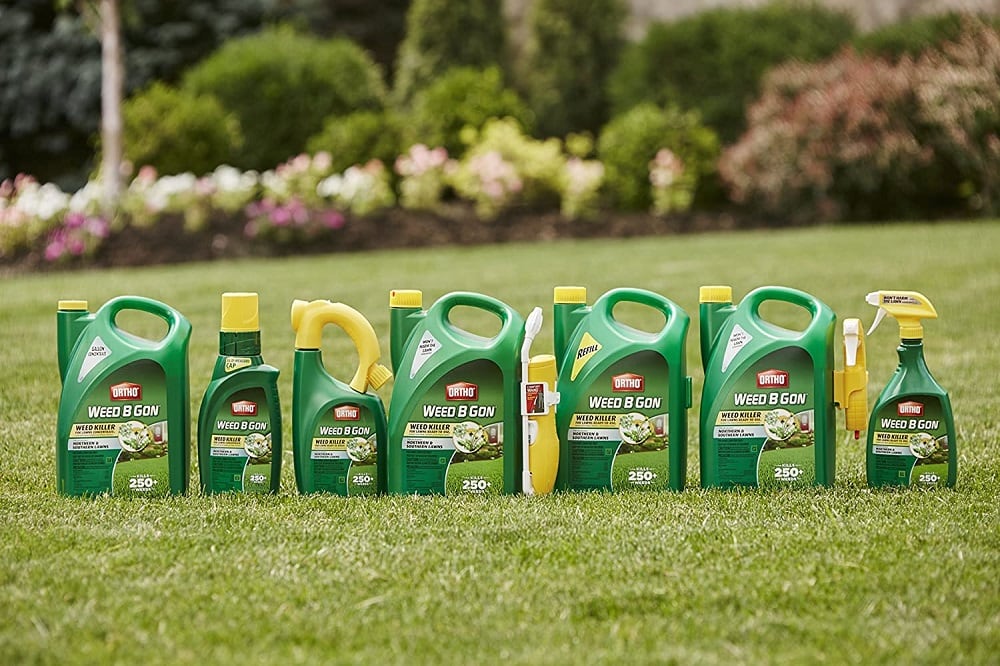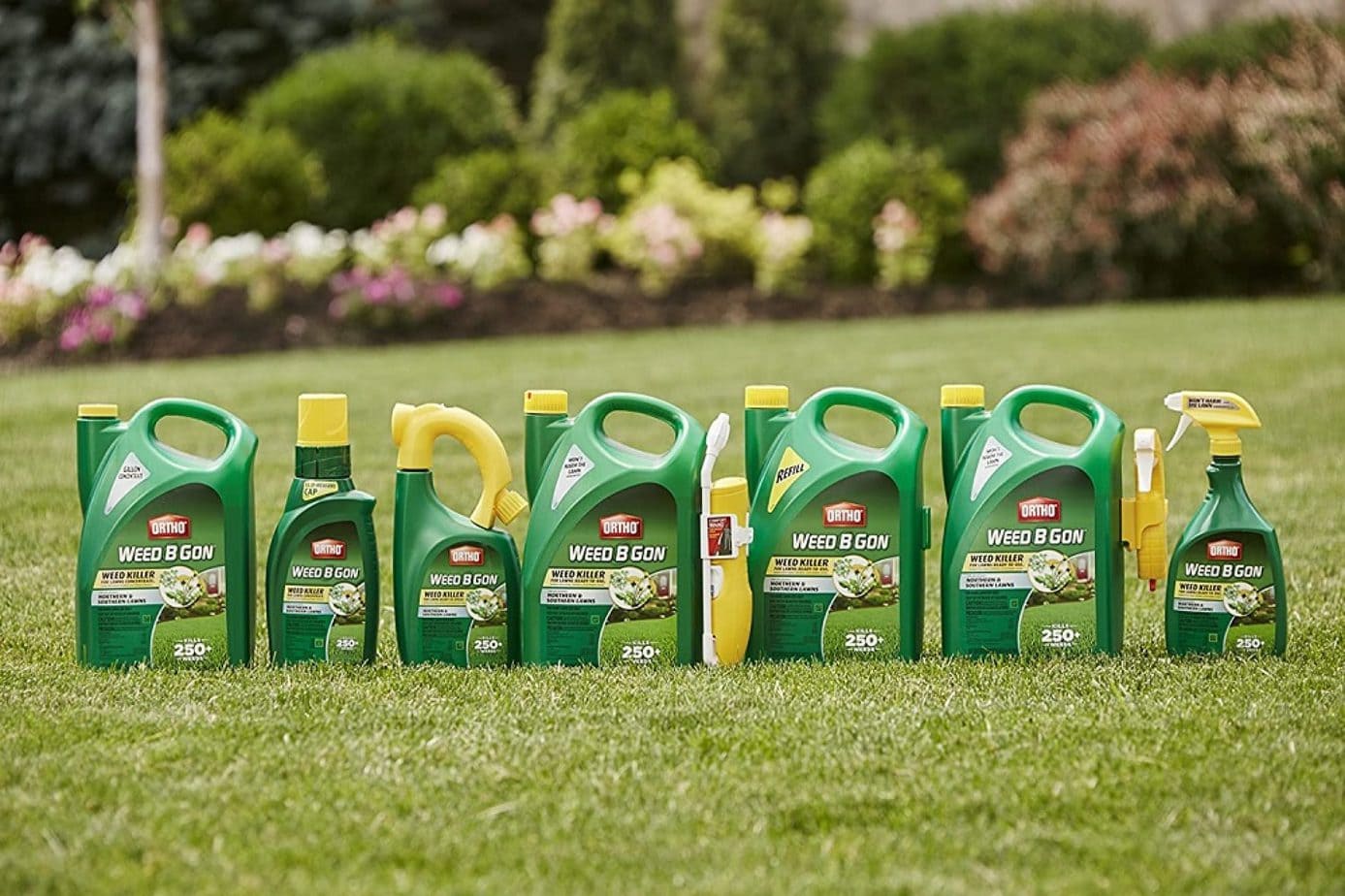 To help you find the best weed and grass killer for your garden, I offer you to check out detailed information about these tools in general. You have to understand the specifics of each remedy to decide which one you currently require. Do you need an organic or chemical top weed killer for lawns? Is the size of the lawn important? Let's find out everything together.
How to choose a lawn weed killer
All the weed killers mentioned on my list are already considered to be advanced remedies. However, they all have their own peculiarities. What to consider when you are looking for a weed killer:
Safe for grass herbicide. Weedkillers must kill only weeds, not the grass or flowers. While not many weed preventers are made for flower beds, the separation of flowers from weeds becomes a real problem for many gardeners. My list includes remedies that are helpful against weeds. However, some of them kill different types of grass, including bermudagrass that can also become a problem to your lawn and must be kept under control. There are several organic tools on the list. Espoma, for example, not only kills weeds but fertilizes the soil. If you prefer to go with classic active chemicals, try to apply them directly to the weed.
Type of weed. You can choose the herbicide based on the type of weed you want to control. The most popular are tools against broadleaf weeds and lawn grass that grow uncontrolled. Almost all of the tools I've mentioned above are effective against moss as well. Depending on the type of weed, you have to choose the time of application.
Safe for kids and pets. There are several products on the list that are totally family-friendly. Usually, they are free of toxic chemicals that allow children and pets to play on the lawn right after you apply the remedy. If you decide to spray weeds with vinegar, I also recommend delaying playing on the lawn until it dries out to avoid skin irritation.
Location of your lawn. The lawn that is located near the water or in the high humidity area may offer you healthier and higher grass. However, water also helps the weed to grow easier. Cold temperatures, on the contrary, create an unfriendly environment for the weed. Different climate zones provide different types of weed. Make sure you find the right tool for your location.
Coverage. The biggest coverage offers Ortho on my list. You can use 1 gallon of this herbicide to cover 64 000 sq ft. However, other products cover large territories as well. If you are looking to control the weeds on your own lawn, you don't need big coverage.
Types of herbicides
Gardeners distinguish herbicides by several types, based on the time of use. The life cycle of the plant becomes critical when you choose the herbicide. Here are the main types:
Pre and post-emergent. Pre-emergent herbicides are applied before the weed sprouts. It will not help if the weed is already there, fully grown. Post-emergent products, on the contrary, work best on the grown weed. This remedy is applied on the leaves, while pre-emergent herbicide is spread on the ground.
Selective and non-selective. Selective herbicides kill the only weed without making harm to other plants. Non-selective products kill everything around.
Systemic and topical. Systemic products act on the whole plant, even on the roots. Topical herbicides affect only the place where the remedy was applied.
Persistent and non-persistent. Persistent herbicides can act slowlier but stay active for a long time. Non-persistent killers act fast but don't have a long-lasting effect.
Granules vs liquid concentrate herbicides
You have two options of weed control, liquid or dry. I have mentioned both types on the list of the recommended products. Why? Each of them has its own advantages:
A liquid herbicide is the weed killer already mixed with water, so it can be sprayed from a sprayer or hose on the weed. You can use versatile equipment, from advanced machines to simple cans. This remedy soaks easily into the roots;
A granular or dry herbicide is like a granular fertilizer. It is kept in pellets covered with inactive ingredients that kill weeds. They are usually applied manually, through the push spreaders, or with specific spreading equipment.
How to apply weed killer to lawns
Even with the right herbicides, your efforts will be pointless without the correct application. Besides, unprepared actions may cause problems to the entire lawn. Follow this guidance step by step to make sure that the herbicide you apply is effective:
Before you start, don't cut the grass. Don't mow it for several weeks. After you apply the herbicide, wait at least for a week to mow it;
Plan the sprinkler application before you use the weed killer. You should water the lawn before you start using herbicide. It is recommended to water it on the same day as using the weed killer. Some gardeners prefer to apply herbicide early in the morning, so the grass is still covered in the dew;
Wear gloves and glasses to protect your skin and eyes from herbicides. You may also cover your nose with a mask;
Besides, it is recommended to wear long-sleeved shirts to protect your body from irritation;
If the herbicide is dry, drop it onto the area with weeds. If it is liquid, spray it over the territory with weeds. Be careful with the flowers or other plants you want to save;
After you apply the herbicide, don't water the lawn at least for 2 days;
Try not to step on the lawn for a day, at least. There are strict rules on when to plant after using herbicide as well. You may find recommendations on the pack.
Which Herbicide Do You Need?
There are top-7 herbicides on the list, and each of them has specific features you may appreciate. Check out your lawn, including the territory, type of weed, and the instruments you have. Consider whether they are sprayers or machines for dropping pellets. Think about the climate you live in. Based on all these factors, you can pick one or several herbicides that will save your garden from weeds. They are all affordable, and you can buy several options at once. If you have tried some of these weed killers, share your opinion in the comments below. Which of them do you like the most? Which features do you find the most beneficial?