As an Amazon Associate we earn from commission of qualifying purchases.
Nobody likes seeing overgrown grass invade their yard. If you have too much to remove by hand, perhaps you should consider purchasing an effective herbicide to deal with the problem. In this post, I'm going to let you in on some of the best organic weed killer products on the market. These herbicides excel in controlling most types of weeds that are commonly considered a nuisance. Keep reading for more details on organic weed control.
Pros
Eradicates weeds-in-the-cracks almost immediately.
Effective: weeds die within several hours of the first application.
Top Pick
Pros
Eradicates weeds-in-the-cracks almost immediately.
Budget Pick
Pros
Effective: weeds die within several hours of the first application.
Affiliate links and images placed from the Amazon Product Advertising API on 2023-12-07
4 Best Organic Weed Killer Reviews: Expert-Approved & Effective
There are a few vital aspects to take into account when shopping for a good herbicide — the application spot and the type of grass you're planning to eradicate. Some herbicides target all kinds of plants, which means they are perfect for gravel driveways and walkways. While other chemical-free weed killer products help you get rid of certain types of weeds without damaging other vegetation. Below, I've reviewed some of the most effective herbicides for you to stick with.
1. Doctor Kirchner Natural Weed & Grass Killer: My Top Pick
Affiliate links and images placed from the Amazon Product Advertising API on 2023-12-07
If using chemicals for dealing with overgrown grass doesn't tickle your fancy, this natural weed killer for lawns might be right up your street. Being a fine mixture of non-toxic components, this ready-to-apply grass slayer gets the job done carefully and effectively. Just spray the thing on your unwanted grass in the morning, and you'll find them all brown and dead in the afternoon!
Yep, it works like a charm when others don't, managing even the most resilient weeds in your yard. And it's absolutely harm-free to use around kids and animals. Naturally, this vinegar-based product comes with a certain annoying smell that lingers for some time. But it dissipates within a day — and it's a lot better compared to the odor and toxicity of the synthetic, chemical-based solutions.
Yes, the stuff is a bit on the expensive side, but you certainly get your money's worth. So, if you've tried multiple brands and all of them have turned out to be a huge waste of time and cash, this product is just what the Doctor ordered (pun intended!). It's a game-changer. Buh-bye weeds!
ADVANTAGES
Contains natural components;
Eradicates weeds-in-the-cracks almost immediately;
Safe to use around children and pets;
Excellent customer service.
DRAWBACKS
Not the cheapest option out there, but very effective.
2. ECO Garden PRO: Vinegar-Based Organic Weed-Killer for Gardens
Affiliate links and images placed from the Amazon Product Advertising API on 2023-12-07
Are you on the prowl for a potent non toxic weed killer for lawns that won't harm your loved ones or wildlife around your house? This product might be right up your street. It works like a charm and wipes out most types of weeds after one application. Chickweed, dandelions, clover, crabgrass, moss, white cover… This lawn herbicide is capable of eliminating them all (and some more) in a matter of hours.
Even though white vinegar is the solution's prime ingredient, you will be astonished by the results. You will see the nasty weeds wither within a few hours of the first application. And the product is exceptionally effortless to apply, just use it right out of the container, no mixing needed. You're going to need a sprayer for maximum convenience, though.
Yes, this solution comes with a fairly strong, unpleasant odor. However, it's not overpowering and dissipates quickly. Overall, despite the fact that the product is not the cheapest on the scene, it is worth every penny it costs. It won't harm a single bit of the ecosystem at your home. Be sure that this stuff won't let you down.
ADVANTAGES
Potent and effective herbicide.
Eradicates even the toughest of weeds.
A breeze to use.
Rain-resistant formula.
Pet/human safe and eco-friendly.
DRAWBACKS
It doesn't include a sprayer.
3. Natural Elements: Budget-Friendly & Organic Broadleaf Weed Killer
Affiliate links and images placed from the Amazon Product Advertising API on 2023-12-07
Derived from salt water and vinegar, this herbicide is an all-natural solution that tackles smaller yards or small to medium weed issues. The formula is absolutely safe and eco-friendly, yet it excels in getting your overgrown weeds under control. No more worrying about letting your kids or pets into the yard with this non-toxic formula!
The solution is ready to apply right out of the container, no mixing needed. Super straightforward in application. Just spray it on the weeds, and within a few days they will die out. It's a cakewalk to spray and store. It doesn't come with a nozzle sprayer, so you're going to have to purchase one additionally (or use a sprayer from a different household item you have).
The stuff is non-selective, meaning it will kill any greenery it comes in contact with. If you're dealing with some really tough weeds, you will need to reapply the solution for maximum effectiveness. At the end of the day, Natural Elements is among the most effective organic weed killer products on the scene, hands down.
ADVANTAGES
Chemical-free and non-cancerous, safe for your loved ones (and the nature around);
Effective: weeds die within several hours of the first application;
Pre-mixed and ready to utilize immediately;
Capable of covering large areas;
Excellent for eradicating broadleaf weeds.
DRAWBACKS
A bit on the expensive side, but worth every dollar.
Strong smell, but nothing intolerable.
4. Natural Armor 30% Vinegar: Really Good Stuff
Affiliate links and images placed from the Amazon Product Advertising API on 2023-12-07
Want to know how to kill weeds in your yard without harming the environment or your loved ones' health? Kinda sick of dealing with homemade vinegar mixtures that smell even worse than they cope with your unwanted greenery? Opt for this wonderful (and super potent) herbicide. It whacks those pesky weeds like a pro without damaging your eco-life.
Naturally, your yard will smell like a salad for some time after spraying the thing. The fumes are strong during application, so wearing some protective clothing is highly recommended. However, the smell will fade away shortly, leaving the annoying grass all brown and down. Overall, the product is a great environmentally-friendly substitute for Roundup. If that's exactly what you've been on the hunt for, give the thing a go without a shadow of a doubt!
ADVANTAGES
Safe for the yard and your loved ones;
The results are very speedy: the unwanted grass starts withering almost right away;
The application is very straightforward;
Targets poison ivy, along with other tenacious weeds;
Perfect for home and garden use.
DRAWBACKS
Strong vinegar smell, but so much better than having to use harsh chemicals.
Need the Best Natural Weed Killer for Lawns? Read on!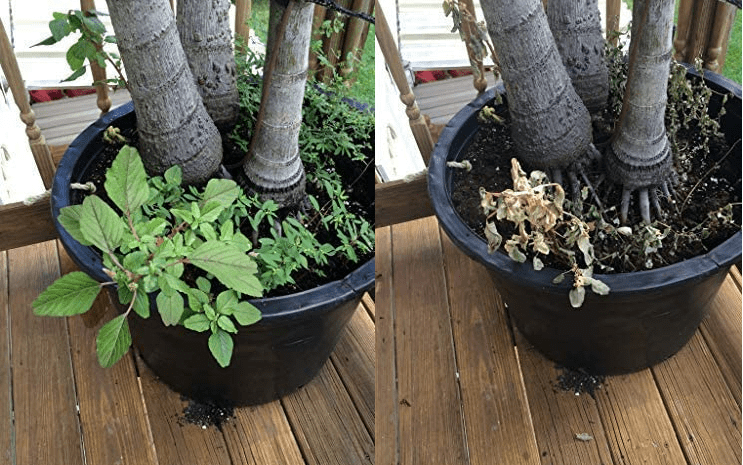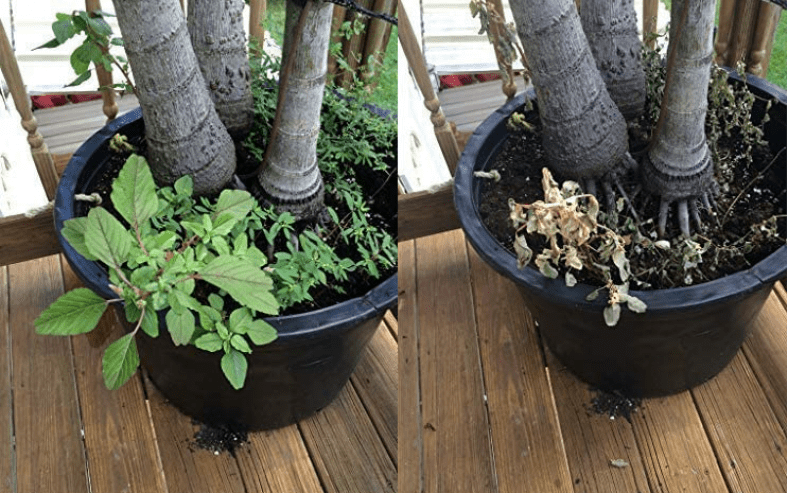 Keeping your yard free of all the unwanted vegetation is challenging. That's where a solid organic weed killer that's safe for grass comes into play. A lot of people opt for chemical-based herbicides, however, the wisest decision is sticking with a good all-natural product. It doesn't harm your lawn or your loved ones, you can use it safely around your children and pets. Below, you'll find some useful information on organic herbicides.
Non-Toxic Herbicides & Their Components
Here are the ingredients that are most widely used in chemical-free herbicides:
vinegar, as well as acetic or citric acid (bear in mind that homemade herbicide solutions that feature vinegar are ineffective);
D-limonene (it's usually found in citrus peels);
a variety of essential oils;
corn gluten meal;
specialized soaps.
The Perks of the Best Non Toxic Weed Killer Solutions
The benefits of organic lawn care are obvious. Find them below:
they are a lot safer than your typical commercial chemical-packed herbicide;
commercial grass slayers are more expensive;
natural weed killers are gentler to your plants (and i.e. your health);
the smell is easier to deal with when it comes to organic lawn care.
Effective Organic Lawn Care: Tips & Hacks
Weeding can be exhausting, especially if you're a newbie. There are tons of herbicides on the scene promising you to save your money and effort. However, when it comes to the highly toxic weed whackers, the treatment may turn out to be worse than the disease. Therefore, I recommend opting for reliable chemical-free solutions (I've reviewed some of them in my roundup above).
Here are some tips for the most effective use of organic herbicides:
for maximum effect, apply them in combination with other methods (i.e. pulling by hand);
focus on younger weeds when using organic herbicides;
cover the entire area for maximum effect and reapply if necessary;
organic herbicides work better when temperatures are above 75F;
perennial weeds are extremely tenacious, so chances are you will have to use your organic solution every time the pesky thing recovers. Oh well, that's life!
Absolutely Pet-Friendly
Yes, organic weed whackers (particularly the ones reviewed in this post) are 100% safe to use around your domestic animals. So, you're welcome to make the best of the solution you're about to purchase to keep your lawn in tip-top shape. What a relief: no more losing your head over all the potential risks most commercial chemical-filled herbicides come with.
Go Organic, Save Your Time & Money
Organic weed control may come with a little bit more effort compared to just spraying a toxic solution on all your unwanted overgrown grass, but the risks are just way too hazardous. Therefore, if you care about self-protection (as well as the safety of your family), opt for a non toxic, all-natural product. Now that you're aware of the indisputable benefits that come with organic weed control, you're more than ready to lay your hands on a solid grass killer. So, go for it now! If you have anything to add to the topic, you're welcome to do it in the comment box below. I value your feedback greatly!